We'll always love watching Janelle Ginestra's harder-hitting choreo. But there's something special about her newest video, which is less about slaying and more about FEELING. (Well, feeling while slaying. Ginestra's never not slaying.)
Keep reading...
Show less
URGENT. Stop whatever you're doing, grab some leftover holiday cookies and watch Larsen Thompson and Taylor Hatala's latest amazing video. These two powerhouses, who we all know and love as the Fraternal Twins, teamed up with SweetyHigh for their latest production, which is directed by Veronica Zelle and creative directed by Janelle Ginestra and Will "WilldaBeast" Adams. We saw a sneak peek of the vid in the first episode of Ginestra and Adams' "Making the Beast," and oh my goodness it does not disappoint.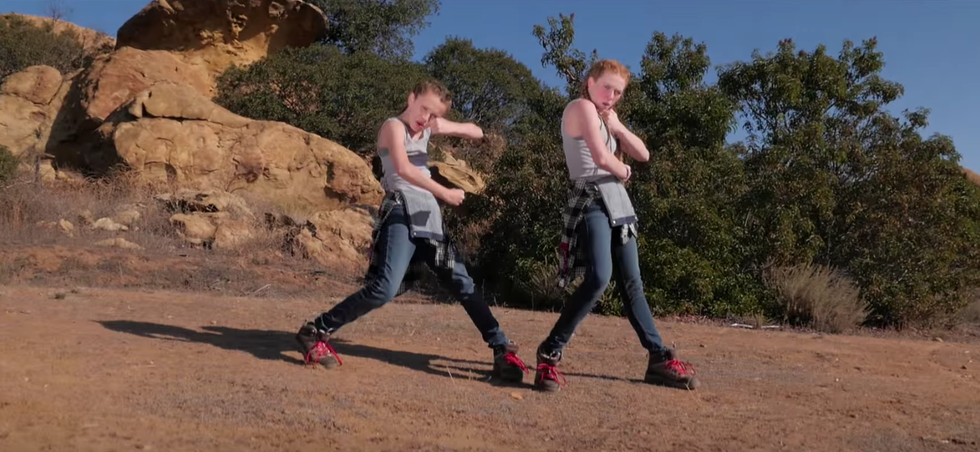 Obsessed. (Screenshot via YouTube)
This video is the first of what we hope will be many from SweetyHigh's "Dance Haul" series, which focuses on #GirlPower, and features some of today's most inspiring young dancers. Check it out below!
I say this publicly and without shame: I, Margaret Fuhrer, a fully-grown woman, spent much of my weekend watching Justin Bieber's "Purpose: The Movement" dance movie on repeat.
Look: I've had my ups and downs with Bieber over the years. We all have. He knows it. But you have to respect this insanely ambitious, insanely dance-y, insanely GOOD new project, which dropped Saturday. Leave it to Bieber to both over-promise and over-deliver on a premise that sounded iffy when it was first announced (dance videos for all 13 of the new album's tracks? Okaaaay) and now just seems brilliant (13 AMAZING DANCE VIDEOS AHHHHHH).
This isn't just a love letter to the Biebs, though. The person we should really be most in awe of right now is Parris Goebel, the genius 24-year-old choreographer who directed the whole thing. In addition to choreographing many of the tracks herself, Goebel pulled in an unbelievable number of dance stars to perform in and create for the various videos. There's a spirit of generosity to the project—she not only wants to show what she can do, but also what the people she admires can do.
Nobody disappoints. And much as we loved the cotton-candy happiness of "Sorry," "Purpose: The Movement" isn't all unicorns and rainbows. Several of the videos are genuinely dark—and genuinely moving.
November cover stars Keone and Mari Madrid create a gently heartbreaking portrait of one-sided love in "Love Yourself":
July/August cover guy Ian Eastwood performs an angsty dance serenade for his real-life gf, Megan Batoon, in "No Pressure":
Emma Portner, one of our choreographers to watch last year, gets powerful support from fellow dancer and choreographer Patrick Cook in "Life Is Worth Living":
A fantastic cast of dancers, including our friend Janelle Ginestra, depict a searingly tragic love triangle in "The Feeling":
An all-grown-up Simrin Player, who covered our November 2013 issue, tries to comfort a very sad Biebs in the title track:
And that's not even the half of it. ("Sorry" fans, for example, will be happy to know that the lovely ladies of ReQuest and The Royal Family make appearances in several videos.) Check out the full dance movie here.
Also, THANK YOU, Bieber and Goebel, for crediting every single one of the choreographers and dancers featured in the videos. Note to the music industry: Let's make that a habit.
By now, it's pretty much a given that anything involving #immaBEAST—the company founded by Will "WilldaBeast" Adams—is going to be mind-meltingly amazing.
Case in point: Have you met the latest crop of #immaBEAST dancers yet? No? Well, let them introduce themselves to you in true beast fashion—i.e., via an EPIC DANCE MEDLEY.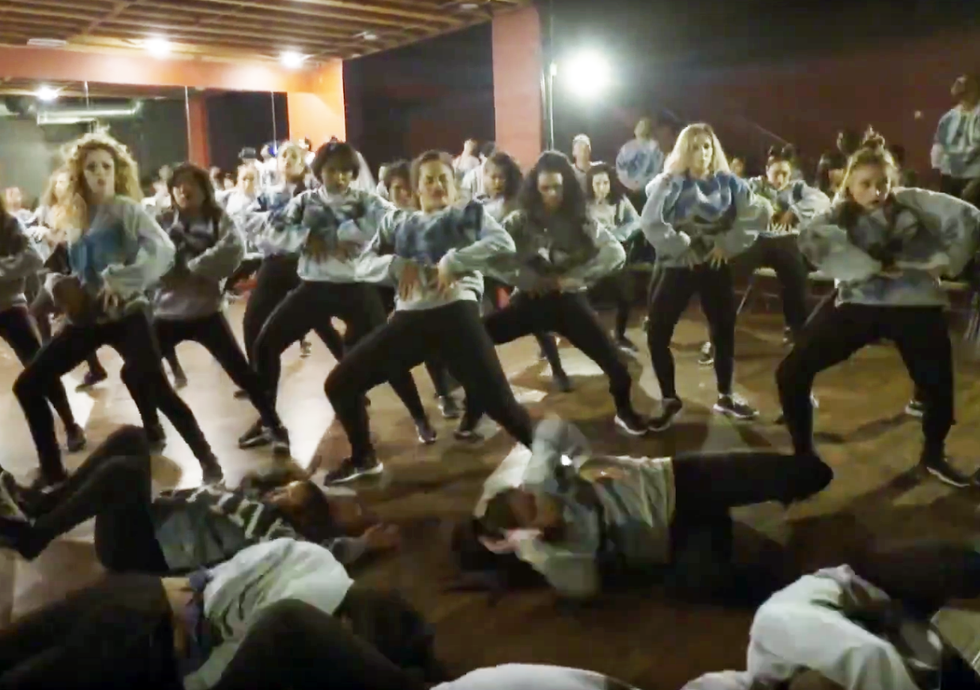 Beasting. (screenshot via YouTube)
Choreographed by Adams and the equally formidable Janelle Ginestra (adorable couple alert!), the just-released "Trap Queen Medley" features, yes, Fetty Wap, along with some truly great throwback hits (oh hey, Joe Budden). It's a four-and-a-half-minute marathon display of the incredible skills of the #immaBEAST dancers, including the #lilBEASTS and #babyBEASTS (adorable kids alert!).
Basically, it's the video equivalent of one of those #MotivationMonday inspirational quotes.
So many hashtags. So many #goals.
If you're in the L.A. area tomorrow, don't miss your chance to see WilldaBeast make his TEDx debut. Wait, say what?
According to an Instagram from the other day, our favorite choreographer/dancer/entrepreneur/all-around dance revolutionary WilldaBeast has been invited to speak at TEDx Watts, an independently organized all-day conference showcasing "ideas worth spreading."
Keep reading...
Show less
Sometimes, all you need to squash your #SundayScaries is an amazing new concept video to watch on repeat. Luckily, the latest genius creation from our favorite super-couple Janelle Ginestra and WilldaBeast dropped just in time. We're suckers for a good theme, so naturally, the vid's "Beauty and the Beast" inspiration is giving us #allthefeels. And the the duo's choreo is, as always, the definition of on point—it's amazing how they come up with unique and fresh moves every time. We'll be watching on repeat to get us pumped for the week—we suggest you do the same. Happy Sunday!
Keep reading...
Show less
You guys, it's happening! It's really happening! Remember when we first found out Step Up 6 was a thing but we didn't have tons of details? Behold, tons of details. (And these details are 🔥🔥🔥.)
Willdabeast, who's serving as choreographer of the project, posted these behind-the-scenes videos on his Instagram page and they're filled with tons of dance-y goodness, plus a discussion with the creative team (which includes Janelle Ginestra 🎉).
The clips also feature lots of our fave dancers like Jade Chynoweth, Simrin Player, Dominique Battiste, Noah Tratree, Jake Landgrebe and Jalen Preston.
Still no word yet on whether or not we'll be able to see the film in the States, but for now, let these tide you over:
Happy Monday!


Get Dance Spirit in your inbox