Commercial dancer Melanie Mah is no stranger to dancing behind some of the music industry's most famous artists. She's worked with everyone from Katy Perry and Justin Bieber to Nicki Minaj and Kanye West. Over the past year she's had the opportunity to travel the world, performing with Alicia Keys and on Janet Jackson's Unbreakable tour. Ever wonder what it's actually like to tour the world dancing? You're in luck! We asked Mah to keep a diary from her travels—read on for ALL the behind-the-scenes details and pics.
November 16, 2015 - Honolulu, Hawaii
It's our last day in Hawaii and this trip has been so magical! We did our three Unbreakable shows with Janet Jackson and we've had a wonderful, full week here. It's so great that we have so much time to explore and enjoy the island! The other dancers and I have done so many things that I feel like I live here. One super memorable moment: I crossed a point off my bucket list and went surfing for the first time! It was both terrifying and exhilarating, and I'm so glad I did it. My good friend Whyley (our dance assistant/Janet's movement coach) is from Hawaii and he brought me to all the local surf spots, so I really got to experience the true Hawaiian way of surfing. Our creative director Gil Duldualo is also a native Hawaiian and he brought us to some awesome local places, too. This entire trip was filled with eating the best food, climbing waterfalls, riding waves, jumping into the ocean, hiking mountains and creating some of the best memories of my life. Mahalo Hawaii!! You have my heart. ❤️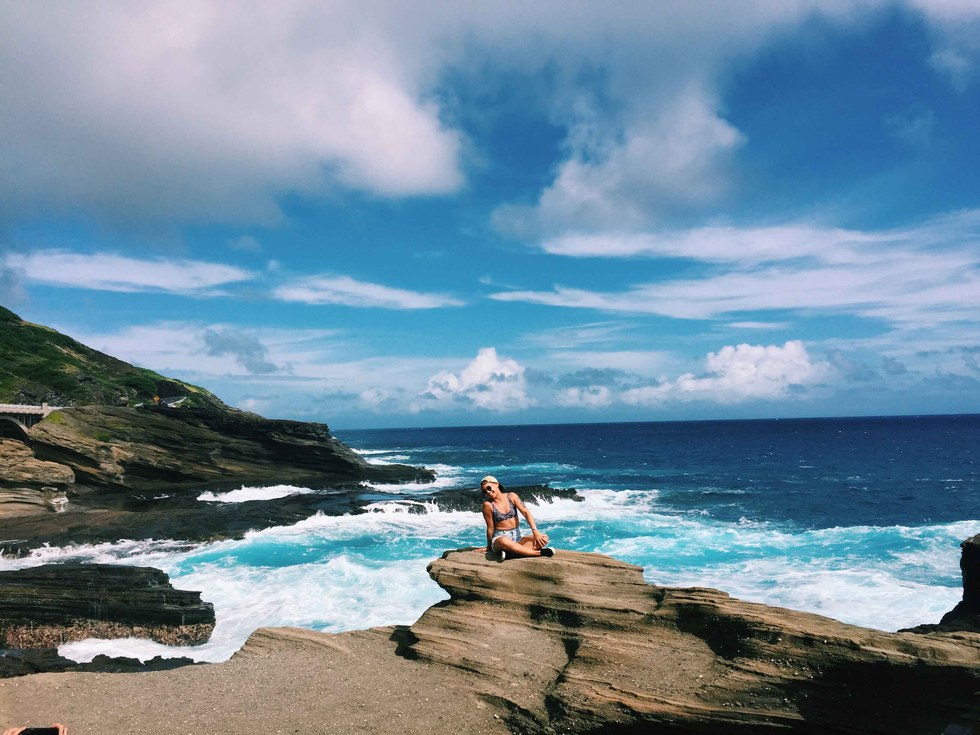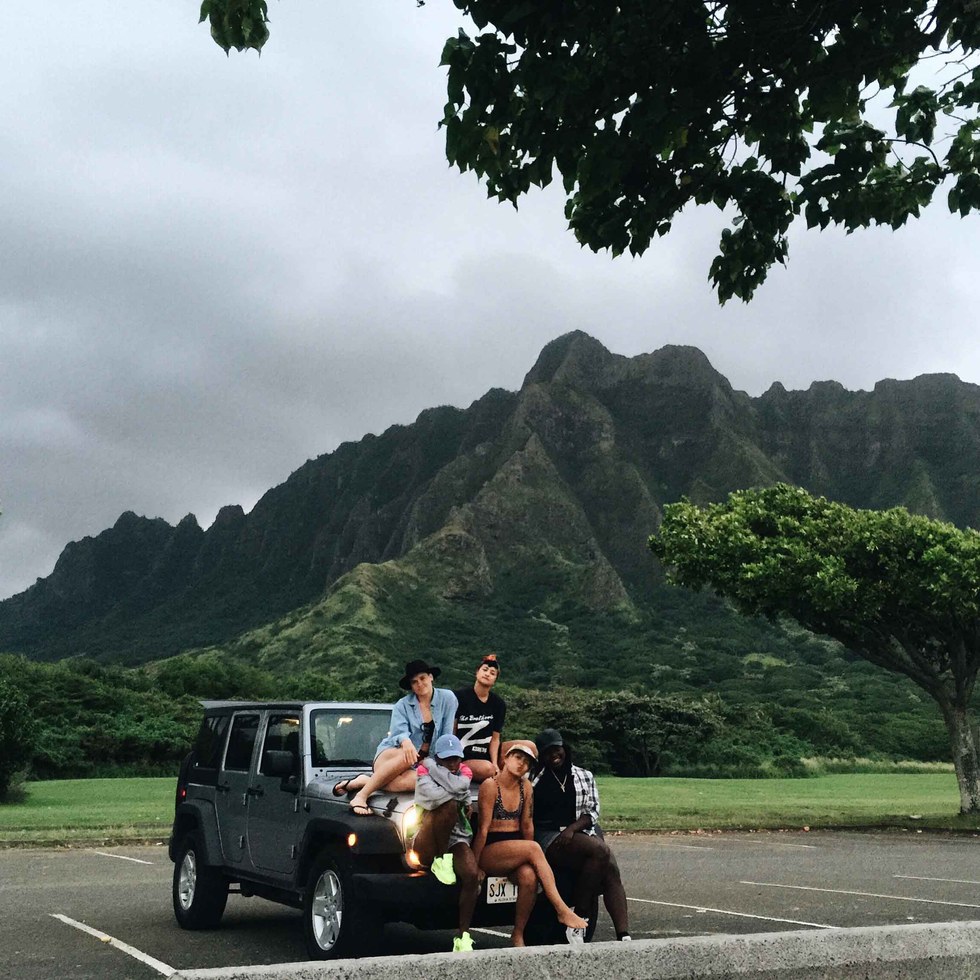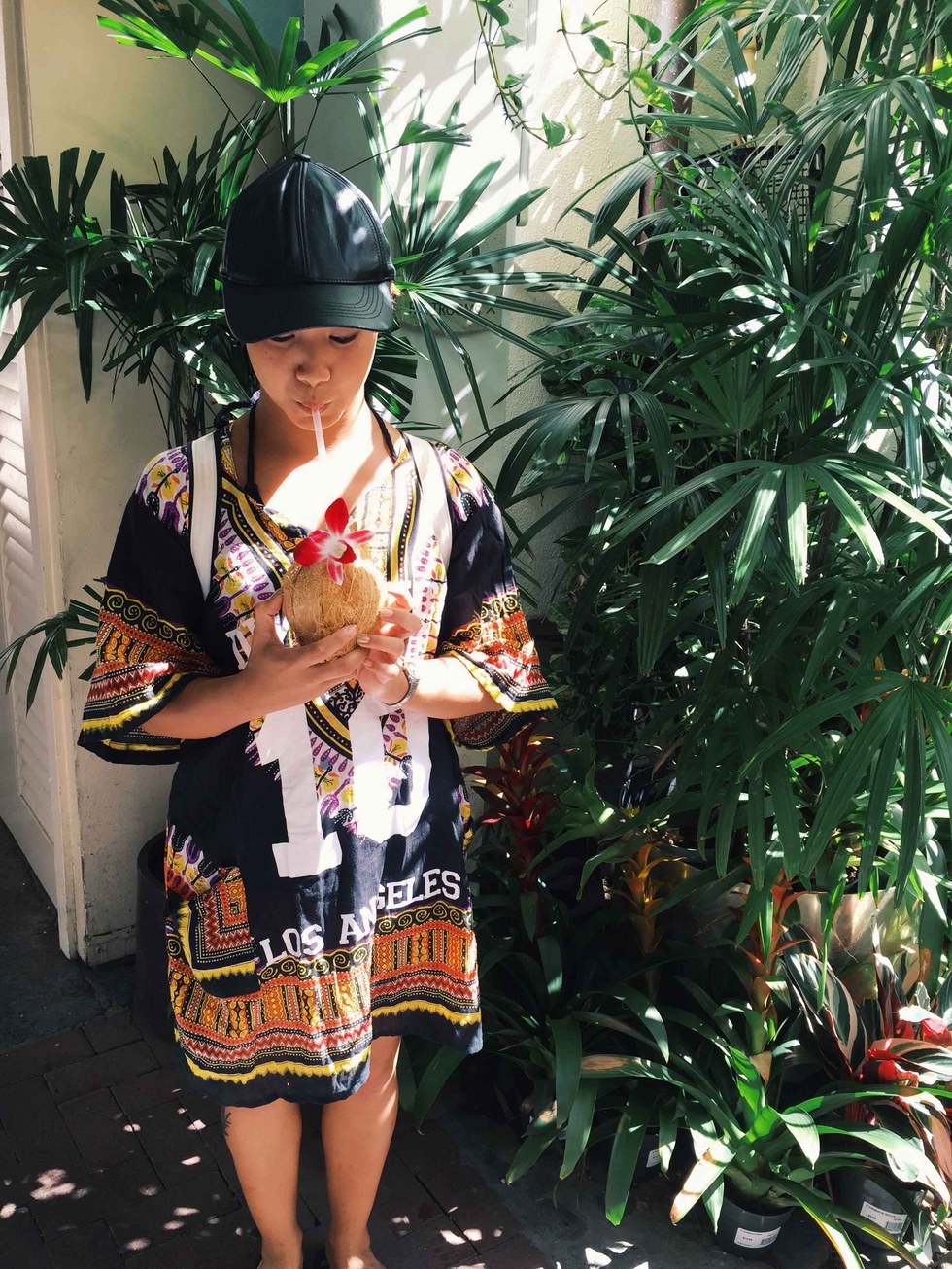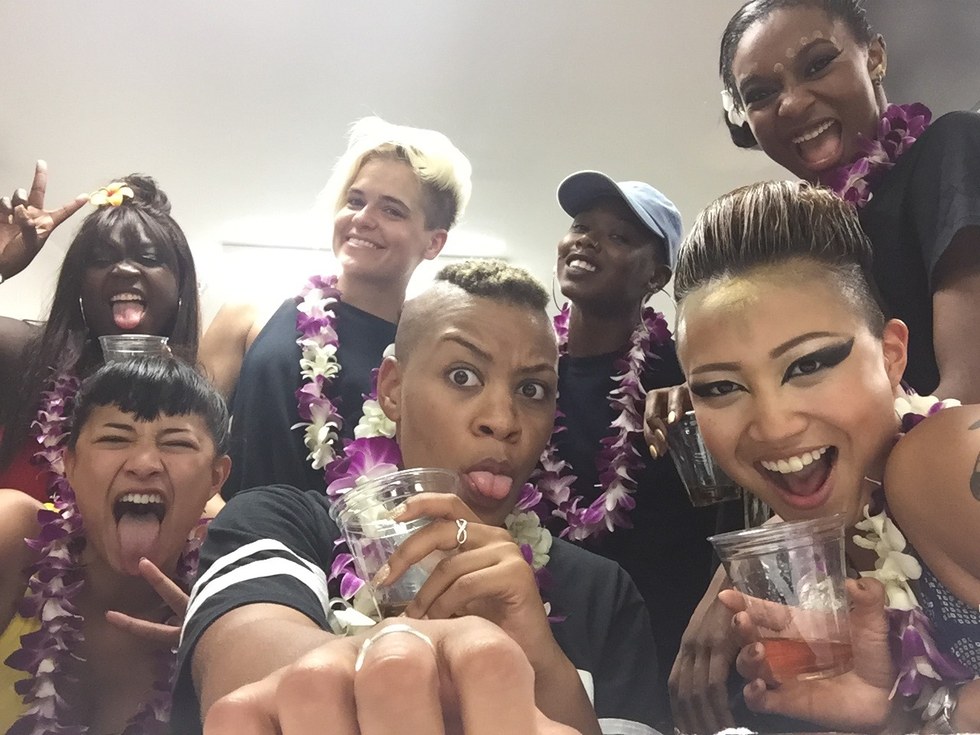 November 21, 2015 - Tokyo, Japan
Today we have our show in Tokyo, Japan. This is my first time in Japan and I'm so excited to perform here. It's well known that the Japanese are huge fans of the Jacksons, so there's going to be such an amazing energy in the crowd tonight!
Japan is truly a unique place and I'm loving how different this place feels from home. I visited a beautiful and peaceful temple this morning, and I got to roam the streets of Tokyo. The food here is so fresh and delicious, and I'm absolutely obsessed with all the late-night ramen places. The shopping in Harajuku is phenomenal as well, and people have such incredible style in this city. The whole Japanese culture is so fascinating and completely different from the Western world. The people here really pay so much attention to providing excellent service, and the Japanese are so meticulous and detailed in everything they do. It's a beautiful culture to experience and I'm so grateful to perform here with Miss Janet Jackson!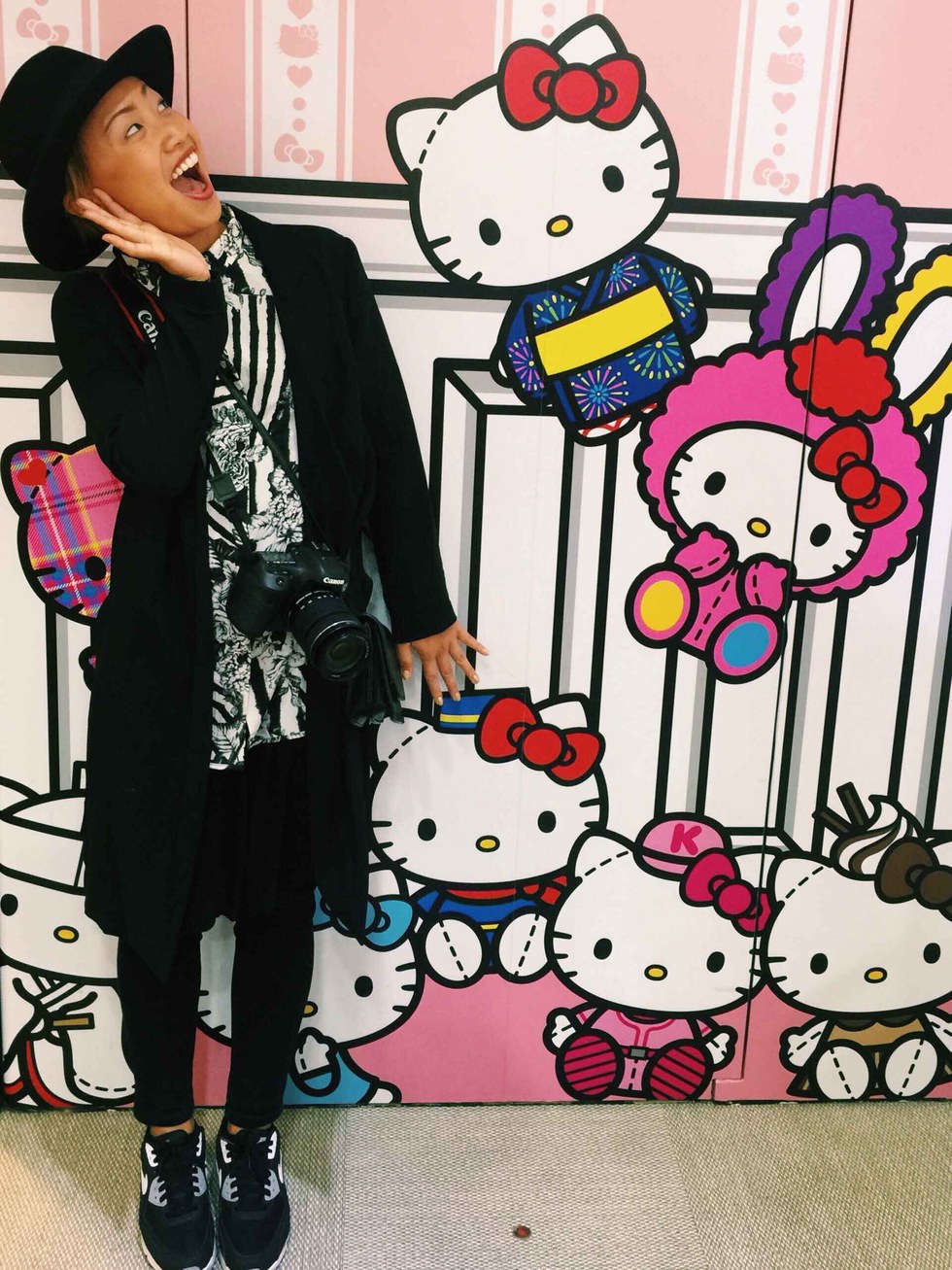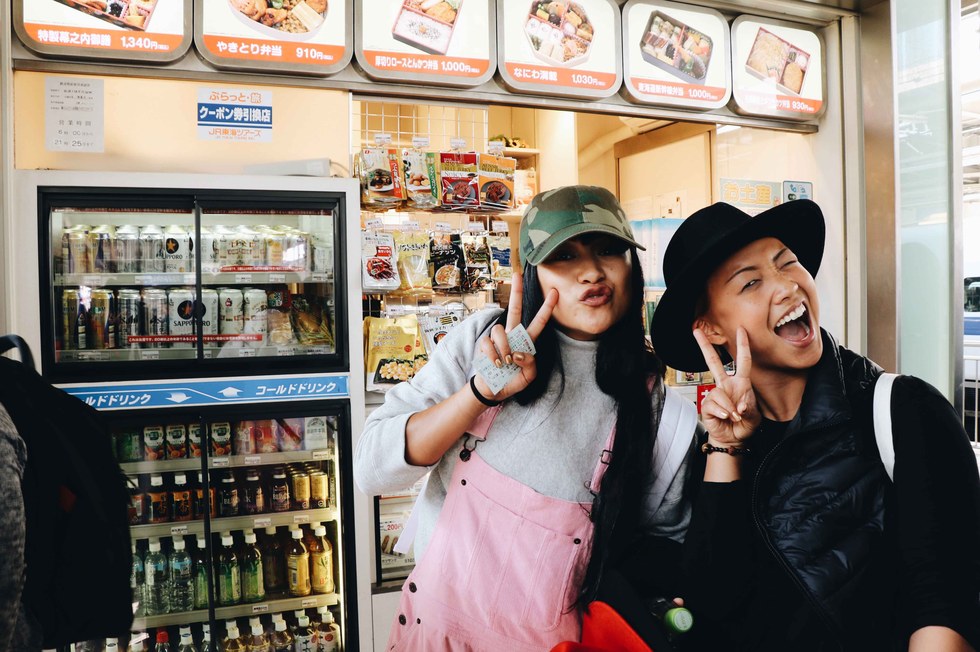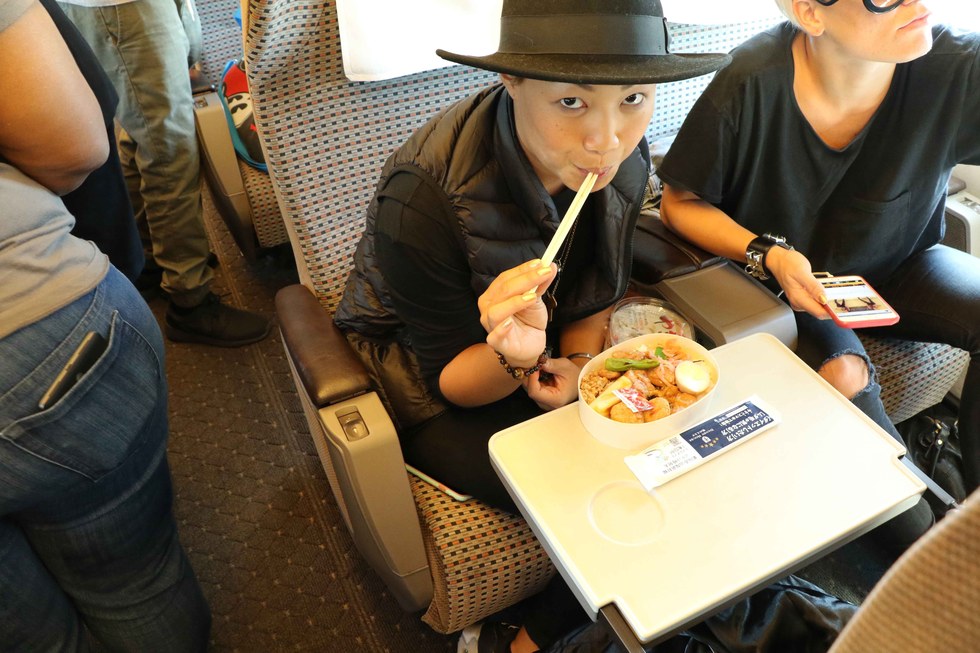 March 26, 2016 - Dubai, United Arab Emirates
I'm so excited to be in Dubai right now! And I'm even more excited to get on stage with everyone again. We've had a little bit of a break from the tour over the past few months, so it's going to feel amazing to be onstage again. It's really the most magical feeling performing with Janet and the tribe. Those girls are my sisters and I truly can't imagine what this experience would've been like without them. It's so clear that we were all meant to be a part of this Unbreakable show, and I'm so thankful for their spirits.
Dubai has been another amazing trip, and we really made sure we explored this place as much as we could. We visited some of the mosques, we went to the famous mall, we shopped in the souks and we went adventuring in the desert where we ran around sand dunes, went camel riding and rode ATVs. It was real-life Mario Kart for us girls! I'm so thankful to be with such a fun-loving group of females. We're all so silly and are the types of people who want to live life to the fullest. It's the best feeling to be able to travel and share incredible experiences with people you love—and on top of that we get to dance with someone as amazing as Janet Jackson! Life is so surreal sometimes.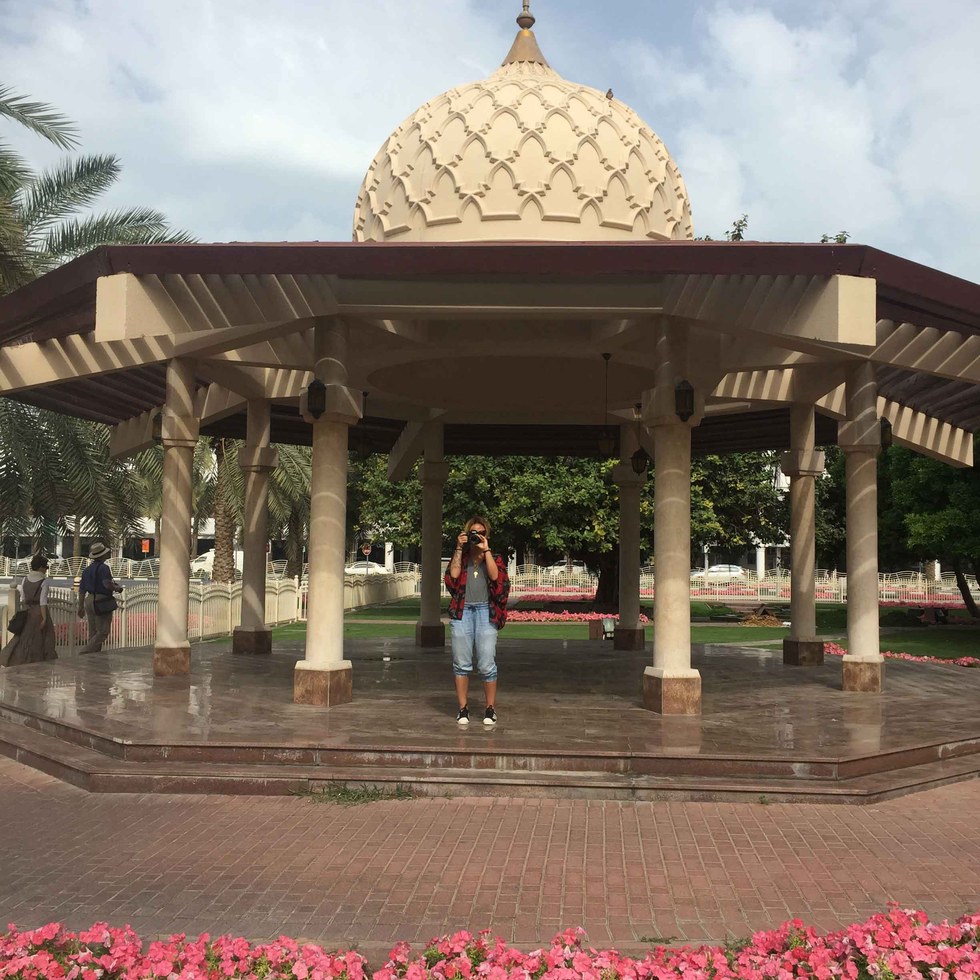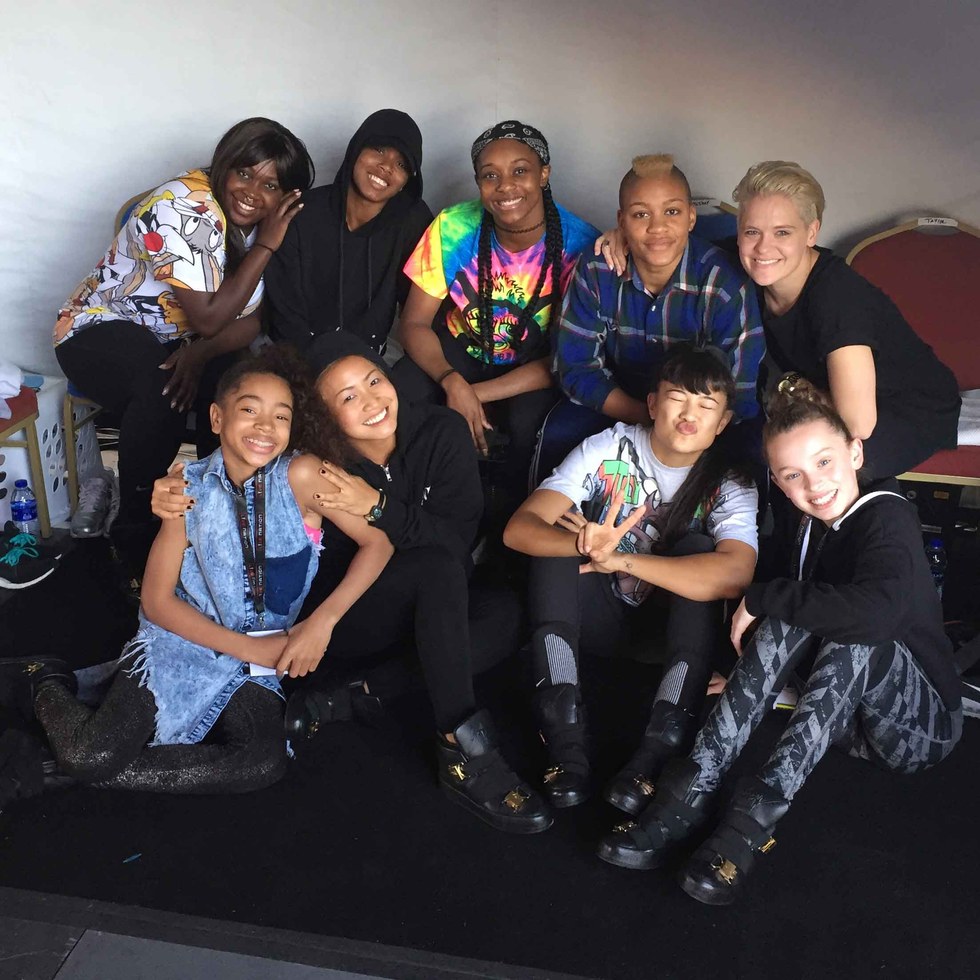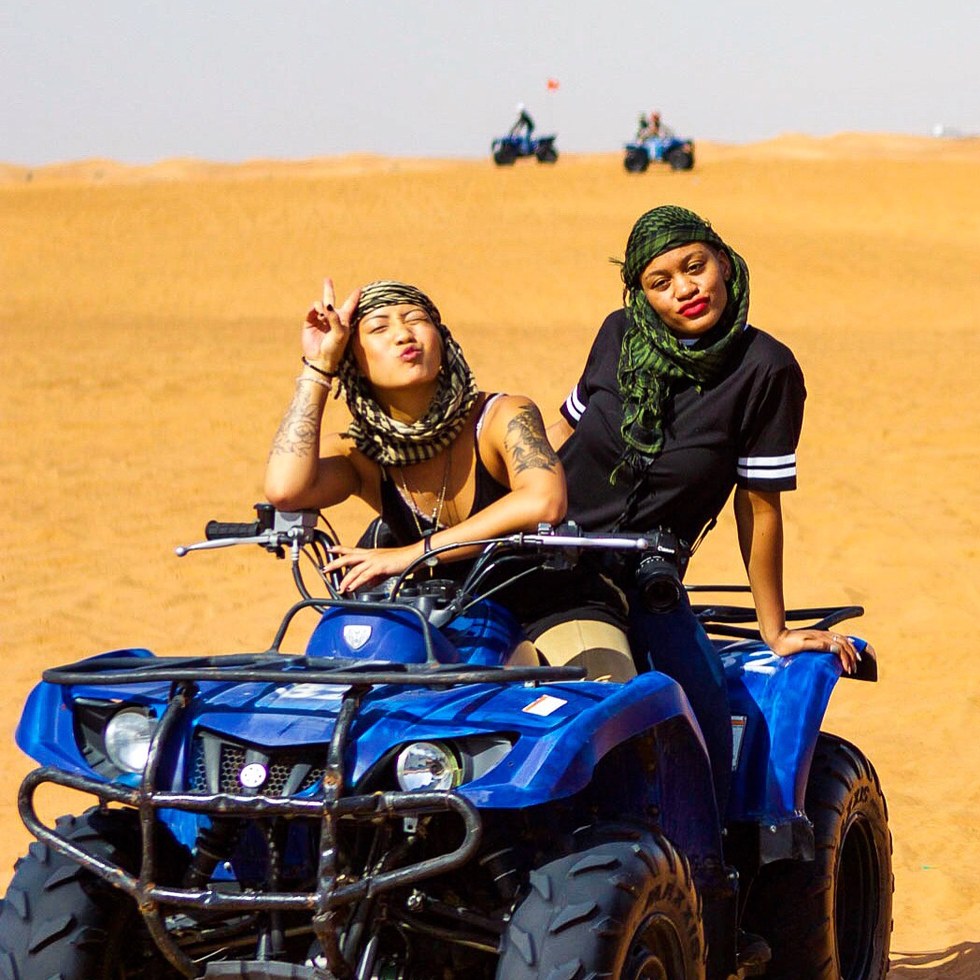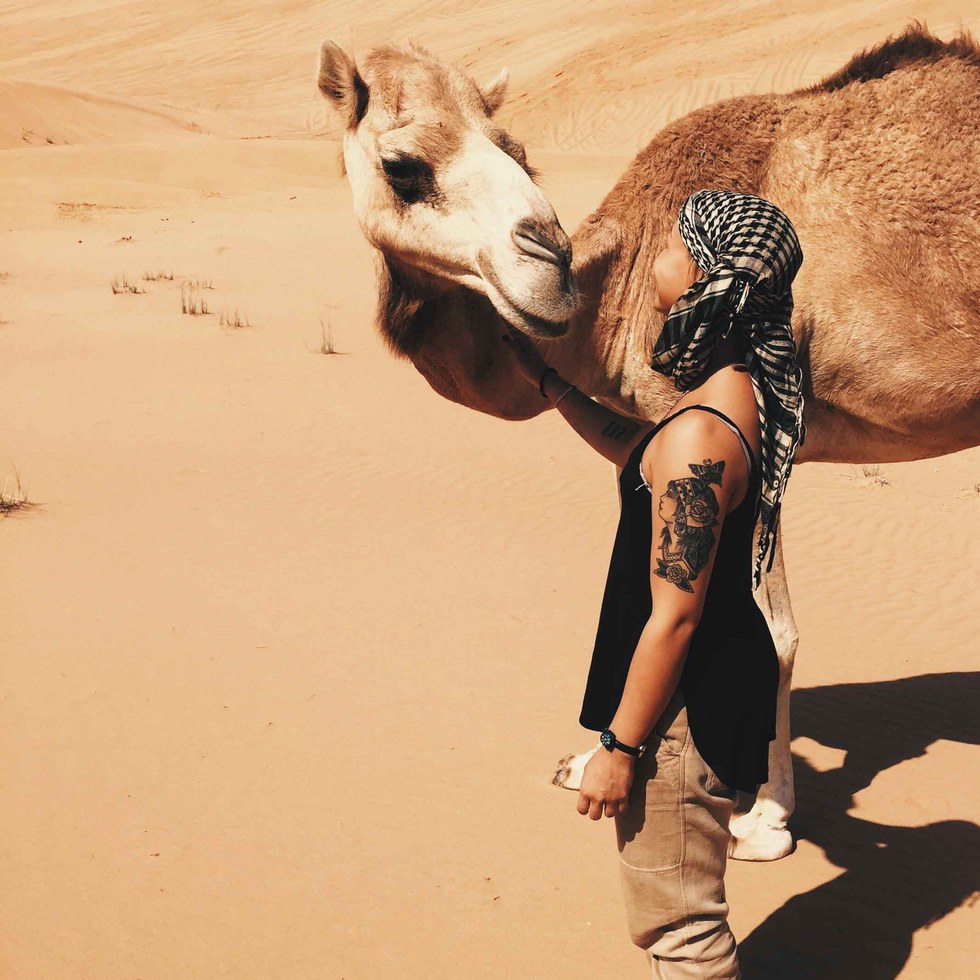 May 22, 2016 - Milan, Italy
Now I'm in Milan, Italy, and I just finished the second day of rehearsals for Alicia Keys' performance at the Union of European Football Associations Finals. I'm unbelievably excited to perform in a stadium for the first time in front of 80,000 people! The event is basically the Superbowl of Europe and everyone loves soccer here. Rehearsals have been going great and the wonderful Luam is choreographing the six-minute performance. There are 12 dancers and we're all getting along so well. We have 8-hour days in the studio, but it always flies by when you're working with great people.
I got to explore the city a little bit in the morning before our rehearsal, too. I went to the Da Vinci Museum of Science and Technology and got to see some models of his incredible inventions. Then I went to the Navigli canal, which is known as the more historic part of Milan. The canal here is so beautiful and there are so many delicious restaurants in that area. I'm thoroughly enjoying my time in this city and I can't wait to get onstage with Alicia Keys and the team!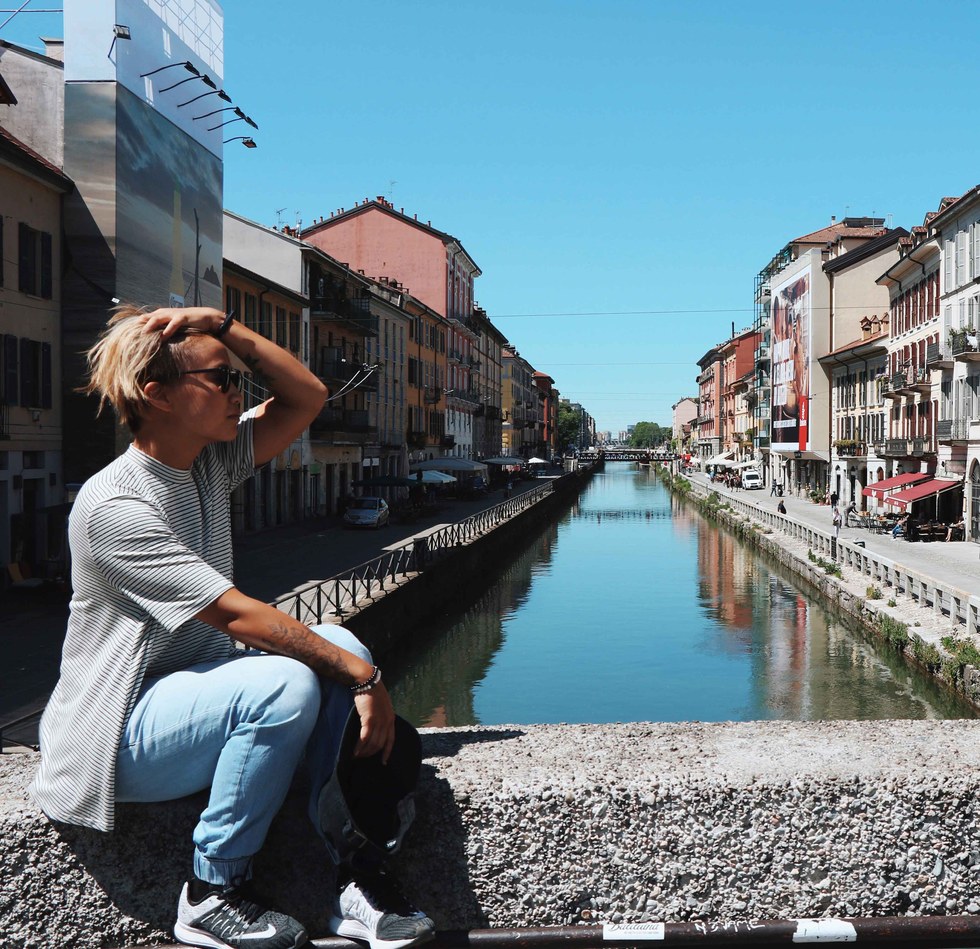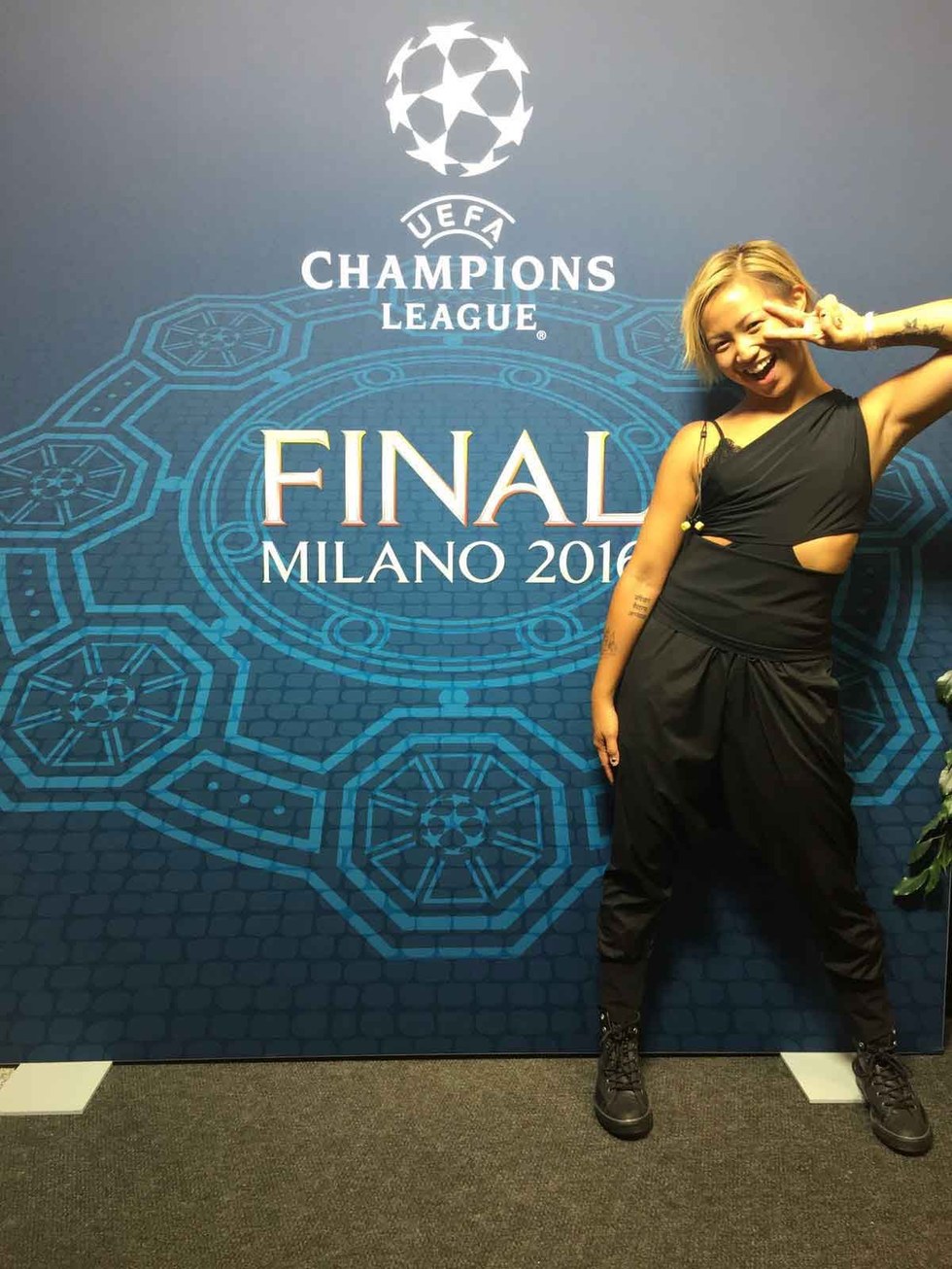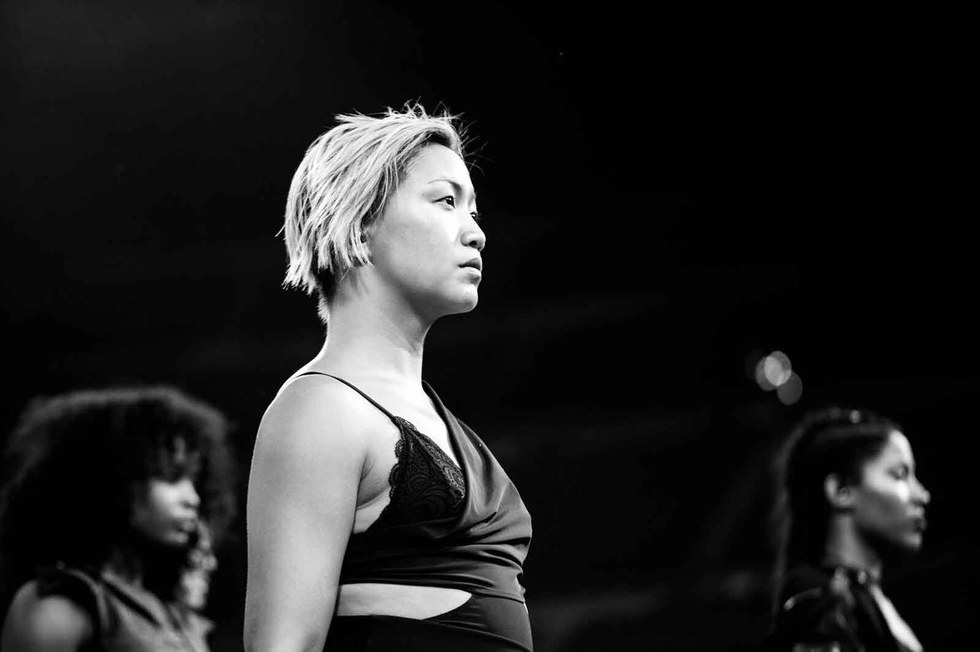 (Photo by David Moriya)
Ah, the Super Bowl halftime show. For dance fans, it's, well, the Super Bowl of live performances. It's the glorious moment when literally hundreds of millions of people see 12 solid minutes of dancers (and, OK, giant musical acts) being amazing.
Of course, not every halftime show is a dancestravaganza. I mean, for what felt like 100 years following 2004's Nipplegate (oh, I so want to hashtag that, but it's FROM A PRE-HASHTAG WORLD, GUYS), the Super Bowl powers that be chose old rock-and-roll headliners, who were less inclined to get their dance on and more inclined to, um, sit at pianos.
But other years? Other years, we got lucky. Other years, we got MJ. Or Britney. Or Madonna. OR BEYONCÉ.
In honor of this Sunday's sure-to-be dance-filled spectacular (Beyyyyyy we're so glad you're back!), we put together a little #FBF list of the danciest moments in Super Bowl halftime history. And it starts in the 90s, which is when the halftime show as we know it really became a thing. (Before that, it was mostly just marching bands, believe it or not.)
Meeeemorieeeeeeesss!
1991: New Kids on the Block
OK, yes: There's an awkward Disney "It's a Small World" opening. But push through it, because afterward we get the slickly choreographed beauty of that glorious 90s phenomenon, the boy band:
1993: Michael Jackson
Here's what's most amazing about this performance, which essentially pioneered the modern Super Bowl halftime spectacle: MJ JUST STOOD THERE FOR A SOLID MINUTE. He was so charismatic that that was literally all it took to drive the crowd insane. But then he started dancing, and—I'll shut up now. Just watch him:
2001: Aerosmith, 'N Sync, Britney Spears, Mary J. Blige, Nelly
Can you tell that MTV had started presenting the halftime show at this point? Basically their approach was to take all the people who had top 40 hits and throw them onstage together. Luckily, in 2001, that group included both 'N Sync and Britney, which meant we were in for some solid choreography (THE "BYE BYE BYE" DANCE <3<3<3):
2004: Janet Jackson, Justin Timberlake (et al)
Yeah, Nelly and Kid Rock and the artist then known as Diddy also performed. But this one was all about the dance stylings of Janet and Justin—not to mention the appearance of one infamous, star-adorned nipple (yes, it's in this video, so proceed with school/work-appropriate caution):
2011: The Black Eyed Peas, Usher
Oof, the post-Janet boob years were long, dull and dance-less. (The Who? Bruce Springsteen? Tom Petty? The Rolling Stones? At least Dad was happy.) But then the Black Eyed Peas flew in on their futuristic stripper poles and brought choreography—specifically, choreography of the fluorescent-light-suit variety—back, as did one of our favorite MJ protégés, Usher:
2012: Madonna, Nicki Minaj, M.I.A., Cee-Lo Green
Leave it to Madge (and Lil Buck! and that crazy tightrope bouncer!) to cement dancing's return to the Super Bowl:
2013: Beyoncé
YESSSSSS!!! YES YES YES. Bless the Super Bowl crew for knowing that Queen Bey didn't need 15 other guest acts to make her halftime show the most #flawless of all time:
2014: Bruno Mars, Red Hot Chili Peppers
I'll admit it: After the amazingness of 2013's halftime show, I came into this one with low expectations. But Bruno Mars' high-energy, old-school choreography was surprisingly delightful, wasn't it?
2015: Katy Perry, Missy Elliott
Left Shark got all the love, but we were most impressed with Missy's crew of phenomenal kids:
So, what dance goodies will BeyBey and Bruno Mars (and, um, Coldplay, I guess) bring us this year? We'll have a full recap right here on Monday morning, of course.
And with that: Go forth into Super Bowl weekend, friends! Enjoy the dancing! Maybe enjoy the football, too, if it's your thing! Definitely enjoy lots of nachos!
Last night's "Dancing with the Stars" was jam-packed with memorable moments: Three pairs earned perfect scores, Alexa PenaVega performed with a live snake and Hayes Grier embraced his inner John Travolta.
Famous Dances Night opened with a high-energy performance to "I Wanna Dance With Somebody" by Whitney Houston, which included nods to Flashdance (yes, water and all), Beyoncé's "Single Ladies," MC Hammer's "U Can't Touch This," Chicago and more.
Andy Grammer and Allison Holker took us back (way back) to the 1950s with their take on "Good Morning" from Singin' in the Rain. Holker choreographed the power duo's jazz piece, which had them dancing on stairs, a countertop and, yes, Couches. Straight 10s across the board.
Bindi Irwin and Derek Hough had the time of their lives recreating the iconic final routine from Dirty Dancing. The couple even worked with the original Baby, Jennifer Grey, to master The Lift and the passionate rumba steps. Irwin and Hough also received a perfect 10 from each judge.
Carlos PenaVega and Witney Carson turned up the HEAT with their oh-so-sexy rumba routine to "Pony" by Ginuwine, à la Magic Mike. Channeling Channing Tatum, PenaVega overcame his discomfort and owned the steps (that shirt tear, though!). The duo scored 38/40 and received A LOT of gratitude from all the ladies in the room.
Tamar Braxton and Valentin Chmerkovskiy SLAYED their jazz routine to Janet Jackson's "Rhythm Nation," scoring 40/40. Braxton didn't miss a beat, despite losing rehearsal time because she was sick.
At the end of the night, Paula Deen and Louis van Amstel were sent home. What did you think? Were you ready to dance along on your couch to "Good Morning," or try the Dirty Dancing lift in your living room? Let us know in the comments—and tune in next Monday for Halloween–themed routines.
Melanie Mah's career is basically the commercial-dance dream.
After training as a ballet dancer near her hometown of Richmond Hill, Ontario, Mah earned a spot on Season 2 of "So You Think You Can Dance Canada" and made it to the Top 6. She moved to L.A. in 2011, and in the last five years, she's worked on TV shows ("Glee," "Dancing with the Stars," "The Goldbergs"), with recording artists (Katy Perry, Nicki Minaj, Justin Bieber, Kanye West) and as a teacher (at Millennium Dance Complex in North Hollywood). Late this summer, Mah began the ultimate dream job: performing on Janet Jackson's Unbreakable World Tour, with creative direction from Gil Duldulao. Want to know more? Read on for The Dirt. —JO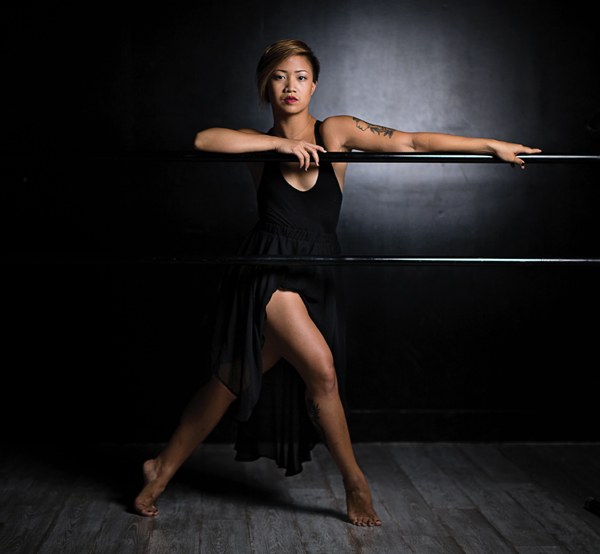 (Photo by Jino Abad, courtesy Melanie Mah)
What did you want to be when you were a kid?
A doctor. I've always loved math and science, and I actually completed my first year of university in biomedical sciences.
Who is your dance role model?
Dawn Rappitt—my teacher from my home studio Elite Danceworx. She was the first person to believe in me as a dancer and she pushed me to chase after all my dreams.
Who can always make you laugh?
My dad...even if he's not trying ot. He can be such a goofball.
What's one food you can't live without?
NOODLES. Nothing's better than a big bowl of soup noodles! (Thanks mom.)
Do you have any nicknames?
Me. Mel Mah. Melly. Smelly. Kwan. Elly Ma. Mah Mah-ella. Mahy Mahy. Mah-chine...I get a lot of nicknames. It's rare people call me "Melanie!"
What's your favorite activity—other than dance?
I love yoga. I'm a certified instructor and I've been teaching vinyasa yoga for the past three years.
What's your favoriteJanet Jackson song?
"All For You"! It's such a fun song and it always brings back good memories. My friends and I would blast the song in the car and sing at the top of our lungs. And the choreography is EPIC!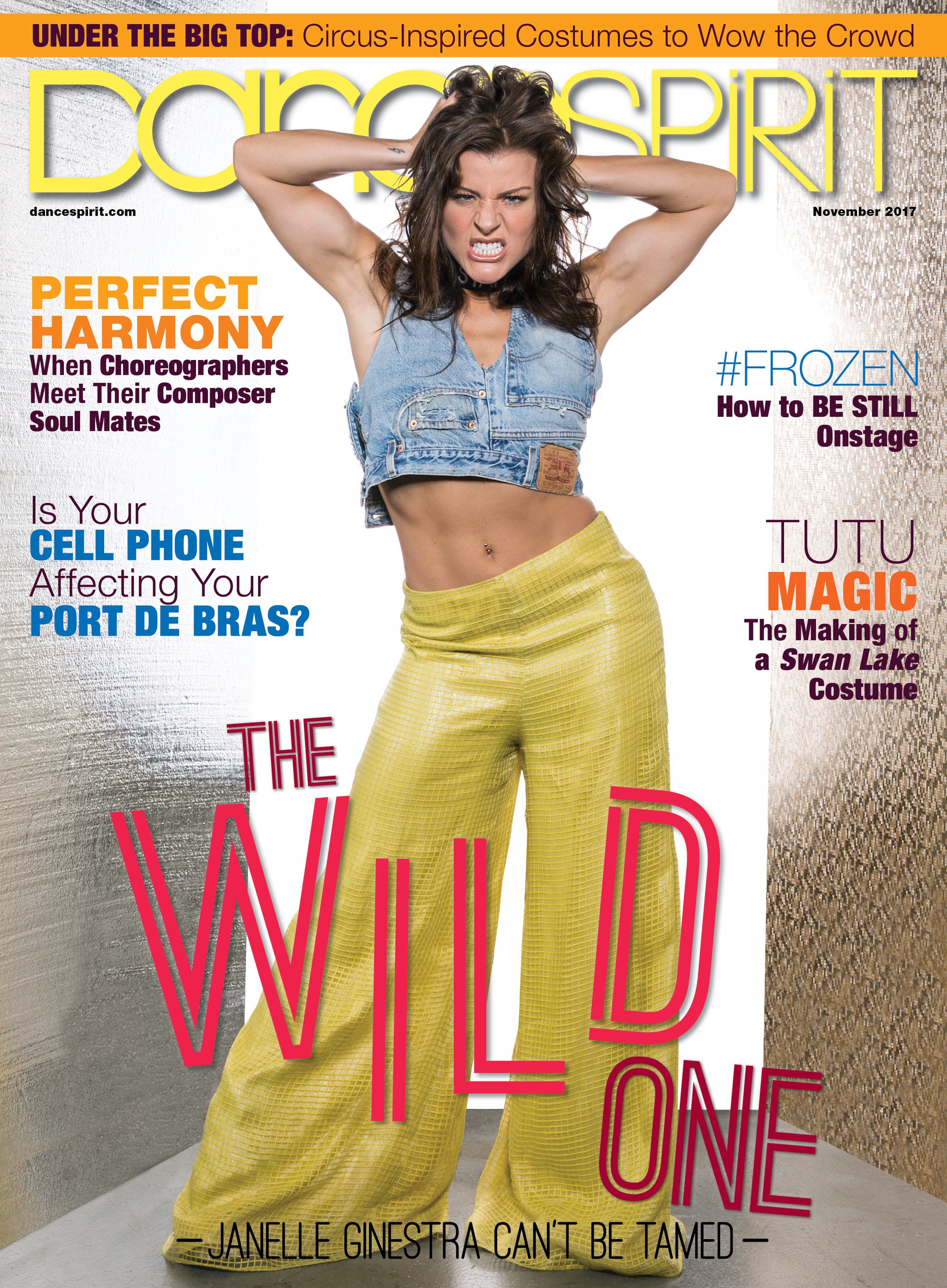 Get Dance Spirit in your inbox