Mar. 23, 2017 12:47PM EST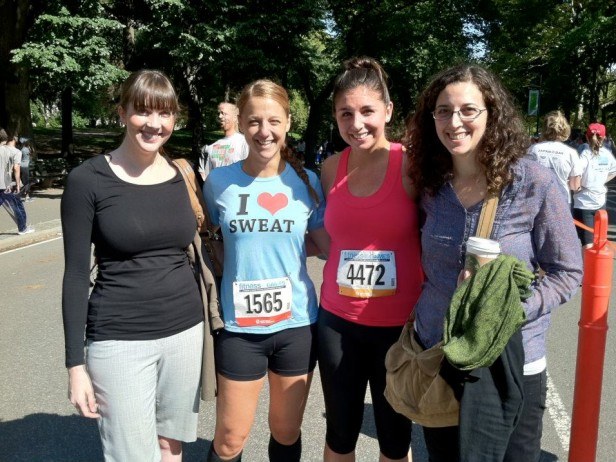 (L to R) Margaret Fuhrer, me, Michael Anne Bailey and Katie Rolnick—all sweaty smiles post-race!
When I'm not immersed in all-things-dance, my #1 passion is running. I got hooked on running a few years ago and have since completed three marathons and a bunch of shorter distance races. (Two years ago, I even got Dance Spirit's fashion editor at the time, Michael Anne Bailey, to train for and run a 4-mile race with me in Central Park while the rest of the DS staff cheered us on—on a very early Saturday morning, no less.)
So when I'm not reading Dance Spirit, I'm reading my second-favorite magazine: Runner's World. And imagine my surprise and sheer delight when I saw my two passions combined this month in RW's "I'm a Runner" column!
In every issue, the editors at Runner's World profile a celebrity—an actor, a musician, a chef—who is also a runner, and this month they've featured The Joffrey Ballet's Fabrice Calmels. Here's a video they did with Fabrice:
Click here to read the full Q&A.
So for all you dancers out there who think running is off limits—it's not! Just take it slow at first and always be safe and smart.
Happy dancing and running!
Apr. 21, 2016 07:11PM EST
We need to take a moment to pay tribute to the legendary singer and performer Prince, who passed away at his Minnesota home this morning. A musical icon for more than three decades, Prince won seven Grammys throughout his career; his album "Purple Rain" alone sold 10 million copies.
But it's Prince's contribution to dance, and his support of dancers, that we'll never forget. He's inspired countless artists and continuously contributed to careers by featuring dancers on his tours.
He also wasn't too shabby a dancer himself: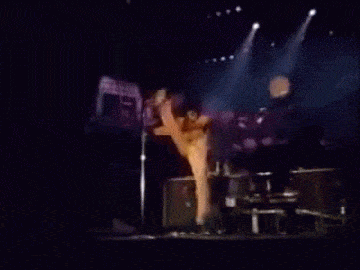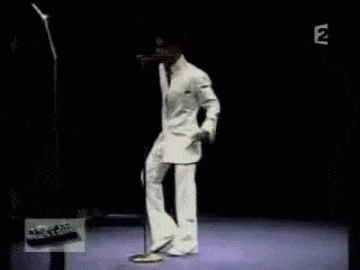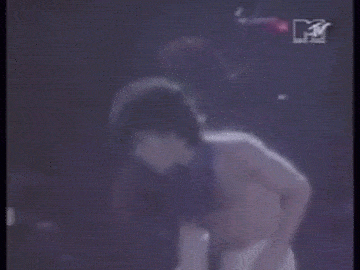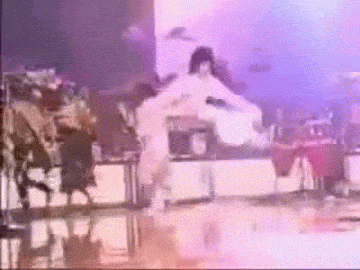 Prince was a huge fan of ballet, in particular. After seeing The Joffrey Ballet perform, he agreed to let the company use his songs free of charge for Billboards, which premiered in 1993. Four choreographers—Laura Dean, Charles Moulton, Margo Sappington and Peter Pucci—celebrated his groundbreaking music, and the resulting fusion of rock and classical dance became a huge mainstream hit.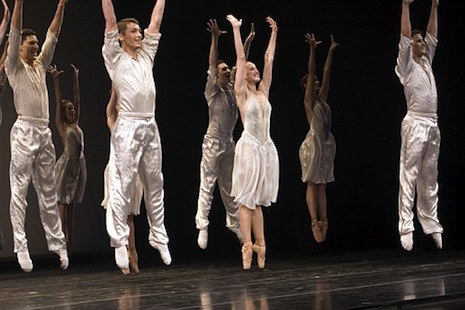 The Joffrey Ballet performing Billboards (photo via Dangerous Minds)
In more recent years, he became known for his collaborations with muse Misty Copeland. In 2009, he personally called her to ask if she would dance in his "Crimson and Clover" music video and later, he invited her to perform with him on his Welcome 2 America tour. Copeland describes their relationship in her memoir Life in Motion, and remembers watching him onstage, completely in awe. "He was kinetic and yet totally in control," she says. "And his fans were as passionate for him as he was for them. It was the type of artistry and connection with the audience that I sought to emulate in my own career."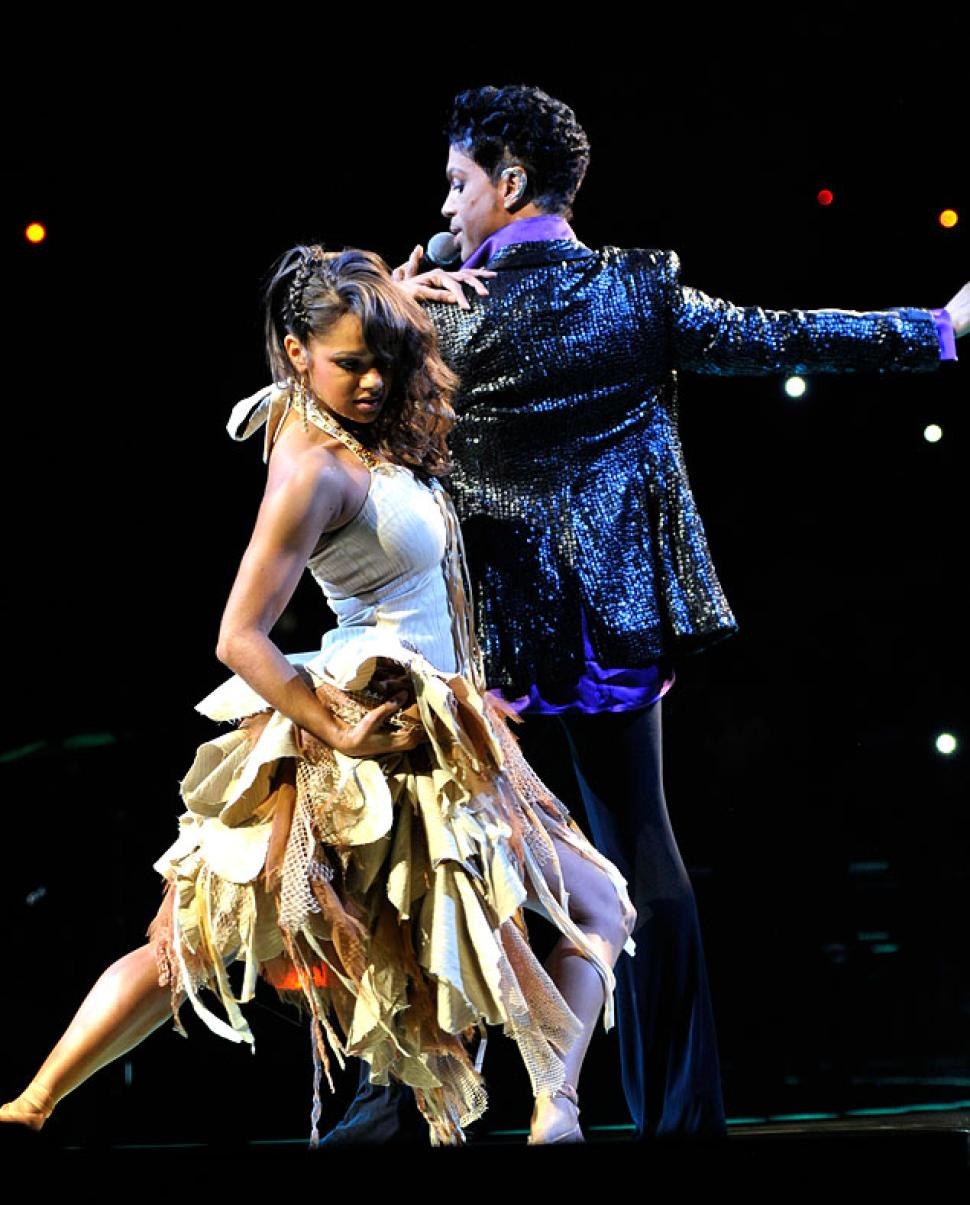 Photo Kevin Mazur/NPG Records 2010/WireImage
Check out the video below to see Copeland talk about just how much Prince affected her career as a dancer.
RIP, Prince. You'll be missed.
Nov. 10, 2014 12:00PM EST
Eeeeeeee!
That's the sound we make when we hear about events showcasing emerging choreographers. Maybe that's oddly specific, but think about it: Whatever directions these artists decide to take will help shape the coming decades of dance. Call us #dancenerdz, but we think that's pretty freakin' exciting.
This July, the Joffrey Academy of Dance held a national competition in search of up-and-coming choreographers of color, and last week they selected the winners: Jennifer Archibald, Abdul Latif and Stephanie Martinez. Let's take a moment to meet these dance-future-holders.
Jennifer Archibald is the founder and artistic director of the Arch Dance Company. Her style combines elements of hip hop and contemporary to create movement that's intensely physical, emotional and spiritual. To get a better sense of what this looks like, check out an excerpt from Archibald's Wings, performed by Ailey II:
Abdul Latif is the founder/artistic director of the performing arts firm D2DT. His choreography is urban contemporary, combining his diverse background of technical training with the urban experience. Check out Latif's There Are No Tangents: Part 1 – Where Have You Been?
Last, but certainly not least, Stephanie Martinez is a Chicago-based dance maker. Her choreography layers elements from all different styles on top of a strong balletic base. Here's Martinez's Orange Bird:
All three choreographers will present world premieres—set on Joffrey Academy trainees and the Joffrey Studio Company—in "Winning Works 2015." The event will hold three performances from March 7–8 at the Museum of Contemporary Art in Chicago. (Click here for tickets.) We can't wait to see what these three come up with!
Jan. 21, 2014 03:40PM EST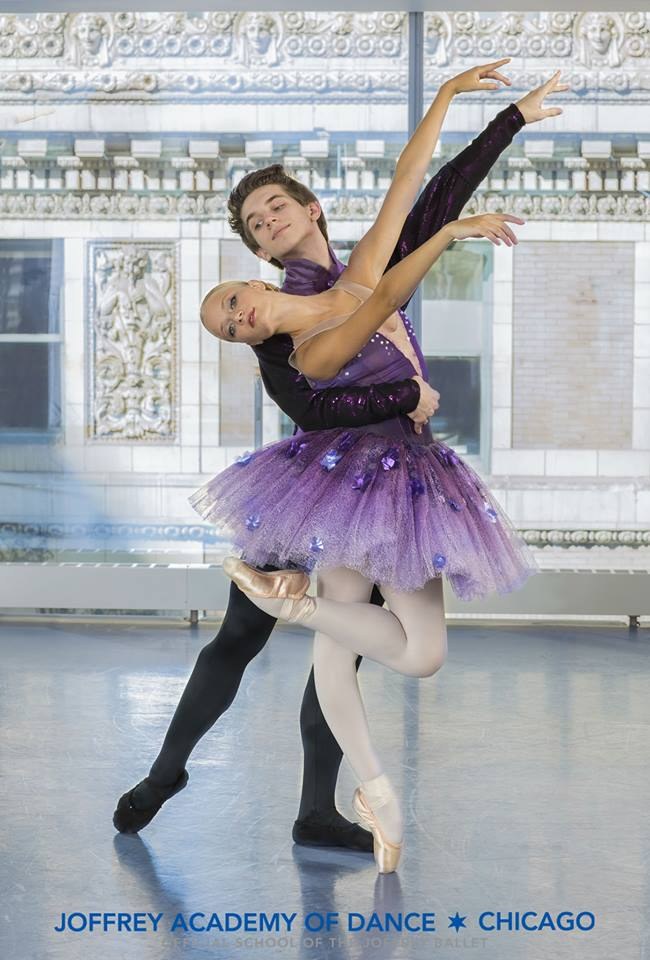 Come fall, this could be you! (Joffrey Academy trainees photographed by Cheryl Mann)
Attention, bunheads! Good news from Chi-Town: The Joffrey Ballet announced yesterday that it'll be launching the Joffrey Studio Company during the 2014-15 season.
We know the whole apprentice/trainee/studio company system can be confusing, so—what does that announcement mean, exactly?
Well, 10 dancers will receive full scholarships to the Joffrey Academy of Dance, where they'll train alongside members of the company's existing Trainee Program. They'll also have the chance to be chosen to perform with the main company, in addition to other performance opportunities. Basically, it's a great (and financially underwritten) peek at life in a world-class ballet company.
And how do you land one of these magical Studio Company spots? The Joffrey will be auditioning dancers from around the world. To quote the press release: "Students may be asked to join the Trainee Program in the Academy for one to two years prior to being selected for the Studio Company, or may be asked to join the Studio Company from an Academy audition."
There you have it. Stay tuned for more info!
Dec. 24, 2012 12:00PM EST
We want to wish a big congratulations to The Joffrey Ballet!
Remember when we told you about the Goldstar National Nutcracker Award? Well, America has spoken, and the Joffrey's production has been named the best Nutcracker in the nation—for second straight year! Take a look at the photos below—it's obvious why.
[portfolio_slideshow nowrap=0 height=500 thumbs=true timeout=4000 showtitles=true showcaps=true showdesc=true]
Which Nut was your favorite this year? Tell us in the comments below!
Mar. 13, 2012 06:12PM EST
Sure, dance is fun, but these performers have other skills they're putting to good use: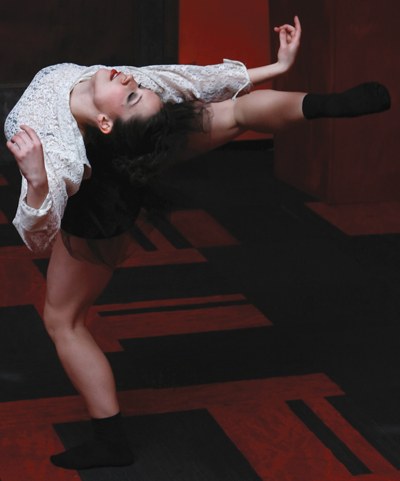 Alexandra Johnson in Sidra Bell's House Unrest. (Jubal Battisti)
Alexandra Johnson
Sidra Bell Dance New York
Hobby: Reupholstering furniture
"My mother has always been into sewing and she's worked in interior design, so I latched on to her interests. Now, I own a lot of furniture that I've reupholstered. People don't realize that reupholstering isn't hard if you're willing to take time to do it—and it saves money!"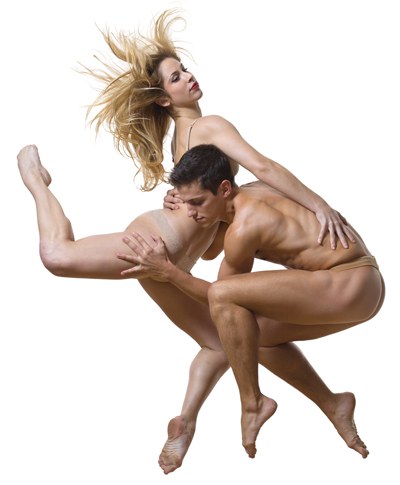 Sarah Braverman and Ian Spring (Lois Greenfield)
Sarah Braverman
Parsons Dance
Hobby: Learning Italian
"I decided to take up Italian because two of the dancers I work with speak the language and we spend a lot of time together. Plus, Italy just happens to be on Parsons' tour schedule! At the end of a long day it feels good to have something spark my interest that's outside of the dance world. Keeping your mind open makes your dancing more informed."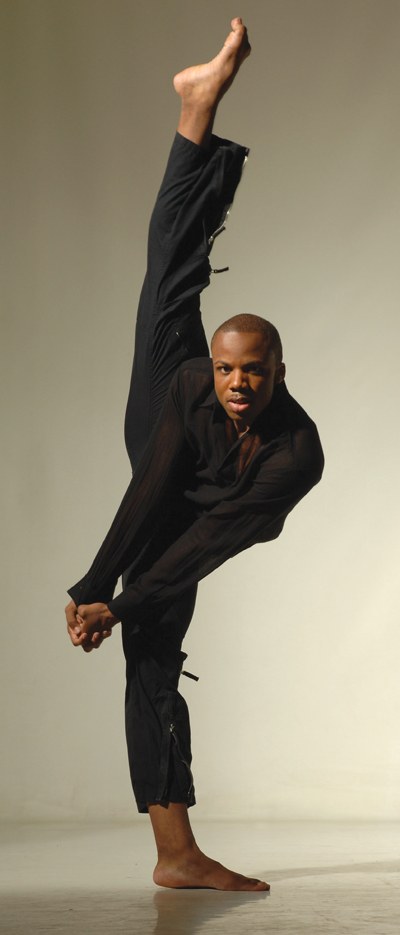 Jermaine Terry (Eduardo Patino)
Jermaine Terry
Alvin Ailey American Dance Theater
Hobby: Costume design
"I discovered costume design in college. I had choreographed my senior piece and my roommate suggested I buy slips and add to them for costumes. So that's what I did. I started to do it professionally later by accident. In rehearsal one day, I was wearing a pair of jazz pants I had made. The choreographer liked them and asked if I would make the costumes for his piece. People have been asking me to make things for them ever since."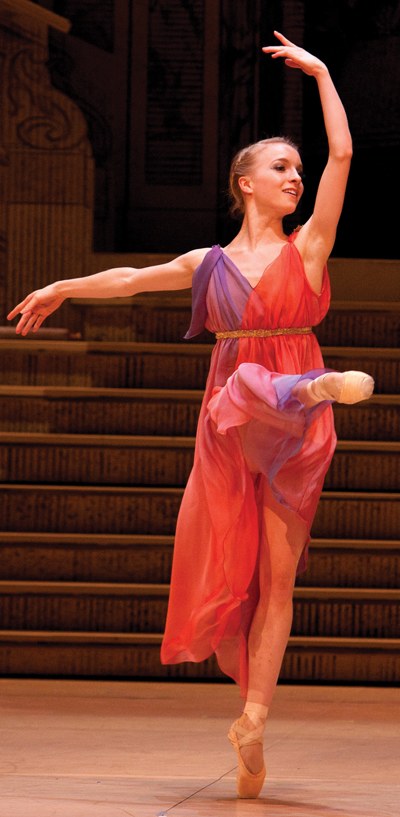 Shelby Elsbree in Christopher Wheeldon's Sleeping Beauty (David Amzallag)
Shelby Elsbree
Royal Danish Ballet
Hobbies: Blogging, cooking and photography
"A little over a year ago, my sister encouraged me to do something with my free time besides working out. I invested in a camera and took a picture of a chocolate cake baked by my sister. It was the most beautiful picture ever. I love food and cooking, so I combined these side passions with dance and started a blog. Tutus & Tea was born."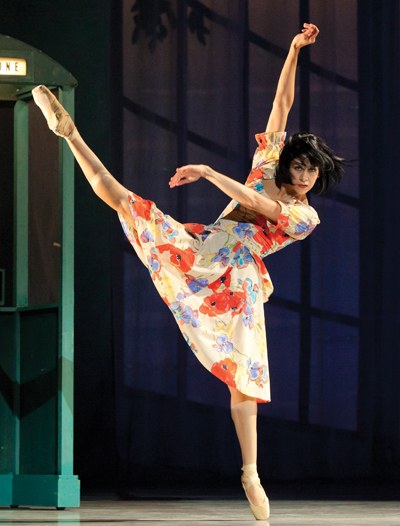 Sona Kharatian in The Great Gatsby (Brianne Bland)
Sona Kharatian
The Washington Ballet
Hobby: Knitting
"During Nutcracker season, I'll knit scarves and socks to give as Christmas presents. If someone has me as their Secret Santa, they know they'll get something knitted."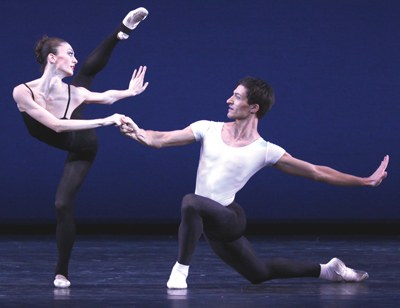 Suluashvili and his wife, fellow Joffrey dancer Victoria Jaiani. Suluashvili says his favorite piece he's crocheted is a shawl for Jaiani! (Herbert Migdoll)
Temur Suluashvili
Joffrey Ballet
Hobby: Crocheting
"One day I decided to pick up crocheting needles and see what happened. I thought it could be a fun challenge. With crocheting you can do a little at a time—a few minutes here, a few minutes there, and before you know it you have a scarf or legwarmers!
When you're dancing all day, it's nice to have something calming to do when you get home. It lets your mind and your body rest, and you create something beautiful in the process."
Mar. 13, 2012 05:47PM EST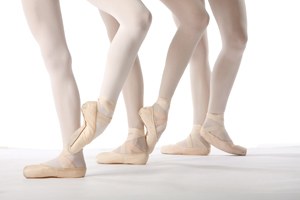 (L to R) Devant (pointed), devant (wrapped) and relaxed (Erin Baiano)
Sur le cou-de-pied (French for "on the neck of the foot") can be so confusing. Sometimes it's wrapped. Sometimes it's not wrapped. Sometimes it's relaxed; other times, fully pointed. You'll probably be asked to do all of its various versions at some point in your ballet career. But how can you keep them all straight? And how do you know when to use which type? Read on to learn the sur le cou-de-pied basics.
The Positions
Here are the four basic sur le cou-de-pied positions:
• Devant (pointed). Point the working foot and touch its little toe to the front of the standing leg just above the ankle bone.
• Devant (wrapped). Wrap the working foot around the standing leg's ankle, with the heel forward and the toes back.
• Derrière. Touch the working leg's ankle bone to the back of the standing leg's ankle bone, with the working foot's toes pointed.
• Relaxed. Relax the ankle of the working foot and touch its heel to the standing leg, just above the ankle bone.
How They're Used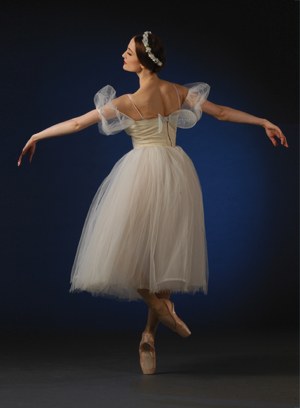 American Ballet Theatre's Julie Kent demonstrates sur le cou-de-pied derrière in Les Sylphides. (Marty Sohl)
How and when you use sur le cou-de-pied varies from style to style. The Russian school uses a wrapped foot for frappé and petits battements, for example, while the French and Italian schools use a relaxed ankle for frappé. Most styles begin développés with a wrapped sur le cou-de-pied, but in Russian technique the toe comes up the front or back of the standing leg, while in the French and Italian styles it continues up the side of the standing leg.
Teachers usually have preferences about when each position should be used. But if it's permitted, experiment with the different variations of sur le cou-de-pied to see which work best on your body. Some of them have benefits you might not expect. If you're not a great jumper, for example, try using a relaxed ankle during frappé exercises on flat. The relaxed ankle makes the metatarsals and toes work as you brush against the floor. "It activates those muscles so that when you jump, you're using the lower foot to really point in the jump," says Raymond Lukens, a teacher in the pre-professional division at The Jacqueline Kennedy Onassis School at American Ballet Theatre. The extra bit of point from the lower foot will add height to your jump, as well as polish to your line.
You can also use sur le cou-de-pied to help present your legs and feet. "If you're stepping up to sous-sus, go through that scooping around the ankle joint before you step forward," says Sarah Van Patten, a principal at San Francisco Ballet. "It adds a pretty little flourish—the foot comes up and around, rather than just lifting off the floor."
Still Confused?
Figuring out how to work the foot in sur le cou-de-pied can be tricky, especially when you go away to a summer course and find that it's used differently than the way you were taught. As a student, it's to your advantage to learn all uses of the position—not just because you'll be more versatile, but because doing so will help you gain strength in your feet and ankles and learn about maintaining alignment. "If you only work with a wrap," Lukens says, "you won't extend the foot fully and develop flexibility in the ankle. On the other hand, a dancer who works mostly in the pointed variations might end up sickling her feet."
"It's important to be versatile," adds Kara Zimmerman of the Joffrey Ballet. "As dancers we need to be able to adapt quickly so we can be ready for whatever is asked of us." Though it may feel confusing, practicing frappés with a relaxed ankle one day and a wrapped foot the next can only help you. Training that way will improve your versatility.
Sur le cou-de-pied is not a position you're typically in for a long time. But a transition step is as important as any other. "Doing it well," Zimmerman adds, "can be the difference between a clean, refined dancer and a sloppy dancer."


Get Dance Spirit in your inbox