Photo by Walter McBride for BroadwayWorld
Dancer Yesenia Ayala first caught our eye in the off-Broadway production of Sweet Charity with Sutton Foster earlier this year. So, we were super excited when we found out she was making her Broadway debut in this spring's sweetest new show Charlie and the Chocolate Factory. (Both productions were choreographed by Joshua Bergasse.)

Keep reading...
Show less
If there's one show that's undeniably taking over the Great White Way, it's Charlie and the Chocolate Factory. We knew from the moment we sat down with Emma Pfaeffle, who plays Veruca Salt, that this Joshua Bergasse-choreographed production was going to be super sweet and super dance-y. It's safe to say it's lived up to the hype—and then some. Case in point? The cast's recent performance on Good Morning America.

Keep reading...
Show less
So, I think I speak for everyone when I say it took me a solid five minutes to stop CRYING after I saw Jim and Megz cry during their elimination on last night's episode of "So You Think You Can Dance." I sent numerous #SOS texts to my fellow DS editors but they were too distraught to respond—so I was left alone with Megz and Jim's goodbye montages. Dramatic? Nah. It's a cruel world and this is just how "SYTYCD" goes. We knew this was coming, people—the Top Six would become the Top Four: Hailee and Gaby for Team Stage, and Virgil and Jaja for Team Street.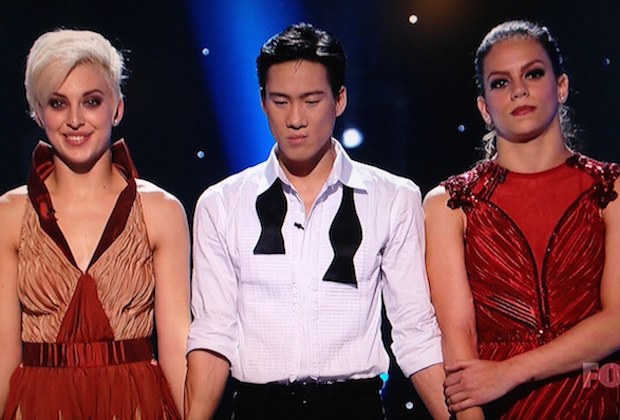 My. Heart. (Screenshot via FOX)
But enough blubbering. There's still a lot of dancing to process, and the remaining four are an incredibly gifted group of artists. Behold, my Top 5 moments from last night:
1) Just the fact that everyone had to dance THREE ROUTINES this week. Coupled with the fact that they apparently only have 7 hours to learn each one, including time with the choreographer, their partner (if they have one) or the entire group if it's a group routine. THAT'S SO MUCH CHOREO AND SO FEW HOURS! Add on the pressure of a live show, a title on the line and the fact that they're constantly being critiqued not only by the judges, but by all of us—yeah, that's a lot. Bravo, dancers.
2) Hailee's solo to "Elastic Heart" was a really touching moment (as were all the solos and their inspirations). Hailee has secured her spot in the Top Four, due in large part to the fact that she's amazing at adapting to so many different styles. But watching her solo was special because she was truly in her element—yet no different than when she performs in a genre that isn't her favorite. That's the sign of a great dancer, especially this far into the competition—one who is always convincing, no matter the circumstances. Hailee's got that ten times over.
3) Jaja's robotics solo quite literally took my breath away, because I kept saying "no way" every single time she hovered, isolated, popped, locked, dropped and clicked her body around. It was NUTS. She's a radiant person and it's so apparent in her dancing that it's no wonder she's in the Top Four.
4) Virgil's routine with All-Star and champion Melanie Moore was not only a high note of the episode, but of the season. These two have an absolutely lovely chemistry, and very contrasting qualities of movement—something that worked in their favor. They complemented one another as Melanie's sweeping legs and fluid transitions intertwined with Virgil's precise and punctuated articulations of the choreo. The judges clearly felt the same way, with Paula describing Virgil's performance as "mature and vulnerable," so mature, in fact, that she had basically no criticism to offer.
5) Gaby and Jim's Joshua Bergasse-choreographed Broadway routine was not a huge hit with the judges, it was definitely one of my highlights. I love Bergasse—how could you not? The man is super-skilled, as are the two dancers he worked with this week. Even though Nigel said the routine felt "jazz club-esque," Gaby and Jim grabbed the fever/hallucination theme and ran with it. Their commitment was 1000% (as it always is with these two), and while the judges recognized this, the dancers still weren't met with the response they deserved.
As they say, it's not over till it's over. But in two weeks' time, we'll have a new "SYTYCD" champion and that's just crazy. What have you thought of the season so far? Are you still crying about Jim and Megz? (Yes.) WHO DO YOU THINK IS GOING TO WIN?!? Tell us in the comments below and check back here next week for our review of the finale.
The Tonys are coming, the Tonys are coming! It's like musical theater Christmas!
The 2015 Tony Award nominations were announced this morning by the ever-glamorous Broadway (and TV and movie) star Mary Louise Parker and Bruce Willis (whom you know as "Dancing with the Stars" front-runner Rumer Willis' dad). And guys, there are so many amazing things to report. Because, well, ballet.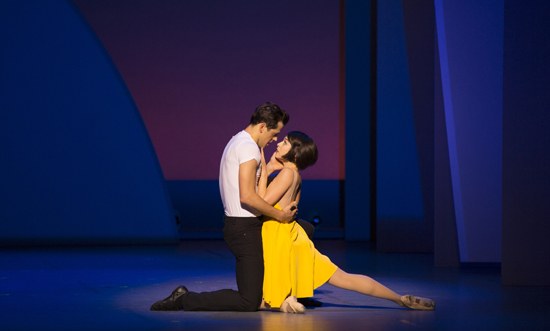 Robert Fairchild and Leanne Cope in Christopher Wheeldon's An American in Paris (Photo by Angela Sterling, courtesy Boneau/Bryan-Brown)
New York City Ballet principal Robert Fairchild and Royal Ballet first artist Leanne Cope received Tony nominations for their lead performances in An American in Paris. Christopher Wheeldon—ballet choreographer extraordinaire—earned TWO nominations for the show, for both best direction and best choreography of a musical.
Joshua Bergasse also earned a nom for his choreography of On the Town. Remember when he taught us 16 counts of the number "New York, New York"? You might want to revisit that combo before June 7—if the cast performs it at the awards ceremony, you can dance along with them in front of your TV. (Y'all know I certainly will be.)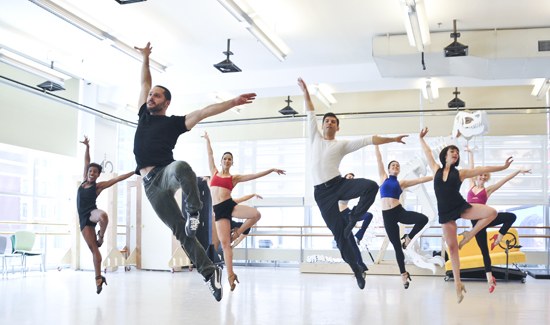 Joshua Bergasse (front) rehearsing the cast of On the Town (Photo by Jenny Anderson, courtesy Matt Ross Public Relations)
Other choreographers nominated include Casey Nicholaw (Something Rotten!), Christopher Gattelli (The King and I) and Scott Graham and Steven Hoggett for Frantic Assembly (The Curious Incident of the Dog in the Night-Time).
Chita Rivera—as in West Side Story, Fosse and OVERALL BROADWAY LEGEND CHITA RIVERA—received a nomination as best female lead performer in a musical for her role in The Visit. She plays an aging bajillionaire who returns to her small hometown to seek revenge on a former boyfriend—and the town itself. And while she doesn't do a whole lotta dancing in the show, I think we can expect a pretty stellar performance at the Awards. After all, it's her 10th Tony nomination, so...go big or go fun home, amirite?
All in all, An American in Paris racked up 12 Tony nominations—the most this year, tied with Fun Home. Get the full list of nominees here, and start placing your bets now! Who do you think should win for best choreography? Was anyone (or any show) snubbed? Let us know what you think in the comments!


Get Dance Spirit in your inbox