Aug. 20, 2016 11:00AM EST
If you've gotten your copy of our September issue, then you've definitely seen Kenneth Edwards' beautiful photo essay following Juilliard student (and 2013 CMS finalist!) Madi Hicks for a day. Hicks is a stunning dancer and Edwards an equally stunning photographer, so we here at Dance Spirit had a really (really) hard time picking our favorite images to print in the magazine. Which is why, as a special Saturday treat, we've compiled our favorite outtakes from the shoot. Take a look and prepare to be mesmerized by Hicks' elegant presence and Edwards' on-point photographic eye.
Keep reading...
Show less
Aug. 11, 2016 07:37PM EST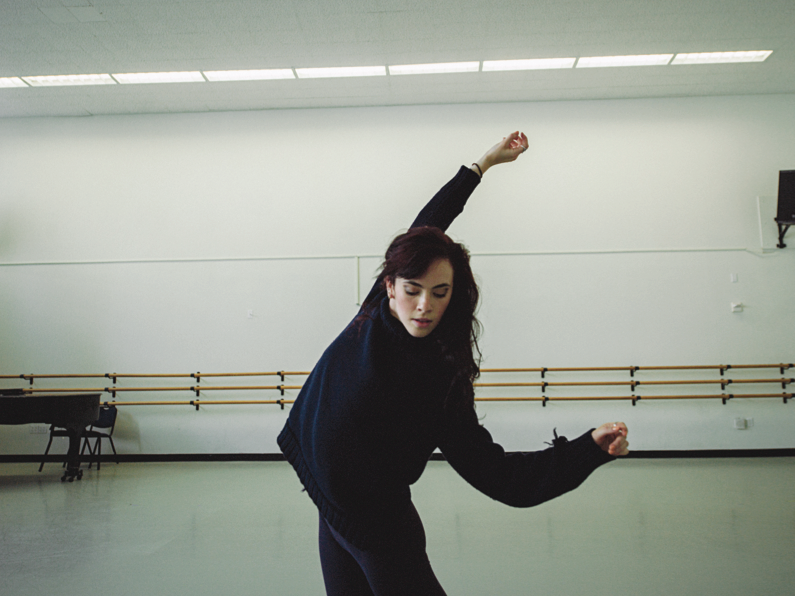 Madi Hicks (photo by Kenneth Brewster Edwards)
Spend one day observing the dance program at The Juilliard School, and it's obvious how hard the dancers have worked to get there. But even in a studio filled with insane talent, 20-year-old Madi Hicks stands out. A former title-winning comp kid (and 2013 Dance Spirit Cover Model Search finalist!), this junior dances 24/7, and packs as many dance composition classes into her schedule as possible. "I love, love, love to choreograph," she says. "I really want to have my own company some day." In the meantime, she's soaking up all that her elite school and NYC have to offer. So what's it like to attend one of the most prestigious conservatories in the nation? We followed Hicks for a day last spring to find out.
"The teachers really care about our futures and invest in us," says Hicks. "I get so much one-on-one help because the Juilliard dance program is so small. I wouldn't get that in a larger program."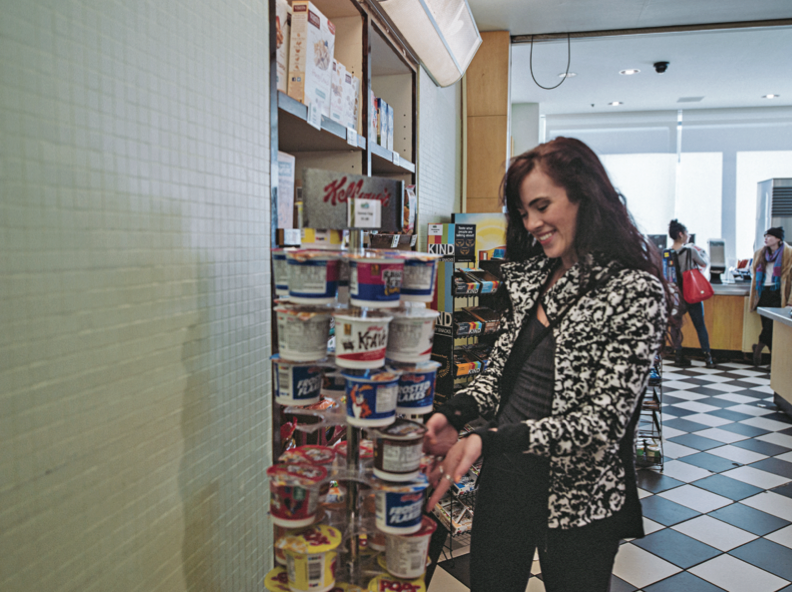 Hicks in the Caf (photo by Kenneth Brewster Edwards)
Madi's Typical Tuesday Schedule
•    8–8:30: Wake up, get ready for the day
•    8:30–8:45: Breakfast, walk to class
•    9–10:15: 19th-Century Art class
•    10:40–12:05: Ballet II class
•    12:15–1:40: Classical Partnering class
•    1:40–2:30: Lunch
•    3:30–8:00: Rehearsals
•    Evening: Dinner and downtime
"I set my alarm for 8 am and get to Caf, the cafeteria, for breakfast by 8:30, before my 9 am academic class." Her usual morning fuel? "An egg-and-cheese breakfast sandwich on a croissant with O.J. and coffee."
Hicks' commute to her first class is a short stroll on the Rose Walk, the elevated pathway that runs between the Juilliard facilities and the Residence Hall the students share with kids from School of American Ballet. "We get along well with the SAB kids. We're really close with some of them."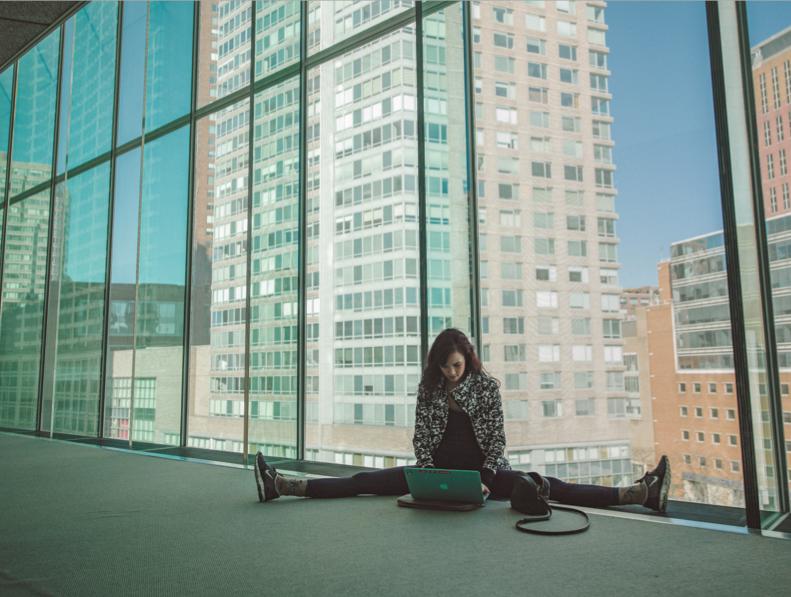 Catching up on some homework (photo by Kenneth Brewster Edwards)
During a short break, Hicks snacks on a banana ("I'm addicted") and preps for her 10:40 am ballet class.
Once a week, Hicks takes morning ballet with all 24 students in her class year. Twice a week, ballet is split into men's class and pointe for ladies, and on the remaining two days—like today—students from different years are mixed into various levels. Placement in these classes is based on previous training and which teacher the faculty thinks students will benefit most from. "If someone really needs to work on their hip alignment, they put them with a teacher like Alexandra Wells, who's really good with that," Hicks says. "I have Jeff Edwards on Mondays and Tuesdays. I love him. He really focuses on everyone. Though the class gets hard toward the end, I don't feel overwhelmed because he paces it well."
The faculty believes that no two tracks are the same, like no two people are the same," Hicks says. "Everyone's an individual." Though Hicks plans to lead her own troupe some day, she hopes to have a performing career first. Her interests fall between ballet and modern: "The contemporary route seems right for me—something along the lines of Nederlands Dans Theater," she says.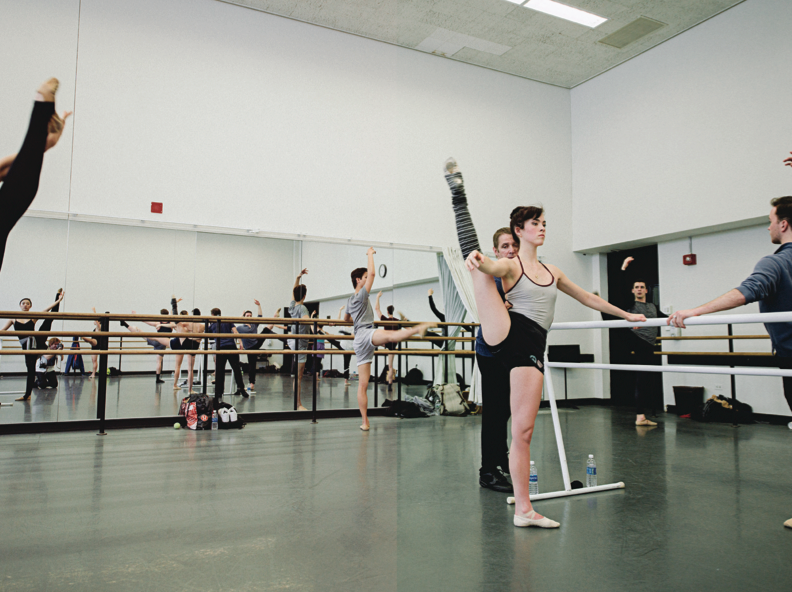 Hicks in Jeff Edwards' ballet class (photo by Kenneth Brewster Edwards)
Following ballet, Hicks would normally take another dance class, like classical partnering or Graham technique. But today, she heads to a doctor's appointment downtown to take care of a chronic foot injury. "I've had several sprains and my heel bone structurally doesn't sit right, which has caused damage to my tendons," she says. "It's been a persistent problem for years, but the faculty is super-good about accommodating injuries." Juilliard also has physical therapists on staff.
For lunch, Hicks heads back to the Caf for her usual meal: a turkey-and-cheese sandwich, SunChips and another banana. Though most of Hicks' "homework" is rehearsing in the studio, she sometimes uses her lunch break to squeeze in an occasional essay assignment. Juilliard has plenty of quiet nooks with huge windows and comfy chairs to cozy up in. Unsurprisingly, Hicks is equally at home on the floor.
From 3:30–4:30, Hicks rehearses a jazz number with classmate Paige Borowski for an upcoming student workshop. "I was originally choreographing a solo on Paige—it was going to be super-dark, about fears and phobias. But then I found the song 'Shipwrecked,' by To Be Forgotten, and the second I heard it, I knew it was no longer going to be a serious solo." Hicks is one of six students chosen for the competitive "Choreographers and Composers" class next year.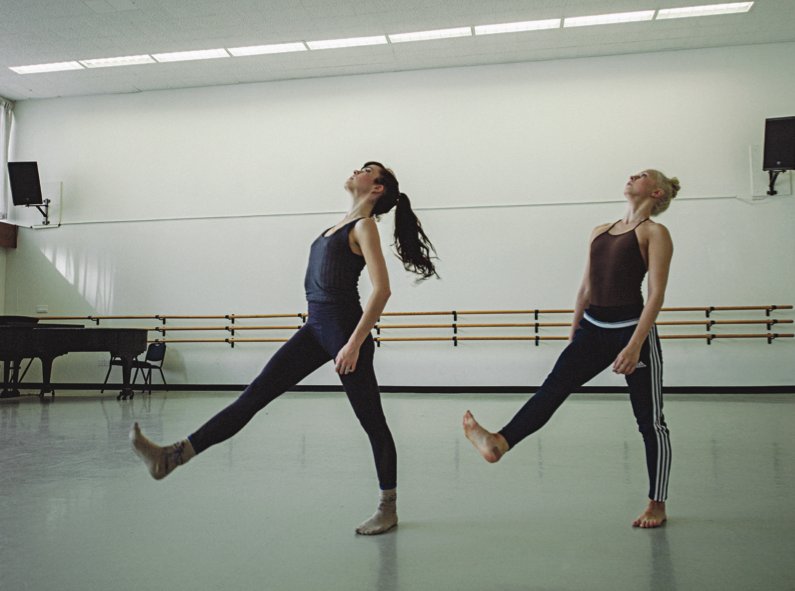 With Paige Borowski rehearsing their jazz number for an upcoming student workshop (photo by Kenneth Brewster Edwards)
Composition Class 101
All 24 freshman dance students are required to take Dance Composition I. In sophomore year, the number of spots for Dance Composition II is halved to 12, with students being accepted upon faculty recommendation. From this group, the faculty selects only six students, based on their previous work and Comp II projects, for "Choreographers and Composers." In this junior-year class, also known as ChoreoComp, dance majors collaborate with students from the music department to create original work.
Madi and Paige are BFFs! They even went to the Bahamas together for spring break. Some impromptu improvisation on the beach trip helped inspire the workshop piece.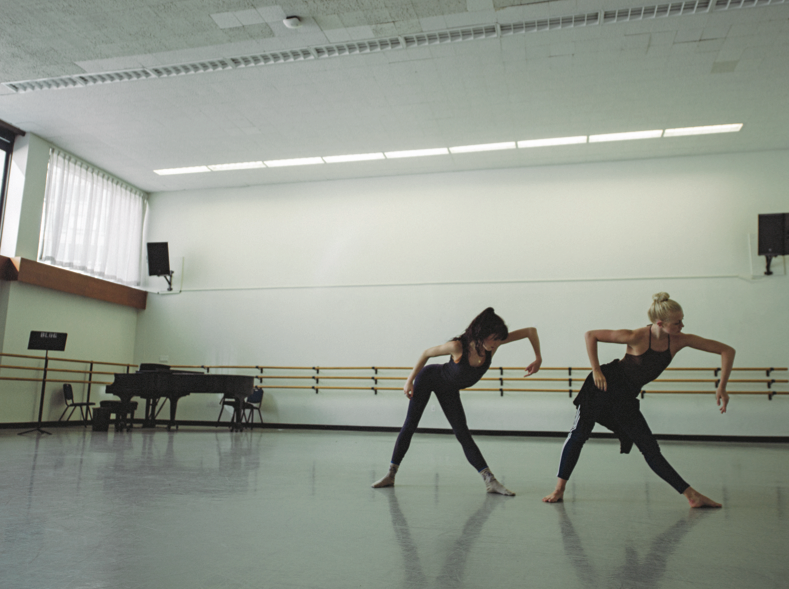 (photo by Kenneth Brewster Edwards)
Student Performance Opps 101
Performing opportunities abound at Juilliard. In the fall, there's the New Dances series, in which guest choreographers come in to create work on the students; in the spring, the faculty and/or guest repetiteurs stage repertory, like Cunningham or Graham works, for the Juilliard Dances Repertory series. The ChoreoComp show happens in the fall, and Senior Production rounds out the spring performance schedule. Additionally, there are two student composition workshops per semester. These are informal, mostly for the experience, but can be used by aspiring ChoreoComp students as a selection process. Hicks has created a piece for every single workshop so far.
Dance majors don't get a lot of downtime. Hicks' hectic schedule keeps her in the Lincoln Center neighborhood most days, but on the rare evening she isn't rehearsing, she likes to get out and about in the city. "I've been all over Central Park," she says, and the High Line in Chelsea is another favorite strolling ground. She also sees dance shows with discounted tickets offered to Juilliard students: "Everything from Broadway to Martha Graham to American Ballet Theatre. It's hard since I'm so busy, but I try to go as much as possible. I'm seeing the Martha Graham Dance Company next week." Hicks' most frequent excursion? "Pizza. I'm obsessed."
Mar. 25, 2014 05:11PM EST
I remember my audition for Juilliard like it was yesterday. I can tell you which leotard I wore, where I stood at the barre—and that I didn't make it past the first cut.
I bring this up for two reasons:
1. It's college admissions season, when high school seniors anxiously await envelopes containing options and decisions surrounding their future. It's a terrifying time of year, and one that can be extremely exciting and heart-wrenching at the same time.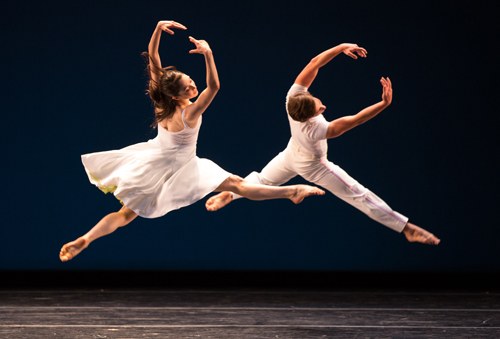 Juilliard students Daphne Fernberger and Lorrin Brubaker in Lar Lubovitch's Concerto Six Twenty-Two. Photo by Rosalie O'Connor
2. Juilliard's dance department celebrated another successful spring performance run this past weekend. Their sophomore, junior and senior dancers excelled in a repertory smorgasbord: Twyla Tharp's Baker's Dozen, Lar Lubovitch's Concerto Six Twenty-Two and Eliot Feld's The Jig Is Up. It was easy to forget the dancers were students and not professionals the way they tackled Tharp's wiggly phrasing and Lubovitch's flowing, expansive movement.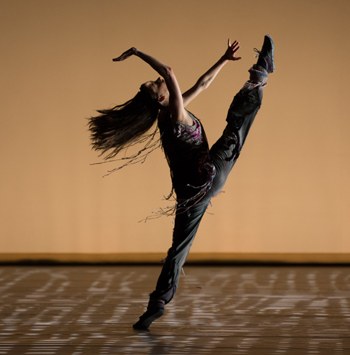 Juilliard's Kristina Bentz in Eliot Feld's The Jig Is Up.
Photo by Rosalie O'Connor
On Friday night, Dance Spirit's very own September 2013 cover guy (and Juilliard junior) Corey John Snide shimmied his way through Feld's quirky mix of Irish-jig-meets-Soul Train-meets-flower-child choreography.
While watching The Jig Is Up, I remembered one of Corey's quotes from the feature: "College has given me options for how I can make a living and feel fulfilled artistically. I'm not just trying to kick my leg up to my face anymore." He captures exactly what college dance has to offer. It's the time to explore everything we love—and don't love—about dance. It's awesome.
Choosing a school, however, is not always as awesome, or easy. When I was rejected from Juilliard, I was definitely disappointed in myself. But as they say, hindsight is 20-20, and I know now my reasons for choosing to audition there in the first place weren't exactly grounded. I didn't know Juilliard's rich history; I'd never seen a performance there; and I had no idea of which company I dreamed of joining after graduation. I hadn't considered what I truly wanted out of a dance education, compared to what the school—or any school for that matter—actually offered.
All classic mistakes.
But Dance Spirit is here to help. Check out "University of NYC" to find out what school in The Big Apple is really like. "Streamline Your College Search" offers countless tips to help you target your dream dance program. And look in your April issue for "I Have No Idea What I Want to Do After High School!" where you'll hear from five professional dancers about how they chose their paths—some heading to college and others directly to a career.
Want more? Sign up for the DanceU101 monthly newsletter to get program news and the "Real Deal" from college dance students delivered right to your inbox.
Mar. 14, 2014 11:00AM EST
When I find out there is a video on the internet featuring Jakob Karr that I somehow haven't seen, my day is immediately halted. Must. Watch. Jakob.
Choreographer Lauren Adams recently released a new project she had been working on (and hinting at heavily on Facebook!). A project including Jakob Karrrrrrr!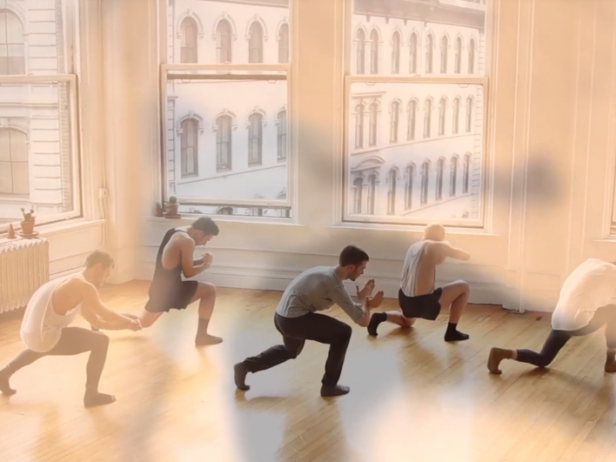 A shot from "Angel(s) on Fire"
But not just Jakob Karr. Also a whole handful of other awesome, strapping men: Jason Parsons (the bald, mysterious one), Joey Arrigo (the comp kid turned technical whiz), Corey Snide (the tapper who can also do everything else well, too), Austin Goodwin (the scruffy, captivating redhead) and Danny Tidwell (no intro needed, am I right?).
Adams directed and produced this piece, called "Angel(s) on Fire," and I keep watching it because there's so much to see. The video was filmed and edited by Allison Schultz, who does an incredible job shooting from crazy angles and layering the shots throughout the four-minute routine.
So yes, I have this love thing (from afar, of course) going on for Jakob, but I actually found myself most drawn to Corey Snide as I watched the "angels" in action. Corey, weren't you, like, just New York City Dance Alliance's Mini Oustanding Dancer? (You may also recognize Corey from our September 2013 cover—he's a Juilliard man now!)
The choreography seamlessly blends contemporary elements with tap-like movements, a boxing series and the guys playing with feathers.
Click here to watch "Angel(s) on Fire." I think you're going to like it.


Get Dance Spirit in your inbox