Oct. 12, 2016 07:56PM EST
You already know that taking on a new role requires lots of homework, from perfecting the steps to figuring out spacing. But while it's easy to become wrapped up in technical demands, a little extra research can make all the difference in your performance—because each piece of choreography is inspired by something, whether it's a person, a time in history or simply an abstract harmony created by a composer.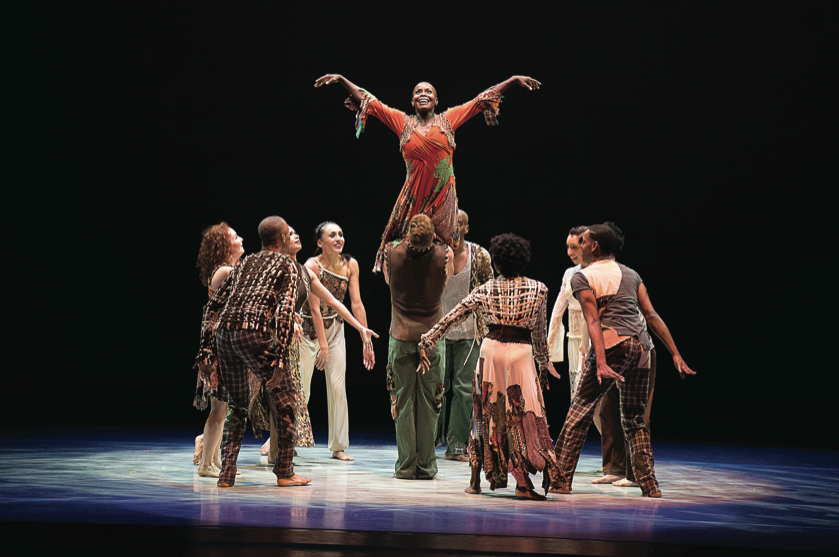 Hope Boykin (center) in Matthew Rushing's Odetta (photo by Christopher Duggan, courtesy AAADT)
"No matter how exquisite her facility may be, an uninformed dancer will never perform a more compelling Juliet than one who can use her knowledge, empathy and emotion to imbue the role with realism and create a deep connection with the audience," says Pittsburgh Ballet Theatre principal Julia Erickson. We all might replay a dancer's tricks over and over on YouTube, but the performances that leave us in tears contain so much more than technique. By researching your subject, watching the experts and honing your acting chops, you can transition from being a pretty dancer to a true artist.
Start with "Why"
When Ephraim Sykes landed a place in the ensemble for the Broadway hit Hamilton, he wanted to understand the context of the stories he'd portray. That meant trying to answer one question: Why? "There are moments in our lives that change our minds and hearts and make us live a certain way," he says. "For instance, there was a moment in my life when I decided to start dancing. Finding out the character's motives is the most critical thing in terms of exploring a role. All their actions will be justified, because you know the baseline of their lives."
San Francisco Ballet principal Vitor Luiz agrees. As he prepares to take on the iconic role of The Creature in Liam Scarlett's Frankenstein this upcoming February, Luiz aims to understand why The Creature behaves the way he does. "He just arrived in this world and his creator rejected him. He's bitter about it," Luiz says. "There's a sense that he wants to be loved above all, but he doesn't fit into this world. That's why he becomes angry. He had a pure soul."
Do Your Research
To understand his role in Frankenstein, Luiz began by  hitting the books. "There are a bunch of movie versions," he points out, "but studying Mary Shelley's classic novel helps me really know what my character is going through. If you see someone else playing a role, you only imagine the character that way." Once he's studied the book, Luiz will turn to the movies to add to his own conclusions.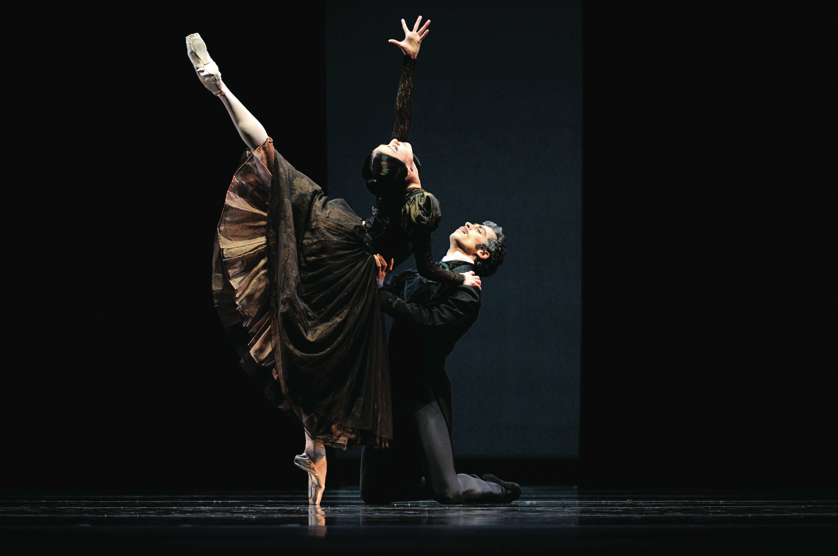 Yuan Yuan Tan and Vitor Luiz in John Cranko's Onegin (photo by Erik Tomasson, courtesy SFB)
While many of Hamilton's ensemble members read the biography on which the show was based, Sykes also loves the visual aspect of films and documentaries, because, he says, he can see more of the character's world and pick up on his movement and mannerisms. For both Hamilton and Sykes' recent role as Marvin on the HBO series "Vinyl," that meant seeking out political documentaries to create a broader understanding of what his characters lived through, which informed his movement quality.
Trips to museums can also be beneficial. In 2009, PBT performed Stephen Mills' abstract work Light/The Holocaust and Humanity Project, a piece that requires dancers to embody the emotional weight of the subject matter with every movement. "Stephen led us through a long educational process before we started rehearsing to help us become more informed, aware artists," Erickson recalls. The dancers spoke with Holocaust survivors and even took a trip to the United States Holocaust Memorial Museum in Washington, DC.
As the title character in Matthew Rushing's Odetta, Alvin Ailey American Dance Theater's Hope Boykin was tasked with representing singer Odetta Holmes, known as the voice of the Civil Rights movement. Though it wasn't required of her, she learned all Holmes' lyrics. "I wanted to make sure you could hear her voice through the movement and my understanding of each song—not just through the counts or the choreography," she says.
Learn From Other Dancers—but Leave Room for You
It's important to stay open to advice from your choreographer, director or teacher, and don't be afraid to seek out more experienced dancers who may also have information that will help you. If you're performing in a recently created ballet, you might have the opportunity to speak to those who were close with the choreographer, or to the role's originator. The first time Boykin was cast in Alvin Ailey's 1974 work Night Creature, she sought out former company member Sarita Allen to coach her. "She was known for doing the lead," Boykin says. "One day in rehearsal, she turned on the music and told me everything that Mr. Ailey had told her. She started doing the movement, and I had to chase her around the room—she was so full of information. As dancers, we often get caught up in our lines, but there's so much more to a work."
On the other hand, it's a good idea to avoid studying others in the same role until you have a strong handle on it yourself. SFB's Luiz explains: "You start to copy the dancer, and a copy is never as good as the original." That doesn't mean Luiz shuts out all other interpretations—watching other dancers, either in videos or in person, can offer new perspectives on a role he's performed many times.
Whether you hit the library, visit a museum or talk to experts, doing your research to fully create a character will be doubly worthwhile come performance time: Not only will you be able to be in the moment onstage, you'll also transport the audience emotionally. "Learn to be an artist first and a dancer second," Sykes says. "You'll go much farther in your career if you think deeper than aesthetics."
Apr. 13, 2016 09:32PM EST
Six ballerinas discuss why they love their pointe shoes.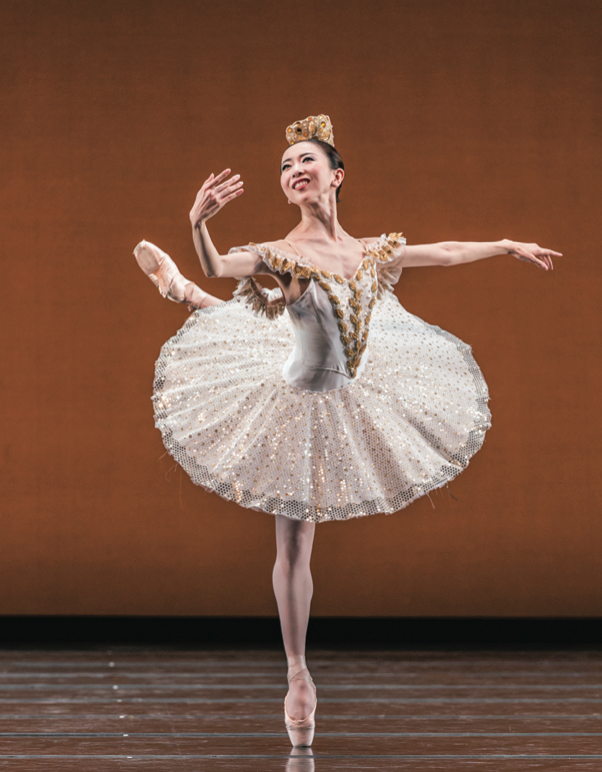 Kajiya in Ben Stevenson's The Nutcracker (Photo by Amitava Sarkar, courtesy Houston Ballet)
Yuriko Kajiya, Principal, Houston Ballet
Foot type: Wide and flat, with long toes
Shoe: Capezio Tiffany
Customizations: "I like my heels and sides to be lower than those of the stock shoes. One of the biggest things Capezio does for me is cut down my shank to almost nothing. I really like how light the shoes feel on my feet."
Kajiya's advice to dancers: "Pointe shoes are like Cinderella slippers—you're always trying to find the style that'll help you dance your best. I'd advise younger dancers not to go with shoes that are too hard in the beginning. They can cause damage to your Achilles tendons if you aren't strong enough."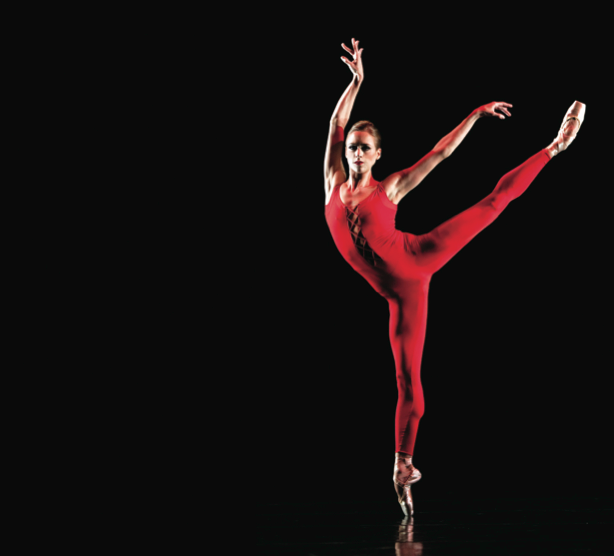 Rausch in Ulysses Dove's Red Angels (Photo by Angela Sterling, courtesy Pacific Northwest Ballet)
Lesley Rausch, Principal, Pacific Northwest Ballet
Foot type: Long and narrow, with very high arches
Shoe: Freed of London "V" maker
Customizations: "I wear wing-blocked shoes and ask them to bang out the bottom
and platform so they're really flat. Freed also three-quarters the shank and makes the vamp and sides to my specifications. A lot of shoes try to make you go over your pointe more, and that just doesn't
work for my ankles."
Rausch's advice to dancers: "Talk to someone who has a foot shape similar to yours, especially if you like the way her shoes look. Find out what she wears and what her tricks are. It's really a matter of trial and error."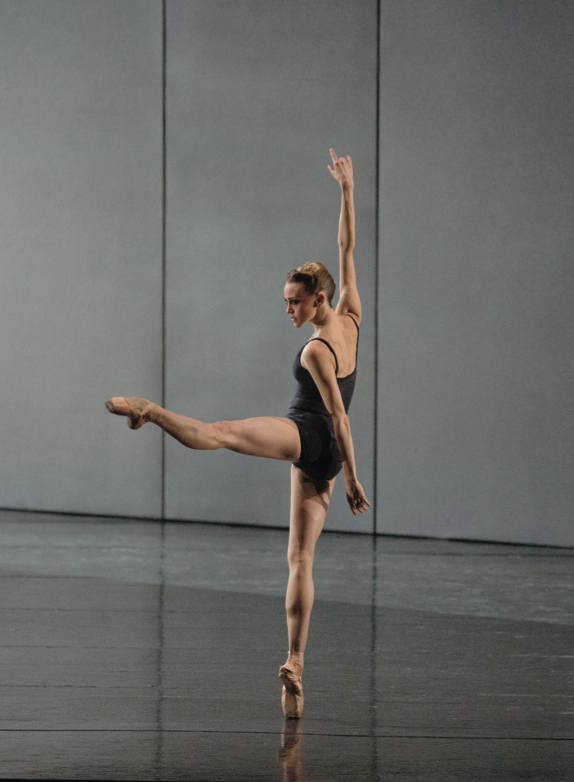 Button in Jose Martinez's Resonance (Photo by Rosalie O'Connor, courtesy Boston Ballet)
Dusty Button, Principal, Boston Ballet
Foot type: Wide at the ball, narrow at the heel
Shoe: Bloch Inc. Jetstream
Customizations: "To accommodate my foot shape, Bloch makes the heel of my shoe much narrower than the base. Because my arch is closer to my heel than the middle of my foot, they remove one of the nails from the bottom so it breaks right where my arch is."
Button's advice to dancers: "Don't just follow what's trendy. I think it's silly when people tell you not to wear a certain brand or type of shoe. Find what actually works for your foot, regardless of anyone else's thoughts or what your favorite dancer wears."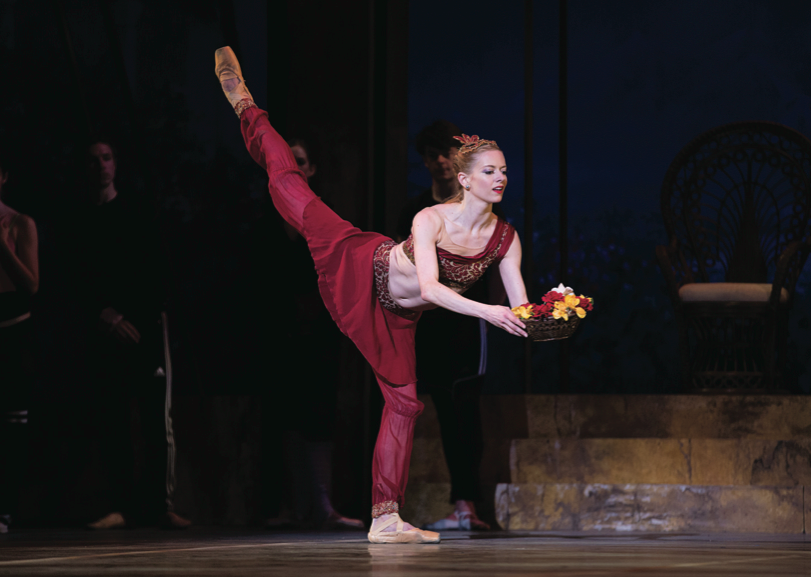 Erickson in La Bayadere (Photo by Rosalie O'Connor, courtesy Pittsburgh Ballet Theatre)
Julia Erickson, Principal, Pittsburgh Ballet Theatre
Foot type: Wide and square, with bunions
Shoe: Gaynor Minden #4 box
Customizations: "I have some of the material cut down on the sides, and the back half of the upper is made with Gaynor Minden's Luxe fabric lining, which prevents the wrinkling that can happen when you point your foot in your shoe. I also have a box liner because I'm kind of in between sizes. I wear both the hard shank and the ExtraFlex shank, depending on the role I'm dancing. These shoes are great, because they really let my metatarsals spread and alleviate the pressure on my bunions."
Erickson's advice to dancers: "Be patient. It takes time to find the shoe that feels like an extension of your body. Wear what makes you feel free to dance the way you want to dance."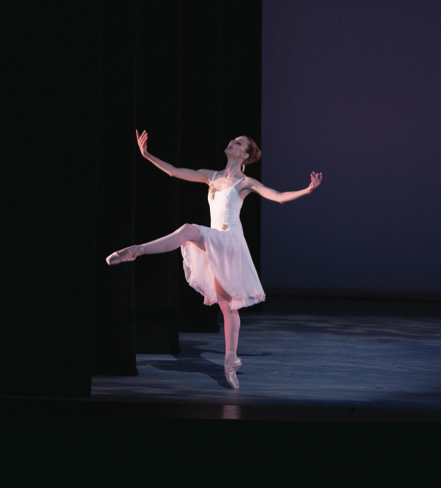 Angelova in Balanchine's Walpurgisnacht Ballet (Photo by Rosalie O'Connor, courtesy The Suzanne Farrell Ballet)
Violeta Angelova, The Suzanne Farrell Ballet
Foot type: Under-pronated with a recovering injury on the fifth metatarsal
Shoe: Sansha Etudes
Customizations: "I don't have a special order on this particular shoe. I actually wear a few different brands of pointe shoes depending on the role that I'm dancing. These shoes are very quiet, so when I recently danced Giselle, which has so many jumps, they worked well. I do have to make sure my shoes are softened properly to avoid aggravating my fifth metatarsal."
Angelova's advice to dancers: "Try as many different shoes as possible. If you can, have a fitting with a shoe company and see if they can make a trial shoe especially for you."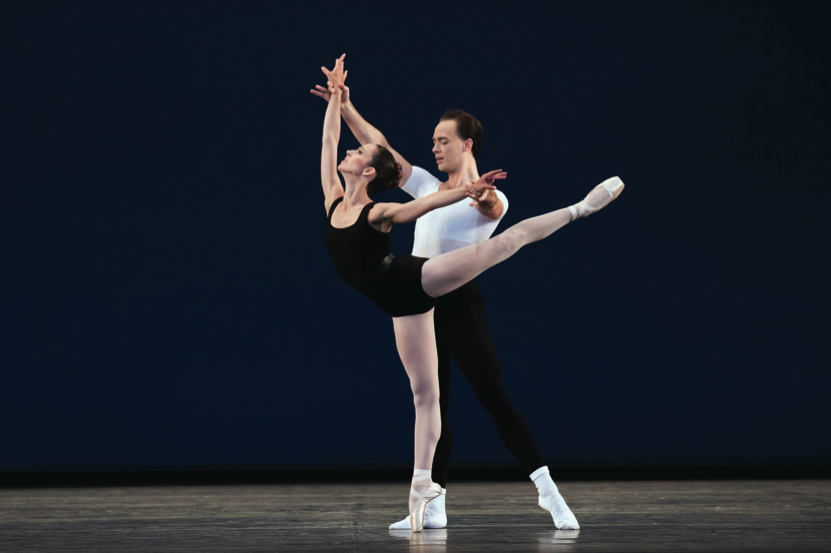 Scheller with Tyler Angle in Balanchine's The Four Temperaments (Photo by Paul Kolnik, courtesy NYCB)
Ana Sophia Scheller, Principal, New York City Ballet
Foot type: Wide
Shoe: Grishko Nova
Customizations: "My vamp and sides are slightly shorter than those of the stock shoe, and my shank is measured to break with my arch, with additional flexibility through demi-pointe. I like that these shoes last a lot longer than any others I've worn."
Scheller's advice to dancers: "You always want a pretty shoe, but make sure it's also comfortable so it doesn't cause injuries."
Apr. 25, 2011 12:30PM EST
Summer intensives are a great way to boost technique and make new friends. They're also just what the name suggests: intense. For most dancers, summer study means leaving home for the first time, dancing many more hours a day than they're used to and trying out different dance styles. But challenging as they are, summer programs are often the most memorable and productive periods in a dancer's training. Check out these tips from 10 notable summer program alums on how to make the most of your experience.
On Thriving in the Classroom
Jason Luks: dancer in White Christmas on Broadway; attended the Slide tap intensive
"When you're learning so much in every class, it's hard to remember everything by the end of the day. Take a minute during lunch to write down combinations and corrections from the morning, and another minute to write notes after the day's classes are over."
Shawn Ahern: Pilobolus Dance Theater; attended American Dance Festival summer course
"Don't be afraid to introduce yourself to your teachers. The connections you make at summer programs can open doors later in your career. 'Please' and 'thank you' go a long way!"
Lia Cirio: principal with Boston Ballet; attended Boston Ballet Summer Dance Program
"We all know competition exists at summer programs, and it's hard to ignore. It can feel discouraging when other dancers get more attention than you or a better part than you. But if you watch carefully, you can learn from what they're doing right—and even from what they're not doing so perfectly."
On Staying Happy and Healthy
Carly Anderson: commercial dancer; attended Pacific Coast Dance Fest
"Stick to your bedtime. Staying up late with friends is fun, but you don't want to be sleepy in class the next day."
Melody Lacayanga: commercial dancer; attended Pacific Coast Dance Fest
"Warm up properly every morning. If you know that your body needs something that isn't in the class warm-up, take a few extra minutes to work out the kinks."
Christiana Bennett: principal with Ballet West; attended Pacific Northwest Ballet Summer Course
"I was homesick almost every summer, and the thing that really helped me was getting involved in different activities. Go on every field trip that interests you. And don't be afraid to call your parents and tell them how you feel. It will get easier!"
Jeanette Delgado: principal with Miami City Ballet; attended Miami City Ballet Summer Program
"Many programs have physical therapists, and it's great to talk with them even if you don't have a serious injury. Injuries often stem from weaknesses; the therapist can assess your weak spots and give you some preventative strengthening exercises to do."
On Trying New Styles
Julia Erickson: principal with Pittsburgh Ballet Theatre; attended Pacific Northwest Ballet Summer Course
"To grow as dancers we have to force ourselves outside our comfort zones. My dad calls it 'repotting': Once you move a plant to a bigger pot, it flourishes in a way it couldn't in the smaller pot. Trying new styles at a summer program—aka the 'bigger pot'—can be scary, but it's also how we improve."
James Whiteside: principal with Boston Ballet; attended Boston Ballet Summer Dance Program
"Watch your teachers very carefully and take in all the details that you can. Each of the many instructors at a summer program has her own style, and the ability to pick up different styles is valuable in today's companies."
Tara Dunleavy: Radio City Rockette; attended the Rockette Summer Intensive
"Don't be discouraged if a movement feels awkward on your body at first. It takes a little while to adjust to a new way of moving."


Get Dance Spirit in your inbox