May. 19, 2017 04:33PM EST
Keep reading...
Show less
Mar. 23, 2017 05:44PM EST
How do you sum up an evening that includes performances of stage-shaking passion; heartfelt speeches that make you laugh and then make you ugly cry; and an inescapable sense of beautiful, joyful, warm-and-fuzzy #dancerlove?
You can do it the way legendary Merce Cunnigham dancer Valda Setterfield did it last night: By declaring that there's nothing better than being in a room full of dancers, whom she called the world's bravest, most generous souls. (Not too shabby.) Or you can do it in six words: Welcome to the Dance Magazine Awards.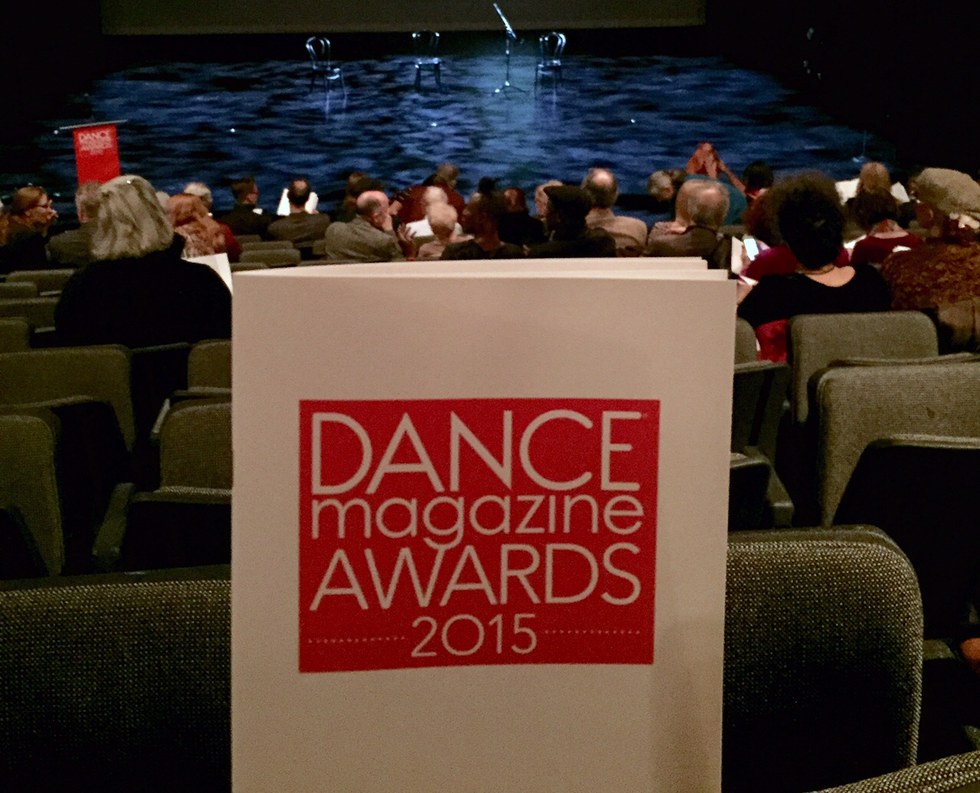 Yay!
Last night's ceremony marked the DM Awards' 61st anniversary, and this year's crop of honorees included luminaries from all corners of the dance world. None other than Mikhail Baryshnikov graced the stage to present the evening's first award to Karen Kain, one of the National Ballet of Canada's loveliest ballerinas and now its artistic director. Kain was one of the first people Baryshnikov met after he defected from Russia, and the two have kept up a beautiful friendship for decades—though Baryshnikov lamented in his speech that he was too short to ever dance with her. (That honor went, instead, to slouches like Rudolf Nureyev.)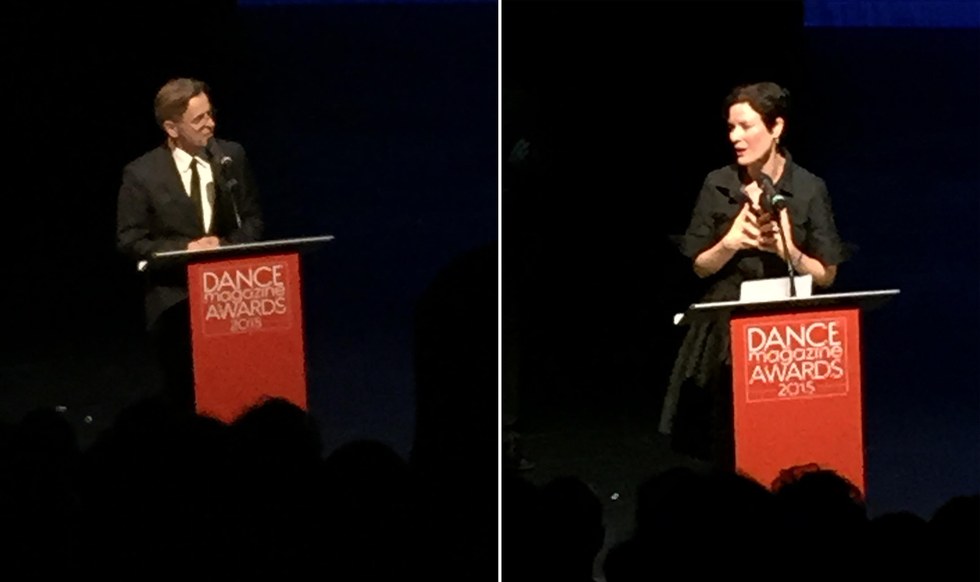 Baryshnikov and Kain: BFFLs.
Also representing #teamballet was honoree Marcelo Gomes, the gorgeous American Ballet Theatre principal and choreographer who charms the heck out of both audiences and his adoring ballerinas. We were treated to a pas de deux from Gomes' recent premiere for ABT, AfterEffect—lushly danced by Cassandra Trenary and Thomas Forster—that put Gomes' deep understanding of the intricacies of partnering on display. And recently retired ABT star Julie Kent made a sweetly teary speech in which she noted that even babies "immediately feel safe in Marcelo's arms, just as I do." D'awwwwww.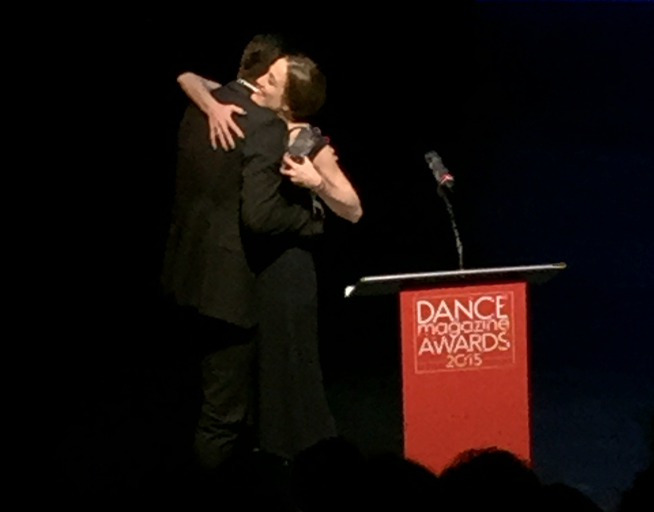 Kent in her safe place
Setterfield (wearing the world's most amazing plaid pantsuit ensemble) paid tribute to David Vaughan, a dancer who basically invented the job of "dance archivist" and has served in that role for Merce Cunningham's company since 1976. Now 91, Vaughan shows zero signs of slowing down: In his lovely acceptance speech, he talked about the fact that his old friend, dance artist Pepper Fajans, had convinced him to return to the stage next month. May we all be that awesome in our tenth decade.
We saw a vividly drawn excerpt from honoree Jawole Willa Jo Zollar's Walking with 'Trane—a  musing on John Coltrane's legacy—performed by Zollar's company, Urban Bush Women, which is celebrating its 30th anniversary this year. Zollar spoke movingly about the fact that reaching a "point of stability" in one's career was actually a bad sign: On a heart monitor, ups and downs indicate a pulse, while death is a stable flatline. She urged everyone to embrace life's natural rises and falls—though now, she added, whenever she's feeling low, she can look at her Dance Magazine Award and say, "Jawole Willa Jo Zollar, you are a bada**." FACT.
The highlight of highlights for me, though, was watching flamenco virtuosa Soledad Barrio blaze through Solea, accompanied by three masterful musicians (and the "Olés!" of the appreciative crowd). Tattooing the stage with her heels, slicing the air with her arms, searing our souls with the depth of her passion, Barrio illustrated exactly what the DM Awards are all about (Charlie Brown): honoring the most extraordinary of extraordinary dance artists, the people whose brilliance is life-enhancing and life-affirming and, sometimes, life-changing.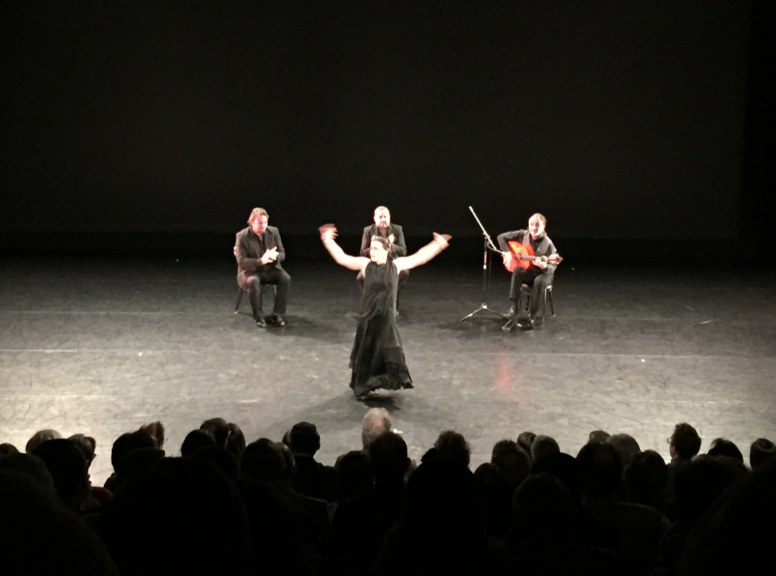 Olé, Sole!
Check out video highlights from the awards here:
Mar. 08, 2016 03:08PM EST
Well, this is one of the best ways we can think of to celebrate International Women's Day!
The wonderful Julie Kent—former American Ballet Theatre principal and, odds are, one of your all-time ballerina idols—has just been named artistic director of The Washington Ballet. And it's a family affair: Kent's husband, fellow former ABT principal and longtime ABT associate artistic director Victor Barbee, will join her at TWB as associate artistic director.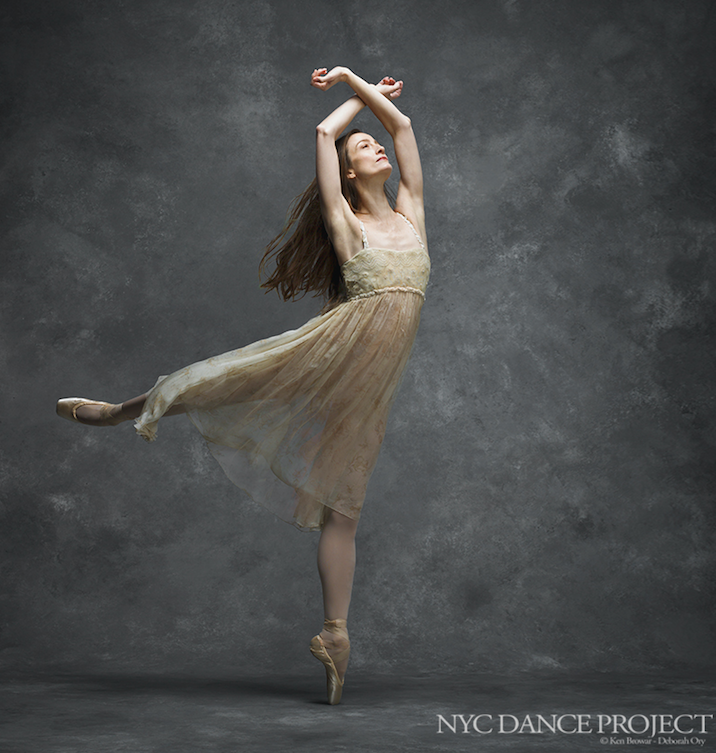 (Kent photographed by Ken Browar and Deborah Ory/NYC Dance Project)
Why is that a brilliant move? One, because Kent—who danced with ABT for 29 years, longer than any other company member—has a profoundly deep knowledge of ballet. In addition to being an exceptional performer, she's a gifted teacher and coach; she has a lot of wisdom to share. Two, because the ballet world desperately needs more women in leadership roles. And there are few more natural leaders than the ballerina we've collectively looked up to for so many years.
So, what changes do Kent and Barbee have in store for TWB? Will the company take on more of the large classical works that ABT is known for? Will its school adopt ABT's National Training Curriculum? It's not clear yet (though there's a press conference at noon today that may answer some of those questions). But we're excited to see what's next.
Congratulations, Julie—and happy #IWD2016, everybody!
Jun. 19, 2015 03:38PM EST
Julie Kent has danced with American Ballet Theatre for 30 years. That's an impressive career in any context, but it's especially impressive in the world of ballet, where dancers are subject to the whims of their fabulous but frequently fickle bodies.
And Kent isn't just any ballerina. For a whole generation of dancers and dance lovers, she's the ballerina. Who didn't grow up idolizing her? She's Kathleen Donahue from Center Stage. She's the star of that glorious production of Le Corsaire that used to air on PBS every five minutes. If you've been lucky enough to see her live, you know that she's even more luminous onstage than she is onscreen; her willowy frame and beautiful face are made for the spotlight.
Kent will take her final bow with ABT tomorrow night, dancing Juliet in Romeo and Juliet (oh, lord, get those tissues ready) at NYC's Metropolitan Opera House. To help us brace ourselves for that blow, Vanity Fair just published "4 Lessons Learned from a Prima Ballerina," in which Kent shares some of the considerable wisdom she's acquired over the course of her career. One of the highlights is a poetic "merde" note from legend Natalia Makarova—"Someone once said that beauty could save the world. What a great responsibility you have"—that has become a kind of career philosophy for Kent.
There's also this incredible drawing of Kent wearing a dress composed of all the ballets she's performed: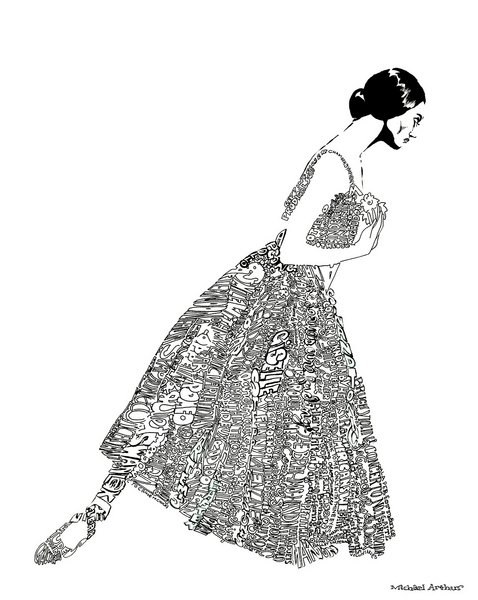 By Michael Arthur, based on a photograph by Roy Round
Click here to read the whole story. And while Kent's farewell performance is, naturally, sold out, the magical internet does have several clips of her dancing Romeo and Juliet. I'd suggest watching the video below—of Kent and Roberto Bolle in the iconic balcony pas de deux—around 9 pm tomorrow, when Kent will actually be dancing it, one last time, at the Met.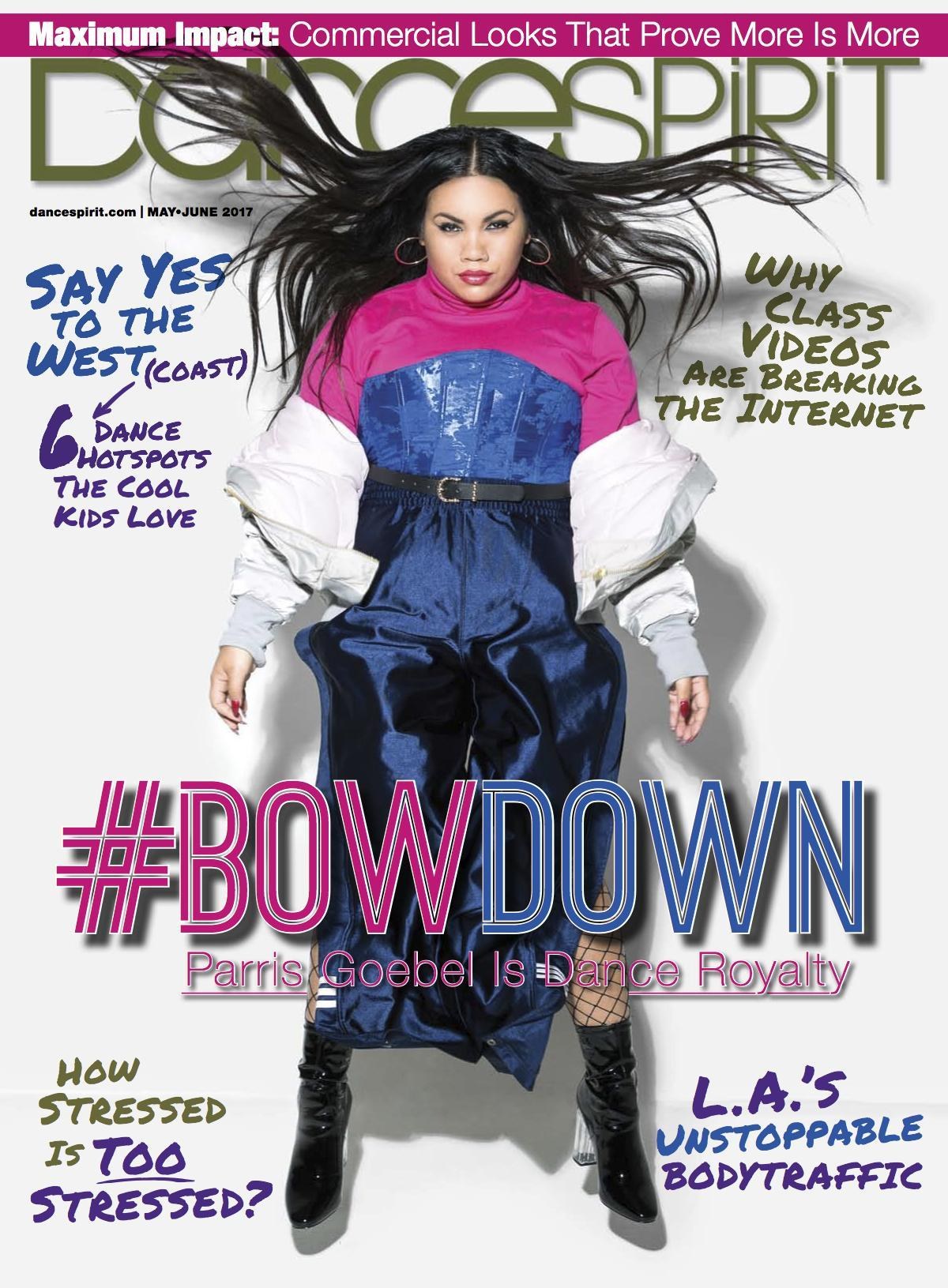 Get Dance Spirit in your inbox