Cat Deeley, we love you, we really do. But when you open the show by telling us that "So You Think You Can Dance" will be taking a two-week "summer vacation" and that means we have to send not one but two dancers home tonight? Well, you break our hearts a little.
Fortunately, though, the two hours of showtime leading up to the double elimination were fun, entertaining, and packed with good stuff. This week, the remaining contestants performed two duets: one with their All-Star, and one with another contestant (yay!). These moments, in particular, had us laughing, crying, and dancing in front of our TVs.
1. Phoenix and Pharside's opening number
The opening number is almost always a highlight because we get to see all the remaining contestants and All-Stars performing together. This Nutcracker-themed hip-hop routine with a kind of dark twist featured Fik-Shun as a jester, Tate and Kathryn as eerie ballerinas, a handful of creepy clowns, and Jordan as a teddy bear. Cat said, "No one likes a freaky clown," but in this case? We were into it.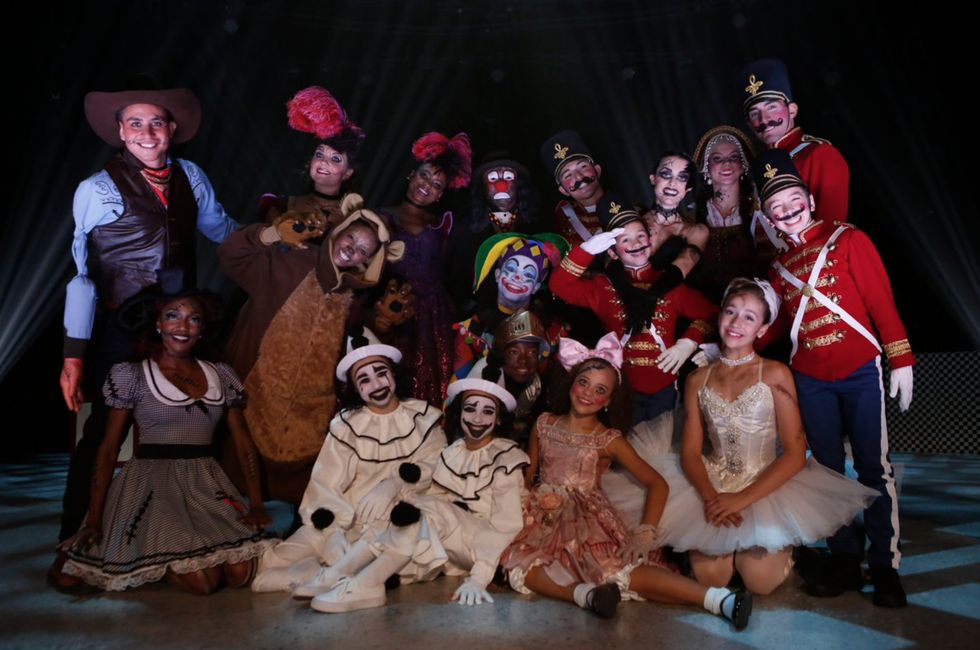 (Photo via FOX)
2. Tahani and Comfort's lyrical hip-hop routine
Nappytabs doing what Nappytabs does best: emotional hip hop! This narrative piece was about abandonment: Tahani's dad/Comfort's husband has walked out on them, and they're coping with a wall between them. (Really. A literal wall, not just an emotional one.) It was pretty emotional—particularly when Judge Maddie Z. said she could relate, making us all wonder if Mr. Ziegler was watching!—and prompted Nigel to declare Tahani one of his favorites in the competition. Crushed it.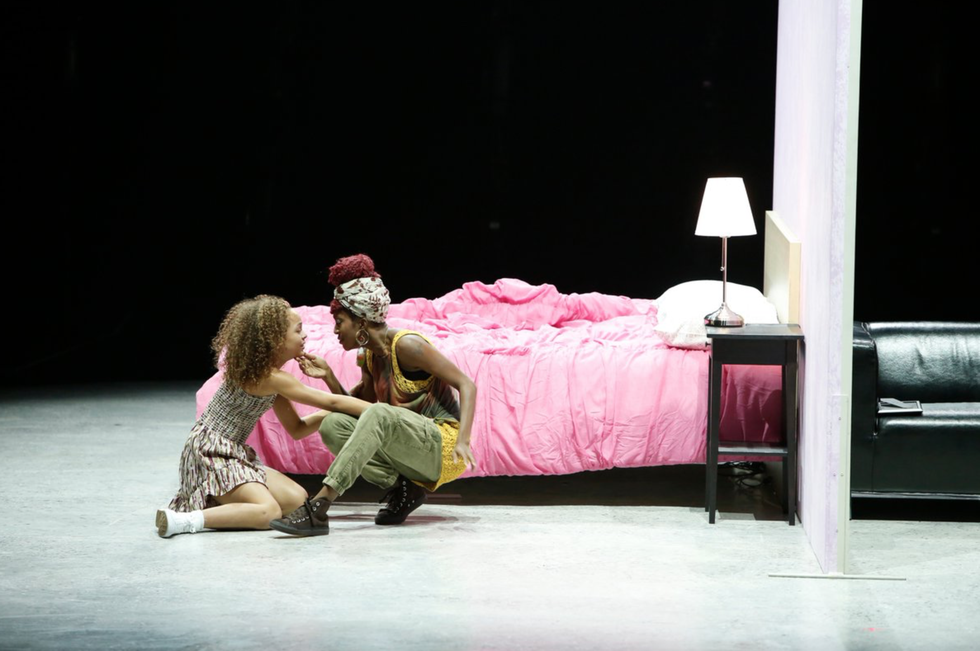 (Photo via FOX)
3. J.T. and Robert's jazz duet
These two just keep the hits coming, week after week. But this week, instead of the emotional contemporary duets they've become known for, J.T. and Robert get some Mandy Moore jazz choreography! And it was, of course, so much fun. It was nice seeing J.T. outside his contemporary bubble, though style doesn't seem to matter: These two are so good together. They were totally in sync the entire time—every turn, every spot, every move was on point. Paula couldn't wipe the grin off her face, and neither could we.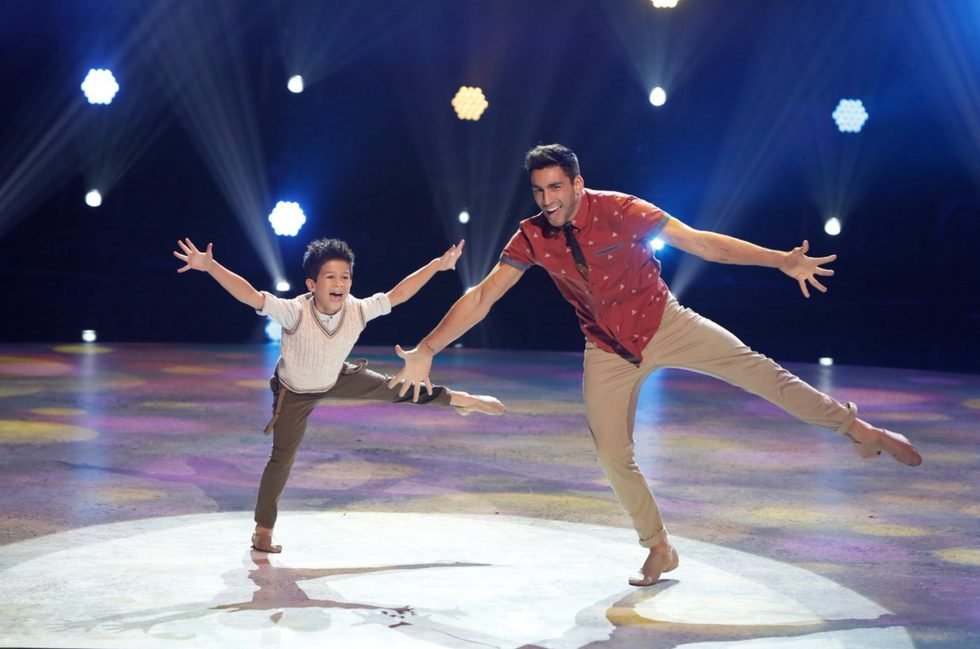 (Photo via FOX)
4. Tate and Kathryn's contemporary masterpiece
"Wait, which one is the kid and which one is the adult? Is the girl in pink the younger one?" my husband asked me in the middle of this routine. And while normally I'd shush him for talking mid-"SYT," he has a point. Tate is literal leaps and bounds above the rest of the competition, and she executed this Travis Wall number flawlessly. The choreography was intense, challenging, and intricate, and the performance was perfection. When the two reconvened for their post-performance talk with the judges, Kathryn was crying. (It's OK, Kathryn. So were we.) Tate is on another level. Kathryn is on another level. Travis is on another level. Love, love, love.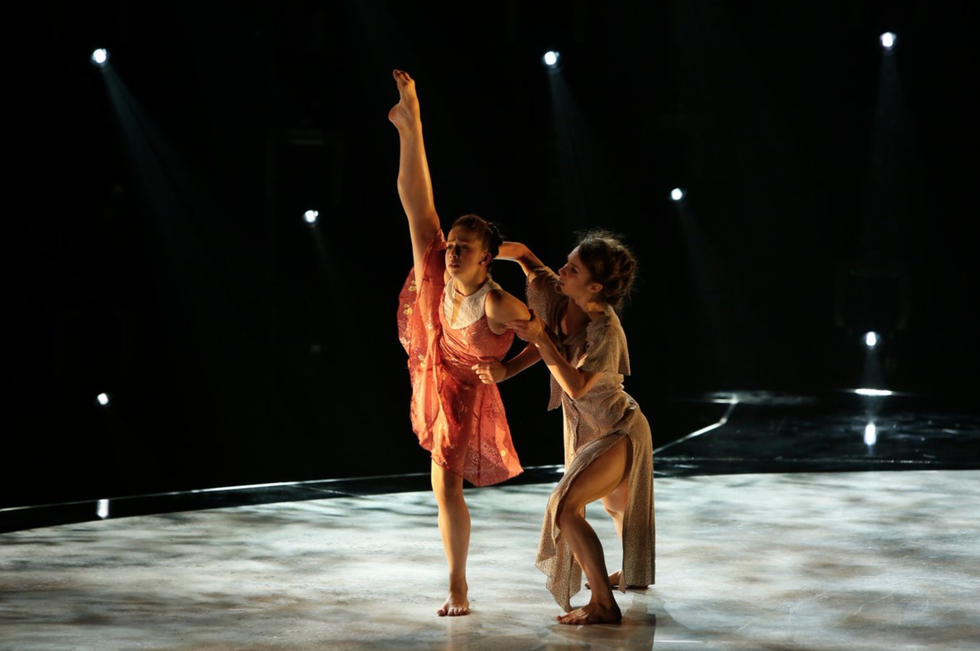 (Photo via FOX)
5. Kida and Ruby's contemporary routine
Another Mandy Moore stunner! The pre-performance rehearsal package footage was all about Kida being uncomfortable and out of his comfort zone. But really? He seemed so smooth and so comfortable onstage, and we felt so proud. Kida has proven himself as the show's go-to hip-hopper, but now his versatility and growth are really shining through. Sure, he may not have the technique of, say, Tate, but he was a strong partner for Ruby, and he connected with her well. The piece earned a standing ovation from the judges, bringing tears to Kida's eyes. And ours. Obviously.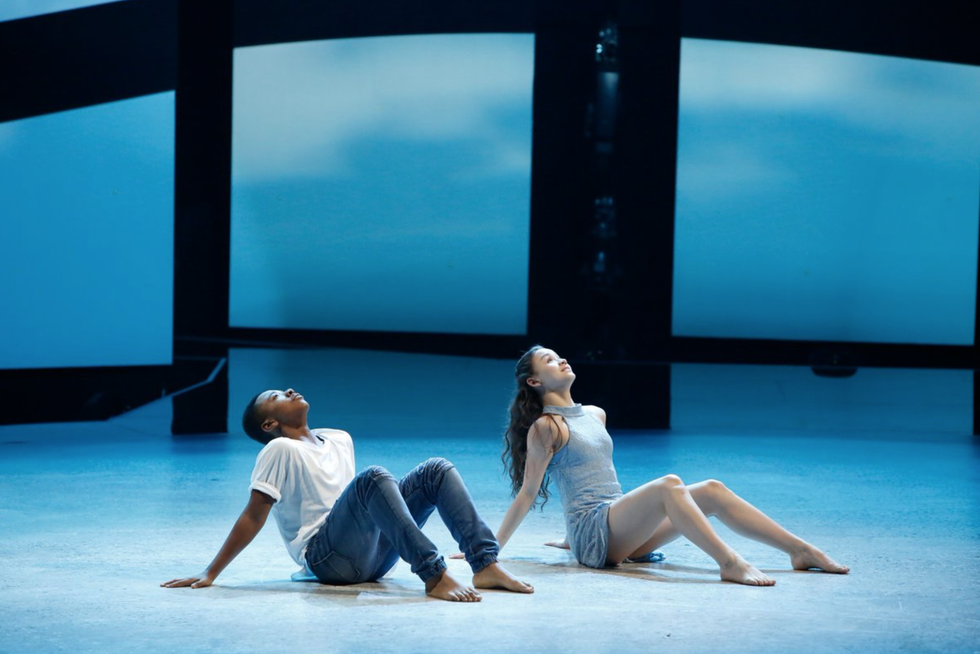 (Photo via FOX)
Other highlights: Emma and Gaby's OMGsofast tap routine, Jordan and Sasha's emotional duet (that shoulder balance!), the Tyce Diorio-choreographed All-Star routine that made us wish for a winter wonderland, Kida and Fik-Shun's unbeelievable routine by superstar Misha Gabriel and Maddie Ziegler's voluminous ponytail.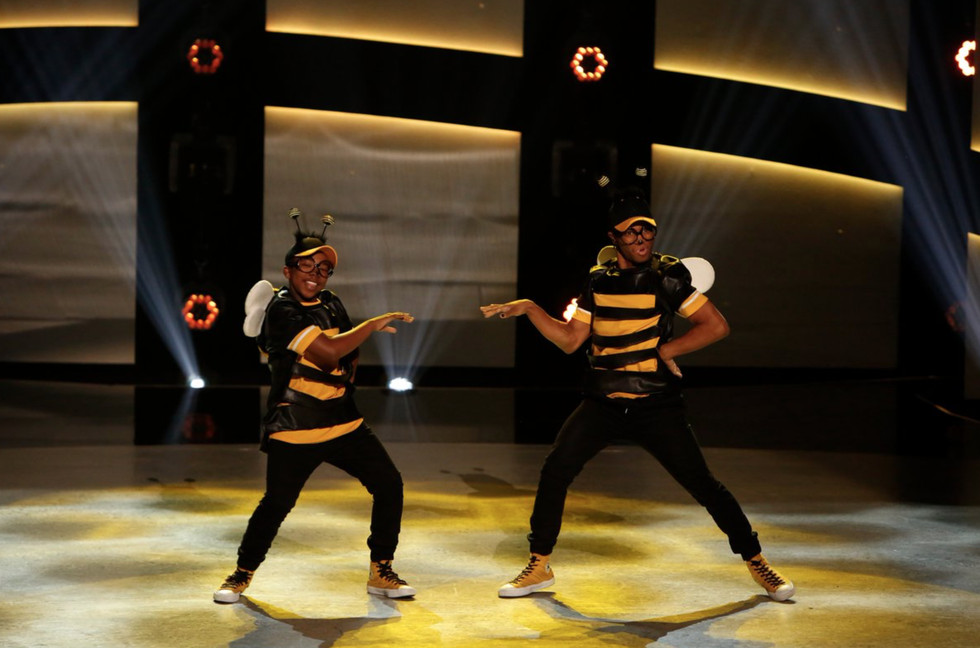 (Photo via FOX)
But, as Cat said, the double elimination was looming, and ultimately Jake and Jordan were sent home.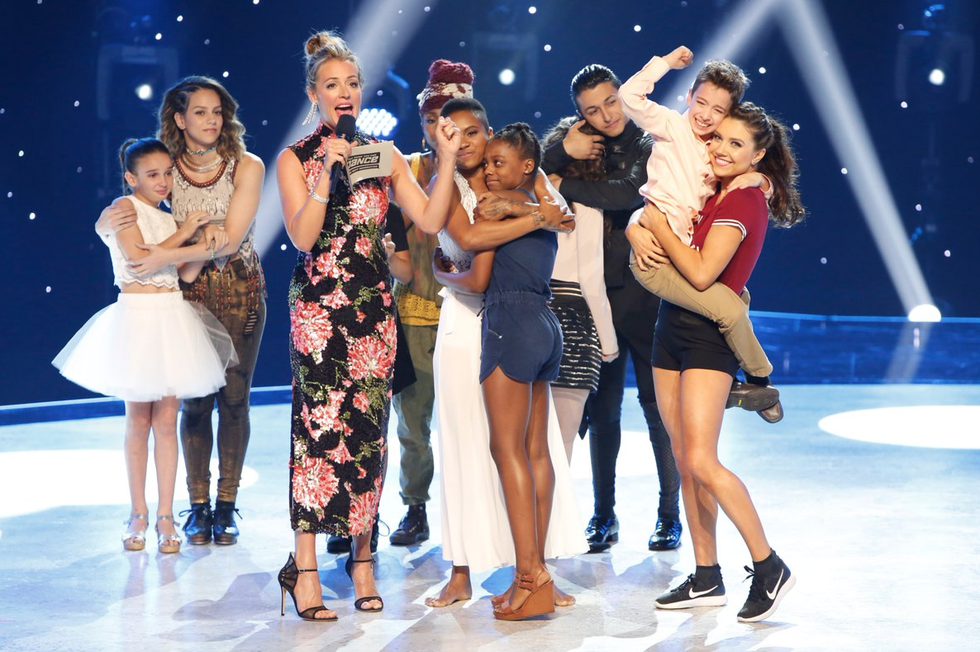 (Photo via FOX)
And then there were six...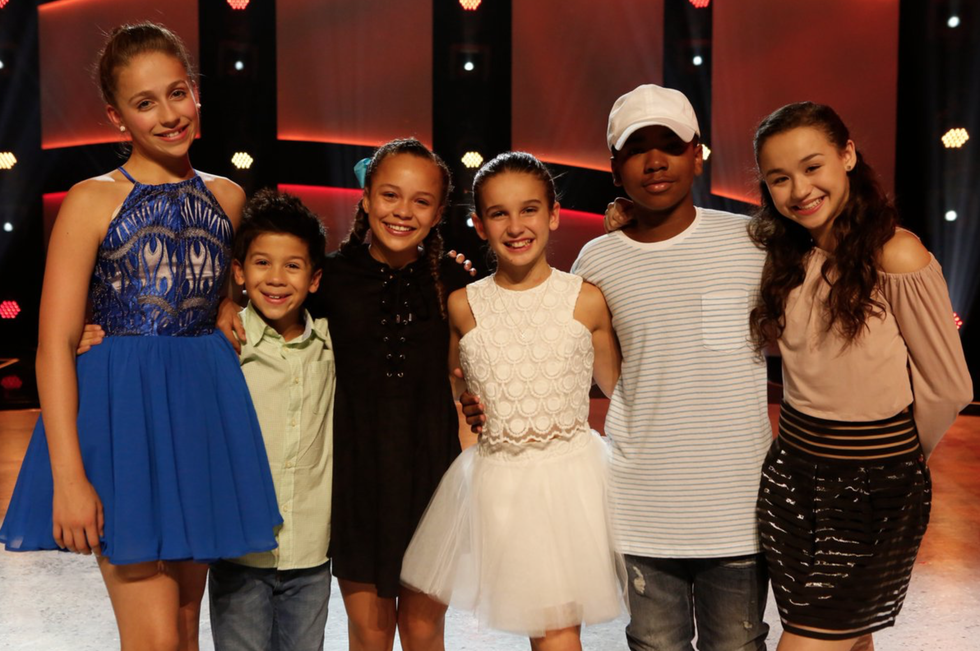 (Photo via FOX)
See you in two weeks!
In my imaginary second life, I am best friends with Kathryn McCormick and Chantel Aguirre, and we are all members of Stacey Tookey's newly-formed company, Still Motion.
In actual life, Kathryn and Chantel (and a host of other former Dance Spirit cover stars, including Melanie Moore) really are members of Tookey's company.
Sure, I'm jealous. But I'm sure a spot will open up in the company—and the friendships—for me soon enough.
In the meantime, I am so into this just-released video from Tookey showcasing a bit of the incredibly talented dancers from Still Motion in Moments Defined.
Planning on spending the holiday weekend catching up with your DVR? Make sure you don't miss Tuesday's episode of "Dancing With the Stars." In addition to sending two couples home (no spoilers here!), there's an awesome number by hip-hop superstar Parris Goebel, a creative performance by Paula Abdul and, my personal favorite, a beyond stunning contemporary piece choreographed by some DS favorites, Derek Hough and Allison Holker. Some highlights:
Choreographers Allison and Derek set the mood.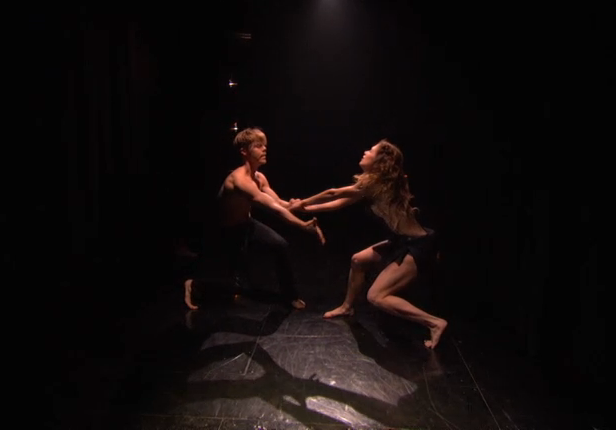 Oh hey, Kathryn McCormick, looking gorgeous as always.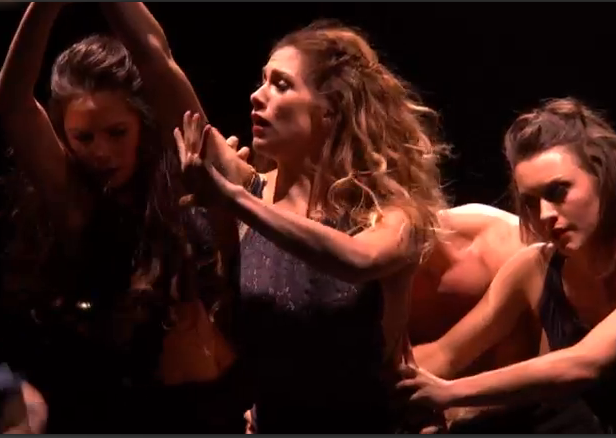 I see you, Melanie Moore.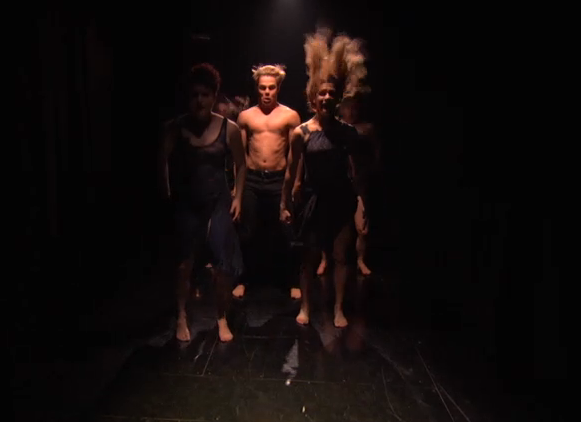 Is that a slow motion jump? Mind blown.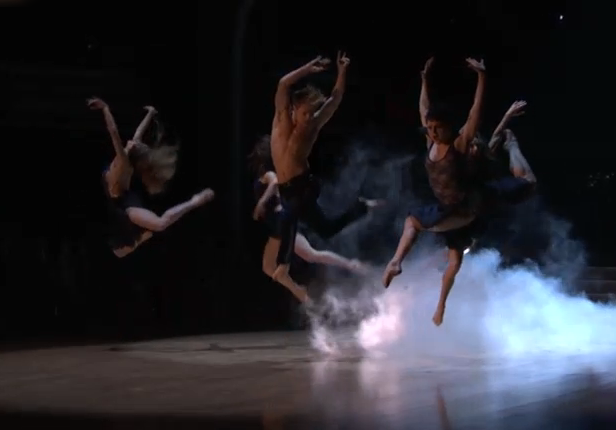 Love the use of water. This gives "dancing in the rain" a whole new meaning.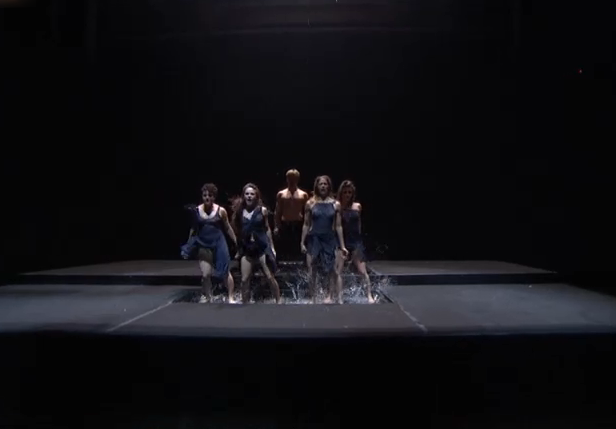 Best. Closing pose. Ever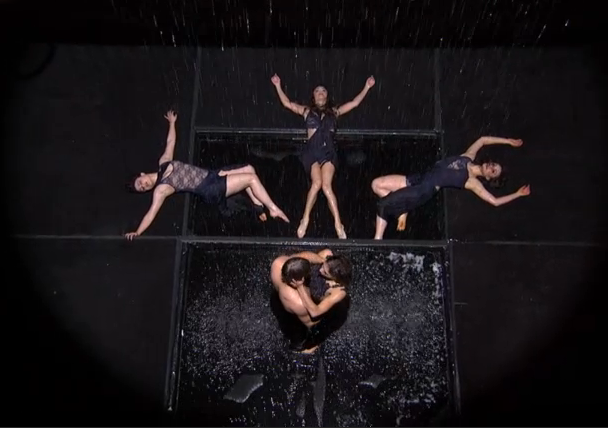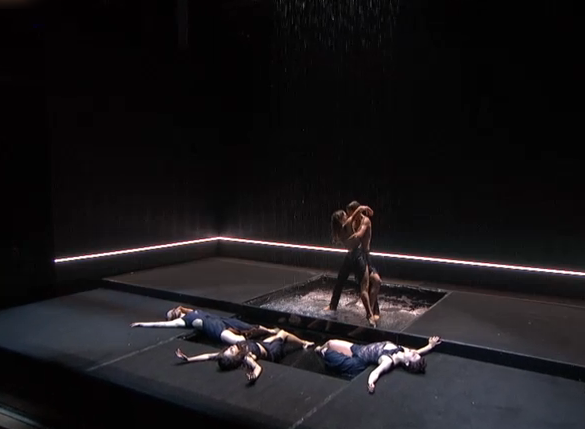 Forget to record the episode? Never fear, abc.com is here. Click here to watch.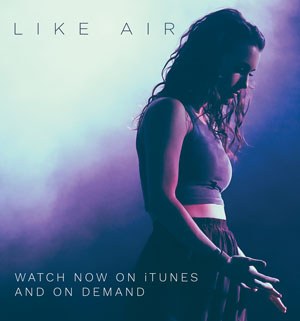 We're not sure Kathryn McCormick ever sleeps. When the beautiful contemporary dancer (and November 2012 cover girl) isn't busy appearing as an All-Star on "So You Think You Can Dance"—where she just wrapped up a hugely successful season, partnered with 13-year-old wunderkind Tate McRae—she's taking on acting projects, teaching at DanceMakers Inc. or serving on the creative team for CLI Studios. Last year, she added a wedding to her jam-packed schedule, marrying producer (and former dancer) Jacob Patrick.
McCormick and her new husband have a passion project of their own: Like Air, a documentary following three of McCormick's young protégés as they prepare for DanceMakers Nationals. (It's available for download now on iTunes.) We spoke with her about the film, the "SYTYCD" whirlwind and why mentorship has become the through line in her career.
Dance Spirit: What inspired Like Air?
Kathryn McCormick: It all started with Doug Shaffer, the former owner of DanceMakers Inc. He's one of the most incredible mentors I've ever had, and he always said he wanted to help people see competitive dance in a positive light. There are a lot of reality shows, like "Dance Moms," which don't highlight dance in the greatest way; he wanted to show the beauty in it, rather than the negativity. When I'd been teaching on the convention for a couple of years, he asked me to be a part of a project—he wasn't sure what it was going to be, maybe a reality show, maybe a film—that would show competitive dancers' heart and passion. And then Jacob and I talked it out, and we came up with the idea of a really raw, organic documentary.
DS: How did you find the three dancers you followed?
KM: It was really Jacob and Jake, the film's director, and Brad Taylor, the current owner of DanceMakers, who did the scouting. The three girls they chose—Montserrat, Alyssa and Kayla—we had no idea how they were going to place. But we knew that they had very different backgrounds, very different stories, and that's what we wanted. In hindsight, I feel like the girls chose us, rather than us choosing them!
DS: This is your first time working with your husband. How did you operate as a team?
KM: I'm a dancer and he has a production company, but we have a similar heart mission. It was a beautiful bonding time for us, to be able to work together on this project. We watched these girls learn how to love themselves for who they are rather than what they can do. We'll always be able to look back at this film and know that it represents everything we stand for.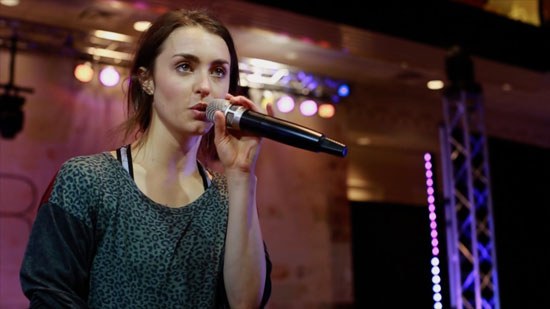 McCormick in a still from Like Air (courtesy Sundari PR)
DS: There are definitely parallels between Like Air and the mentoring work you did on this season of "SYT." Did the film affect the way you approached the show?
KM: I think my whole career, I've been falling in love with mentorship—with those moments when I can look a child in the eye and say something that makes her feel important and worthy. So when I heard about "SYTYCD: The Next Generation" as an opportunity to mentor kids, I was all in from the start.
DS: You and Tate had an amazing partnership. What makes her special?
KM: She was someone that my mentors were telling me about early on. A lot of people were rooting for her before I even met her! Her talent is so obvious—golly, she's incredible at what she does. But the moment my heart was sold on her was when I got to interview her. Hearing that her greatest goals are to be humble and kind and to make people feel something—that she wanted to be on the show not to win, but to learn—I knew, then, that I wanted to tell stories with her.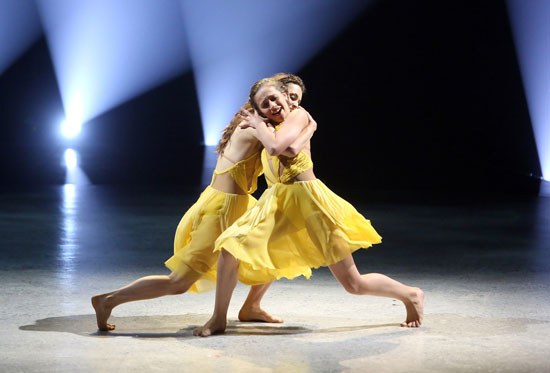 McCormick and Tate in "This Gift," choreographed by Stacey Tookey, on "SYTYCD" (photo Patrick Wymore/FOX)
DS: You two must be very close now. Do you have plans to work together in the future?
KM: We definitely want to. Geographically, we're far apart—she lives in Canada—but we have many of the same mentors, like Stacey Tookey, so there's a good chance we'll work together again. And we'll be friends forever. Since the show, we've been in constant communication. I'll get little videos from her, like, "Just doing my homework and wanted to say hi!"
DS: What other projects do you have on the horizon?
KM: I'll be teaching on DanceMakers again this year, and I'm also co-director of their company, The Collective. I have a new project with CLI Studios coming up, too—live interactive classes. All of it ties into the same philosophy: the idea of mentorship, of helping dancers work through their insecurities and find their voices so they can love themselves.
Want more Dance Spirit?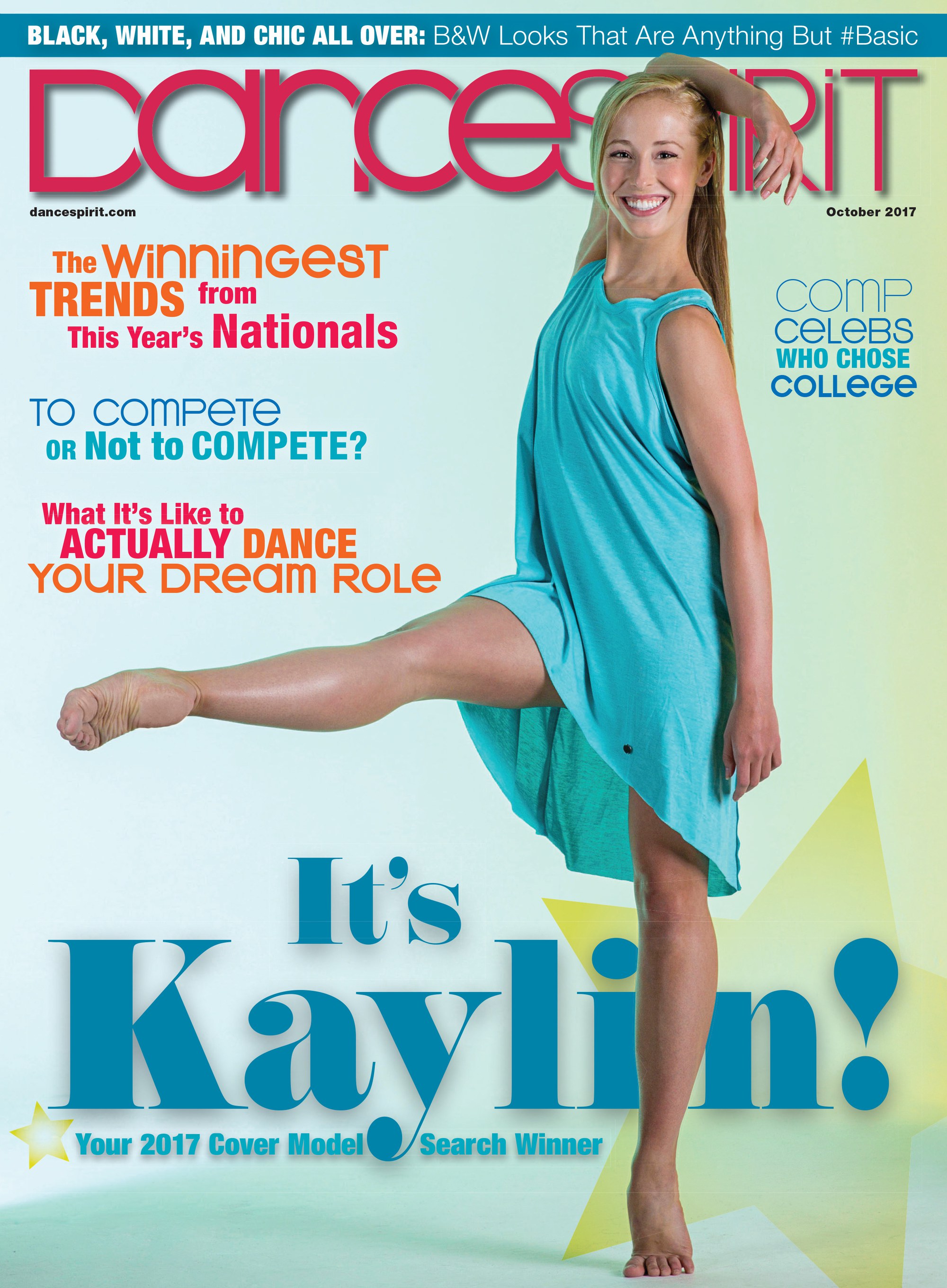 Get Dance Spirit in your inbox