Mar. 23, 2017 10:30AM EST
Several of our favorite shows on Broadway right now are super kid-centric. (I'm looking at you, Annie and Matilda.) Besides being insanely jealous of the munchkins who are dominating the Great White Way before they've even finished middle school, I couldn't be happier for the stars of these shows. (Talk about a dream come true!)
And this just in: They're all friends with each other!
I can't get over the photos from Annie star Lilla Crawford's 12th birthday party this week. She had it at Cake Boss Café, the new NYC bakery inspired by reality show Cake Boss (yum!), and the invite list included the kid cast of Annie (including February 2013 "You Should Know" Maddie Rae DiPietro) and the stars of Matilda: The Musical: Bailey Ryon, Sophia Gennusa, Milly Shapiro and Oona Laurence. Check it out:
[slideshow_deploy id='21082']
Mar. 23, 2017 09:36AM EST
I have a confession: I miss "Dance Moms." And these last two weeks of reunion shows with the moms (where are the kids?!) just aren't cutting it. Luckily, I have a fun video of Chloe and Maddie's visit with Dance Spirit to carry me through. Check it out:
Jun. 27, 2015 11:00AM EST
By now, you're probably familiar with photographer Jordan Matter's work—images of gorgeous dancers, sometimes mid-air, smack-dab in the hustle and bustle of everyday life.
Exhibit A: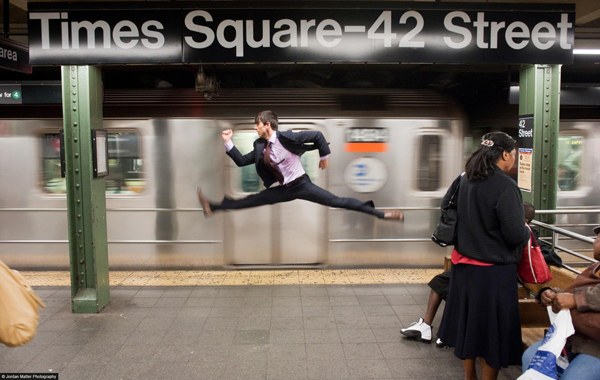 Jeffrey Smith in Times Square (Jordan Matter, via dancersamongus.com)
Exhibit B: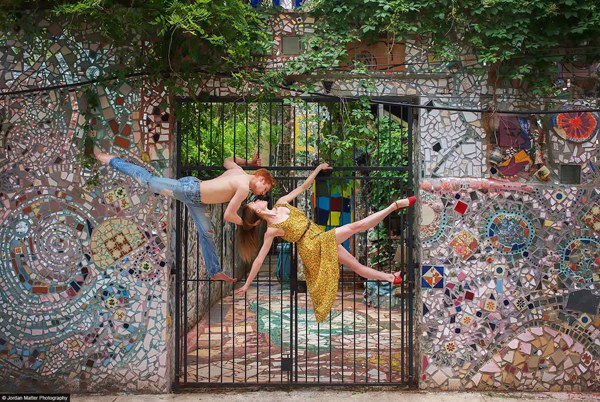 Alexander Peters and Elizabeth Mateer in Philadelphia, PA (Jordan Matter, via dancersamongus.com)
A few years ago, Matter published a book with his dancer series called Dancers Among Us. It made the New York Times' Bestseller list—but Matter didn't stop there. He's followed up Dancers Among Us with projects like Circus Among Us and Athletes Among Us.
Recently, Matter's been adding to another series, similar to Dancers Among Us—just of the miniature variety. Introducing Matter's Tiny Dancers Among Us (!!!), full of the most #adorbz pint-sized dancers around. For example, there's Adina in L.A....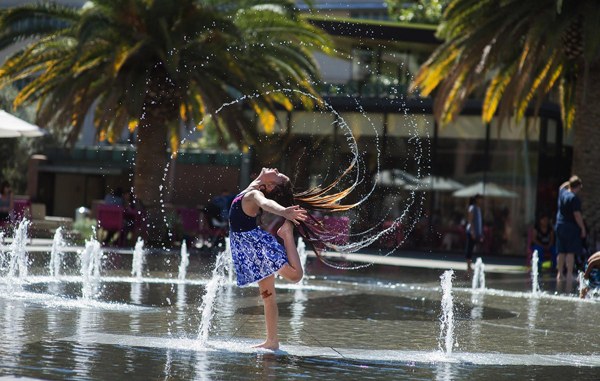 Yasss (Jordan Matter, via tinydancersamongus.com)
...and Samantha and Ariel waiting at LaGuardia Airport in NYC: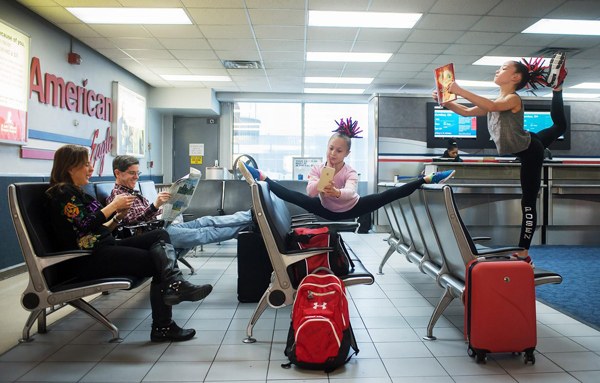 Totally what dancers do while waiting to board (Jordan Matter, via tinydancersamongus.com)
And I'm loving Dylan from Naperville, IL, who's super pumped about his sandwich.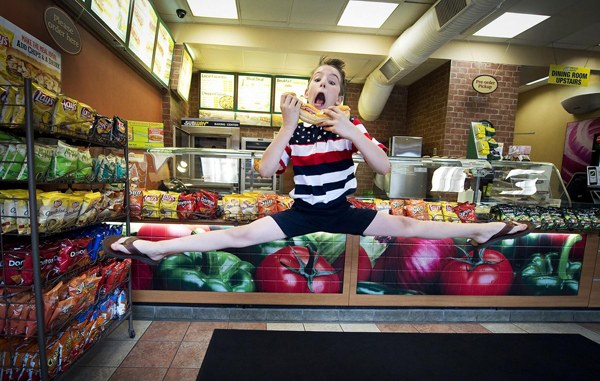 Nom nom nom nom nom (Jodan Matter via tinydancersamongus.com)
Matter explains that his Tiny Dancer series is a tribute of sorts to his two own children, Hudson and Salish. He writes, "...I want [my children] to be free from self-consciousness, to discover the deep happiness that comes from a life filled with passion, and to find the serenity necessary to be truly present. These photographs communicate my dreams for them more powerfully than words: Relish moments large and small, recognize the beauty around you, and be alive!"
You can check out all of Matter's new series here. A quick note: If you're in public, just know that you're bound to let out a few "AWWWWWs" while scrolling through. You were warned.
Jun. 16, 2015 11:20AM EST
When dancer Georgia Bernbaum was in fifth grade, she participated in a supply drive for the Coalition for the Homeless of Central Florida, a homeless shelter near her Orlando, FL, home. "I started thinking about what it would be like to stay at the shelter, and all the things I'd miss," she recalls. Then it dawned on her: "The kids don't get to take dance lessons like I do."
Fast-forward two years, and Georgia, now 12, is on her way to changing that. In the fall of 2014, she established the Dance Happy Project, which brings dance training to children at the Coalition's  Center for Women and Families. Every three months, Georgia—
a modern dance student at the Center for Contemporary Dance in Winter Park, FL—hires instructors to lead a series of classes on site. And with, on average, more than 200 kids staying at the Coalition each night, the Dance Happy Project is making a big impact.
The Initiative
Georgia's project started on a much smaller scale: fulfilling a community-service requirement for her upcoming bat mitzvah. "My mom suggested I do something with dance, since that's what I love," Georgia says. But while her mom thought Georgia might simply try raising money for one of her dance studio's nonprofit programs, Georgia had another idea. "I told my mom my plan was to bring dance classes to the homeless," she says.
Georgia's mom figured they wouldn't be able to just walk into the Coalition and lead classes—and she was right. Luckily, the center already had an arts education initiative in place, Art by Coalition Children (ABCs), which recruited professional artists to teach community classes in disciplines like photography and sculpture. Dance, however, was missing from the roster. "They had different programs for art and music, but you need cameras for filmmaking and pencils for art," Georgia says. "All you need to dance is yourself. And you can carry dance with you your whole life."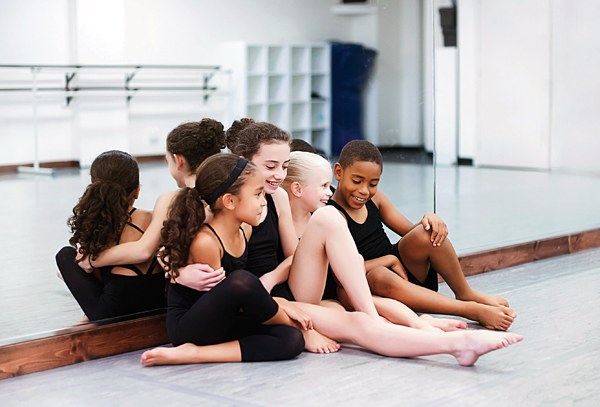 (Photo by Lisbet Photography, courtesy Elizabeth Bernbaum)
The Partnership
Georgia knew she couldn't teach the classes herself. She approached her dance studio's artistic director, Dario J. Moore, for guidance. "He loved my idea," Georgia says. (Moore has lots of experience teaching dance in public schools and in underserved areas.) Georgia formed a partnership with the studio, with Moore agreeing to provide instruction for the outreach classes.
October 3, 2014, marked the newly named Dance Happy Project's first class at the Coalition. Twenty kids—plus Georgia—attended. "Everyone thought I was just another kid taking the class, but Dario introduced me as his boss lady!" Georgia says. "During the class, everyone got to make up their own dance, and I could see the kids having fun."
The Next Steps
Georgia didn't want to stop there. ABCs' program leaders suggested the Dance Happy Project hold a series of four classes (one per week) four times a year. It was to be the center's first ongoing ABCs program—if Georgia could sustain it. Though she had
received two grants to help pay the dance teachers, she knew she needed to raise more money to keep the project going.
The solution? On February 9, 2015, Georgia hosted a benefit concert featuring a silent auction and performances by nine local dance companies, including members of Orlando Ballet. It took months to prepare. "I wrote to more than 100 artists and asked if they'd be willing to donate a piece of art for the auction," Georgia says. Thanks to her diligence, items up for auction included signed costume design sketches from Newsies and Wicked on Broadway, Disney's Frozen on Ice and The Washington Ballet's ALICE (in wonderland).
The Outlook
Proceeds from February's fundraising event totaled more than $10,000, enough to continue the Dance Happy Project for at least five more years. Georgia also plans to hold another benefit concert next year. "She got a lot of requests to do it again—and many dancers who didn't perform this time asked to be on next year's program," says Elizabeth Bernbaum, Georgia's mom. "They all wanted to help."
Georgia also has dreams of expansion. She hopes to bring the Dance Happy Project to local Boys & Girls Clubs, and to make sure it can continue after she goes to college. Ultimately, she'd like to replicate the program in other underserved communities across the country. "It can be pretty intimidating to ask people to participate and help," she says. "But I learned not to be shy. You'll always have more success when you just go straight for something you want."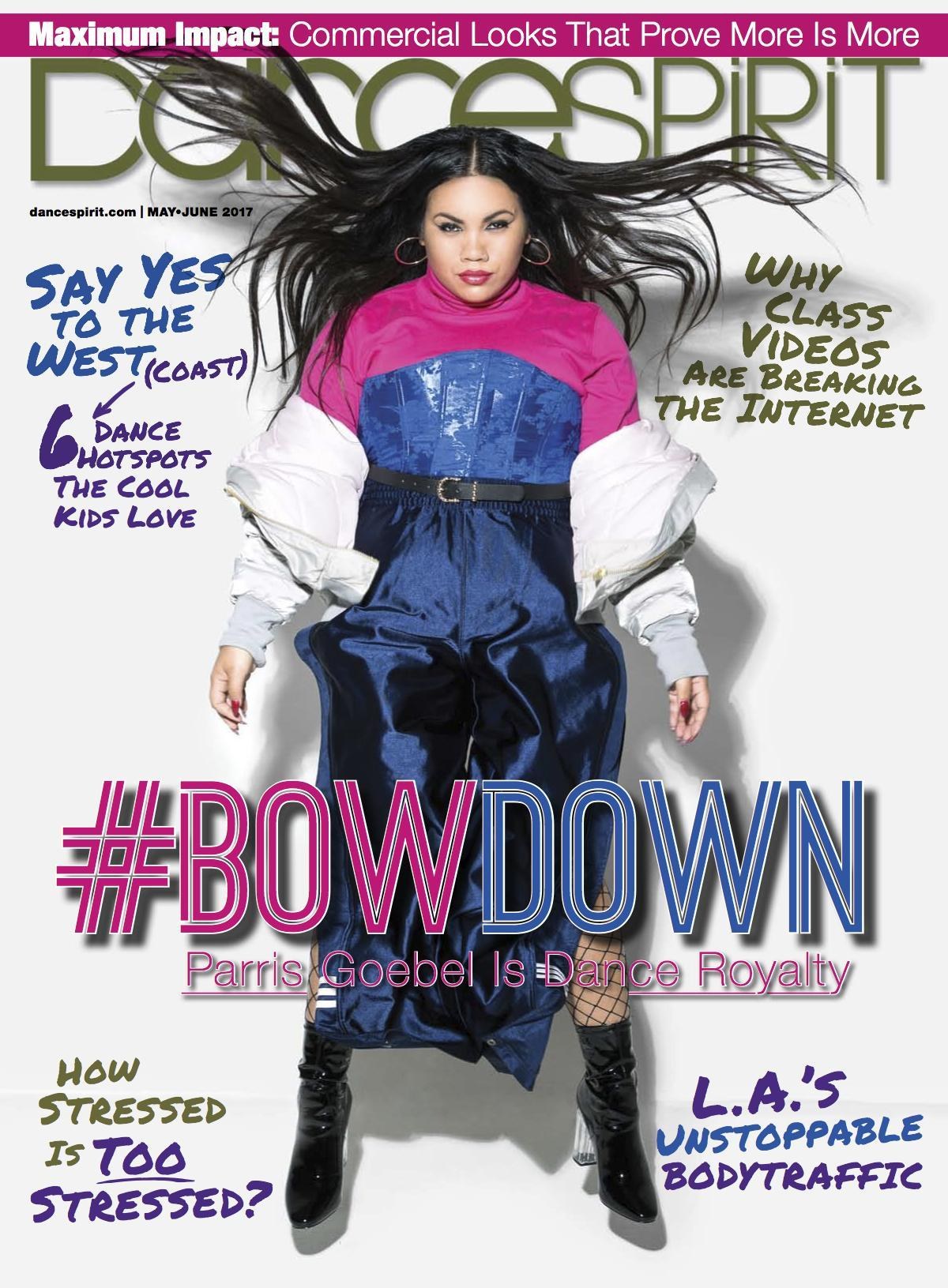 Get Dance Spirit in your inbox