Photo by Romy Young Photography, courtesy Shontal Harris
Watching Kyndall Harris dance, you understand immediately why she was chosen for Janet Jackson's Unbreakable World Tour: Her musicality, energy, and natural stage presence bring to mind a younger version of Jackson herself. Kyndall's first major gig—with the Memphis Grizzlies junior dance team—came at the tender age of 6, and her star has only risen since. You probably saw Kyndall compete alongside Taylor Hatala on "World of Dance" last summer, and videos for big names like Jackson and Chris Brown have built her a solid YouTube following—more than 17,000 subscribers at press time.
"Always stay hungry, follow your dreams, and never forget to work hard."—Kyndall Harris
Keep reading...
Show less
There's no shortage of amazing young talent in the dance world right now. Case in point: Taylor Hatala (one half of the amazing Fraternal Twins), Kyndall Harris and the explosive members of Boy Squad (Josh Price, Sean Lew and our January 2016 cover star, Gabe de Guzman). Evidence? I mean, we've got tons of that (seriously, tons). But incase you need more, behold—this insane new video to "Lean and Dabb" by iLoveMemphis, choreographed by Oth'Than Burnside. The film, shot under L.A.'s Sixth Street Bridge, features the boys versus the girls in everything from a dabb-off to some intense stank-facing. And as per usual, the resulting vid is amazing, once again proving that these dancers are out-of-control talented. Check it out below.
I can't get enough of Janelle Ginestra's high-octane, take-no-prisoners choreo.
I really can't get enough of Ginestra's #squad of fabulous hip-hop littles. (Oh hi, Taylor Hatala and Larsen Thompson.)
And I REALLY can't get enough of Ginestra's squad doing Ginestra's choreo. ("Run the World"? "IDFWU"? Pretty much everything Fraternal Twins-related? YUP.)
So a new video in which Ginestra's young'uns channel the Monster High ghouls and whip through her choreography all over "Boo York"? Guess what: I CAN'T GET ENOUGH OF IT.
Oh-so-cutely titled "City Ghouls," the video is set to "Fright Lights, Big City" from the new Monster High movie musical, Boo York, Boo York. Ginestra teamed up with L.A.'s busiest dance film director, Tim Milgram (no way that dude sleeps), to create a frightfully delightful romp through the streets—and, occasionally, fire escapes—of New Boo York.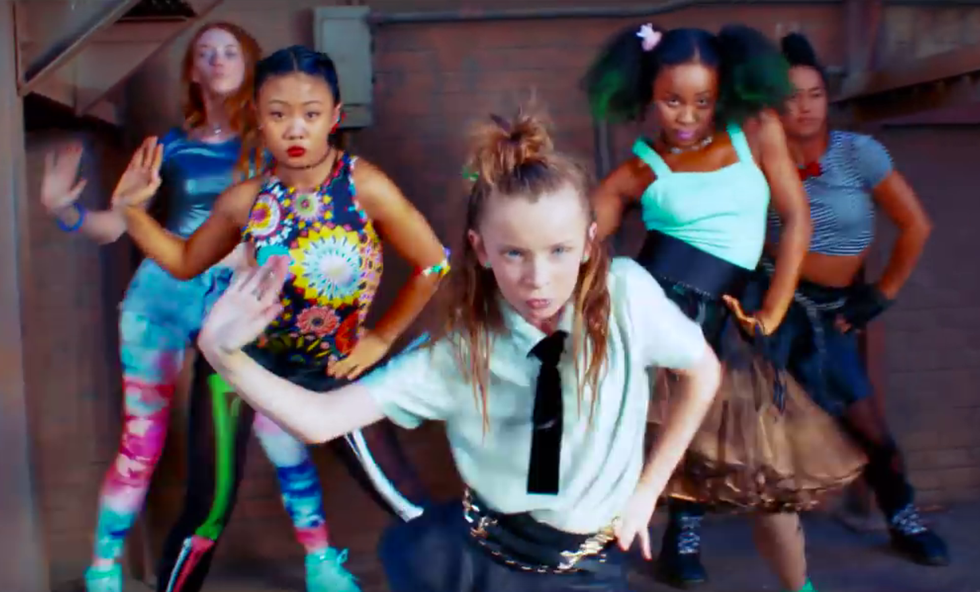 GET IT Taylor. (screenshot via YouTube)
The best part? The all-star cast includes Taylor, Larsen, Kyndall Harris, Tori Caro, Kerrynton Jones, Trinity Inay, Lexee Smith and Reese Hatala. (That's right: We get both Taylor and her baby sister Reese. They'd be adorable if they weren't so busy being fierce.)
Watch the full video below—and Monster High fans, check out the complete Boo York, Boo York soundtrack here.
It's pretty safe to say that Taylor Hatala is on a roll. The 12-year-old supergirl appeared on the Ellen DeGeneres Show, in multiple hit YouTube videos (which you can watch and read about here, here and here), helped launch the amazing Suga N Spice Crew and is now dancing alongside Janet Jackson on her "Unbreakable" world tour. #NBD.
Hatala is joined on tour by another mini-powerhouse, Kyndall Harris. The two of them are dominating the stage every performance, and clearly having the time of their lives doing it. #WhoRunTheWorld? Taylor and Kyndall, no doubt.


Get Dance Spirit in your inbox