Mar. 01, 2011 08:15PM EST
Have you ever wondered how contemporary ballet queen Drew Jacoby got her lithe legs or commercial diva Comfort Fedoke chiseled her arms? DS asked a few pros with particularly toned physiques for their fitness secrets and go-to moves. Read on—and then get moving!
Muscular Arms
Dancer: Comfort Fedoke
Where You've Seen Her: Comfort was a finalist on "So You Think You Can Dance" Season 4 and an All-Star on Season 7. She also has featured roles in the upcoming films Footloose and Honey 2.
Secret to Her Success: "I go to the gym almost every morning and I focus on my arms," Comfort says. "I do arm curls with free weights and I spend lots of time practicing my popping and locking because it forces me to flex and release my muscles. I also do 100 push-ups and 100 sit-ups every night."
Go-To Move: "The Fresno, a popping move, tones my entire arm at once," she says. "Extend your arms to the front or the sides, flex all your muscles at the same time and then release them at the same time. It should feel like it does when you ball your fist up and release it."
Ripped Abs
Dancer: Rachele Brooke Smith
Where You've Seen Her: Rachele played the lead role in Center Stage: Turn It Up and she will star in the upcoming film The Beach Bar. She recently danced in Burlesque and on "Glee," and she's a guest teacher with L.A. DanceMagic.
Secrets to Her Success: "I love Cardio Barre, hot yoga, riding my bike and walking," Rachele says. "I only spend 10 minutes a day doing ab-specific moves. But I focus on keeping my abs contracted during every type of workout, even when I'm dancing or walking around. Exhale each time you contract your stomach muscles and hold ab moves longer than you normally would."
Go-To Moves: "Hold a plank position for at least 30 seconds and then do five push-ups. Then, flip onto your back and lift your upper body and legs into a V-sit-up position and hold that for at least 30 seconds. Then do a few crunches before you roll over and start again."
Supple and Strong Legs
Dancer: Drew Jacoby
Where You've Seen Her: Drew is one half of Jacoby & Pronk. She has also performed with Morphoses/The Wheeldon Company, Alonzo King's LINES Ballet and more. This spring, she'll perform at Youth America Grand Prix galas in several cities.
Secret to her success: "It's important to exercise the weak areas of your body so you don't overuse the strong areas," Drew says. "I run, swim, bike and do Pilates so I can work on the areas that don't get as much attention when I'm dancing."
Go-To Move: Drew has naturally muscular outer thighs, so she uses bridges to strengthen the rest of her thighs. To try a bridge, lie on your back with your knees bent and your arms by your sides, palms down. Push your hips toward the ceiling, leaving your arms, feet and shoulders on the floor. Hold that pose for one breath, then lower your hips to the floor.
Head-to-Toe Tone
Dancer: Erica Jimbo
Where You've Seen Her: dancing with Pilobolus since 2009
Secrets to Her Success: "I do Wushu—a type of kung fu—at least three times a week. It helps me strengthen all over. I also do yoga, Pilates, and various core and back workouts."
Go-To Move: One of Erica's favorite exercises simultaneously tones her arms, shoulders, abs, back and more. To try it, place your hands on the sides of an exercise ball and extend your legs so you're in a push-up position. Make sure your shoulders are over your hands, your legs are straight and your feet are together. Inhale, bracing your abs and back. As you exhale, slowly extend your arms and push the ball forward as far as you can while maintaining your form. Hold for one breath. Inhale and slowly roll the ball back to the starting position. Keep your shoulders in place throughout the movment. Work up to 8 to 10 reps.
Sep. 01, 2009 03:44PM EST
Model: Daphne Fernberger
Consultant: Hilary Cartwright
Bio: Following her career as a soloist with The Royal Ballet, England, Hilary Cartwright became a director, teacher, coach and stager. She's been teaching Yoga for Dancers for the past 20 years, after opening White Cloud Studio in NYC. Daphne Fernberger is a Level 7 student at American Ballet Theatre's Jacqueline Kennedy Onassis School. For more information about Daphne, go to www.hilarycartwright.com
Dancers of all genres (and women in general) yearn for long, lean legs, and even more so, injury-free bodies. One important element to achieving both of these things is stretching—correctly, that is. With the help of Hilary Cartwright, DS brings you three exercises that will stretch every angle of your hamstrings, resulting in beautifully toned, strong legs.
BEFORE FIRST STRETCH
Before stretching, warm up the body with aerobic exercise (like light jogging) for five to 10 minutes. Then allow 10 seconds for each stretch on a continuous exhale, recover and relax. Repeat all five to six times on both legs.
Hamstring stretch #1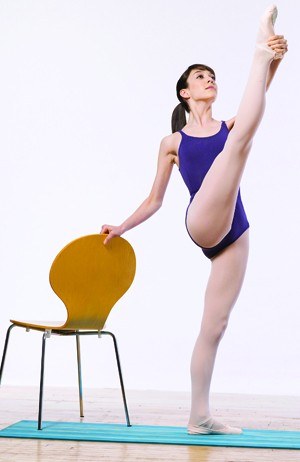 Begin in first position with right hand on the barre. Bring right leg into passé at the front of the knee, then extend into front attitude while the left leg pliés. Grab the foot from underneath the heel with the left hand and extend the right leg, while simultaneously straightening the left leg. Continue to grow while leaning back slightly toward the barre.
Tips:
1. Relax neck.
2. Keep eyes focused above toes.
3. Engage abs.
Hamstring Stretch #2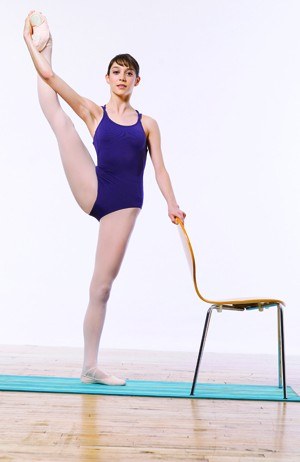 Start in first position with the left hand on the barre. Bring the right leg into retire at the front of the knee, then extend into front attitude while the left leg pliés. Using the right hand, grab the foot from underneath the heel and slowly straighten the right leg, while keeping the left bent. Continue to slowly open the right leg to second.
Tips:
1. Keep right hip back.
2. Keep back straight.
Hamstring Stretch #3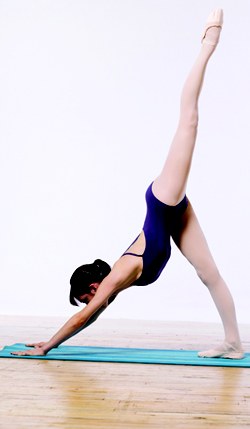 Start on all fours. Push the heels back and straighten the legs and arms (like downward dog position) with feet slightly turned out. Keep focus between hands and push shoulders and ribs toward the pelvis. Bend right leg, then straighten it toward the back wall in a scooping motion. Slowly raise it into penchée position, keeping the hips parallel to the floor. Lift up and back over the standing leg to feel stretch.
Tips:
1. Push back from arms.
2. Drop active hip.
3. Keep focus between hands.
Go to dancespirit.com/ to see Daphne demonstrate these stretches. Just click on "Videos."
Photography by Matt Karas. Hair and makeup by Angela Huff for Mark Edward, Inc.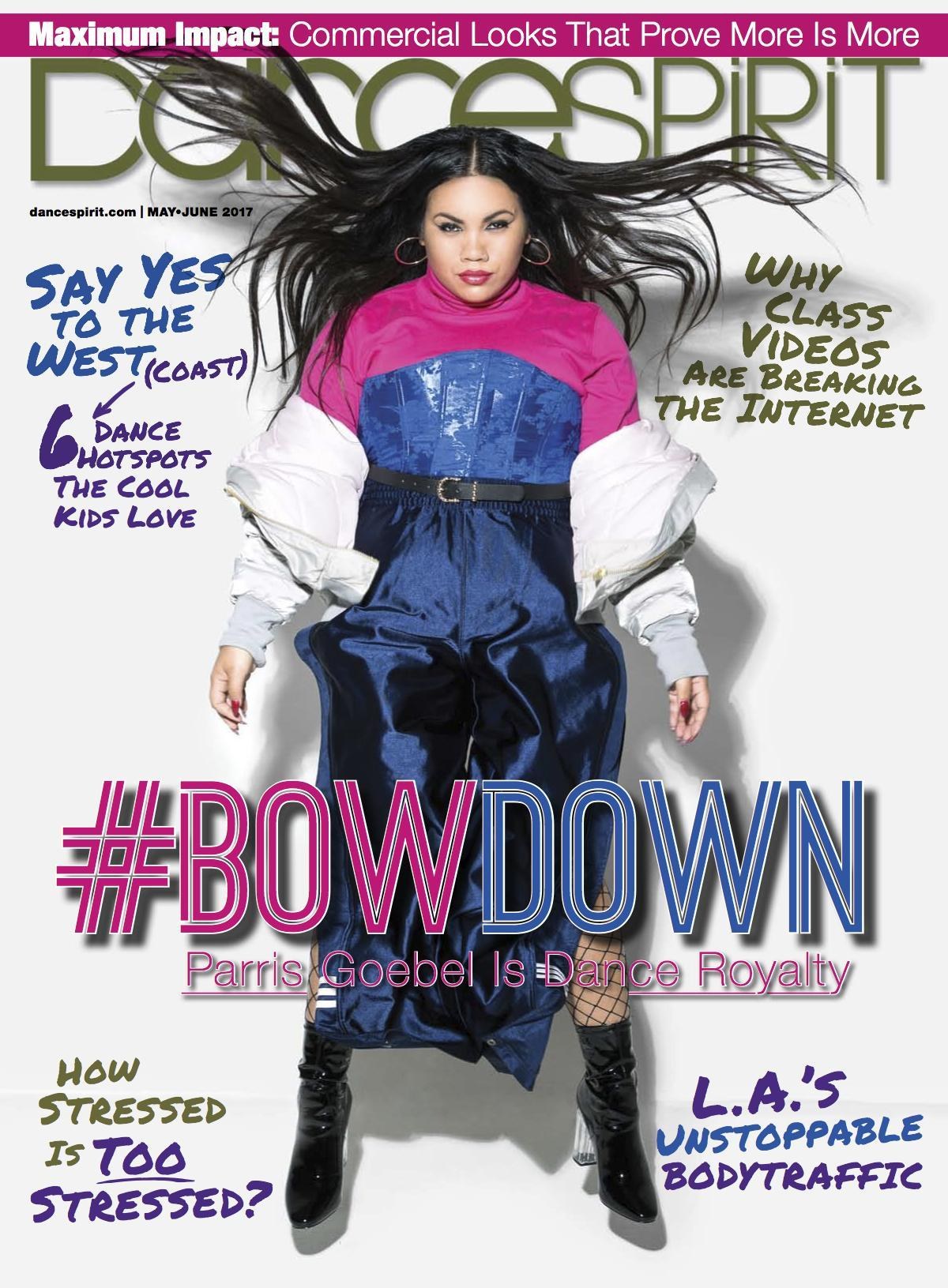 Featured College Dance Program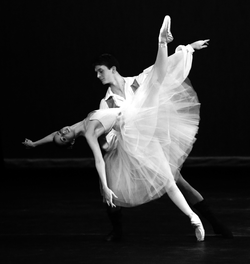 Get Dance Spirit in your inbox