May. 31, 2017 02:23PM EST
Diana Pombo performing her solo on "World of Dance" (NBC)
Well, that was perhaps the fastest hour of television ever.
We knew that NBC's "World of Dance" competitor lineup was stacked, but the show's premiere episode last night gave us just a taste of the deep talent field, with performances by only seven acts. None of them disappointed. But in the words of J.Lo herself (spoken, in her case, about a gorgeously understated routine by Kinjaz): We want more. Can we have some more?
Keep reading...
Show less
Nov. 20, 2015 08:33PM EST
You know what I want for my birthday? A box full of supermodel Karlie Kloss and Les Twins. We could just hang out, have a dance-off, become bffs. It might sound weird at first, but really think about what hanging out with these tall and talented folks would be like: #squadgoals times one million, amirite? Also, I'm pretty small and I could definitely fit in a box with the three of them.
As it turns out, British Vogue understands that my birthday wishes must be met, so the magazine packed Karlie and Les Twins into a too-cute video that features some sweet moves and a lot of smizing...in a box.
Fashion and dance continue to feed off one another and the trend is nowhere near slowing down. And when it's especially irreverent, like this video, I can't wait to see more.
Nov. 12, 2015 04:23PM EST
Christmas came early this year, guys. And Missy Elliott is Santa Claus. In a mirrored tracksuit.
By which I mean: This morning Missy Elliott dropped the video for her new single, "WTF (Where They From)."  Like all Missy videos, it is a) awesomely weird and b) packed to the gills with the world's most amazing dancers.
To the latter point: I was able to spot—just on an initial viewing—Les Twins, Comfort Fedoke, Ivan "Flipz" Velez and 10-year-old Phoenix Lil' Mini, who appears to be Missy's new Alyson Stoner.
To the former point: There are also marionette versions of Missy and Pharrell busking in the subway, surrealist makeup looks involving copious amounts of glitter and some sort of insane hybrid between an egg carton and a cryogenic freezing chamber.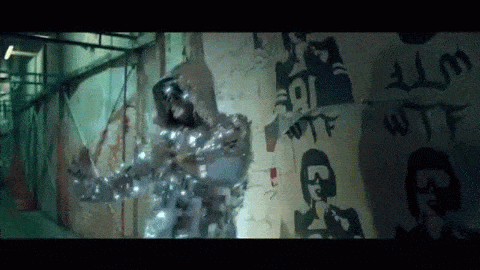 And the aforementioned mirrored tracksuit.
Basically it's a world that—like all Missy Elliott worlds—transcends the laws of physics and logic.
YAAAAAS.
If it feels like there's been a Missy-shaped hole in your heart for a loooong time now, that's because there has been: She hasn't released an album for more than a decade. (Required #TBT viewing: "Lose Control," from 2005's The Cookbook.) Welcome back, old friend.
Also: Would you rather be best friends with the "WTF" dancers, or the Bieber "Sorry" dancers? DEEP THOUGHTS.
Nov. 21, 2014 05:42PM EST
#FlashbackFriday to summer, when we were all jamming out to Meghan Trainor's "All About That Bass." OK...so I may or may not have listened to it on the way to work this morning (#nojudgement). You just gotta love a song that celebrates positive body image! Plus, it's so. darn. catchy.
This week, we got another dose of Trainor's '50s-inspired bubblegum sass with the release of her newest music video, "Lips Are Movin'." It's got everything we've come to expect from the singer: doo-wop dance moves, mod fashion, pink-galore and plenty of booty. But Trainor pulled out some secret weapons this time around. You may have heard of Larry and Laurent Bourgeois, aka Les Twins...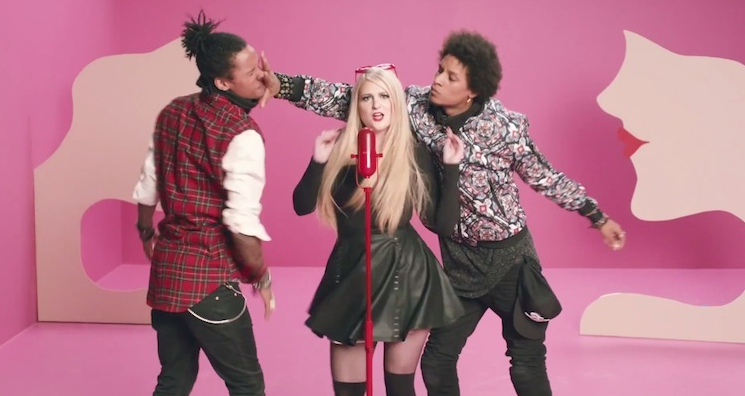 D'aww, brotherly love.
...If you haven't heard of these French phenoms of commercial dance, we're no longer friends. JK. (But actually—go watch all of their YouTube videos immediately.) The whole collaboration came out of Trainor's partnership with HP's #bendtherules campaign, which brought stars from YouTube, Instagram and Vine to the set of the music video. Check out the final product, and see which other celebs you can pick out: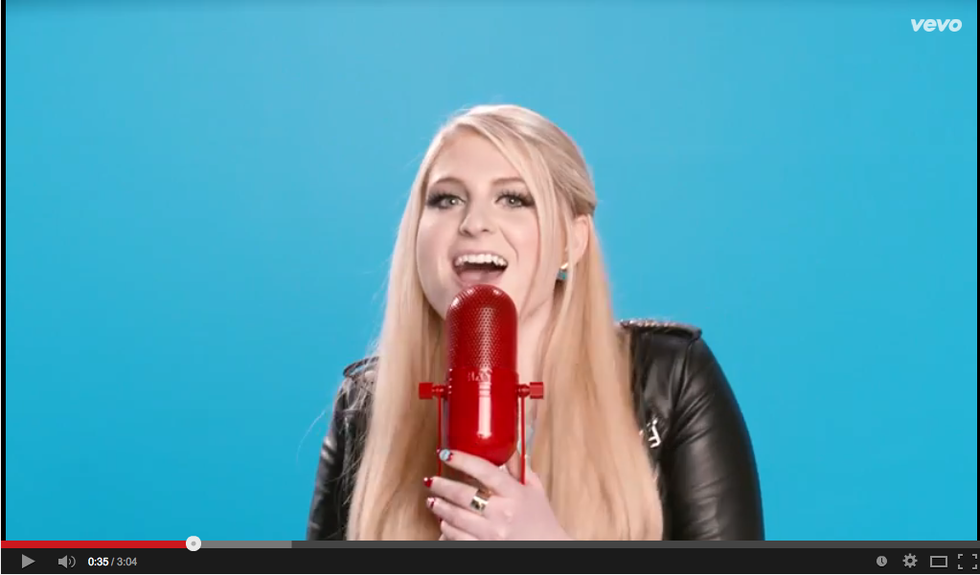 Did you spot I.aM.mE's Chachi Gonzales?
TBH, we wish we could've seen more dancing from Chachi—and from Les Twins for that matter. Especially after we saw how much groovin' happened behind-the-scenes. Check it out:
That stuff was gold and definitely should've made it into the final cut. But, hey, we'll take what we can get, right?


Get Dance Spirit in your inbox