Nov. 15, 2016 11:38AM EST
From meditation to Pilates to Drake playlists, no two preshow rituals include exactly the same ingredients. But just like bakers following a recipe, most dancers follow a very specific—and very important—routine before every performance. We asked six pros to share what they do precurtain to make sure they're at their best onstage. —Jenny Ouellette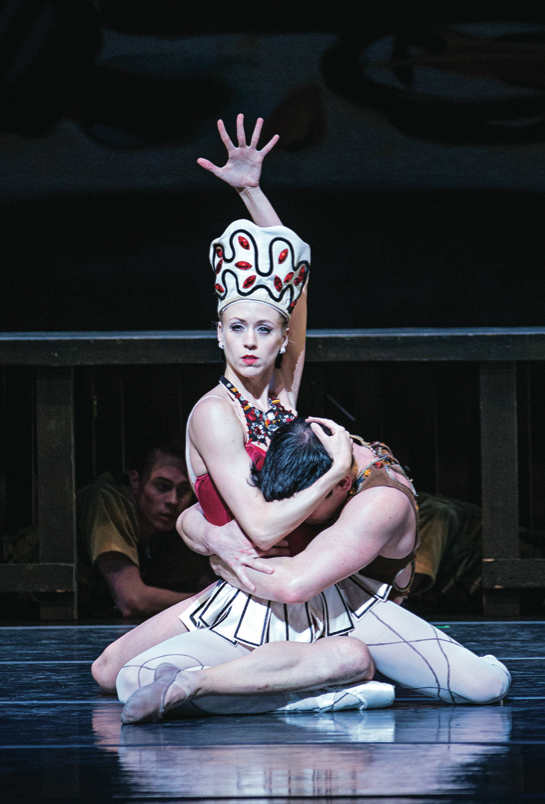 Rausch, with Jonathan Porretta in Balanchine's Prodigal Son (Photo by Lindsay Thomas, courtesy PNB)
Lesley Rausch, Principal, Pacific Northwest Ballet
"After signing in and changing into ballet clothes, I spend about an hour doing my hair and makeup and taping all 10 of my toes. I take my time, usually listening to the Bruno Mars or Beatles channels on Pandora. If I need to get really pumped up, I'll listen to the Missy Elliott channel.
Before I warm up, I set up my paper towels, pointe shoes and clear Band-Aids in my dressing room. I usually wear a different pair of pointe shoes for each act of a full-length, or for various pieces if it's a mixed bill. I use the clear Band-Aids to keep my ribbons tucked in: the part that would cover a wound goes behind the knot, and the clear sides wrap around to keep everything in place.
That leaves about an hour to warm up, put my hairpiece in and costume on and run through any problematic steps. Even at this point in my career, performing still comes with some nervous energy, so I try not to add any extra anxieties. I don't like to be rushed."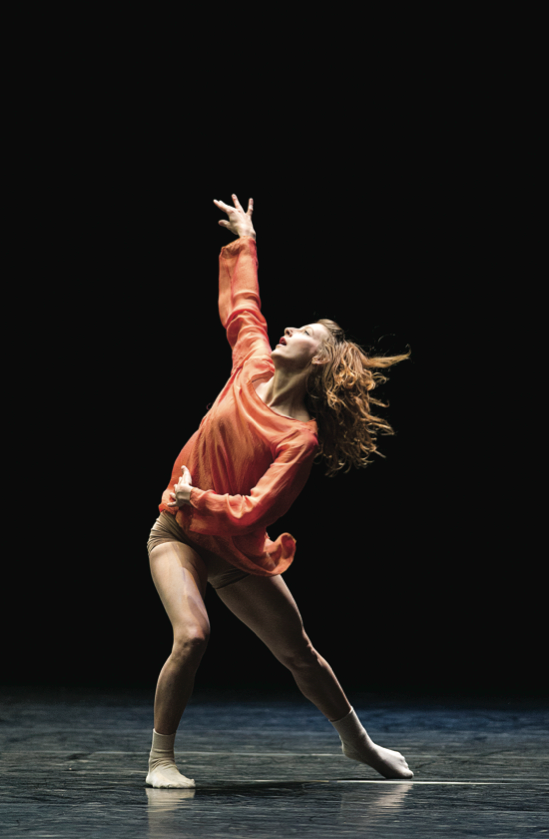 Rafailedes in William Forsythe's Quintett (photo by Laurent Phillipe, courtesy LADP)
Rachelle Rafailedes, Dancer, L.A. Dance Project
"Other company members like to joke about my 'oven': Before a show, I wear sweatpants and a hoodie zipped up all the way with the hood on. I put my headphones in and listen to a Drake playlist on shuffle.
The 'oven' happens because I like feeling almost completely insulated for my 90-minute warm-up. It begins with floor exercises I learned from choreographer Kyle Abraham—rolling around the floor, push-ups and psoas stretches. Then I do core exercises I learned from physical therapists, and then I transition into a series that The Juilliard School anatomy teacher Irene Dowd taught called 'trunk stabilizations.' Next, I move on to some Franklin Method work on my feet, getting them loose so they're not so crunchy. Finally, I do a quick, simple barre—unless I'm feeling great, in which case I skip the barre and move right to center, where I do what I call a 'greatest hits' of modern dance. It includes some Cunningham upper body sequences, Taylor back exercises and some Limón swings.
L.A. Dance Project does a wide variety of repertory—some require me to drop my weight, other pieces need more ballet. So I've compiled a routine that covers all of those bases."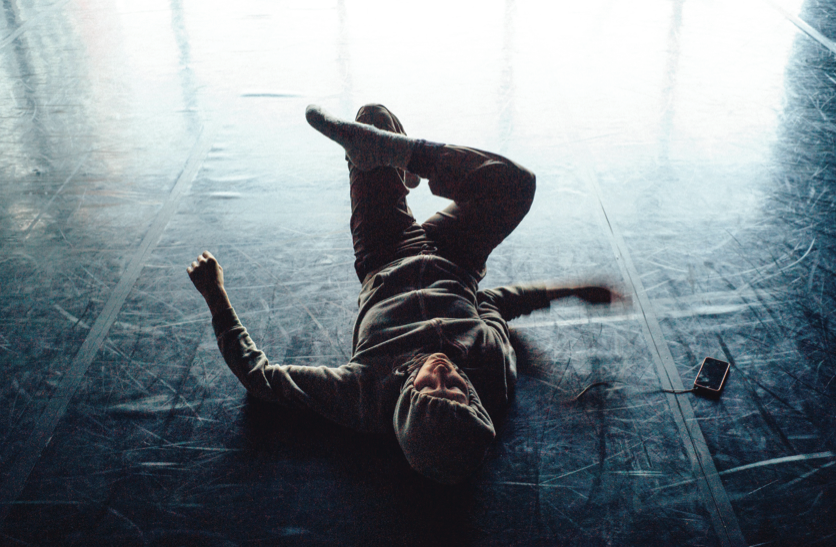 Rafailedes in her 'oven' (photo by Morgan Lugo, courtesy LADP)
Ebony Williams, Dancer, Beyoncé's Formation World Tour
"My process now is so different than it was when I worked in concert dance. I was in a company, and we did a group ballet warm-up before the show. Now, I have to do things on my own and go with the flow of the day, because it's always a little bit different.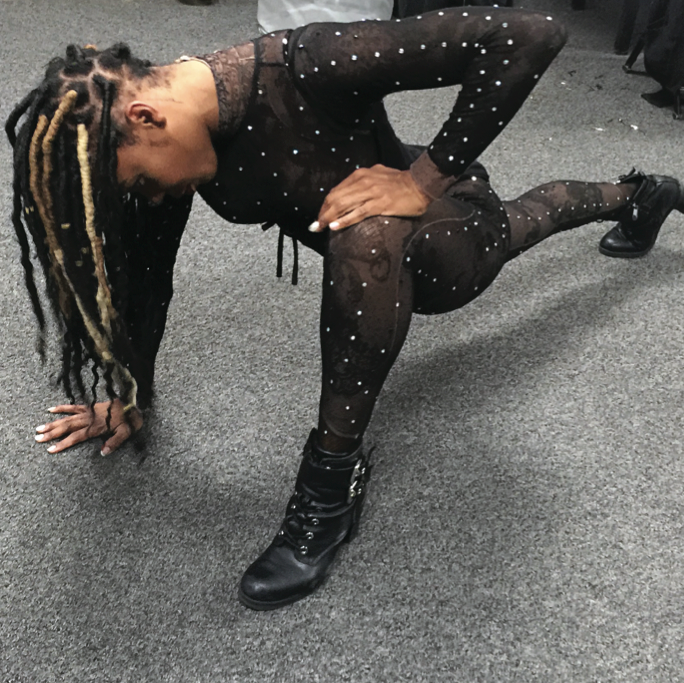 Williams stretching before a show (courtesy Williams)
Dancers are often required to be at the venue about five hours before the show. Once I find the dressing room (they're in different places in each city), I lay out all my makeup and lotions on the vanity, then head to catering for some food. I like eating protein and a salad, something that will give me plenty of energy for later.
Back in the dressing room, I stretch my hamstrings, do a mix of yoga and Pilates and make sure my back is warm. As it gets closer to performance time, I apply my makeup and get into costume, and head to catering one last time to grab a banana—I keep a piece of fruit in the quick-change area so I can have a bite in between songs if I'm low on energy or feel a cramp coming on.
Right before we go on, we do a group prayer. And then I absolutely have to do the first 32 counts of 'Formation' three times in a row. Otherwise, I feel like I might mess up, which cannot happen at the beginning of the show. I'm the first person onstage on my side, so I have to be strong. If I know I have the choreography in my head, then I'm cool. It feels like I'm right at home."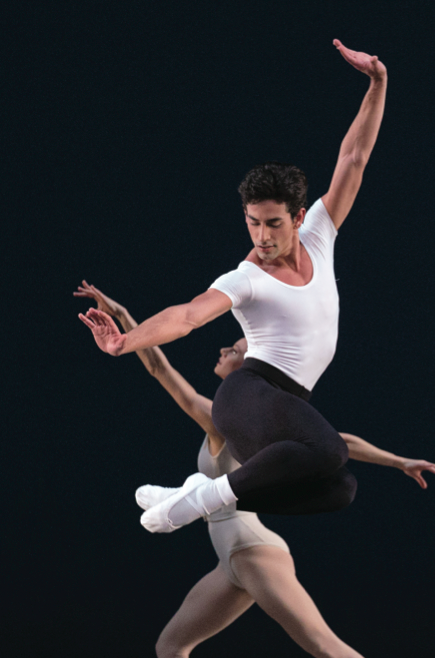 Rebello in Balanchine's Symphony in Three Movements (photo by Daniel Azoulay, courtesy MCB)
Kleber Rebello, Principal, Miami City Ballet
"A few days before the performance, I start drinking green smoothies every day. I use pineapple, turmeric, ginger, coconut water, cayenne pepper and kale and put a bit of everything in a blender. One blender-full makes a huge jar, so I have two cups in the morning and drink the rest at the theater.
I like getting to the theater about two hours before a show. After an hour-long warm-up, which includes barre work, Pilates, planks and push-ups, I get in costume and do my makeup before heading back to the stage to meditate.
The stage is such a sacred place, and I take into consideration all the energy that's been there before me, and all the dancers who've performed there. Right before 'places,' I lie on the floor, put my forehead and hands on the floor and sort of bless the stage. Then, for good luck, I knock on the floor three times and give it a little kiss."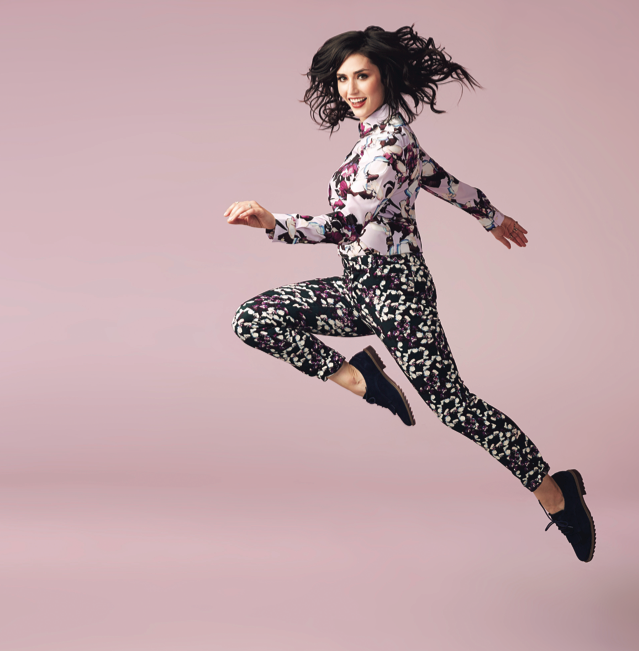 (photo by Jeremy Jackson, courtesy Sullivan)
Melinda Sullivan, Freelance tap dancer
"If I'm performing at night, I tend to warm up more vigorously during the day by teaching or taking class. Then I do a slower warm-up right before the show—like a tune-up. I do some Pilates, especially the Hundreds, and stretch my calves. And no matter where I perform, I always bring a foam roller with me. It's crucial for us tap dancers to roll out our IT bands.
I listen to music while I warm up and apply makeup—Stevie Wonder is my go-to. Right before I put my costume on, I try to pee. I always think I have to go to the bathroom as I'm about to go onstage, but it's just butterflies.
I've gotten more nervous about performances as I've aged, so I try to keep moving as much as I can to keep my mind focused. I always review the beginning of the choreography, especially the opening phrase. Muscle memory tends to take control from there."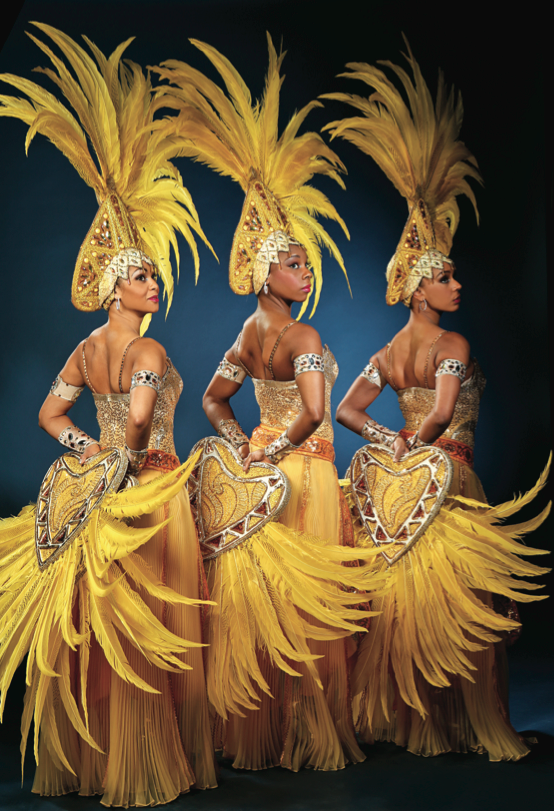 Petinaud, center, in costume (courtesy Disney Theatrical Group)
Khori Petinaud, Ensemble, Aladdin
"Each day I head to Broadway Dance Center and take the theater dance class from about 4 to 6 pm. From there, I walk to the theater, or take a Citi Bike if I'm running behind schedule.
In the girls' dressing room, we play a '90s music playlist on Spotify while getting our hair and makeup ready. At five minutes to curtain, about six of us meet for a group prayer, which is often led by James Monroe Iglehart, who plays Genie, or Clifton Davis, who plays the Sultan. We pray for everyone's safety in the show, sending that energy not only to the cast but also to the crew and everyone in the audience. We remind ourselves to be grateful that we are working, and that we're in a show that's been open so long. It's such a blessing."
Apr. 13, 2016 05:32PM EST
Six ballerinas discuss why they love their pointe shoes.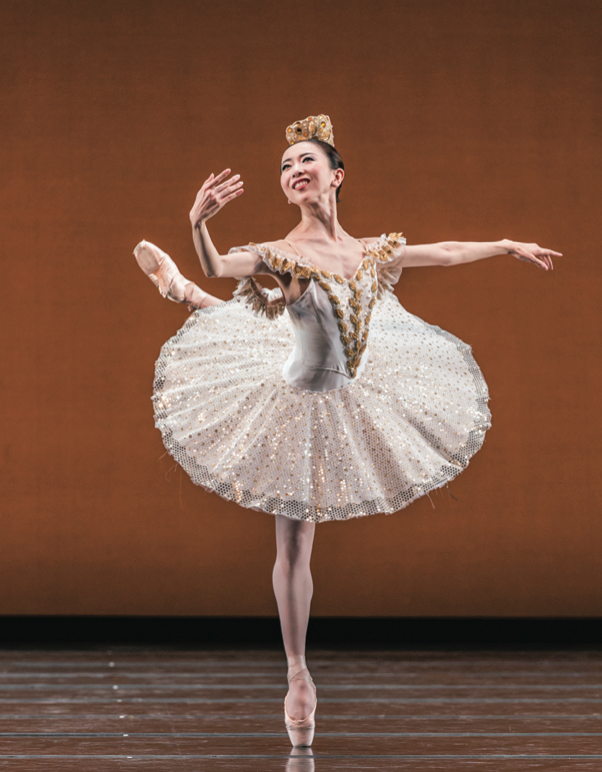 Kajiya in Ben Stevenson's The Nutcracker (Photo by Amitava Sarkar, courtesy Houston Ballet)
Yuriko Kajiya, Principal, Houston Ballet
Foot type: Wide and flat, with long toes
Shoe: Capezio Tiffany
Customizations: "I like my heels and sides to be lower than those of the stock shoes. One of the biggest things Capezio does for me is cut down my shank to almost nothing. I really like how light the shoes feel on my feet."
Kajiya's advice to dancers: "Pointe shoes are like Cinderella slippers—you're always trying to find the style that'll help you dance your best. I'd advise younger dancers not to go with shoes that are too hard in the beginning. They can cause damage to your Achilles tendons if you aren't strong enough."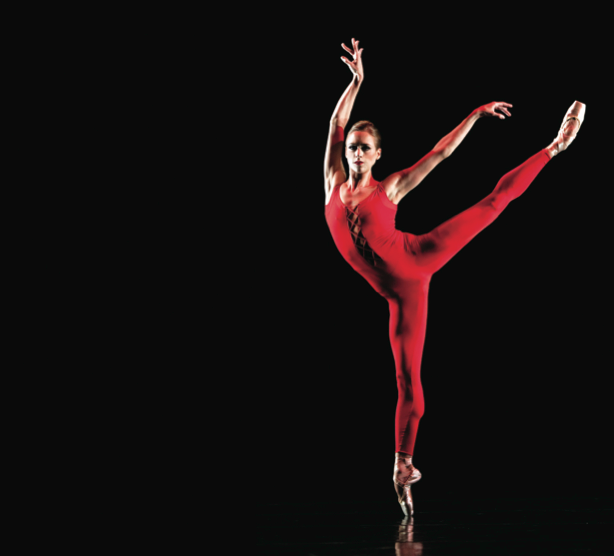 Rausch in Ulysses Dove's Red Angels (Photo by Angela Sterling, courtesy Pacific Northwest Ballet)
Lesley Rausch, Principal, Pacific Northwest Ballet
Foot type: Long and narrow, with very high arches
Shoe: Freed of London "V" maker
Customizations: "I wear wing-blocked shoes and ask them to bang out the bottom
and platform so they're really flat. Freed also three-quarters the shank and makes the vamp and sides to my specifications. A lot of shoes try to make you go over your pointe more, and that just doesn't
work for my ankles."
Rausch's advice to dancers: "Talk to someone who has a foot shape similar to yours, especially if you like the way her shoes look. Find out what she wears and what her tricks are. It's really a matter of trial and error."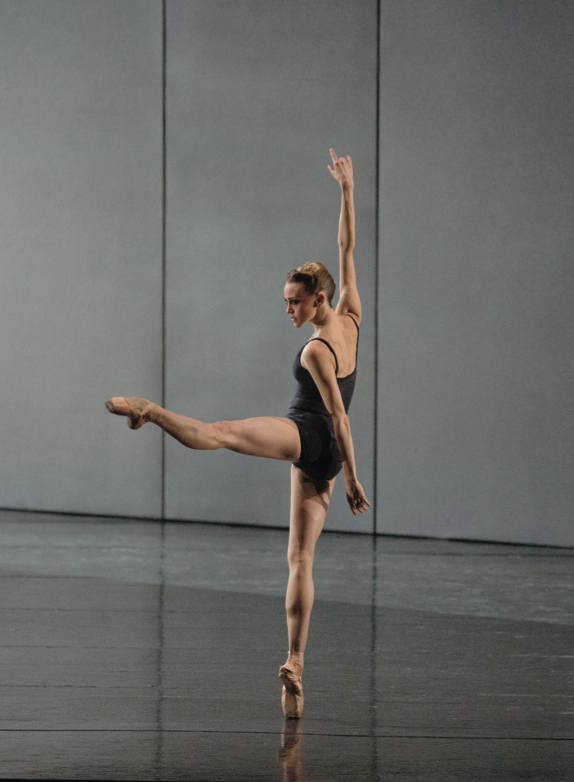 Button in Jose Martinez's Resonance (Photo by Rosalie O'Connor, courtesy Boston Ballet)
Dusty Button, Principal, Boston Ballet
Foot type: Wide at the ball, narrow at the heel
Shoe: Bloch Inc. Jetstream
Customizations: "To accommodate my foot shape, Bloch makes the heel of my shoe much narrower than the base. Because my arch is closer to my heel than the middle of my foot, they remove one of the nails from the bottom so it breaks right where my arch is."
Button's advice to dancers: "Don't just follow what's trendy. I think it's silly when people tell you not to wear a certain brand or type of shoe. Find what actually works for your foot, regardless of anyone else's thoughts or what your favorite dancer wears."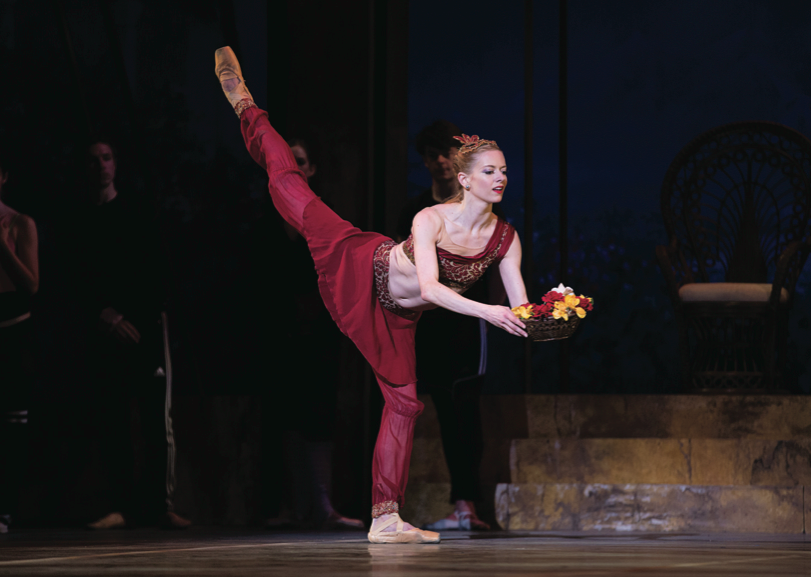 Erickson in La Bayadere (Photo by Rosalie O'Connor, courtesy Pittsburgh Ballet Theatre)
Julia Erickson, Principal, Pittsburgh Ballet Theatre
Foot type: Wide and square, with bunions
Shoe: Gaynor Minden #4 box
Customizations: "I have some of the material cut down on the sides, and the back half of the upper is made with Gaynor Minden's Luxe fabric lining, which prevents the wrinkling that can happen when you point your foot in your shoe. I also have a box liner because I'm kind of in between sizes. I wear both the hard shank and the ExtraFlex shank, depending on the role I'm dancing. These shoes are great, because they really let my metatarsals spread and alleviate the pressure on my bunions."
Erickson's advice to dancers: "Be patient. It takes time to find the shoe that feels like an extension of your body. Wear what makes you feel free to dance the way you want to dance."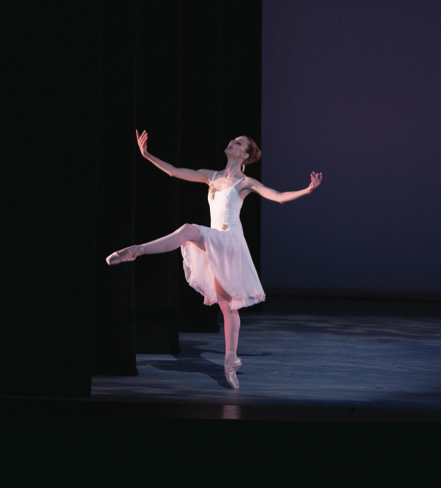 Angelova in Balanchine's Walpurgisnacht Ballet (Photo by Rosalie O'Connor, courtesy The Suzanne Farrell Ballet)
Violeta Angelova, The Suzanne Farrell Ballet
Foot type: Under-pronated with a recovering injury on the fifth metatarsal
Shoe: Sansha Etudes
Customizations: "I don't have a special order on this particular shoe. I actually wear a few different brands of pointe shoes depending on the role that I'm dancing. These shoes are very quiet, so when I recently danced Giselle, which has so many jumps, they worked well. I do have to make sure my shoes are softened properly to avoid aggravating my fifth metatarsal."
Angelova's advice to dancers: "Try as many different shoes as possible. If you can, have a fitting with a shoe company and see if they can make a trial shoe especially for you."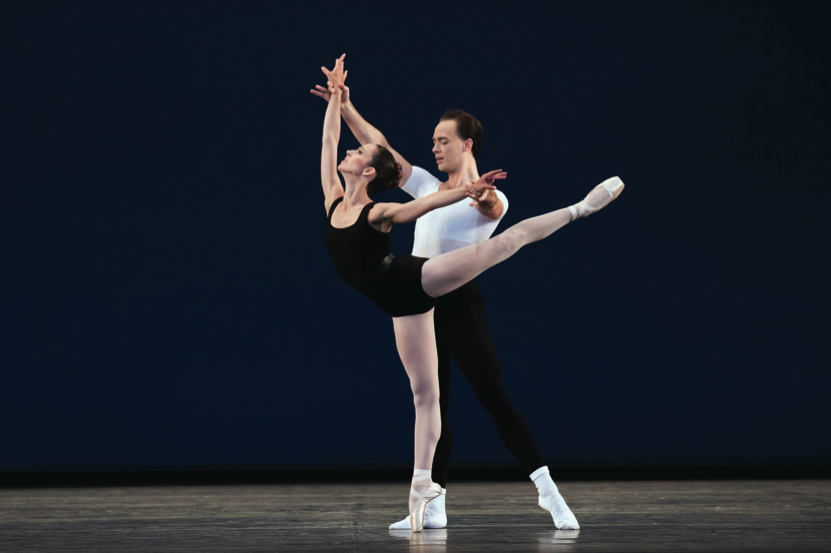 Scheller with Tyler Angle in Balanchine's The Four Temperaments (Photo by Paul Kolnik, courtesy NYCB)
Ana Sophia Scheller, Principal, New York City Ballet
Foot type: Wide
Shoe: Grishko Nova
Customizations: "My vamp and sides are slightly shorter than those of the stock shoe, and my shank is measured to break with my arch, with additional flexibility through demi-pointe. I like that these shoes last a lot longer than any others I've worn."
Scheller's advice to dancers: "You always want a pretty shoe, but make sure it's also comfortable so it doesn't cause injuries."
Apr. 15, 2015 03:32PM EST
The marketing department at Pacific Northwest Ballet has been going absolutely nuts, posting tons of photos of the company during their latest run of Swan Lake. And of course, we love it. Keep 'em coming, folks.
With beloved ballerina Carla Körbes retiring at the end of the season, this is the last Swan Lake she'll ever dance with the company. And I don't think I'm wrong when I say that everyone wants her perfection to last forever. I mean, just LOOK at this poster!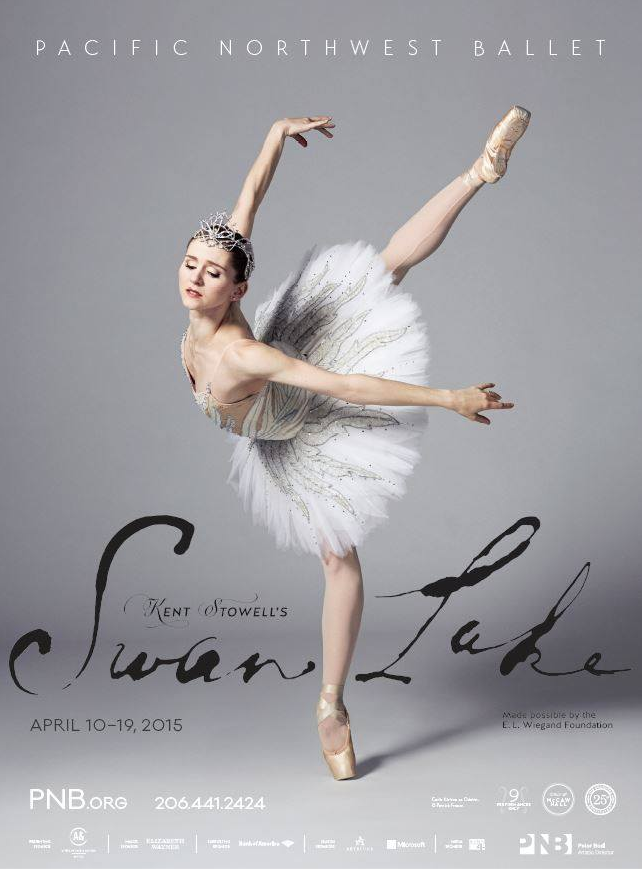 Carla Körbes as Odette in Kent Stowell's production of Swan Lake
So, it's no surprise that this run of Swan Lake is extra special. But while Körbes might be the epitome of white swan elegance, there are other members of the company ready to help make the ballet shine. I love Swan Lake because the corps, soloists and principals all have important, memorable roles.
The corps de ballet forms the backbone of every classical ballet (and many neo-classical ones too), and the flock of white swans is one of the reasons that Swan Lake is everyone's favorite.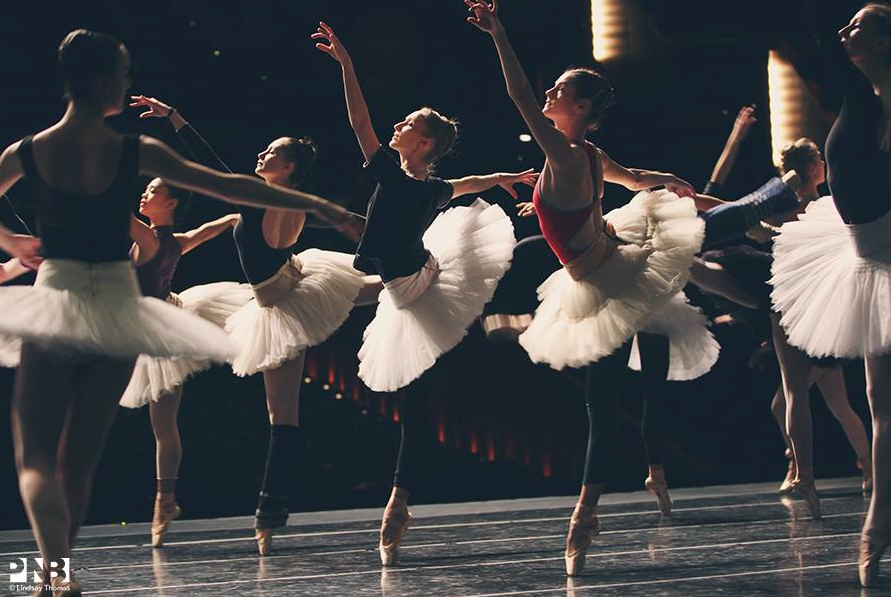 PNB dancers in rehearsal (photo by Lindsay Thomas)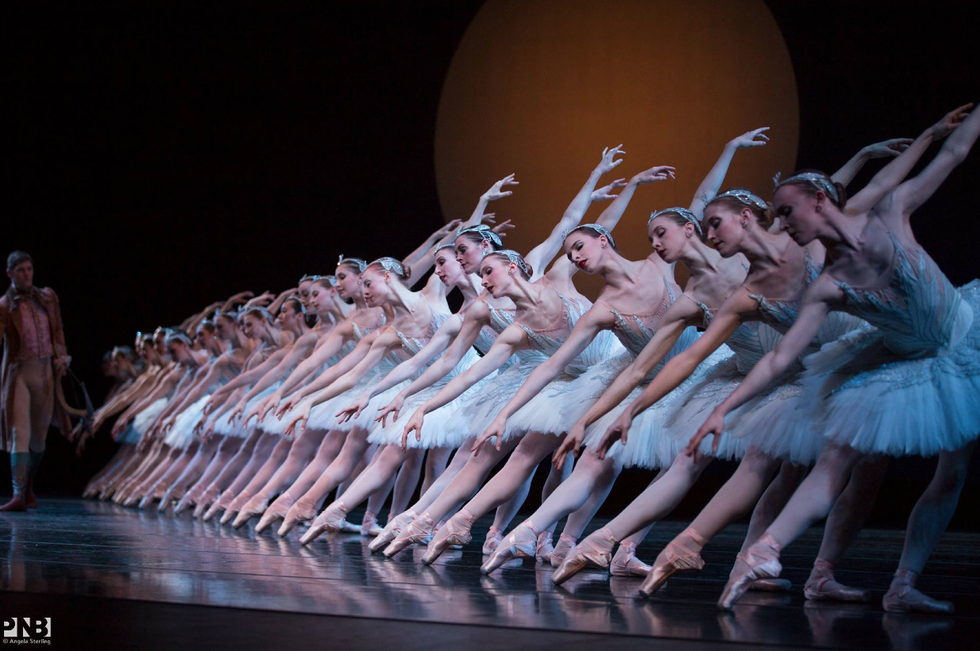 PNB's Swan Lake tutus were designed by Paul Tazewell. (Photo by Angela Sterling)
And as much as we love the corps, we also live for those iconic Odette/Odile moments. PNB principal Lesley Rausch has that dichotomy dialed.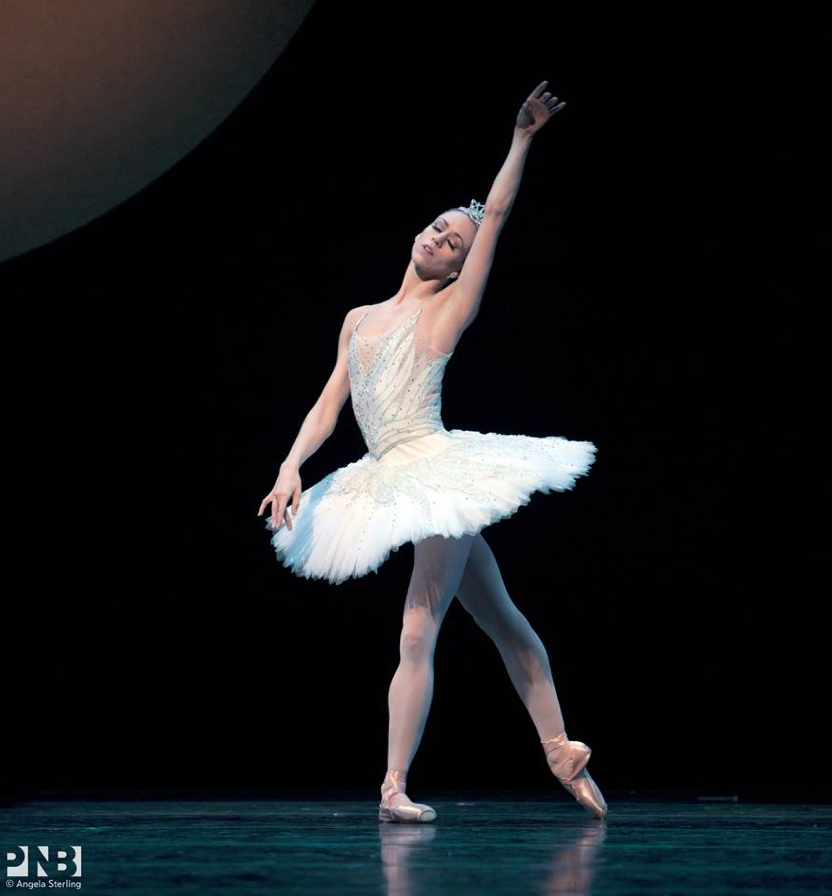 The Icon (Lesley Rausch, photo by Angela Sterling)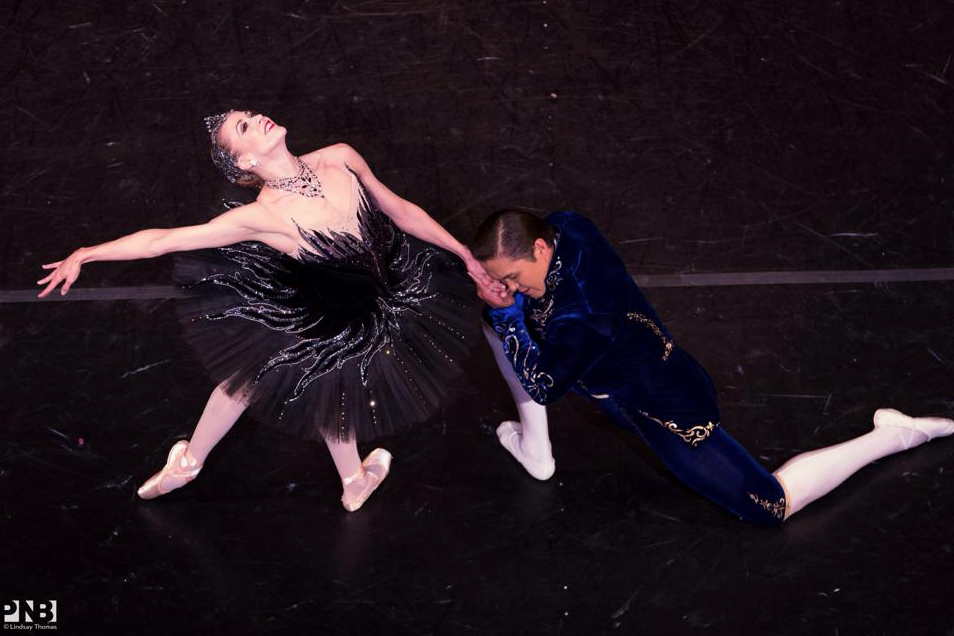 The Temptress (Lesley Rausch and Batkhurel Bold, photo by Angela Sterling)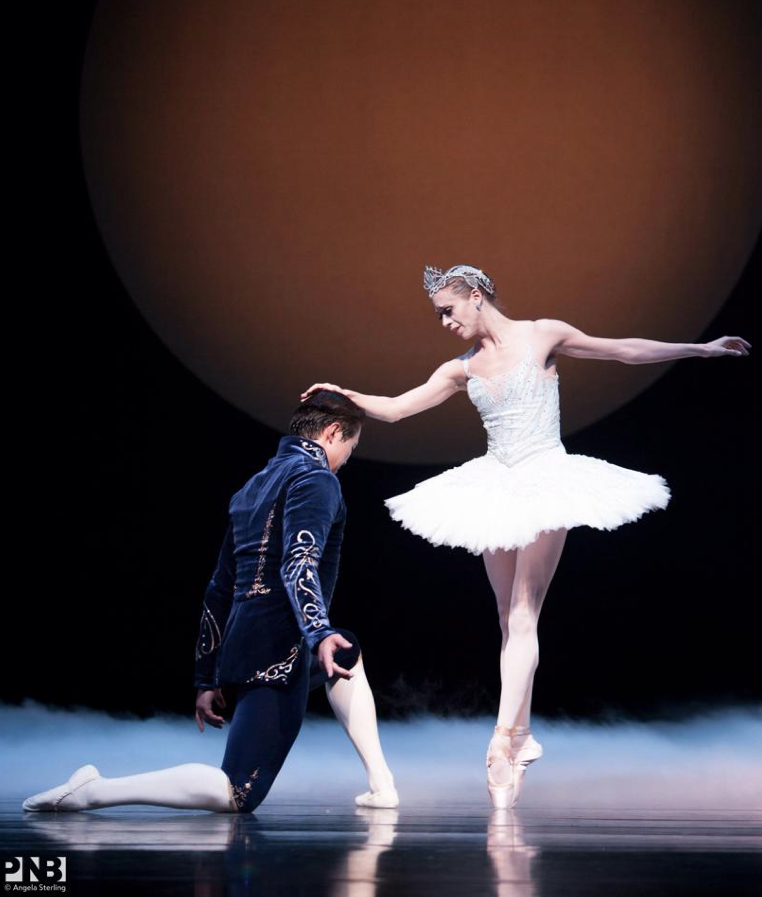 The heartbreak (Lesley Rausch & Batkhurel Bold, photo by Angela Sterling)
And there you have it. #swanlake4life
Sep. 01, 2014 01:00PM EST
For dancers who dream of perfect feet, Pacific Northwest Ballet's Lesley Rausch may be the ultimate poster girl. But it's not just those daggers that set this principal dancer apart. Rausch's pristine technique (carried by mile-long legs) and luxurious port de bras take her from classical roles, like Princess Aurora in The Sleeping Beauty, to the more contemporary, like Ulysses Dove's Red Angels and Jiří Kylián's Petite Mort.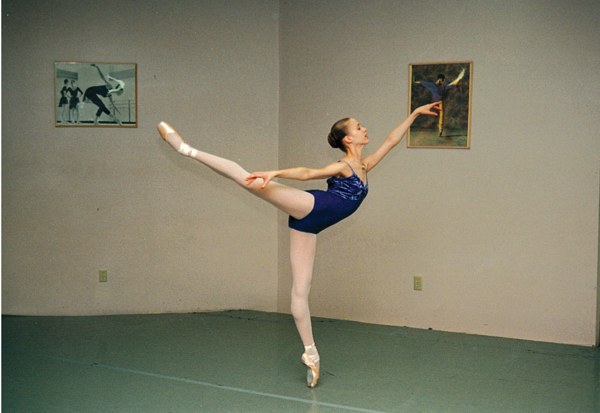 At age 15 (photo courtesy Lesley Rausch)
Rausch grew up in Columbus, OH, and trained at Columbus Youth Ballet and PNB School before joining PNB's corps in 2001. She was made a soloist in 2007, and promoted to principal four years later. This month, you can see Rausch in George Balanchine's Jewels. —Jenny Dalzell
Dear Teen Lesley,
Don't give up when people say you are too weak. Explore how your body changes with Pilates, physical therapy exercises, gym workouts, yoga and more. You'll figure out what works for you—trust your intuition. Learning how to coordinate your body will be an ongoing process that will continue far into your career. But becoming a smarter and more efficient dancer will ultimately help you overcome the challenges that come with being hyper-mobile.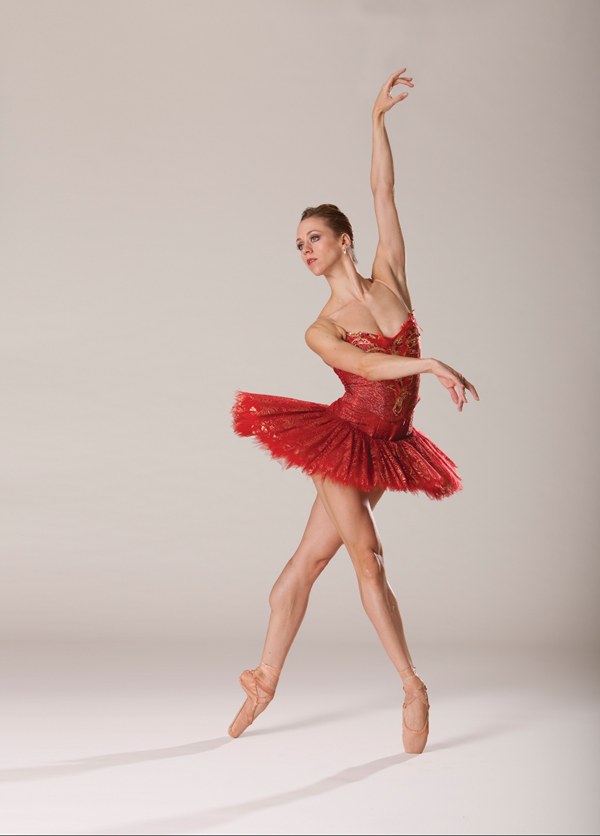 Rausch in costume for Kent Stowell's Firebird (photo by Angela Sterling, courtesy Pacific Northwest Ballet)
Trust yourself, and know that you won't always be perfect. Don't be embarrassed to try something that may not work the first time—especially when it comes to acting, or difficult steps. Some of the movements you think you'll never be able to do just require a lot of practice. And with acting, the more you allow yourself to be vulnerable, the more realistic your portrayal will be.
Remember the biggest challenges you face will be the moments that shape you the most. Acknowledge the difficulty, but know you're strong—stronger than you realize. Try to maintain a sense of humor. Your weaknesses will become your greatest strengths, and the hard times will provide you with material to draw on artistically. You already have so many of the skills you need to be successful. Stay true to yourself, and enjoy the journey.
Your Somewhat Wiser Self,
Lesley


Get Dance Spirit in your inbox