Oct. 12, 2016 07:46PM EST
There are zillions of makeup goodies out there, and just as many ways to wear them. Rather than spending the rest of your life trying to find that perfect black eyeliner pen, take a cue from these pros, who have streamlined their prep routines to get the job done night after night.
The Pros
Megan Levinson, Radio City Rockette
Lloyd Knight, Martha Graham Dance Company principal
Jenny Driebe, Cirque du Soleil's Michael Jackson ONE dancer
Madison Keesler, English National Ballet first artist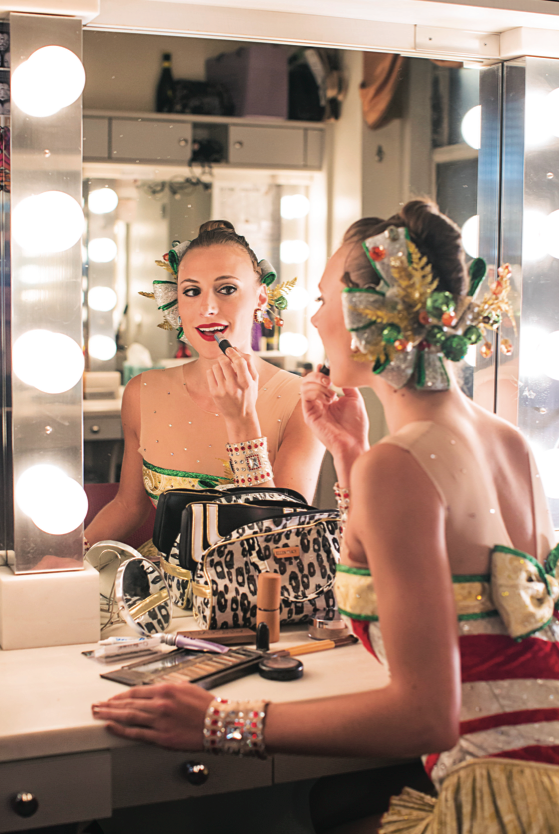 Megan prepping her Rockettes look (photo by Rana Faure/MSG Photos, courtesy MSG Entertainment)
Megan Levinson's Routine
"I start by blending liquid foundation on my entire face, and then use concealer under my eyes. Next I apply eye shadow primer on my eyelids and let it dry as I fill in my eyebrows. I mix eye shadows, and always make sure to define the crease of my lid with a dark brown. Then I put on mascara and false lashes. Once my eyes are done, I set my face with powder foundation and apply blush. Finally, and most importantly, I finish off my makeup with the famous Radio City Rockette red lip!"
Megan's Pro Tip
"The Christmas Spectacular Starring the Radio City Rockettes is 90 minutes of non-stop action with athletic choreography and quick changes, so we need our makeup to stay in place," she says. "I always apply Sealed With a Kiss lip seal by Cosmetically Sealed over my lipstick to keep it looking perfect during the whole show. Also, eye shadow primer is life-changing!"
A Few of Megan's Go-To Products
•Urban Decay Eyeshadow Primer Potion and Eyeshadow Palette in Naked
•MAC Russian Red lipstick
("It's the iconic Rockette color!") and blush in Mocha
•Ardell false eyelashes
Lloyd Knight's Routine
"I begin by moisturizing my face and applying foundation. Then
I move on to eye makeup: first shadow, then liner and then mascara.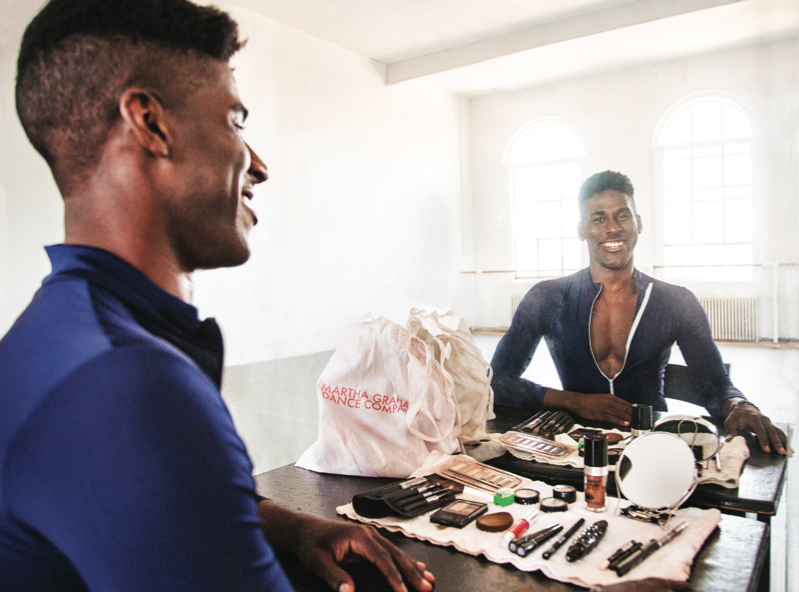 Lloyd Knight with his makeup spread (photo by Brigid Pierce, courtesy MGDC)
Depending on what I'm dancing, I like to change up the colors or the boldness of the lines. After my eyes are done, I contour my cheekbones and jawline, apply lipstick to seal the deal and hit the stage!"
Lloyd's Pro Tip
"It's always best to go out into the house to see how much makeup you think you might need," he advises. "Determine how far away the audience will be sitting, and try to see what someone else's stage makeup looks like from the house. You don't want to overdo it, or wear too little."
A Few of Lloyd's Go-To Products
•Make Up For Ever foundation in 180=R530 Brown ("It matches my skin color perfectly!") and black Graphic Liner Pen ("It makes for a really clean and sharp look.")
•Sephora eye shadow in Colorful Sandcastle and Colorful Diamonds Are Forever, and Waterproof Contour Eye Pencils in White, Cocoa and Black
Jenny Driebe's Routine
"Each dancer in Michael Jackson ONE has a specific look created by the amazing makeup artists at Cirque du Soleil. I always begin with a primer base and then apply silver cream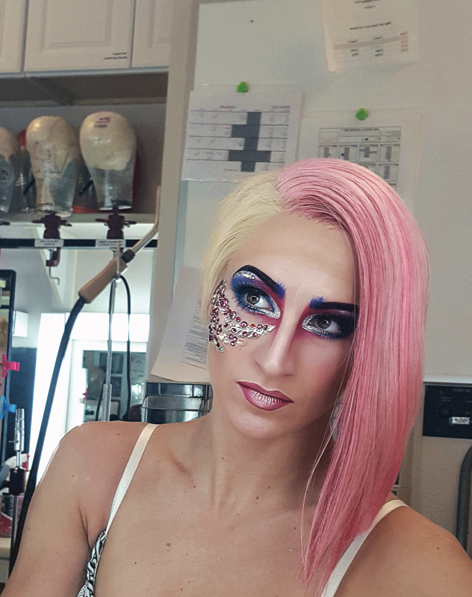 Jenny Driebe in her finished look (courtesy Jenny Driebe)
by Make Up For Ever to my lids, brow arch and inner eye. I draw a pink line from the inner corner of my eyebrow down my nose, blend it out over my eye, and blend blue into the outer corner to create a smoky look. Then I apply foundation; contour and blend; set it with translucent powder; brush the excess powder away; and repeat everything with powder eye shadow, contour and blush. I line my eyelids and fill in my brows. Finally, I add glue and silver glitter to my eyelid, and the unique rhinestone appliqué
I wear goes on my cheek."
Jenny's Pro Tip
"This was taught to me by one of the awesome makeup artists from Cirque du Soleil: For a 3-D lip look, apply lip liner and lipstick as usual, using a brush to blend them together. With a thinner brush, apply a line of cream highlight around your lips. Use powder to set it, and voilà! Beautiful 3-D lips that really pop!"
A Few of Jenny's Go-To Products
•Make Up For Ever Star Powder ("It highlights with shimmer.")
•MAC Bone Beige Sculpting Powder ("to enhance bone structure") and False Lashes mascara
Madison Keesler's Routine
"I always start with face primer and then do my brows. I follow with foundation, concealer and contouring. Then I powder my face with setting powder and 'bake' my T-zone. Baking is when you leave excess powder on your face for a few extra minutes before gently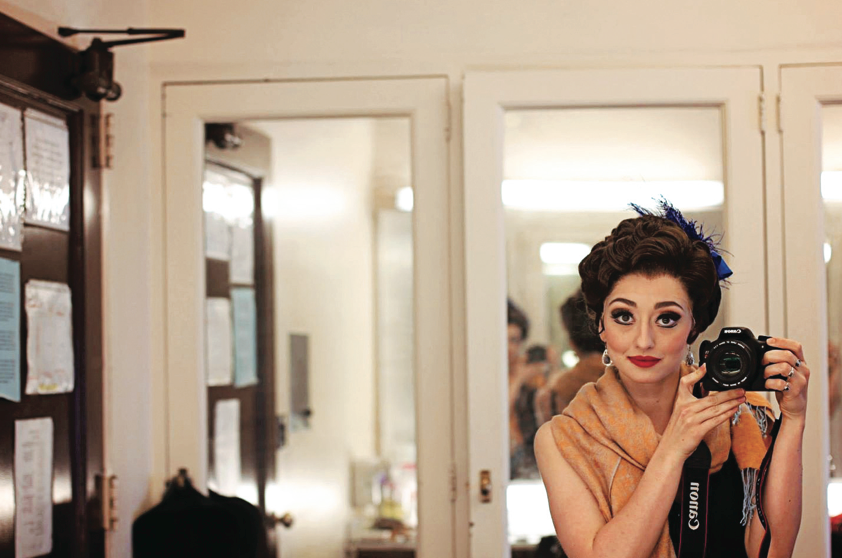 Madison Keesler in full stage makeup (courtesy Madison Keesler)
brushing away the excess—this step is key! Then I prime my eyelids, use different eye shadow colors to define the crease, and use liquid liner on the top and bottom lids. I finish with mascara and lipstick, and any extra blush, highlighting or contouring."
Madison's Pro Tip
"Choosing a lipstick color is very important because it can really change the overall look of your makeup. Also, to get the best brows, do them first! I do brows right after primer because it helps the brow product stick."
A Few of Madison's Go-To Products
•Tarte Clean Slate primer in Poreless
•Cover FX contour kit in P Light Medium
•Laura Mercier Loose Setting Powder in Translucent
Feb. 28, 2016 12:00PM EST
Stage makeup is one of those things dancers are always trying to perfect—it takes a lot of trial and error to get those pristine eyeliner wings or that perfect eyeshadow/lip combo. Luckily, the Internet is overflowing with wonderful tutorials from some of the most seasoned dancers out there, and Martha Graham Dance Company's Lloyd Knight has a very worthy addition to the mix. Knight, a principal with the company, takes us through his makeup routine, which has tons of great contouring and eye-highlighting tips (something we could all use a little help with—tiger-striped faces are never in style!). Click here to watch the tutorial!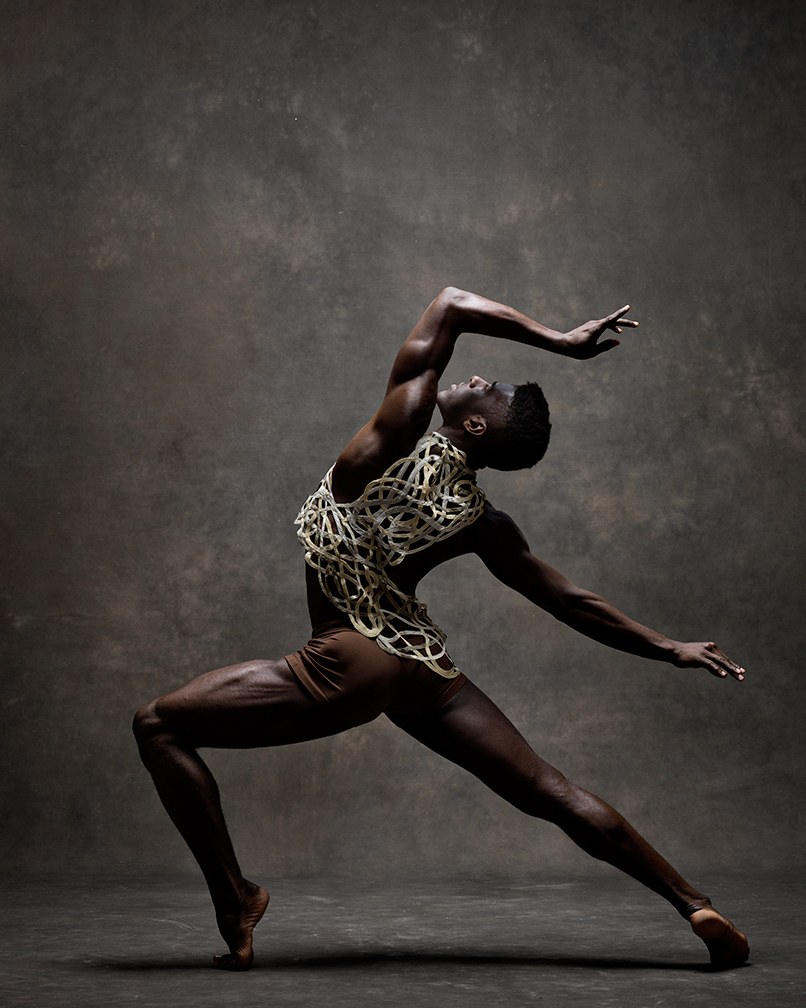 The stunning Knight bringing the drama. (Photo by NYC Dance Project)
Apr. 01, 2013 03:46PM EST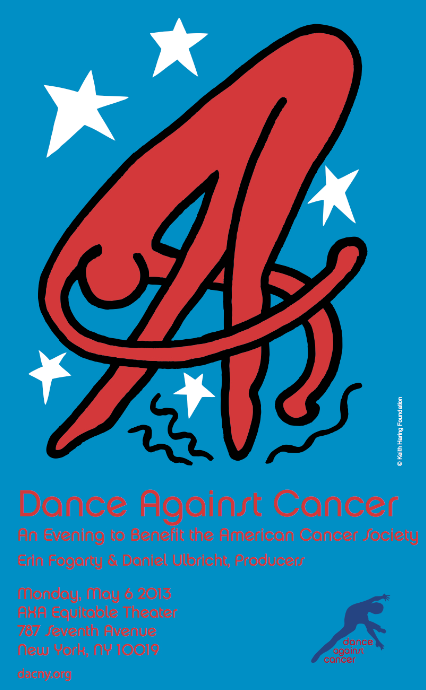 This year's Dance Against Cancer poster features an original drawing by artist Keith Haring.
A dance gala is always a good thing. But an impressively star-studded dance gala for a very important cause? It doesn't really get better than that.
The third annual Dance Against Cancer benefit, hosted by the American Cancer Society and produced by Erin Fogarty and New York City Ballet principal Daniel Ulbricht, will be held on May 6 in NYC. Like the last two galas, it'll feature performances by some of the dance world's best and brightest, many of whom have personal connections to the cause.
And I do mean best and brightest. The lineup is incredible: NYCB's Maria Kowroski, Wendy Whelan, Tiler Peck, Lauren Lovette, Robert Fairchild, Tyler Angle, Gonzalo Garcia and Daniel Ulbricht; American Ballet Theatre's Misty Copeland; Alvin Ailey American Dance Theater's Alicia Graf Mack and Matthew Rushing; Martha Graham Dance Company's Katherine Crockett and Lloyd Knight; and Lar Lubovitch Dance Company's Clifton Brown and Attila Csiki. There'll also be a special sneak peek at Christopher Wheeldon's Cinderella, performed by San Francisco Ballet's Maria Kochetkova and Joan Boada, and world premieres danced by Lil' Buck and ABT's Herman Cornejo.
Watch this beautiful, touching video describing Dance Against Cancer and its mission, with testimonials from many of the dancers who'll be performing at the gala. Then click here to find out more about the show and buy tickets. (Not in NYC? There's also an option to simply donate to the American Cancer Society.)


Get Dance Spirit in your inbox