Mar. 23, 2017 04:41AM EST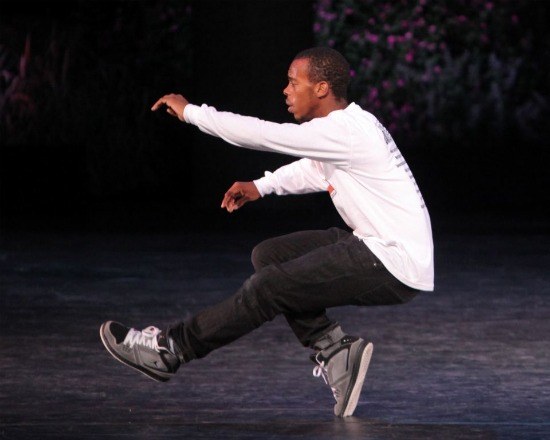 If you haven't heard of Lil' Buck, you are a) behind on your DS reading! Check him out in our "Most Influential People of 2011" feature; and b) MISSING OUT. The talented dancer is spreading the gospel of "jookin'," a hip hop style that originated in his hometown of Memphis, TN. Jookin' is awesome—and almost impossible to describe. Here's the best I can do: It's a combination of fluid arm isolations, glides and slides, and pointework. You read that correctly: pointework.
Lil' Buck basically blew up the internet last summer, when none other than Spike Jonze posted a video of his mesmerizing take on "The Dying Swan" (with none other than Yo-Yo Ma on the cello). Last night, he grabbed the spotlight again: He performed in Madonna's supersized Superbowl halftime show. And by "performed," I don't mean "step-touched in the back row with 50 other dancers." I mean straight-up stole the show from the Material Girl herself.
There isn't much halftime footage up online (copyright issues, boo). You can, however, catch bits of Lil' Buck's performance—he's the one wearing wings (!)—in this clip (sorry, not embeddable) from his local Memphis TV station. You'll also hear from his adorable ballet teacher, and from the man himself. (I do have a serious bone to pick with News Channel 3, though—local "rapper" shines with Madonna??? Good grief.)
And since, after that appetizer, you're probably hungry for more Lil' Buck, I'll leave you with his amazing "Swan" video from last year: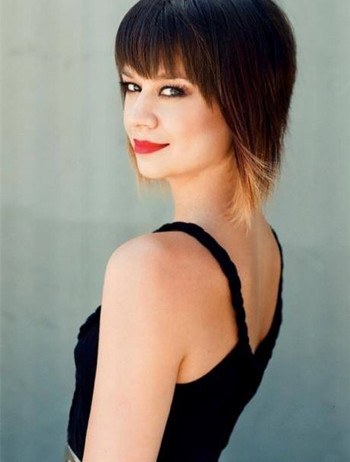 Meet Megan Lawson: choreographer to the pop star (by Rob Daly)
Few gigs compare to creating the moves for Madonna. Choreographer Megan Lawson is living that dream.
Lawson, whom you might know from Fanny Pak, began working on Madonna's Rebel Heart Tour a few months ago. But it's not her first rodeo with the Queen of Pop. The Canadian-born choreographer was also responsible for the moves in Madonna's "Living for Love" and "Ghosttown" videos, along with Madonna's 2015 Grammy Awards performance, and was a contributing choreographer to Madge's MDNA tour.
Dance Spirit spoke with Lawson about her work on the upcoming tour.
Dance Spirit: What's the process of choreographing for a tour of this scale?
Megan Lawson: Jamie King is the show's director. The process starts with a discussion between Jamie, Madonna and I about ideas and concepts. Then, my dancers, Jamie and I get into the studio and experiment for a while before presenting to M. She always has a hand in the choreography. She loves to be part of the process and collaborate with everyone, from the lighting designer to the makeup artist. I'd say every number in the tour has at least one part Madonna choreographed herself. It's a really fun process.
DS: Are there other choreographers working with you?
ML: Since I'm the lead choreographer on this tour, I got to recommend other choreographers to collaborate with. I was so fortunate to bring in other artists, including Jillian Meyers, Matt Cady and Kevin Maher, who are all friends of mine. The great thing about involving other choreographers is that the show becomes really diverse. Every song is different stylistically, and each has a unique choreographic vibe.
DS: Does anything about the tour scare you?
ML: Getting it all done in time! It's been a challenge to coordinate everything. Madonna doesn't settle for anything but the best. It takes time. This is certainly the biggest-scale production I've ever experienced. I can't wait to see it all come together. I know it will. But right now it's crunch time, and that's a little scary.
DS: What are your top three favorite Madonna songs?
ML: "Human Nature," "Messiah" and "Falling Free."
DS: What's your advice for Dance Spirit readers?
ML: Explore as many avenues as you can. I never really had goals or plans that were set in stone. I just knew I wanted to dance and create for living. I tried lots of different things—from taking a wide variety of classes to assisting choreographers to picking up small gigs here and there. What really paid off the most, though, was grabbing some friends and making a few little videos of my own. Those experiences were more satisfying than working as a backup dancer—and Madonna ended up hiring me after seeing some of the clips! It's OK if your goals change over time. Be open to your desires and follow your heart.
Madonna's Rebel Heart Tour begins September 9. Visit madonna.com for more info.
Yes, the Grammys are all about the music. But they inevitably also feature a bunch of great dancers. And this year, those dancers seemed to play especially large roles—from Maddie Ziegler as Baby Sia to Katy Perry's shadow selves. Without further ado, here are the top five highlights from last night's show.
5. Lady Gaga danced cheek to cheek with Tony Bennett. OK, it wasn't the danciest moment of the night, but how amazing was Gaga's duet with one of music's all-time greats? Not only did both show off their legendary pipes, but they threw in a little waltz around the stage for good measure. The whole thing was pitch-perfect, literally and figuratively.
4. Pharrell showed us a different kind of "Happy." Whoa, we didn't think there was any way this song could go dark and moody, but somehow Pharrell managed to make a boppy unicorn-and-rainbow tune into an emotionally-charged anthem. It was intense. And the sweats-clad crew of dancers brought things to the next level.
3. Katy Perry went gospel. Much as we loooove us some dancing sharks, we were excited to see Katy Perry do a complete 180 from her over-the-top Super Bowl show. Her stripped-down performance of "By the Grace of God"—a tribute to survivors of domestic violence—was perfectly complemented by its sole decoration: a simple white scrim on which the shadows of two Katy-proxies danced.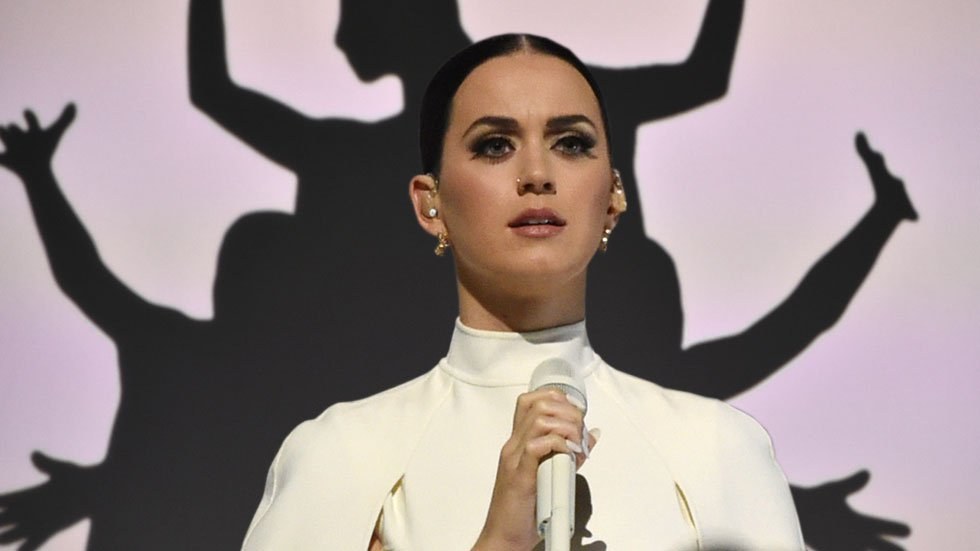 (Photo AP)
2. Madonna got her bullfighter on. Well, here's something we didn't see coming: Madonna decided to go all matador on us, performing "Living for Love" complete with a team of dancing, bedazzled man-bulls. The whole woman-on-a-giant-red-table-surrounded-by-shirtless-men thing is actually straight out of Belgian choreographer Maurice Béjart's playbook—take a look at his Boléro, choreographed way back in 1961 and still performed frequently by the Paris Opéra Ballet. Also, we totally spy Madge favorite Lil Buck among the bulls! (The Grammys performance isn't available online, but here's the official video for "Living for Love," complete with bull-dudes:)
1. SIA OMG SIA. Unsurprisingly, Sia declined to show her face during last night's performance of "Chandelier." Unsurprisingly, the amazing Maddie Ziegler was there to play Bizarro Sia, and unsurprisingly, she was fantastic. But that's not to say this act was devoid of surprises. Because grown-up dancing Sia? That was "Saturday Night Live" alum Kristen Wiig. And she was great! Turns out, Wiig actually studied ballet for several years. We loved the crazy-quirky rapport she developed onstage with Maddie. (Also, "Wiig in a wig" is our new favorite phrase.)
What did you all think? Did you love or loathe Madonna's bull-dudes? Are you currently watching the Sia performance on repeat? On a scale of 1 to COMPLETELY DEVASTATED, how sad are you that Beyoncé's performance was basically dance-free???
It's spring! It's spring! It's finally, finally spring!
Actually, it's 40 degrees and rainy here in NYC (womp). But the spring signifier that REALLY matters to me and my fellow bunheads is the kickoff of ballet season—and that happened last night, aka opening night at New York City Ballet.
Over the next couple of months, both NYCB and American Ballet Theatre will be performing at Lincoln Center. (For a few weeks they'll even be there simultaneously, right across the plaza from each other. Eee!) But every year the NYCBers get the ballet party started first—and do they ever know how to start a party.
NYCB's big glittery spring gala, the event that brings out A-list celebrities in their A-game finery, isn't until next Thursday. (This year's gala also includes a premiere by the wonderful Justin Peck—check back here next week for more on that.) And yet the theater last night was filled not only with amazing dancing, but also with some pretty amazing celebs.
Why, you ask? First of all, because ballet is the coolest. But also because last night's program included the premiere of French artist JR's first-ever dance work, which starred none other than jookin' sensation Lil Buck.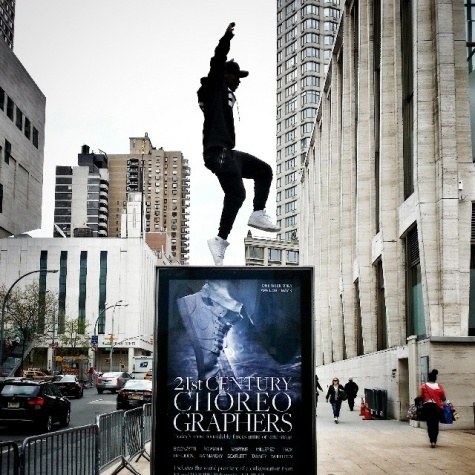 Lil Buck—no Photoshop required. (Photo via JR's Instagram)
Titled Les Bosquets, the piece brought together fantastic costumes (including a pretty amazing paper tutu), music by French music phenom Woodkid, and choreography—dreamed up by JR with an assist from NYCB artistic director Peter Martins—that had Lil Buck and NYCB soloist Lauren Lovette swimming in a surging sea of corps dancers. (The whole thing was inspired by JR's experiences during the 2005 Paris riots.)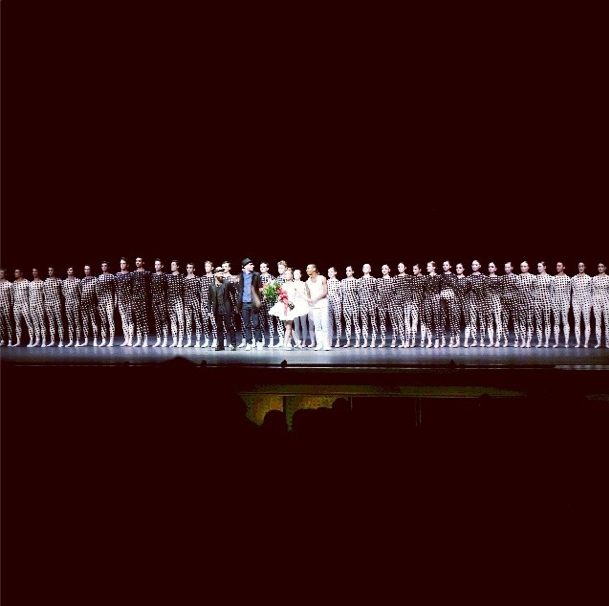 Bows after the premiere of "Les Bosquets." THEY'RE WATCHING YOU! (photo via JR's Instagram)
The dance featured some fascinating moments, including the opening sequence, which had men carrying women as if they were guns. And in the audience cheering on the project were both the fabulous Janelle Monáe and—wait for it—Madonna. Madonna!
After recovering from starstruck shock, I realized that Lil Buck has danced for both divas. How great is it that they came out to support their friend? And both stayed for, and seemed to enjoy, the rest of the program, which included Alexei Ratmansky's incredible Namouna: A Grand Divertissement. Have Lil Buck and JR made ballet converts of them? Here's hoping.
Speaking of Lil Buck being awesome, did you see him over on Vogue.com yesterday? I'll leave you with their haunting video of him doing what he does best. And ballet peoples, if you're in or around New York, get yourself to Lincoln Center, STAT!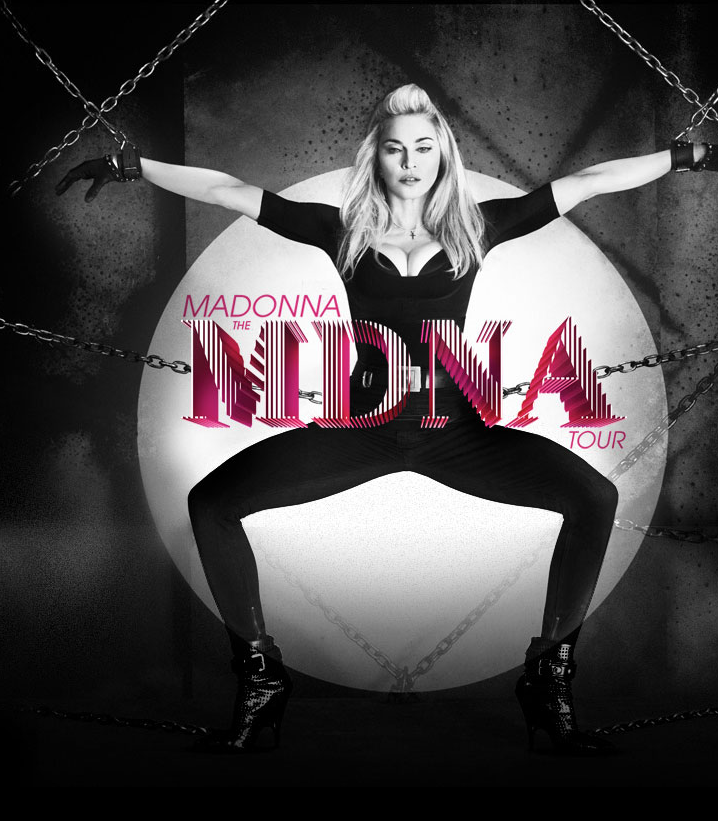 Hypothetical question: If you could dance behind any living legend of popular music, who would it be? For me, the choice is easy—Madonna. After all, the original Material Girl has conquered basically every facet of the entertainment world: Acting! Writing! Directing! And (of course) singing and dancing her way to the top of the show business universe.
So guess what? That hypothetical question will actually become a reality for 30 lucky dancers later this week—but not before a grueling, totally Hollywood-worthy audition process. (Hey, who ever said that dreams come true by themselves?)
First, there was an online registration process, which whittled down the pool of hopefuls to just 500 auditionees. That group attends an open call on Wednesday at NYC's Broadway Dance Center, showing their stuff to several of Madge's fitness consultants and trainers. Only 50 dancers survive the next cut, thus earning their chance to dance for Nicole Winhoffer, head trainer on the MDNA tour (which was, by the way, the highest-grossing tour of 2012!). At last, the final 30 will learn the super-dancey "Addicted to Sweat" workout that got Madonna into fighting shape for the tour—and perform the routine live on Thursday with Madonna herself!
The only bad news is that registration for the audition is already closed, but never fear: you can still get your Madonna fix! 4 different "Addicted to Sweat" workout DVDs are now available online, and be sure to catch the premiere of her behind-the scenes documentary, Madonna: the MDNA Tour, June 22 on EPIX, at 8 pm Eastern Time.
"Unless your name is Beyoncé and you become a black woman, I'm not dancing backup next to you." —Nick Lazzarini, Voice of Reason, "All the Right Moves"
Drama, drama, drama. Travis, Travis, Travis. Taja, Taja, oh man, Taja.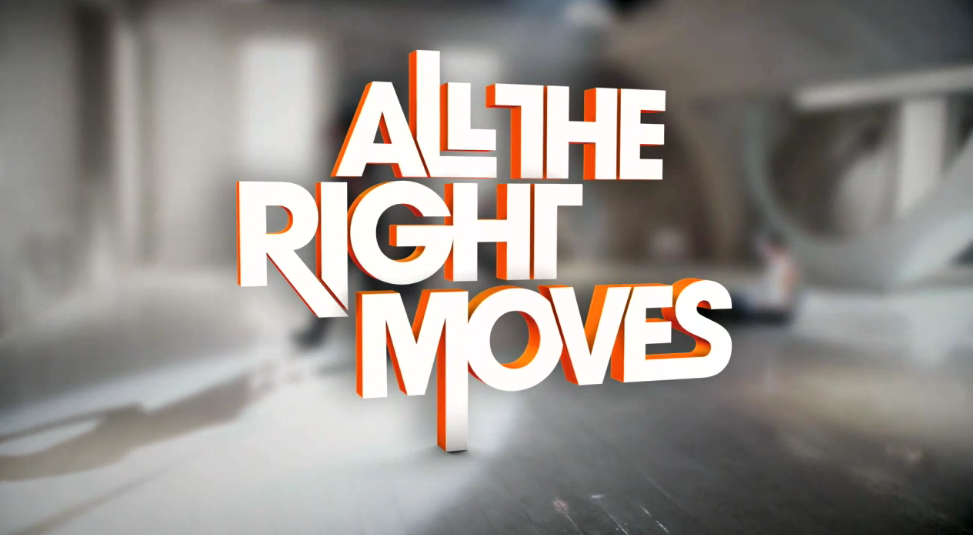 It's only the second episode of the season and already the power struggle between Shaping Sound co-founders Travis, Teddy and Nick is proving to be, well, a struggle. Did we mention this episode is called "Submission Impossible?" That's catchy and intriguing. But it wouldn't make for good television without some serious boy drama, a hefty dose of eye candy (don't be afraid of your emotions, Kyle—we're here for you and we're ready to listen) and Taja Riley getting pulled over by the cops.
Let's do this...
The 10 Lessons We Learned From "All the Right Moves" Episode 2: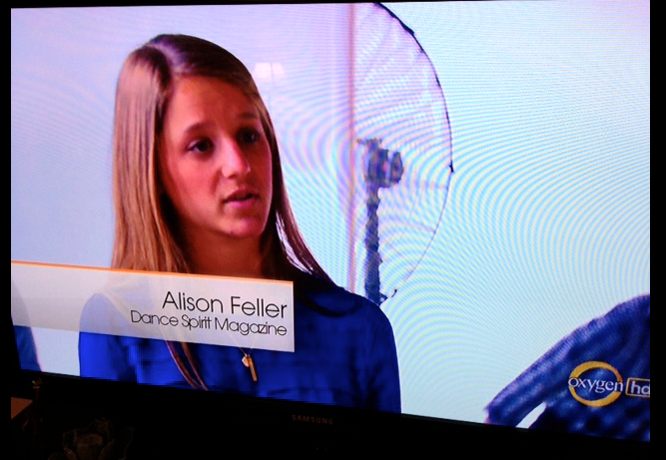 1. Dance Spirit stole the show. Oh sorry, is now not the time for shameless self-promotion? Well clearly we were just a little excited about this particular episode, because it's the one featuring Shaping Sound's May/June cover shoot! We enjoyed our few minutes of fame.
2. Nick Lazzarini is the "All the Right Moves" voice of reason. The first time I saw Nick perform live, he was leading a group of minis at JUMP Nationals in NYC. He was wearing a caveman suit and running around on the stage like a crazy person with a stick. It was incredible. The kid's got charisma. But turns out, Nick can take the occasional break from his hilarious one-liners to impart some sanity and sage wisdom on his friends. He also has the best line of the entire show: "Shaping Sound is doing a photo shoot with one of the biggest dance magazines there is: Dance Spirit magazine." And toward the end of the episode, when he confronts Mr. "Passive Aggressive" Travis (Nick's words, not ours!), he tells it like it is: "We get it. You're a superstar celebrity. But at the end of the day, it's not just about you." We like that Nick got everyone to talk it out though, and eventually peace was restored in friendship land.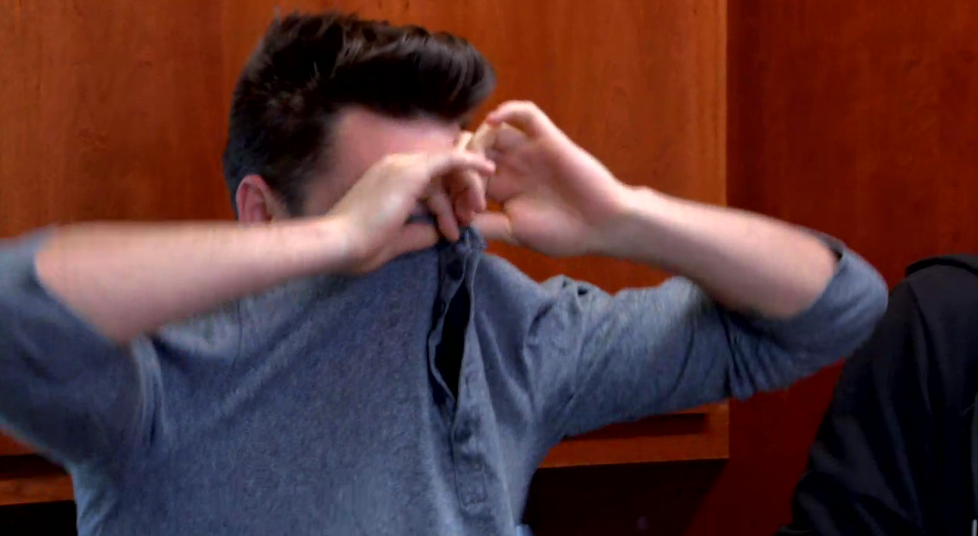 3. You can be "broke" and still have a sick house. Right? Why had no one told me this until now? The guys joke about having no money and being struggling dancers and whatever, and yet they live in this totally insanely awesome house in L.A. The kitchen seems fancy and there's a pool and a waterfall and a hammock. At the end of the episode Travis dramatically squeals, "Why is life so hard?!" Um, Travis, it's not. You have marble countertops. That's a major life win right there! We're jealous.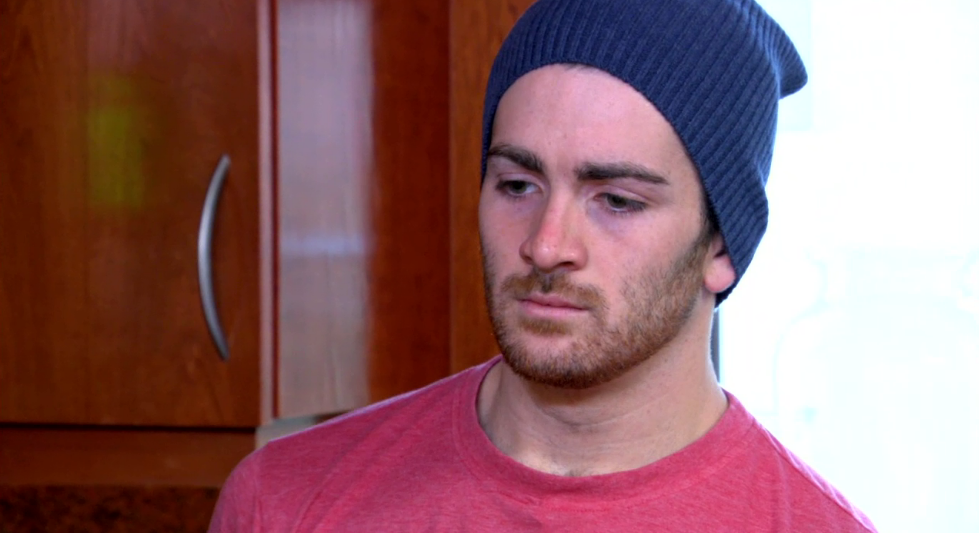 4. Reality TV is absolutely "real." No, I'm kidding. Haha. LOL. Right? I don't know. But seriously, on the "real" thing: Did anyone else find the "Travis, can I get your advice?" exchange between Teddy and Travis at the shoot to be straight-up painful to watch? It just didn't seem genuine. Was the situation legit? Sure, maybe. But did it come across like that was the fourth time that scene was "happening in real life?" Yes. Yes it did.
5. Teddy wants to be a choreographer on "So You Think You Can Dance." Don't we all? Teddy is an awesome choreographer. He's really talented, he sees movement in a unique way and I would love to see what he could do with two young dancers on the show (give him Audrey and whatever guy, I don't even care, yay Audrey!). But I worry about Teddy's intentions, and I worry that he only wants to do "SYTYCD" to boost his own fame and popularity in the shadow of Travis's. Nick has done (and won) the show, Travis is basically the show's superstar love child—but Teddy has no claim to "SYTYCD" fame. So he wants it. I'm cool with ambition, but I wish Teddy had chosen something else. Like maybe "Bunheads." Or "Masterchef." (Not really, but you get what I'm saying.)
Teddy is creative, and he is unique—but setting out to do the same thing Travis has already done isn't going to set him apart. It's just going to keep him in that elusive Travis Shadow Land, and I hear that's a scary place to be. Like the dark part of town in The Lion King.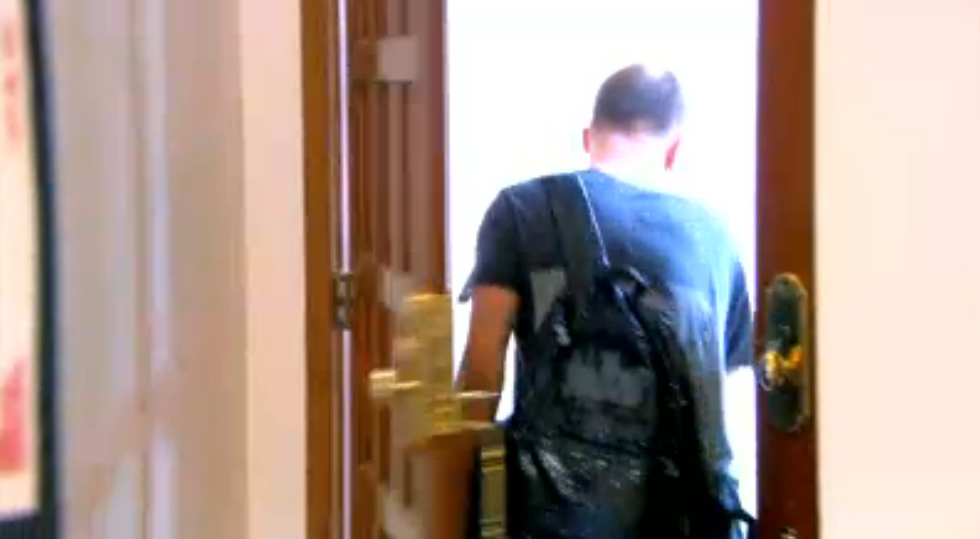 6. If you're going to make a dramatic, "I'm out of here and I hate you all" exit, make sure you do so while wearing a sequined backpack. It's really the only way to get your point across effectively. Well played, Travis. I'm honestly obsessed with that backpack and I want it. Later in the episode, Nick wears what I believe to be a sequined tank top. Suddenly I'm re-thinking my entire wardrobe and all of my life choices that haven't previously involved mass sequin appeal.
7. tWitch and Allison Holker are dating. "ATRM" claims this is the couple's big reveal and they're doing their first dance together and blah blah blah. Sorry, "ATRM." Beat ya to it.
8. If you get the chance to choreograph for Madonna, you should do something different. "She wants something new, something innovative, something different," agent Shayna Brouillard tells Travis. And yet...I was a little underwhelmed by the submission Travis put together. I get that he was channeling Madonna, but he was channeling what Madonna has already seen and done...in the 1980s.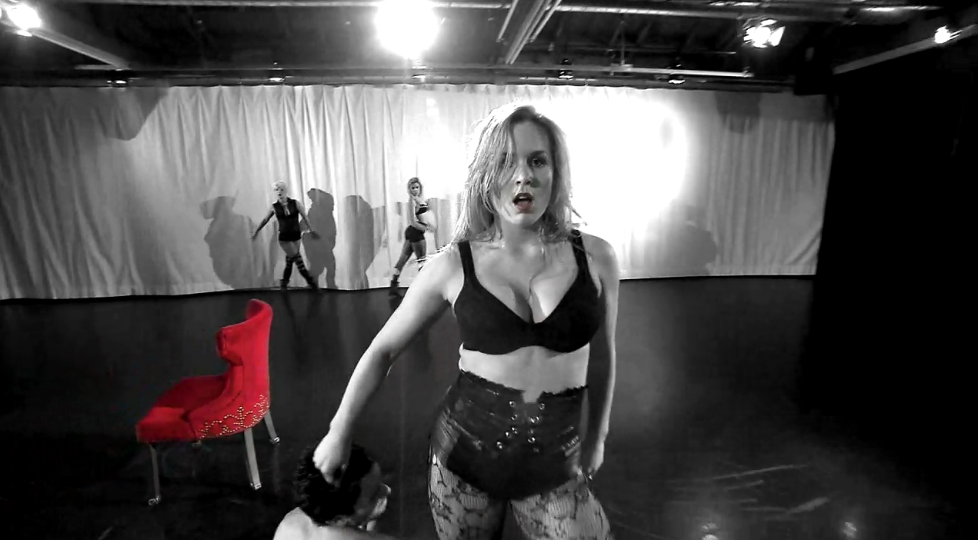 The whole vampy, fishnet-wearing, boob-touching dominatrix thing has been done. I wish Travis had branched out more and created something new instead of just going straight along the expected route. We know he has more to offer—let's see it!
9. Travis has to chill. I was getting worked up just watching him get worked up. Yeah, it's a totally stressful situation, having to prepare a Madonna submission in something like 8.5 minutes. But focus, buckle down and work with the great dancers you have, Travis. Stop worrying about who's not there (oh, Taja) and what's not looking good and all that jazz. Take a breath. In fact, take like 16 breaths. Slow down, and the choreography will flow. Promise. You're good at what you do. Roll with it.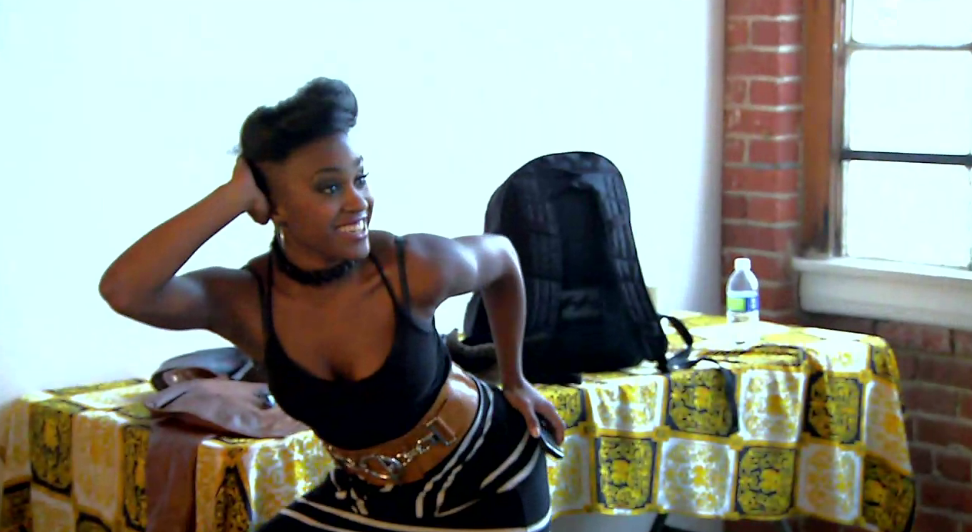 10. Some things will never change, and those things include Taja's interactions with the law. The first time we met Taja was at a photo shoot in L.A. in 2010. (We shot her with "Glee" star Heather Morris and "SYTYCD" alum Lauren Gottlieb—fun!) Taja ended up being several hours late to the shoot. Why? Because she got pulled over...while driving with a suspended license.
Wait!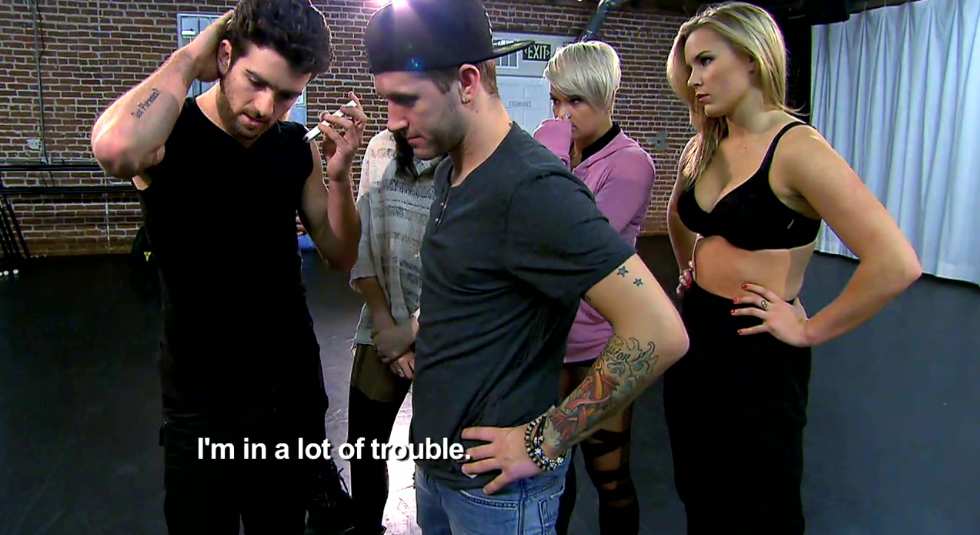 Isn't that precisely what happened on last night's episode of "ATRM" as well? Seriously girl, get the driving issues figured out, stop getting pulled over and maybe learn to embrace public transportation a little bit. Because in the meantime, you're really messing with everyone else's schedules...and we're slightly worried you're going to end up in jail someday.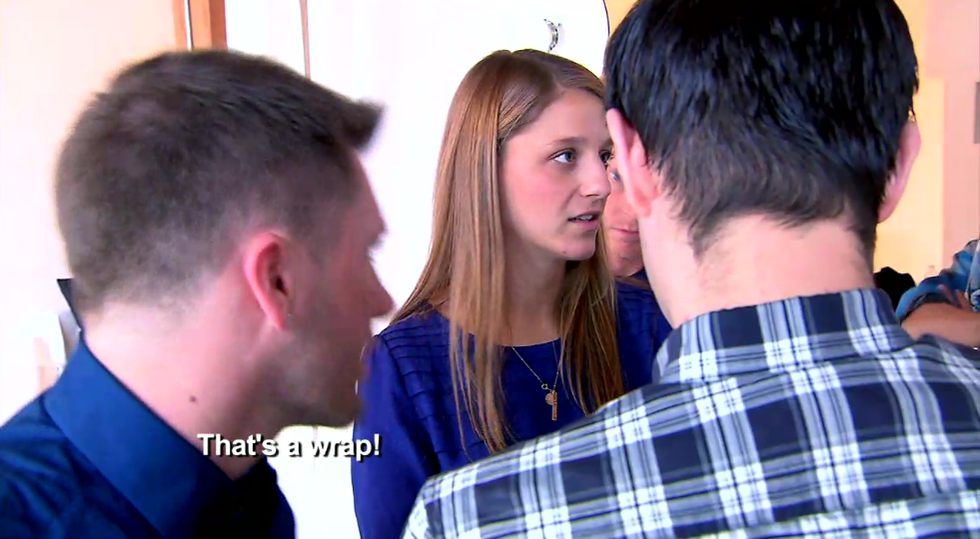 What'd you think of last night's episode of "ATRM?" Is it living up to your expectations? Do you wish Kyle would focus less on his acting and more on taking off his shirt? What'd you think of both Travis and Teddy's respective submissions (which were not, apparently, impossible)?
Sound off in the comments and we'll see you right back here next week!
One rainy day in September, I set out for NYC's Broadway Dance Center to watch some of the city's hottest performers audition for a shot to dance on Madonna's next tour. The contest, a part of the Smirnoff Nightlife Exchange Project, will conclude with a dance off (between the BDC live-audition finalist and 10 web finalists) at the project's main event—a giant dance party!—in NYC on November 12.
As I turned onto 45th Street, dancers were lined up all the way down the block in front of the studio, some anxiously waiting to get inside, others busting a move for the camera crews. One girl with super-teased '80s curls and a cropped, sequined jacket went full-out, giving her best "Material Girl"-inspired freestyle. Upstairs, dancers were taken to a prescreening room where they were given one minute to improvise. Based on their performances, it was decided whether they would move forward and dance for Madonna's head choreographers Rich and Tone Talauega (DS May/June 2011).
The first few dancers on the floor lacked energy and technique, leaving me wondering if I was in for a very long day. Then, in walked Hurricane. I chuckled as he introduced himself, but when the music began, energy exploded from every limb—he definitely lived up to his name. Hurricane's flirty smile and out-of-this-world tricks bumped him to the top of my list and, as expected, he was sent directly to audition for Rich and Tone.
Though there were few like Hurricane, I was impressed by the performers who gave it their all—and those are the kinds of dancers we see tearing it up behind Madonna on tour. So at your next audition—whether it's for Britney or The Nutcracker—don't hold back!


Get Dance Spirit in your inbox