Katy Perry loves her dancers (LEFT SHARK 4EVER). New York City Ballet loves its artistic collaborations (that Opening Ceremony runway show—still not over it). So I guess, in a way, it was inevitable that Katy would end up performing alongside a bevy of City Ballet beauties.
And yet, this morning, when my Insta feed was full of photos of NYCB ladies backing Perry at Carnegie Hall, it still felt like THE MOST WONDERFUL SURPRISE.
Here's what happened: The David Lynch Foundation tapped Perry to perform her never-gets-old hit "Firework" at its benefit concert, held last night in NYC. Perry's choreographic team, RJ Durell and Nick Florez, tapped adorably pregnant NYCB principal Maria Kowroski and her beautiful dancer husband, Martin Harvey, to create some pretty pretty ballet choreo for the number. And Kowroski tapped four of her City Ballet colleagues—Faye Arthurs, Olivia Boisson, Jenelle Manzi and Gretchen Smith—to dance in the performance.
The result, judging by the Instagram evidence, was glamorous and elegant and super-duper pink. Which sounds about right, no?
Also, I need Katy Perry's gala dress, STAT.
Season 2 of "city.ballet."—the AOL On series that gives an insider's look at New York City Ballet—is live now! We're recapping one episode per week. Watch all 12 at dancemagazine.com.
Over the course of "city.ballet.," we've seen all the insanely hard work that goes into a professional ballet career. But in the final episode of the series' second season, we get a look at the end product: the performance. Those few minutes onstage, the New York City Ballet dancers make clear, more than justify the countless hours they spend in the studio. Here are five things we learned from the ep.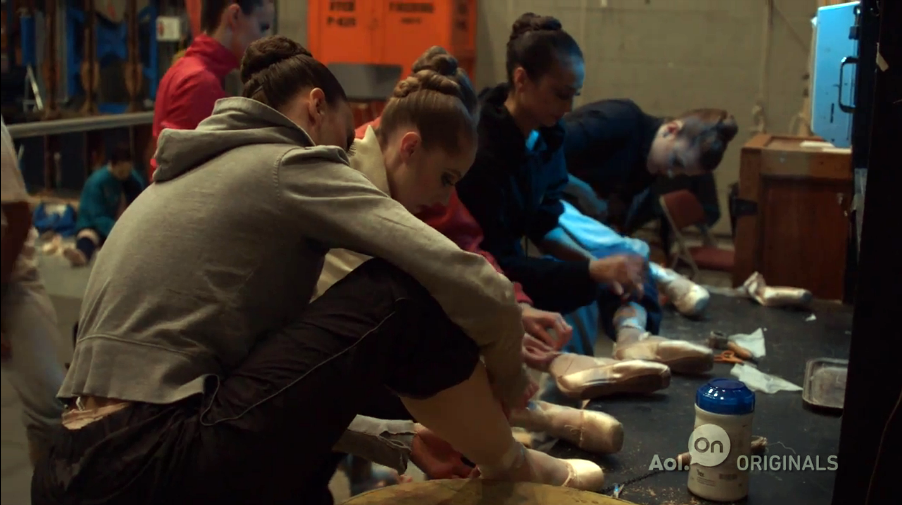 NYCB dancers backstage before a performance (still from "city.ballet.")
1. Choreographers have control over every aspect of their ballets—until they don't. The minute their work hits the stage, it's totally out of their hands (and feet), which is a disorienting feeling. "At this point, I'm still thinking, 'How can this piece be better?' " says choreographer and NYCB corps member Troy Schumacher just before the debut of his ballet Clearing Dawn. "But now I don't have any part in it. I have to just sit back and enjoy all that the dancers are giving to the piece."
2. In fact, once any ballet is onstage, the only thing to do is relax and be in the moment. "Sometimes you don't know what's going to happen out there," says principal Maria Kowroski—especially the first time you perform a ballet. "But that's the time to trust your partner, to just look at him and think, 'Oh, I'm so happy I'm dancing with you!' It's that freedom and abandonment that make it special."
3. Schumacher's playful choreography for Clearing Dawn is so winning. "Have a good day at dance school," he jokes to principal Andrew Veyette just before the curtain goes up, referring to the piece's school-uniform-esque costumes. And those costumes match the ballet's youthful spirit perfectly. "It feels like playing a game onstage—like a game of tag," says soloist Georgina Pazcoguin.
4. Before a show, some NYCBers lick for luck...? Yes, we all know about "merde," but apparently a few of the older company dancers have a tradition of touching each other with licked fingers before a performance. Uh, we need to hear the story behind that.
5. Performing is basically the best rush ever. Well, you probably already knew that, but still! The episode closes with the dancers' tributes to the joy of being onstage, and it's the perfect ending to the season—because that rush is the whole reason these artists do what they do. As Kowroski says: "When you're really in the moment onstage, when you feel all the blood rushing in your legs and your feet and your arms—it's something so pure and raw. You're just living."
Click the image below to watch the full episode!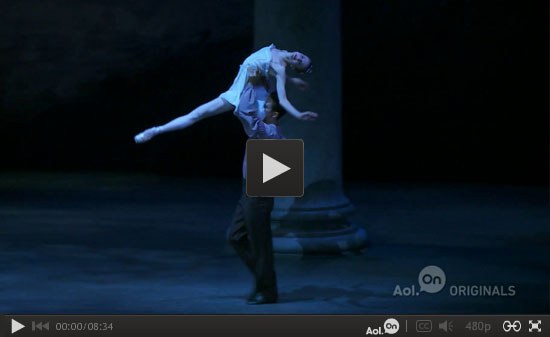 Season 2 of "city.ballet."—the AOL On series that gives an insider's look at New York City Ballet—is live now! We're recapping one episode per week. Watch all 12 at dancemagazine.com.
The ballet world is ruled by the young. Young bodies are just better suited to its crazy demands, which means that it's not uncommon for a dancer to join a company at 16 and retire at 30. But ballet's veterans—those who've been around for 10, 15, 20 years—bring a wealth of wisdom and experience to their performances. The eleventh episode of "city.ballet." looks at some of New York City Ballet's seasoned stars. Here are five things we learned from the ep.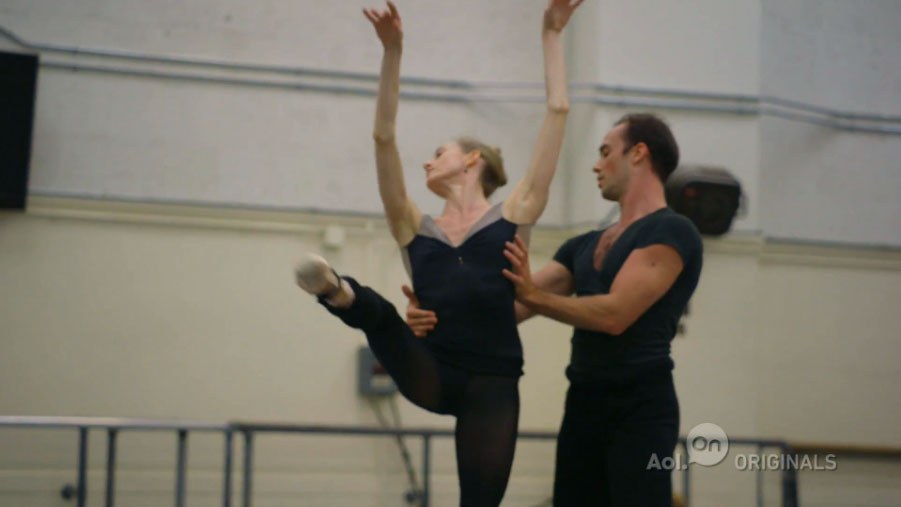 Veteran/goddess Wendy Whelan rehearsing with Tyler Angle in a still from "city.ballet."
1. In the ballet world, you feel ancient when the rest of the world still thinks of you as young. Principal Andrew Veyette, who's in his early 30s, had an epiphany about age while watching a basketball game. "I remember turning to my wife [that'd be fantastic fellow principal Megan Fairchild] and saying, 'You realize most of these guys are younger than us.' All of a sudden, you're 15 years in and 10 years older than you think you are."
2. Veteran dancers learn to look at ballet differently. "As you get older, you get smarter," soloist Craig Hall says. "You have to be more efficient, because you can't just do it day-in and day-out without feeling something. You have to find tricks that allow you to do less physically and more mentally."
3. But the best dancers age like fine wine. Wendy Whelan, who until she retired in October was the company's senior ballerina, is a goddess. Not that we learned that from this video—we've known it for years, along with the rest of the ballet world! But the footage of her rehearsing and performing Alexei Ratmansky's Pictures at an Exhibition (at 3:06 and 5:19) is sublime. She's 47 going on ageless.
4. OMG, these dancers have gorgeous families. We get to meet the husbands of both Hall and principal Maria Kowroski, and—surprise, surprise!—these two extraordinarily beautiful people are married to two other extraordinarily beautiful people.
5. With age comes new challenges, yes—but also new opportunities. "What's interesting is that now, at this late time in my career, I'm getting to do all these ballets I've always wanted to do," Kowroski says. "I feel like there's a maturity I can bring to these roles now. Having more life experience brings a different kind of a depth to them."
Click the image below to watch the full episode!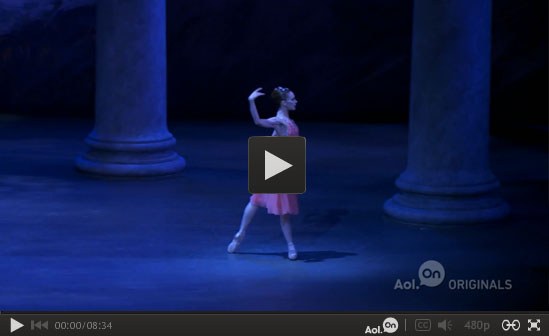 Like many of you, I'm guessing, seeing The Nutcracker every year was a major holiday tradition growing up. My studio never put on our own production, so my BFF Becky and I would go to a different show each winter with our moms.
We started small by seeing a Nutcracker at St. Paul's School in Concord, NH. I was young, it was my first Nut experience, and my mind was blown.
Eventually, we upgraded: We took a drive south to see Boston Ballet's Nutcracker. Mind = further blown. Whether on a small school stage or a much larger one, The Nutcracker was instantly magical to me, and it was a crucial part of my early dance experience. I became obsessed with the Tchaikovsky score, and I always picked a really lavish dress to wear to the show because being fancy was important at The Nutcracker.
It wasn't until I moved to NYC and started working at Dance Spirit that I saw the granddaddy of them all: New York City Ballet's production of George Balanchine's The Nutcracker.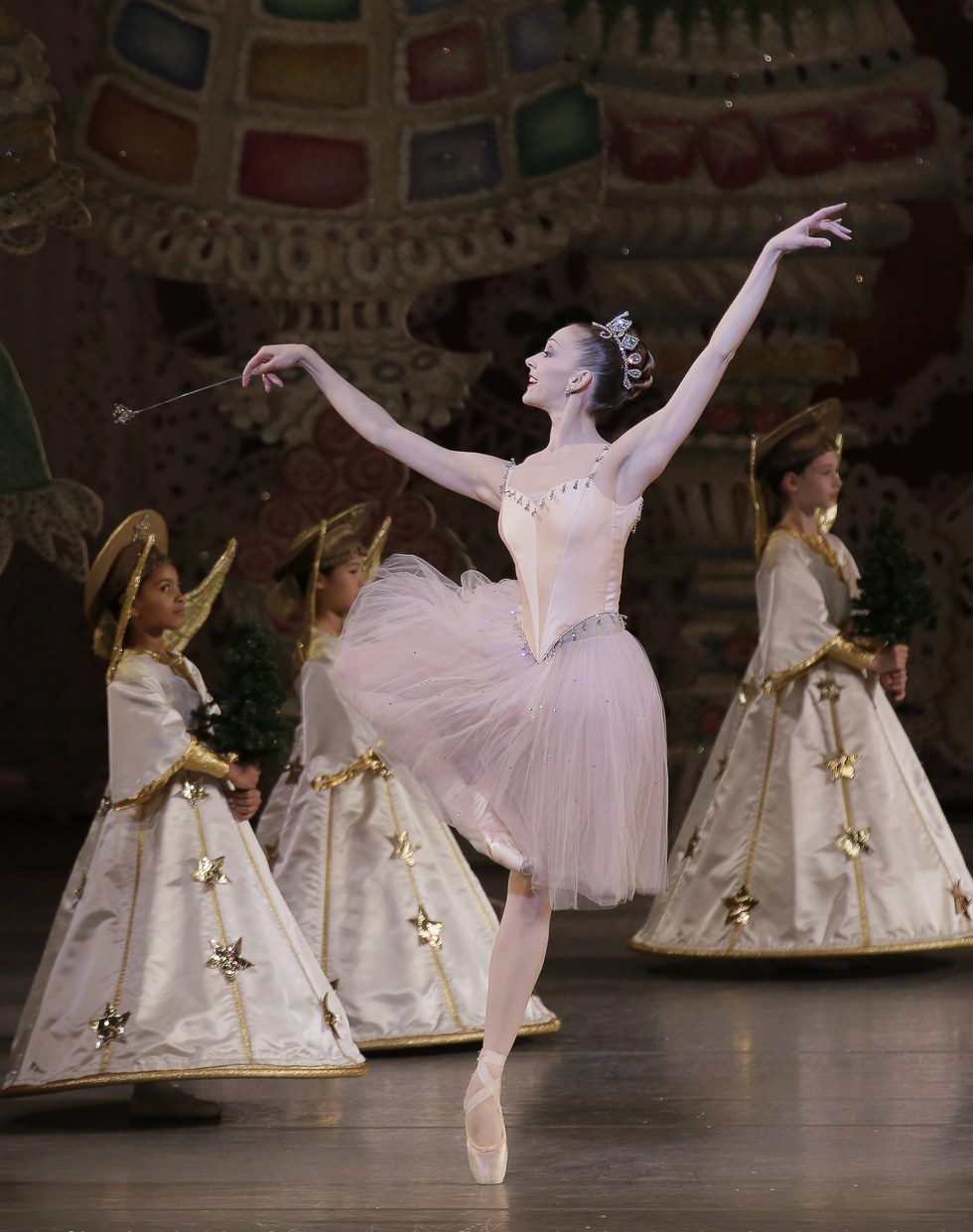 Maria Kowroski in George Balanchine's The Nutcracker. Photo by Paul Kolnik.
NYCB principal Maria Kowroski danced the Sugar Plum Fairy role, and I remember thinking it was physically impossible to have legs that long and feet that archy—and yet there she was, in all her perfect ballerina glory, being promenaded around by her cavalier.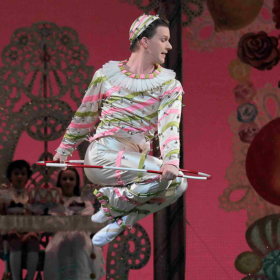 Daniel Ulbricht in George Balanchine's The Nutcracker. Photo by Paul Kolnik.
Fellow principal Daniel Ulbricht led the hyper-peppy Candy Canes, while former Dance Spirit cover girl Kathryn Morgan, then a corps de ballet dancer, stood out during the snow scene.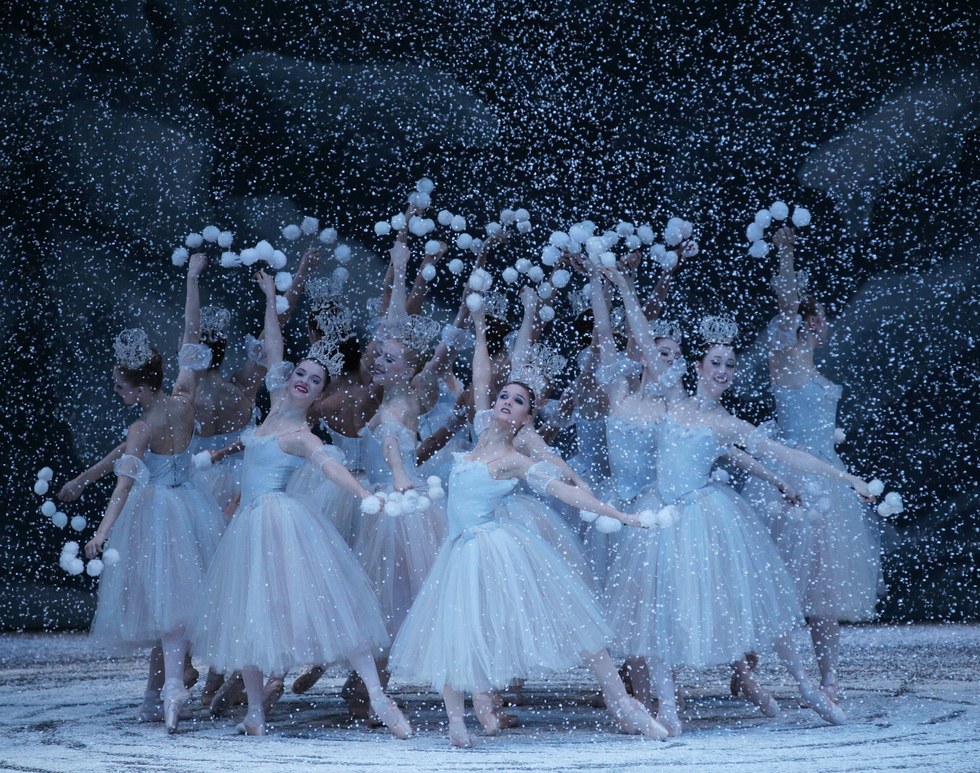 My beloved snow scene. This is New York City Ballet in George Balanchine's The Nutcracker. Photo by Paul Kolnik.
Ah, the snow scene. It makes me cry every time because it's just so beautiful. The Nutcracker is the holiday season to me, and I can't wait to continue my annual tradition by seeing NYCB's production again next week. In the meantime—until I get my Land of Sweets fix—I'll be happily prancing around the office humming all that good music and forcing the rest of the DS staff to share their favorite Nutcracker memories with me. And then I'll share them with you...
"The 'Dance of the Bonbons' was the first piece I almost performed onstage—I chickened out last-minute when I saw Mother Ginger's massive skirts! It wasn't until college that I had the opportunity to dance in The Nutcracker again. The wait was totally worth it: I got to dance 'Arabian,' a role so powerful and mysterious. I still get chills every time I hear the music." —Maggie McNamara
"I have hundreds of wonderful Nutcracker memories. But the reason the ballet is special to me is less about a single moment and more about the way it became a yardstick. Every year, between the ages of 7 and 18, I came back to it; every year, there were new parts to discover, or old parts to rediscover. It was the way I measured my progress, and it always had something new to teach me. (Still does!)" —Margaret Fuhrer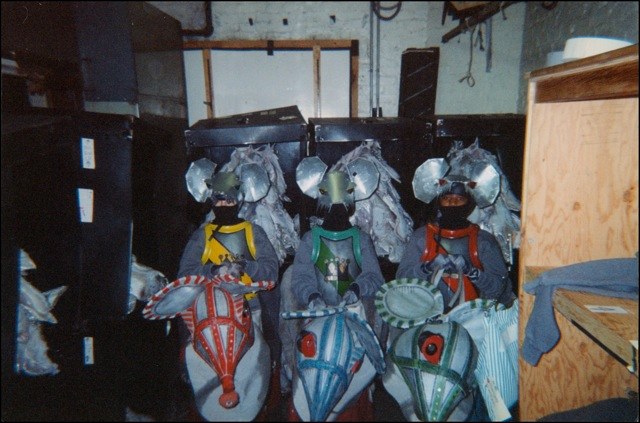 Rachel (center) as a Cavalry Mouse
"I was in the children's cast of The Joffrey Ballet's Nutcracker for a few years. My last time auditioning, I had grown too tall to technically be a kid, but they offered me the part of a Cavalry Mouse—or a mouse who's riding another mouse like a horse. The part was easy, I didn't have to spend hours on my hair and makeup and the audience went wild whenever we galloped our way into the Battle Scene. When I'm in the audience to this day, I always cheer loudest for those Cavalry Mice." —Rachel Zar
"The Nutcracker combines two of my favorite things: Christmas and ballet. I saw the Joffrey's production almost every year growing up, and loved coming home and dancing by the fire in my living room, holding my own nutcracker doll and wearing a satin nightgown like Clara." —Meggie Hermanson 
We want to hear your Nutcracker stories! Share your favorites in the comments below—and happy Nutcracker season!
Apr. 01, 2013 11:46AM EST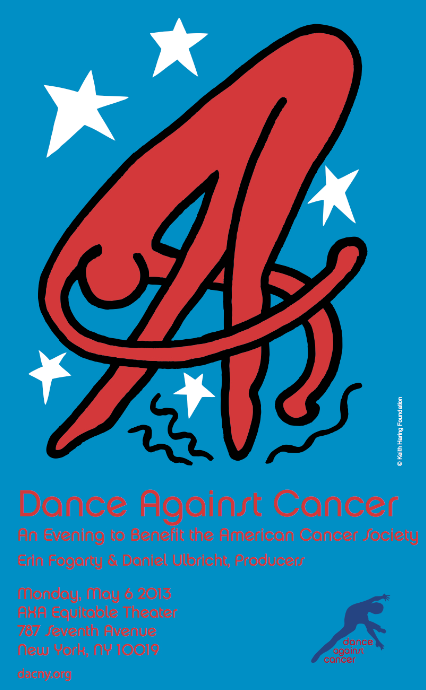 This year's Dance Against Cancer poster features an original drawing by artist Keith Haring.
A dance gala is always a good thing. But an impressively star-studded dance gala for a very important cause? It doesn't really get better than that.
The third annual Dance Against Cancer benefit, hosted by the American Cancer Society and produced by Erin Fogarty and New York City Ballet principal Daniel Ulbricht, will be held on May 6 in NYC. Like the last two galas, it'll feature performances by some of the dance world's best and brightest, many of whom have personal connections to the cause.
And I do mean best and brightest. The lineup is incredible: NYCB's Maria Kowroski, Wendy Whelan, Tiler Peck, Lauren Lovette, Robert Fairchild, Tyler Angle, Gonzalo Garcia and Daniel Ulbricht; American Ballet Theatre's Misty Copeland; Alvin Ailey American Dance Theater's Alicia Graf Mack and Matthew Rushing; Martha Graham Dance Company's Katherine Crockett and Lloyd Knight; and Lar Lubovitch Dance Company's Clifton Brown and Attila Csiki. There'll also be a special sneak peek at Christopher Wheeldon's Cinderella, performed by San Francisco Ballet's Maria Kochetkova and Joan Boada, and world premieres danced by Lil' Buck and ABT's Herman Cornejo.
Watch this beautiful, touching video describing Dance Against Cancer and its mission, with testimonials from many of the dancers who'll be performing at the gala. Then click here to find out more about the show and buy tickets. (Not in NYC? There's also an option to simply donate to the American Cancer Society.)
Oct. 15, 2010 01:00PM EST
With her endless, eloquent legs and serene stage presence, Maria Kowroski is precisely what you would imagine a New York City Ballet principal to be. At 7 years old, the Michigan native started studying at the School of Grand Rapids Ballet, and as a teenager she went on to train at NYC's School of American Ballet. Kowroski's hard work and commitment to the Balanchine technique paid off when she became a NYCB apprentice in 1994. That same year, she won a prestigious Princess Grace Award, an honor granted to outstanding emerging artists. Kowroski was invited to join the NYCB corps in 1995 and made a quick rise through the ranks, becoming a principal just four years later. Today, the long, lithe ballerina continues to impress audiences in Balanchine works like Prodigal Son, "Rubies" from Jewels and Agon. Don't miss her as the Sugar Plum Fairy in NYCB's Nutcracker, opening November 26th at Lincoln Center.  —Katie Rolnick
To My Younger Self,
We strive for perfection as artists, but please don't obsess over it. Be gentler on yourself. You may get frustrated because you want to be better, stronger or able to do things the way someone else does. You may suffer injuries that feel like the end of the world. But you will soon realize that those struggles are what help you grow. And though there are dancers who inspire you, remember that you are a unique individual. Your gift is precious and unlike that of any other dancer.
Educate yourself by attending the theater, reading books and visiting museums. Take all that life has offered you and let it enhance you as an artist. Be kind to yourself and to everyone around you, and you will receive the respect you desire. Enjoy your time onstage, for that is a very special opportunity that so few experience. But remember that you have a lot of life yet to live, and this is only one chapter in a long book.
Finally, take time for yourself, write in your journal and remain peaceful. Life as a ballerina can seem very glamorous, but it's also hectic, so it's important to stay centered.
Love and angels,
Maria Kowroski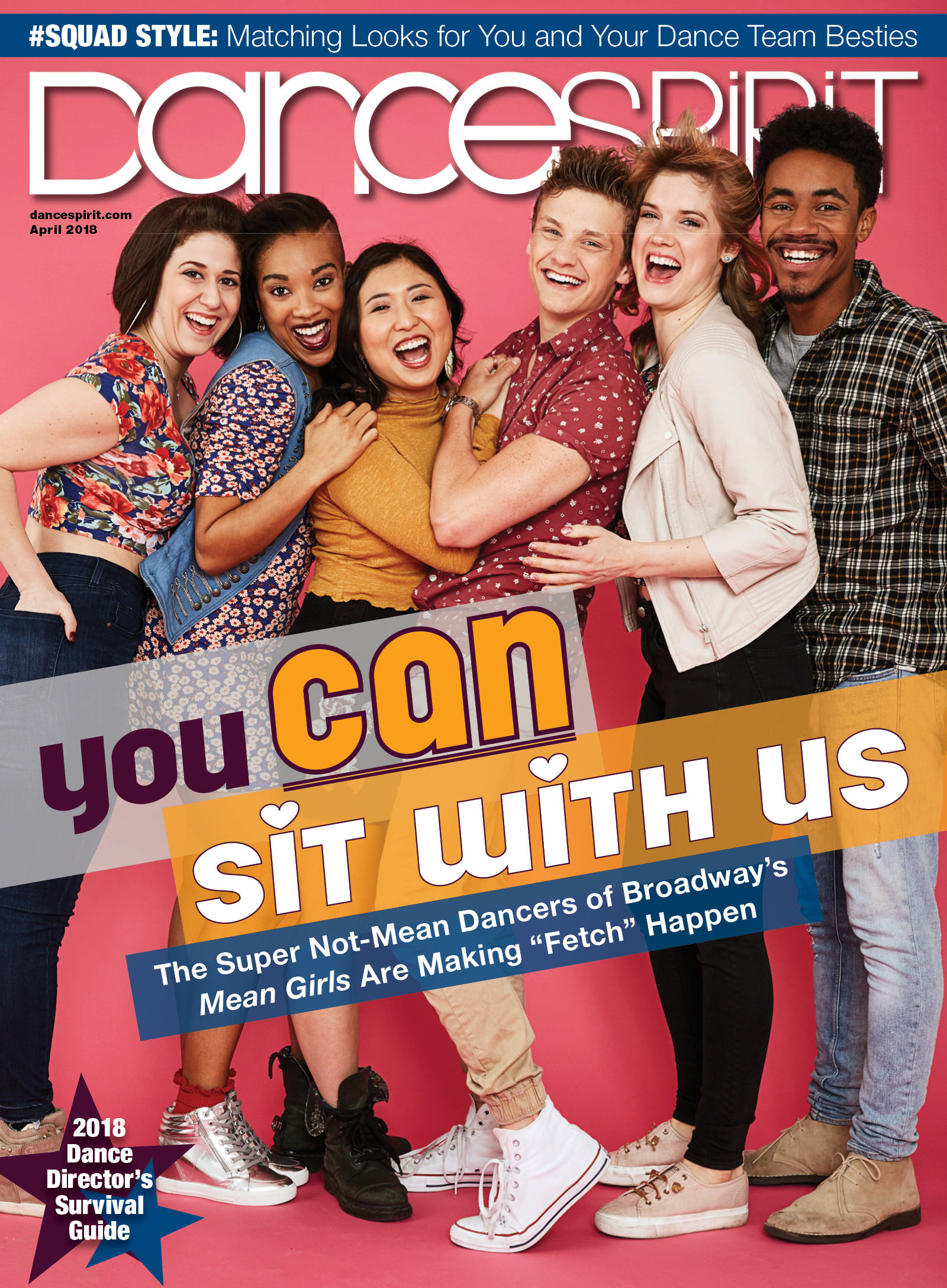 Get Dance Spirit in your inbox