Wowza.
Last night's "Dancing with the Stars" episode—round one of the two-part finale—was a lot of things. Fully clothed was not one of them. We got a 90-minute show chock full of makeout sessions, bare chests, lingerie, and gold unitards. Oh, yeah, and a whole lotta dancing. This show meant business: Each of the four remaining couples took the stage twice. Here are the top moments you may have missed:
James Maslow and Petra Murgatroyd's onstage kiss: From the rehearsal clips it wasn't exactly clear who was directing whom, especially when James choreographed a passionate kiss mid tango. The performance itself was pretty steamy (the kiss was no exception), and featured a bare-chested James under a silver blazer. (I'm not complaining.)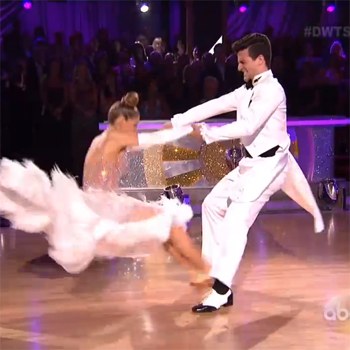 Are we sure Mark's OK?
Mark Ballas' injury: When we saw Mark at the top of the show, his arm was in a sling, and in the behind-the-scenes footage before his quickstep with Candace Cameron-Bure we found out why: Rehearsing with a strained rotator cuff Sunday morning, Mark went down after a bad lift and was rushed to the hospital. He took it like a champ though, and during one of last night's commercial breaks, he was cleared to dance.
The awkward video when figure skaters Tara Lipinski, Evan Lysacek, and Kristi Yamaguchi talked about Meryl Davis', um, blossoming, since dancing with Maksim Chmerkovskiy, plus the duo's sizzling freestyle. Forget Romeo and Juliet's bedroom scene—this routine took passion to a whole new level. Maks was shirtless, Meryl was in lingerie, and even co-host Erin Andrews asked why they didn't make out at the end—they so wanted to. (I, however, would like to know why the gorgeous Meryl didn't point her toes?)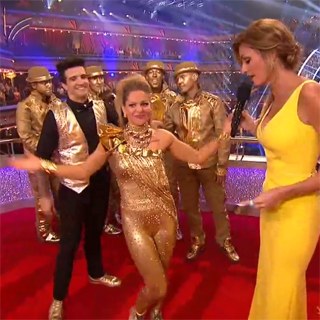 I want one.
When DJ Tanner (yes, Candace was introduced that way!) and Mark took on Center Stage:  I may prefer Cooper Nielson's choreography to Jamiroquai's "Canned Heat," but Candace looked stellar in that gold unitard, and Mark didn't collapse—everybody wins!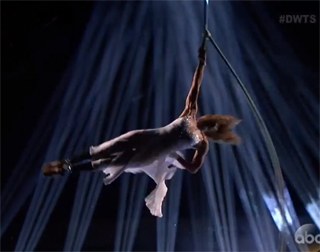 Amazeballs.
Amy Purdy's ridiculously amazing aerial feat. During Derek Hough and Amy's freestyle routine set amid what seemed like 18 fog machines, Amy took to the sky—literally. Seriously: She spun around in the air holding a rope with ONE HAND. I don't think I was the only one whose jaw dropped.
The results: Only three couples can perform tomorrow night during the two-hour finale event. Ultimately, James and Petra bid adieu. Something tells me America will miss James' torso.
Be sure to tune in tonight at 8pm/7pm central for the finale!
Before we get into our discussion of the steaminess and drama and borderline-inappropriate skin-baring that inevitably characterizes "Dancing with the Stars" Latin Night, some real talk: IS MARK BALLAS OK?
Our favorite goofball pro injured his back during rehearsals last week, badly enough that he had to sit out of last night's performance. And when the guy who's so committed to "DWTS" that he will enthusiastically don an aggressive bunny suit for the cause is forced to hang up his dancing shoes, you know something really ain't right. Get well soon, Mark!
But back to the dancing that did happen: The show opened with a spicy little salsa routine for the pros, set to "Shake That" by Samantha Jade. What a delightful reminder that there are few things as fun as really, really, ridiculously good-looking, really, really, ridiculously talented dancers doing really, really, ridiculously over-the-top Latin choreo:
While many of the star competitors struggled with the overt sexiness of the Latin styles (even a video call with queen Gloria Estefan herself couldn't get Kim Fields in the salsa spirit), others had less trouble getting their shimmy on. Jodie Sweetin (literally) brought the fire in her samba with the fabulously flash-tatted Keo Motsepe:
Sad as she was to lose Mark as her partner, Paige VanZant appeared to have a genuinely good time salsa-ing with stand-in Alan Bersten:
And one of last week's standouts, Wayna Morris, held his spot atop the leaderboard thanks to his white-hot salsa with the always-amazing Lindsay Arnold:
To the surprise of few (but sadness of Trump wig fans everywhere), Geraldo Rivera was sent packing at the end of the evening. Which means "DWTS" will be sorely lacking in the Edyta's Amazing Legs department from here on out.
What did you think, friends? Should sourpuss Mischa Barton have gotten the boot instead—or do we all, like Carrie Ann, JUST WANT TO LOVE HER? Let us know in the comments. And check back next week for our recap of the "Most Memorable Year" episode, which will ideally feature both "Full House" and "The O.C." cast reunions. (We can dream.)
Pretty much the entire universe can agree that Mondays are #theworst. But Mondays starting September 14th? Nope, Mondays are gonna be the best. Why? Season 21 (!!!) of Dancing with the Stars! And to get you even more pumped than you already are, the list of returning "DWTS" pros was just announced—it's as good as it gets, people.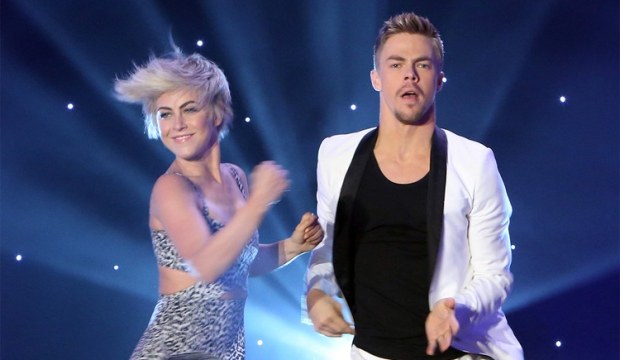 Derek's baaaaack (screenshot via EllenTV)
First of all, we've got Derek Hough, Karina Smirnoff, Witney Carson and Mark Ballas, all of whom have previously won the coveted Mirror Ball. Already, the stakes are HIGH. Throw defending champ Val Chmerkovskiy into the mix and things get even more interesting. To round out the insanely talented field, we've got Allison Holker, Sharna Burgess, Peta Murgatroyd and Artem Chigvinstsev. Omg.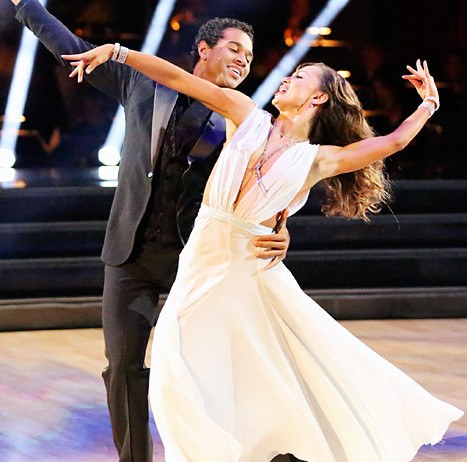 Dancing with the Stars pro Karina Smirnoff, with her Season 17 partner, Corbin Bleu, shows us how it's done (Photo ABC/Adam Taylor)
We'll anxiously be awaiting the announcement of the celebrity cast on September 2nd, but in the meantime, relive some of the more jaw-dropping moments of last season here.
If you had to name just one dancer as your absolute favorite, could you do it? We love to ask this question when we interview dancers for our "You Should Know" or "The Dirt" columns. More often than not, we either get a long list of names or total silence. With so many fabulous and unique dancers out there, it's a seriously tough question!
But, alas, it's the question FOX's Teen Choice is asking the Twitterverse. The 2015 awards—which will air on Sunday, August 16, at 8/7c—has a brand-new category: Choice Dancer. And they're currently accepting nominations via Twitter. Here's how to submit your nom:
Simply insert the twitter handle of your favorite dancer in the draft below—be sure to include #TeenChoice and #ChoiceDancer—and tweet away! And if you really can't make up your mind, there's nothing that says you can't nominate more than one dancer...

Who do you think will make the final list of nominees? We've been doing some research in the depths of our Twitter feed to get a sense of the front-runners, and here's what we came up with:
"So You Think You Can Dance"/"Dancing with the Stars" babe Allison Holker is making a serious bid for the top.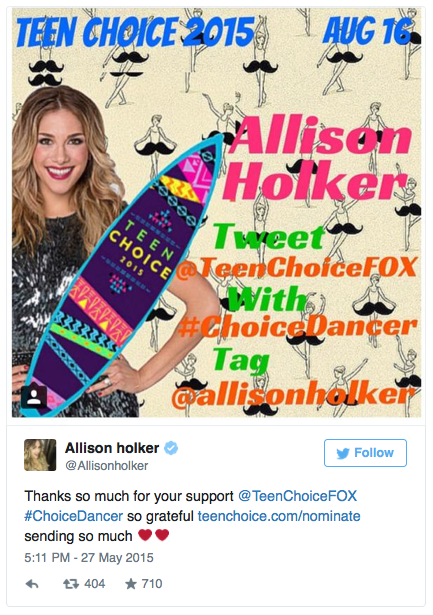 Step Up star Alyson Stoner is winning support through her humble spirit.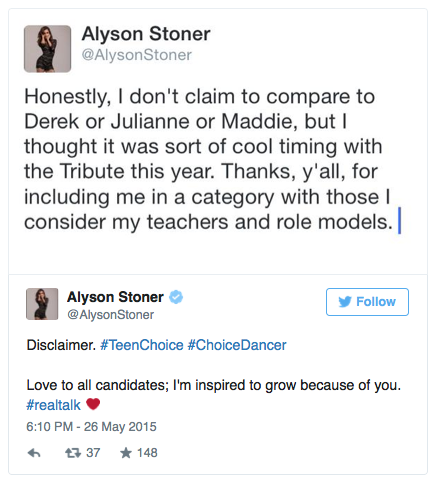 Former "Dance Moms" fave Chloe Lukasiak doesn't need to campaign—her fans are going above and beyond.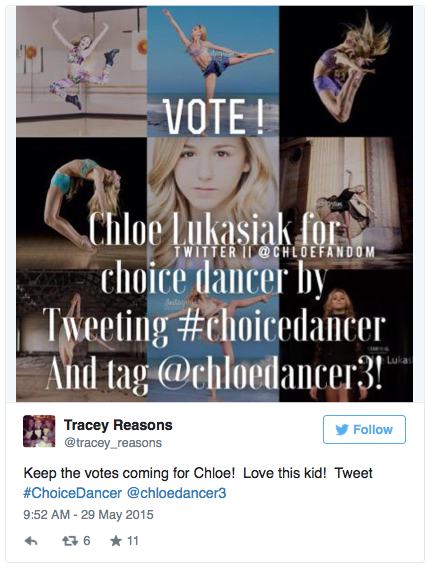 And repin' the dudes, "DWTS" pro Mark Ballas has perhaps the most adorable fan support. (Everybody now: D'awwwww)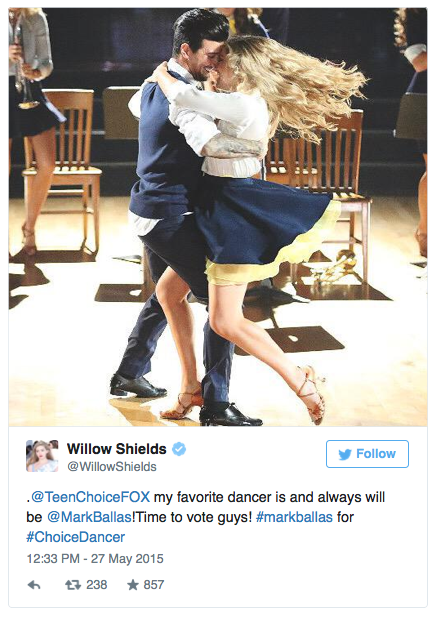 So we're predicting Allison, Alyson, Chloe and Mark for #ChoiceDancer, but there's still time to change the game. (Where my #TeamMaddie and #TeamMisty's at?) Happy tweeting!


Get Dance Spirit in your inbox