Apr. 18, 2017 02:44PM EST
Keep reading...
Show less
Mar. 28, 2017 08:40PM EST
Mar. 23, 2017 02:28PM EST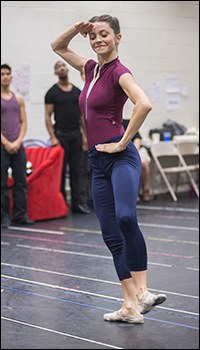 Fairchild in rehearsal for the "Miss Turnstiles" number in On the Town (photo by Monica Simes, via Playbill)
Back in June, we shared the exciting news that New York City Ballet principal Megan Fairchild will play Ivy Smith in the upcoming Broadway revival of On the Town. If you're not familiar with the show, New Yorker Ivy Smith is chosen to represent the NYC Subway for a month as "Miss Turnstiles" (smh at odd 1940s customs...). Ivy's picture on the subway comes into play later, when the show's protagonists—three sailors on a day off from the Navy—embark on a quest to find her.
Recently, Broadway.com shared a rehearsal video of the "Miss Turnstiles" routine. Watch it once, and you'll know exactly why the NYCB principal was chosen for the role. Much like the rest of the show, this number is packed with difficult choreography. Everything from crisp petit allegro to some seriously intense lifts, from an epic menage to about a bazillion fouettés, choreographer Joshua Bergasse did not go easy on her. And quite frankly, we're thrilled—because watching one of our favorite ballerinas completely nail an action-packed Broadway number makes us feel happy inside.
Check it out!
On the Town officially opens October 16, but preview performances have already begun at Lyric Theatre on Broadway. For tickets, click here.
Jul. 27, 2016 07:53PM EST
Pulling back the curtain on tried and true ballerina habits never gets old. We've pored over the contents of New York City Ballet dancers' travel cases (Weird heating pads! Notes from fans!), drooled over American Ballet Theatre principal Isabella Boylston's amazing style, (Helloooo 70s flair!), received our daily dose of #fitspo from international ballerinas with enviable workout gear (Black and neon, together, forever.) and gone completely bonkers for the delicious diets of the women at the National Ballet of Canada (Homemade kombucha. 'Nuff said.).
Now it's time to whip out our notebooks once more, because New York City Ballet principals Sara Mearns and Megan Fairchild, along with corps member Gretchen Smith, have revealed what they eat in a day. Aside from being co-stars in two absolutely stunning Cole Haan advertising campaigns, these lovely ladies know what it takes to fuel their bodies for weeks of hard dancing. Check it out below, and the full story here:


Get Dance Spirit in your inbox