Mar. 23, 2017 06:39PM EST
Mia Michaels. The Rockettes. They're names that're synonymous with amazingness—which means a Mia/Rockettes collaboration is pretty much guaranteed to be fantastic.
We got a little taste of Michaels in Rockette mode last year, when she choreographed the New York Spring Spectacular's opening number. But for this year's updated New York Spectacular Starring The Radio City Rockettes, which opens June 15, Mia's in charge of EVERYTHING: She's both choreographing and directing. And that means she gets to train the full powers of her wildly creative mind on some of the world's most impressive—and impressively disciplined—dancers.
This morning, the Rockettes performed a bit of Mia's choreo on "The Today Show." It's actually the opening routine Michaels created for last year's show, set to "Welcome to New York." But as a preview of things to come, it's pretty darn exciting: The heartbeat-themed number features all the fine-tuned precision we've come to expect from the Rockettes, shocked into vibrant life by Michaels' high-energy choreography.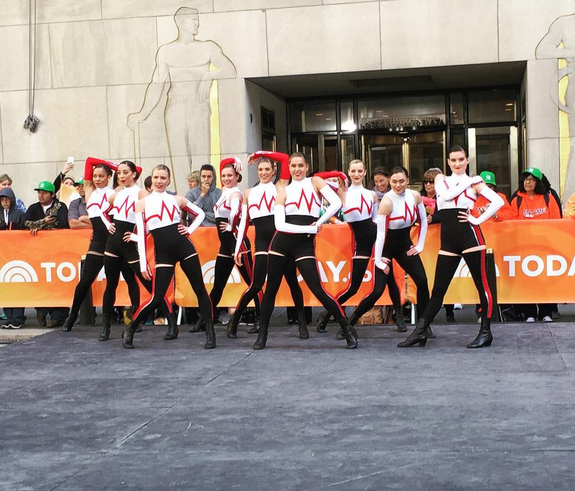 Photo via @therockettes on Instagram
This rehearsal clip alone is giving us serious #canongoals:
Watch the whole appearance, which includes an interview with Mama Mia, below—and then get your hot little hands on some New York Spectacular tickets.
Mar. 23, 2017 10:03AM EST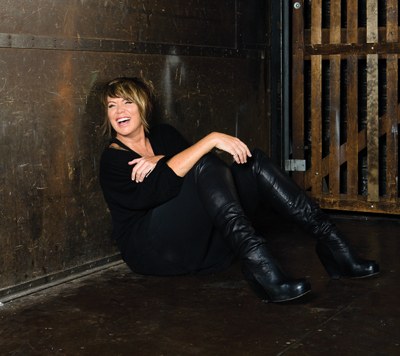 Mia Michaels may be a household name now, thanks in large part to her role as a judge and choreographer on "So You Think You Can Dance." But her journey to dance industry fame hasn't been easy.
Mia was born into a dance family in Coconut Grove, FL. Her dad owned the Joe Michaels Dance Studio—a landmark in Miami for 35 years. But while she had all the dance access you could dream of—including regular trips to NYC to take classes—she discovered early on that she wasn't built to be a professional ballerina. "Dance came naturally to me, and I was so passionate about it," Mia says. "But I fought my body type. It was always a problem. People would say, 'She's so good, but her body…' It pushed me to start creating movement—if I couldn't be a dancer, I'd make my own world of dance. My body was a blessing and a curse." By the time she was 8, Mia was creating shows for the kids in her neighborhood. "I was already yelling at people," she jokes. "I'd say, 'You have rehearsal now! Just come!' "
As a teenager, Mia choreographed for the teen company at her dad's studio. The dancers performed her work at competitions, and Mia made a name for herself by bending the rules and often getting disqualified (she didn't adhere to time limits, for example).
At the same time, Mia was trying to build her career in NYC, but "I was a no-name," she says. She couldn't get hired as a teacher, so she took a job cleaning toilets at NYC's Broadway Dance Center. "The city wasn't having me yet," she says. Her break finally came when Frank Hatchett called her to sub a class at BDC. After that, the studio kept bringing her back to teach. She formed a company, RAW, which lasted for two years, and served as the creative director of The PULSE On Tour with Brian Friedman.
Then Madonna called. "I was set to be a concert dance choreographer," Mia says. "Then this other world opened up: the commercial world." Mia was hired to choreograph Madonna's Drowned world tour, but she didn't enjoy the experience. "It was my first big job, and I was like, 'If this is what being on top is like, I don't want it,' " she says. "I was disheartened." But Mia's next job turned out to be her favorite: choreographing Celine Dion's A New Day show in Las Vegas. From there, her career took off: Nigel Lythgoe, executive producer of "SYTYCD," saw Dion's show and loved it so much he hired Mia. (She has since won three Emmy Awards for her work on "SYTYCD.")
Last year, Mia was both on the big screen (playing Olivia in Step Up Revolution) and working behind it (as choreographer for the film Rock of Ages). While Mia rocked her onscreen role, she was "terrified to read for the part," and says Tom Cruise and Adam Shankman—whom she worked with on Rock of Ages—"made me do it."
Now Mia is on faculty with JUMP, and her career is about to explode again. She's creating a TV show for choreographers, and she's working with the Joffrey Ballet School's summer intensive to host a Mia Michaels Summer Intensive in L.A. this year.
In the meantime, "I'm on a mission to create an empire," Mia says. She wants to direct and choreograph original Broadway musicals and feature films, and she wants to someday have a live touring stage show of a her own. "It's time," she says.
Mar. 14, 2016 05:23PM EST
It's official! Not only are the Rockettes unveiling a brand new summer show this year—titled New York Spectacular Starring the Radio City Rockettes—but they've also tapped genius Mia Michaels to choreograph and direct.
That's right: Michaels will be given full creative reign. And after the awesome opening number she created for last year's Spring Spectacular, we're super excited to see the finished product. "The Rockettes are such a special group of women, and no other dance company in the world delivers the same kind of passion, femininity and power through dance. It is going to be an epic ride!" Michaels says in a Rockettes press release.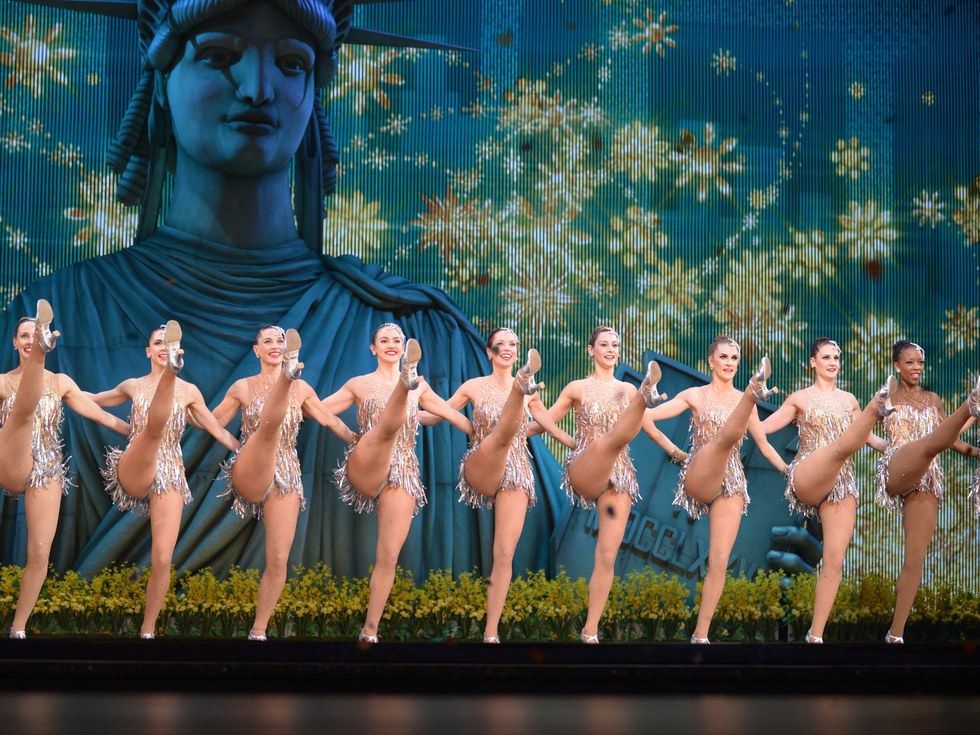 A classic kickline from last year's Spring Spectacular show (photo by Jason Allen via USA TODAY)
The show will pay tribute to NYC, following the adventures of a brother and sister who get separated from their parents during a trip to the city. The siblings will make their way through the Big Apple, receiving help from various landmarks come to life—from the Wall Street bull to the George M. Cohan statue in Times Square.
A few favorite elements from last year's spring show will make an appearance this year, too: The 26-foot Statue of Liberty puppet and the jaw-dropping tap number in real rainfall to "Singin' in the Rain" (sans Derek Hough, unfortunately) will return. What won't be included this time around? The Spring Spectacular's celeb cameos, either in person (à la DHough) or via voiceover. The leggy Rockette ladies will be the stars of the show, which we're more than OK with.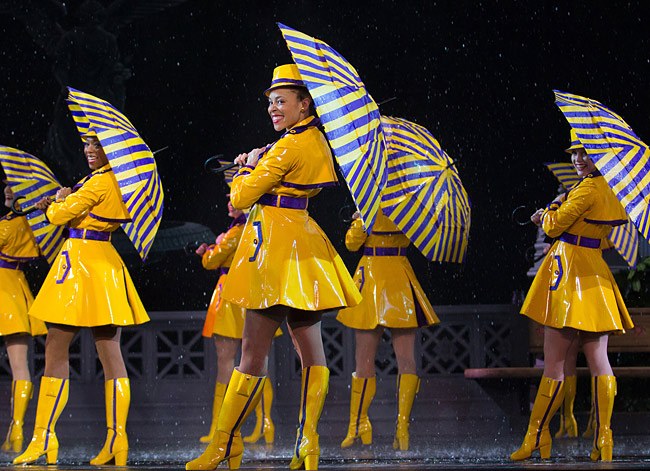 The epic "Singin' in the Rain" tap number from last year's Spring Spectacular (photo by Dan Niver via NewYork.com)
The New York Spectacular runs all summer (June 15–August 7) at Radio City Music Hall. Be sure to check it out when you're in town for Nationals or summer intensives!
Dec. 24, 2015 12:00PM EST
Dear Santa,
Hi! How are you? Busy, I bet! Har har. (Ho ho?)
Look, I know I'm late—it's Christmas Eve, and I'm sure you're dealing with all kinds of #reindeerprobz—but I thought I'd reach out to you anyway. Because I'm not just some girl who'll be happy with a Kylie Lip Kit and Adele tour tickets. (Actually, if you can get me either of those things, you are an actual MAGICIAN and I will worship you forever. But I digress.)
No, Santa: I'm a dancer. And that means I have special gift needs. Needs that I want to make sure don't go undocumented.
And so here, in no particular order, are the things I really, actually, genuinely want for Christmas. Take notes.
1) Sophia Lucia's pirouettes. I'd settle for half her average, actually.
2) Gisele Bethea's feet. Gimme.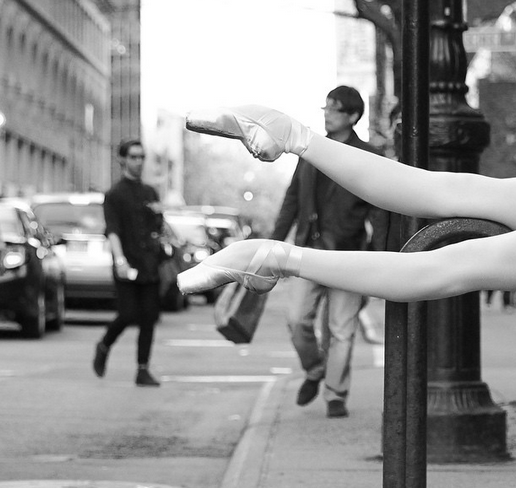 Via @giselebethea
3) The Fraternal Twins' swagger in general, and facial expressions in particular.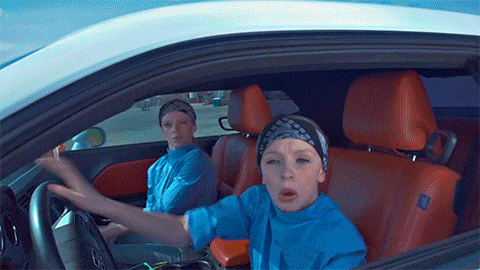 4) Yanis Marshall's everything. Just...everything.
5) Speaking of everything: all the things from Maria Kochetkova's t-shirt line.
5) To be adopted into tWitch and Allison's too-cute-for-words family. (I can make myself useful! I'm great with babies!)
6) Tickets to Hamilton sometime before next summer. Again, you'll need to work some magic here, but I believe, Santa. I BELIEVE.
7) My very own pointe shoe Christmas tree. (And, on a related note, several air fresheners.)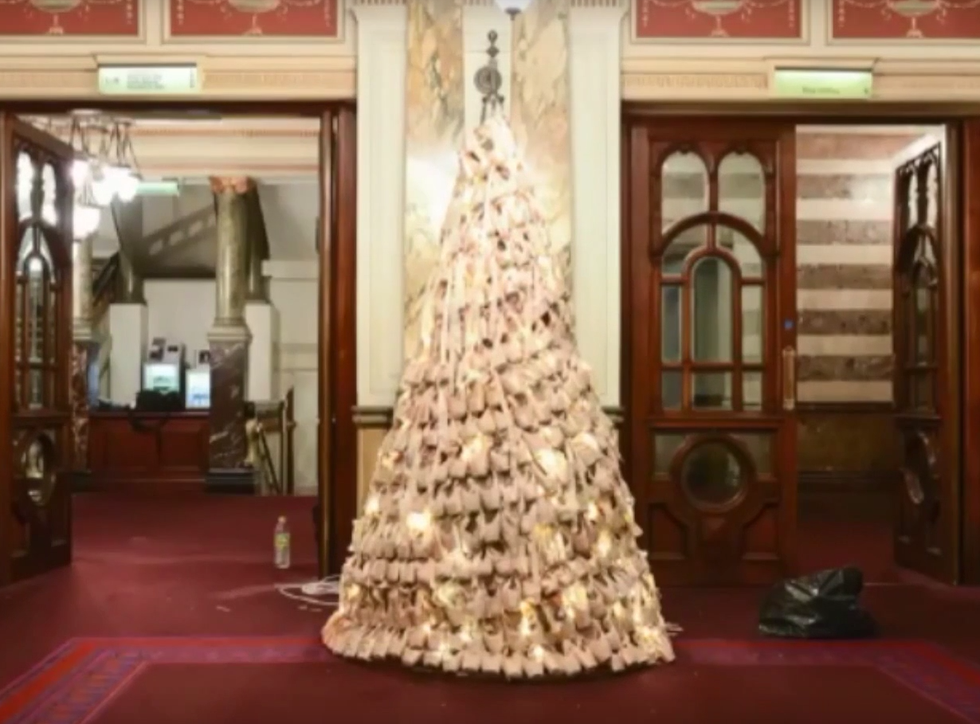 WANT. (screenshot via YouTube)
8) Another season of "So You Think You Can Dance." Ideally with Mia and, since he seems to be back at it, WADE.
9) For the following people to make cameos in Center Stage: Dance Camp:
Zoe Saldana

Ilya Kulik

Susan May Pratt

The girl who said "Did you see how on I was?"

That old salsa club lady

Warren Carlyle—specifically, Warren Carlyle doing this

Channing Tatum (a little series crossover never hurt nobody)

AMANDA SCHULL, OBVIOUSLY. WHERE IS AMANDA SCHULL???
10) To live inside the Bieber "Sorry" video. Forever.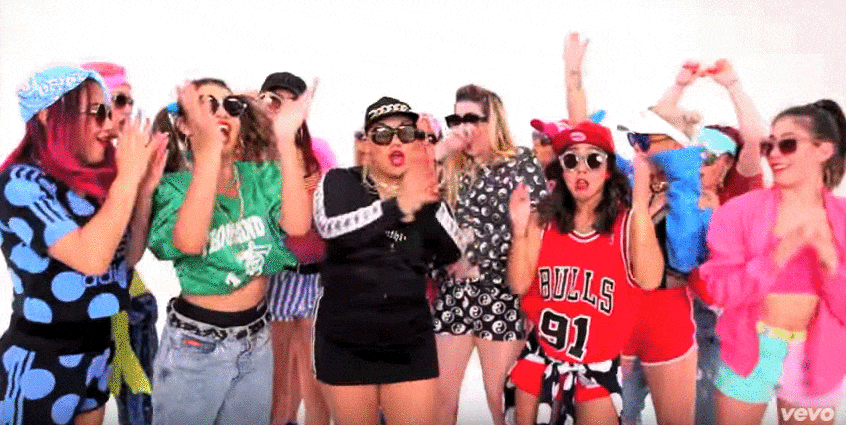 Got it? K thanks Santa! Safe sleighing! Tell Dancer and Prancer I say hi!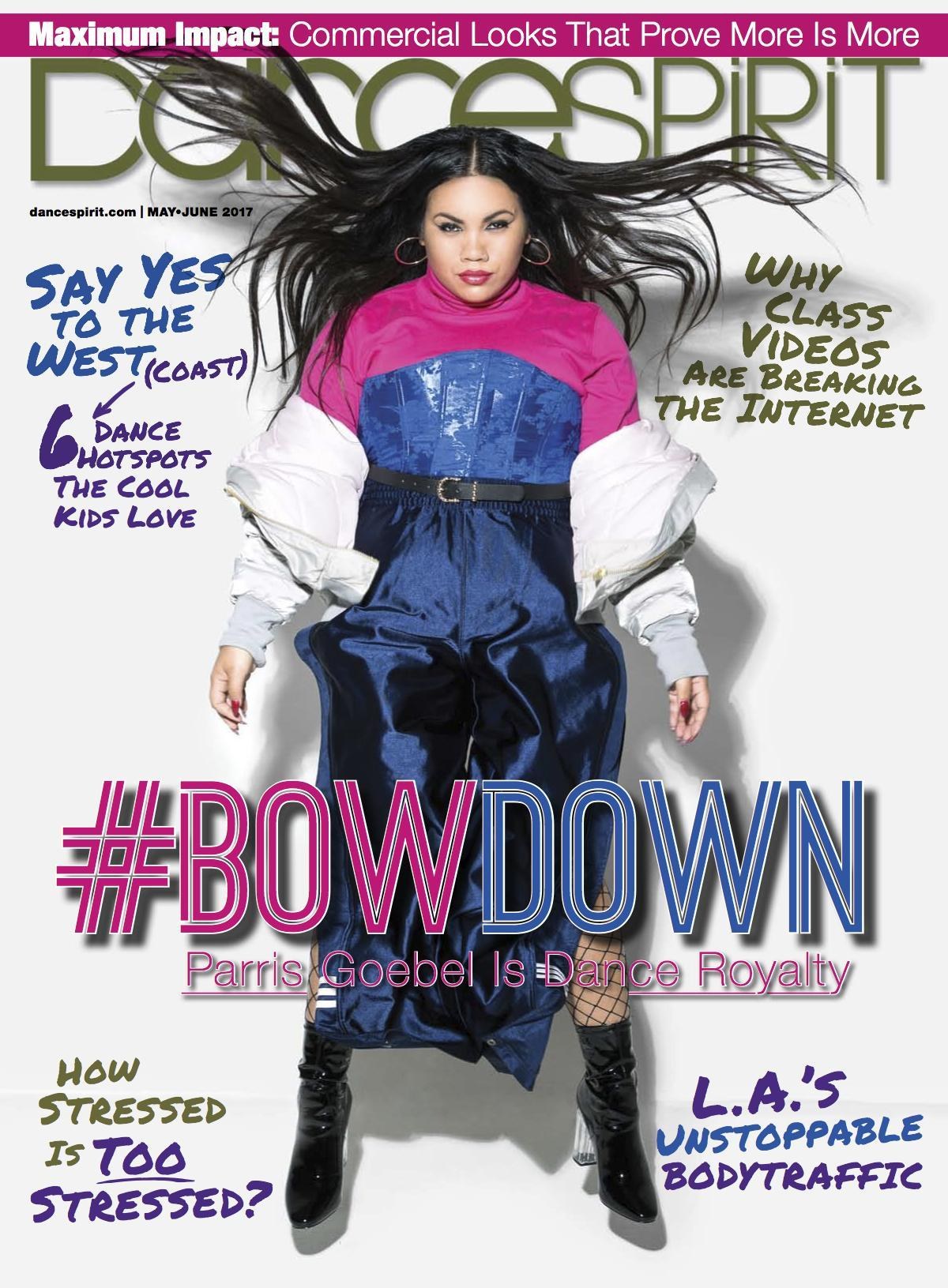 Featured College Dance Program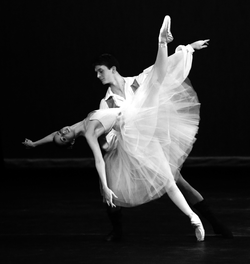 Get Dance Spirit in your inbox