We all know there are a million and one ways to spend your summer intensive. But the programs we think about are invariably focused on technique and less so on the creative process. What if there was something that combined both?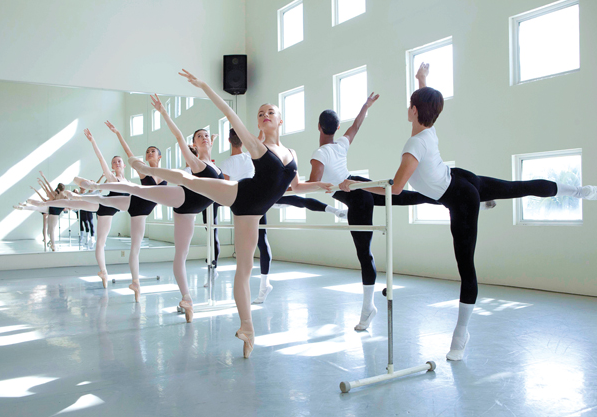 Miami City Ballet School (Photo by Pavel Antonov)
Enter Miami City Ballet School's new Choreographic Intensive. The two-week program allows dancers ages 14–18 to work with new and emerging choreographers. Dancers will have daily pointe and technique classes with MCB faculty, and then work with young choreographers to create something new.
Though the choreographers haven't been announced yet, this sounds like an awesome opportunity for dancers to build connections and broaden their awareness of the dance world without sacrificing rigorous technical training. And (bonus!), if you're between 14–18 years old, you can even attend MCB's regular summer intensive in addition to the Choreographic Intensive. Now that sounds like a well-rounded summer.
For more info, click here.
Oh, Rob Gronkowski: Bless your big, burly heart.
Why are we talking about Gronk? Well, for starters, he isn't a complete stranger to dance: The Patriots tight end—who graces the latest cover of GQ—is possibly as well-known for his twerking abilities as for his truly impressive work on the football field. And since the whole football-players-doing-ballet-to-improve-their-agility thing is still very much a thing, GQ decided it might be fun to put together a little cover-adjacent video package in which Gronk gets some pointers from a bona-fide ballerina.
Luckily for us, GQ has excellent taste in ballerinas. They brought in none other than Miami City Ballet principal soloist Nathalia Arja, one of our favorites, to put the Patriots player through his paces. Also luckily for us, Gronk was totally game—though perhaps a tad overconfident in his ballet abilities. Fake it 'til you make it, friend. (And hey, nice ballon!)
The fun might not be over, by the way. Boston Ballet has already challenged Gronkowski to do an encore performance back in Patriots territory—which, we have to admit, seems only fair:
.@RobGronkowski we saw your ballet moves at @MiamiCityBallet. Come show us your new moves at Boston Ballet! pic.twitter.com/e16RxPqY58

— Boston Ballet (@BostonBallet) May 17, 2016
Galler in rehearsal (Daniel Azoulay, courtesy Miami City Ballet)
A charmingly natural actress, Miami City Ballet corps member Samantha Galler has already tackled some of the ballet world's biggest characters, mastering complex roles with subtle finesse. The Bedford, MA, native grew up studying under Frances Kotelly at The Ballet Academy, Inc., where she perfected her technique before performing for six seasons with the Northeast Youth Ballet. After a short stint at Cincinnati Ballet, she moved to Alabama Ballet, where she danced for five seasons and performed dream roles such as Juliet in Romeo and Juliet, Odette/Odile in Swan Lake and the Lilac Fairy in The Sleeping Beauty. Galler joined Miami City Ballet in 2014, and this month will dance Hermia in George Balanchine's A Midsummer Night's Dream. Read on for The Dirt.
—Courtney Bowers
Keep reading...
Show less
I know we're only a few days into the new year, with its promise of renewal and a fresh start and yahda yahda yadha. But after the craziness/excitement of Nutcracker and the holidays, odds are decent that you're actually feeling a little...unmotivated in the studio right now. It's just weird to go from EVERYTHING IS INSANE I'M ONSTAGE ALL THE TIIIIIIME to the same-old, same-old routine of classes and rehearsals.
Well, the dancers of Miami City Ballet are here to shake you right out of your post-holiday slump. In "Why We Dance," a beautiful new video by Ezra Hurwitz, artists from every rank of the company talk about what drives them to pursue this nutty, wonderful art. As one of them so perfectly puts it, the question "is not necessarily, 'Why do I dance?' It's more, 'Why can't I stop dancing?' "
There are dozens of gems like that in the three-and-a-half–minute short, set against footage of Miami City Ballet artists in class, backstage and in performance. (You'll catch several glimpses of "Strictly Ballet" season 2 star Mayumi Enokibara, who's now a full company member.) It's intimate and warm and—because we know exactly what the dancers are talking about—very real. If you're a big ol' softy like me, it might even make you tear up a little bit.
Get inspired:


Get Dance Spirit in your inbox