Mar. 23, 2017 01:31PM EST
Earlier this year, Ashley Green and Michael Hall—senior dancers at Columbia City Jazz in Lexington, SC—were performing their duet, Redemption, at a 24 Seven Regionals competition. It'd already been a long day, and they were tired. Near the end of their performance, disaster struck: Michael's leg gave out during a lift and both dancers ended up on the ground. But in the blink of an eye, Ashley made their fall look intentional. "She got up, looked at him as if he'd wronged her, and exited without him," recalls CCJ artistic director Dale Lam. "Her recovery worked so well that they changed the routine, took it to Nationals that way and won!"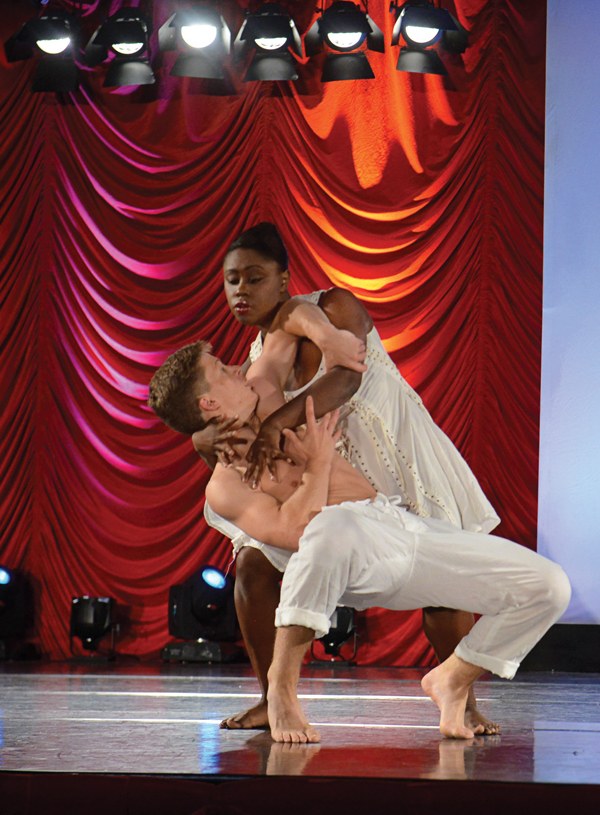 In their duet, Redemption, Ashley Green and Michael Hall used an onstage flub to their advantage. (Photo courtesy Dale Lam)
For 17-year-old Ashley, stopping the piece to deal with the fall wasn't an option. "When things go wrong, I just keep moving and try not to show it on my face," she says. "No matter what, you have to make it work."
Having that never-quit mentality can pay off, but the mantra of "The show must go on," especially in the face of onstage calamity, is easier said than done. Whether it's a glitch in the music, a costume that comes undone or a partner who drops the ball (or drops you!), here's how to handle the most unfortunate of performance circumstances.
Musical Mishaps
Music malfunctions are all too common, especially for competition dancers who are often playing their songs on new devices at each event. When you're onstage by yourself, turning to your improv skills when the music skips or stops may be enough to save you. But staying in sync in a group number is tricky when you don't have the music on your side. Lam has her dancers practice combinations without music, so they learn to keep time by breathing together. "You can stay on the rhythm by noticing the beat of feet on the floor and listening to each other's breath," she says. Lam has also seen dancers in musical theater numbers save the show by singing their music during a technical glitch. "They were so connected to the song, and the audience loved it," Lam says. "When things go wrong, you can get upset or you can do something totally unexpected. And in the latter case, the audience will be forgiving."
So will the judges. Professional tapper Melinda Sullivan says that, when judging competitions, she'll never take off points for a mishap that's outside of a dancer's control—as long as it's handled well. "At New York City Dance Alliance this year, I remember thinking one group number was great, but then there was an announcement that the number was running again because they'd performed the whole piece to the wrong music," Sullivan says. "Since they stayed committed, I had no idea!"
Costume Catastrophes
When costumes rip or come untied, dancers have a choice to make: Should they fix it onstage, make a quick exit or let it be? Choreographer Stacey Tookey remembers the first time she had to make this tough call as a teenager, when a halter top came untied completely. "I unfortunately opted to continue dancing while holding my top up for the whole routine," Tookey says. "But now I know that if you're really exposed, it's OK to leave the stage." This is especially true for a group routine: Ducking into the wings to fix a costume calamity might pull less focus than trying to retie a top mid-routine. If you can, exit and reenter during formation changes, when the audience is less likely to notice. Keep a sewing kit handy backstage in case you need to make last-minute repairs or adjustments.
Prop Problems
While props can add an extra spark to a number, they're an inevitable performance hazard—you know someone is bound to drop something. But what happens if you're the culprit? Lam says retrieving your fallen prop is usually the smartest option, especially if there's a risk of someone tripping on the item or having to dance around it. "Everyone in the audience will be distracted by the prop on the ground for the rest of the piece, so stay in character and pick it up," she says.
Tookey agrees: "Odds are you'll need to use the prop later, so try to fix the situation and get back on track as fast as possible," she says. "But if the prop goes flying and rolls into a back corner, don't run across the stage." If your prop is truly out of reach, carrying on empty-handed is a wiser choice. And if you see someone else's abandoned prop on the ground, it might be worth taking a second to kick it offstage to prevent a face-plant.
Fellow-Dancer Disasters
You may remember 2 Steps Away, one of Tookey's duets for Kathryn McCormick and Jonathan "Legacy" Perez on "So You Think You Can Dance" Season 6. But did you know it included an onstage mishap? "Legacy was supposed to give Kathryn's leg a slight pull in arabesque, but he pulled so hard she landed on her butt," Tookey says. "Kathryn got up and kept going so seamlessly that even I didn't notice the mistake!" (No one else noticed, either—the routine earned Tookey her first Emmy nomination.)
Being able to carry on when a fellow dancer messes up—or messes you up—is a skill that really comes down to mind-set. "A mistake can be distracting and throw you off," Sullivan says. "But I love the statement 'strong and wrong.' If you make a bold choice and keep it moving, the audience won't know the difference." Confidence, Sullivan notes, is key when you're improvising to cover someone else's error—or your own.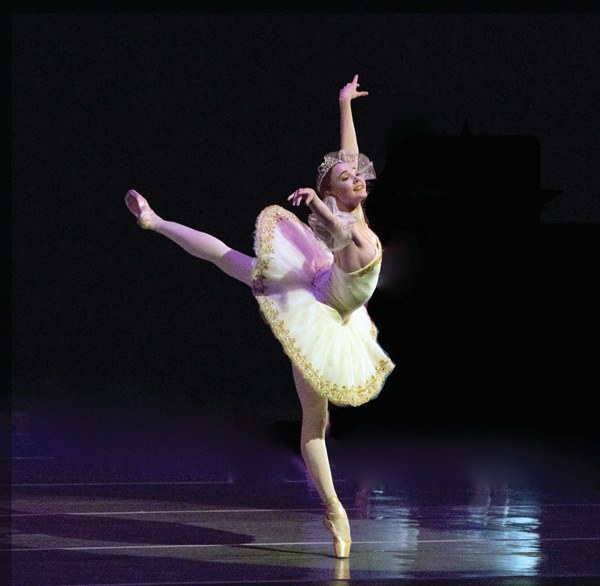 Rio Anderson doesn't let herself dwell on mid-performance mistakes (photo by Sandy Lee, courtesy Rio Anderson)
Most importantly, don't let a mishap psych you out. Rio Anderson, 17, from San Francisco, CA, remembers having to recover from a fall at the Youth America Grand Prix Gala in Indianapolis. "The hardest part was that I spent the rest of the piece worrying that I messed up," says Rio, who currently trains at The Royal Ballet School in London. "Now I try not to get caught up thinking that every performance has to be perfect. As a dancer, you have to assume that things will go wrong, but you'll be able to deal with them as they come."
Competition
Jan. 01, 2014 06:30PM EST
It's not easy being a competition judge. These dedicated dance lovers sit on a panel for hours at a time, carefully analyzing every move onstage. Sure, it's a rewarding job—they get to see so much incredible talent—but it can also be frustrating making the same comments all weekend long. So what are these judges tired of saying? We got industry pros Mandy Moore and Ray Leeper to spill.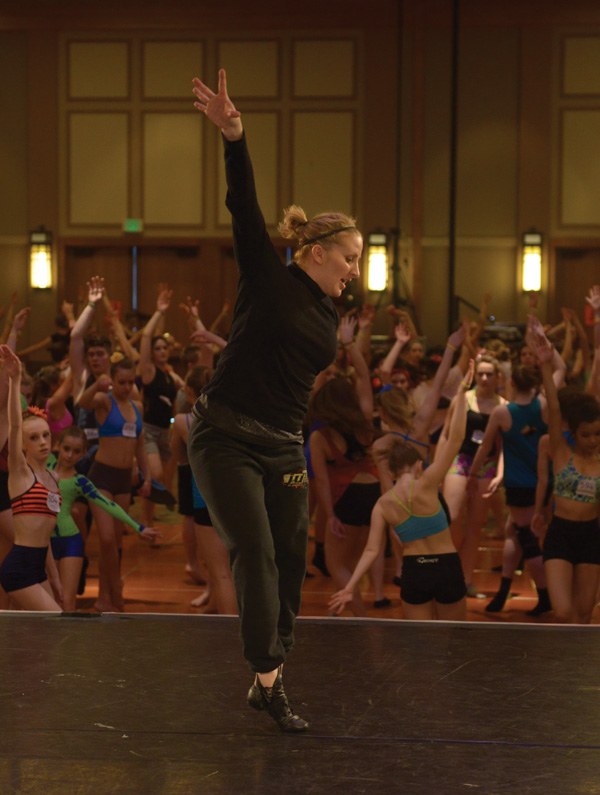 (Photo by Break the Floor Productions)
Mandy Moore's Most Common Critiques
What emotion are you trying to convey?
"What am I supposed to feel from this routine? If I turned off the music, would I be able to understand what you're doing? So many times, dancers rely on a great song or concept and fail to bring any artistry to the routine themselves. Just because it feels good to you doesn't mean the audience is feeling the same thing. Be a storyteller, not just an athlete."
Learn how to dance together.
"One of the best things a dancer can learn is spatial awareness. If you can move in a formation onstage, that will help you stay on your mark when you're on set for a TV show or a movie."
Listen to your music.
"Get into the music and swim around in those accents. Find the beat and don't rush. Learn how to count music—not just boom, boom, KA! There are always counts, and when you find them, they'll help everyone stay in sync."
Clean your routine.
"Please don't perform a routine for the judges until you've put in the time to make it great. Sharpen your skills together so you can understand when something is off. If everyone understands where the movement is coming from, the routine will almost clean itself."
Work on your basics.
"I feel silly saying this: You and your teachers pay too much money to get to competition only to have me tell you to point your feet, lengthen your necks and pull up out of your hips. All that should be mastered before you hit the stage. I want to make you better artists—I don't want to have to spend my time discussing things you should already know."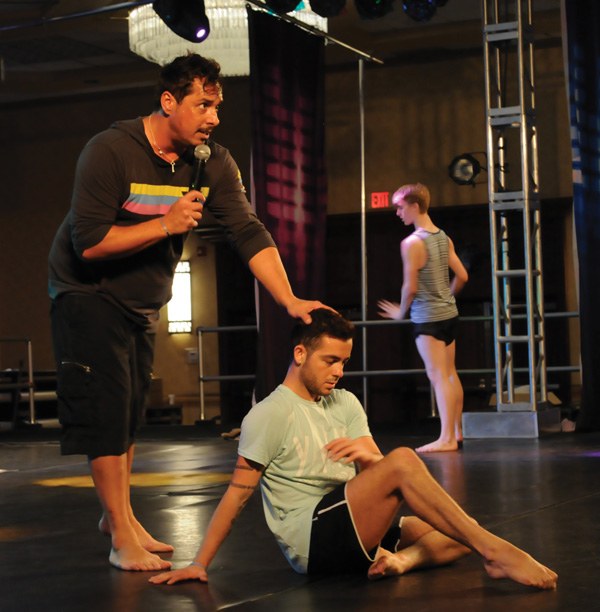 (Photo by Break the Floor Productions)
Ray Leeper's Most Common Critiques
Use your props.
"I've seen routines where the dancers began on a prop that was placed upstage center. They did the intro of the routine on the prop, came forward to dance and didn't go back to the prop until the ending pose. It's important to remember that if you bring a prop or a large set piece onstage, it should be integrated into the entire routine. Otherwise, the judges will begin to wonder why you aren't using it—and to lament the wasted time, energy and effort it took to build the prop and preset it at competition."
Work your feet through your transitions.
"Dancers are trained to point their feet and turn out when doing an extension, pirouette or any position where the foot is off the floor. But I find dancers aren't paying enough attention to their feet when they're actually on the floor. For instance, when stepping out of an extension or battement, you should be turning your foot or leg out as it's placed back on the floor. This attention to detail during transitions is the true mark of a dancer who is aware of her technique."
There's too much stuff.
"I see so many routines that are overchoreographed. There's no need to create movement for every accent, lyric and syllable in a song. It's important to leave time to breathe—not just for the dancer, but for the audience, too. As dancers, we express ourselves with our bodies—but if too much is being said movement-wise, it's difficult for the audience to understand. Sometimes our strongest statements onstage come from moments of stillness."
Dec. 01, 2013 06:50PM EST
All of us---even the dance world's biggest stars---have had less-than-awesome performance moments. We asked seven professionals to share their most embarrassing mishaps.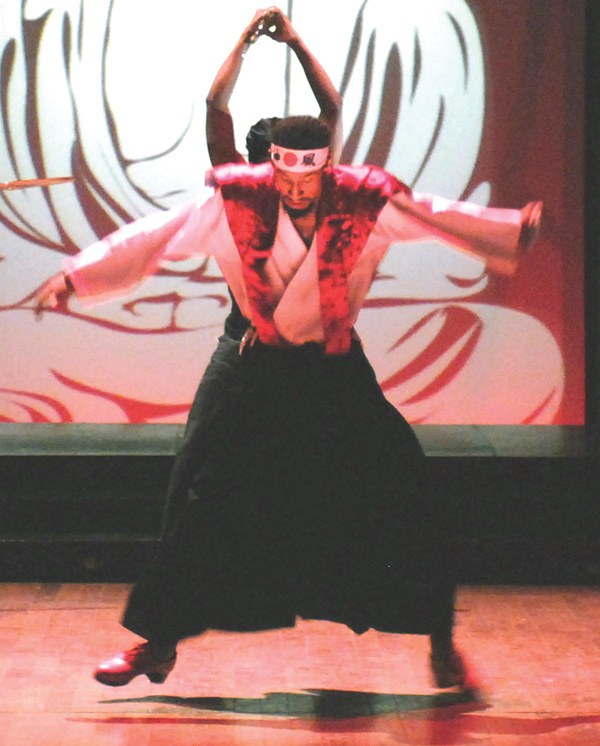 Samuels Smith with the cast of Imagine Tap! in "Samurai Shuffle," the number that landed him in the emergency room. (photo by Michael Brosilow)
Jason Samuels Smith
Tap dancer
I once played a tap dancing samurai confronted by ninjas in a production of Imagine Tap! I wanted to take my performance to another level during the last show, so I decided to jump into the orchestra pit at the end. Other dancers used a mattress in the pit to break their falls, so I assumed it would work and didn't practice the jump. I finished the number with a dramatic leap. But as soon as I landed on the mattress, my momentum bounced me into a three-foot drop in the pit, and I ended up landing on my head. I reassured the band I was fine and finished the show. After flying back to L.A. that night, I went to the emergency room to make sure I was OK. Turns out, I wasn't. I had to work the whole week with staples in my head and half of my cornrows undone. Next time, I'll practice a stunt instead of winging it!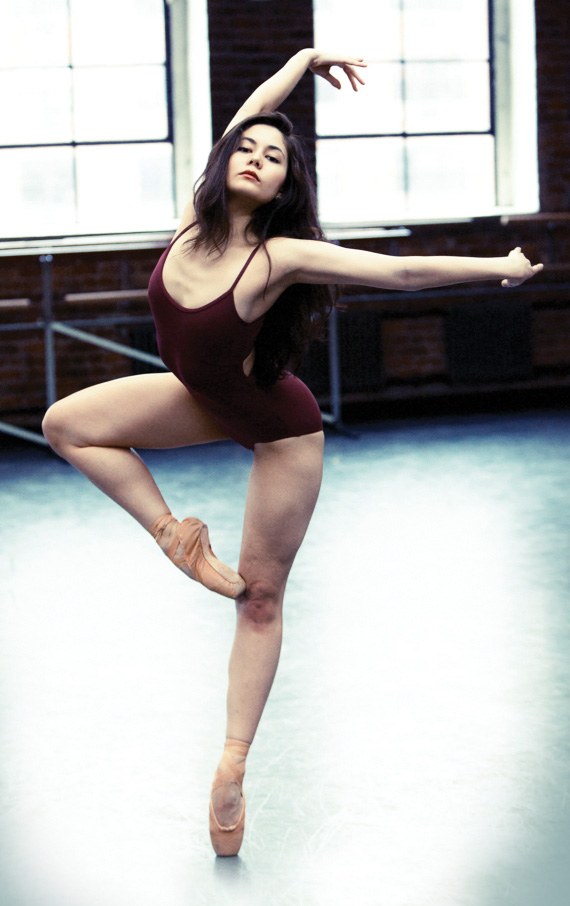 (photo by Oliver Correa)
Emiko Flanagan
Member of Dance Theatre of Harlem
When I was 16, I had a demi-soloist role in the snow scene of my studio's Nutcracker. I got into my opening pose in my white costume—and realized I'd forgotten to take off my black legwarmers. I was already nervous about the role, and dancing the piece in my legwarmers made things so much worse. I definitely got scolded for it afterwards!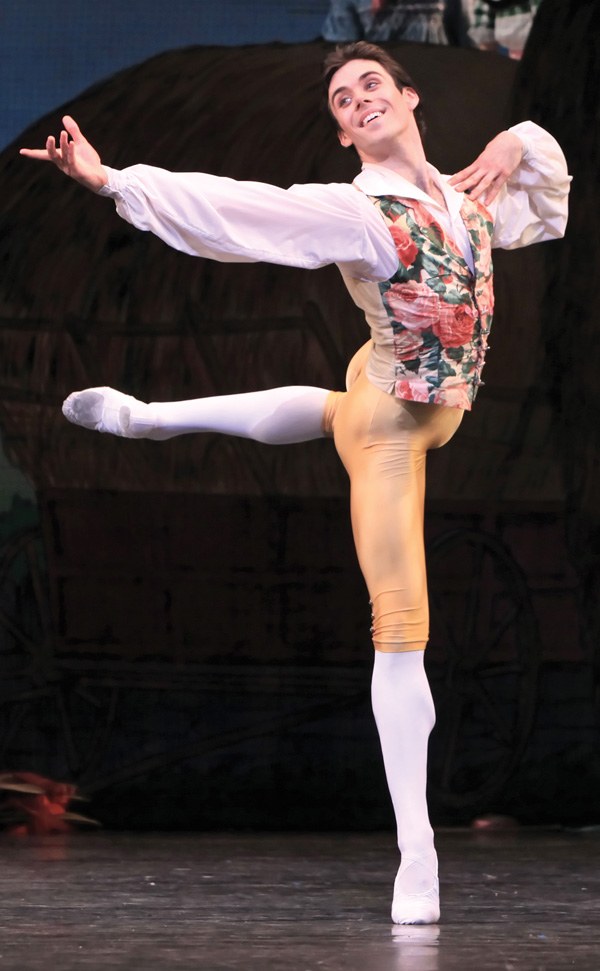 Walsh as Colas in La fille mal gardée  (photo by Amitava Sarkar)
Connor Walsh
Principal with Houston Ballet
In the pas de deux in Frederick Ashton's La fille mal gardée, there's a moment when the lead man, Colas, tosses a ribbon to his partner, Lise, while continuing to hold on to the other end. Then he does chaînés toward her, wrapping the ribbon around his waist. But during my second performance as Colas, I didn't realize my partner hadn't been able to catch the ribbon, so it was wrapping itself around my ankles. There's no graceful way out of a situation where your feet are bound together. While my partner attempted to find the other end of the ribbon, I clumsily stepped out of it.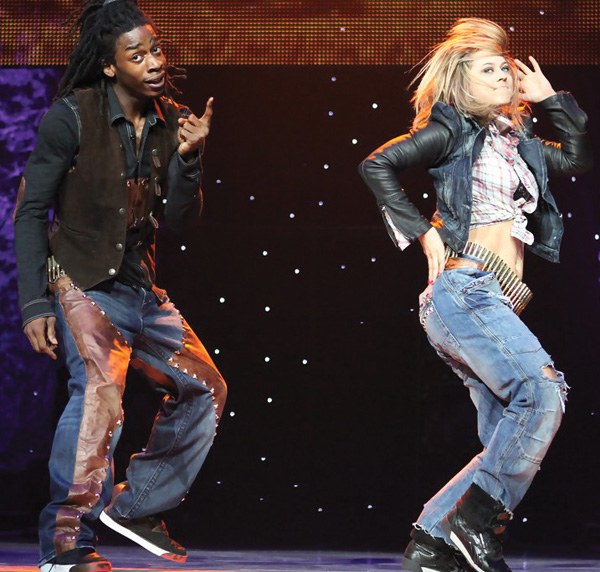 Froderman with Russell Ferguson on the 2010 "So You Think You Can Dance" tour. (photo by Cory Shwartz)
Lauren Froderman
Commercial dancer
During some of the performances on the 2010 "So You Think You Can Dance" tour, I had a solo in the group piece that opened the second act. One night, I went to the restroom during intermission, thinking I had enough time. But as I was making my way back to the stage, I heard the music start. The choreography began with me in a chair on a table and the boys fighting over the chair. Since I was missing, the boys had to fight over an invisible person. I eventually was able to run on in character, and the rest of the piece went smoothly, but we burst into laughter after we got offstage. To cap things off, during the final performance of this piece, the chair's legs broke while I was sitting in it.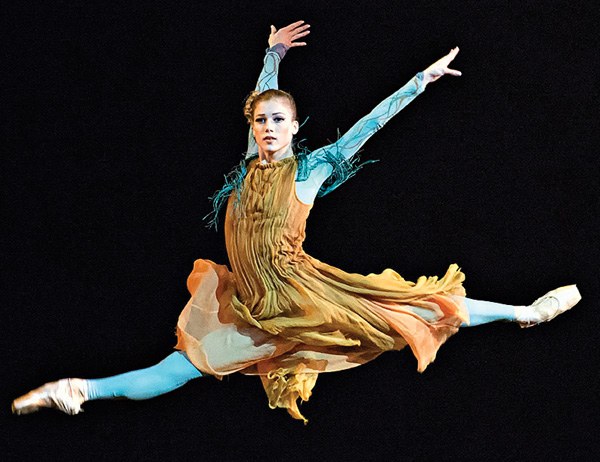 (photo by Gene Shiavone)
Keenan Kampa
Corpyphee with the Mariinsky Ballet
During a performance this past spring, I picked up too much speed during a set of fouettés and spun out of control. Eventually I stopped, dropped and rolled…and kept rolling. I got up with my head spinning and heart racing. I finished with one last pirouette and ran offstage. Several dancers sent me videos of their own onstage catastrophes to help me laugh it off. We're all human, and a ballet will never be perfect. That's what makes it interesting!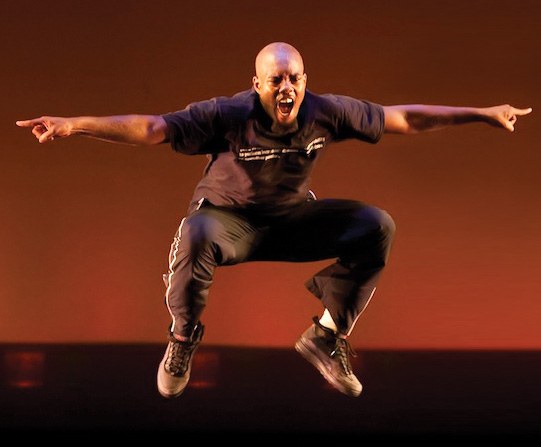 (photo by Brian Mengini)
Brandyn S. Harris
Dancer with Rennie Harris RHAW
While on tour with RHAW about three months ago, I was performing a piece in which I normally wear tightly tied high-top sneakers. For some reason, I decided to wear my low-top Chuck Taylors that night. While dancing, my left foot stepped on the back of my right ankle, and my right shoe came off. I quickly stuffed my foot back into the shoe as much as I could mid-step. The other dancers onstage whispered, "What's wrong?" Luckily, I was able to make it through—and the audience didn't seem to notice!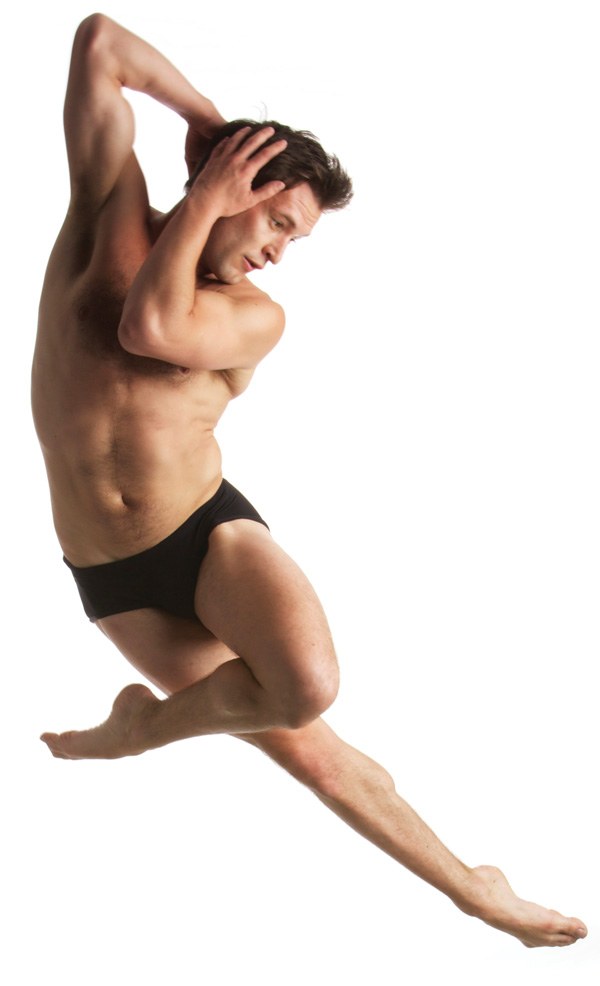 (photo by Mathew Murphy)
Matthew Baker
Dancer with Keigwin + Company
We do a piece called Bird Watching that's set to Haydn's symphony no. 6 in D major. One time, a few minutes into a Bird Watching performance on tour, the orchestral score was accidentally replaced by a track from our pre-show music, Beyoncé's "Ego." In the moment, our gut reaction was to freeze. It was probably no more than 10 seconds before the music jumped back into Haydn, but it felt like forever.
Komal Thakkar is a former Dance Spirit intern and a graduate of the George Washington University.
Sep. 01, 2013 06:47PM EST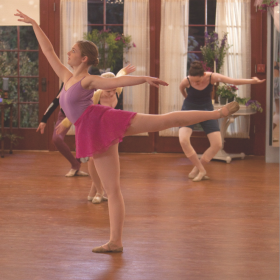 Writing down her corrections in a journal helped Kaitlyn Jenkins (here on "Bunheads") fix her arabesque for good. (ABC Family/Randy Holmes)
There are two words no dance hopeful wants to hear: "rookie mistake." Even if you have fierce fouettés and super-pointy feet, there are still some universal no-no's to avoid if you want to hear "yes" from a choreographer—and the list probably includes things you don't even realize you're doing.
In Class
1. Not arriving early. You may think arriving at 3 on the dot for a 3 pm class is totally fine, but it's really not. "It's frustrating and rude when people miss the first bit of warm-up and still want to take class," says "So You Think You Can Dance" and Broadway alum Neil Haskell, who guest teaches for The BEAT Dance Tour. You should be in the studio (or waiting outside of it) at least 15 minutes before the scheduled class time. Not only will that give you time to warm up, but it will also broadcast to the teacher that his or her class matters to you.
2. Not retaining corrections. For the longest time, "Bunheads" star Kaitlyn Jenkins kept getting the same correction from her ballet instructor. "My arabesque was completely out of line," she remembers. "It didn't look beautiful—just distorted." Teachers hate giving the same correction over and over again. It either shows the dancer lacks respect for the teacher, or that the dancer has trouble processing and retaining information. If you do have a hard time keeping track of your corrections, try writing them down in a journal. That's what Jenkins did—and doing so helped her fix her arabesque for good. "When you write things down, it keeps the information fresh in your mind and ingrains it in your brain," she says.
3. Not saying "thank you"—and meaning it. It's pretty much a given that you should thank a teacher or choreographer after class, but being genuine matters, too. "You were the person yawning in back who didn't take a single correction, but you still give me a big 'thank you' hug? I remember that," says choreographer Mandy Moore. "I always find it interesting who is authentic with their 'thank you' and who's not. I lock that into my brain, and I'm like, 'I don't want to work with that person.' "
At Auditions
4. Not going the extra mile with your homework. Before any audition, get the full 411. You may think you know what a good Chorus Line audition outfit looks like—but what if your director is doing a crazy, futuristic take on the show? "Research the piece you're going in for, the style of dance it uses and the specific look the choreographer wants," advises Jamie Harris, director of Clear Talent Group's NYC office. "What you wear for Susan Stroman will be different than what you wear for Andy Blankenbuehler."
5. Not being observant. The dancer who gets the job is the one who masters the choreography's tiniest nuances. Jenkins advises paying as close attention to head placement and port de bras as you do to fancy footwork. She remembers a day on the "Bunheads" set when they had to reshoot a scene several times because two dancers couldn't get the arms right on a particular combo. "Always look at the full picture," Jenkins says. "In ballet, that can determine whether you get into the summer program or the company."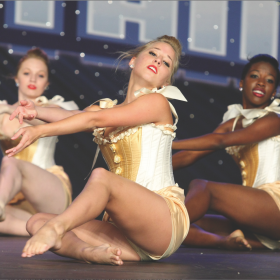 Don't fake your performance face! Expression and emotion are just as important as technique onstage. (Universal Event Photography)
Onstage
6. Not giving good face. Expression and emotion count just as much as flawless technique, and faking won't cut it, says Haskell. "Whether you're watching a competition, recital or Broadway show, you never want to see pasted-on or forced smiles," Haskell says. "It's important to give an honest performance."
7. Not being aware of your spacing. Dancing your biggest onstage seems like an obvious "do," right? Wrong. For the sake of the dancers around you, don't be a flailer. "Whether you're working with two or 100 other dancers, know the space you're in and figure out how big you can be," Haskell says.
Moore agrees, recalling a recent instance on the set of Nickelodeon's "The Fresh Beat Band" in which a dancer bumped into one of the principal performers. "I was horrified," Moore says. "You never want to be the dancer who messes up a take—time is money on set. Spatial awareness is incredibly important."
On the Job
8. Not tweeting with tact. It may be tempting to vent online about a terrible day at work, but those 140 characters could come back to bite you. "Don't tweet about bad days and don't bash anyone," cautions Haskell. "Your name is attached to your social media accounts, and if a director looks you up, he might change his perception of you."
9. Not keeping it professional. Remember that you're representing your choreographer or company at all times, even when you're getting fitted, grabbing a snack or waiting backstage. "I've been on sets where dancers I hired were rude to costume people or craft services, and it gets back to the producers—which makes me look bad," Moore says. "Being kind and easy to deal with will get you so much further." Harris agrees: "You don't want to lose a job because you act like a diva—you want to get one because you dance like a diva."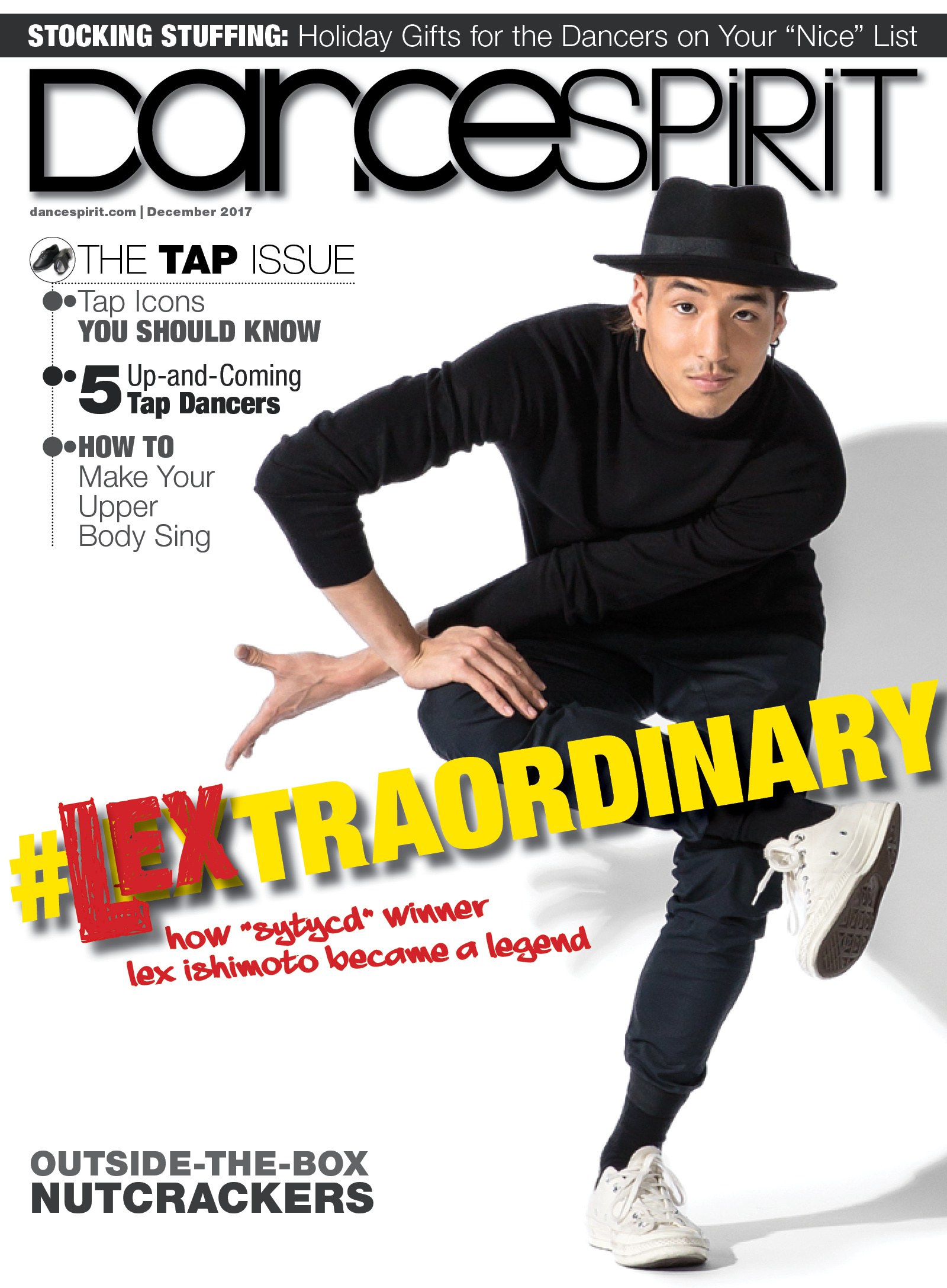 Get Dance Spirit in your inbox