Jun. 02, 2017 03:51PM EST
via Instagram
Yes, I know summer doesn't *officially* kick off until June 21, but tomorrow at 10 am, I'll be feeling all of the #summervibes.
Why? That's the first Moves with Limón Dance of 2017. In my humble opinion one of the best "secret" freebies of an NYC summer, these open-level modern dance classes happen every Saturday from 10 to 11 am in Bryant Park through September 30.
Keep reading...
Show less
Sep. 15, 2016 11:16PM EST
Mar. 08, 2016 05:43PM EST
Chances are you've heard of Sleep No More, the blockbuster production loosely based on Shakespeare's Macbeth. But Sleep No More is more than just a performance: It takes place throughout a five-story building in NYC, with audience members exploring the space on their own terms. If you attend the show, you're part of it—and that's what sets immersive performances apart.
Immersive productions can be incredibly rewarding for dancers. But how do you prepare when all of your stage experience has probably been in a theater, with the audience planted firmly in their seats? Dance Spirit spoke to artistic directors and performers to find out what to expect when you book your first immersive gig.
Set Your Sites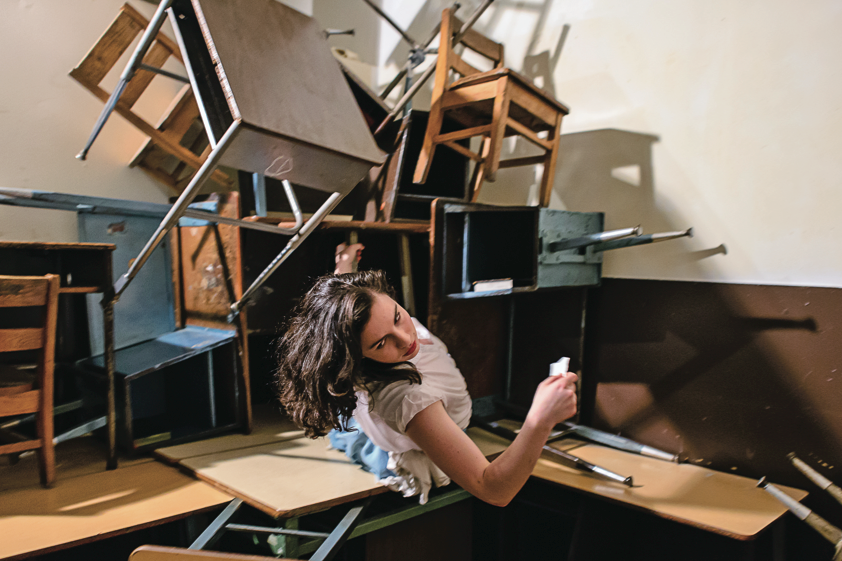 Rachel I. Berman as Alice in Then She Fell. (Photo by Darial Sneed, courtesy Third Rail Projects)
There's a rich history of site-specific choreography—dance pieces made with a particular, non-theater space in mind—that set the stage for immersive shows. Iconic postmodern choreographers like Trisha Brown and Yvonne Rainer made site-specific work to challenge people's preconceived ideas about what dance could be, and helped inspire today's immersive choreographers to let their imaginations run wild.
NYC–based choreographer Noémie Lafrance has created a number of experimental works based in audience participation. "I feel that a controlled environment (like a theater) isn't reflective of how we live. It's isolating. In the same way, I don't want to isolate the audience from my work," she says. One of her most notable works, Agora II, took place in an abandoned swimming pool in Brooklyn, NY, and featured dozens of dancers. Certain audience members received text message cues about when to join the performance. In this site-specifc and immersive work, Lafrance made sure the audience had opportunites to change the direction of the piece.
Diving In
Former Cedar Lake Contemporary Ballet member Vânia Doutel Vaz debuted in Sleep No More last summer. She has extensive experience performing in immersive theater, and she says that no two shows are the same.
Nicholas Bruder as Macbeth and Sophie Borolussi as Lady Macbeth in Sleep No More. (Photo by Yaniv Schulman, courtesy O+M Co.)
For one memorable performance, Vaz danced in Laura Perez-Harris' Belly of the Beast at Tomato House in Brooklyn. "Audience members crawled down a pitch-black velvet-lined maze and eventually fell into the 'belly,' where I and two other dancers performed," Vaz says. "I think Laura was trying to get people way, way outside their comfort zones."
"We call it 'world-making,' " says Tom Pearson, co-artistic director of Third Rail Projects and one of the creators behind immersive productions like The Grand Paradise and Then She Fell, which was inspired by Lewis Carroll's Alice's Adventures in Wonderland. "The edges of the real world are invisible."
Going Deeper
It might seem pointless to prepare for a performance where anything can happen, but it's not. Vaz suggests attending immersive performances whenever possible, to build your familiarity. She also credits Ohad Naharin's Gaga technique for teaching performers how to develop their awareness. "All your senses need to be enhanced," she says. "You have to be able to see in 360 degrees." And if you're successful, she says, you'll be so "in it" that you can practically predict audience members' movements.
Vaz's ultimate rule for performing in an immersive show? Don't break character! She cautions that your worst-case scenario might happen, but you have to trust your fellow performers to help you—and that comes from rehearsing and performing together. "No matter what, never apologize for anything," she says. "Everything that happens is supposed to. Don't let the audience feel guilty, in your way, or uncomfortable. As a performer, you become the audience's guiding eyes, so it's all about being confident and secure in what you're doing."
Feb. 02, 2015 12:29AM EST
As a student at Wayne State University, Sonya Tayeh had one of those experiences that seem to change everything: She saw Martha Graham's seminal solo, Lamentation. Fast-forward a decade or so, and Tayeh is revisiting that defining moment. Fresh off another groundbreaking season on "So You Think You Can Dance," Tayeh was one of four choreographers chosen by the Martha Graham Dance Company to create a new addition to Lamentation Variations—a series of four-minute pieces inspired by the original.
Several other choreographers, including Larry Keigwin, Aszure Barton and Yvonne Rainer, have made their own Lamentation Variations in the past, and this year's crop of commissioned dancemakers are Tayeh, Kyle Abraham, Michelle Dorrance and Liz Gerring. Each choreographer is given just 10 hours to complete his or her piece and must start from scratch—pre-planned ideas aren't allowed.
Dance Spirit caught up with Tayeh to talk about her Variation, which premieres this month at the Joyce Theater in NYC.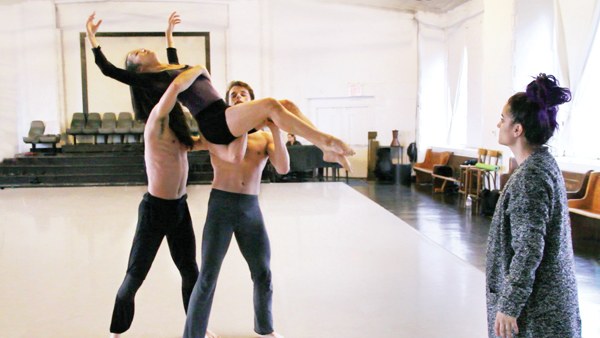 Sonya Tayeh working with Martha Graham dancers (photo by Brigid Pierce, courtesy Martha Graham Dance Company)
Dance Spirit: Can you talk about the first time you saw Lamentation?
Sonya Tayeh: My dance history teacher Georgia Reid showed me a video in class. Seeing all the restriction, grief and constraint in the piece—along with its pounding aggression—made me cry. I felt such a visceral connection to the work and to Graham's idea that dance should make you feel something.
DS: What are you trying to convey in your variation?
ST: This year, I've lost two close friends. I've been feeling a sense of intense anxiety about getting as much done as I can before everything ends. I'm inspired by the moment when you're in mourning and you feel stifled, but you tear away all that constraint and say, "Enough is enough." I see it as a Part 2 of Graham's Lamentation—if she tore away the fabric and all that weight lifted, what would happen? It's like being shot out of a rocket.
DS: What is the music?
ST: I'm using a piece by Meredith Monk that consists of all these crazy breathing sounds. When I watch Graham's original, I feel myself making those kinds of sounds, like my body can't breathe and I need air. I want my piece to feel like the dancers are out of breath from the beginning. They're exhausted, running around, trying to get so much done. I've been telling the dancers to let the music drive them.
DS: Everyone fell in love with your "SYTYCD" piece for Ricky Ubeda and Jessica Richens, which used Meredith Monk's "Vow." What's your connection to Monk?
ST: I've been a huge fan of hers forever. And when my friends passed away, I just kept listening to one of her albums with "Vow" on it. I knew I wanted to use the song for "SYT," and the producers agreed. I was also looking for music for my Graham piece, and I wrote a letter to Meredith explaining my situation and how I'd love to use her music. She gifted me the two scores. I'd love to work directly with her one day.
DS: What's next for you?
ST: When I moved to NYC, my plan was to start anew, pay my dues and build my voice as a concert and theater choreographer. So this project, and being mentioned in the same breath as people like Kyle Abraham and Michelle Dorrance, is amazing. I also have a crew of dancers I've been working with, and I'd love to get some work commissioned. I'm just really honing in on the NYC dance environment.


Get Dance Spirit in your inbox