Mar. 23, 2017 06:37PM EST
Talk about inspiring. It seems like kind of a given that if you want to dance to music, you have to be able to hear it. But the human body is amazing, and human willpower even more so. Case in point: Macy Baez, a 15-year-old Australian hip-hop dancer who happens to be deaf. She feels the vibration of the bass through her feet when she dances and competes with her studio crew.
Check out her story, including meeting her hero Parris Goebel, getting ready for competition and her fierce solo featuring a portable SONY speaker that rocks a killer bass.
Mar. 23, 2017 02:07PM EST
George Balanchine's Agon is one of the hardest ballets for dancers to learn, thanks mostly to its incredibly complex score. Igor Stravinsky's tricky phrasing and frequent tempo changes can baffle even experienced dancers. But at San Francisco Ballet, corps member Shannon Marie Rugani has no problem following Stravinsky's music. Why? Because she plays the piano, drums, ukulele, guitar and harmonica, in addition to composing her own pieces of music.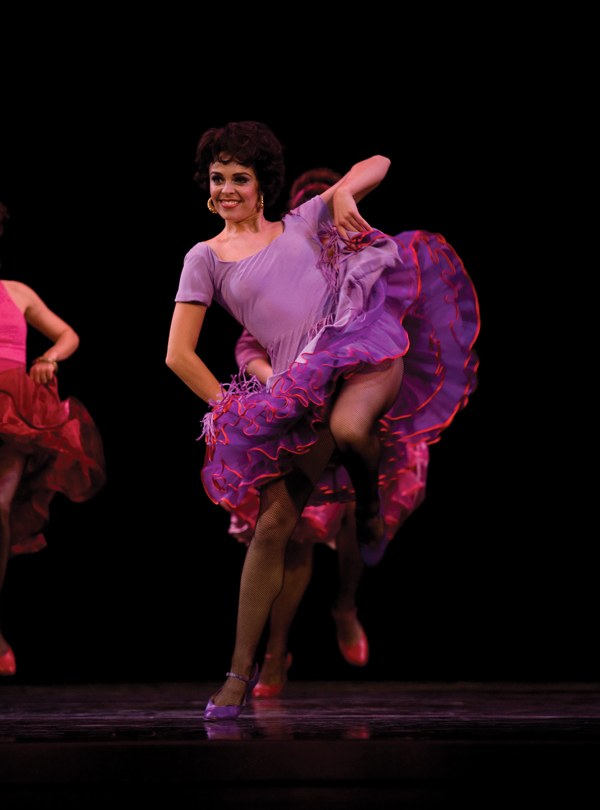 Shannon Marie Rugani in West Side Story Suite with San Francisco Ballet (Chris Hardy, courtesy San Francisco Ballet)
You don't have to be a virtuoso like Rugani to benefit from studying music. Reading notes, playing an instrument, familiarizing yourself with the musical canon and learning music history can change the way you interpret choreography and help you stand out from dancers who don't have a musical background. In many ways, studying music is as important as the cross-training you do at the gym—you're just strengthening your musical mind instead of your body.
Musicality vs. Musicianship
Everyone knows dancers should be musical, but sometimes that quality is hard to define. In his classes, Jeffrey Middleton, music instructor at the School of American Ballet, helps dancers improve their musicality by developing their musicianship. "Musicality in a dancer means having sensitivity to the rhythm, line and mood of a piece," Middleton explains. "Musicianship is about having a good ear, learning to play an instrument and developing a knowledge of music."
The first part of his class takes place at the piano, where students learn to count, read and try to make music. The second part is general music history—studying pieces that were written specifically for dance or used for choreography. Though his classes target ballet students, Middleton says that music lessons are beneficial for all dancers. "It's about becoming a better listener and putting music in a particular context," he says.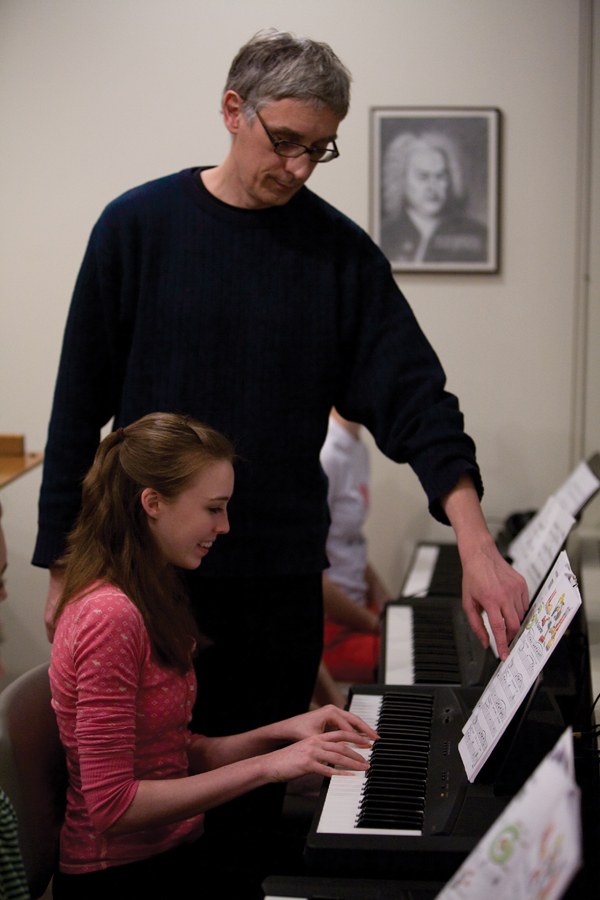 Jeffrey Middleton leads music class at the School of American Ballet (photo by Rosalie O'Connor)
The Benefits of Musical Training
Studying music gives you a better idea of rhythm and phrasing. It helps you distinguish elongated notes from staccato (short and fast) notes. You'll learn to hear when something is softer or louder and to listen to the silence between notes. "All of that gets translated into your body," says Daisha Graf, a commercial dancer and recording artist who studied piano growing up. Musical knowledge, she says, also helps you pick up choreography faster: The more you can hear, the more easily you can associate steps with sounds.
Hearing different aspects of the music, like flowing melodies or pulsing undercurrents, allows you to shape your movements to match the score, too. "Everything has to be connected, or the people watching aren't going to be inspired or moved," says Leah Faircloth, a 17-year-old competition dancer at CC & Co. Dance Complex in North Carolina. Leah says that her training in piano and cello has made it easier for her to break down rhythms for dance, especially in tap routines. "I have an advantage for learning timing and dynamics," she says. "That lets me just dive into the choreography, instead of thinking about what comes when."
At Central Pennsylvania Youth Ballet, founding artistic director Marcia Dale Weary notices that her most musical students play an instrument. Their exposure to classical music studies at home or at school affects the way they express themselves in the studio. "I see that they dance from their souls," she says, "that they are able to sing the music."
Studying on Your Own
If music classes are beyond your financial or geographic reach, there are other ways to improve your musicianship. Dale Weary suggests seeking out classical music recordings and listening to them at home or in the car. "Classical is much more complex than pop music—you have to listen to it over and over," she says. Get familiar with the syncopated work of Scott Joplin and George Gershwin, as well as that of classical composers like Brahms, Beethoven and Rachmaninoff. World music, especially polyrhythmic African music, is helpful, too. "Many styles focus on different rhythms, and you can learn from each one," Graf says. "Go beyond what you're used to hearing."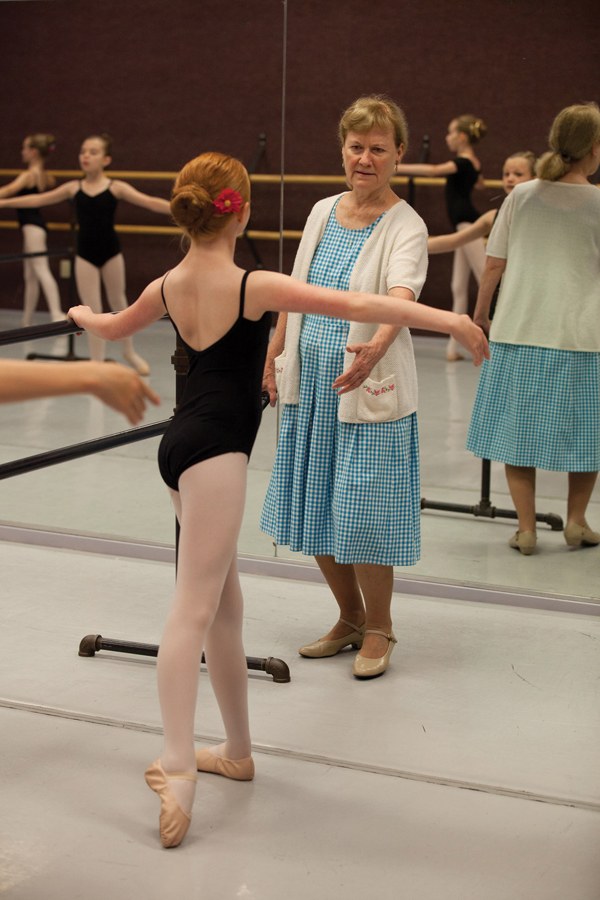 Central Pennsylvania Youth Ballet's artistic director Marcia Dale Weary teaching class (photo by Rosalie O'Connor)
Rugani recommends YouTubing music theory videos. "There are so many videos and teachers to choose from," she says. You can even pick up a cheap keyboard and a simple theory book so that you can practice. Piano apps for tablets and smartphones can also be helpful. Feeling ambitious? If you can swing it, Middleton suggests getting a drum set. "Drums are the best thing to explore if you're a dancer," he says—they're great tools when it comes to understanding rhythm and counts.
Try not to get frustrated if you don't notice an improvement in your musicality right away. "Musical development is very slow, and sometimes you feel like nothing is happening," says Middleton. "But over the long term, it becomes a part of your growth. Eventually, the musical side of dance will come naturally to you."
Apr. 13, 2014 11:00AM EST
Friedrich Nietzsche once said: "And those who were seen dancing were thought to be insane by those who could not hear the music." Well, what if you couldn't hear the music? Would you dance anyways?
London-based artist and poet Sofia Mattioli asked herself this question one day while riding on a train. She had been listening to music through her headphones, and as she started getting pretty into it, a deaf child approached her. After attempting to sign, the girl opted for a note. She wrote that although she couldn't hear the music, she could almost feel it through Mattioli's movement.
Mattioli ran with this idea when English producer Jamie XX asked her to direct a music video for his song "Sleep Sound." She enlisted the help of members of the Manchester Deaf Centre to dance with her in the video. Although the participants could not hear the song, they were able to recreate it in their imaginations by responding to Mattioli's movements and the vibrations in the room.
The resulting video is both beautiful and inspiring:
Mar. 01, 2013 03:52PM EST
On February 14, as part of New York Fashion Week, students from Parsons The New School for Design, The New School for Jazz and Contemporary Music and the Joffrey Ballet School's Jazz and Contemporary Program came together to create Reconstruction 3.0: Life is a Journey, a night of live performances featuring original music, dance and fashion—and we're still drooling over the fabulous dancing and the oh-so-fashionable costumes (two of our favorite things!).
But that's not all. This night was also a contest between five teams, each consisting of a Parsons fashion designer, New School composer and Joffrey Ballet School choreographer, who developed works with original music scores, choreography and costumes that were reconstructed from previous Louis Vuitton clothes and textiles.
The victorious piece, titled Chronogenesis, was choreographed by Angelica Stiskin; danced by Catie Leasca, Maria Rodriguez, Jaedon Thomson, Alex Hopp, Amy Patterson, Shay Saver, Carly Piotrowski, Kali Mikelson, Anna Simms and Michele Montana; composed by Arthur Hnatek; and costumed by Jack Burns, Kumie Asai and David Valencia. Congratulations!
What did they win? Oh, just a trip to Paris, including access to Louis Vuitton's workshop and the historic home of the Vuitton family. Oh là là!
Check out this awesome slideshow of the evening, complete with to-die-for costumes:
[slideshow_deploy id='20349']
Sep. 10, 2012 07:13PM EST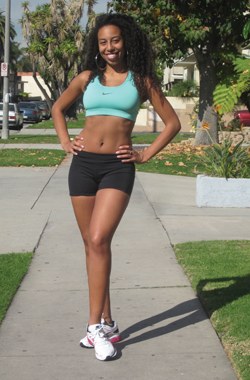 Maud Arnold (by Tadeo Arnold)
At DS we spend our days fawning over Lauren Froderman's fabulous legs, Ashly Costa's impressive abs and Maud Arnold's awesome curves—so naturally we wanted to know how these pros stay in such great shape. Turns out, they work hard to maintain their totally toned bodies. But they've also found ways to keep fitness fun. So what are their go-to exercises for feeling good and looking great? Read on!
Maud Arnold, tap dancer
Workout she swears by: Cuerpaso, a class designed by her brother, Tadeo, a celebrity fitness trainer. "It's a full-body workout that uses a soccer ball and Latin dance moves to tone all of your hot spots. Cuerpaso targets my 'problem areas'—my stomach, thighs and butt. Plus, my brother doesn't let me slack off, so I get results fast. I love being challenged physically, feeling like the workout is nearly impossible, and then realizing I'm actually able to do it."
How it helps her dancing: "It makes me stronger overall. If I can squat 45 pounds, holding my own weight tap dancing feels like a breeze. My core is solid, and I've built major stamina."
Her favorite way to get sweaty: "In tap class with lots of other dancers and no air conditioning. I feel like I'm accomplishing something when I'm dripping with sweat."
Her best fitness tip: "Being healthy is a lifestyle, not something you do when you feel like it. Commit!"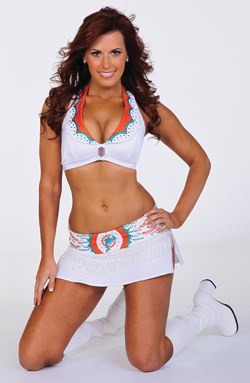 Amy (copyright Miami Dolphins, LTD)
Amy, Miami Dolphins cheerleader
Workout she swears by: Indoor cycling classes. "They give fast results and you feel great at the end of class. It's also up to you to choose how hard to push yourself."
How it helps her dancing: "We perform on the sidelines of every home game—that's up to four hours at a time. Cycling helps build endurance, which we need from the start of the game to the final seconds."
Her favorite way to get sweaty: "Going for a morning jog before the sun gets too brutal. It feels wonderful to exercise outside while enjoying a cool breeze."
Her best fitness tip: "If you want to be healthy inside and out, you need to give your body the natural fuel it needs: food! The foods you eat will ultimately get you the results you want. Treat your body with respect, and it will love you back."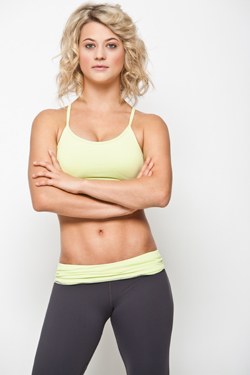 Lauren Froderman (by Vince Trupsin)
Lauren Froderman, winner, "So You Think You Can Dance" Season 7
Workout she swears by: "I love the elliptical machine!"
How it helps her dancing: "Having slim, strong legs improves my extensions and helps me move in a grounded, swift, powerful way. I get that from the elliptical."
Her favorite way to get sweaty: "I love trying different exercise classes, like Zumba, indoor cycling and barre method."
Her best fitness tip: "Stay hydrated and stay motivated. Results don't happen overnight, but you'll feel better every time you get up and do something to stay in shape."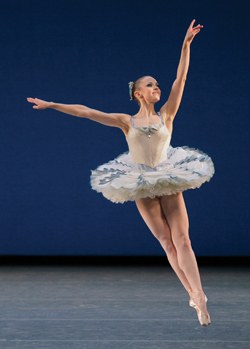 Anderson in George Balanchine's Divertimento No. 15 (by Paul Kolnik)
Marika Anderson, corps de ballet member, New York City Ballet
Workout she swears by: Gyrotonic, a holistic approach to exercise designed to increase strength, flexibility and energy.
How it helps her dancing: "It lengthens and strengthens my body, and it has taught me how to use my muscles differently. My trainer has a good eye and comes to the ballet often, so she can offer tips on how to strengthen certain areas."
Her favorite way to get sweaty: Bikram yoga.
Her best fitness tip: "Find something that inspires you and that you connect with. Otherwise, working out can be a struggle."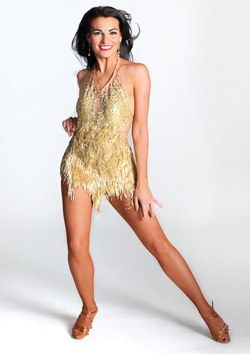 Ashly Costa (by Omi)
Ashly Costa, professional, "Dancing with the Stars"
Workout she swears by: Core work. "I do a mix of Pilates, planks with twists on each side and sit-ups on an exercise ball. I love the burn that comes from core exercises, and if you work consistently, you see real results."
How it helps her dancing: "As a dancer, your abs are some of your most important assets. Core strength helps you maintain good form and posture in all dance styles. Without a strong core, I can't dance my best."
Her favorite way to get sweaty: "Dancing the jive!"
Her best fitness tip: "Do something you love that also challenges you."
These Are A Few of Our Favorite Sweat Songs
Whether you're stretching or strength training, a good workout playlist can make all the difference in your moves—and your motivation! Here's what the stars are working out to right now.
•"Take Him Out" by Mya, featuring Spice; and "Diva" by Beyoncé —Maud Arnold
•"One minute I'll be rocking out to Jennifer Lopez and David Guetta, and then I'll switch to country songs by Luke Bryan. Any song with a great beat is perfect for working out." —Amy
•"Wild Ones" by Flo Rida, featuring Sia —Lauren Froderman
•"DJ Got Us Fallin' in Love" by Usher, featuring Pitbull —Ashly Costa
•"Anything by Billy Idol, Michael Jackson or The Beatles." —Marika Anderson
Jun. 08, 2012 02:53PM EST
On Sunday evening, you will find me curled up on my couch, eyes glued to the TV screen, demanding that anyone in my vicinity, "Please be quiet!"
Oh yes: It's Tony Awards time.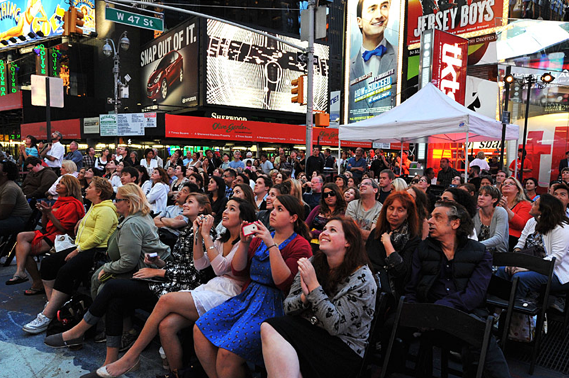 The Tony's are my favorite. I don't care about the red carpet, I don't care about who's wearing diamonds from which fancy jeweler — I care about the performances. And this year, I care about the host, the hilariously entertaining and always-on-his-toes Neil Patrick Harris.
It's guaranteed to be a good show since Harris has proven himself a superstar host. But I'm especially excited about one performance in particular: the Newsies. I'd like to see Newsies take home all the top awards this year because it's my favorite show right now. Once is another top contender in the Best Musical category, so be sure to check back here Monday morning for the full list of winners.
Until then, I'll be singing "Seize the Day" at the top of my lungs. You're welcome, coworkers.
In the spirit of the Tony Awards — and the fact that we just sent our July/August Broadway issue to the printer — I asked the DS staff to share their favorite Broadway songs.
Now, just for you, here's Dance Spirit's Ultimate Broadway Playlist...
ALISON'S FAVORITES:
"So Much Better" from Legally Blonde: The Musical

"96,000" from In the Heights

"Defying Gravity" from Wicked

"Seize the Day" from Newsies

"You Can't Stop the Beat" from Hairspray

"One" from A Chorus Line

"Seasons of Love" from RENT ("Classic.")

"Somewhere" from West Side Story

"I Believe" and "Tomorrow is a Latter Day" from The Book of Mormon
RACHEL'S "OhmygodIlovemusicals" FAVORITES:
"La Vie Boheme" and "Take Me or Leave Me" from RENT

"Dance Ten, Looks Three" and "Nothing" from A Chorus Line

"We Both Reached For the Gun" from Chicago

"The Circle of Life" and "I Just Can't Wait to be King" from The Lion King ("Anything Disney automatically jumps to the top of most of my playlists. There's nothing better on road trips.")
MARGARET'S FAVORITES:
"America" from West Side Story ("Best dance number ever.")

"If Ever I Would Leave You" from Camelot

"If I Loved You" from Carousel

"For Good" from Wicked

"I Dreamed a Dream" from Les Miserables ("I cry like a baby every time I hear it")

"Make 'Em Laugh" from Singin' in the Rain

"What I Did for Love" from A Chorus Line

"Fugue for Tinhorns" and "Adelaide's Lament" from Guys and Dolls
MICHAEL'S FAVORITES:
"The entire Rock of Ages soundtrack." Specifically "Don't Stop Believin'. "

"Steal Your Rock 'N' Roll" from Memphis
Happy downloading!
(Oh, and if you're like us and you're Newsies-obsessed, you may kind of love our upcoming July/August issue. Just saying...)
And don't forget to tune in to the Tony Awards this Sunday, June 10, at 8 pm on CBS.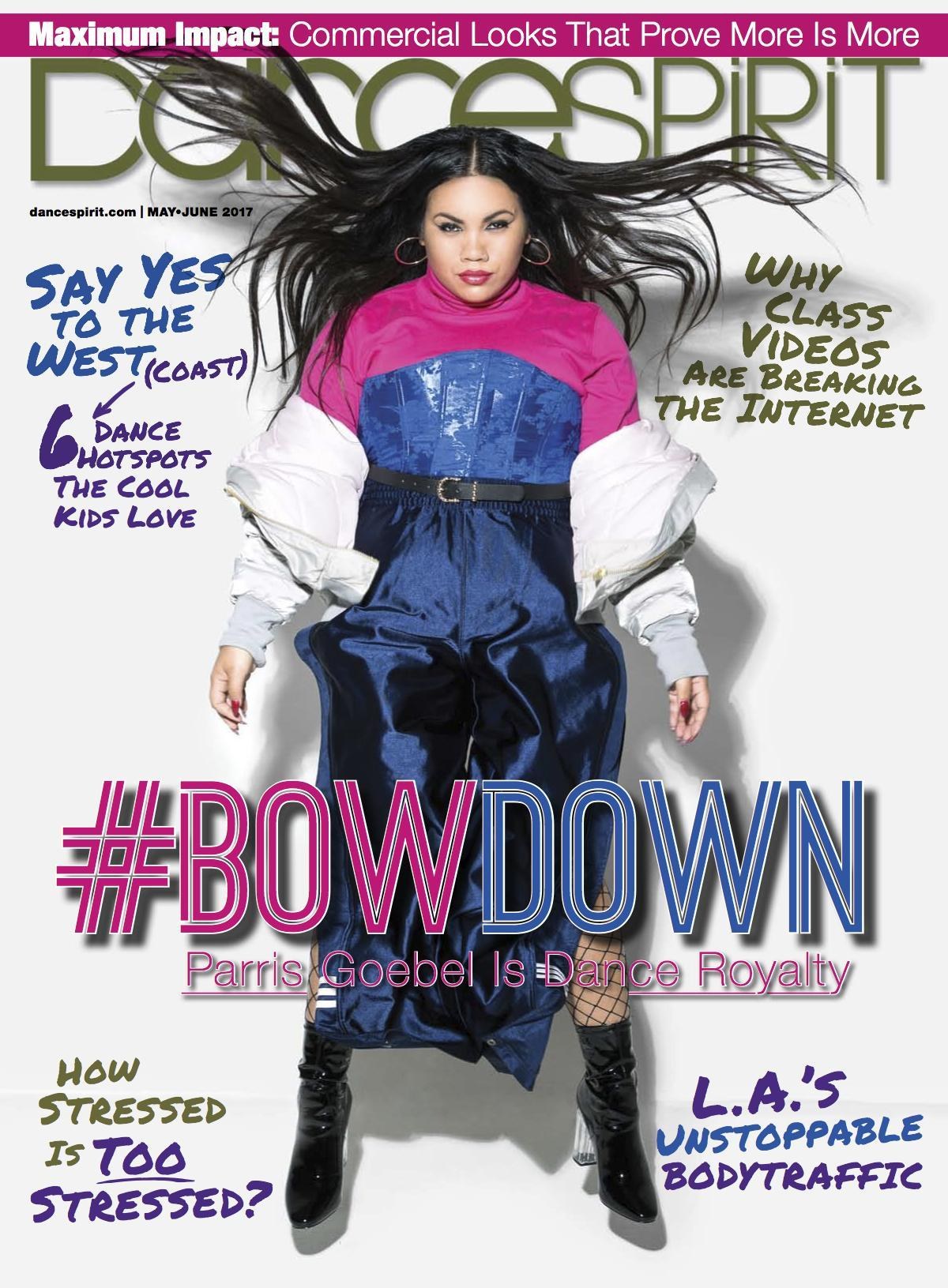 Get Dance Spirit in your inbox