Juliet Doherty (photo by Joe Toreno)
Keep reading...
Show less
Still from New York City Ballet's 2017-2018 season trailer
We've said it before and we'll say it again: dance and film are made for each other. In the past couple of years, ballet companies have used the medium to promote new work, creating "trailers" that give beautiful peeks at upcoming premieres. These short films reach many people who are unable to see the ballets performed live—and they definitely debunk the misconception that ballet is boring. Here are five of our all-time favorites.
Keep reading...
Show less
Keep reading...
Show less
Myles Thatcher, a choreographer and corps member at San Francisco Ballet, just keeps on winning. Not only has he made work for the SFB School and the main company, not only was he named one our 13 Hot Young Choreographers and not only did he just finish a year as renowned choreographer Alexei Ratmansky's protégé (!!!), but he also has two major premieres this year: One at New York City Ballet and one at The Joffrey Ballet. Whew!
The dance world can't get enough of Thatcher's work, and for good reason. His vision is sophisticated, mature and crowd-pleasing. If you're not able to make it to Chicago to see the premiere of the (yet-to-be-named) "New Thatcher" as part of the The Joffrey's "Millennials" program from September 16–20, check out this promotional clip from the company.
It features Joffrey stunners Jeraldine Mendoza and Victoria Jaiani, and it really gives you a sense of how cool, calm and collected Thatcher is during his creation process. Merde!
Each year around this time, the ballet companies of the world begin revealing the programming for their upcoming seasons. And every time a season-announcement press release lands in my inbox, I squeal like a kid on Christmas morning—because they're all full of delicious ballet goodies. Premieres! Revivals! Old favorites! YUM, YUM AND YUM.
New York City Ballet announced its 2015–2016 season yesterday—and it's scrumptious, you guys. There are 58 ballets on the lineup, featuring music by 47 composers. There are no fewer than seven (!) world premieres, including two from golden boy Justin Peck, one from up-and-comer Myles Thatcher and one from established genius Christopher Wheeldon. Balanchine's gorgeous Jewels is coming back, along with 27 other Balanchine ballets. The scale of it all is just so huge! AHHHHHHH.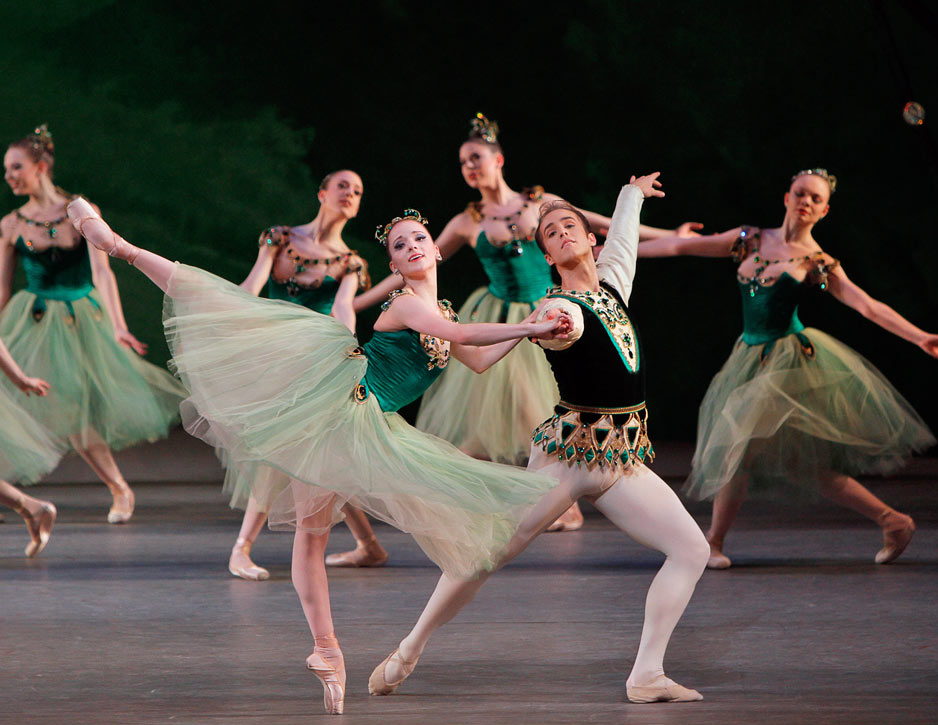 Abi Stafford and Jared Angle in "Emeralds" from Jewels *swoon* (photo by Paul Kolnik)
What am I most excited about? Well, I'm a Peck obsessive, so obviously his two premieres are at the top of my list. But get this: His new work for the spring season will actually be a story ballet, based on the Hans Christian Andersen fairytale The Most Incredible Thing. Just when I thought I'd nailed Peck down as a thoroughly modern guy, he goes and creates a narrative work! Love it. Also, three of the premieres will be created by people who've never choreographed for NYCB before: Thatcher, Canadian artist Robert Binet and the British-based Kim Brandstrup. I'm curious to see what their chemistry with the company will be like.
You can read about the full season lineup here. In the meantime, get excited for the company's nearer-at-hand spring season, which kicks off April 28. So much balletttttttttt!
Nov. 01, 2014 10:16PM EST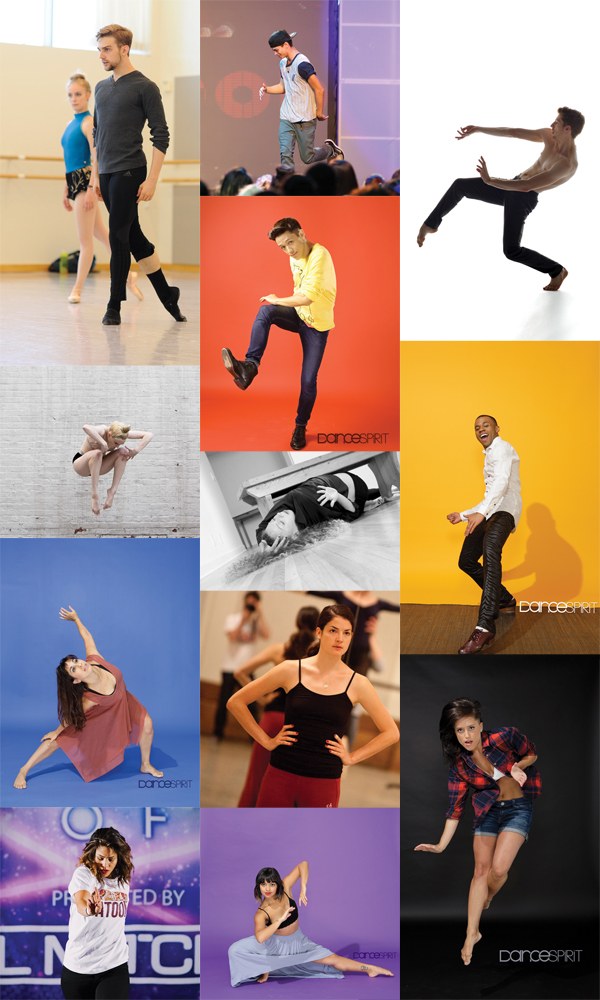 (From top: Erik Tomasson, courtesy San Francisco Ballet; Platoon, courtesy The Pulse; Michael Slobodian, courtesy Ballet BC; Jayme Thornton; David Kim, courtesy Emma Portner; Jayme Thornton; Travis Magee, courtesy Loni Landon; Jayme Thornton; Matthew Murphy, courtesy Emery LeCrone; Jayme Thornton; Courtesy Megan Batoon; Jayme Thornton)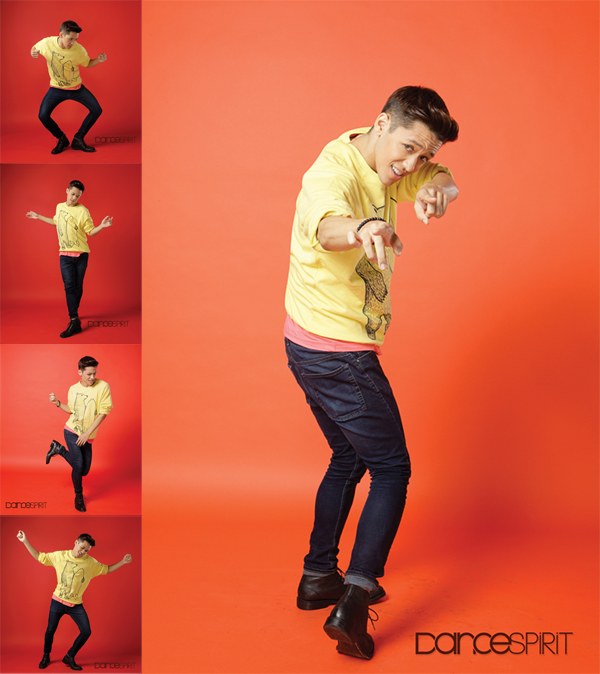 (Photos by Jayme Thornton)
Kyle Hanagami
"I feel like the one thing I was brought into this world to do is choreograph," Kyle Hanagami says. His millions of YouTube fans couldn't agree more. The 28-year-old phenom has crafted a style that ranges from hard hip hop to slow, sensual street jazz. He's got a flair for telling stories through movement on camera—whether it's a tale of lifelong friendship (his incredibly sweet video set to "Boom Clap") or heartbreak and forgiveness (his poignant take on "Say Something"). During the past year, Hanagami has also produced a new series, "Making Moves," for his YouTube channel, which gives viewers a peek at the choreographic process behind each of his videos and the lives of the dancers he's closest to. "These dancers are my best friends, and they prove that there's not one path to success—there's no 'right' way to be a dancer," he says. "It's about showing people role models they can relate to."
But Hanagami is more than an internet sensation. A popular teacher in L.A. and on the Velocity Dance Convention circuit, he also acted as supervising choreographer—alongside Tabitha and Napoleon D'umo—for Move Live on Tour, starring Derek and Julianne Hough. "Usually choreographers work with dancers who are there to back up non-dancer stars," Hanagami says. "But it was amazing to be involved in a project where dance was the main act." And he's not stopping there: His next step, he says, is choreographing for TV.  —Rachel Zar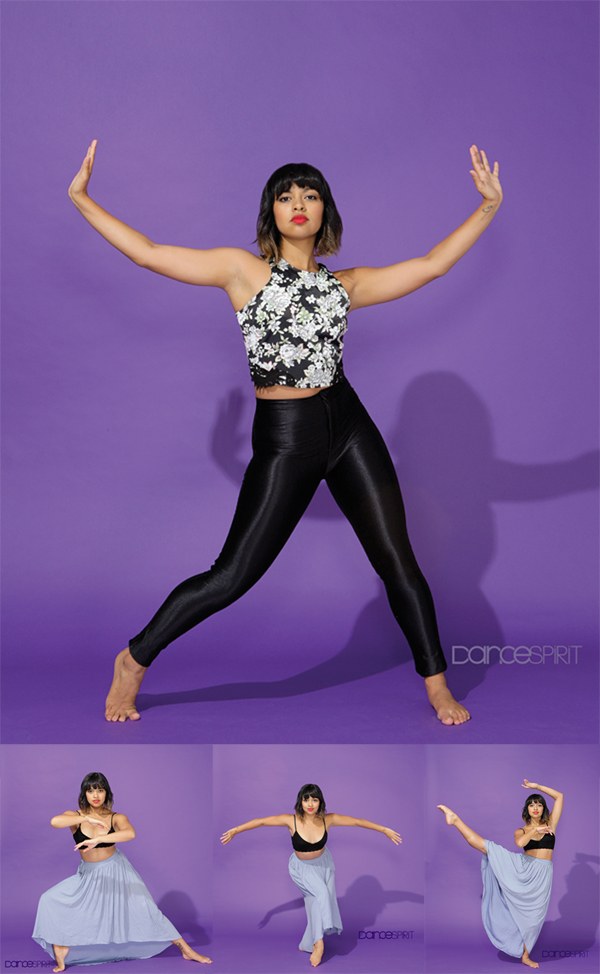 (Photos by Jayme Thornton)
Ellenore Scott
Before she started choreographing, Ellenore Scott had quite the performance resumé: A Top 4 dancer on "So You Think You Can Dance" Season 6, she'd also danced alongside Janet Jackson and on TV shows like "Dancing with the Stars" and "Smash." But she felt something was missing. "Choreographer Josh Bergasse asked me to help with pre-production for an episode of 'Smash,' " says Scott, now 24. "When I realized I was more excited about that process than being on TV, I knew it was time to shift my focus to choreography." In 2012, Scott started her own company, ELSCO Dance, which performed in L.A., NYC and at the Boston Contemporary Dance Festival this year. She's known for infusing hip-hop fundamentals into lyrical movement, creating work that's at once fluid and accented. For the past two years, Scott has also headed the Breaking Glass Project, a mentorship initiative for emerging choreographers that aims to promote leadership among women in dance. "There are so many female choreographers, but they don't always get the same exposure as men," she says. "I want to change the game for us."
—Jenny Dalzell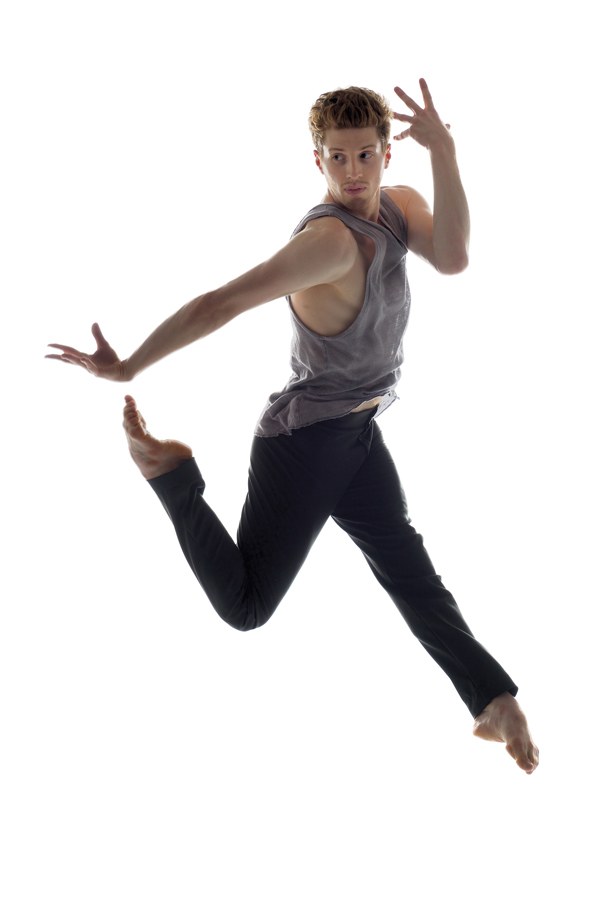 (Photo by Michael Slobodian, courtesy Ballet BC)
Andrew Bartee
Technically speaking, Andrew Bartee has been a choreographer since he was a little kid. "I've always been interested in making things—and I've always been really bossy," says the former Pacific Northwest Ballet corps member. "I used to create dances for my little brothers and force them to perform for my parents in the backyard." These days, Bartee's dances are a little more high-profile: He made arms that work for PNB in 2012, has choreographed several pieces for Seattle-based contemporary company Whim W'Him and has experimented with site-specific works, using beaches and mountaintops as his stages. The 24-year-old's choreography, like his dancing, is loose, liquid, gently witty. "I'm still figuring out what my style is, but what I'm really interested in is humanness—the ways we express who we are," he says. Bartee recently joined Vancouver's Ballet BC, and is currently participating in the company's choreographic lab.
—Margaret Fuhrer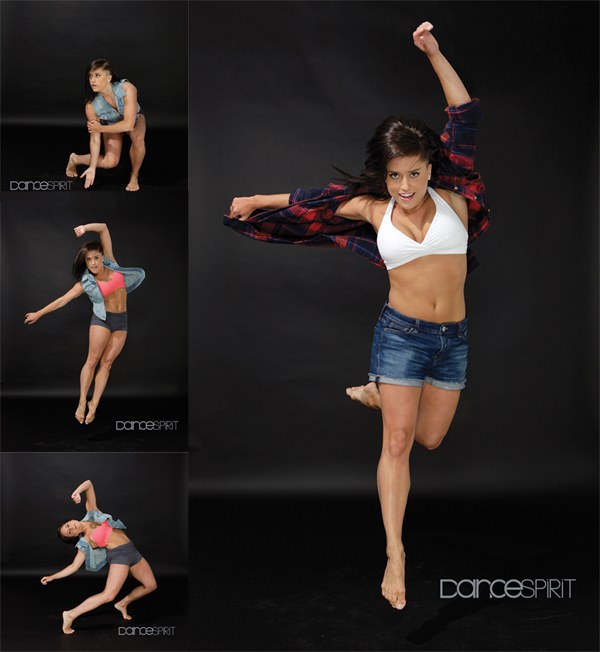 (Photos by Jayme Thornton)
Jaclyn Walsh
"I love seeing dancers as people, not as superhuman gods or goddesses," says 26-year-old Jaclyn Walsh. But her choreography—high-momentum, dizzying, technically virtuosic—can sometimes make her perfor-mers look like superheroes. In addition to presenting work at the Capezio A.C.E. (Award for Choreographic Excellence) Awards, the Boston Contemporary Dance Festival and NYC's Young Choreographer's Festival, Walsh is also a longtime dancer with NYC-based Keigwin + Company, where she's known for her larger-than-life onstage persona. Thanks to the influences of her own dance career, Walsh's choreography requires dancers to be as well-versed in postmodern floor work as they are in competition-style contortion. "It's a good challenge to bring your own voice to a dance role," she says. "And creating roles that cater to my dancers is the catalyst for my inspiration."  —Nicole Loeffler-Gladstone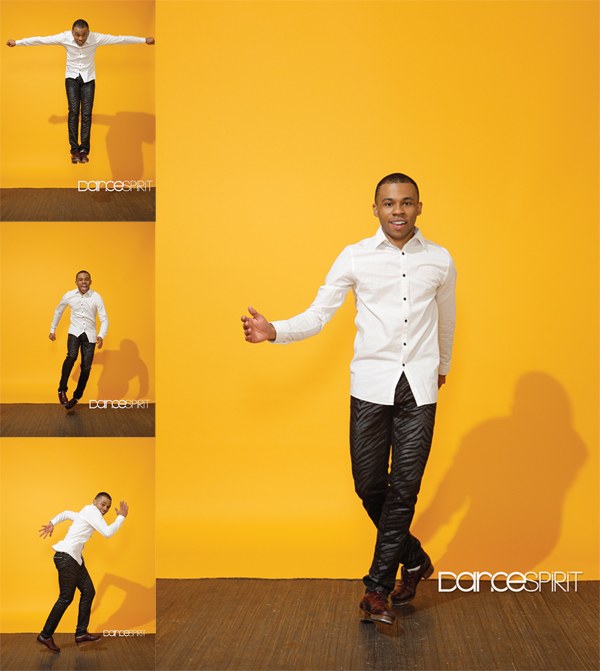 (Photos by Jayme Thornton)
Cartier Williams
Cartier Williams started out as a tap prodigy, performing in the touring cast of Bring in 'da Noise, Bring in 'da Funk and working with icons like Savion Glover, Gregory Hines and the Nicholas Brothers. But it wasn't until Williams, now 25, took a moment to step away from tap—when he attended the New York Film Academy in 2010—that he really caught the choreography bug. "After learning so much about directing and creating narratives," he says, "I realized I wanted to do that with tap." Williams debuted his first evening-length work, Rhythm Refix, at Joe's Pub in NYC in 2011, incorporating a DJ, a rap artist and his signature lightning-fast footwork. "My upbringing in tap focused on letting tap be the music," he says. "But too much of that can get boring. I want my work to be more dramatic." With that in mind, Williams will present his newest piece, a tap (and ballet, and hip-hop, and modern dance) version of Peter and the Wolf, this month at The Egg Center for Performing Arts in Albany, NY.  —JD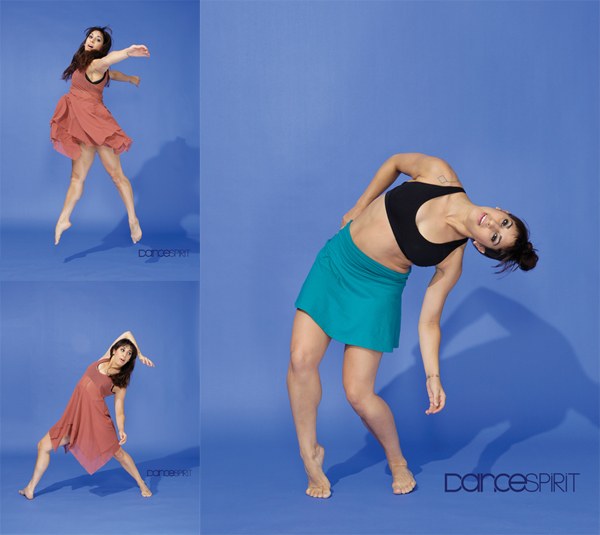 (Photos by Jayme Thornton)
Cat Cogliandro
Cat Cogliandro's best qualities as a dancer—her technical strength, attention to detail and love of risk-taking—have all influenced her work as a choreographer. The 27-year-old has assisted Sonya Tayeh on multiple projects, including Seasons 10 and 11 of "So You Think You Can Dance," and her choreography shares Tayeh's intense musicality: It's full of quirky gestures accentuating every lyric and strum of the guitar. "I love seeing music come to life and watching people's eyes get big," she says. "Whether it's a piece about a relationship or a dark comedy about kids at a birthday party, I want the audience to be entertained, and to leave saying 'Oh, I know exactly how that feels.' " Her company, catastrophe!, has performed in shows throughout NYC and L.A., including the Young Choreographer's Festival and The PULSE NYC Final Night Gala. You can find Cogliandro teaching at Broadway Dance Center in NYC and at EDGE Performing Arts Center and Movement Lifestyle in L.A.
—Sophie Moyer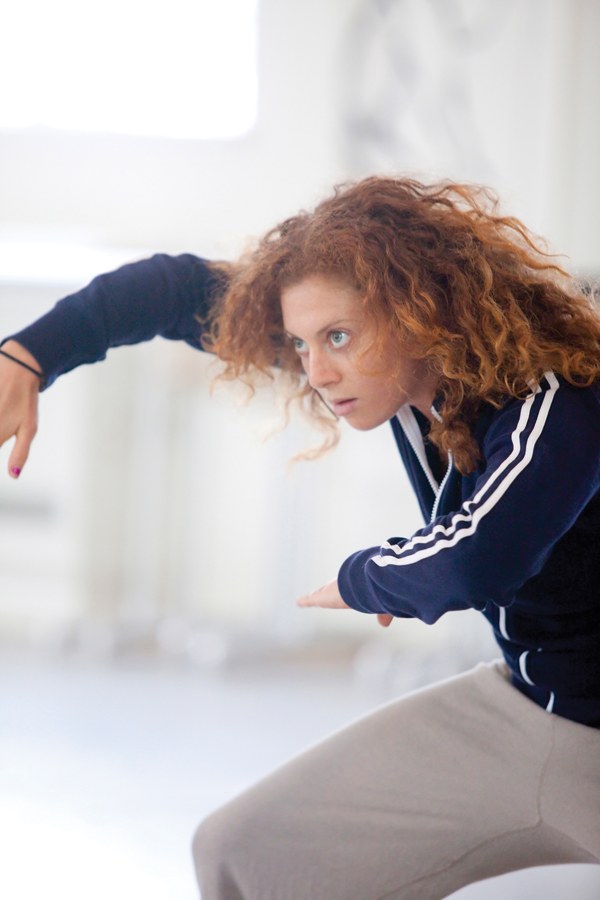 (Photo by Blaine Truitt, courtesy Northwest Dance Project)
Loni Landon
Loni Landon's choreography is all about building tension. She plays with the kind of opposites—grounded partnering and light, subtle weight shifts, supple spines and slicing limbs—that are only successful in the hands of a confident artist. "I'm interested in the emotion of everyday life," Landon says. "I take it and enhance it when I create." Winner of the Princess Grace Award for choreography in 2013, 30-year-old Landon has been steadily in demand during the past few years: Since 2010, she has created dances for Northwest Dance Project and BalletX, and her work has been performed at Jacob's Pillow. Landon is also co-founder of The Playground, a movement lab in NYC where dancers can learn from emerging and established choreographers. Having danced with Ballet Theater Munich and Tanz Theater Munich in Germany, Landon is currently performing with the Metropolitan Opera in NYC, and credits becoming a choreographer to her own increased fearlessness as a dancer. "I'm not as timid as I used to be," she says. "I want to work with people who aren't afraid to speak up."  —NLG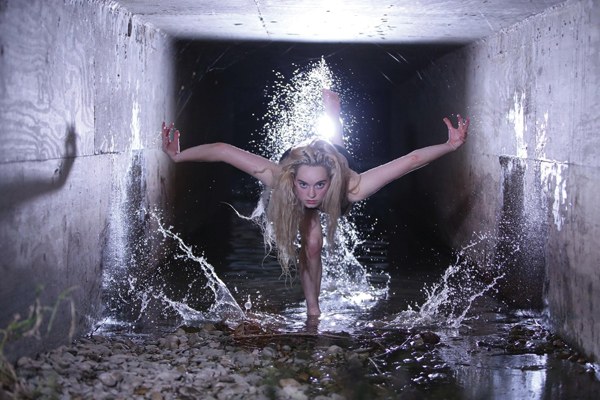 (Photo by Chris Reilly, courtesy Emma Portner)
Emma Portner
Watching Emma Portner's choreography almost requires a suspension of disbelief: Can it really be that precise? That quick? That powerful? Her intricate, gestural work requires the coiled energy of a large predator. Since moving to NYC in 2012, Portner, now 19, has had two big breaks. The first came when her video "Dancing in the Dark," choreographed with collaborator Matt Luck, went viral on YouTube in fall 2012. Specifically made for the camera, the dance is breathtakingly musical—Portner and Luck seem to be channeling sounds directly through their bodies. Her second major moment came in early August of this year, when she was named second runner-up at the 2014 Capezio A.C.E. Awards for her piece Let Go, Or Be Dragged. She'll use the $3,000 prize to produce a 2015 show for her company, Flock'dance.  —NLG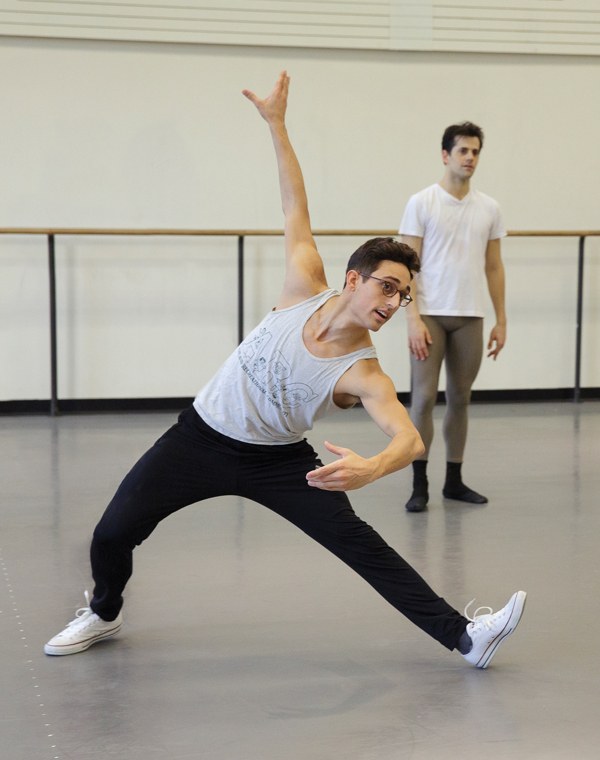 Justin Peck in rehearsal at New York City Ballet (photo by Paul Kolnik, courtesy NYCB)
Justin Peck
These days, it feels like every dance company in the world wants a piece of (or, more accurately, a piece by) Justin Peck. The 27-year-old New York City Ballet soloist has already made ballets for Miami City Ballet, Pacific Northwest Ballet and L.A. Dance Project—and that's in addition to the seven (!) pieces he's created for his home company. It's not hard to see why Peck is so popular: His brain seems to be constantly brimming with innovative twists on the classical vocabulary, phrases and images that make audiences literally gasp with surprise. He's especially good with large groups of dancers—Everywhere We Go, which premiered at NYCB last spring, featured a cast of 25—and with the works of indie singer-songwriter Sufjan Stevens, his musical partner in crime. Peck was recently named NYCB's resident choreographer, which means we'll be seeing a whole lot more of his ambitious work in the years to come.  —MF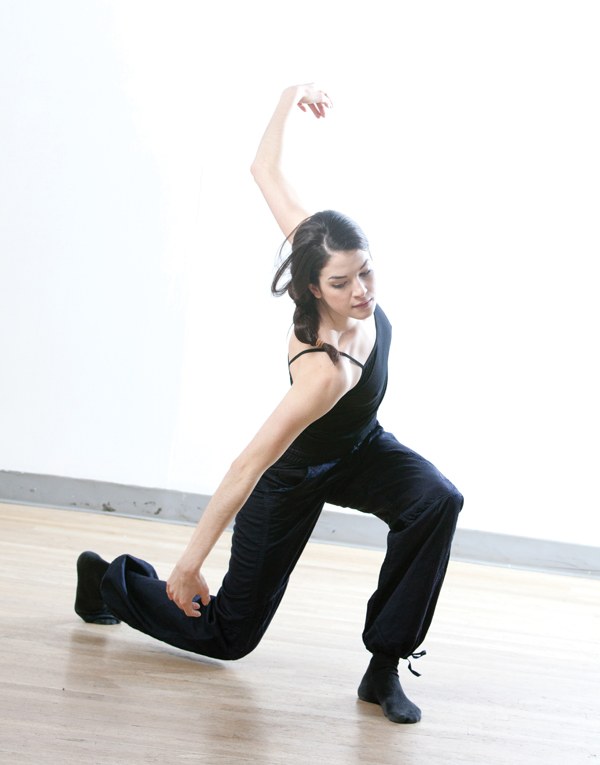 (Photo by Matthew Murphy, courtesy Emery LeCrone)
Emery LeCrone
She's just 28, but Emery LeCrone already choreographs with the polish and skill of a seasoned veteran—because she is one. A classically trained dancer currently performing with the Metropolitan Opera in NYC, LeCrone created her first ballet in 2006 and has since made more than 50 pieces for companies including Oregon Ballet Theatre, Colorado Ballet and Saint Louis Ballet. She's a sharp, cerebral choreographer; as you watch her dances, you can sense the inquisitive mind behind them. LeCrone has put that intelligence to work as an instructor at prestigious schools, including Columbia University, and in some fascinating brainteaser projects for the Guggenheim Museum's Works & Process program. (Earlier this year, for example, Works & Process tasked her with making two dances—one balletic, and one contemporary—to the same piece by Bach.) She'll premiere her latest creation for the Saint Louis Ballet this February.  —MF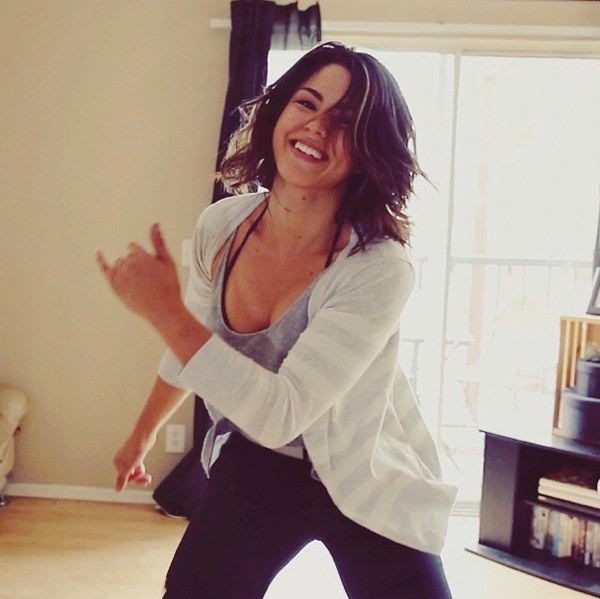 (Photo courtesy Megan Batoon)
Megan Batoon
Twenty-three-year-old hip-hop choreographer Megan Batoon is taking the internet by storm. Her YouTube channel boasts over 200,000 sub-scribers and 10.5 million views, thanks to the impeccable musicality and flair for humor that make her videos so addictive. The Florida native first started making waves in 2011, when her choreography for the former Collaboration Kids Dance crew took home first place at Prelude South Urban Dance Competition—sending the all-female crew to Hip Hop International in Las Vegas. In 2012, hip-hop company/competition World of Dance hired Batoon to host its online news show, #WODWeekly, and Batoon has since been featured as a guest performer and teacher on the WOD tour. What's next? "I want to find a way to bridge the gap between my passions for choreography and comedy—hopefully on TV," Batoon says. In the meantime, be on the lookout for her work in commercials for some major brands.
—Maggie McNamara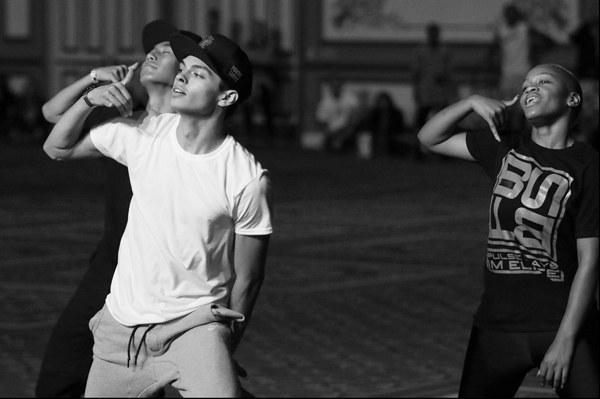 (Photo by Platoon, courtesy The Pulse)
Ian Eastwood
When Ian Eastwood posts a new video to YouTube, his female-dominated fan base—well over 300,000 subscribers—goes wild. That's no surprise: Eastwood's style is the definition of smooth, with his own penetrating performance quality amplifying his effective use of gesture and level changes. But the 21-year-old is gradually moving beyond YouTube: "I've gotten a lot of recognition in the past, but it was really just because I was this kid who posted a bunch of videos online," Eastwood says. Now, his resumé includes music videos for major pop stars, including Zendaya ("Replay"). Most recently, Eastwood was appointed supervising choreographer for the upcoming dance film Breaking Through, directed by John Swetnam (Step Up: All In) and produced by John Legend. Despite his packed schedule, he continues to teach—he's on faculty at The PULSE on Tour—and perform. Look out for his swagger in the upcoming dance film High Strung, set for release in 2015.  —MM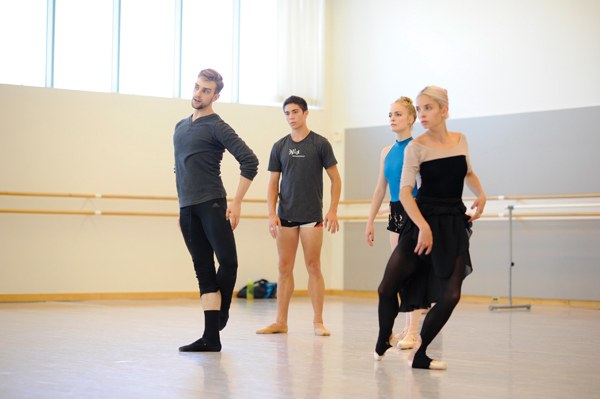 Myles Thatcher in rehearsal at San Francisco Ballet (photo by Erik Tomasson, courtesy SFB)
Myles Thatcher
At first, Myles Thatcher's ballets look like exercises in abstraction, full of distinctive movement motifs and kaleidoscopic patterns that seem to exist for themselves alone. Look closer, though, and you'll see the emotion pulsing just beneath the surface. "I'm always trying to explore facets of human relationships, even if they make it to the stage in a way that's not very literal," says the 24-year-old San Francisco Ballet corps member. "Frequently the dancers and I will create a storyline that the audience won't necessarily recognize, but they'll still feel its dynamics." One of the ballet world's greatest storytellers, Alexei Ratmansky, has already singled out Thatcher's choreographic work: He selected Thatcher as his 2014–15 Protégé through the Rolex Mentor and Protégé Arts Initiative. "Alexei cares deeply for the artform, and he's given me so much food for thought," Thatcher says. Thatcher's work has also caught the eye of SFB artistic director Helgi Tomasson, who's asked him to make his first ballet for the company, set to premiere in February.  —MF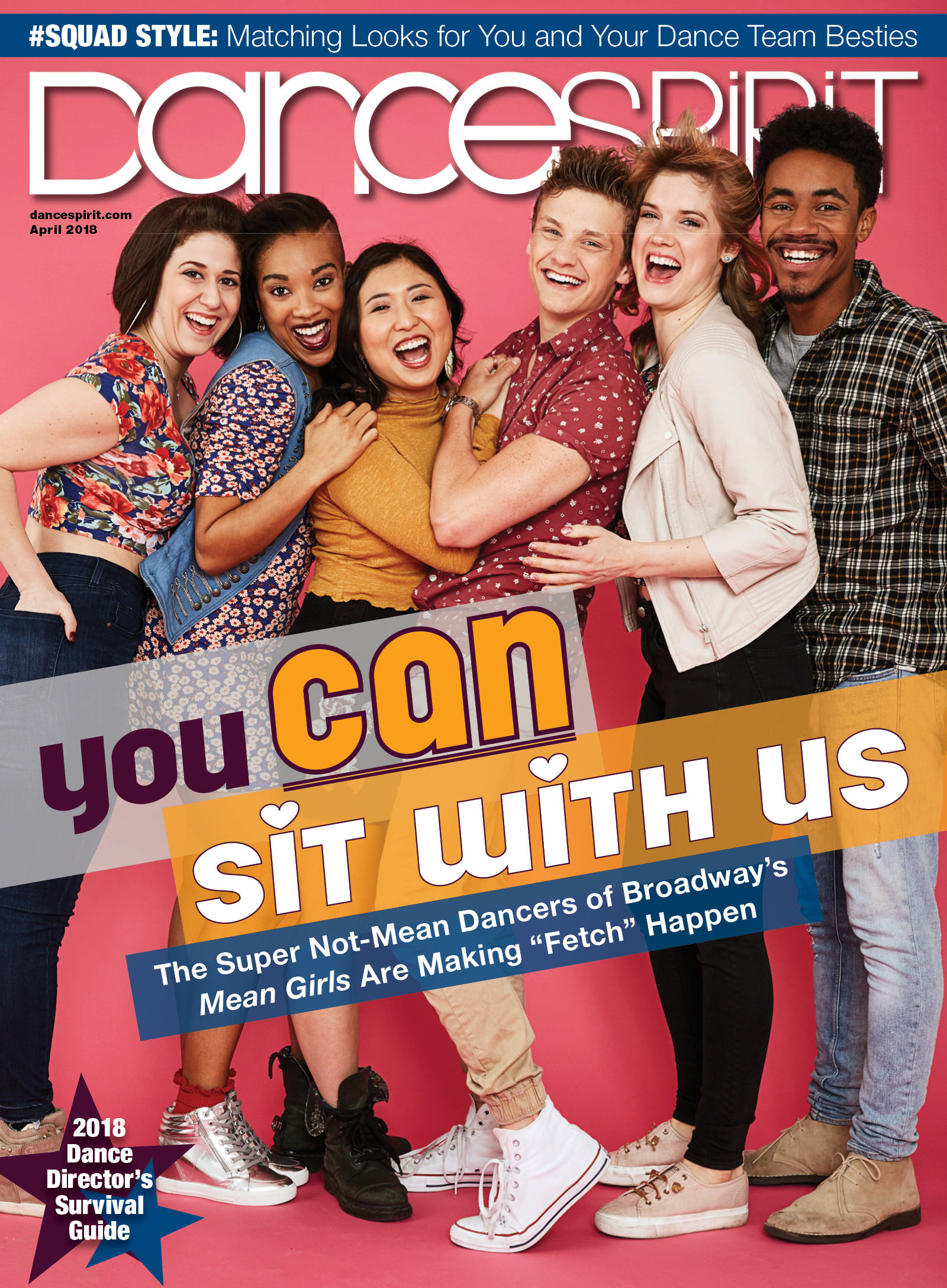 Get Dance Spirit in your inbox