Mar. 23, 2017 10:59AM EST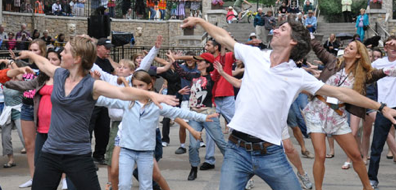 Dancers (including director Damian Woetzel, right) rocking out at the Vail International Dance Festival. Photo by Caitie Kakigi.
National Dance Day is this Saturday, July 27—and the town of Vail, Colorado, home of the awesome Vail International Dance Festival, is celebrating in style with a three-hour dance-a-thon fundraiser. (It'll benefit four dance-y organizations, including the Festival.)
While anyone and everyone is invited to participate, the event boasts some serious dancelebrities, too. There'll be performances by Vail IDF artists Tiler Peck, Robert Fairchild and Lil Buck, and internet sensation Matt Harding (from the great/hilarious "Where the Hell is Matt?" series) will be filming for his next video during the event. Not sure your moves are up to par? Lessons in everything from hip hop to line dancing will also be given throughout the day.
The dance-a-thon will run from 4-7 pm at the Solaris Plaza in Vail Village. But non-Coloradans can get in on the National Dance Day fun, too! Click here to learn the official NDD routines, and visit the NDD Facebook page to find dance-y events happening near you.
Jul. 30, 2016 11:00AM EST
At long last, our favorite day of the year has arrived: National Dance Day! Even though we know all of your lives are all dance, all the time, there's still something special about having an entire day devoted to the greatest thing ever. (And we especially love to see how everyone celebrates on social media!) If you aren't hyped yet, then you will be after watching the official 2016 National Dance Day choreo video, with some of our favorite "SYTYCD" all-stars (and Mackenzie Ziegler) leading the way. Check it out below, and make sure to tag us in all of your adventures on Instagram. Happy dancing!
Jul. 25, 2015 03:00PM EST
Happy National Dance Day, fellow dancers! We asked you the other day how you'd be celebrating our favorite holiday, and while it seems like a lot of you will be taking classes, performing and dancing anywhere and everywhere you can, we're here to suggest an alternative: Ballet binge-watching marathon, anyone?
Nothing's more frustrating than searching for a ballet on YouTube only to find a bunch of short clips. Well, we've done the hard work for you! Behold, our National Dance Day YouTube roundup of the best ballets presented in their entirety. Excuse us while we sit in a dark room with a bowl of popcorn for the next 8 hours:
1. Paris Opéra Ballet performing Jerome Robbins' Dances at a Gathering
This beautiful, light and energetic piece by Robbins is set to a gorgeous Chopin piano score. The stunning étoiles of the Paris Opéra Ballet effortlessly dance their way through this technically demanding choreography—and they do it with grace, musicality and presence.
2. Paris Opéra Ballet performing George Balanchine's Agon
Another stunning display of artistry from POB. This Balanchine classic is widely considered to be one of ballet's most timeless, masterful works.
3. The former Kirov Ballet performing Swan Lake
Yulia Makhalina absolutely shines as Odette/Odile in this Kirov Ballet production of Tchaikovsky's classic Swan Lake.
4. Svetlana Zakharova and Roberto Bolle in Giselle
Superhuman Zakharova and her drool-worthy feet are picture-perfect in the Bolshoi's version of Giselle. Throw Roberto Bolle and his star quality into the mix and you've got an hour and a half of ballet brilliance.
5. George Balanchine's Tchaikovsky Pas de Deux 
The sublime Darcey Bussell and Zoltán Solymosi dance Balanchine's 8-minute piece, filled with excitement, fish-dives and fouettés.
Jul. 26, 2014 11:00AM EST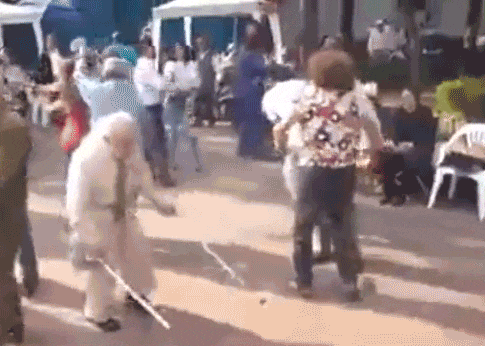 This newly viral dancing grandpa has the right idea.
First things first: Happy National Dance Day!
One of our favorite things about today is that everyone—young or old, trained or untrained, graceful or clumsy—is encouraged to drop everything and dance. And while most of us don't have canes to throw in celebration of this most glorious of days (seriously, how awesome is this guy?!), we do have something else to toss aside: our phones.
Mari Madrid and Chris Martin of Choreo Cookies really say it best in their new video, "Virtual Insanity." It asks: What would happen if we all put our phones, tablets and laptops aside for a sec? Would we find a better way to connect with one another? Call us biased, but we think the ensuing flash mob pretty much tops any text, Facebook post, tweet or Instagram.
So here's our challenge for today: Lose the phone, lose the tablet, lose the laptop (unless you're using it to learn the official NDD routines, of course), and make today all about dance!


Get Dance Spirit in your inbox