Mar. 23, 2017 05:25PM EST
It's officially Nutcracker season, and you know what that means: Snow! Sugarplums! Hot chocolate! 40-foot tall Christmas trees!
This year, Boston Ballet took their performance previews to the next level. Their "Frozen Snowflakes" video captures the spirit of the snow scene from every angle imaginable by using awesome 3-D imagery. (ABT just used a similar method with a 360-degree camera for its backstage tour of Lincoln Center). We rounded up our favorite GIFs from the video, and be sure to check it out in full here!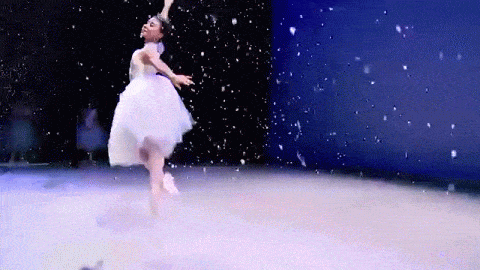 <3 <3 <3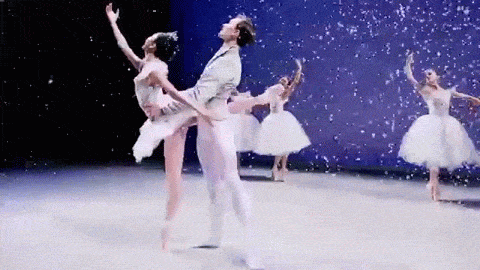 Wheeeee!!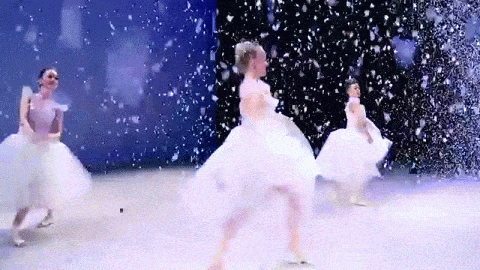 Mar. 23, 2017 11:58AM EST
A few weeks ago, The Huffington Post did a piece on dancer fashion at New York City Ballet. Now they have an up-close-and-personal look at the backstage world of the company's Nutcracker.
While some of it is a little basic for those of us well-versed in the world of Nut, other bits are totally fascinating. Yes, you already know how to apply stage makeup. But have you seen Ashley Bouder apply her stage makeup? And yes, you know that costumes always look better from the stage than they do up close. But did you know that one of the reasons NYCB's costumes are dingy is because they're iconic designs Barbara Karinska created 60 years ago, and replacing them requires hunting down specific fabrics and trims that may no longer exist?
We've posted some of our favorite photos from the piece below. You can find the whole story here.
(All photos Raydene Salinas/HPMG)
[portfolio_slideshow nowrap=0 thumbs=true timeout=4000 showtitles=true showcaps=true showdesc=true]
Dec. 27, 2016 12:00PM EST
Nutcracker is always a bit of a slog. But in the days between Christmas and New Year's? Ayyyyyyyy. Sure, the end of the run is in sight, but that also means you've already put your poor feet through dozens of shows. And without all the holly-jolliness of holiday shopping and cookie baking and present wrapping to distract you from how much your body hurts, YOUR BODY HURTS SO DARN MUCH.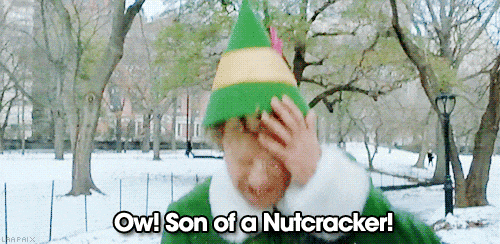 MOOD.
That's why we've rounded up our top five Nutcracker survival tips. Because you need them more this week than ever. Because with a little bit of self-care and a lotta bit of mental steeling, you can do it.
1. Eat smart. You need to fuel that aching instrument of yours properly! Try following former San Francisco Ballet and current Dutch National Ballet dancer Kristina Lind's Nutcracker diet, which involves lots of fish, fresh vegetables and healthy snacks.
2. But also, eat more cookies. Take a tip from former Boston Ballet and now American Ballet Theatre principal Jeffrey Cirio: Cookies are delicious, and boy, have you ever earned them.
3. Mix up your makeup. Have a little fun with it! Why not try out the SUPER big fake lashes for show #30? Or add a little shimmer to your skin for show #35? Boston Ballet principal Lia Cirio (yup, she and Jeff are siblings—so cute) is all about glitter: "I love getting to sparkle for the audience, especially the children."
4. Play a Nut brain game. When Kathryn Morgan was doing 40+ Nutcrackers a year with New York City Ballet, she and her castmates would fight the doldrums by thinking of a "theme" for each performance. "We might say, 'Tonight, everyone dance as your favorite Disney princess!' Or, 'Let's be kids playing in the snow on Christmas morning!' " How fun is that?
5. Remember that each and every show, someone in the audience is seeing ballet for the first time. More words of wisdom from Lia C: "Nutcracker helped me fall in love with ballet, and now I'm living my dream. Who knows–I could be helping someone else's dreams come true!"
Merde, all you special Snowflakes!
Dec. 25, 2016 12:00PM EST
If there's one thing we can't get enough of, it's ballerina makeup tutorials. And this Christmas, Elle has gifted us with an amazing look at five NYCB dancers' Nutcracker looks. Unsurprisingly, these ladies are pros—after all, they dance in around 50 performances, which means lots of time to perfect their looks! From Sugarplum Fairy to Snow, watch these dancers transform before your eyes.

Lauren Lovette's lovely Sugarplum Fairy look (photo by Kathryn Wirsing, via Elle)


Get Dance Spirit in your inbox