Every ballet dancer knows the time, sweat, and occasional tears the art form demands. But many non-dancers are clueless about just how much work a ballet dancer puts into perfecting his or her dancing. So when the mainstream crowd recognizes our crazy work ethic, we'll accept the round of applause any way it comes—even if it comes via four men in tutus. Yep, we're talking about "The Try Guys Try Ballet" video.
Keep reading...
Show less
Shwetali Sapte, courtesy Boston Ballet
Yes, Dance Spirit, there really is a Santa Claus. And we've got proof—namely, the delightfully silly stunt Boston Ballet's Nutcracker Bear pulled off last week to celebrate the start of ticket sales for BB's 2017 production of the holiday ballet classic.
Keep reading...
Show less
It's officially Nutcracker season, and you know what that means: Snow! Sugarplums! Hot chocolate! 40-foot tall Christmas trees!
This year, Boston Ballet took their performance previews to the next level. Their "Frozen Snowflakes" video captures the spirit of the snow scene from every angle imaginable by using awesome 3-D imagery. (ABT just used a similar method with a 360-degree camera for its backstage tour of Lincoln Center). We rounded up our favorite GIFs from the video, and be sure to check it out in full here!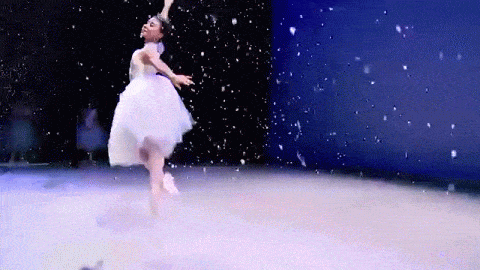 <3 <3 <3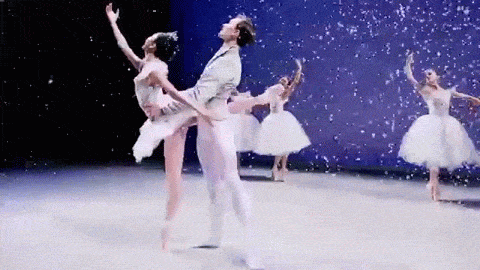 Wheeeee!!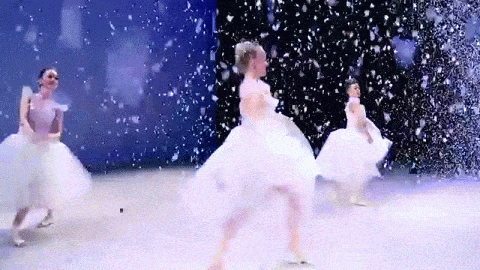 Mar. 23, 2017 07:58AM EST
A few weeks ago, The Huffington Post did a piece on dancer fashion at New York City Ballet. Now they have an up-close-and-personal look at the backstage world of the company's Nutcracker.
While some of it is a little basic for those of us well-versed in the world of Nut, other bits are totally fascinating. Yes, you already know how to apply stage makeup. But have you seen Ashley Bouder apply her stage makeup? And yes, you know that costumes always look better from the stage than they do up close. But did you know that one of the reasons NYCB's costumes are dingy is because they're iconic designs Barbara Karinska created 60 years ago, and replacing them requires hunting down specific fabrics and trims that may no longer exist?
We've posted some of our favorite photos from the piece below. You can find the whole story here.
(All photos Raydene Salinas/HPMG)
[portfolio_slideshow nowrap=0 thumbs=true timeout=4000 showtitles=true showcaps=true showdesc=true]


Get Dance Spirit in your inbox