Mar. 23, 2017 08:34AM EST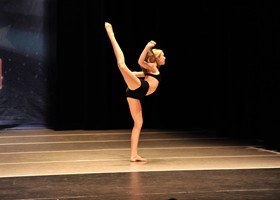 Katie performing a solo routine. Photo courtesy The Dance Zone.
At 16, Katie Wolfe's life revolves around competitions and conventions. When she isn't competing in her hometown of Las Vegas, she's traveling to competitions around the country with her studio, The Dance Zone, or taking extra dance classes to hone her technique.
Katie knows what she wants—a professional dance career—and she's making some big sacrifices to achieve it. She even made the controversial decision to homeschool this year instead of continuing to attend her local public high school. Read on to learn how Katie navigates the fast-moving comp scene while keeping up with her schoolwork and non-dance friends. —Ashley Rivers
A Day in the Life
While most of my friends wake up and head straight to school, an average day for me starts with my job, babysitting from 7 am until 8:30 am. Then I come home to begin my schoolwork. This year I started online schooling, which I love. I have seven classes and I meet with my teacher in person on Thursdays.
Up until the middle of last year, I went to a public school where I was in all honors classes. But on top of my dance schedule—I'm at the studio from 2:30 to 8 pm on weekdays and from 8 or 9 am to 3 pm on Saturdays—school was just way too much stress for me. My parents could see how hard I was working to keep up, so they agreed to let me try homeschooling. I'm still getting all the credits I need to go to college and I plan to graduate this June, a year early.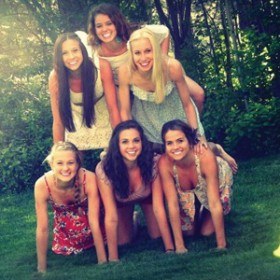 Katie relaxing with girlfriends in Tahoe, CA. Photo courtesy Susan Wolfe.
The biggest challenge about online school is making yourself actually do the work every day. It takes a lot of self-motivation, but I'm pretty good about it. And since I have dance, I really don't miss the social scene at school.
At The Dance Zone, we take ballet every day no matter what, even though we don't compete ballet pieces. It's the base of all dance technique, so it lays the foundation for everything we do. We take a lot of jazz, too, plus some hip hop and tap. I love competing and the rush that comes with it, but I also enjoy taking classes at my studio because that's when I'm growing the most.
In class, my peers inspire and push me every day. If we see someone taking risks in a combination, that inspires us to take even more risks ourselves. And then we get so much out of just a simple class combination. Most of us plan to make dancing a career, so we save the joking and laughing for outside the classroom. It's a really positive, supportive atmosphere, and we always try to set a good example for the new, younger dancers on the team.
The Heat Is On
Every fall, our studio brings in guest choreographers like Jacki Ford, Joey Dowling or Andy Pellick, who teach us most of our competition dances for that year. For each routine, the choreographer will come in and teach the piece in one or two days—about five hours total. Then it's up to us to spend the year cleaning and perfecting the routine. When we work with a choreographer for the first time, sometimes we'll have to practice for months to perfect his or her style. After we learn the piece, we take notes or write down counts so that we can remember them later in rehearsals. That's the hardest part—perfecting our timing and style so that we match each other. But we practice so much that by the time we get onstage, it's in our bodies—we can't forget it.
Our dance teachers do all of the casting before the choreographers arrive. At the beginning of every year, we fill out a form saying whether we want a solo or if we'd be interested in a duo or trio. Then they watch and see who looks best together and make their decisions.
There's never any drama. Our teachers are really good about fixing any issues that come up right away and not making a big deal about it. Everyone is super-positive and very kind.
In all, I'll probably compete eight or nine dances this year—a solo and trio in addition to group numbers. I think competing a solo is a lot less stressful than a group number.
Competing with a group takes much more preparation: going to lots of rehearsals and making sure everyone has all the costume pieces and looks the same. And if you mess up on a group dance, it's harder to hide. With solos, there's less to worry about. I mostly practice my solo on my own, and then occasionally work one-on-one with a teacher. And if I mess up, I can wing it or improvise—which I've done multiple times!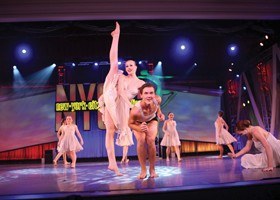 Dancing in a group routine at NYCDA National with her studio, The Dance Zone. Photo by ProPix/NYCDA.
I think we all get a little nervous before the first time we compete a number onstage. By the time we get offstage, though, we already know if we did a good job or not. We can just feel the energy. But awards all depend on what the judges are looking for. When we do win, it's exciting. But really, that's the same feeling I get just by being onstage performing—losing yourself in the adrenaline and the moment. When we don't place the way we wanted to, we might get a little upset. But the way we feel about our performance is just as important. No matter what happens, we let it go and start fresh in classes the next day.
Looking Forward
My schedule doesn't leave a lot of time for a social life, but dance is totally worth it to me. I'm always with my dance friends—we're like a big family. And on weekends, I can hang out with school friends that I've known my whole life. This year, I even got to go to a homecoming dance. There are times when my newer friends or people that I've just met don't understand how serious I am about dance. They may say, "You have to dance again?" or "Why can't you hang out today?" Sometimes I wish I could do more, but I'm not going to miss class, rehearsal or a competition just to hang out. I'm so focused on my career and my future. Most of the time, I'd rather just go to dance.
I'll only be 17 when I graduate, so I'm not yet sure what I'll do next. My long-term goal is to join a contemporary ballet company. It would also be fun to dance on a cruise ship or maybe even be a Radio City Rockette. Right now, my parents are helping me look into colleges.
When it's time to stop competing, I think I'll always miss it. But I'll still be dancing. And I'll be excited for the new challenge of dancing professionally!
Nov. 15, 2016 08:29PM EST
Photo courtesy New York City Dance Alliance
From the excitement of travel to rubbing shoulders with your dance idols, the life of a convention assistant is a whirlwind—and an exciting goal for lots of young dancers. The position has its glamorous moments, but it's also a ton of hard work. Curious about what it takes to earn one of these coveted spots, and what's involved once you do? Dance Spirit spoke with choreographers and assistants to find out what it takes to make it to the stage.
Keep reading...
Show less
May. 09, 2016 06:03PM EST
Breaking news, Broadway babies! The Cats revival casting has finally been announced—and it's a fabulous who's who list of major dance celebs.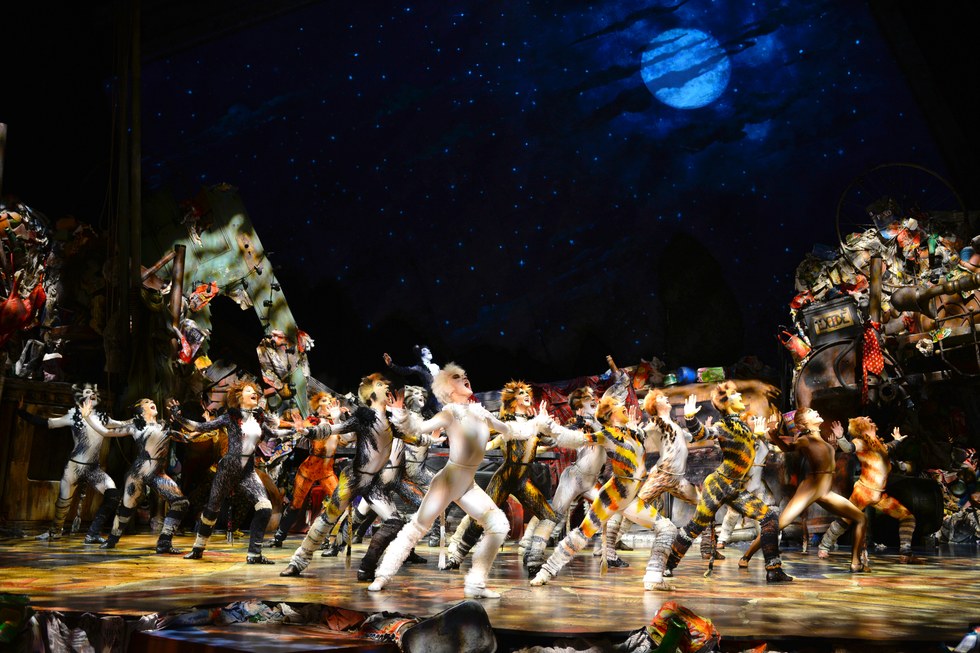 The London Cats revival (courtesy DKC/O&M)
Leading the way is the amazing Ricky Ubeda as Mr. Mistoffelees. The "So You Think You Can Dance" Season 11 winner is no Great White Way newbie: He made his official Broadway debut last year, when he joined the ensemble of On The Town. But it is his first time playing a major role—and showing off his singing chops solo!
The list also includes other On The Town alums: New York City Ballet soloist Georgina Pazcoguin as Victoria (aka the super graceful "white cat"), and Jess LeProtto (also of Newsies and "So You Think You Can Dance") as the mischievous Mungojerrie.
Other highlights? Shonica Gooden—fresh off her Hamilton run—will play Rumpleteazer; New York City Dance Alliance all-star Kolton Krouse will make his Broadway debut as Tumblebrutus; and fellow NYCDA kid Corey Snide, a Juilliard grad who was one of Billy Elliot's Billys, will play Coricopat.
One thing's for certain: This cast of A-list dancers + Andy Blankenbuehler's choreo is sure to = Broadway gold. The production officially opens July 31. Get your tickets now, and check out the full casting list here.
Apr. 19, 2016 05:15PM EST
If there's one thing NYCDA Executive Director Joe Lanteri knows how to do, it's make dreams come true. This was obvious at last night's New York City Dance Alliance Foundation Gala, "Destiny Rising," at The Joyce Theater. It was an evening of passionate performance by tons of crazy-talented dancers, many of whom grew up as self-proclaimed "NYCDA babies." We loved every minute of the evening, especially the touching moments when the foundation's college scholarship recipients spoke about all the doors NYCDA had opened for them (and it's particularly special since our sister publication, Dance Magazine, is a gold sponsor!). Check out some of our highlights below: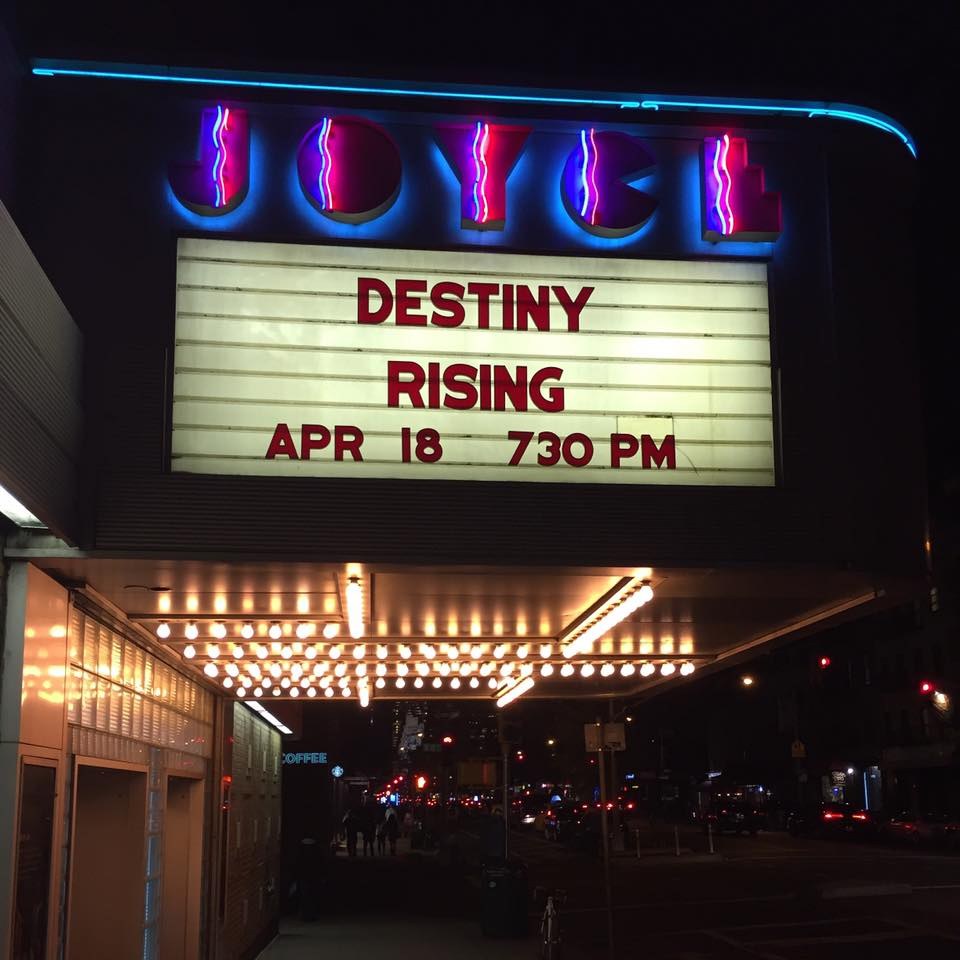 (via NYCDA Facebook)
Marymount Manhattan College Dance Company opened the show with a riveting piece, Under the Surface, choreographed by MMC's Dance Department Chair, Katie Langan. Each dancer was clad in a floor-length skirt and the visual effect was stunning—every développé, pirouette and jump sent the skirts flying through the air, catching the stage light in the process. When the piece ended, the audience was ready for more.

MMC in rehearsal. (via NYCDA Facebook)
NYCDA is all about providing opportunities for its dancers, and this mission was perfectly encapsulated by Inspire School of Dance from Naperville, IL, which made its professional stage debut—at the Joyce Theater, no less. The 14 girls—including 2014 NYCDA Teen Female Outstanding Dancer, Jacalyn Tatro—took the stage with confidence and gave a commanding performance.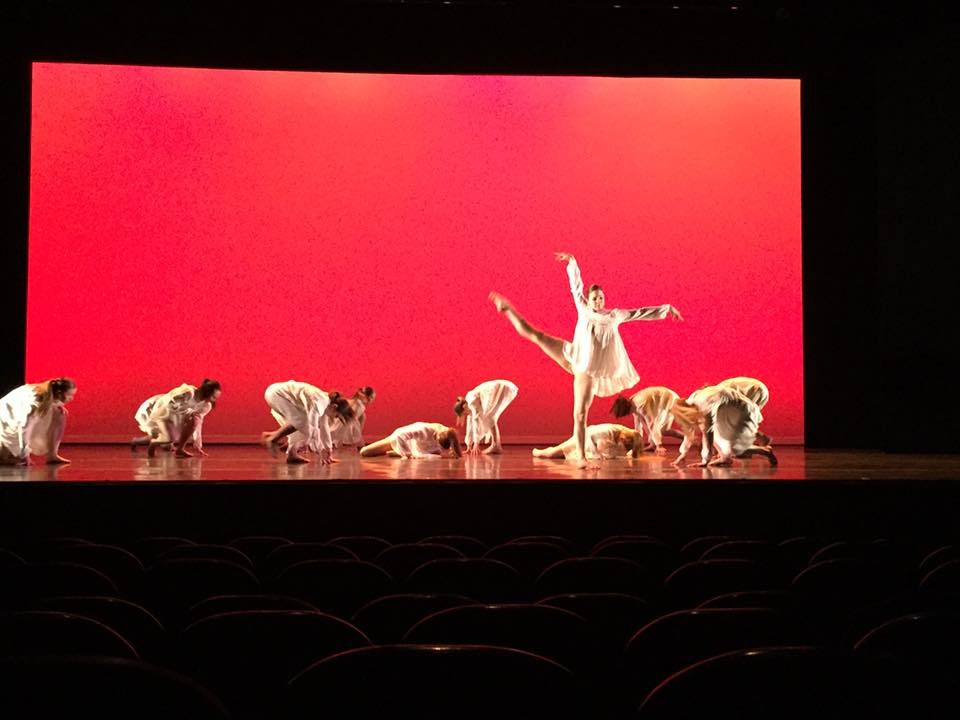 Inspire Dance performing Love With Urgency (via NYCDA Facebook)
The evening continued with stellar performances from RIOULT Dance NY, The Francesca Harper Project, DS 2009 Cover Model Search winner Ida Saki and Austin Goodwin, New York City Ballet principal Robbie Fairchild, and the Point Park University Conservatory Dance Company. There were also tons of familiar faces gracing the stage, including 2015 CMS finalist Jordan Pelliteri, 2011 CMS winner Kaitlynn Edgar, Corey Snide and the dynamic Mattie Love, who, at the 2012 NYCDA gala, gave a speech about how excited she was to start her dance journey at MMC—and last night, in a very full-circle moment, took the stage to thank Lanteri and NYCDA for opening countless doors in her career. It was the perfect cherry topper for a magical celebration of this incredible foundation.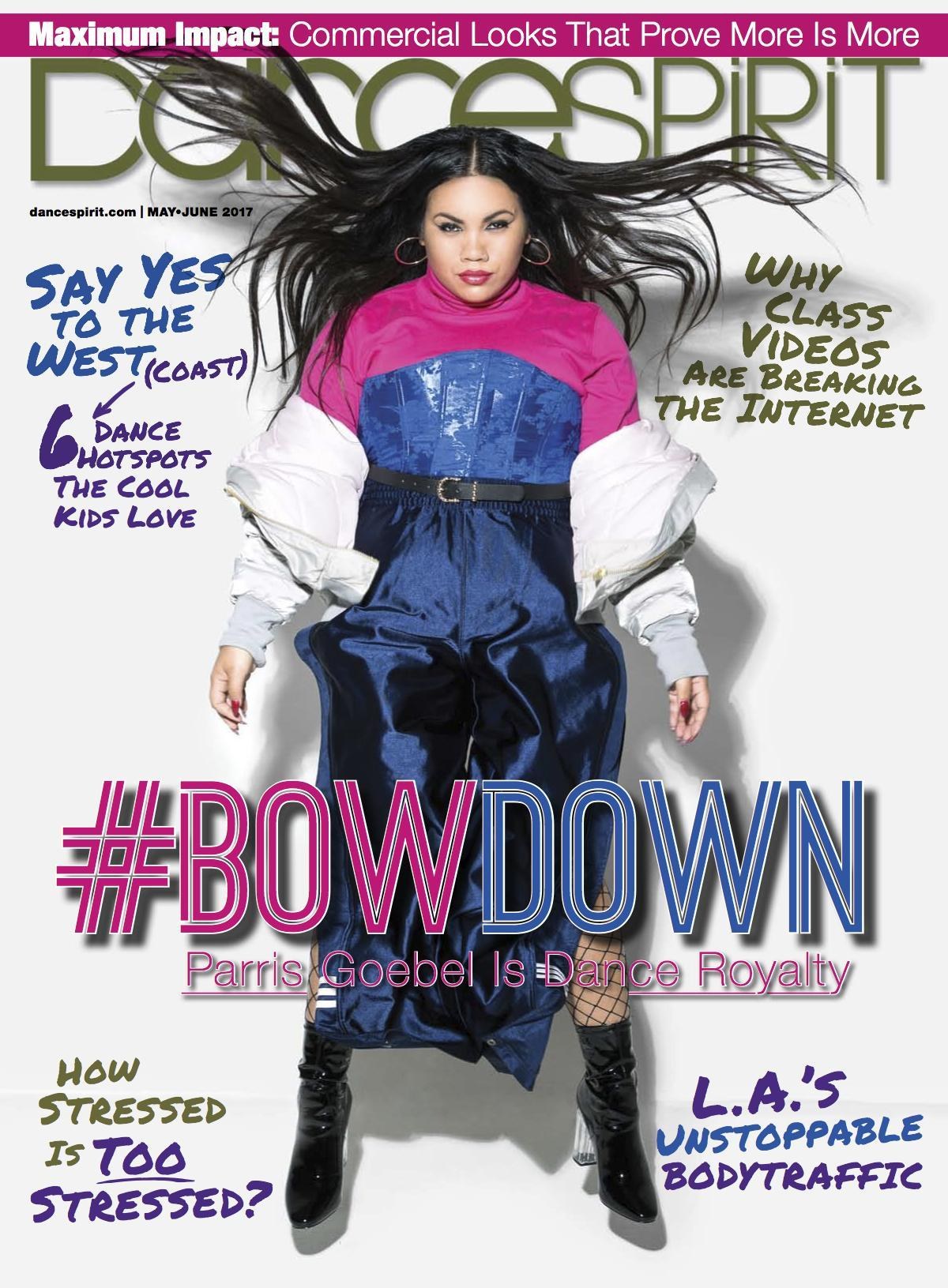 Get Dance Spirit in your inbox