Mar. 23, 2017 07:10PM EST
It's easy to forget how lucky we are to pursue dance at all, let alone in the beautifully equipped studios that many of us call home. But for many aspiring dancers around the world—especially in communities plagued by violence—resources are few and far between.
As the Rio Olympics wind down, we've had plenty of time to be awed by the amazing feats of athletic prowess, and the sacrifices and struggles of each competitor. But throughout Rio, there are people waging a daily struggle against poverty and many of them hope to accomplish amazing things themselves.
Meet the dancers of Na Ponta dos Pes, or "On Tiptoe." These girls are from the Complexo de Alemão favela, one of the neighborhoods in Rio that's often riddled with violence. Rather than living in fear, former rhythmic gymnast Tuany Nascimento started the "On Tiptoe" program, and now teaches ballet classes to her tiny dancers on a basketball court. Nascimento has even bigger dreams, hoping to one day open a community center in the neighborhood.
Check out some of the photos by Brazilian photographer Sebastian Gil Miranda, who has frequently photographed Nascimento's class: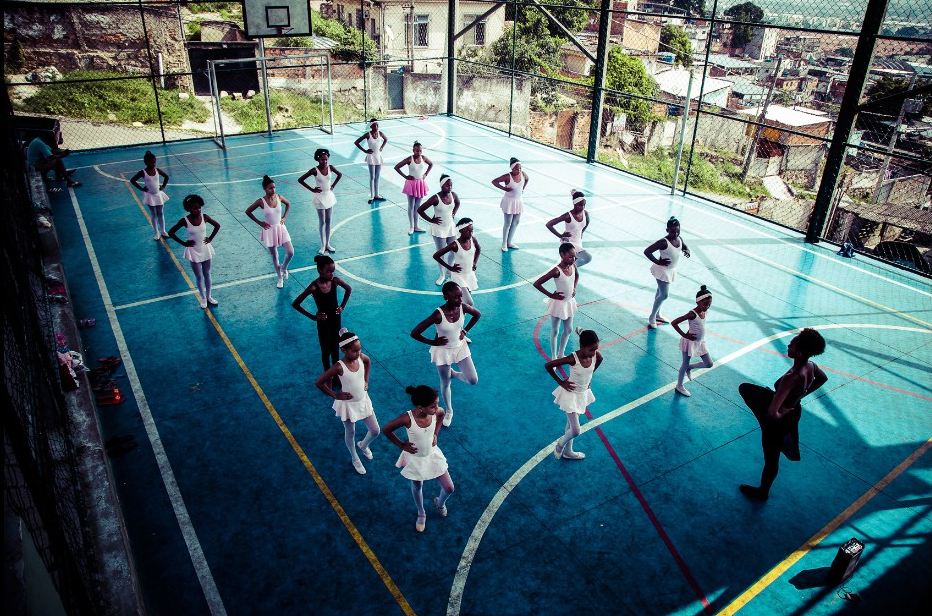 (Photo by Sebastian Gil Miranda)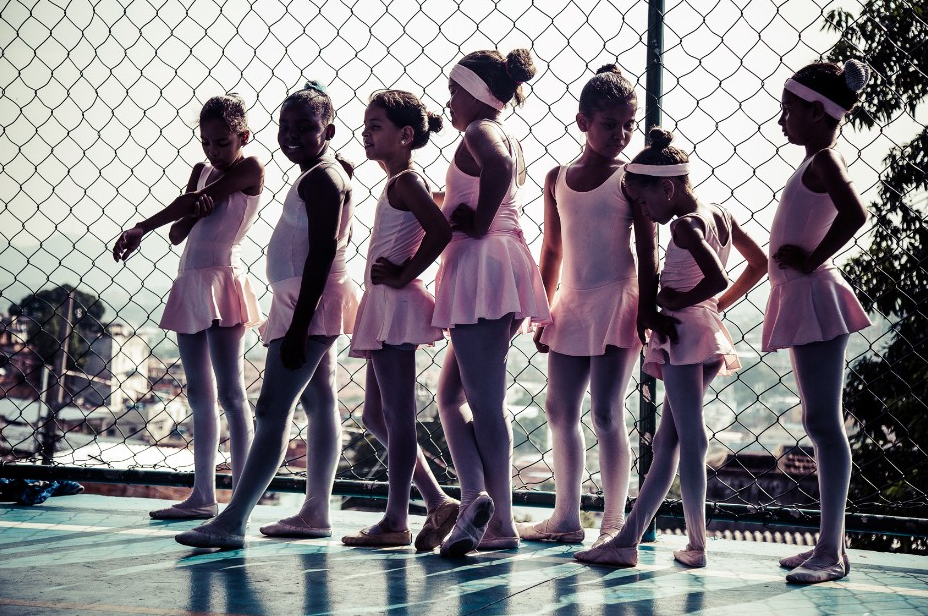 (Photo by Sebastian Gil Miranda)
Mar. 23, 2017 12:25PM EST
They're here! They're here! The Olympics are FINALLY HERE!
OK, yes, fine, the Sochi Games officially started yesterday. But tonight we'll get to see the splendiferous opening ceremony. And that makes it all so much more official.
The ceremony is also an opportunity for some pretty serious dancing. (NBC: Let's actually air the dancing this time, OK? Nobody wants a repeat of the London dance debacle.) And the choreographic mastermind behind tonight's sure-to-be-showstopping spectacle is actually a familiar face: Broadway's Daniel Ezralow, best known for his work on Spider-Man: Turn Off the Dark.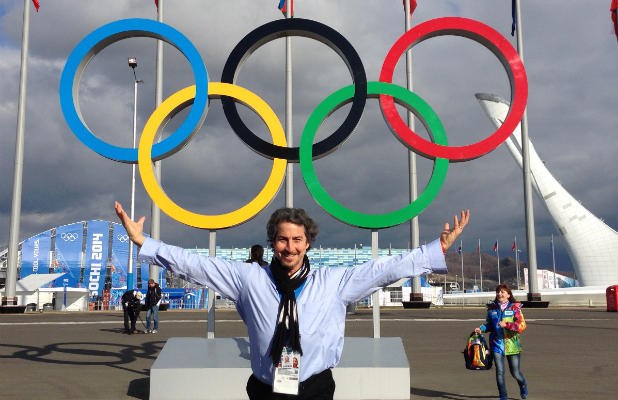 Ezralow strikes a pose in Sochi (photo via thewrap.com)
Ezralow told People that he'll be using about 80 professional dancers and hundreds of volunteers to create a performance about "20th-century Russia." Here's the interesting thing: Though his grandfather fled Russia in 1905, Ezralow is pretty far removed from the country these days—he lives in L.A. So we're curious to see what kind of cultural-fusion choreography he's come up with. (We're picturing Bolshoi ballerinas flying through the air, Spider-Man-style...which actually sounds kind of awesome, right?)
Tune in to NBC tonight at 7:30 to see the show!
Mar. 23, 2017 09:18AM EST
Congratulations to Gabby Douglas! Watching the amazing "flying squirrel" win Olympic gold in the women's all-around gymnastics competition yesterday was an incredible thrill—especially since Gabby, with her megawatt smile, is such an easy person to root for. (Congrats are also in order for teammate Aly Raisman, whose solid performance brought her this close to the bronze.)
But I'd like to pay tribute, for just a moment, to yesterday's silver medalist: Russian phenom Viktoria Komova. Why? Because in ballet terms—and let's be honest, I evaluate everything in ballet terms—she's gorgeous. Her hyper-extended legs, archy feet, and crazy flexibility make everything she does, from the uneven bars to the vault, look beautifully polished. There's also an inherent grace to the way she carries her upper body.
Though Viktoria's obviously had, like most gymnasts, lots of ballet training, looking like a ballerina wasn't exactly her first priority yesterday. (When you have to do a backflip on a 4-inch beam, sometimes grace goes by the wayside.) But her raw physical gifts are just so extraordinary that I want to slap pointe shoes on her and teach her Swan Lake.
For your bunhead pleasure, here are a bunch of photos of Komova at her most balletic. Enjoy!
[portfolio_slideshow nowrap=0 thumbs=true timeout=4000 showtitles=true showcaps=true showdesc=true]
Aug. 22, 2016 04:22PM EST
The 2016 Rio Olympic Games officially came to an end last night, but the super-fun closing ceremonies sent them off in style. The best part? Despite the pouring rain (Rio de Janeiro's Maracana Stadium is open-air, leaving everyone exposed to the elements), the night was essentially a massive Carnival-samba party. The entire stadium (athletes and all) danced the night away and celebrated until the early hours of the morning.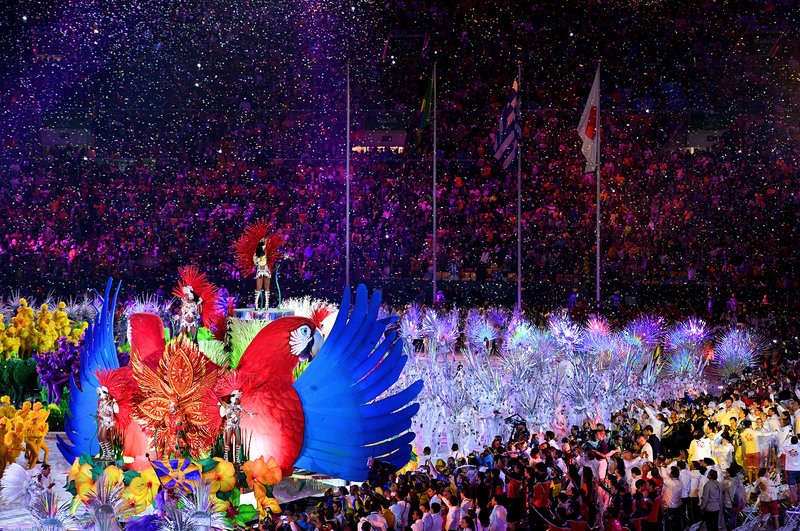 (Photo by David Ramos/Getty via NPR)
In case you missed it, here are a few of our favorite moments:
Grupo Corpo's Performance
We LOVED seeing one of Brazil's leading contemporary troupes highlighted on the world stage. The company's style is a mix of their own Afro-Brazilian genre with other familiar contemporary styles. The group performed part of its show Parabelo and the piece led to more dancers dressed as clay dolls, common in the Northeastern region of Brazil. The segment highlighted clay's history as one of mankind's earliest tools and sources of creation.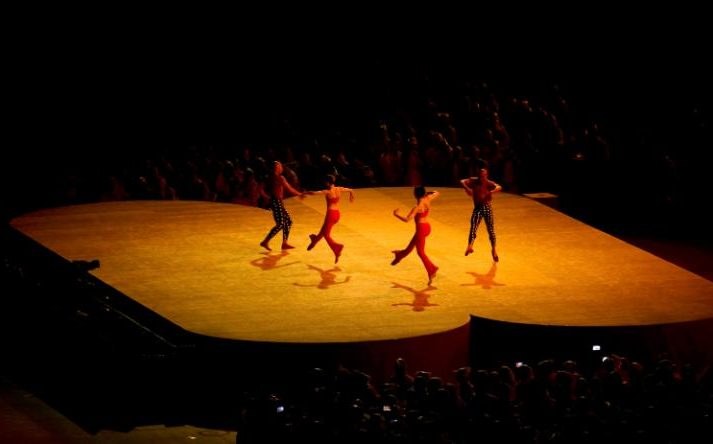 Grupo Corpo's dancers (Photo by Reuters via The Telegraph)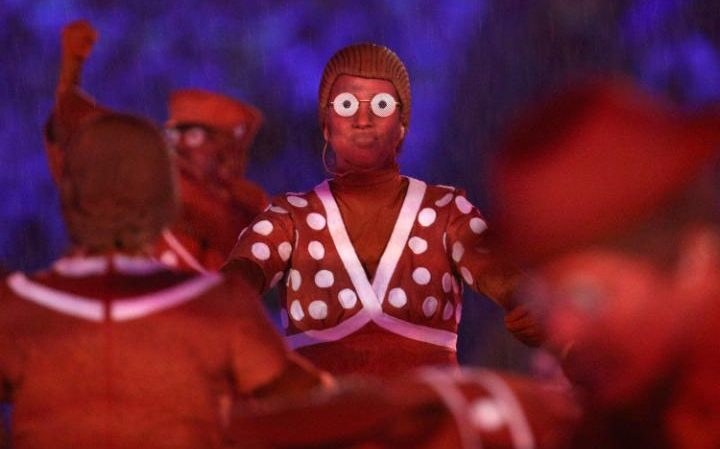 The clay doll dancers that were part of Grupo Corpo's performance. (Photo by Reuters via The Telegraph)
The Dancing Parrots
The Twitterverse promptly lost its mind over the dancing parrots running around the arena at the beginning of the ceremony. The parrot dancers were apparently creating formations of some of Brazil's most iconic landmarks, but the images were kinda (OK, very) unrecognizable, prompting memes and jokes galore online. But we must say, their colorful, flowing costumes were still dazzling to watch.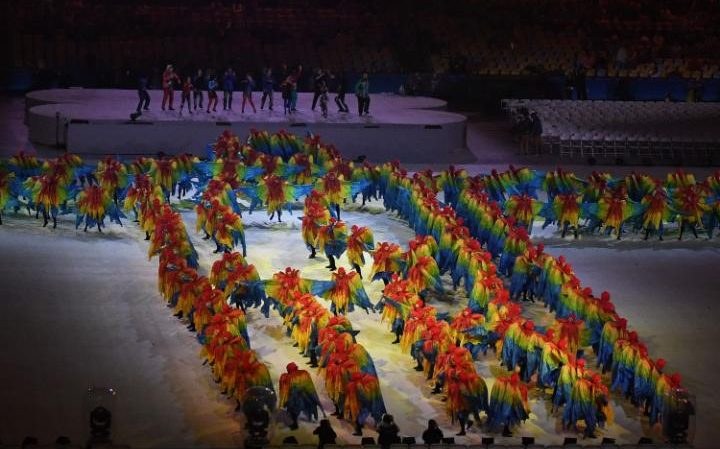 Rio's dancing parrots (Photo by Getty via The Telegraph)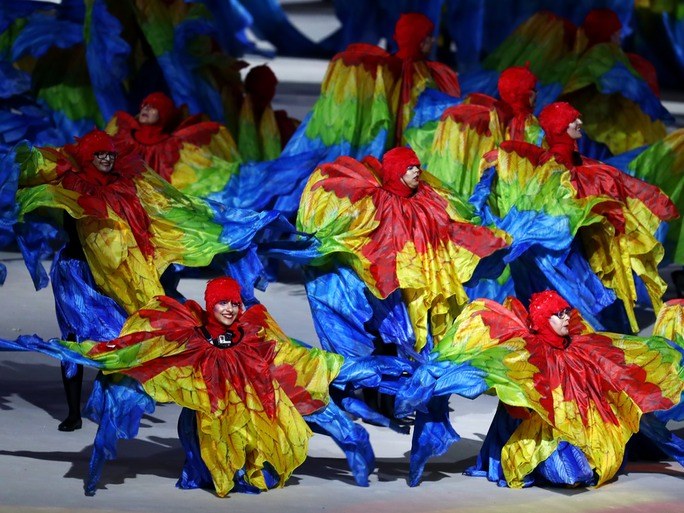 (Photo by Alexander Hassenstein/Getty Images Sport/Getty Images via Bustle)
Japan's Super-Cool, Show-Stealing Appearance
Uh, Japan kinda stole the spotlight here, guys. Their segment made us REALLY excited for the next summer games in Tokyo in 2020. Their piece and dancing had an awesome futuristic vibe and we're pretty sure it's safe to assume Tokyo's ceremonies will be sleek, technology-driven and will feature dancing that's seriously on point. #RiotoTokyo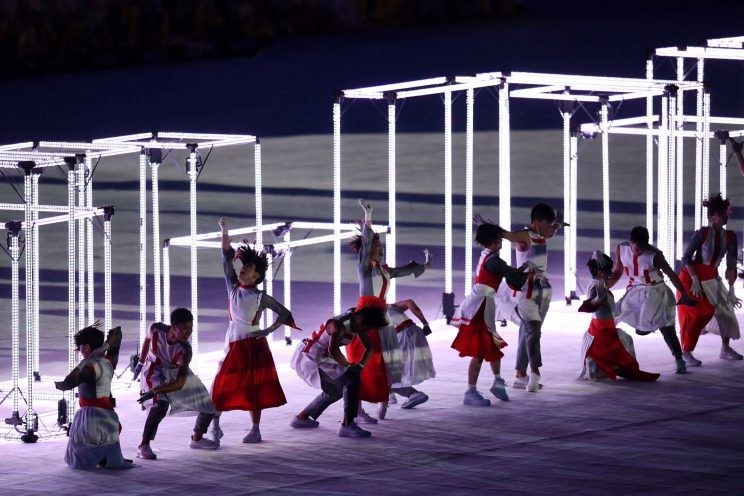 (Photo by Getty via Yahoo! Sports)
Great Britain's Light-Up Shoes
The U.K.'s athletes came to this dance party prepared. The team donned the coolest light-up sneakers, which they later wore on their hands to further get into the festive spirit. I mean, how great would these be in a hip-hop piece? We're gonna need some ASAP.
..@TeamGB have found another use for the shoes pic.twitter.com/c7kpTcSwMr

— Helen Glover (@Helenglovergb) August 22, 2016
Simone Bile's Selfie Game
You know you're a queen when you can't go more than two seconds without other athletes/fans stopping you and asking for a selfie. Biles killed it at these games, straight through to the closing ceremonies where she was chosen as Team USA's official flag bearer.
#TeamUSA flag bearer.. nbd. Closing ceremonies! pic.twitter.com/JdKe48oBOw

— Jared Ward (@jwardy21) August 22, 2016
Simone selfies dominate Rio Closing Ceremony https://t.co/gEvsnhTHIxpic.twitter.com/V3B5Noctyb

— NBC New York (@NBCNewYork) August 22, 2016
And last but not least...
After the official ceremony was over the arena erupted into a giant Carnival and samba dance party. In true Brazilian form, the costumes were sparkly and colorful, the music was upbeat, the athletes were breaking out some stellar dance moves and the energy was palpable all the way back to where we were watching in the States. Rio, you were one for the books.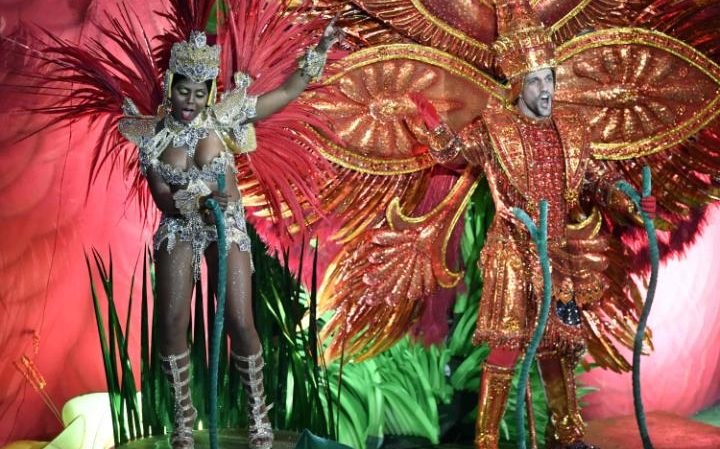 (Photo by AFP via The Telegraph)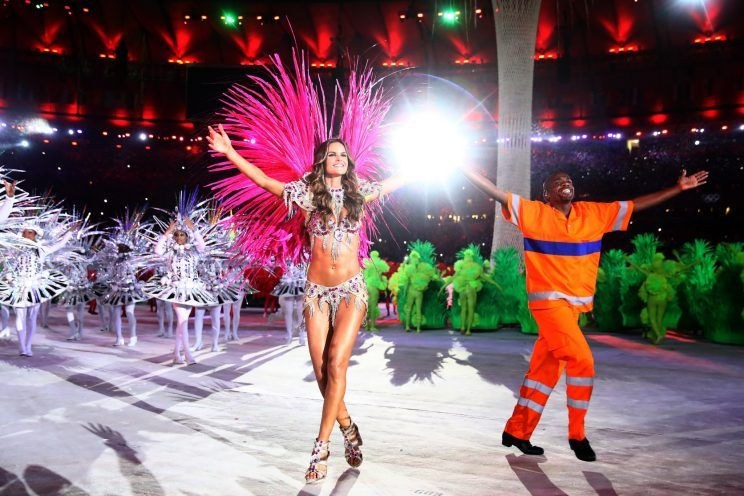 (Photo by Getty via Yahoo! Sports)


Get Dance Spirit in your inbox