Mar. 23, 2017 01:31PM EST
Earlier this year, Ashley Green and Michael Hall—senior dancers at Columbia City Jazz in Lexington, SC—were performing their duet, Redemption, at a 24 Seven Regionals competition. It'd already been a long day, and they were tired. Near the end of their performance, disaster struck: Michael's leg gave out during a lift and both dancers ended up on the ground. But in the blink of an eye, Ashley made their fall look intentional. "She got up, looked at him as if he'd wronged her, and exited without him," recalls CCJ artistic director Dale Lam. "Her recovery worked so well that they changed the routine, took it to Nationals that way and won!"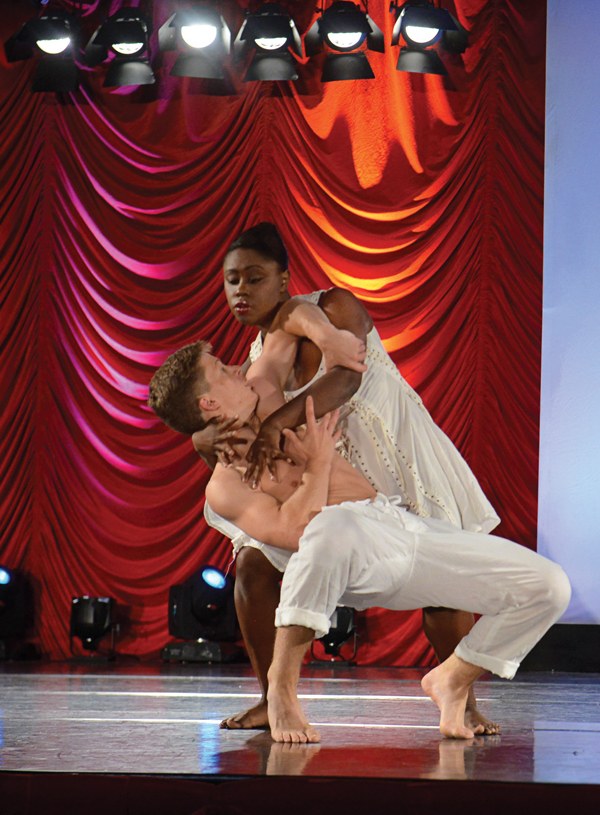 In their duet, Redemption, Ashley Green and Michael Hall used an onstage flub to their advantage. (Photo courtesy Dale Lam)
For 17-year-old Ashley, stopping the piece to deal with the fall wasn't an option. "When things go wrong, I just keep moving and try not to show it on my face," she says. "No matter what, you have to make it work."
Having that never-quit mentality can pay off, but the mantra of "The show must go on," especially in the face of onstage calamity, is easier said than done. Whether it's a glitch in the music, a costume that comes undone or a partner who drops the ball (or drops you!), here's how to handle the most unfortunate of performance circumstances.
Musical Mishaps
Music malfunctions are all too common, especially for competition dancers who are often playing their songs on new devices at each event. When you're onstage by yourself, turning to your improv skills when the music skips or stops may be enough to save you. But staying in sync in a group number is tricky when you don't have the music on your side. Lam has her dancers practice combinations without music, so they learn to keep time by breathing together. "You can stay on the rhythm by noticing the beat of feet on the floor and listening to each other's breath," she says. Lam has also seen dancers in musical theater numbers save the show by singing their music during a technical glitch. "They were so connected to the song, and the audience loved it," Lam says. "When things go wrong, you can get upset or you can do something totally unexpected. And in the latter case, the audience will be forgiving."
So will the judges. Professional tapper Melinda Sullivan says that, when judging competitions, she'll never take off points for a mishap that's outside of a dancer's control—as long as it's handled well. "At New York City Dance Alliance this year, I remember thinking one group number was great, but then there was an announcement that the number was running again because they'd performed the whole piece to the wrong music," Sullivan says. "Since they stayed committed, I had no idea!"
Costume Catastrophes
When costumes rip or come untied, dancers have a choice to make: Should they fix it onstage, make a quick exit or let it be? Choreographer Stacey Tookey remembers the first time she had to make this tough call as a teenager, when a halter top came untied completely. "I unfortunately opted to continue dancing while holding my top up for the whole routine," Tookey says. "But now I know that if you're really exposed, it's OK to leave the stage." This is especially true for a group routine: Ducking into the wings to fix a costume calamity might pull less focus than trying to retie a top mid-routine. If you can, exit and reenter during formation changes, when the audience is less likely to notice. Keep a sewing kit handy backstage in case you need to make last-minute repairs or adjustments.
Prop Problems
While props can add an extra spark to a number, they're an inevitable performance hazard—you know someone is bound to drop something. But what happens if you're the culprit? Lam says retrieving your fallen prop is usually the smartest option, especially if there's a risk of someone tripping on the item or having to dance around it. "Everyone in the audience will be distracted by the prop on the ground for the rest of the piece, so stay in character and pick it up," she says.
Tookey agrees: "Odds are you'll need to use the prop later, so try to fix the situation and get back on track as fast as possible," she says. "But if the prop goes flying and rolls into a back corner, don't run across the stage." If your prop is truly out of reach, carrying on empty-handed is a wiser choice. And if you see someone else's abandoned prop on the ground, it might be worth taking a second to kick it offstage to prevent a face-plant.
Fellow-Dancer Disasters
You may remember 2 Steps Away, one of Tookey's duets for Kathryn McCormick and Jonathan "Legacy" Perez on "So You Think You Can Dance" Season 6. But did you know it included an onstage mishap? "Legacy was supposed to give Kathryn's leg a slight pull in arabesque, but he pulled so hard she landed on her butt," Tookey says. "Kathryn got up and kept going so seamlessly that even I didn't notice the mistake!" (No one else noticed, either—the routine earned Tookey her first Emmy nomination.)
Being able to carry on when a fellow dancer messes up—or messes you up—is a skill that really comes down to mind-set. "A mistake can be distracting and throw you off," Sullivan says. "But I love the statement 'strong and wrong.' If you make a bold choice and keep it moving, the audience won't know the difference." Confidence, Sullivan notes, is key when you're improvising to cover someone else's error—or your own.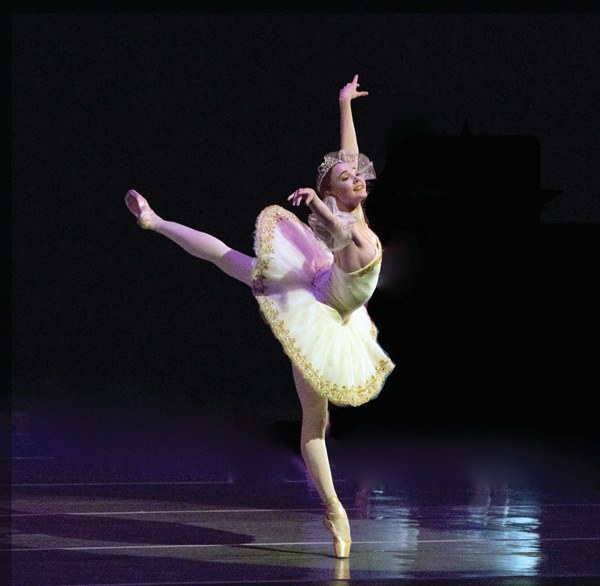 Rio Anderson doesn't let herself dwell on mid-performance mistakes (photo by Sandy Lee, courtesy Rio Anderson)
Most importantly, don't let a mishap psych you out. Rio Anderson, 17, from San Francisco, CA, remembers having to recover from a fall at the Youth America Grand Prix Gala in Indianapolis. "The hardest part was that I spent the rest of the piece worrying that I messed up," says Rio, who currently trains at The Royal Ballet School in London. "Now I try not to get caught up thinking that every performance has to be perfect. As a dancer, you have to assume that things will go wrong, but you'll be able to deal with them as they come."
Jan. 10, 2013 12:34PM EST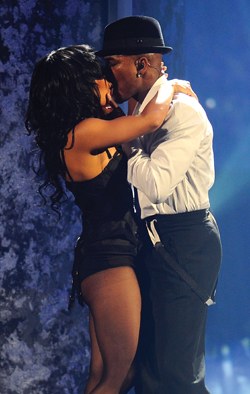 Galen Hooks and Ne-Yo at the 2010 American Music Awards (Kevork Djansezian/Getty Images)
When Galen Hooks danced with Ne-Yo at the 2010 American Music Awards, they paused mid-routine—and kissed. "It was the first time I had to kiss somebody onstage," Hooks says. "Not only was it televised, but I was really shy about it!" Plus it was, you know, Ne-Yo.
Performing a passionate duet is one thing—but having to kiss your partner in the middle of the choreography can be awkward and nerve-racking, especially in front of an audience. Read on to see how some of your favorite dancers handled their first onstage kisses.
Galen Hooks
Hooks played two characters in Ne-Yo's music videos and was on the creative team that choreographed the AMA number. "It was my idea to have the kiss happen," Hooks admits. "It made sense for the story. When my character kisses him, she goes from being nice to being evil. It was all in fun."
They didn't rehearse the kiss during the tech run-through, though. Instead, they stood without making eye contact and waited a few seconds before moving into the next segment. "We only did it on the actual show," Hooks says. "It was just part of the choreography. There was no romance to it." Watching the kiss, you'd never guess it was so polite. Ne-Yo grabbed her face and pulled her close. "But there was no tongue or anything!" Hooks laughs. "He's a true gentleman—very respectful."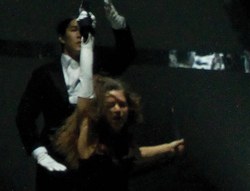 Tiffany Maher and Cole Horibe in Mia Michaels' routine for the Top 14 on "So You Think You Can Dance" Season 9 (Adam Rose)
Tiffany Maher
Tiffany Maher, runner-up on "So You Think You Can Dance" Season 9, calls her first onstage kiss—in the Top 14 routine choreographed by Mia Michaels—her "Spiderman kiss": Cole Horibe hung upside down, spinning, while Maher swung by a rope attached to her wrist. "I had to grab him and smack his lips to mine," she says. "In rehearsal, we'd smack heads, or I'd end up kissing his nose, or he'd end up kissing my eyeball." Plus, Maher and Horibe weren't star-crossed (spinning) lovers: "He's like my brother," she says. "It was the hardest kiss of my life!"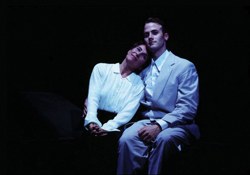 Bret Shuford with Andrea Marcovicci in Lady in the Dark (courtesy Bret Shuford)
Bret Shuford
As Prince Eric in The Little Mermaid, Broadway veteran Bret Shuford kissed Ariel countless times onstage. But his first professional kiss happened years before in a regional theater production of Lady in the Dark, featuring cabaret star Andrea Marcovicci. Shuford played Marcovicci's high school sweetheart and had to kiss her during a flashback scene. "She's twice my age," says Shuford, who was 22 at the time. "When we got to that part, I was supposed to be the one kissing her," he remembers, "but she was the one kissing me! I just went with it."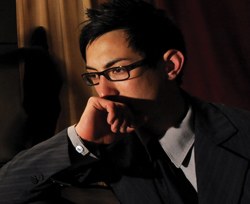 Peter Chu in Dark Matters (Eric Beauchesne/Kidd Pivot)
Peter Chu
Peter Chu was going over his choreography before the premiere of Crystal Pite's Dark Matters at the National Arts Centre in Canada. Pite, who was also his partner for the work's last duet, gave him a note. "By the way," she said, "I think you should kiss me."
Chu was so nervous that he ran back to his dressing room and started practicing the kiss on the back of his hand, all the time worrying that someone was going to walk in on him. "It's a beautiful show with amazing dancers," he says, "but I was more stressed about how to kiss her! You don't want to bump teeth or anything." So how did it go during the performance? "It was a passionate, desirable kiss," Chu says. "Very honest."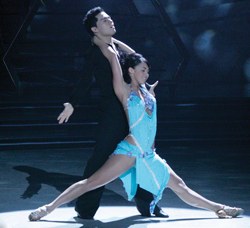 Lauren Gottlieb and Dominic Sandoval performing their rumba on "So You Think You Can Dance" (KELSEY MCNEAL/FOX)
Lauren Gottlieb
On Season 3 of "SYTYCD," Lauren Gottlieb and Dominic Sandoval wowed the crowd with their rumba. But it wasn't their dancing that got all the attention—it was their kiss (the first ever on the show)! "When we practiced it in front of the choreographers, they flipped out," Gottlieb says. "They thought it was way too much."
Gottlieb and Sandoval decided to run with it. "We went for the shock factor," Gottlieb says. "But I was young—19—and my boyfriend and whole extended family were in the audience!" Gottlieb was also overwhelmed by the millions of people watching at home. Her nerves caused an awkward moment at the end when they were both breathing so hard their lips came apart. "He tried to go back in and my head was moving away," she says.
The Juliets|For some ballerinas, the first onstage kiss is a gentle peck on the lips in
The Sleeping Beauty or an innocent smooch in La Fille mal gardée. But these ballet dancers were thrown into the deep end, having to bring the passion in Romeo and Juliet.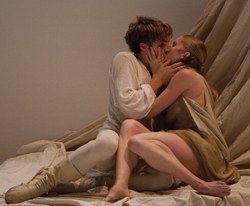 Carla Körbes with former Pacific Northwest Ballet principal Lucien Postlewaite in Roméo et Juliette (Angela Sterling)
Carla Körbes
In Jean-Christophe Maillot's Roméo et Juliette, Pacific Northwest Ballet principal Carla Körbes has to do more than just kiss her partner. "There's a section where we're rolling around in bed kissing," Körbes says. "Then we go under the covers." She and her partner, Lucien Postlewaite, rehearsed it in the studio so they wouldn't feel awkward later. "It was more like acting than a ballet kiss," she says. "It felt like a movie experience."
Luckily for Körbes, what shows on film doesn't always show onstage. "The first time, my nose was kind of running and I was crying during the second act," she says. "We were kissing and all of a sudden there was snot everywhere! At that point we didn't know what was happening, but when we got offstage, we were dying laughing."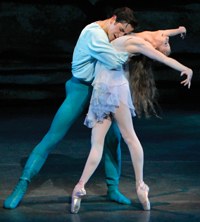 Sterling Hyltin and Robert Fairchild in Peter Martins' Romeo + Juliet (Paul Kolnik)
Sterling Hyltin
"When you're doing something like Romeo + Juliet, everything from an arabesque to the kiss is full of meaning," says Sterling Hyltin, a principal with New York City Ballet. Hyltin was 21 when Peter Martins choreographed the tragic love story for her and NYCB's Robert Fairchild.
"I didn't know if he would kiss me in rehearsals," she says. "But it happened from the get-go. It was happening in the music, so that's what we did." Six years later, Hyltin says she and Fairchild save the kiss for the stage. "All that matters is the moment," Hyltin says. "If you really believe what you're doing, there's nothing strange about kissing somebody you don't kiss in real life."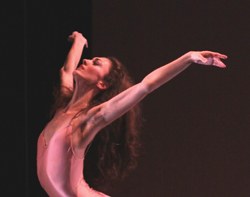 Victoria Jaiani in After the Rain (Herbert Migdoll)
Victoria Jaiani
At 18, Victoria Jaiani danced her first Juliet with Joffrey Ballet. "They hired Jason Reilly, then a principal from Stuttgart Ballet, to come dance with me," she says. "He was an incredible partner and everything worked out well, even though we only had a few days to rehearse before we got onstage."
The first time they rehearsed full-out in the studio, Jaiani felt comfortable. "You get so involved and live in the moment," she says. "It felt natural to kiss him. It would've been weird not to. I wanted to be kissed." Jaiani remembers the first show, at the end of the balcony scene, when her Romeo unexpectedly gave her an extra goodnight kiss. "I was surprised because we hadn't rehearsed it that way," she says. "It just happened."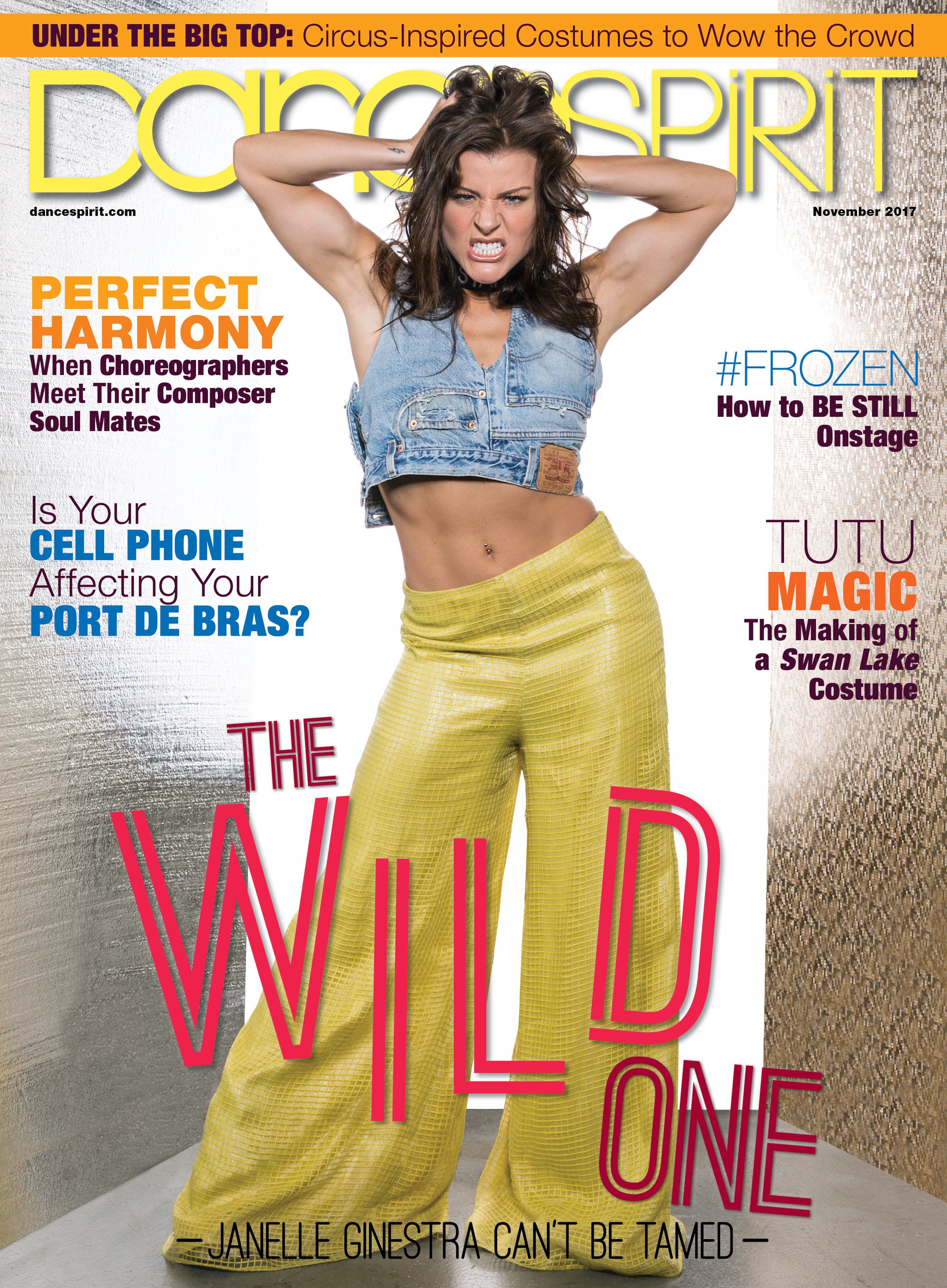 Get Dance Spirit in your inbox