Feb. 25, 2013 05:44PM EST
I expected the borderline-inappropriate jokes. I expected the appearance by Ted (sighhhhh). I even kind of expected the tribute to boobs on film.
But what I didn't expect from Seth MacFarlane's turn as host of the Academy Awards was a whole bunch of dance numbers. Dance! And here I was thinking the Busby Berkeley-style opening to "Family Guy" was a joke! Who knew that Mr. MacFarlane, the modern master of the fart joke, was a legitimate song-and-dance man?
Anyway, I think I'm not alone in feeling that the dancing elevated what could otherwise have been a very "meh" Oscars show. Let's run down all of the fun dance-y numbers, shall we?
We got off to a strange but, let's be honest, hilarious start with the boobs song. I know, it's terrible and tasteless and everything everyone hates about Seth MacFarlane, but c'mon. It was funny, and not less so thanks to the troupe of tux-clad backup dancers.
Next up, my personal favorite: Charlize Theron (who studied at NYC's Joffrey Ballet School!) and Channing Tatum channeling Ginger Rogers and Fred Astaire in an elegant foxtrot that was even better for being totally unexpected.
Then we were treated to a cute little softshoe by Daniel Radcliffe and Joseph Gordon-Levitt. Harry Potter's dance skills could use a little polishing, but points for effort—and Gordon-Levitt looked pretty darn legit. (Remember that time he redid the entire "Make 'Em Laugh" number from Singin' in the Rain on "Saturday Night Live"? I'm striking out in my search for video of the performance, but trust me: It was amazing.)
And then there was that big ol' reworking of "Be Our Guest" from Beauty and the Beast. It wasn't the biggest hit of the night, but I'm never really going to knock any production of a classic Disney song. Plus it featured some of DS's fave dancers, including Alex Wong, Spencer Liff, Cody Green and Jaimie Goodwin.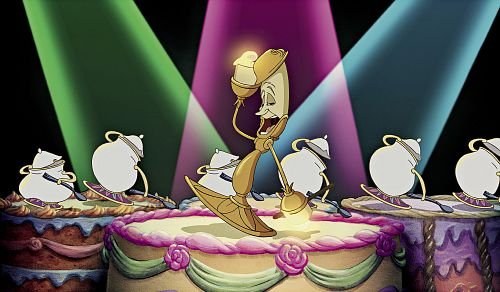 (I can't find any good video of this number, so you'll have to settle for a screenshot from the original instead. Just pretend Lumière is Seth MacFarlane. Not such a stretch, actually.)
Last but certainly not least: Catherine Zeta-Jones and a Fosse chorus in "All That Jazz" from Chicago. Girl's still got it! And it was another chance for our dancer friends to show off a little, too.
My only regret is that Bradley Cooper and Jennifer Lawrence didn't get to re-enact their so-bad-it's-awesome dance from Silver Linings Playbook. But I guess the two of them had other things on their minds, what with being nominated for Academy Awards and everything.
(Side note: Jennifer Lawrence. You are amazing. You basically fell on your face last night and it only made everyone, myself included, love you more. I feel like you and Emma Stone and maybe Sandra Bullock should hang out and be awesome and funny and super-stylish together.)
Mar. 13, 2012 03:45PM EST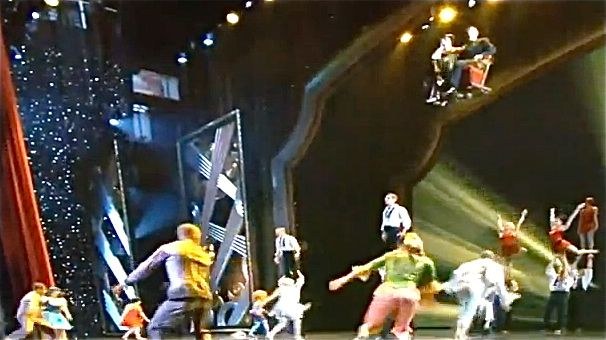 How would you like to perform acrobatic dance routines in front of Hollywood A-listers while the rest of America watches from their couches? For Bruce Weber, dance captain of the Cirque du Soleil show
Iris
that performed at this year's Academy Awards, it's all in a day's work. Weber, who majored in dance at Point Park University and danced with Springboard in Montreal before being discovered by a Cirque scout, tells
DS
about what it was like to dance in one of the year's most high-profile shows.
--Gretchen Schmid
Dance Spirit: What was it like to perform in front of so many celebrities?
Bruce Weber: We actually knew beforehand who was going to be sitting where, because there were pictures of all the actors and actresses on the chairs. During the show we weren't thinking about them because everything goes so fast, but afterwards we looked out and there were all of these talented and famous people standing and clapping for us. It was completely overwhelming and amazing.
DS: Wow! Did you get to meet any of them?
BW: Billy Crystal gave us a hello and a wave, and at one point I was really close to Gwyneth Paltrow! It was hard to talk to them because of the tight security, but everyone backstage was really nice.
DS: You usually perform Iris at the Kodak Theatre, where the Academy Awards are held. How was this different from any other show?
BW: The Kodak Theatre is our home, and usually we have dressing rooms. For the Oscars we were kicked out of them. The only place we had was the dance studio.
DS: In the show, are there separate dancers and acrobats, or does each person do a little bit of both?
BW: For both Iris and the Oscar performance, there is a group for each specialty--dancers and acrobats. Occasionally, there is a crossover if a performer is able to do both. For instance, two of the dancers in the Oscar performance are "hand to hand" acrobats in Iris. As the dance captain I primarily deal with the dancers, but I'm responsible for some of the choreography in the acrobatics sections, too.
DS: What are your responsibilities as dance captain?   
BW: Being a dance captain means that I manage all of the dancers, try to keep the integrity of the choreographers' movement, work closely with the creators and keep everyone in check!
DS: As a dancer, what was your favorite part of the Oscar routine?
BW: I love the long finale--it's high-energy and full of acrobatic tricks. Plus, I love fast, crazy choreography! But the most memorable part was  sitting in the chairs onstage and looking out at the audience.
DS: Do you have any advice for readers that are interested in joining Cirque du Soleil?
BW: Make yourself known. There are so many dancers that want to be a part of this company, so you need to keep in touch with casting, update your file periodically and persistently let the Cirque agents know that you're available and interested. Also, you need to be as well-rounded as possible. Take as many different classes as you can. The more styles you're proficient in, the more valuable you are.
Click here to watch the cast of Iris perform at the Academy Awards.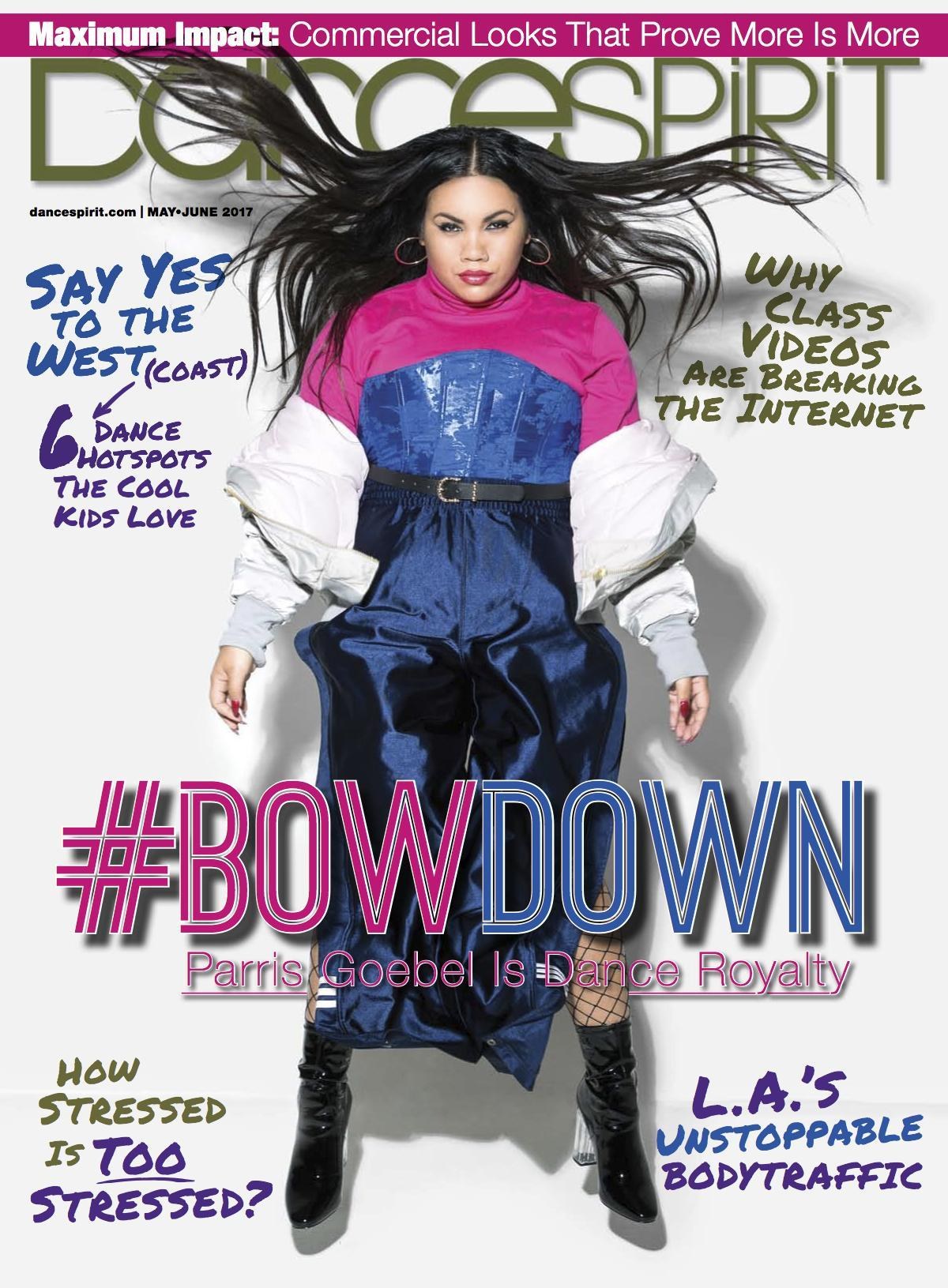 Get
Dance Spirit
in your inbox
Featured College Dance Program