Samuel Melnikov lifting weights to build strength for partnering (photo by Jonah Rosenberg)
Safe partner-work demands you put in some time at the gym. Peter Frame—former principal dancer with New York City Ballet and founder of the School of American Ballet's strength training program—says, "Even advanced dancer forget about placement once they're lifting. They're doing the work, but you'll see shoulders and weight distribution out of whack." Want centered, controlled partnering? Grab a mat and dumbbells to try Frame's top three pre-partnering exercises.
Photos by Jonah Rosenberg. Modeled by Samuel Melnikov.
Keep reading...
Show less
Nov. 11, 2015 03:13PM EST
From YouTube to the boob tube, Keone and Mari Madrid seem to be everywhere these days—and that's just the way we like it. Recent highlights for the husband and wife team include choreographing for "So You Think You Can Dance"; receiving an MTV Video Music Award nomination for their choreo for Kendrick Lamar's "Never Catch Me" vid; and continuing to break the internet with their dance shorts and class choreo clips.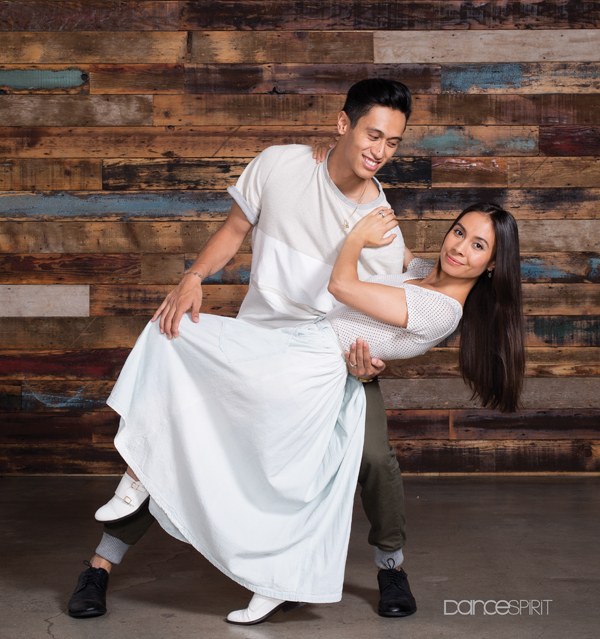 (Photo by Joe Toreno)
Even though their careers have taken off in a big way, the Madrids are still the humble, adorable couple that won our hearts on "The Ellen DeGeneres Show" back in 2013. And that wasn't too long after they fell in love themselves: They first met at an Urban Legends dance workshop back in '08 and married in 2012 following an uber-romantic surprise proposal from Keone. The pair have stayed true to their roots, opening a new dance studio called Building Block in their hometown of Carlsbad, CA. And they haven't deviated from the upbeat, fun-loving, smooth dance style that put them on the map.
Since Keone and Mari know each other better than anyone, we asked them to have a conversation rather than doing a typical Q&A. Find out what they had to say about their secrets to success…and whether a mini-Madrid might be on the way!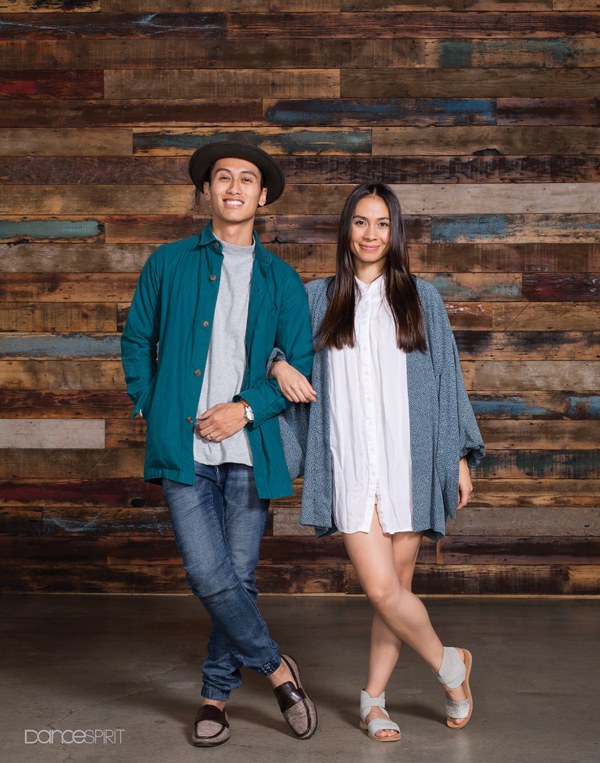 (Photo by Joe Toreno)
Keone: We have so many memories from working together—what's your favorite so far?
Mari: It would have to be the Hyundai commercial. We just thought we were making a YouTube commercial, but…
K: …a few months later, we got a Tweet from someone saying, "Keone and Mari are in Times Square!" It ended up being on a huge electronic billboard that played 24/7, right underneath the Coca-Cola sign. It was incredibly humbling, and pretty wild for us to have that opportunity.
M: I'd say the most challenging job we've done was definitely "The X Factor."
K: Same here, because it's live television. There were several times when we had to change the choreography on the stage, on the spot—in a span of 30 seconds. It caused some stressful moments, but also helped us to be prepared for the worst if we're ever presented with that challenge in a different dance setting.
M: It's also difficult to separate our work and our personal life. They tend to blend into each other.
K: That's the hard part—since we work together not just creatively, but also business-wise.
M: We always say we should relax and not talk about work, and then it turns into, "Did you answer that email?" Being married three years, we realize we have to make our personal life a priority.
K: That's why the Fourth of July this year was so great—we decided to just stay home with our dog, watch Netflix all day and have our own mini barbecue.
M: With Chicago-style hot dogs!
K: But 80 percent of the time, we're working or dancing. How would you describe our choreographic process?
M: Usually, we'll talk a little bit first and then just start moving; sometimes, we'll map out a piece to make sure it has good ups and downs.
K: Yeah, it's definitely a good mixture of freestyle and pre-planning. It's almost like a game of Twister, putting together different 'pictures.'
M: Yes on Twister! Sometimes I'll be in a terribly uncomfortable position while we figure out the arms, and I'll have to take a little breather. But it's all worth it.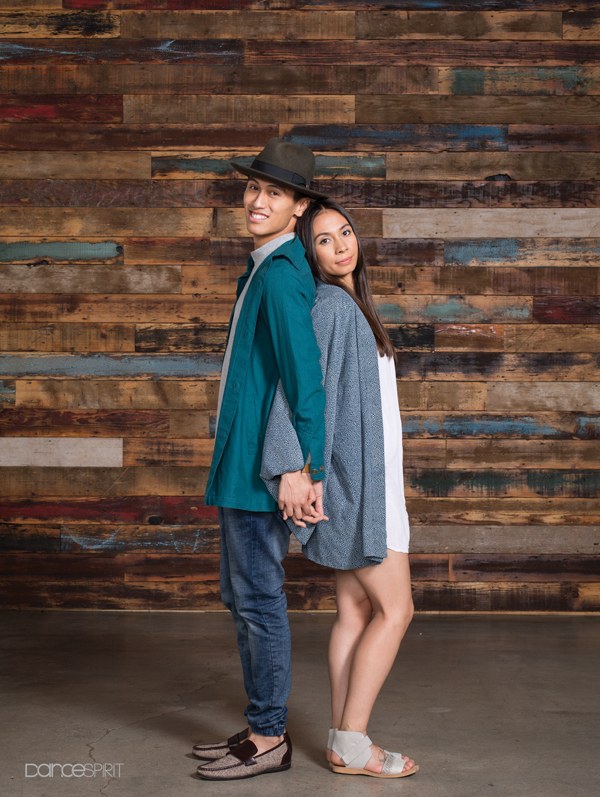 (Photo by Joe Toreno)
K: I'd describe our choreography as urban dance—it's a fusion of styles with a strong base in hip hop, but definitely not pure hip hop. Storytelling is a big part of it.
M: It's also rooted in musicality, with lots of detail and precision.
K: Our choreography is all about grooves! The feeling is the most important. We brainstorm moments we want to bring out of the song, but a lot of times, the flow creates itself and new ideas come to the table.
M: One of the pieces I'm proudest of is "Orphans," which we performed with our dance team Cookies at the VIBE XX Dance Competition in January. We got first place and donated our winnings to World Vision, a huge charity organization dedicated to helping children and families. There was a ripple effect, with the team that won second place also deciding to donate. It was such a cool moment, seeing what dance can do beyond the stage.
K: Our faith plays a big part in the choices we make, the songs we choreograph to and the messages we decide to share. With "Orphans," it felt good to raise awareness and give a voice to people who don't have one.
M: Looking ahead, what would be your dream dance job?
K: It's hard to say—I think we're living it right now! We're getting into theater, doing more film stuff and traveling and teaching, so I can't complain. But having a family will be the ultimate prize. That's what all this dance stuff and the opportunities we take are for—to provide our family with a better future.
M: Yeah, that's the next big step, and the real dream job: being a mom and dad.
The Next NappyTabs?
It's no wonder people are constantly comparing the Madrids to Tabitha and Napoleon D'umo (aka "NappyTabs"). Married couple that works together? Check. Sick choreography? Check. "So You Think You Can Dance" creds? Check. "We totally get it, since they're also married and do hip hop and partnering," Keone says. "But we're in different worlds—they're very much in the industry, while we're somewhere in between the industry, the competition/community scene and YouTube."
Even though they draw a distinction, Keone and Mari are extremely flattered by the comparison. "We respect and are inspired by them, especially seeing how hard they work for everything they have," Mari says. "They've also shown us it's possible to have a family and work in choreography!"
In the House
For Keone and Mari, the creativity doesn't stop on the dance floor. Their home in Carlsbad, CA (near San Diego), is full of touches that show just how artistic these two are—from a wedding portrait Mari drew herself to artwork they picked out together. "Our place has everything from a poster of Marty McFly in Back to the Future to a giant map of the world to pictures of our dog," says Keone. "It's a mixture of things we enjoy and things that inspire us."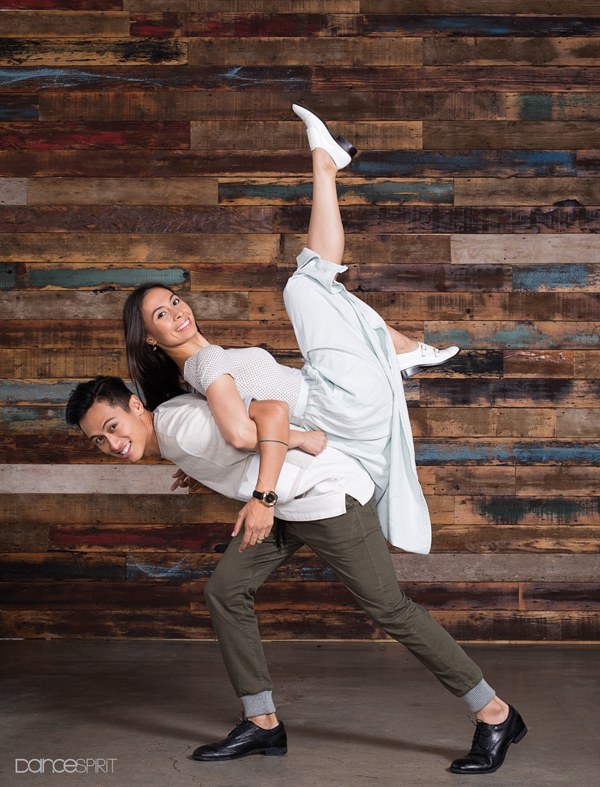 (Photo by Joe Toreno)
Opposites Attract
As with any successful partnership, Keone and Mari both bring different strengths
to the table—which make their work that much more awesome. Mari says Keone is particular, which helps take their ideas to the next level, while Keone says Mari helps him stay calm, cool and collected.
Mari: "Keone is a good initiator when we get stuck—he's always pushing to find out what the piece is supposed to be. He has a very high standard. At moments when I'd just settle for something, he'll push to go a little bit further."
Keone: "Mari is all about patience and allowing the space to just figure things out. She's really good with keeping things in perspective, and that translates to our personal life, too."
Mari on Keone
What's Keone's biggest food craving?
Meat and rice, always.
If Keone weren't a dancer/choreographer, what career would he have chosen?
Sports medicine
What's Keone's biggest phobia?
Heights
What song would Keone say is "yours" as a couple?
We have several, but Frank Sinatra's "The Way You Look Tonight" was our first dance at our wedding.
If Keone were a superhero, what would his power be?
Flying, pending he gets over his fear of heights.
Who would play Keone in a movie?
Haha, James Franco.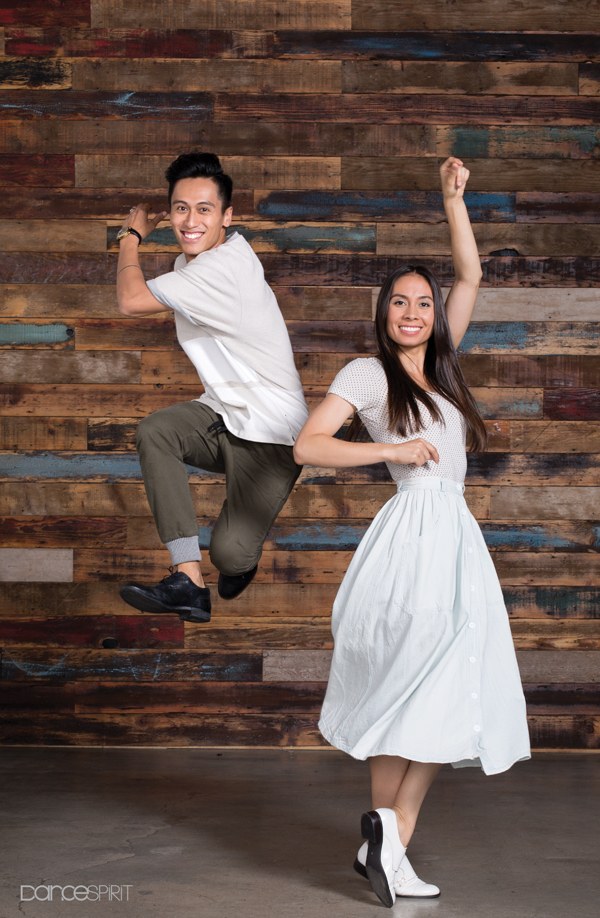 (Photo by Joe Toreno)
Keone on Mari
What's Mari's favorite flower?
Rannunculus
What's Mari's biggest pet peeve?
Grammar, specifically "you're" versus "your" and "apart" versus "a part." And when I'm on my phone.
What item(s) of your clothing would Mari like to steal for herself?
My hats and hoodies.
What's Mari's hidden talent?
It's not really hidden, but cooking and writing.
What does Mari think is the best gift you've ever given her?
The "Raff the Giraffe" story book I made her. And marriage.
Choreography
Mar. 01, 2014 05:30PM EST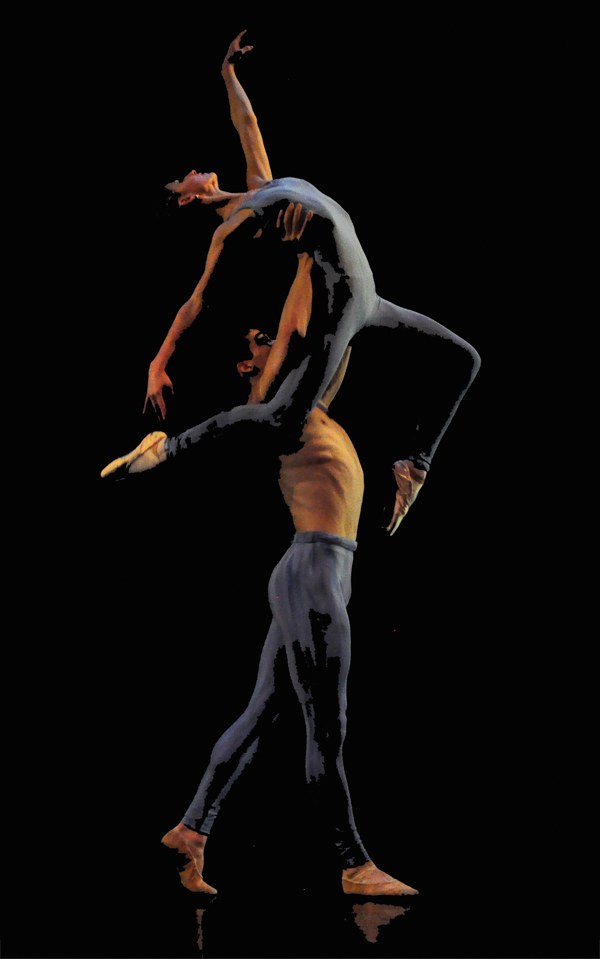 Andrea Bayne and Matthew Cluff in Bruce Monk's Nocti Lux at Ballet Victoria (photo by Jean-François Mincet)
Sizzling tension, intoxicating romance, heart-wrenching drama: Whether we're talking about a "So You Think You Can Dance" routine, the Black Swan pas de deux or a classic Fred and Ginger–style ballroom number, duets can pack a serious emotional punch. They can also wow us with their amazing lifts and other feats only possible through partnering. But creating a dance for two is uniquely difficult. How do you choreograph for two bodies in a way that's flattering, balances tricks and artistry and leaves a lasting impression? DS talked to the pros to find out.
Before You Get to the Studio
Duets are, by their nature, relationship stories. So start by defining the tale your dancers will tell. "SYTYCD" and Broadway choreographer Joey Dowling likes to watch couples on the NYC subway—their body language and interactions often give her ideas.
And don't be afraid to go beyond the typical love story. Shannon Mather, choreographer for "Dancing with the Stars" and director of Mather Dance Company, once made a duet for twins, with one as the "mind" and one as the "body." Travis Wall is known for his powerful guy-guy duets for "SYTYCD," like the Season 7 piece he made for Kent Boyd and All-Star Neil Haskell about two feuding friends.
Find a Balance
Good duets require a delicate balance of ingredients. Dowling calls it her "recipe": "A good recipe has a dash of this and two cups of that," she says. "In dance terms, you don't want a work to be all partnering or two people doing side-by-side solos."
It's particularly important not to overstuff your piece with impressive lifts and forget about the quieter, simpler movements. "Remember to allow the duet to breathe—that's when the chemistry between the dancers builds," Mather says. "Sometimes it's the moment when the two are just looking at each other, engaging with each other, that brings the audience in. Plan the big lifts, but the chemistry is what the audience will remember."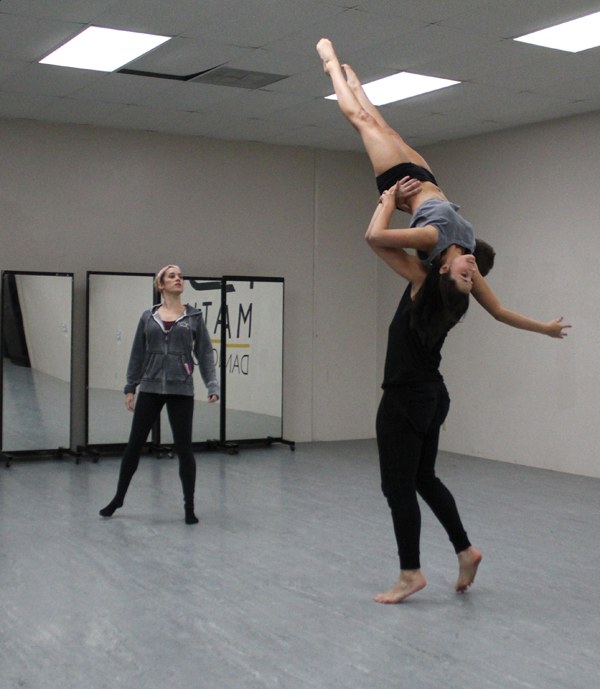 Shannon Mather rehearsing Lonni Olson and Jace Zeimentz (photo by Tamerra Herres)
Play up the Dancers' Strengths
Sometimes the biggest challenge when choreographing a duet is dealing with two dancers who aren't exactly a match made in heaven. What if you're working with a powerhouse technician and an emotional mover, or an experienced girl and a totally inexperienced guy—or two people who simply don't get along?
If your dancers aren't technical equals, don't force it. "I'm never going to have two dancers pirouette at the same time if one's a strong turner and the other's not," Dowling says. Pushing a dancer's technical limitations is generally a good thing—but not when he or she is going to be closely compared to the only other person onstage. Instead, blend the dancers' strengths by "restyling" or modifying their best tricks. "Don't try to do an overhead lift with a guy who doesn't have the technical experience needed," Mather says. Instead, opt for a shoulder sit, a cradle or another simpler lift that still looks interesting. "You can find the 'wow' moment without breaking the girl's neck," Mather says.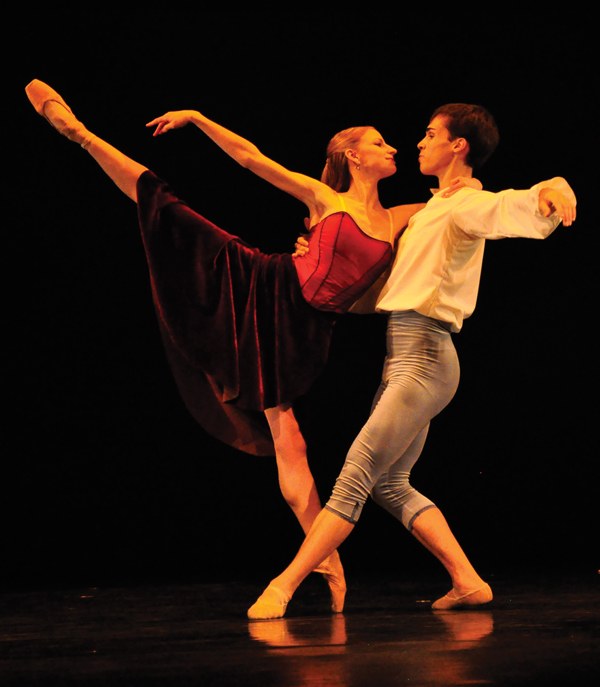 Andrea Bayne and Matthew Cluff in Paul Destrooper's Dances with Wolfgang Amadeus Mozart (photo by Jean-François Mincet)
Dancers of different experience levels can actually be a blessing in disguise. Paul Destrooper, artistic director of Ballet Victoria in Victoria, British Columbia, loves the dynamic energy sparked by pairing a veteran with someone greener. "There's a circle of learning and experience that's unique in pas de deux work," he says. "It can be tough and stressful, but it's valuable for a mature dancer to mentor a newer one."
Dealing with personality conflicts is stickier—but as the person at the head of the room, you're the one who has to lay down the law. Dowling has "zero patience" for bickering. Make sure your dancers understand that personal differences must be put aside the moment they set foot in the studio. And there's actually a certain heat between dancers who dislike each other. If you can, incorporate that into the choreography.
It takes two to tango, so this week's installment of online reality show "city.ballet." gives us the inside scoop on partnering at New York City Ballet. Watch to find out who's matched up with who, and what it really takes to master those crazy lifts.
FUN FACT:
You'd never guess it when she's flying into sky-high lifts, but soloist Lauren Lovette is afraid of heights. Good thing NYCB has some of the trustiest partners in the dance world!
QUOTE OF THE WEEK:
"It's not always perfect or safe, but usually they'll catch you before your head hits the ground...I got dropped on my head once." —NYCB principal Megan Fairchild
Watch every episode now or join in on my one-episode-per-week challenge at dancemagazine.com (Click "Related" in the upper right hand corner of the video to navigate between episodes.)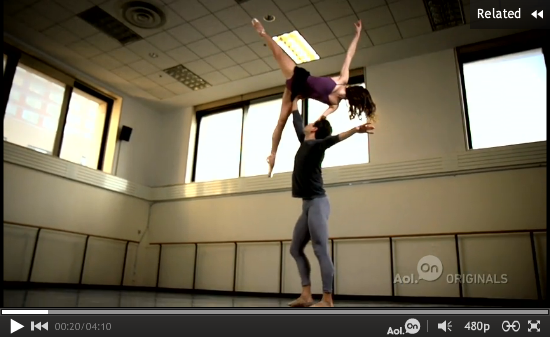 Ballet
Apr. 25, 2011 08:20AM EST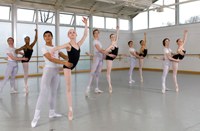 Washington School of Ballet students in pas de deux class. Photo by Stephen Baranovics.
You're at a summer intensive, taking your first pas de deux class—ever. Your palms sweat as you grasp your partner's hand for a shaky promenade, staring intently at the floor to avoid looking him in the face. "Sorry!" you chirp nervously when you fall off pointe, feeling your face grow hot when he doesn't say anything. "Ugh!" you think. "Why is this so awkward?"
Partnering class can be intimidating at first. Guys are touching you, lifting you and whipping you around. You have to smile and sometimes even act like you're in love, though you may not know or like each other. Pretty much everyone suffers from partnering anxiety, but if you know what to expect and keep an open mind, you can work through it and have a blast.
How to Prepare
Your partner needs access to your torso without any obstructions, so keep things basic with a leotard and tights. (And make sure your leo has good bottom and chest coverage—things tend to ride up and shift during lifts!) Some teachers won't allow you to wear a skirt during partnering class, but there's good reason: "The guys' hands can get caught in the bow," says Pittsburgh Ballet Theatre principal Julia Erickson. "If you're permitted to wear one, tuck in the ribbons."
When a partner is supporting you, you can stay on pointe for long stretches of time—and in pas de deux class, you will, which can totally kill your pointe shoes. Put on a newer, harder pair to help you maintain your balance and prevent overstretching the top of your foot.
You'll be in close physical contact with your partner, so you might want to swipe on some extra deodorant and sneak a quick mint to combat any dragon breath. "Don't go crazy with the perfume," says Erickson, "but wear a clean leo and have good hygiene."
In-Class Basics
Don't worry about the nightmare scenario of being the "last girl picked": Most of the time, your partner will be selected for you. "We usually put dancers together according to height and body type," says Houston Ballet Academy teacher Andrew Murphy. Sometimes you may have to share your partner if the male/female ratio is uneven.
Beginning pas de deux classes focus on simple movements. You might start with a basic weight transfer exercise where your partner shifts you forward, back and side to side on pointe. Later, you'll practice promenades in various positions, pirouettes from fourth and finger turns. "I don't have students do big lifts right away," Murphy says. To avoid possible injury (and embarrassment), he'll modify a more complicated lift and work on it over the summer as the boys get stronger.
Partnering involves intricate coordination—you have to jump at the exact moment the boy lifts for maximum effect (and minimal strain on his lower back). But a good partnership also means letting go. "You have to trust him," Erickson says. "Don't try to partner yourself. Hold your center, but give him your weight and be malleable so he can shape you into positions."
Working Through the Weirdness
Partnering definitely has its awkward moments. "I remember having a huge crush on my first partner," says Washington Ballet principal Elizabeth Gaither. "I wasn't used to boys touching me. I was completely mortified! Our instructor would say, 'Look him in the eyes,' and I just couldn't."
Touching your partner is a huge part of the learning process, but your teacher will help you get used it. "I teach them how and where to put their hands," Murphy says. "They get more comfortable as time goes on." Once you get a little more involved in the class, "you won't even notice where his hand is or what's happening," Gaither says.
However, with all this close-range dancing, someone's bound to get whacked. "I elbowed my partner in the nose once during a pirouette and almost broke it," Gaither says. "He was bleeding all over!" You'll need to figure out how much space to keep between each other to avoid collisions, and adjust to physical differences like height or arm length with each partner. But remember that even the pros occasionally knee or slap their partners accidentally. If it happens, apologize, but don't beat yourself up about it.
What if your personalities clash? "Stay calm and don't let frustration get to a boiling point," Gaither says. "Ask him what he needs and what you can do to help. Keep communication going." And if that doesn't work? "Be honest and say, 'I'd like to learn as much as possible. Please help me so we can both benefit,' " Erickson says.
You may feel self-conscious about working with a boy for the first time, but try to keep an open mind and a sense of humor. "We think that we're the only awkward ones, but everyone's in the same boat," Erickson says. "Remember, you're there for each others' mutual benefit." Learning how to partner is an exciting stepping stone in your dance career—let go, have fun and enjoy the ride!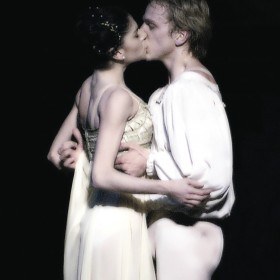 Picture this: Three couples—one heterosexual, one lesbian and one gay—perform a whirlwind of passionate movement, with the dancers embracing, lifting and rolling over each other. Choreographed by Jeff Amsden for Broadway Dance Center's 25th Anniversary Gala last May, their dance portrays that nerve-racking, exciting moment in a relationship just before the first "I love you."
You'd never know from watching her that 23-year-old Heather Romot, one-half of that female couple, is straight. "When Jeff asked me to do the piece, he said, 'You're going to be a lesbian—is that okay?' I knew it would take some acting, but that's my job as a dancer," explains Romot, a BDC intern at the time.
Despite some initial awkwardness in the rehearsal studio, Romot and her partner were able to develop amazing chemistry. "I tried to think of myself as really in this relationship, completely in love and wanting nothing more than to express it—even though it was toward a girl," Romot explains. "You can't just do choreography. You have to live inside the story."
Sounds easy enough, right? Not necessarily. What if you have yet to experience a serious romantic relationship? Not only might you have to portray emotions you've never actually felt, but you might also have to touch your partner as if you were in love. (In some cases, this could mean an onstage kiss!) Even in an abstract piece, you could be given close partnering work that involves your bodies touching in unfamiliar or uncomfortable ways.
It's normal to feel overwhelmed by these new levels of closeness—but that doesn't mean it's not possible to pull off an intimate piece, as Romot did, with confidence and professionalism.
Why Get Intimate?
Showing affection onstage can take your performance to a new level. Done right—picture Jason Glover and Jeanine Mason's kiss on "So You Think You Can Dance" Season 5—it will enhance the audience's experience. "When you have chemistry with your partner, the storytelling is better," explains musical theater choreographer Joshua Bergasse, who also teaches at BDC. "The audience will believe the relationship."
You'll also grow as an artist through the process of working closely with other dancers. You may become more comfortable in your own skin—which will in turn make you even more open with your partner. And you'll become a better actor: "Jeff's piece gave me a chance to play someone so different from myself," Romot says. "Taking the chances I did in this piece helped me mature as a dancer and an actress."
From Studio to Stage
Even the most beautifully intimate onstage moments may have had a rough start in the studio. Here DS helps you deal with four common intimacy hurdles.
1) Your partnership's not the perfect match.
It's fitting that 16-year-old Yvonne Lacombe's first duet with her dance partner, Jonathan Doherty, was titled "At First Sight"—the two fell for each other shortly before the rehearsal process began! But after dating for two years, they broke up midway through rehearsals for a new love duet. How did the change affect their partnership? "It was awkward in the studio," says Lacombe, who trains at Artistic Dance Conservatory in East Longmeadow, MA. "But we eventually let go and drew on the emotions we used to feel. After all, we still felt comfortable onstage together."
Lacombe's story shows that you don't have to be in love with—or even attracted to—someone to have onstage chemistry. Finding common ground can help you come together. If you're still not clicking with your partner after some time, try taking yourself out of the equation. "Think, 'I'm not me—I'm this character who is close to this other character,'" advises Pilobolus Dance Theater member Christopher Whitney. "Then you can touch one another in whatever way is required. Even if you're not friends, your bodies can be friends."
2) You can't relate to the emotions in the choreography.
Believe it or not, even if you've never actually gone through the specific experience you're being asked to portray, you've probably have had relationships and life experiences that will help you understand how to show love and other intimate emotions onstage. "There are many different kinds of love and intimacy," explains dance psychologist Harlene Goldschmidt, PhD. "You experience love, tenderness and closeness with siblings, friends, parents—even pets!" Envision someone you're close to and put the feelings you have for that person into the choreography. Remember that the rehearsal process is a safe time to explore your emotional performance, because as with the actual steps, the more you practice portraying intimacy, the more comfortable you'll be onstage.
3) Your partner's body makes you uncomfortable.
What if your partner is really sweaty, or has body odor or bad breath? The best thing to do in this scenario is to speak up—gently. Consider how you would want to be told about a problem if the situation were reversed. Try to make light of the problem, and relate it to dancing so that it's not perceived as a personal attack. For instance: "If your partner's sweaty, say, 'Hey, can I get you a long-sleeved shirt? I'm sliding off you!'" says Jen Abrams, a contemporary choreographer and contact improvisation teacher in NYC.
4) You're being touched in all the wrong places.
If your partner's hands are straying dangerously close to your private parts, assess his or her motives. "Is your partner's intention to do anything other than execute the movement?" asks Abrams. "In that case, you might have cause to be uncomfortable. But it's more likely that they don't intend to touch you in that way. You'd be doing them a favor to let them know." (If you do feel that your partner is touching you inappropriately on purpose, or if he or she doesn't stop when you point it out, share your concerns with an adult. This type of touch is sexual harassment, and an adult can help you handle the situation.)
But what if the choreography requires you to touch in a way that you worry is "inappropriate"? Bergasse recommends approaching the movement from a choreographic—rather than emotional—perspective. "It's like a math equation," he says. "Break it down and analyze it: 'My hand needs to go here, and your leg wraps around here. From there we do this.' Once you know the movement, you can add emotion later."
A major measure of success for any piece that portrays intense affection onstage is how immersed in it the dancers become. If you feel the emotions—live them—the audience will, too.
Just ask Romot, who won't forget the experience of performing Amsden's piece anytime soon. "When I think back to this dance, I can't remember the exact choreography, but I remember the intense emotions I was feeling," she says. "Onstage, I felt as though we were the only two people in the room." Now that's intimate.  
Try these exercises in preparation for intimate partnering work.
If you're feeling nervous about the "touching" part of partnering work, try these exercises from contact improvisation teacher Jen Abrams, who has taught at Dance New Amsterdam and other studios around NYC. They are intended to get dancers used to being close to and in touch with a partner. Note: Have a teacher supervise to make sure everyone feels comfortable.
Stand behind your partner and embrace him or her, allowing your bodies to touch. Take 10 deep breaths, trying to breathe in sync. Then, switch places, so you're in front. Take 10 deep breaths. Next, embrace front to front, again taking 10 deep breaths.
Lie on the floor together and spoon. Again, focus on breathing together and feeling your partner's body move. After a few minutes, swap places. Try to breathe through the whole surface of the body—not just the belly or the back. "Spooning is one of the most intimate things I've ever done with a dance partner, and yet it's straightforward and not scary," Abrams says. "If you do this for five minutes at the start of every rehearsal, you'll have a sense of your partner's body and your connection will be stronger."
Place your hands on your partner's body and ask your partner to begin to improvise movement. As your partner moves, try to keep at least one of your hands in contact with him or her at all times. The objective is not for your partner to shake you off—instead, you're following their movement with your hands. "If you're genuinely trying to follow your partner, your hands will land in all sorts of places," Abrams says. "This can give you a sense of having touched your partner's whole body."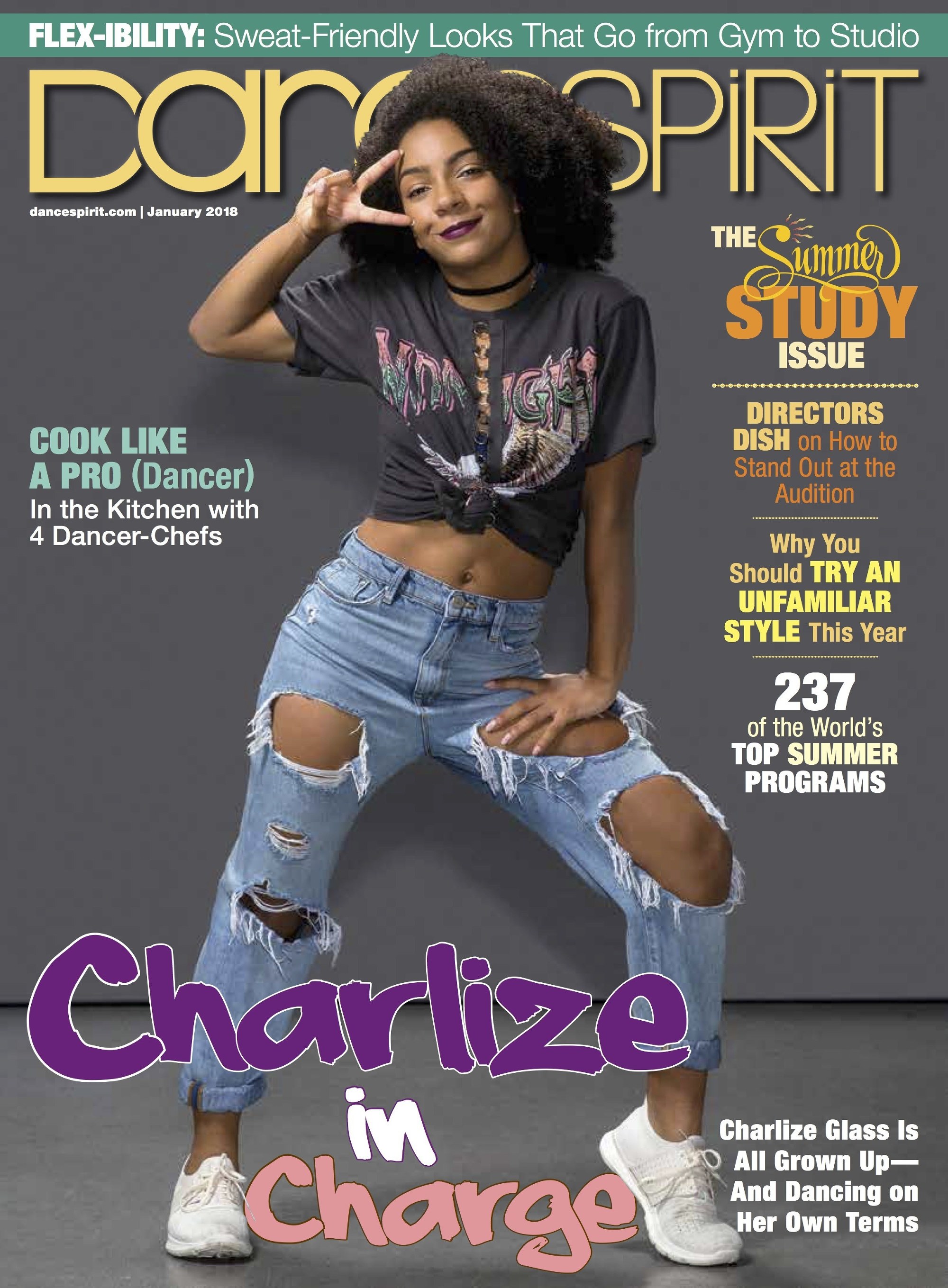 Get Dance Spirit in your inbox