Via YouTube
With all the ugly headlines these days, it's inspiring to see people who can move past their differences—especially when they find common ground in dance. And a new video from Jubilee Media proves that dance can even transcend language barriers.
Keep reading...
Show less
Popular
Aug. 10, 2017 12:41PM EST
@kalanihilliker via Instagram
If Kalani were to win an award for something besides her dancing, it would be for having the most "like"-worthy Instagram page (@kalanihilliker): It's jam-packed with behind-the-scenes pics of the "Dance Moms" cast, fashionable photo shoots, and goofy, candid moments. Here, Kalani shares the strategies that got her to 4.2 million followers.
Keep reading...
Show less
Popular
Aug. 07, 2017 02:37PM EST
Pacific Northwest Ballet recently broadcast one of its summer course's advanced level pointe classes, and the whole video is crazy #goals. Each exercise is executed with beautiful precision by the elite group of students, and instructor Marissa Albee (a former PNB Soloist) provides detailed insight with each correction. What's even more inspiring is the fact that the footage was taken only a couple of days ago. Summer may be coming to a close, but these dancers are still hard at work perfecting their craft.
Keep reading...
Show less
Via YouTUbe
Everyone had their game faces on last night, as the final six "World of Dance" acts competed for a coveted spot in the World Finals. To say that all of them #slayed on the dance floor would be an understatement of epic proportions. Here's the low down on who emerged victorious— and who ended their journey toward the $1 million prize.
Keep reading...
Show less
Sep. 01, 2013 06:47PM EST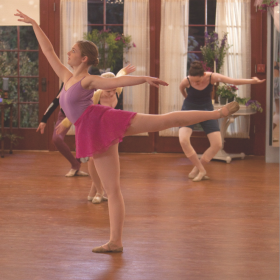 Writing down her corrections in a journal helped Kaitlyn Jenkins (here on "Bunheads") fix her arabesque for good. (ABC Family/Randy Holmes)
There are two words no dance hopeful wants to hear: "rookie mistake." Even if you have fierce fouettés and super-pointy feet, there are still some universal no-no's to avoid if you want to hear "yes" from a choreographer—and the list probably includes things you don't even realize you're doing.
In Class
1. Not arriving early. You may think arriving at 3 on the dot for a 3 pm class is totally fine, but it's really not. "It's frustrating and rude when people miss the first bit of warm-up and still want to take class," says "So You Think You Can Dance" and Broadway alum Neil Haskell, who guest teaches for The BEAT Dance Tour. You should be in the studio (or waiting outside of it) at least 15 minutes before the scheduled class time. Not only will that give you time to warm up, but it will also broadcast to the teacher that his or her class matters to you.
2. Not retaining corrections. For the longest time, "Bunheads" star Kaitlyn Jenkins kept getting the same correction from her ballet instructor. "My arabesque was completely out of line," she remembers. "It didn't look beautiful—just distorted." Teachers hate giving the same correction over and over again. It either shows the dancer lacks respect for the teacher, or that the dancer has trouble processing and retaining information. If you do have a hard time keeping track of your corrections, try writing them down in a journal. That's what Jenkins did—and doing so helped her fix her arabesque for good. "When you write things down, it keeps the information fresh in your mind and ingrains it in your brain," she says.
3. Not saying "thank you"—and meaning it. It's pretty much a given that you should thank a teacher or choreographer after class, but being genuine matters, too. "You were the person yawning in back who didn't take a single correction, but you still give me a big 'thank you' hug? I remember that," says choreographer Mandy Moore. "I always find it interesting who is authentic with their 'thank you' and who's not. I lock that into my brain, and I'm like, 'I don't want to work with that person.' "
At Auditions
4. Not going the extra mile with your homework. Before any audition, get the full 411. You may think you know what a good Chorus Line audition outfit looks like—but what if your director is doing a crazy, futuristic take on the show? "Research the piece you're going in for, the style of dance it uses and the specific look the choreographer wants," advises Jamie Harris, director of Clear Talent Group's NYC office. "What you wear for Susan Stroman will be different than what you wear for Andy Blankenbuehler."
5. Not being observant. The dancer who gets the job is the one who masters the choreography's tiniest nuances. Jenkins advises paying as close attention to head placement and port de bras as you do to fancy footwork. She remembers a day on the "Bunheads" set when they had to reshoot a scene several times because two dancers couldn't get the arms right on a particular combo. "Always look at the full picture," Jenkins says. "In ballet, that can determine whether you get into the summer program or the company."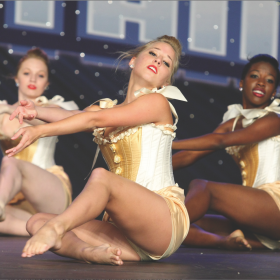 Don't fake your performance face! Expression and emotion are just as important as technique onstage. (Universal Event Photography)
Onstage
6. Not giving good face. Expression and emotion count just as much as flawless technique, and faking won't cut it, says Haskell. "Whether you're watching a competition, recital or Broadway show, you never want to see pasted-on or forced smiles," Haskell says. "It's important to give an honest performance."
7. Not being aware of your spacing. Dancing your biggest onstage seems like an obvious "do," right? Wrong. For the sake of the dancers around you, don't be a flailer. "Whether you're working with two or 100 other dancers, know the space you're in and figure out how big you can be," Haskell says.
Moore agrees, recalling a recent instance on the set of Nickelodeon's "The Fresh Beat Band" in which a dancer bumped into one of the principal performers. "I was horrified," Moore says. "You never want to be the dancer who messes up a take—time is money on set. Spatial awareness is incredibly important."
On the Job
8. Not tweeting with tact. It may be tempting to vent online about a terrible day at work, but those 140 characters could come back to bite you. "Don't tweet about bad days and don't bash anyone," cautions Haskell. "Your name is attached to your social media accounts, and if a director looks you up, he might change his perception of you."
9. Not keeping it professional. Remember that you're representing your choreographer or company at all times, even when you're getting fitted, grabbing a snack or waiting backstage. "I've been on sets where dancers I hired were rude to costume people or craft services, and it gets back to the producers—which makes me look bad," Moore says. "Being kind and easy to deal with will get you so much further." Harris agrees: "You don't want to lose a job because you act like a diva—you want to get one because you dance like a diva."


Get Dance Spirit in your inbox