Mar. 23, 2017 01:31PM EST
Earlier this year, Ashley Green and Michael Hall—senior dancers at Columbia City Jazz in Lexington, SC—were performing their duet, Redemption, at a 24 Seven Regionals competition. It'd already been a long day, and they were tired. Near the end of their performance, disaster struck: Michael's leg gave out during a lift and both dancers ended up on the ground. But in the blink of an eye, Ashley made their fall look intentional. "She got up, looked at him as if he'd wronged her, and exited without him," recalls CCJ artistic director Dale Lam. "Her recovery worked so well that they changed the routine, took it to Nationals that way and won!"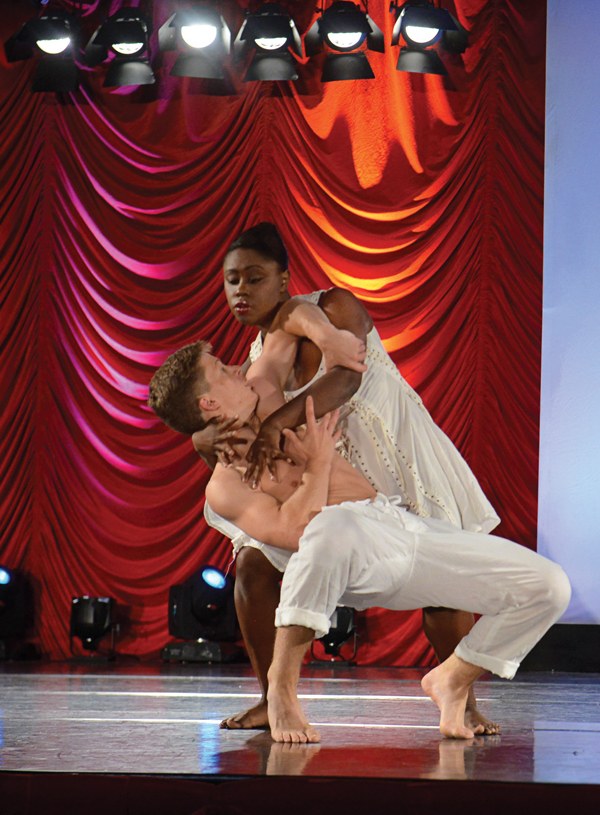 In their duet, Redemption, Ashley Green and Michael Hall used an onstage flub to their advantage. (Photo courtesy Dale Lam)
For 17-year-old Ashley, stopping the piece to deal with the fall wasn't an option. "When things go wrong, I just keep moving and try not to show it on my face," she says. "No matter what, you have to make it work."
Having that never-quit mentality can pay off, but the mantra of "The show must go on," especially in the face of onstage calamity, is easier said than done. Whether it's a glitch in the music, a costume that comes undone or a partner who drops the ball (or drops you!), here's how to handle the most unfortunate of performance circumstances.
Musical Mishaps
Music malfunctions are all too common, especially for competition dancers who are often playing their songs on new devices at each event. When you're onstage by yourself, turning to your improv skills when the music skips or stops may be enough to save you. But staying in sync in a group number is tricky when you don't have the music on your side. Lam has her dancers practice combinations without music, so they learn to keep time by breathing together. "You can stay on the rhythm by noticing the beat of feet on the floor and listening to each other's breath," she says. Lam has also seen dancers in musical theater numbers save the show by singing their music during a technical glitch. "They were so connected to the song, and the audience loved it," Lam says. "When things go wrong, you can get upset or you can do something totally unexpected. And in the latter case, the audience will be forgiving."
So will the judges. Professional tapper Melinda Sullivan says that, when judging competitions, she'll never take off points for a mishap that's outside of a dancer's control—as long as it's handled well. "At New York City Dance Alliance this year, I remember thinking one group number was great, but then there was an announcement that the number was running again because they'd performed the whole piece to the wrong music," Sullivan says. "Since they stayed committed, I had no idea!"
Costume Catastrophes
When costumes rip or come untied, dancers have a choice to make: Should they fix it onstage, make a quick exit or let it be? Choreographer Stacey Tookey remembers the first time she had to make this tough call as a teenager, when a halter top came untied completely. "I unfortunately opted to continue dancing while holding my top up for the whole routine," Tookey says. "But now I know that if you're really exposed, it's OK to leave the stage." This is especially true for a group routine: Ducking into the wings to fix a costume calamity might pull less focus than trying to retie a top mid-routine. If you can, exit and reenter during formation changes, when the audience is less likely to notice. Keep a sewing kit handy backstage in case you need to make last-minute repairs or adjustments.
Prop Problems
While props can add an extra spark to a number, they're an inevitable performance hazard—you know someone is bound to drop something. But what happens if you're the culprit? Lam says retrieving your fallen prop is usually the smartest option, especially if there's a risk of someone tripping on the item or having to dance around it. "Everyone in the audience will be distracted by the prop on the ground for the rest of the piece, so stay in character and pick it up," she says.
Tookey agrees: "Odds are you'll need to use the prop later, so try to fix the situation and get back on track as fast as possible," she says. "But if the prop goes flying and rolls into a back corner, don't run across the stage." If your prop is truly out of reach, carrying on empty-handed is a wiser choice. And if you see someone else's abandoned prop on the ground, it might be worth taking a second to kick it offstage to prevent a face-plant.
Fellow-Dancer Disasters
You may remember 2 Steps Away, one of Tookey's duets for Kathryn McCormick and Jonathan "Legacy" Perez on "So You Think You Can Dance" Season 6. But did you know it included an onstage mishap? "Legacy was supposed to give Kathryn's leg a slight pull in arabesque, but he pulled so hard she landed on her butt," Tookey says. "Kathryn got up and kept going so seamlessly that even I didn't notice the mistake!" (No one else noticed, either—the routine earned Tookey her first Emmy nomination.)
Being able to carry on when a fellow dancer messes up—or messes you up—is a skill that really comes down to mind-set. "A mistake can be distracting and throw you off," Sullivan says. "But I love the statement 'strong and wrong.' If you make a bold choice and keep it moving, the audience won't know the difference." Confidence, Sullivan notes, is key when you're improvising to cover someone else's error—or your own.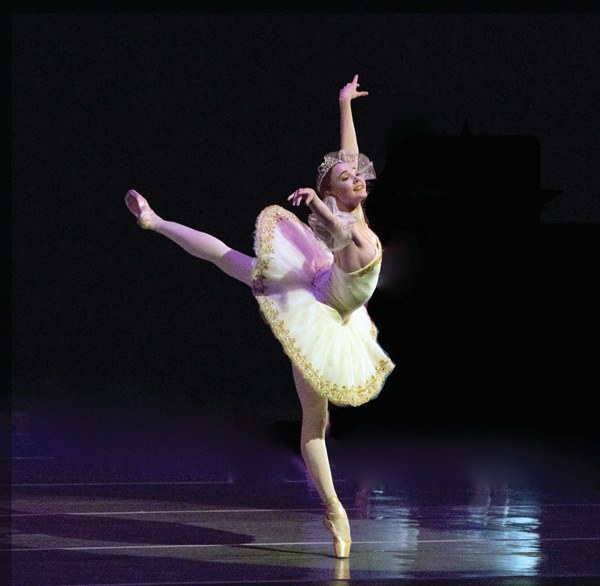 Rio Anderson doesn't let herself dwell on mid-performance mistakes (photo by Sandy Lee, courtesy Rio Anderson)
Most importantly, don't let a mishap psych you out. Rio Anderson, 17, from San Francisco, CA, remembers having to recover from a fall at the Youth America Grand Prix Gala in Indianapolis. "The hardest part was that I spent the rest of the piece worrying that I messed up," says Rio, who currently trains at The Royal Ballet School in London. "Now I try not to get caught up thinking that every performance has to be perfect. As a dancer, you have to assume that things will go wrong, but you'll be able to deal with them as they come."
Competition
Mar. 23, 2017 04:43AM EST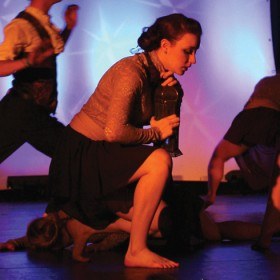 Hilary Harrison (Ricard Harrison)
Hilary Harrison always looked up to her best friend, Kayla, the star of the Michelle Latimer Dance Academy in Colorado. She wanted to be just like her, which made it hard for Hilary to grow as a dancer. "I wanted to be her instead of wanting to be myself," Hilary admits. It wasn't until she went to a convention—by herself—that Hilary stepped out of Kayla's shadow and saw the light:  She had to stop comparing herself to others if she ever wanted to reach her full potential.
It's easy for competition dancers to fall into the comparison trap. You watch and analyze each other in class, at competitions and at conventions. Somebody always has more turnout, higher extensions and stronger technique than you do. But all dancers are different, and no one else has the qualities that make you you. Read on to learn about the dangers of comparing yourself to others—and to see how you can keep it from getting the best of you.
The Trap Is Set
Competitions are all about comparisons: Who has the best solo? Who can do more pirouettes? Who's got the most charisma? Christina Morrison, a 16-year-old from Walker's Dance in Massachusetts, has been competing since she was 7. "Being backstage and watching a dance that's incredible makes me go, Wow!" she says. "But that's when I start comparing myself to that person onstage, and it kind of freaks me out."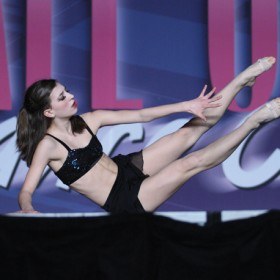 Christina Morrison (courtesy Christina Morrison)
You can get stuck comparing yourself to other dancers at your own studio, too. That's where you spend most of your time looking in the mirror and watching friends take class every day. "It's not realistic for dancers to not look at other dancers," says Dr. Jim Taylor, author of Psychology of Dance. "You're facing them at the barre or watching them onstage. Dancers compare their technique, body types and virtuosity, and those comparisons will either build or hurt their confidence."
Some teachers even pit students against each other by saying things like, "So-and-so can do this step. Why can't you?" Don't let it make you feel insecure. "There are differences in body type and development," says Dr. Linda Hamilton, wellness consultant for New York City Ballet. "Tall dancers may take longer to fully develop. Students shouldn't feel that they're losers if they're not ready for pointe work, for example. Often they just need to get stronger."
The Danger of Comparisons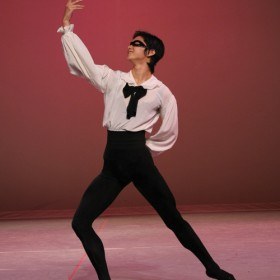 Jong Suk Park (courtesy Jong Suk Park)
Getting caught in the comparison trap can lead to low self-esteem and might affect the way you perform and train. Jong Suk Park, a corps dancer at Pennsylvania Ballet, remembers when he ran into two old classmates at a competition and they "messed with his head."
Both guys, who had just gotten jobs with European companies, went out and nailed their variations. Jong says, "They came up to me and said, 'Let's see what you can do.' I went onstage and couldn't get their words out of my mind." He didn't perform as well as he could have because he was thinking about his rivals and not focusing on himself.
These kinds of mind games and self-criticism can also be bad for your health. O'Lyvia Fuller, an 18-year-old competition dancer at the Lisa Pilato Dance Center in Massachusetts, let them affect her physical and mental well-being. "I thought I was terrible because I wasn't the skinniest girl onstage or in dance class," she says. She got depressed and started gaining weight. It wasn't until O'Lyvia felt comfortable in her own skin that she began to gain confidence. "I got happier," she says. "I realized that no matter what size I am, I can be the best one onstage. I don't have to be the smallest one."
How To Avoid the Comparison Trap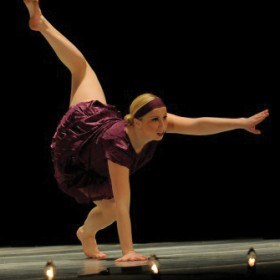 O'Lyvia Fuller (Donner Photography)
How do you keep all the comparisons from getting you down? If you're at a competition, find a quiet spot backstage. O'Lyvia likes to sit in a corner and stretch. "I try to breathe and focus," she says. "I listen to my solo music on my iPod and mark the dance through in my head so I'm super-confident with what I'm doing." Jong tries not to watch other dancers because it makes him nervous. "I've already taken class in the morning, so I get there 30 minutes before my turn to warm up," he says. "If I see someone do really well, then I feel like I have to do better than him. So it's better to watch after I get off the stage."
Christina imagines how she wants her dancing to look. "I focus on my song and my story and use the power of visualization," she says. "If I have positive images of myself dancing, then I tend to do better."
And it's not about winning or losing. "It would be nice to have a trophy,"  Hamilton says, "but your end goal is to have a career. Look at it as a learning experience." Use the opportunity to perform and get as much experience as you can.
Sometimes it takes getting out of your comfort zone to improve your self-image. "I had to step away from my studio to see that I'm an individual," Hilary says. "I was at a convention by myself in another state. I didn't know anyone, and they didn't know me. I could dance for myself."
Most dancers will get caught in the comparison trap at some point. "It's natural to look at your competition," says Taylor. "But if you're focused on other people, you're not focused on what you need to do to dance well."
What if you can't stop comparing yourself to others? Try looking at it as healthy competition. Watch other dancers to get inspired and learn from them. Set goals for yourself and remember that no one can dance exactly the way you do. Hamilton says, "Keep the focus on you."
Nov. 11, 2015 03:08PM EST
Stage presence is the secret sauce you bring to your dancing: It makes every moment more delicious. But it's not easy to nail down the recipe. "In auditions, I'm scanning a whole room full of dancers performing the exact same steps, and the ones who stand out have a special quality," says Warren Carlyle, the Tony Award–winning Broadway choreographer and "So You Think You Can Dance" veteran. "There's a luminescence to them. But it's hard to say what it is definitively."
Some lucky performers are just born with presence. "It can be a gift, like being a natural storyteller," says tap virtuoso Anthony Morigerato. But while he believes stage presence is difficult to teach, he does think it can be discovered. "You can definitely improve by getting feedback in rehearsal and evaluating past performances," he says. Here's your guide to going beyond the steps and really moving audiences.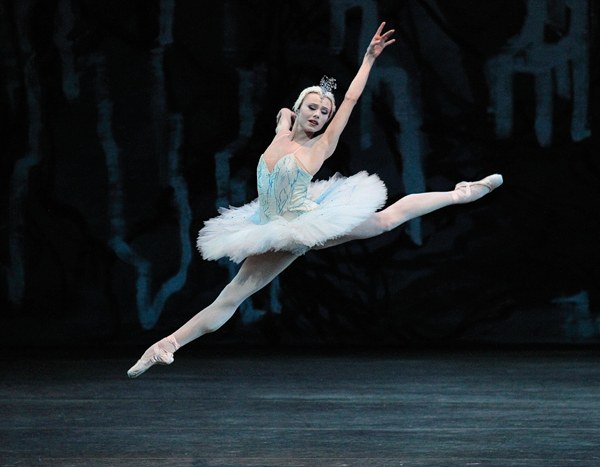 Sara Mearns as Odette in Peter Martins' Swan Lake (photo by Paul Kolnik, courtesy NYCB)
Perform with Your Whole Self
Stage presence is so hard to define because it's a complex combination of many things: expression, emotion, a dialogue between you and the audience. An all-purpose smile tacked on as an afterthought is never going to cut it. "Stage presence isn't just on your face," says Sara Mearns, a principal dancer with New York City Ballet, who's often praised for her passionate interpretations of iconic roles. "It's your whole energy, from the very first step you take onstage." To project that energy outward, she says, "you have to genuinely feel emotions, not just plaster them on. And you have to be comfortable with yourself to pull that off."
Get Your Story Straight
If you're having trouble connecting with the audience, start by analyzing the story or intention of the piece you're performing. Well before you walk onstage, you'll need to understand what the choreographer wants to say and how you can carry that message through the movement. "In rehearsals for the Broadway show After Midnight, I made the performers verbalize the story the choreography was telling," Carlyle says. "In many cases, that made it much clearer in performance." When Morigerato is judging at NUVO Dance Convention, he sees a lot of dancers who need to clarify this intent with their instructors. "If the performers don't understand what the choreography is about, that negatively impacts their ability to capture my attention," he says.
If you're dancing a classic work, Mearns suggests researching its history, which might help you connect with the movement. "Recently, I was rehearsing George Balanchine's Élégie," she says. "To prepare, I read about how he created it for ballerina Suzanne Farrell, and how she performed the piece when he was dying"—a powerful backstory to draw from.
Not performing in a story ballet or a musical? You can always make up your own character arc. Kaelynn "KK" Harris, a member of the 8 Flavahz Crew, thinks about taking on a persona in every performance, "whether it's sexy, hard, hip or girly," she says. And she works on that character from the very first rehearsal. "In the studio, dance full-out, the same way you would perform, including facial expressions," she says. "You want it built into your muscle memory."
Follow the Music's Lead
Another great way to bring more vitality to your performance is through the music. "Frequently, my interpretation of choreo-graphy is based on the meaning of the song it's set to," Harris says. If that song has a music video, she'll mine it for information about tone and mood. "The goal is to make the vocal artist's message come to life in the movement," she says.
Try mapping out the music's high and low points and echoing their energy in your dancing. "I think the best thing you can do is put on your headphones and listen," Morigerato says. "Find the dynamic contrasts and try to match them. If you hear joy, put that in your expression. When the music goes full-throttle, amp up your energy."
At competition, Morigerato adds, some dancers perform everything at full volume, regardless of the feel of the music, because they want to impress the judges. Remember that moments of quiet intensity can be just as captivating. "Performing is like telling a crazy story at lunch with your friends," Morigerato says. "You emphasize some parts and deemphasize others, using the tone of your voice to make the story better. The dynamics of your dance need to change like that, too. Over-the-top energy the whole time is like yelling in someone's face. If you include moments of subtlety when the music is hushed, the audience will lean in—and then, when the music intensifies, you can hit the floor, like, bang! That brings the dance to life."
Find Your Inspiration
Morigerato urges dancers to watch a different dance video every day for inspiration. "Find clips of masters like Fred Astaire, Mikhail Baryshnikov and Gregory Hines," he says. "If you're a tapper, don't just watch tap. Watch ballet or musical theater, and find something that speaks to you in each style." The more dancers you watch or study, the more you'll have to inspire you onstage.
Don't be afraid to draw from your own life, too—it's one of the best ways to tap into authentic emotion. If you're dancing a mournful solo, think about moments when you've felt sad and alone. If you're performing a joyful piece, channel the glow of your happiest memories. As you develop your craft, you'll find that your personal experiences will shape your performances more and more. "I'm doing some of the same repertory now that I did when I was 19, but I definitely don't perform it the same way 10 years later," Mearns says. "Just living helps strengthen your presence onstage, and your emotional connections to movement. The experiences I've had in the last decade have changed everything about the way I dance, and I wouldn't trade that for anything."
Ballet
Oct. 07, 2012 09:06AM EST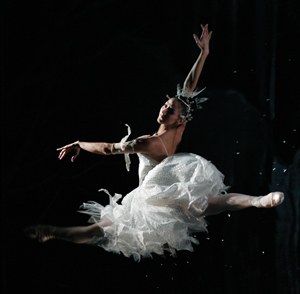 Martina Chavez in Oregon Ballet Theatre's Nutcracker (James McGrew)
As The Nutcracker's familiar "Waltz of the Flowers" theme swells to its exciting finale, Oregon Ballet Theatre's Martina Chavez gathers up all her energy for Dewdrop's most exhilarating choreography: a series of huge saut de chats traveling back and forth across the stage. "By that point in the piece, I'm exhausted," she says. But the climactic moment always gives her a second wind. "It's so exciting!"
Saut de chats and grand jetés are the human body's chance to fly. No other step gives dancers such glorious hangtime in the air—such a free, extended release from the tips of the fingers to the tips of the toes. Yet while they appear effortless (and are so much fun!), these leaps require a strong technical foundation and expert coordination.
Grand Jetés vs. Saut de Chats
While grand jetés and saut de chats look similar, it's important not to mix them up. "A grand jeté starts with a grand battement of the leading leg, then pushes off the back leg, lands in an arabesque and follows through to tombé," says Dierdre Miles Burger, director of the Orlando Ballet School. "Saut de chats are the same except for one crucial difference: The leading leg goes through développé rather than brushing from the ground."
Grand jetés can also look very different in different contexts. "You can grand jeté in a soaring fashion, or in a darting fashion, depending on the choreography and the amount of time you have," Miles Burger says. "Soaring" grand jetés are all about height and tend to take up at least a few counts of the music. "Darting" grand jetés, on the other hand, are quicker and lower to the ground. "There's less of a feeling of going up and over and more a feeling of going out and beyond," Miles Burger says.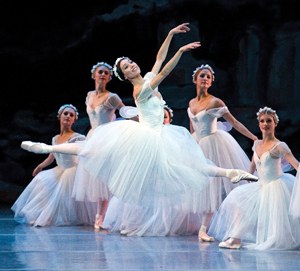 Erica Cornejo in Boston Ballet's production of Les Sylphides (Gene Schiavone)
The Well-Timed Takeoff
Both jumps require a good preparation and a powerful takeoff. Chavez notes that when phrased correctly, a typical tombé–pas de bourrée–glissade preparation will help you gather momentum for the jump. "But don't blow all your energy in the prep," she says. "An easy mistake is to make the glissade too big, which only makes the actual jump look less impressive."
Coordinating the timing of the grand battement or développé with the push off the back leg will help you reach maximum height and stretch in the air. Boston Ballet principal Erica Cornejo warns not to be sluggish with the leading leg. "If you're slow with the front leg, you're never going to make the position in the air, because you won't have enough time," she says. "But if you shoot your leg out quickly, it will give you time to stretch out up there." And the push off the back leg must follow quickly—it's what gets you in the air and propels you forward. "If you throw the front leg way up but don't push off the back leg soon enough, then all that power from the first leg is for nothing," Miles Burger says.
The ultimate goal of a grand jeté or saut de chat, of course, is hitting that beautiful full split. But Miles Burger feels dancers tend to overemphasize flexibility. Sacrificing a well-timed takeoff to get a hyperextended split results in a low jump that doesn't go anywhere. And an overstretched split is actually a distortion of the classical line. "It's not as much about flexibility as it is about suspending a correct position in the air," Miles Burger says. "It's a combination of stretch and strength."
The Upper Body
In addition to powerful legs, you need a strong, supported core to help you stay pulled together throughout the jump. A weak core puts you at risk for collapsing into your lower back. And try not to let your torso lag behind your legs, which makes it look like you're "bucking" the jump. "Pull your body over your legs as fast as you can," says Cornejo. "Sometimes dancers break down the step into three parts—front leg, torso, back leg—but it should actually be one smooth movement."
Many dancers forget about their port de bras during big, exciting jumps and end up flailing their arms without transitioning through classical positions. Make sure your arms go through first position before extending out. "Don't lock your arms," Chavez says. "Keep them extended and soft."
Cornejo, known for her gravity-defying jumps, offers a final tip: As she reaches the height of a grand jeté or saut de chat, she takes a deep breath. "It helps me hold on another second and reach higher," she says. "That moment is so special, just being in the air."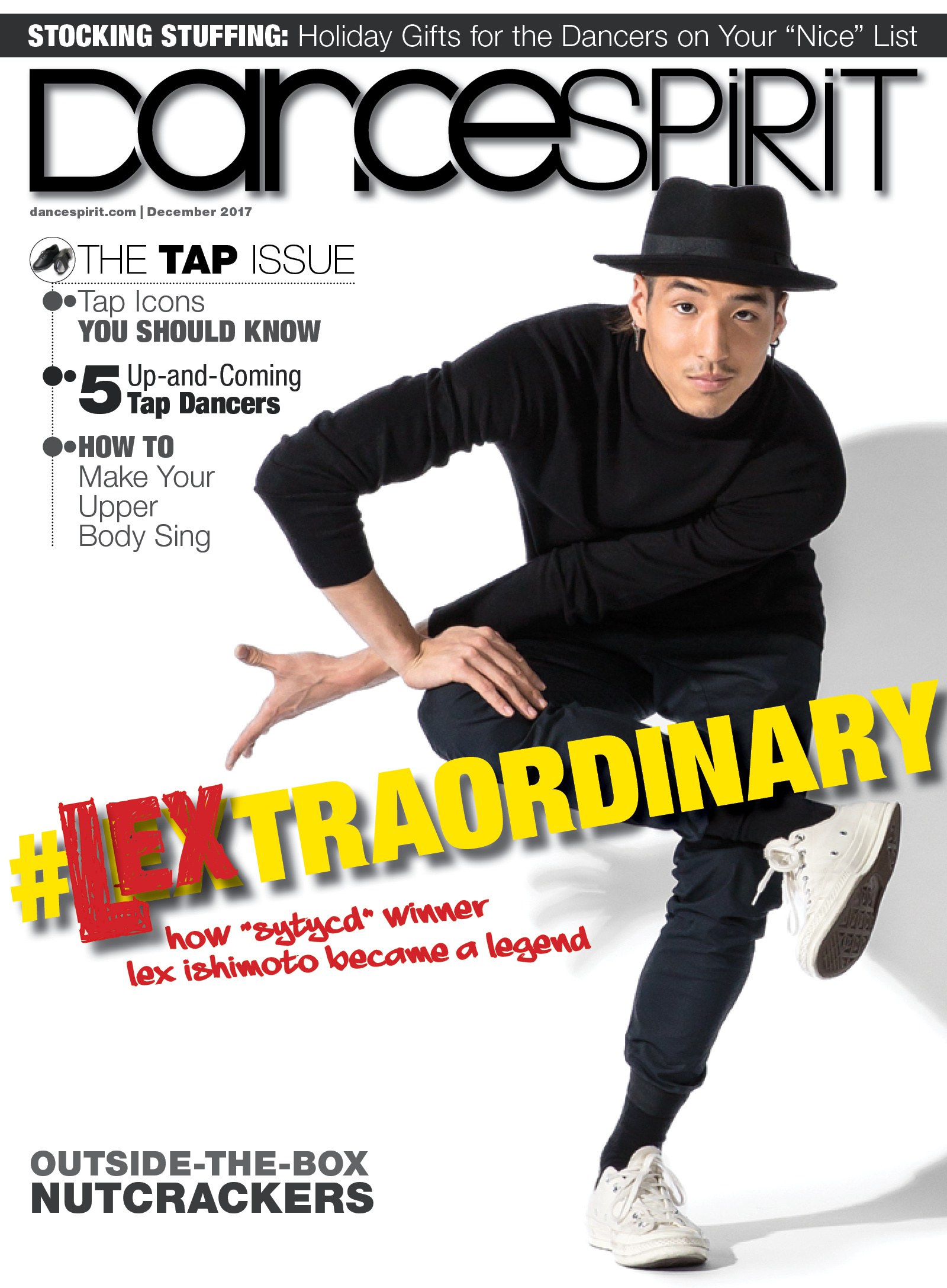 Get Dance Spirit in your inbox