Happy March!
Here at DS HQ, we're more than ready to be kicking off a new month (please please please tell us that March is going to finally bring us some warmer temperatures and pretty flowers...please?) and, fittingly, a brand-new issue!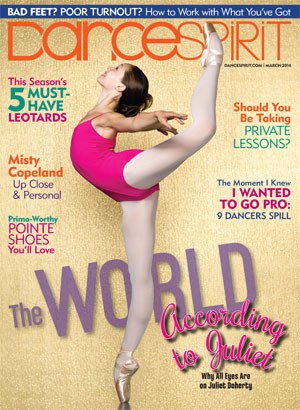 Introducing...Juliet Doherty!
The March issue of Dance Spirit is our annual Ballet Issue, and how lovely is this prima-in-the-making on the cover?
A little backstory...
I have been obsessed with Juliet Doherty for years. I saw her perform the role of Clara in the Radio City Christmas Spectacular and I fell hard for her gorgeous facility, sweet smile and perky onstage personality. At the time, Juliet was a competition dancer training at Fishback Studio of the Dance—her great-grandmother's studio—in her hometown of Albuquerque, NM. Now, at 16, Juliet's making big moves toward a serious ballet career: She's currently a level-seven student at the San Francisco Ballet School and she's performed as Clara in San Francisco Ballet's Nutcracker. Earlier this year she competed at the Prix de Lausanne in Switzerland. And let's not forget—she's a ballerina named Juliet. It's perfect.
We are so excited to feature Juliet on the cover of this issue. Not only is she a stunning dancer (as you can see from the cover—can this girl take a beautiful picture or what?), she's also super-smart (she was asked to give an inspirational TEDx Talk in 2012!), ultra-sweet and insanely humble.
Click here to read Juliet's cover story. And, as always, we've got plenty of extras for your viewing enjoyment: click here to check out a ton of outtakes from Juliet's cover shoot in L.A. with photographer Joe Toreno, and then watch a behind-the-scenes video from the shoot.
We love you, Juliet, and we can't wait to see what you do next!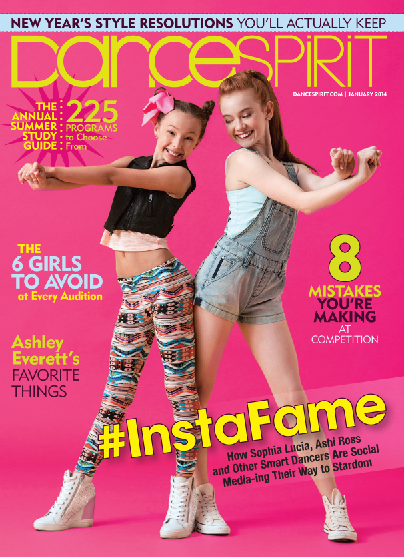 The new issue! Cover shot by Erin Baiano.
The funnest day in the Dance Spirit office every month is "new issue day." Even though we've just wrapped up months of working on a particular issue, it's still crazy exciting when we actually get our copies and get to hold them and gawk at them and bask in their new shininess.
The January 2014 issue arrived the other day and, in accordance with our little tradition, we all squealed and flipped through every page with an insane amount of excitement. This issue is an especially big deal because we've got some major dance celebrities on the cover: Sophia Lucia and Ashi Ross. They may be young and teeny-tiny, but these two girls collectively have hundreds of thousands of followers on Instagram, Twitter and Facebook. They're kind of a big deal.
We got a little peek at why people are so obsessed with Sophia and Ashi during their cover shoot in NYC. Ashi flew in all the way from her home in Australia (crazy!) and Sophia took a cross-country flight from San Diego, where she lives. The two of them hit it off right away, striking cute, fun and silly poses for our photographer, Erin Baiano. They had about a billion outfits and pairs of shoes between the two of them (I was hugely jealous of Sophia's wacky leggings and Ashi's high-waisted shorts that tie in the back) and, best of all, we got to shoot them on the hottest of hot pink backgrounds (a personal dream come true).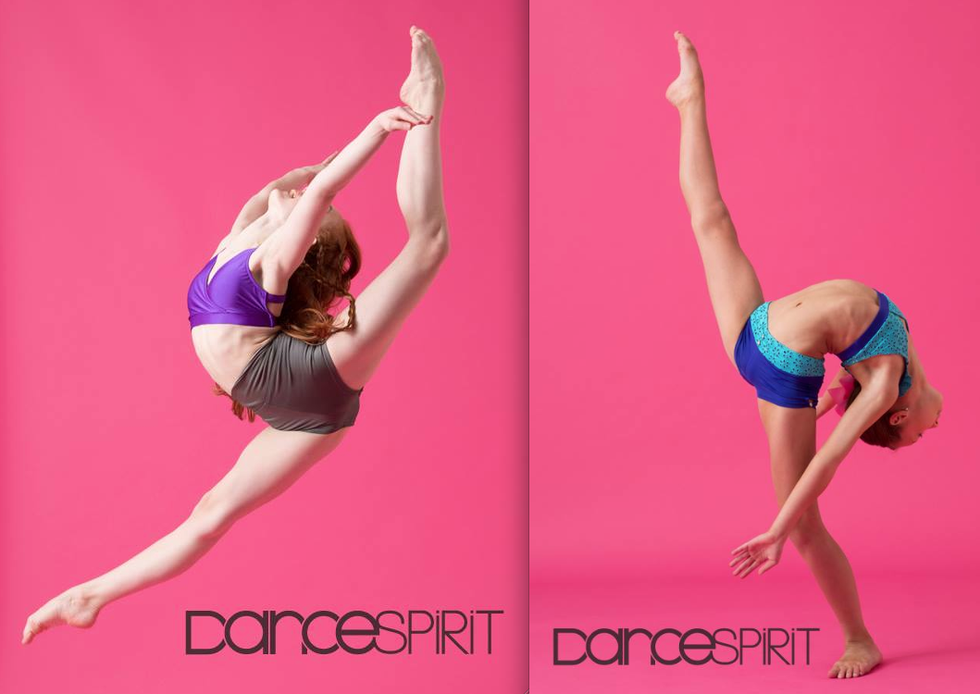 Ashi on the left, Sophia on the right, awesome across the board. Photos by Erin Baiano.
As always, there's lots for your viewing and reading enjoyment:
The January issue is available now online, and will be at your local Barnes & Noble and favorite dance retail stores on December 31.
Happy reading!
Making it to the Top 20 of "So You Think You Can Dance" is really, really hard, so most will never know what it's like to hang out with America's Favorite Dancers. One of the perks of working at Dance Spirit is that we get to do just that every year! That's because, the morning after the finale, the "SYTYCD" winners spend a day shooting their DS cover with us in L.A. And it's always a ridiculously fun-filled day.
Season 10's Amy Yakima and Fik-Shun made this year's shoot—complete with sky-high jumps and out-of-this world isolations—one of our favorites. See them climb all over each other (and a hanging bubble chair) in this behind-the-scenes video: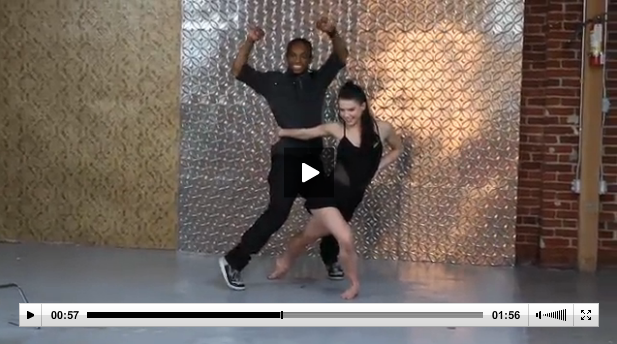 When Eliana and Chehon showed up for their Dance Spirit photo shoot, we were a little worried they'd be utterly exhausted. After all, they'd just finished taping 14 weeks of "So You Think You Can Dance" and been crowned the show's Season 9 winners the night before. After staying up late celebrating, they woke up at dawn to appear on early morning TV shows and chat with reporters from around the country before meeting us at 10am. Who wouldn't be a complete mess? Eliana and Chehon, that's who. They were all smiles from the beginning and rocked it nonstop for the camera—only taking one small break to watch the "SYTYCD" finale on Chehon's iPad. By the end of the day, we were having so much fun we didn't want to stop! But don't take my word for it—get an inside peek at our DS cover shoot here:
Then, check out our December cover story to learn what made this dynamic ballet duo stand out from the rest and take home the title of "America's Favorite Dancers."
Double double toil and trouble...Halloween is just around the corner! Have you decided how you're going to dress up? If not, you're in luck! We know how you can get decked out in spooky gear and put your technique to good use.
Check out this awesome Halloween-inspired dance photo shoot by photographers Caitlin Kellagher and  Renee Hollingshead, featuring Rachel Kramer and Kristina Vensko.
Here are some of our faves:
[gallery]
Are you dressing up tomorrow night? Anyone hosting a spooky dance party?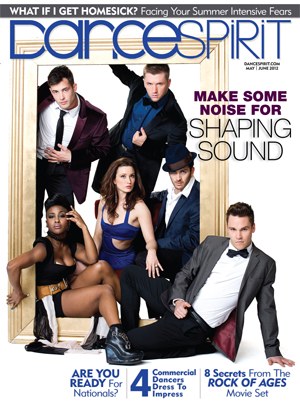 We had a blast shooting our May/June cover with Shaping Sound in L.A. earlier this year. You've seen the photos, you've read the story, but what you probably didn't know is that the "All the Right Moves" film crew tagged along at the photo shoot to document the day for the show.
You'll be able to see the whole episode featuring the Dance Spirit shoot when "All the Right Moves" returns on Tuesday, August 21, but for now, you can enjoy this sneak peek.
See our behind-the-scenes video of the Shaping Sound shoot here!
Few things excite us more in the Dance Spirit office than Newsies on Broadway. Seriously, we're obsessed. Which was why our day in Brooklyn shooting four of the Newsies dancers for DS's July/August cover story was one of the best days ever! Sure, it was freezing, but the boys found some pretty creative ways to stay warm. (An impromptu ballet barre on that fence? Let's do it! A warm cookie from that bakery? On it!) Plus, their stories from backstage (including some clever pranks) kept us laughing for hours. Sad you couldn't be there with us? Well, you don't have to be, because we captured it in an exclusive behind-the-scenes video!
Click here to read all about Alex Wong, Aaron Albano, Ephraim Sykes and Ryan Steele. Then, click on the image below to see their awesome antics caught on tape: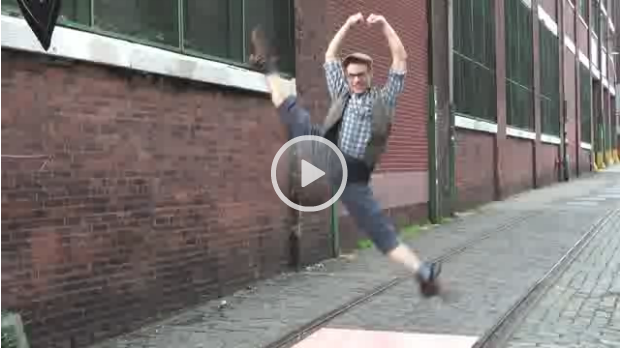 Get Dance Spirit in your inbox