Mar. 23, 2017 05:14PM EST
Consistent turns are a must for aspiring professional dancers, but pretty much everyone struggles with pirouettes at some point. Luckily, since we're all beholden to the same rules of physics, there are concrete steps every dancer can take to reach his or her top turning potential. "Three is the new two when it comes to pirouettes, but the secret to turning is technique, not magic," says Bojan Spassoff, president and director of The Rock School for Dance Education in Philadelphia.
Falling out of your doubles? Aspiring to go revolution for revolution with your class's star turner? No matter where you lie on the turning spectrum, our 360-degree guide to pirouettes will help you improve.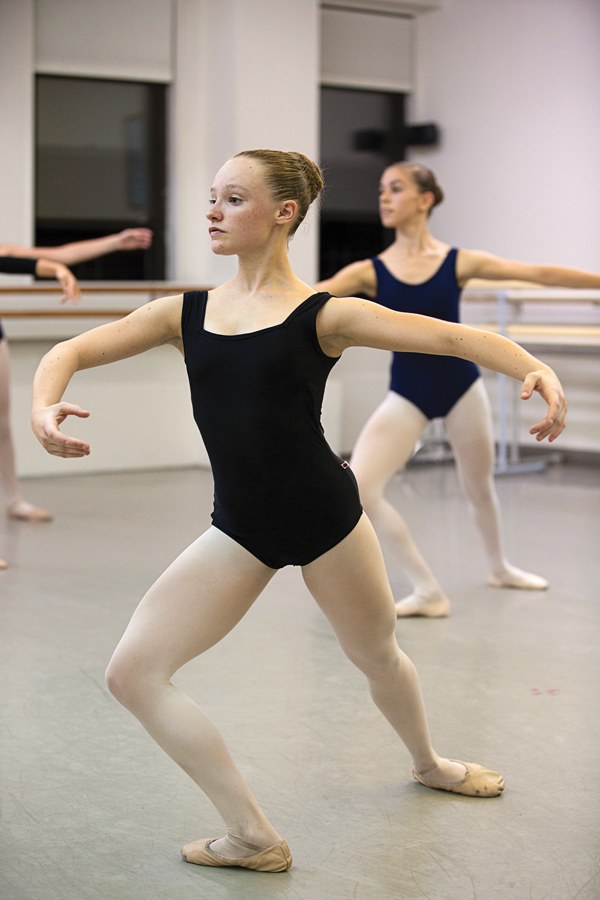 Ballet Academy East student Lucy Pink in preparation for an en dedans pirouette (photo by Rosalie O'Connor, courtesy Ballet Academy East)
Do Yourself a Solid
The stability of the passé position is the heart of every good pirouette. "I wasn't always great at turning," says 12-year-old Sophia Lucia, who holds the Guinness World Record for the most consecutive pirouettes (55). She's learned to go down the RAFT checklist—rectangle, arch, focus, tightness—before each turn. Her shoulders and hips should be level, so the outline of her torso forms a rectangle. Her arch should push over the second toe of her supporting foot. She should focus her eyes on a specific spot. "And there shouldn't be one loose muscle in my body," Sophia says. "I'm not tense, just compact, which holds the whole position together as I turn."
Assess your own passé position in a simple balance. Are you using your highest possible relevé? "You should feel a stretch through the top of your foot, like someone is lifting under your heel," says Stephanie Wolf Spassoff, co-director of The Rock School. The front of the hips should be flat and level; your core muscles should support your passé; and your back and shoulder muscles should support your arms. Be sure to draw your passé up to its fullest height. "In a good position, you'll feel taller than you've ever felt before," says Darla Hoover, artistic director of the Ballet Academy East Pre-Professional Division in NYC. Once everything's properly placed, you should be able to balance easily.
Whip It Good
Your preparation is what sets that perfect passé in motion—and the key is a deep plié that gives you the force you need to get on top of your leg, according to Denise Wall, artistic director of Denise Wall's Dance Energy in Virginia Beach, VA. "Especially in fast-paced pieces, I see dancers bending their knees in plié without really connecting to the floor," she says. Feel your weight in the plié and push off the floor equally with both feet as you go into your turn. "Then find the quickest, most direct way to get from preparation to passé, and don't let the position lose integrity," Wolf Spassoff says. "There's a tendency for dancers to use a lot of force and go for as many turns as possible, but they literally throw themselves off balance. You have to be controlled and coordinated as you squeeze up to that position."
A strong spot will also help whip you around—but don't let your head go wild. "Your head is the heaviest part of your body, and it should drive down into the supporting leg," Wall says. Otherwise, the weight of your head will pull you off balance, causing you to fall out of the turn. "Your eyes should truly see something right from the moment of takeoff," Hoover adds. "If you have trouble spotting, practice by doing chaîné turns, which are simpler and naturally rhythmic, and put up actual targets to spot."
And don't forget about your arms. "You wouldn't want to be on a plane with a flapping wing," Hoover says. Engage your latissimus dorsi (lats), the large muscles that run down the back. If you're having trouble finding that feeling, start by pirouetting with your hands on your hips, keeping your elbows from moving. But don't let your upper body get stiff. "The arms don't have to be static," Wolf Spassoff says. "They should feel supported and buoyant—almost as if they're floating on water."
Troubleshoot (a Video)
The foundations of a good pirouette may be the same for all, but because everyone's body is different, corrections for one dancer don't necessarily apply to the rest of the class. "I'd love to be able to say, 'Go take your pirouette vitamin,' like the answer is the same for everyone," Spassoff says. "But your body is unique, and you need to find out how to use it most efficiently for your turns." Ask a friend to record a video of you doing a series of preparations and turns on both sides, and analyze what you see. Falling sideways? You might be hiking up your working hip as you draw your foot up to passé. Falling backwards? You might be raising your shoulders or throwing your arms behind you. Rewind, rewind and rewind again, looking for the keys that will unlock your perfect pirouette.
When in doubt, check in with that passé position, and don't get discouraged. "A turn is a living thing you're molding," Wolf Spassoff says. Everyone has moments of frustration. "The day before a performance, I ran my solo 10 times and wasn't getting my turns," Sophia remembers. "I had a meltdown. But my mom helped me be confident by reminding me how hard I'd trained." On days when your pirouettes aren't working, remember that you've already got the tools you need to fix them in your turning toolbox: science, strength and awareness.
Is There Such a Thing As a "Natural" Turner?
Basically, yes. "Natural turners do exist," says Darla Hoover, artistic director of the Ballet Academy East Pre-Professional Division. "Some people have better equilibrium. I've found that many of my students who are natural turners also walked at an early age." Bojan Spassoff, president and director of The Rock School for Dance Education, agrees. "More compact bodies have a lower center of gravity, which is better for balance, and it may be more difficult for dancers with longer bodies to turn," he says. But that's not a reason to give up. "The keys to good turning can be taught to anyone," Hoover says.
Turning vs. Spinning
Everyone wants to bang out as many pirouettes as possible, but don't fall into the spinning trap. "Spinning is just rotating on the foot," says Denise Wall, artistic director of Denise Wall's Dance Energy. It's the ice skater's approach rather than the dancer's. "I see kids do 10 pirouettes on a one-inch relevé, and that doesn't count as turning," Wall says. "To turn, you must be on top of the leg, on your highest relevé, spotting, and in control."
Mar. 23, 2017 02:30PM EST
So, I haven't been pirouetting much for a few years now. But when I was dancing, I used to have this amazing recurring dream, which still haunts me:
I go to do a pirouette. It becomes clear that I am exactly, perfectly on balance. I have a realization that as long as I keep spotting, I'll be able to turn...forever. Spot. Spot. Spot. Spot. Spot...
Today, I discovered that American Ballet Theatre principal Gillian Murphy is living my dream IRL. Her REALITY is a beautiful fantasy world in which pirouettes just go on for, you know, however long she feels like it.
Here's the proof, as documented by fellow ABT principal Daniil Simkin:
Feb. 25, 2016 05:34PM EST
We've all had that amazing pirouette dream.
You know the one I'm talking about: The one where you go into a turn, realize you're perfectly, absolutely, unshakably on-balance, and just. keep. spotting.
5 turns. 6 turns. 7. 8. 9. TEN.
But there are a select few superhumans who live that dream every day. And Sophia Lucia is one of them.
Yes, we already knew she could pull out dozens of turns in tap shoes. These days, however, her pirouettes on pointe are just as insanely impressive.
Instagram don't lie:
YUP.
Want this to be your reality? Click here for turning tips from Sophia and other experts in the field.
(Fun fact: In the clip above, Sophia is rehearsing one of the "Odalisque" variations from Le Corsaire. There's gorgeous video out there of another dream pirouetter, American Ballet Theatre's Gillian Murphy, doing the same solo as a baby ballerina. If you want to sustain your turning high, you should watch it immediately—main pirouette sequence starts 24 seconds in:)
May. 17, 2013 04:11PM EST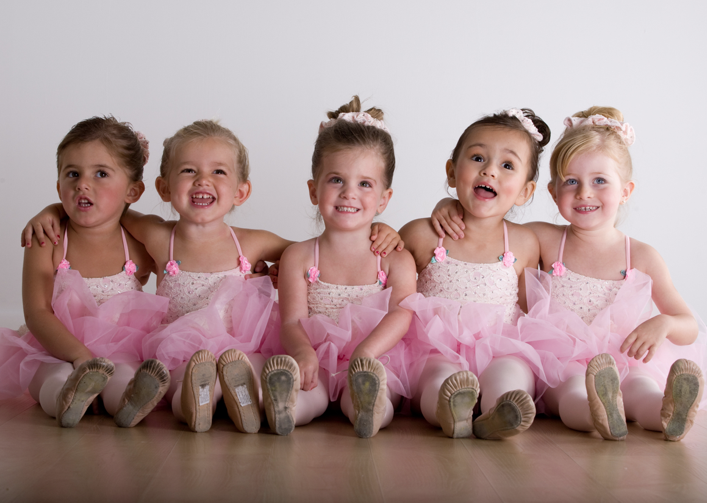 They're all gonna be great turners someday. Well, except that munchkin on the left. (photo Heather Donlan Photography)
Not all of us are born with Gillian Murphy's innate turning ability. But if you're having trouble with your pirouettes, try this neat trick: Smile while you're turning.
Easy peasy, right? Here's why it works:
First, many dancers frown in concentration as they turn, especially if they're struggling. But that stiffens the muscles in your neck and jaw, which makes spotting nearly impossible—and, in turn (hah! see what I did there?), clean pirouettes difficult. Smiling will relax your face, allowing you to spot more naturally.
But there's another advantage to putting on a happy face. A recent study showed that tension in the jaw was often connected to tension in the hips and pelvis. So relaxing your jaw will also loosen up your hip joints, creating more space for rotation and making for a cleaner, better-balanced passé.
Cool, right?
Apr. 01, 2013 03:59PM EST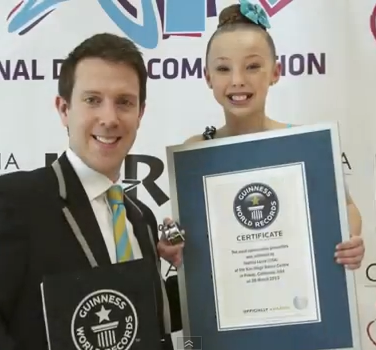 Sophia Lucia and a Guinness World Record judge after she'd set the new pirouette record.
When we last caught up with rising star Sophia Lucia, she mentioned she was going to attempt to break the Guinness World Record for pirouettes. And she did just that this past weekend! In an event sponsored by Kids Artistic Revue and California Kisses and held at her home studio, San Diego Dance Center, Sophia set out to break the previous record (36 pirouettes held by Alicia Clifton at Applause Studio in Oklahoma).
With an official Guinness World Record judge on site, Sophia gave it three tries. She managed 47 pirouettes on the first attempt, 48 on the second and a whopping 55 pirouettes on the third. Yes, she turns in tap shoes, but still—55 pirouettes! Congrats, Sophia!
Watch her set the record here:
Jun. 15, 2012 01:20PM EST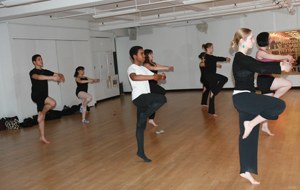 A teen jazz class at Broadway Dance Center in NYC practices balancing.
Nothing makes an audience go wild like a fierce pirouette sequence, and great jazz performers can make countless turns look effortless. But turning isn't easy. Chances are you're always working on improving your pirouettes—nailing that extra rotation or mastering a new tricky turn. Here, DS gives you the inside scoop on four types of pirouettes you're likely to see in jazz class.
Basic Jazz Pirouette (Parallel Retiré)
For a jazz dancer, this turn is probably the first to come to mind when hearing the word "pirouette." "The obvious difference between a jazz turn and a ballet pirouette is that in jazz we're working in a parallel position," says Ray Leeper, choreographer and executive director of NUVO dance convention. Another key difference is the preparation: While ballerinas prep for pirouettes in a turned-out fourth- or fifth-position plié, jazz technique usually calls for a preparation in fourth-position parallel. "But the execution once you start to turn is almost exactly the same," Leeper says.
To master the foundations of a basic pirouette, Kent Boyd, commercial dancer and "So You Think You Can Dance" Season 7 finalist, recommends working on going from a preparation position to a retiré balance in relevé. "Try to hold the relevé position for a whole eight-count," he says. Nan Giordano, artistic director of Giordano Jazz Dance Chicago, includes a similar exercise in most of her beginning jazz classes, progressing from quarter to half to full pirouettes. "Once you master the mechanics of turning, it's just a matter of how many rotations you can complete while maintaining that passé position," she says. But don't get so focused on getting in an extra spin or two that you forget about technique. It's always better to pull off a clean double pirouette than a sloppy triple or quadruple.
Turn with an Extended Leg 
Pirouettes in arabesque, attitude or à la seconde are especially popular in lyrical and contemporary jazz styles and showcase a dancer's extensions. Turns with an extended leg are tricky, since part of your weight is farther away from your center, making it more difficult to stay on balance. Just like a pirouette in retiré, you should practice balancing in the position of your turn before adding rotations. "Really pull up out of your standing leg," Boyd says. That engaged and lifted feeling will help keep you from teetering toward the extended leg. "No matter where the working leg is—in passé or extended—the engagement should be the same," says Leeper. "Keep the weight of the shoulders in front of the hips, lift up in the waist and keep the tailbone long."
Struggling with that double attitude or arabesque turn? Try speeding up your spot. Whipping your head around quickly makes multiple rotations possible by counteracting the effect of an extended leg slowing down your turn.
Pencil Turn
Seen in high-energy jazz and Broadway routines, pencil turns (also called compass turns) are executed with the non-standing leg pointed down toward the floor, with the foot hovering off the ground as you turn. To make this pirouette look polished and precise, pay attention to the step's name—both legs should be straight as a pencil and (unless the choreographer instructs otherwise) your non-standing foot should be completely pointed. Unlike an extended-leg turn, a pencil turn is conducive to fast, multiple turns because your weight is concentrated over the center of your body. To avoid spinning too quickly and falling off balance, Giordano advises focusing on your arms. "Everyone forgets the arms when they concentrate on spinning quickly," she says. "Feel your arms connected to your back right away." When the upper and lower body work together, pencil turns look impressive and feel like a breeze.
Inside Turn
In a ballet class, turns in the direction of the supporting side are called pirouettes en dedans, but in jazz they're known simply as inside turns. Both retiré pirouettes and extension turns are frequently done to the inside. Pay close attention to your preparation when working on these turns. "Watch what your upper body is doing in the prep," Giordano says. A pitfall for many dancers is twisting the waist and arms to one side to gain extra momentum. "When you 'wind up' you throw yourself off center," Giordano cautions.
When it comes to pirouettes, there are no shortcuts to turning like a pro. Keep up with your jazz technique classes, but don't be tempted to skip out on ballet. Giordano says applying your ballet corrections to jazz turns is essential. "Too many aspiring jazz dancers think they don't need to take ballet, but good pirouettes come from the technique you build in a classical ballet class," she says. Although they are part of a jazz company, Giordano's dancers prepare for every performance with a full ballet barre. "In ballet," she says, "you learn how to be centered over your leg and gain the strength in the core, back and arms—all essential components of a great pirouette."
Nov. 22, 2011 05:02PM EST


Get Dance Spirit in your inbox