Mar. 28, 2017 06:21PM EST
Courtesy Pittsburgh Ballet Theatre
Every ballet dancer has a pointe shoe prep process that's akin to a sacred ritual. And while some modifications are meant to make feet look prettier, the most critical tricks help those precious shoes last as long as possible—because at $60 to $100 a pop, they have to. We rounded up some of the best hacks to keep your shoes from dying prematurely.
Keep reading...
Show less
Mar. 06, 2017 03:14PM EST
Sep. 16, 2015 04:03PM EST
Your teacher has finally given you the OK to go on pointe! As any experienced ballet dancer will tell you, your pointe shoes can either be your best friend or your worst enemy. The right fit ensures that you'll be able to work safely and gives you a solid foundation for your pointe technique. Seeing a professional fitter for your first pair—and coming to your appointment prepared—will set you up for success.
How to Find a Fitter
In many cases, your teacher will recommend a fitter. But what if she doesn't? "I'd suggest calling a dance store you trust and asking if there's a professional fitter on staff," says Josephine Lee, who owns Dancer's Choice in Irvine, CA (and the affiliated roving pointe shoe fitting business The Pointe Shop). You should also be sure to ask how many brands of shoes the store carries. A qualified store, Lee says, will have at least five to eight different brands. That variety is important: It indicates that the store sells lots of shoes, and it makes it more likely that you'll be able to find the perfect shoe for your foot.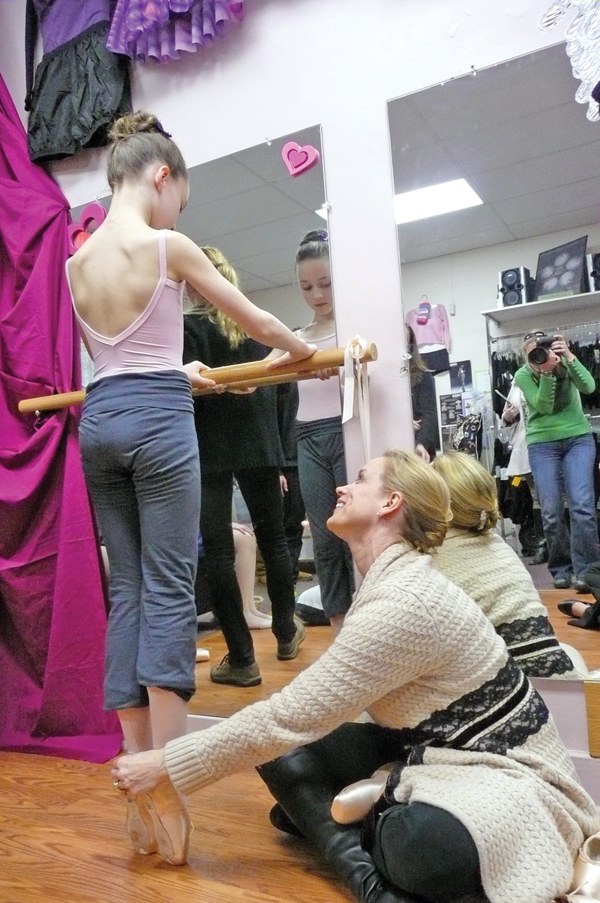 A pointe shoe fitting at Pittsburgh Ballet Theatre School (photo by Meghan Swartz, courtesy PBT School)
How to Prepare
According to Kerri Angeletti, who manages The Dancer's Pointe in Pittsburgh, one of the most important things to figure out before your fitting is what type of padding you'll be using, because padding can dramatically affect the fit of a shoe. Talk to your teacher about what she prefers. Some teachers will want you to start with a specific type of toe pad, such as a gel pad or lambswool. Others may request that you learn without padding at all. Either bring the teacher-approved padding with you to your appointment or be prepared to buy it at the shop.
It's important that you come to your fitting dressed appropriately, in a leotard and tights, so the fitter can see your lines clearly. "Your first pointe shoe fitting is your first pointe class," Lee says. Make sure your tights are convertible, since the fitter will also want to look at your bare feet and toes. And don't schedule a fitting right after class, Lee adds, because your feet will likely be swollen from dancing, which will change the way the shoes fit.
What to Expect
Angeletti recommends allowing at least an hour for your first fitting. "You need to try on a variety of different shoes so that you can really feel the differences between them," she says.
The fitter will usually begin by getting up close and personal with your feet. She'll analyze the line created by the top of your toes, the width of your metatarsal and the length of your toes and feet. Then, you'll begin the Goldilocks-like process of trying on shoes, searching for the pair that's just right. In addition to looking at the shoe on pointe, Angeletti has the dancer plié in second position—"the position in which the foot is longest," she explains—to determine if the shoe's length is correct. As a pointe beginner, it's especially important that your shoes fit well on flat as well as on pointe. You'll start out spending relatively little time on your toes as you build strength.
How to Get the Right Fit
To describe the perfect fit, Lee uses a saying she first heard from a Capezio shoe designer: "The pointe shoe should mold to the foot like a cast." Your shoes should feel tight, but your toes shouldn't curl under and you shouldn't feel pinching in your metatarsal. "Be very vocal about how you're feeling in each shoe," Angeletti says. Now isn't the time to be agreeable. Your fitter needs as much detail as possible in order to get you the best, and safest, fit.
Nervous about speaking up—or just about the fitting process generally? Mackenzie Cherry, a student at Pittsburgh Ballet Theatre School, got a confidence boost at her first fitting because her whole class went as a group, which made her much more comfortable. If your class isn't going on an excursion together, consider asking a friend if you can schedule your appointments together.
Don't be discouraged if you don't think your first pair is "the one." It's important to remember that this is a process. Lee points out that many dancers continue to change their pointe shoes periodically throughout their careers as their abilities and preferences change. And to answer one of the most frequently asked fitting questions: Does it hurt? "It's a little painful," Mackenzie admits, "but if you're excited about being on pointe, you don't really think about it."
Common Fit Problems—and How to Solve Them
Pressure on the big toe
Josephine Lee, owner of Dancer's Choice in Irvine, CA, says that too much pressure on the big toe can mean you're sinking into the box, a problem that can be solved with a more tapered shoe. But it also may depend on your foot shape. If you have a long big toe, it'll always bear more weight on pointe. As you train, you'll gain strength and learn to lift up out of your shoes, which will alleviate that feeling.
Pinching in the metatarsal
"You need a wider box," Lee says. The width is correct when your feet are nice and flat on the floor, without being able to wiggle inside the shoe. Some dancers need a more triangular box—one that's wide at the metatarsal but tapered at the toe—to keep them from sinking into the shoe.
Sickling
Lee says sickling on pointe may be a sign that a dancer is struggling to get up over her box and is pushing over her pinky toe to compensate. A softer shank can help you stand fully and correctly on pointe. The downside is that softer shoes wear out faster. But, Lee says, "it's better than learning bad habits."
Jul. 31, 2015 03:36PM EST
Think about something that never gets old. Swan Lake? Yep. Keone and Mari Madrid's choreography? Definitely. But today I'm talking about ballerina pointe-shoe-prep videos. They're like candy, and we're totally obsessed. (But you already knew that.)
Most recently, Pennsylvania Ballet principal Brooke Moore broke down her pointe shoe prep ritual, which includes a healthy amount of shoe surgery, but stops short of the total reconstruction we sometimes see. Check it out below, and let us how you prep your pointe shoes in the comments!
Jun. 08, 2015 05:42PM EST
Let's step into a time machine and take a trip all the way back to September 2010, shall we? Lady Gaga won the MTV Video of the Year Award for "Bad Romance;" "Dancing with the Stars" Season 11 began with celebrities Jennifer Grey and Kristi Yamaguchi; and two promising New York City Ballet apprentices graced the cover of Dance Spirit: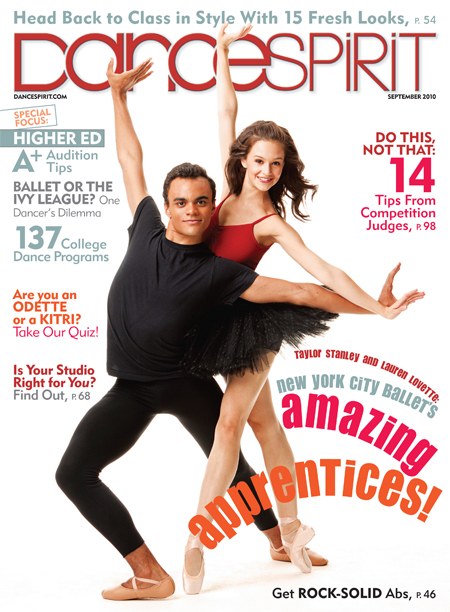 Back in 2010, NYCB's Lauren Lovette, then 18, had been an apprentice for close to a year, and from the roles she was landing—including one in a Christopher Wheeldon premiere—it was pretty clear she was destined for greatness in the company. We were right. She (and fellow cover star Taylor Stanley) joined the corps de ballet practically as soon as the issue debuted—and the two were promoted to soloist in 2013.
On Sunday, NYCB director Peter Martins announced some really great news: Lovette is now principal!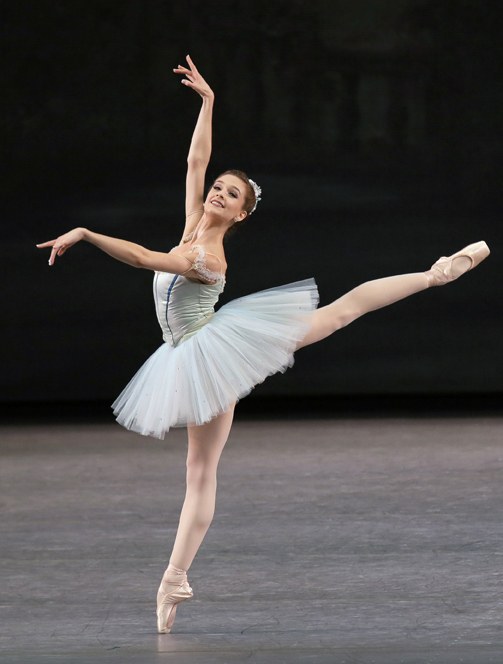 Congratulations, beautiful Lauren! (Lovette in
George Balanchine's Raymonda Variations; photo by Paul Kolnik, courtesy NYCB)
Ready for more good news? Lovette isn't alone in the promotions pool. Soloist Anthony Huxley was also promoted to principal...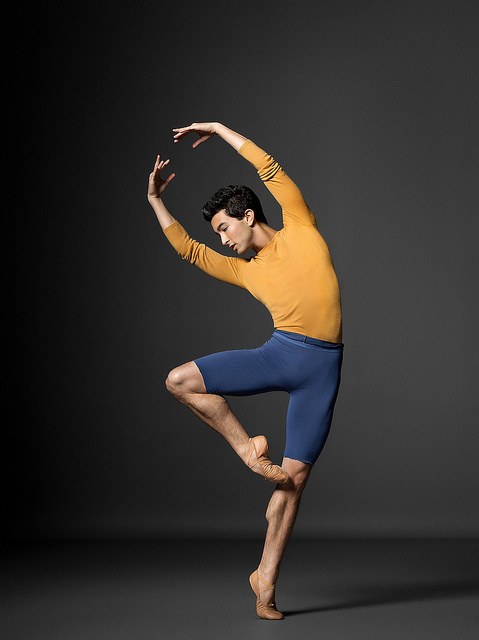 If you're not already obsessed with Anthony Huxley, brace yourselves, folks. I mean, just look at him.  (Photo by Henry Leutwyler)
...and corps member Ashly Isaacs moved up the ranks to soloist!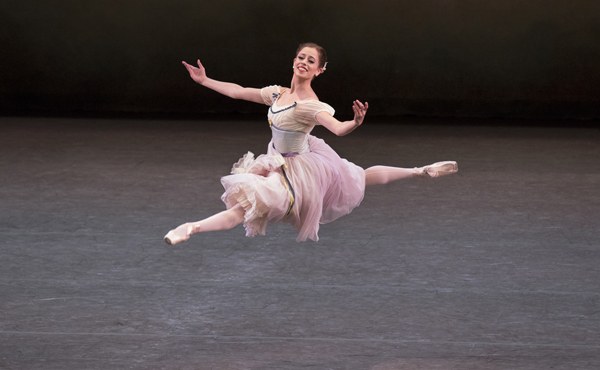 How does she make this much flawlessness look so effortless? (Isaacs in
Bournonville Divertissements; photo by Paul Kolnik, courtesy NYCB)
Congratulations, dancers!
May. 18, 2015 08:43PM EST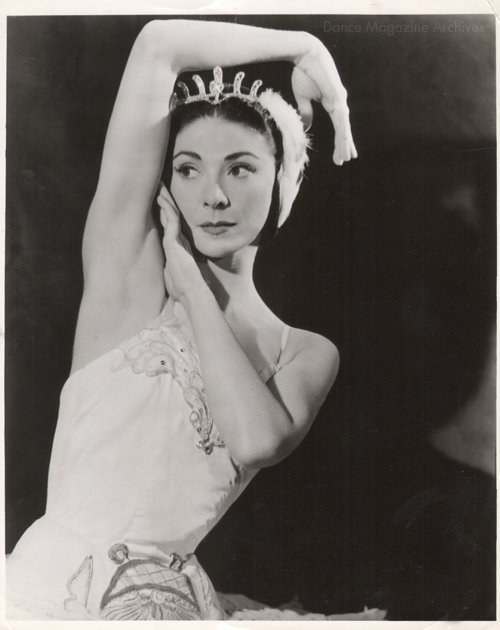 Margot Fonteyn in Swan Lake (Dance Magazine Archives)
On this day in 1919, a tiny Margaret Hookham was born in Reigate, England. Today, however, we know her as Dame Margot Fonteyn. Or Royal Ballet Prima Ballerina Assoluta Margot Fonteyn. Or simply one of the most timeless, most elegant, most famous ballerinas of the 20th Century.
Fonteyn first joined the Royal Ballet (then known as the Vic-Wells Ballet) in 1935, and by 1939, she was performing principal roles. She's perhaps most known for her partnership with Rudolf Nureyev, though their first performance wasn't until 1962, toward the end of Fonteyn's illustrious 40-year career.
Fonteyn died in 1991, but her legacy continues through the many ballets created on her (including the title role in Sir Frederick Ashton's Cinderella) and, of course, on YouTube. There aren't a ton of videos to get lost in, but a few clips are must-sees for any dancer.
Start with an excerpt of Fonteyn and Nureyev in Swan Lake:
Then watch the famous duo in a Le Corsaire pas de deux:
And finally, feast your eyes on Fonteyn and Nureyev in Les Sylphides:
May. 04, 2015 03:10PM EST
Answer:
Members of this ballet company will appear on "Jeopardy!" this Tuesday to celebrate the troupe's 75th anniversary.
"What is American Ballet Theatre?"
Correct! On May 5, one full category will be devoted to 75 years' worth of American Ballet Theatre trivia. Some of the clues will feature performance footage, and the answers will all be read by top members of the company, including Misty Copeland, Hee Seo, James Whiteside, Sarah Lane and Craig Salstein.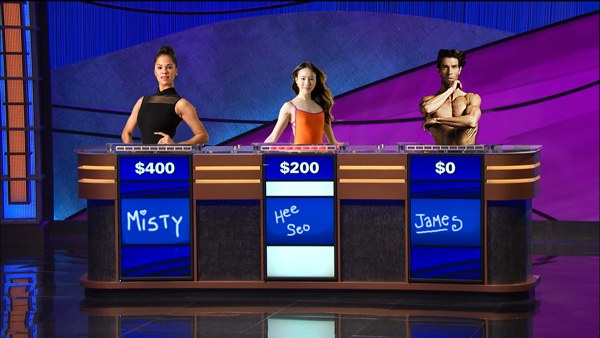 One day, Ballet Celebrity "Jeopardy!" will be a real thing... (Misty Copeland and Hee Seo by Nathan Sayers for Pointe; James Whiteside by Mark Schou Photography via ULM NYC; Photoshopping by yours truly)
Now, what does this mean for us, fellow ballet nerds? It's time to dust off our Alex Trebek–themed victory dances, because we're going to be doing a lot of correct-response gloating. Tuesday night is ours. OURS!
Still, the best "Jeopardy!" champs spend years practicing for the competition, so it wouldn't hurt us to warm up a little, too. Here are some clues from real "Jeopardy!" episodes.** (Hover—don't click—your mouse over each clue's category for the correct response.)
Ballet for $200: Princess Aurora pricks her finger on a spindle in act one of this 1890 ballet.
Ballet for $400: In 1973, Twyla Tharp choreographed Deuce Coupe for the Joffrey Ballet with music by this group.
Ballets Alex Could Star In for $600: It might be a drag, but I'll follow in the footsteps of Frederick Ashton and play one of the stepsisters in this classic.
Ballet for $800: Angel Corella of Spain is one of the "muy caliente" male stars of this U.S. company.
[Note/Hint: This clue originally aired 1998, before Corella was directing Pennsylvania Ballet. I just like to imagine Trebek saying "muy caliente!"]
Ballet for $1000: Agnes de Mille's ballet Fall River Legend was based on the case of this accused murderess.
You Should Be in a Ballet! for $2000: Your Romeo and Juliet will make everyone forget the 1965 triumph of Rudolf Nureyev & this partner.
Ballet & Opera for $2000: In a classic ballet by Adolphe Adam, she's the title peasant girl with a weak heart and a passion for dancing.
Now for the Final Jeopardy! round...
American Ballet: Characters in this 1942 ballet include the head wrangler and the champion roper.
The Oscars: Both "The Color Purple" and this 1977 ballet drama got 18 nominations—and no Oscars.
How'd you do? Tune in to "Jeopardy!" on May 5 for the real thing!
Keep reading...
Show less
Mar. 10, 2015 07:30PM EST
Why, Ciara, why? That's the question we've been asking ever since we saw the R&B star's latest video, "I Bet," in which she straps on a pair of pointe shoes.
You may be thinking, "OK, it can't be that bad...right?" Well, let's just say #SickleCity Ballet Company has found its newest principal: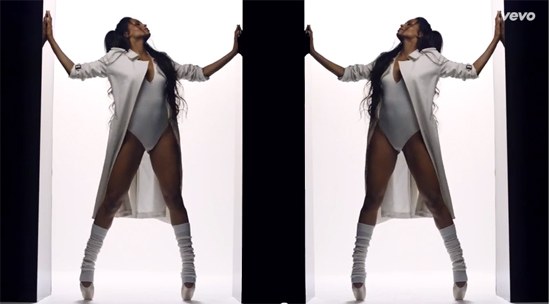 She's lucky her ankles survived the making of this video.
Look, we're huge fans of ballet—and dance in general—in mainstream music videos. We seriously flipped when Shaping Sound backed up Carrie Underwood, and when Florence + The Machine's "Spectrum" featured dancers from California's Southland Ballet Academy/Festival Ballet Theatre; we were all about TSwift's witty Swan Lake parody and Kanye West's "Runaway" video. But Ciara's attempt at pointework is another story.
Now, Ciara does deserve a lot of credit. She looks pretty fantastic (barefoot) in that white leo and matching legwarmers—amazing enough to rival Queen Bey herself. Example A: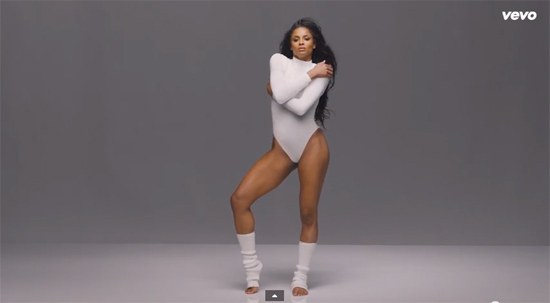 Everyone needs a white turtleneck bodysuit #fierce.
And the video's moments of pure hairography genius are stunning. Example B: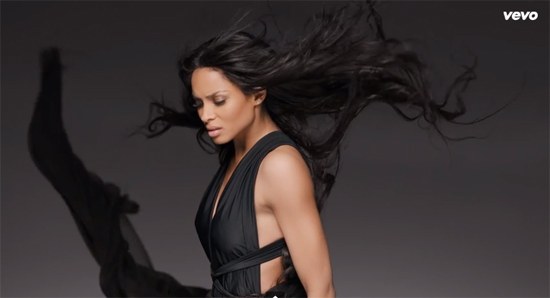 #windpower
But then an image like Example C flashes across the screen, and all that was right in the world is forgotten: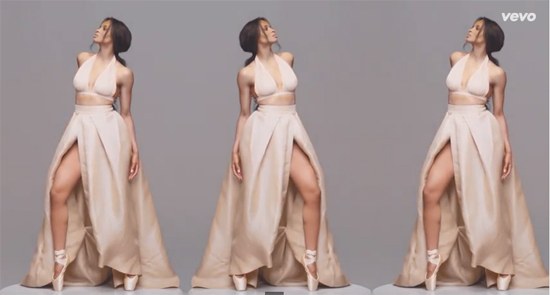 Wait for it...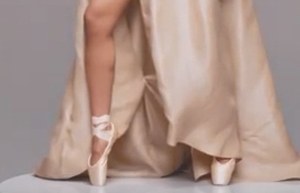 ...some things you can't unsee.
Unless you're a trained ballet dancer, and you know for a fact you won't injure yourself (or your viewers' eyes), just leave the pointe shoes out of it. That's our PSA and we're sticking to it.
What do you think about Ciara's video? Are you having Free People flashbacks? Or do you think we're overreacting? Take a look at "I Bet" below, and let us know your thoughts in the comments.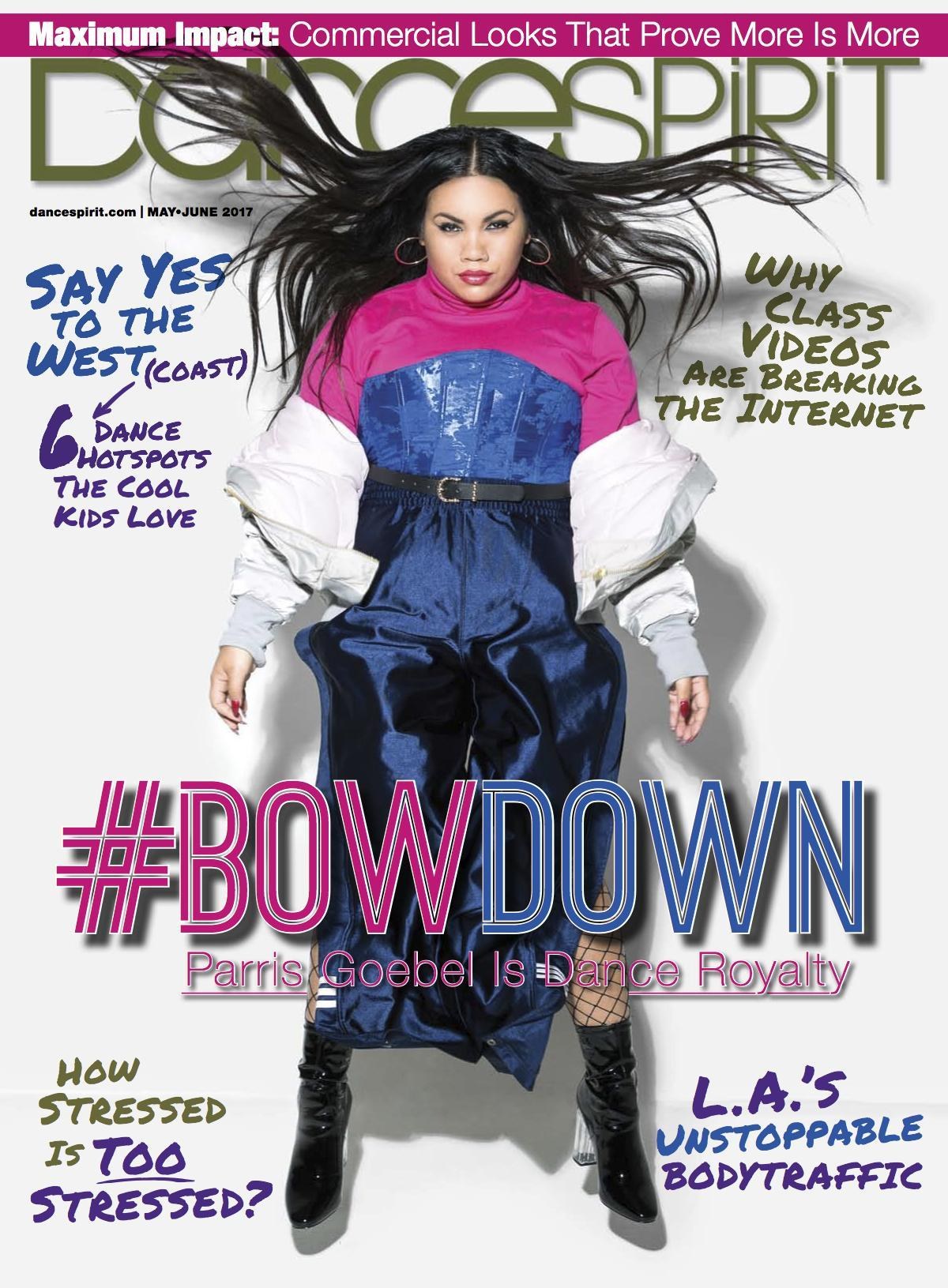 Get Dance Spirit in your inbox