Apr. 01, 2014 11:51PM EST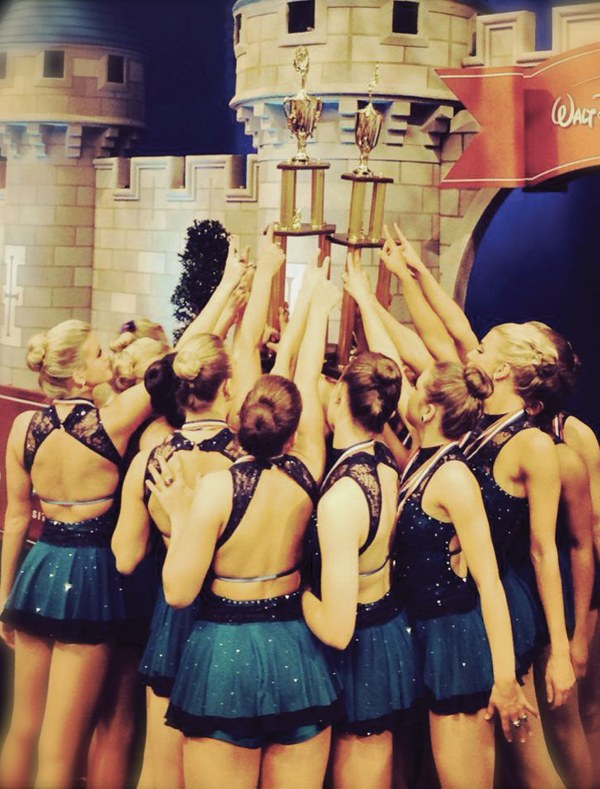 (Courtesy Amanda Gains)
Imagine an artist with the technique of a classical ballerina, the jaw-dropping athleticism of a b-girl, the charisma of a musical theater performer and the emotion and fluidity of a contemporary dancer. Now, picture 18 of them performing a routine packed with tough technical skills in perfect synchronization. Seem too good to be true? Not for the 14-time Universal Dance Association National Championship–winning University of Minnesota Dance Team.
Now more than ever, talented studio dancers are choosing to put professional dance careers on hold to spend four years working toward a college degree—which means big things are happening in the college dance team world. This is certainly the case at the University of Minnesota, where the team just took home its fifth straight UDA Division 1A Jazz National title—arguably the most competitive dance team title in the nation. What makes the team so good? We traveled to the University of Minnesota to uncover the secrets of its much-deserved winning streak.
How much practice makes perfect?
"We practice three days a week—Tuesday, Thursday and Sunday—for about three and a half hours each rehearsal, with the occasional Friday night practice before a football game," says captain Kim Saunders. "We also have morning workouts and conditioning two days a week."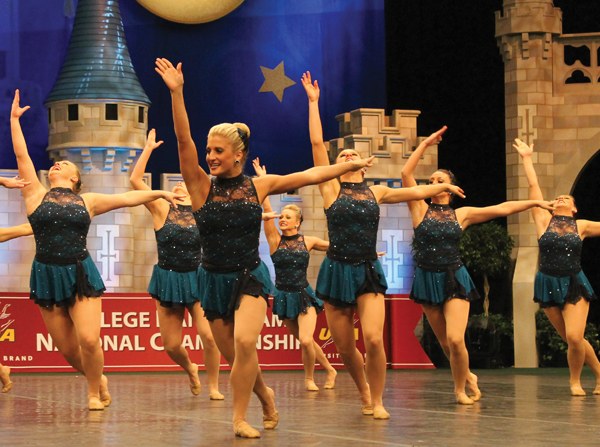 (Photo by Universal Dance Association/Varsity)
What does a typical UMDT rehearsal look like?
• Warm-up and partner stretches to increase flexibility.
• Ballet barre. "We do a series of plié, tendu, dégagé, rond de jambe à terre and rond de jambe en l'air exercises," says captain Rachel Saunders.
• Work on skills like pirouettes and toe-touch sequences. "After warming up with basic skills, we focus on the more advanced skills in our routines," says Rachel Saunders. Adds captain Rachel Fellows: "Our Nationals turn sections are the first things we learn, and we practice them at every rehearsal. If someone is struggling, a captain or teammate will come to practice early to help."
• Practice fight songs and game dances for football and basketball games. "We use this time to focus on our pom technique and performance skills," says Kim Saunders.
• Clean routines. "We spend a great amount of time cleaning the dances, making sure everyone looks uniform, and running the dances to work on our endurance," says Kim Saunders.
"Nationals rehearsals are more intense—we have two-a-days and captains' practices to work on both our jazz and pom routines over winter break," says Kim Saunders. "It's helpful to have the heart of our season during this time because we aren't busy with school and we can just focus."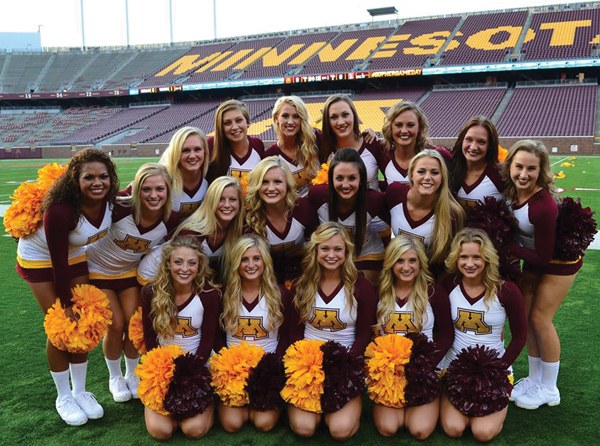 (Courtesy Amanda Gaines)
5 Qualities You Need to Make the Cut
Coach Amanda Gaines shares the top five traits she looks for in potential UMDT team members.
1. Coachability. "We have a lot of auditionees who are incredibly talented, but they don't show a desire to get better. I'm not looking for perfection—I want to see potential."
2. A positive attitude. "We can be under a lot of pressure throughout the season, and it's important to stay positive during tough practices. Negative attitudes spread quickly."
3. Ambassador potential. "We make appearances at university functions and sporting events, acting as ambassadors for our school. A lot of people don't realize that you need more than talent to be a representative—you need maturity and professionalism. You need to be able to talk with people about the football team, and interact with kids at the children's hospital."
4. Solid technique. "There's a baseline of skills you need to have, including strong jumps and a good turning ability (think double and triple pirouettes and complicated
turn combinations with changing spots and speeds)."
5. The X factor. "I need to see that indefinable quality that shows you really want to be here. It's easy to say you want to dance in college, but we want people who are passionate about the University of Minnesota. You're a student first, so the school itself needs to be a good fit."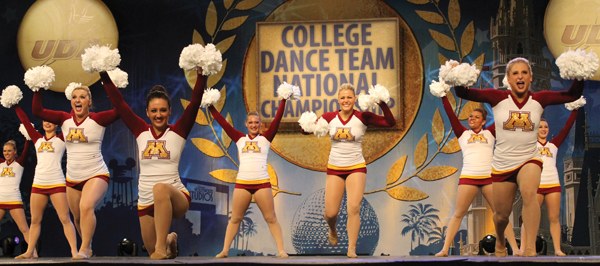 (Photo by Universal Dance Association/Varsity)
Making the Moves
Each season, professionals like jazz choreographer Karl Mundt and pom choreographer Dan Sapp are brought in to set the team's Nationals routines. But during the year, all team members are given opportunities to choreograph. "When choreographing our camp routine and sideline dances, we split into groups and assign each a section," says captain Rachel Fellows. "We look to everyone on the team for inspiration—especially the rookies. They all come from different backgrounds and have fresh ideas."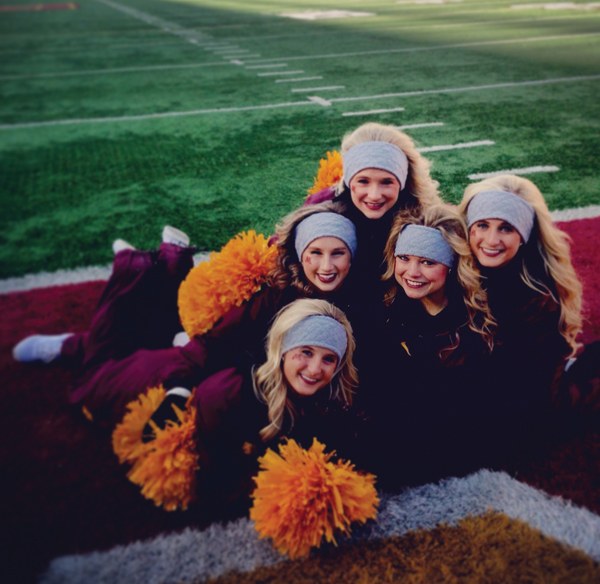 (Courtesy Amanda Gaines)
UMDT by the Numbers
3.4 UMDT's average GPA

5 National Championship pom trophies

9 National Championship jazz

trophies

12 Hours spent in rehearsal each week

14 Jumps (including three toe-touches in a row straight into a herkie!) in the team's 2014 National Championship–winning pom routine

16 Girls who competed in the 2014 UMDT jazz and pom routines

18 Girls on the 2013–14 team (5 seniors, 2 juniors, 6 sophomores and 5 freshmen)

34 Jazz and pom teams UMDT defeated at UDA Nationals 2014

45 Girls who audition for the team each year

61 Turn rotations (pirouettes, fouettés, etc.) in UMDT's National Championship–winning jazz routine

70 Hours spent in Nationals rehearsals

14,625 Fans the team performs for at each home basketball game

50,805 Fans the team performs for at each home football game
Apr. 01, 2014 10:59PM EST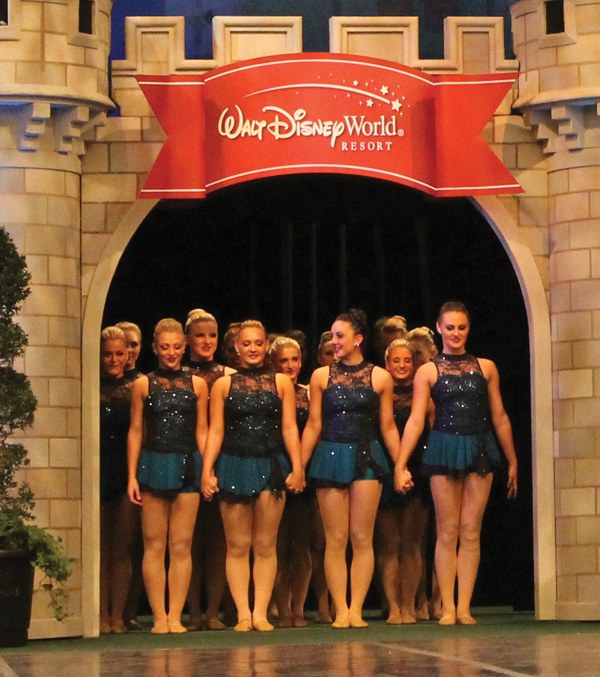 The University of Minnesota Dance Team preparing to take the floor at Universal Dance Association Nationals (photo by Universal Dance Association/Varsity)
Think it's all about cheering from the sidelines? Think again! Here's why you should consider going out for your school's dance team.
#1 You and your teammates will bring out the best in each other. "Being on a dance team has taught me to push myself. My teammates and I motivate each other to grow at every practice, so when competition time comes, we can all be our very best." —Faymie Westmoreland, University of Tennessee
#2 Teamwork will become your mantra. "It's not about individual talent; it's about what the team can do as a whole. An impressive solo turn combination is cool, but when an entire team does it in perfect unison, it's amazing." —Chelsea Woods, University of South Carolina
#3 The skills you develop will help you for the rest of your life. "Being part of a dance team taught me discipline, time management and how to take constructive criticism—skills that make me a better dancer and a better person."—Maren Thueson, Bountiful High School
#4 You'll get the chance to serve your community. "One of the best parts about being on a professional dance team is that we have so many opportunities to give back. Some of my favorite team memories are from spending time with the kids at the Primary Children's Hospital."—Nicole Gunnarson, Utah Jazz Dancers
#5 You'll get to keep dancing—and growing—after high school. "Being on the team has let me continue to share my talents, improve my dancing and make lasting connections in the dance world." —Michelle Lack, McLennan Community College
#6 You'll have many "once in a lifetime" experiences. "As a Carolina Girl, I've had opportunities that will stay with me forever. I performed at Williams-Brice Stadium when Carolina beat Number 1–ranked University of Alabama, and I've danced on the beach at National Dance Alliance Nationals." —CW
#7 You'll learn how to be a role model. "Dancing in front of 100,000 people forces you to have confidence and poise. You never know who's watching, so you have to think of yourself as a role model to any little girl in the crowd." —FW
#8 You'll see first hand that hard work pays off. "Rehearsing just three dances every day for nine months can seem tiresome and monotonous, but winning the state championship at the end of the year makes it all worth it." —MT
#9 You'll get serious adrenaline rushes. "The excitement of performing in front of massive crowds is incomparable. It makes all the hard work in rehearsals worth it. The atmosphere is electric, and I feel so much unity with my team." —NG
#10 You'll become part of a sisterhood. "Freshman year in college can be overwhelming, and it's easy to feel lost. But being involved in dance team gave me a family away from home. My team is my best support group." —ML
Photo Galleries
Mar. 11, 2014 10:52AM EST
Dance Team
Nov. 14, 2012 08:05AM EST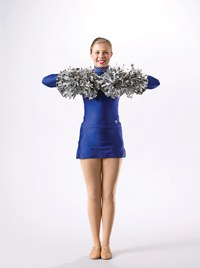 Learn a combo from the University of Memphis Dance Team's 2012 Nationals pom routine.
 The University of Memphis Dance Team won the 2012 Universal Dance Association Division 1A Hip-Hop Championship title and earned second place in the pom division.
1 Stand with your feet together in parallel and your arms in a half T.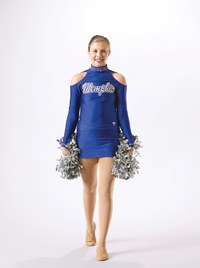 and 2 Slice your arms down to your sides and ball-change your right foot back, staying in parallel.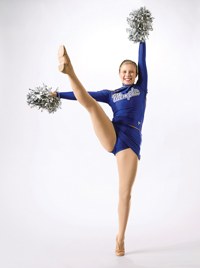 3 Battement your right leg to the side and swing your arms up to an L (your left arm next to your ear and your right arm to the side, making a 90-degree angle).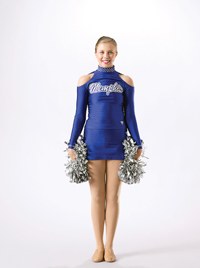 4 Bring both feet together in parallel while swinging your arms down to your sides.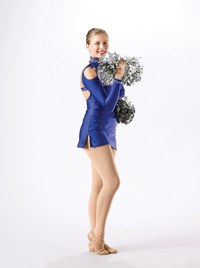 5 Pivot to the left diagonal, popping the right foot. Bring your right arm to your shoulder in dagger position and your left hand to your hip.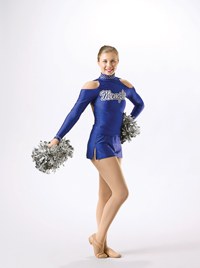 6 Do one chug in place, keeping your right foot popped and your left hand on your hip. Swing your right arm down to a low V.
7 and Jump out to a small runner's lunge on the left diagonal. Pop your back (right) foot as you swing your right arm forward in a counterclockwise circle. Release your head back on "and."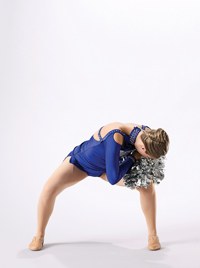 8 Bend both knees in parallel second, bringing your chest and poms down to your left knee with your elbows out and your head down, in line with your spine.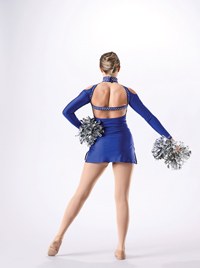 1  Step out on your right foot, turning over your left shoulder to face the back. Bring your right arm to a low V and your left hand to your hip.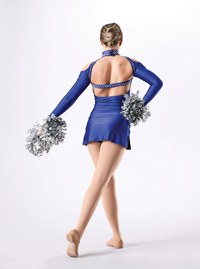 2 Step across your body with your left foot while extending your left arm to a low V and putting your right hand on your hip.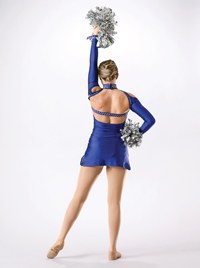 3 Step out with your right foot while extending your left arm straight up to your ear, keeping your right hand on your hip.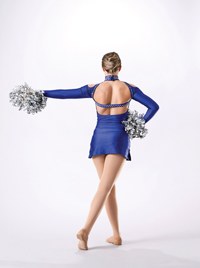 and Step across your body with your left foot, bringing your left arm down to a T and keeping your right hand on your hip.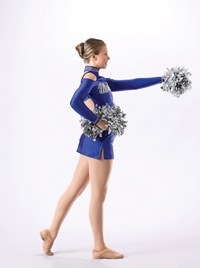 4 Step out with your right foot, turning your body to face the right side, as you swing your left arm down and around to extend straight out in front of you. Look straight ahead and keep your right hand on your hip.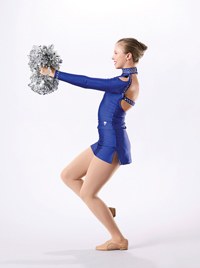 5 Stepping onto your left foot, pivot over your left shoulder to face the left side, pliéing on your left leg while bringing your right foot to parallel coupé. Shoot both arms out in front of you to candlestick position.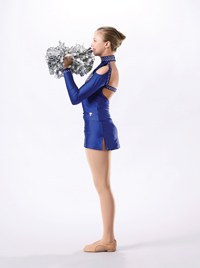 and Straighten your legs, bringing your feet together, and pull both arms to your chest in dagger position.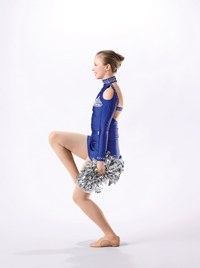 6 Plié your left leg while shooting your right leg up to parallel passé and slicing your arms down to your sides.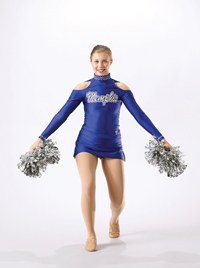 7 Turning over your left shoulder, step forward on your right foot, with your right leg in plié, your left leg bent and your left heel popped. Break your arms to a low V.


Get Dance Spirit in your inbox