Jun. 27, 2016 04:03PM EST
When it comes to dance team, you know you've got the "dance" part of the equation down cold. But the pom work? Not so much. Maybe you're afraid it'll be too much like cheerleading, or that you won't understand the terminology. To help, we spoke with three college dance-team coaches to find out what you can expect in practices, and how dancers can easily transition to working with poms. You'll be surprised at the strength, sharpness and body awareness that can be learned from this flashy style!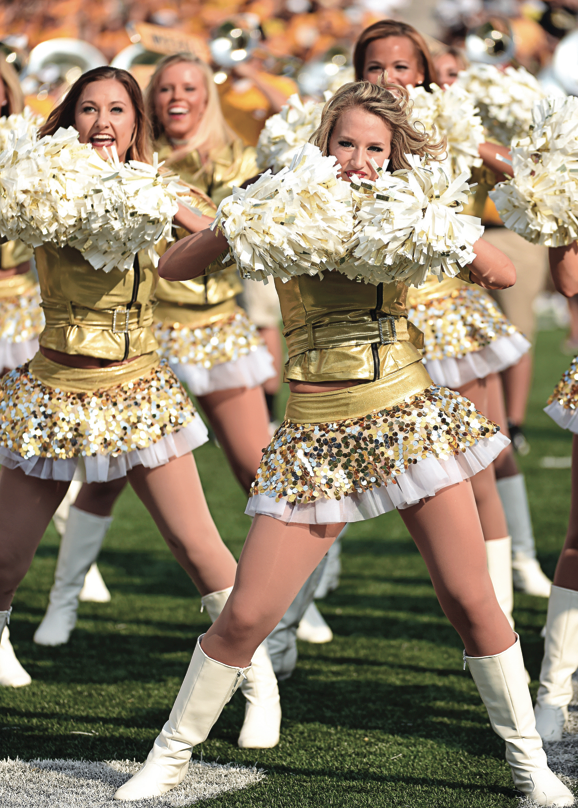 The University of Missouri's Golden Girls (photo by Mark Falvey, courtesy Amanda Gaines)
Pom Prep
Pom routines require a lot of endurance—keeping your shoulders down and arms strong for two to three minutes is harder than you'd think. "In the studio, you have exits and entrances or brief moments to breathe, but in pom, you're engaged the whole time," says Amanda Gaines, coach of the University of Minnesota Dance Team. "Cardiovascular workouts aren't enough; you also need to have good arm strength to maintain your energy." Sharp arm movements require strong shoulders and a solid core, so work on holding center and side plank positions for one minute, maintaining good form with your shoulders down and in line with your hips. Your shoulders, arms and upper back can also be strengthened with push-ups, tricep dips and basic exercises with weights, such as bicep curls. "Many of our team members also use yoga to get into shape for the season," Gaines says.
Team Practice Tips
Poms may not be used during the first few practice sessions—you'll have to practice with closed fists—but that doesn't mean those practices won't be strenuous. Marca DeCastroverde, coach of the University of Nevada, Las Vegas, Rebel Girls, starts the season with motion drills to work on placement and timing. Pom requires extreme sharpness in its movements. "To sharply stop in a position, dancers must tighten their arms, not their wrists. A tight wrist will cause a broken line," says Shannon Fry, director of the University of Missouri Golden Girls. Specific drills will teach you the proper arm pathways to transition from one position to the next, as the movements must be completely in sync. For example, a coach might count "High V on 1, hold 2, hold 3, half-T on 4, hold 5, down 6, daggers 7, T on 8." The exercises will start slow, then build in speed as the team masters the moves. Be aware, though, that holding your poms too tightly can lead to carpal tunnel or tendonitis. "I remember going to my college trainer for wrist pain and being told I had tendonitis. I was doing wrist exercises with one-pound weights next to all of the 300-pound football players!" Gaines says. To prevent injury, "think of the energy extending all of the way out through your fingertips rather than stopping at your wrists."
Rocking the Stadium
Pom performances feel and look very different from dance-team jazz or hip-hop pieces. Choreographers can create visually appealing routines without as many tricks because the poms themselves add so much flash. "Pom is all about the visuals, not necessarily the skills," Gaines says. Dancers may also be accustomed to incorporating their own style into their dancing, or emoting to match the words of a song, but pom routines are all about unity, sharpness and clarity. "We think about the big picture," Fry says. "Our movements are large and sharp to make sure everything is crisp and visually appealing." Thinking about body placement as well as pom choreography simultaneously is a skill that takes a lot of practice to master, but with the help of coaches and teammates the poms will eventually start to feel like a natural extension of your movements. All you'll have to worry about is having fun performing!
Jan. 15, 2012 08:25PM EST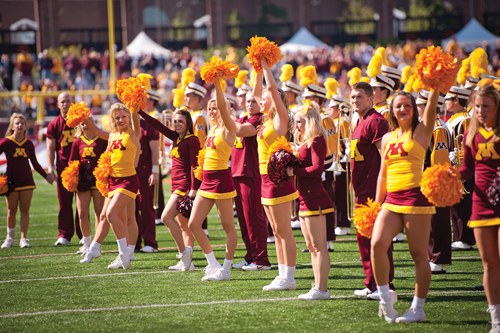 The University of Minnesota-Minneapolis Dance Team at a football game (John Prosek)
Picture this: You're a rookie on your school's dance team and about to perform at the season's first football game. As you head for the sidelines, you're met with a deafening roar from the thousands of fans who have filled the stadium. It's your job to lead the boisterous crowd for the next four quarters—and it's intimidating, to say the least.
As a member of the dance team, you're most likely expected to perform at every home football and basketball game. But unlike being on a stage, dancing on the sidelines requires you to show your school spirit and rev up a huge crowd. From learning all the routines to figuring out how to hold your poms, the first few weeks can be overwhelming—especially if you've only ever performed in a theater. Read on to learn what it takes to have a successful season.
In the Stadium
Dancing in front of thousands of loud, excited fans in a stadium is a big change from performing for a quiet audience that's often hidden by bright stage lights. "On a stage, the audience is eye level or below you, but in a stadium, you have to look up and make eye contact to draw in your crowd," says Dawn Walters, head coach of the University of Kentucky Dance Team. It's also important to keep in mind that you're not the main attraction. Onstage it's all about your performance, but on the sidelines you're there to support the players and lead the crowd.
During football games, you'll be expected to dance and cheer almost nonstop for two to three hours, so be prepared for training that will whip you into tip-top shape. "Our team runs for endurance and performs our material over and over again to prepare for the high demands of game days," explains Rachel Caughey, junior co-captain of the University of Minnesota-Minneapolis Dance Team.
Most teams only use recorded music during halftime shows. The rest of the dances are performed to the marching band's fight songs and drum cadences. Caughey says the team practices with a recording of the band on a CD—but performing live with the musicians is a totally different animal. "The band plays at whatever pace they want, and we have to respond accordingly," explains Caughey. "Sometimes they're super-slow, so we hit and hold it; other times they're super-fast."
Adapting to Your Environment
Performing in an outdoor arena, on either grass or turf fields, can be tricky. Many teams dance in high-tops or cheer shoes to get better traction. If your school has turf, expect a spongier surface or a mat laid out for the dancers. "I don't choreograph a lot of turning sequences because of the difficulty that comes with dancing on a soft surface, and I'm afraid of injuries, like twisted ankles," says Laura Nares, head coach of the Carlsbad High School Lancer Dancers. Your coach will most likely save advanced technical requirements for basketball season and Nationals. "It's better to be clean than to fall out of turns," says Nares.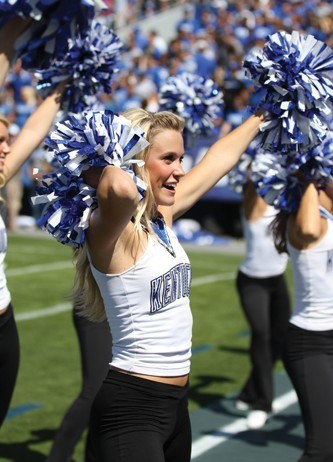 A member of the University of Kentucky Dance Team hypes up the crowd. (Michael Huang)
Poms Aren't Just for Cheerleaders
To attract the crowd's attention, most teams dance with poms, which may be challenging at first. "Pom-style dancing is about strength and body awareness," Nares says. To make your pom routines as clean as possible, dance bigger than you usually do and pay attention to the specifics. "The most difficult part of dancing with poms is knowing your arm placement at all times," Caughey says. "Even a slight turn of your wrist can make your pom face a completely different way."
Dance By the Rules
To help guide the crowd, you need to be familiar with the rules of football and basketball. "It's our job to get the crowd involved and know when to cheer, so understanding what's going on in the game, and even remembering the final score, is paramount," Caughey says.
Amber Jackson, who has been coaching the University of Minnesota-Minneapolis Dance Team for 15 years, provides her team with a football quiz to help them learn the rules of the game. "The girls need to know that when it's third down and our team is on defense, they should be extra-loud, but when it's third down and our team is on offense, they should be quiet," Jackson explains.
In basketball, where you're close to the sidelines, it's important that you stay off the court when the ball is in play. During time-outs, only run onto the court when your coach and captains tell you, and make sure you're off the court by the second buzzer. You don't want the players to be penalized for a mistake you could've easily avoided.
Keep Your Game Face On
Even when you're not dancing or cheering, you can still be seen by thousands of fans, so it's important to remain professional throughout the entire game. As a member of the dance team, you're a representative of your school on and off the field. "There are times before and after games when the girls are asked to mix and mingle with alumni and coaches, so I encourage the team to continue to be outgoing and personable beyond the sideline," Walters says.
Many college (and even some high school) sporting events are broadcast on TV. Often, producers will cut from the players to the dancers and cheerleaders during time-outs and other breaks. You need to be ready to dance or rally for the camera at all times. There's nothing worse than being caught goofing off or picking a wedgie on ESPN!
While game days are opportunities to improve your performance skills and bond with your team, always remember that you're ultimately there to support the players. Your number-one job is to entertain and raise the spirit of your crowd at all school events. Take pride in being a member of the team that represents school spirit!
Sep. 15, 2011 05:22PM EST
Jazz, tap, ballet, hip hop—you've trained in them all. But in high school and college, chances are you'll find performance opportunities in styles and venues that you might not have experienced at your studio. You know you want to be involved, but which team is the best for you?
If your dream is to dance for your school, do your homework. Your school may have a drill team, pom squad, kickline or dance company—or a group that's a mixture of all of these. So have an open mind, and don't let yourself be dissuaded by the fact you've never picked up a pair of poms or done a kickline. Read on to learn about four different dance team opportunities and what you'll need to do to make the cut.
Pom Squad
What you'll be doing: Performing high-energy routines featuring precise arm angles, high jumps and eye-catching visuals, seamlessly integrated with jazz technique—while holding poms!
Where you'll perform: Anywhere with a lot of sports (and dance) fans, whether that's a football field, basketball court or competition floor.
How to prepare: With pom-style dancing, you're creating a picture on almost every count, so focus on your ability to be sharp while clearly stopping after each movement.
Don't assume that dancing with poms means you're restricted to cheering on the sidelines. According to Carol Lloyd, coach of the 13-time national champion University of Memphis Pom Squad, any dancer who is hesitant about performing a routine with poms "just hasn't had the chance to dance one." When you add poms to your dancing, you're emphasizing every line you create. With every position, turn and jump accentuated, captain Jamie Kelly says, "performing with a pom squad forces you to become a stronger dancer." And while new dancers will face the challenges of learning to dance the pom style, as well as perfecting traditional pom jumps like toe touches and herkies, Lloyd says "they will also be able to capitalize on basic technical skills they've already mastered."
Drill Team
What you'll be doing: Whether you're performing a military, jazz, lyrical or novelty routine, you'll be clean, precise and completely synchronized.
Where you'll perform: Drill teams are often an important part of a school's spirit squad, performing at games and assemblies. Competition—from the regional to national levels—can also be the primary focus.
How to prepare: Work on cleaning up your technique and learning to be perfectly in step with all of your fellow dancers. There are no soloists or stars on a drill team—the goal is unison.
As their military moniker indicates, drill teams are all about discipline. "It's the strict discipline of the style and conduct that set drill teams apart," explains Jamyn Miller, co-coach of the Bingham High School Minerettes in South Jordan, UT. "Everything the team does must be perfectly precise." And while the drill team style—think intense, sharp choreography, brain teaser arm and head combinations, exacting formations and even synchronized head stands—can prove challenging at first, Minerettes captain Chantae Arroyo says, "The determination you learn from the way we practice gives you the confidence to master it." Miller also emphasizes that this style is not for 
the faint of heart. One mistake in a routine during rehearsal has the entire team doing push-ups as an incentive to get it right. This may seem strict, but it helps boost their dancing to the level they sweat and strive for each day: perfection.
Kickline
What you'll be doing: Wowing the crowds with linked-up kickline routines and most definitely a jump-split or two.
Where you'll perform: Football games, basketball games, pep rallies, assemblies and competitions—any space that can accommodate the line and your legs.
How to prepare: Increase your flexibility and strengthen your technique—both will give you the solid foundation you'll need to integrate with your team. To be able to kick on your own without pressing down on the teammate next to you, you'll need to maintain a strong core with Pilates, planks or sit-ups.
Take it from the lasting popularity of the Radio City Rockettes: Everyone loves a good kickline. With routines centered on intricate kick sequences, showstopping synchronization and solid jazz technique, often ending in a jump-split (yes, you read that right: jumping in the air together and landing in a perfect split while connected), it comes as no surprise that kickline is always a big crowd-pleaser. But a lot of hard work goes into perfecting those high kicks. "We have to ensure the dancers are not only kicking up and snapping their legs down in sync, but also safely, using the correct muscles and ligaments to sustain them through physically demanding practices and performances," says Maureen Maguire, co-director of the six-time national kick champion Seminole High Dazzlers, in Sanford, FL. If flexibility isn't your strong suit, don't worry. The kick team's regimen of daily stretching and practicing "can turn anyone into Gumby," says co-director Shannon Maguire.
Dance Company
What you'll be doing: Though probably most similar to the studio dancing you're used to, being on a dance company allows you to really immerse yourself in dance as an art form, whether in one specific genre or a combination of styles. Plus, you may get to try your hand at choreography.
Where you'll perform: You'll most likely perform in multiple on-campus shows throughout the year and may have the opportunity to perform on a national or an international tour.
How to prepare: Take extra ballet and modern classes to develop your range as a performer. Be open to new styles and ideas about dance.
Athletic events and competition floors aren't the only scholastic backdrops for dancers—many wonderful opportunities come via the stage. Being a member of your school's dance company can be a chance to grow artistically and even give you a taste of what it's like to dance professionally. "Taking advantage of every performance and choreographic opportunity possible in college was definitely instrumental in the development and evolution of the 
performer I am now," says Jonathan Curtis, a recent graduate from the University of Arizona who is now a soloist in Le Rêve, a Cirque du Soleil–like show in Las Vegas. From pieces relying heavily on 
improvisation to contemporary ballet to ballroom or even aerial dance, you'll have the chance "to work with professors and directors who can push you to deepen your 
appreciation of dance and your own abilities to perform and create," Curtis says. Not planning on studying dance? Don't count yourself out. Most dance companies open auditions to students from any major.
Megan Berry, a former member of the Brigham Young University Cougarettes, recently graduated with a BA in dance and is a Utah-based writer and dancer.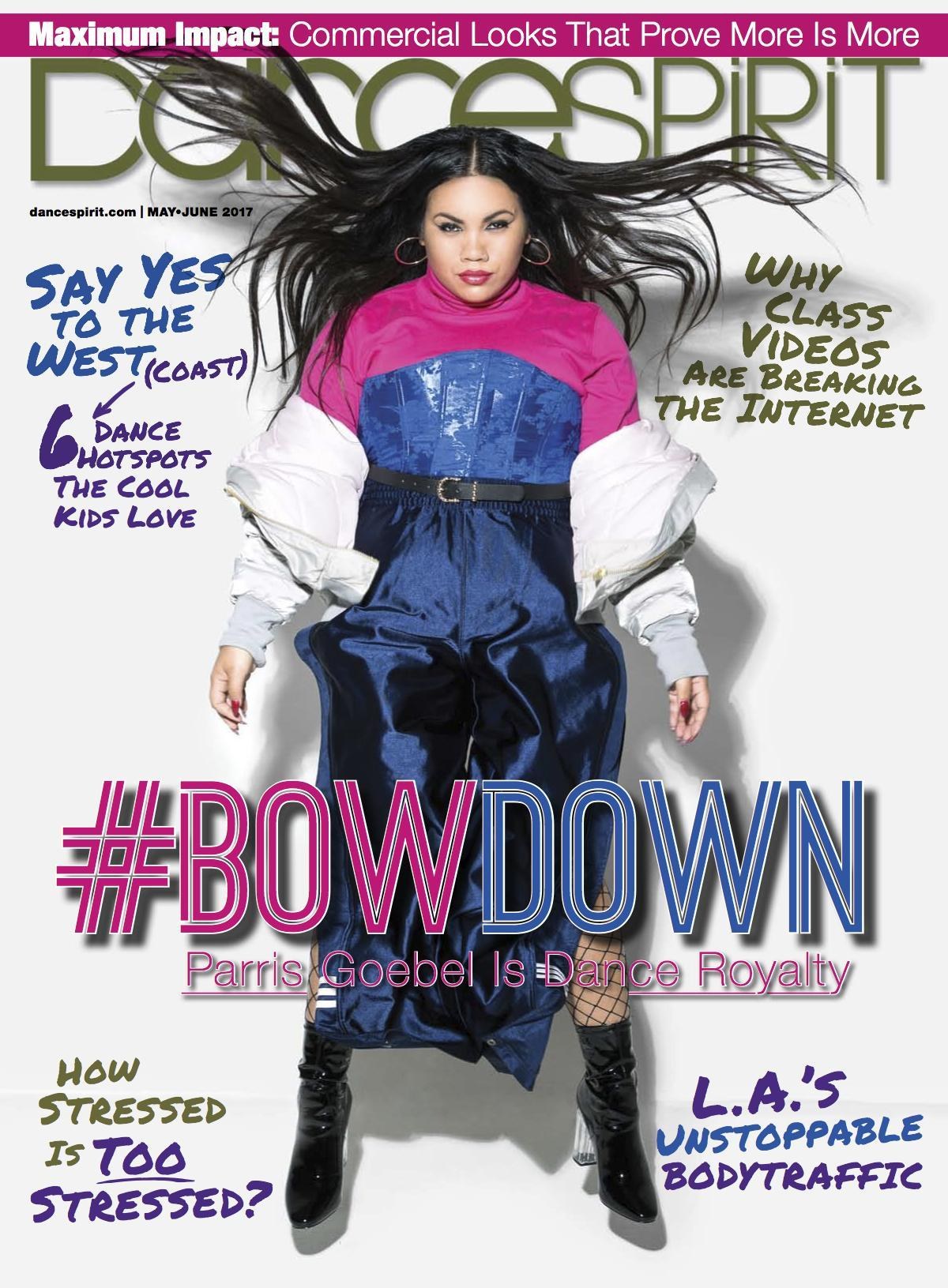 Get Dance Spirit in your inbox