Mar. 23, 2017 02:17PM EST
Let's face it: If you wanted an easy, straight-forward career path, you probably wouldn't aspire to be a professional dancer. First of all, there's no set path to success. If you want to be a doctor, you go to medical school. A lawyer? Law school. And while there are tons of great higher-ed opportunities for dancers (check out our September issue!), the programs are far less standardized—and job placement immediately following graduation is the even more challenging. Dancers have to face all kinds of other tough stuff—like auditions and typecasting and rejection and understudying and side jobs and injuries and...you get the picture.
Long story short: It ain't easy! But with a little help and guidance, navigating the world of show biz needn't be quite so daunting.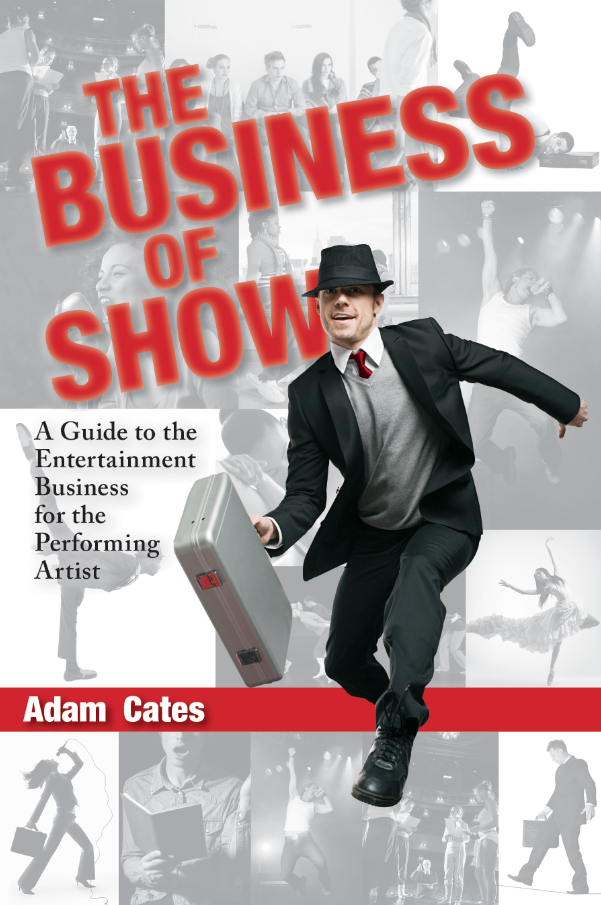 Broadway veteran Adam Cates' new book, The Business of Show: A Guide to the Entertainment Business for the Performing Artist, is just what it sounds like: a one-stop shop of career advice for aspiring performing artists. Want to know how to use social media for self-promotion? Wondering what kind of pay you can expect for different gigs? Nervous about understanding the industry jargon in your contract? Want help navigating the networking process? Cates (the assistant choreographer of A Gentleman's Guide to Love and Murder) answers all these questions and more, bringing together advice from dancers who've made it big—and the artistic directors, choreographers, producers, agents and casting directors who helped them get there.
The Business of Show is available in paperback and e-book on amazon.com and in select retail stores. We're also giving away three print copies! Click here to enter for a chance to win one.
Mar. 02, 2015 03:30AM EST
Pro dancers have all had their share of nutty jobs—anything from ridiculous choreography to hilarious costumes. After all, if it's fun and harmless, why not make a little extra cash? And sometimes, those kooky gigs can be surprisingly rewarding.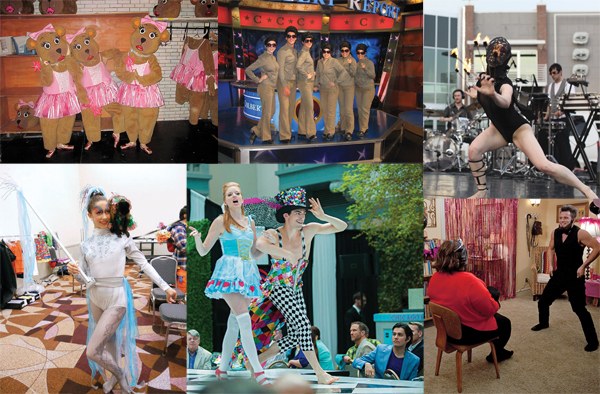 Clockwise from left: Jolina Javier (courtesy Javier); Hillary-Marie Michael (courtesy Michael); Mollie Sansone (Wheatphoto.com, courtesy Sansone); Kyle Robinson (Colleen Hayes/NBC/NBCU Photo Bank via Getty Images); Michael Gross (courtesy Ingrid Bonne); Francesca Forcella (courtesy Forcella)
Jolina Javier, FREELANCE DANCER
Wacky work: Performed as a dancing bear in the Radio City Christmas Spectacular
"I was a ballerina bear for four years. The costume wasn't too heavy—it was sort of like dancing in a Snuggie. You stepped into the bear body, and the head went on top. The snout was right in front of your face, so it was like looking through a screen. At first, it was a little scary. I'm claustrophobic, and when the head was on, you could hear yourself breathing. Not being able to fully see was the most disorienting—especially when on pointe. Pointework is hard enough without a big suit! On my first opening night, I fell onstage. It was so embarrassing. I couldn't believe I fell—in a bear suit—in front of 6,000 people.
"When you're growing up, you always imagine yourself in a tiara, or as a Rockette. But looking back on the experience, I love that I got to be a part of something bigger than myself."
Hillary-Marie Michael, tap dancer and Jersey Tap Fest director
Wacky work: Tapped dressed as Kim Jong-il on Comedy Central's "The Colbert Report"
"A colleague's husband works on the show, and she told me they needed a few tap dancers for one episode. I immediately said yes—no questions asked. It was going to be my first
experience on TV, so I dropped everything to do it. All I knew was the piece had to do with a North Korean ban on imported Italian tap shoes. The six of us got to hair and makeup and we saw our costumes: We were going to be dressd as Kim Jong-il—green jumpsuit, wig, glasses and all. The experience was pretty cool: Colbert is a tap super-fan, and he came out and did a few shuffles with us. But when you're expecting an artistic performance, a 20-second shtick in a silly costume can seem pretty disappointing. That was the day I learned to always ask questions before signing or agreeing to anything."
Mollie Sansone, Nashville Ballet
Wacky work: Performed as a fire dancer
"During Nashville Ballet's off season last year, I danced with Quixotic, a multimedia performance company that's sort of like Cirque du Soleil. For one section of the show, I wore metal clamps on my fingers. The clamps attached to metal skewers with wicks on the tips that were lit on fire. My immediate reaction was pure excitement—I'm a bit of a daredevil."
"I performed barefoot, wearing a leotard with a hood to cover my hair. The work was very grounded—not a lot of jumps and no partnering—so I felt safe with the flames. Of course, I had to be careful: If my fingers pointed downward, the fire would shoot up and burn my hands. And if I moved my hands too fast, the flames would go out. The first rehearsal was a little scary, but after that I loved it. What a rush!"
Kyle Robinson, Shaping Sound Dance Company
Wacky work: Played an exotic dancer dressed as Abraham Lincoln on NBC's "Parks and Recreation"
"I was the last appointment at the audition for the part, and when I walked into the waiting room, it seemed like every guy in L.A. between 5'10" and 6'4" with brown hair and muscles was there. I thought by the time I got into the room, the agents would have already seen a million abs.
"Finally, it was my turn. I tried my best moves: I ripped open my shirt and I threw my head back as I landed on my knees, channeling Flashdance. I did a headroll, a handstand with a twist—and as I pretended to remove my belt, I heard yelling: 'Stop, stop! Mr. President, put your pants back on!' They loved it! Two days later, I heard I'd booked the gig. Being on the show was an incredible experience."
Michael Gross, Hubbard Street Dance Chicago
Wacky work: Performed as the Mad Hatter from Alice in Wonderland at a fundraiser for the Chicago House and Social Service Agency
"For the benefit performance, I wore a black and white checked singlet, an oversize hat that kept falling over my eyes and patent leather white go-go boots with two-inch heels. It wasn't my favorite choreography—but it was for a good cause and I figured I wouldn't know anyone in the audience. Right before I went on, though, Hubbard Street's artistic director, Glenn Edgerton, approached me. At the time, I wasn't in Hubbard Street, but I had auditioned for the company a couple times and had yet to make the final cut. I kept thinking, Please don't stay and watch this! He did, of course. Little did I know that about a year later, he'd be my boss. We haven't actually talked about the show yet…it might be better that way!"
Francesca Forcella, BalletX
Wacky work: Danced in a circus-themed fashion show for Macy's
"When I was in Houston Ballet II, three dancers from the company were chosen for a fashion show. We assumed we were going to model—and we were so excited! On the day of the show, however, a Macy's representative brought us to what she called the 'talent room.' The talent room? We walked in and saw a bearded lady and another woman with a monkey. It turned out the show was circus-themed, and we had to dress up as faux Cirque du Soleil performers. My friend was the ringleader, and I danced down the zigzagging runway in a silver unitard and full-footed tights. They didn't have shoes for us, so we performed in stocking feet, trying not to slip. It was a crazy day, but it ended up being fun: I was with my friends, and we made the best of it."
Apr. 06, 2014 11:00AM EST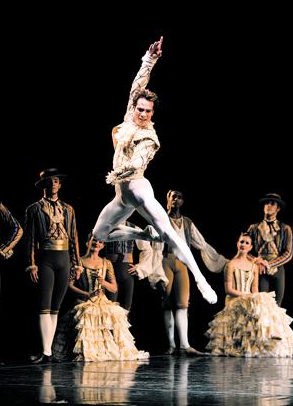 NYCB principal Gonzalo Garcia (photo by Chris Hardy)
Sometimes it's hard to remember that professional ballet dancers aren't superhuman. But in reality, they're just like us.
I mean, when you watch a breath-taking pas de deux, do you ever wonder what they ate for breakfast or if they need to buy toothpaste after work? Probably not.
That's why we love it when dancers provide a glimpse into their very human lives. And that's just what New York City Ballet Principal Gonzalo Garcia does in The Dancer, a new short film by Ezra Hurwitz.
The film follows Garcia through a typical morning—everything from shaving and riding the subway to warming up and dancing. And sure, we might get distracted by Garcia's extraordinary back muscles, or by the behind the scenes shots of him in Lincoln Center's Koch Theater. Ultimately though, we're watching a regular NYC man go to his (not so regular) job in NYC. And that makes his dancing all the more impressive, right? Enjoy!
Mar. 02, 2014 01:48AM EST
Some professional dancers can pinpoint the exact second they were inspired to pursue a career in dance. Others feel they've known all along. We asked nine pros to share when they decided to devote their lives to dance.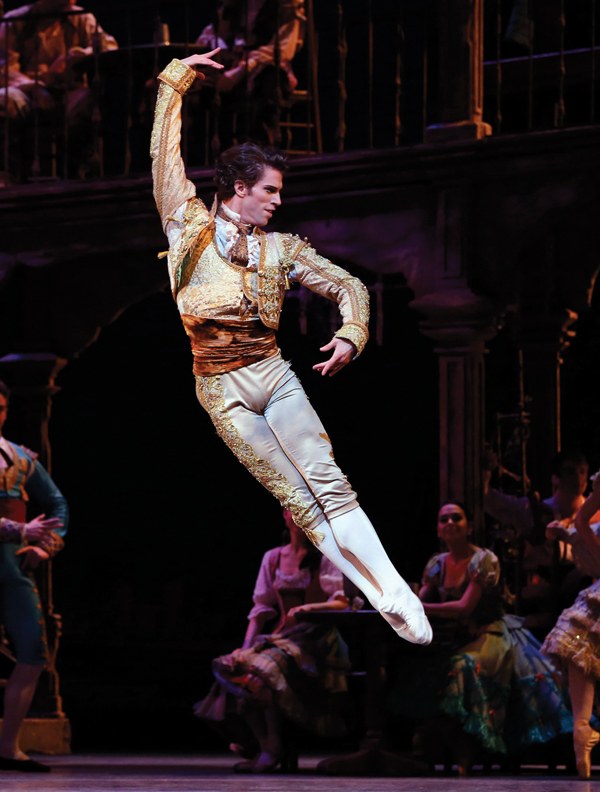 Whiteside in Don Quixote (photo by Marty Sohl)
James Whiteside
Principal, American Ballet Theatre
"When I was 12, I fell in love with old Broadway films, like Funny Girl and West Side Story. At that point, I knew I wanted to be on Broadway. I didn't know how, or when, or why—I just knew I was going to have to work like crazy to get there. So I came up with my grand scheme: I would start in ballet, then move to Broadway—and then take over the world!"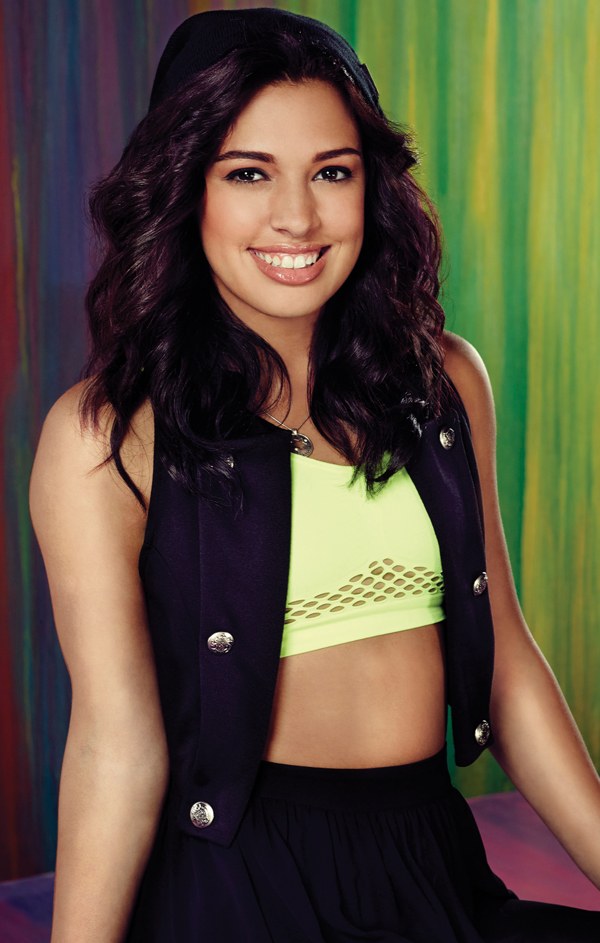 (Photo by Mathieu Young/FOX)
Alexis Juliano
"So You Think You Can Dance" Season 10 contestant
"I started dancing when I was 2, and by the time I was 11 or 12, I just couldn't see myself doing anything else. I would watch the movie Tap, and get inspired by Sammy Davis Jr., Gregory Hines and Savion Glover to take my tapping all the way to the top."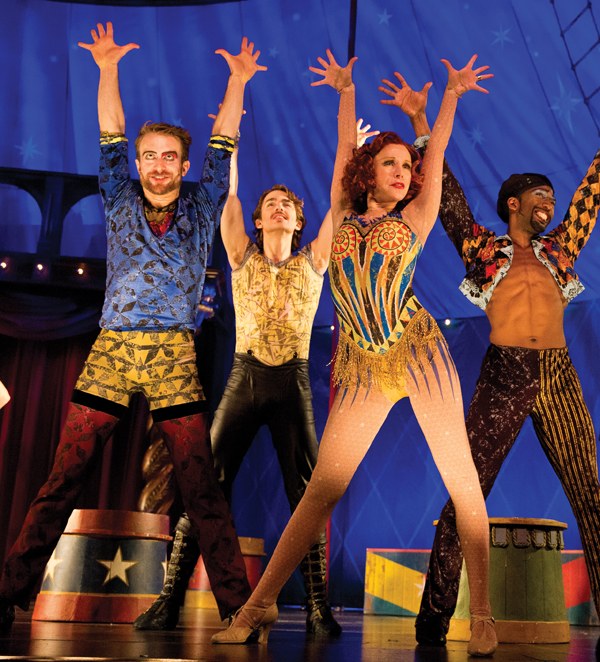 Cunliffe (left) in Pippin (photo by Joan Marcus)
Colin Cunliffe
Dancer in Pippin on Broadway
"I had two main moments that made me realize I wanted to be a dancer. First, when I was 6, I saw my brother performing in a local theater troupe in Denver, CO. While watching him sing and dance onstage, I had this crystal-clear idea of what I wanted to do—I wanted to move to NYC and be on Broadway. Then, when I saw Bob Fosse's 'Rich Man's Frug,' I knew I wanted to be a Fosse dancer."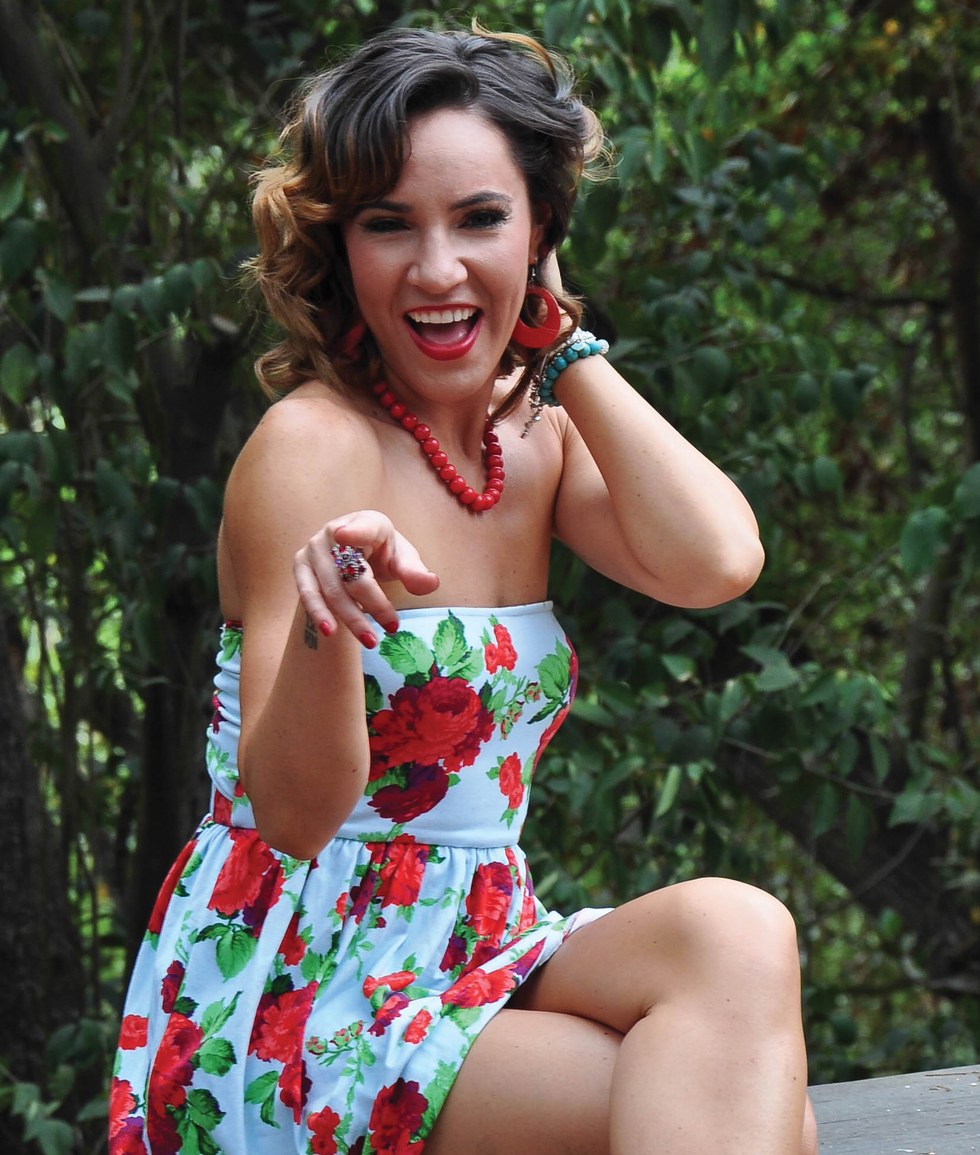 (Photo by Nika Shneyder)
Riquel Olander
"America's Best Dance Crew" alum, member of We Are Heroes crew
"I grew up studying at a dance studio in Idaho where there were no hip-hop classes. It wasn't until I visited my sister in L.A. at 16 that I experienced popping, waving and all different kinds of hip hop. That trip was my great awakening."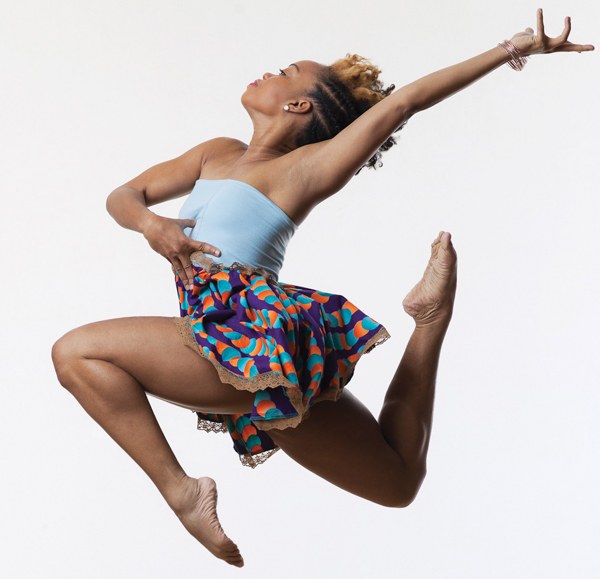 (Photo by Christopher Duggan)
Camille A. Brown
Artistic director and choreographer of Camille A. Brown & Dancers
"In school, they used to tell us about becoming a lawyer or a doctor, but they never mentioned becoming a dancer. It wasn't until I began taking classes at Fiorello H. LaGuardia High School of Music & Art and Performing Arts and The Ailey School that I realized dance could be a profession. Being around the older dance students and witnessing their excitement as they prepared for performances made me think, 'Wow, it must be fun to travel the world doing what you love.' But there were still obstacles for me. Because I wasn't considered to have the 'ideal body' for dance, I wouldn't get picked for pieces. Eventually, I realized that if I developed myself as a choreographer, I wouldn't have to wait for others to tell me when I could perform."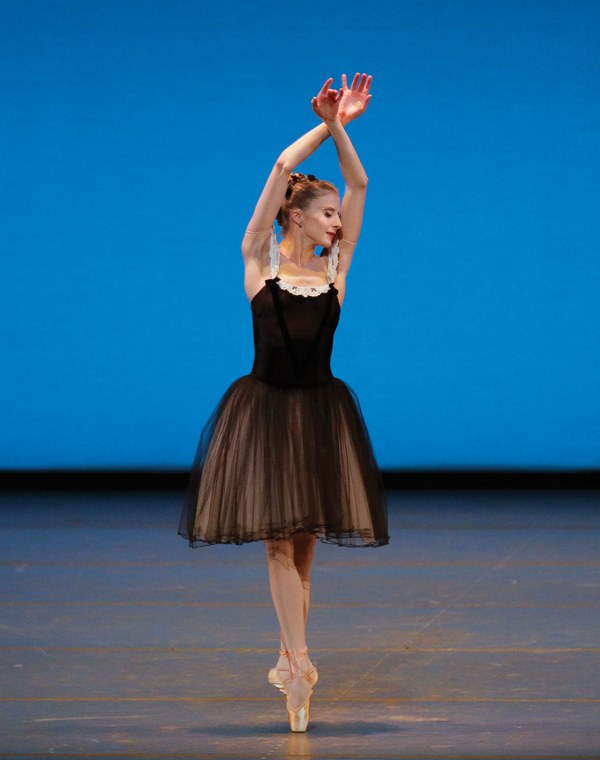 Hyltin in George Balanchine's Mozartiana (photo by Paul Kolnik)
Sterling Hyltin
Principal, New York City Ballet
"I was always a tomboy, so when I initially started dancing, I didn't like it very much. When I was 12, my dance teacher told me to go to a School of American Ballet summer course audition, so I went. When I got to the audition, I was so overcome by nerves that I could barely pick up the combinations. That's when I realized I cared about dance more than I thought. And when I got into the program the following year and saw NYCB perform at Saratoga Springs, I knew I wanted to dance with the company one day."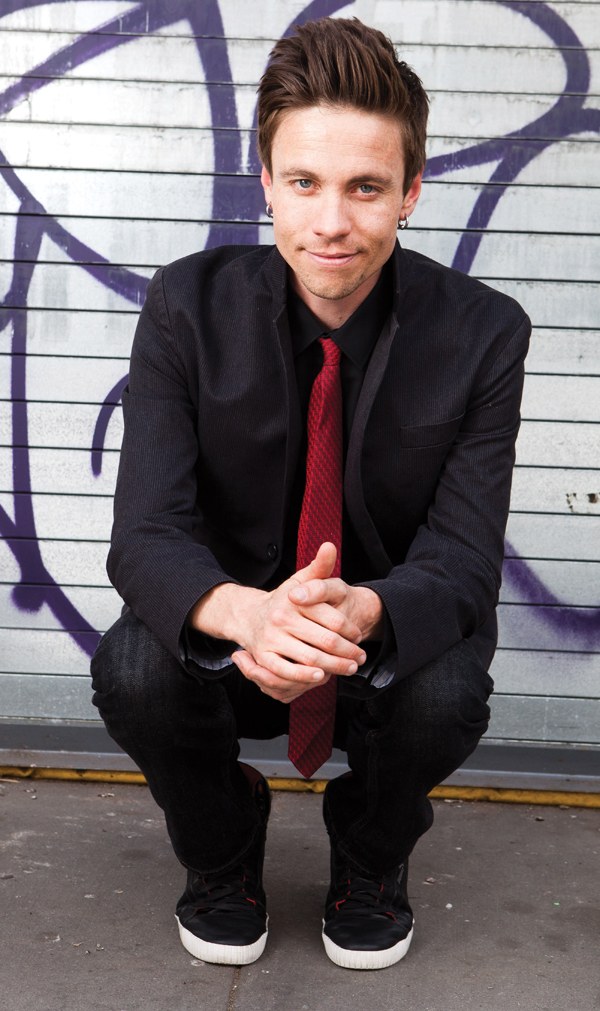 (Photo by Matthew Murphy)
Danny Wallace
Executive director of 24 Seven Dance Convention
"My parents owned VHS tapes of Singin' in the Rain and A Chorus Line, and I used to watch them every day after school. When I was 6 or 7, I told my mom, 'Hey, I want to dance!' At that age, I didn't even know dance was a way people made money. But I knew it was what I wanted to do for the rest of my life."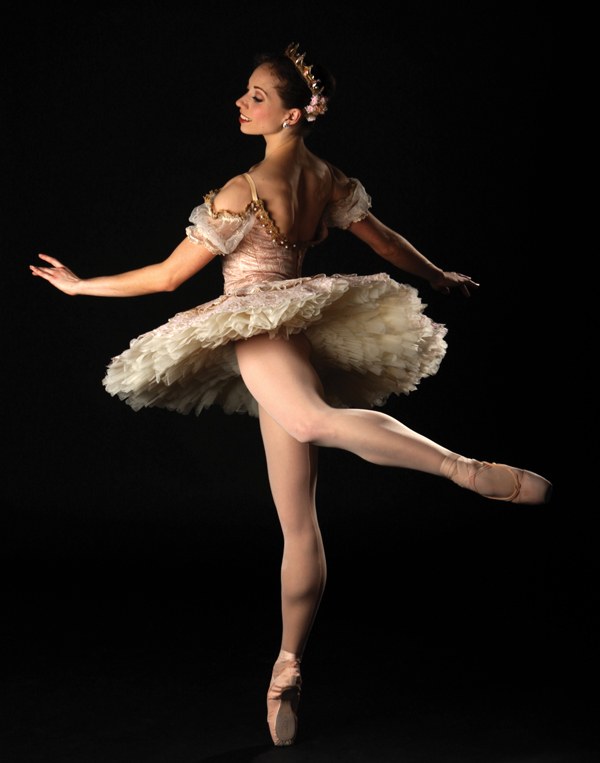 Lawrence in The Sleeping Beauty (photo by Ryan Galbrath)
Katherine Lawrence
Principal, Ballet West
"I never had a moment when I said, 'I'm going to be a dancer.' I just always knew it. My mom put me in creative movement classes when I was 4, because I was already dancing around the house. In high school, I told her, 'If I'm going to do this seriously, I need to move to a professional school where I can get better training.' That's when I switched to the HARID Conservatory."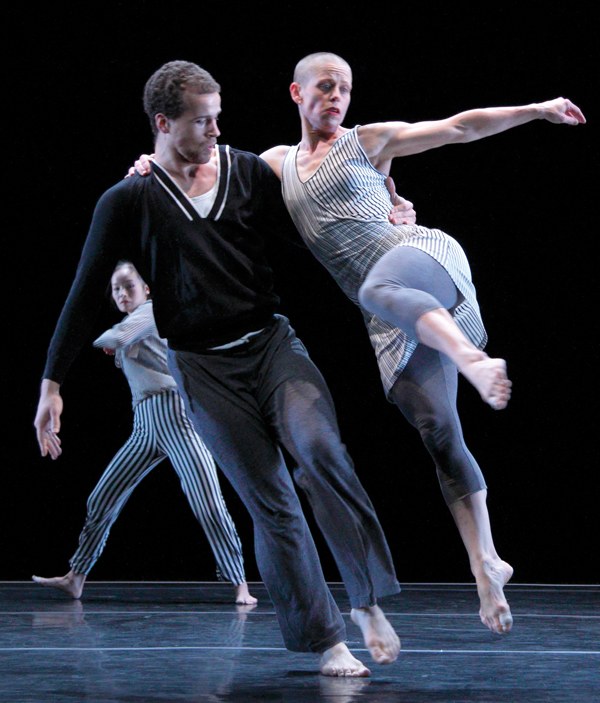 Nugent with Talli Jackson in Bill T. Jones' Ravel (photo by Paul B. Goode)
Jennifer Nugent
Former dancer with Bill T. Jones/Arnie Zane Dance Company
"When I was 14, I wanted to be a commercial jazz dancer because I grew up in that world. My dance friends and I would spend hours learning all the dances from Flashdance and Saturday Night Fever and then choreographing new versions. So I danced professionally in the entertainment industry until I was about 21. Then I saw something that changed my course: After watching a performance by the modern group Houlihan and Dancers, I found myself very worked up. I realized that through modern and improvisation, I could achieve a deeper connection with dance. From that point on, I was fully committed to becoming a modern dancer."


Get Dance Spirit in your inbox