Jul. 17, 2014 11:00AM EST
Hello, friends! Last night the Top 18 performed on "So You Think You Can Dance," and that means we had to narrow the group down from the super great to the incredibly, phenomenally great. I won't lie: Letting two contestants go was a little painful. But there were plenty of things to enjoy along the way. Here are my top five moments from last night's episode.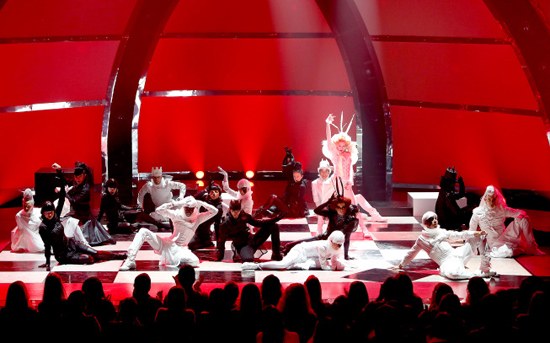 The Top 18 in Pharside and Phoenix's "How It's Done"
(photo Adam Rose/FOX)
1. The crazy-brilliant Elizabethan chessboard opening number. Top 18 dancers in funkified corsets and neck ruffs? Yes, please! The delightful little piece was choreographed by Pharside and Phoenix of Academy of Villains, and if that last name sounds familiar, it's because AOV is one of the finalists in this season's crew battle. (Speaking of the crew battle—can we get a Syncopated Ladies–choreographed number next week? But seriously?)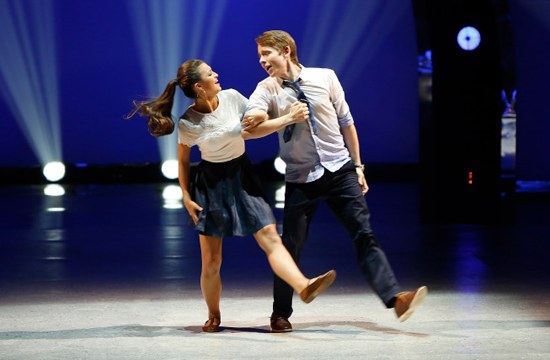 Jacque LeWame and Zack Everhart, Jr. in Keone and Mari Madrid's "Stay with Me"
(photo Adam Rose/FOX)
2. Keone and Mari are back! Oh my goodness, we cannot get enough of hip hop's cutest couple ever. Loved their routine for Jacque and Zack, who may or may not have nailed all of its technical intricacies, but definitely captured its earnest, joyful spirit.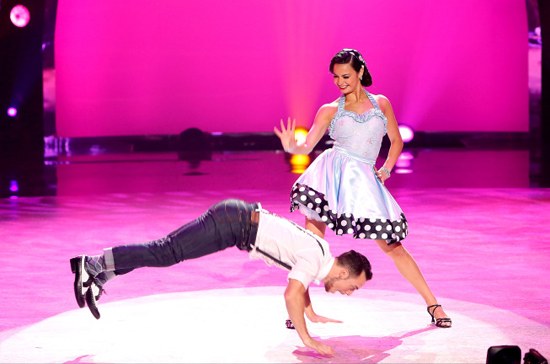 Emilio Dosal and Bridget Whitman in Anya Garnis and Pasha Kovalev's "Happy"
(photo Adam Rose/FOX)
3. Oh hey there, jive. There are few things better than a really, really good jive. Luckily for us, "SYT" superstars Anya and Pasha returned to choreograph a super-cute one for Bridget and Emilio. Since the jive is the happiest dance in the world, naturally they set it to Pharrell's "Happy," which made us feel...well, you know. And while Bridget and Emilio's leg action wasn't perfect, their performance was totally wonderful. (Shades of the fabulous jive Anya did with Danny during Season 3, am I right?)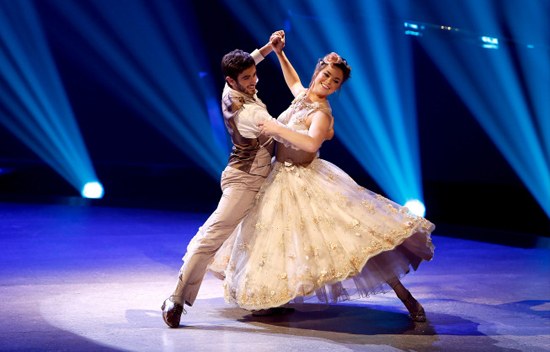 Ricky Ubeda and Valerie Rockey in Lacey Schwimmer's "I Won't Give Up"
(photo by Adam Rose/FOX)
4. Ricky and Valerie dominated the Viennese waltz. Yes, I felt a faint sensation of dread when I heard that these two were doing the Viennese waltz, which in past seasons has been the kiss of death. And yet Lacey Schwimmer—in her first time choreographing for "SYTYCD"!—pulled some amazing magic out of her ballroom hat. The routine was just lovely, and this charismatic pair sold the heck out of it.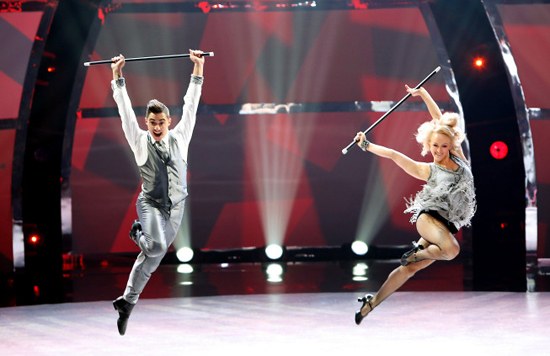 Rudy Abreu and Tanisha Belnap in "Sing, Sing, Sing," choreographed by Warren Carlyle
(photo Adam Rose/FOX)
5. War-ren Car-lyle (clap, clap, clap-clap-clap). Look: When you hear that Warren Carlyle, the 2014 Tony award winner for best choreography (that'd be for the showstopping After Midnight) is going to make a piece for "SYT," you know it's going to be darn good. But holy mother of Broadway, it was fantastic! Tanisha and Rudy lit up dancing Carlyle's soft-shoe-inflected number. They roared through the '20s, those two, and we loved every minute of it.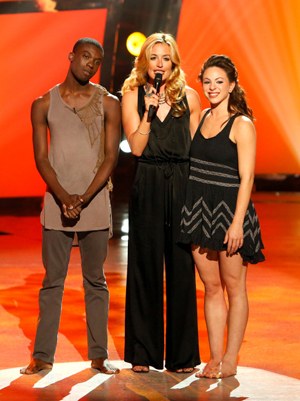 Hello, Cat Deeley in that fabulous jumpsuit. Goodbye, Stanley and Jourdan. We'll miss you!
(photo Adam Rose/FOX)
In the end, Stanley and Jourdan went home. I don't know about you all, but I am legitimately sad to see these great performers go. Particularly Jourdan—I've witnessed her fabulousness in person many a time at Complexions Contemporary Ballet. But [*sob*] I know they'll both go on to great things. You have bright futures ahead of you, Stanley and Jourdan!
What did you all think? Did the right people get booted? Let us know in the comments, and come back here next week for the recap of the Top 16 episode!
Jun. 12, 2014 11:00AM EST
Last night brought us round three of "SYTYCD" Season 11 auditions, a two-hour smorgasbord of delectable dancers that totally renewed my faith in the show. Confession time: I was a tad disappointed with the level of talent we saw during the first two episodes. I'd even started to wonder if the "SYT" talent pool might be drying up. But tons of auditionees totally knocked my socks off last night, and from the looks of the in-between-featured-dancers montages, there were dozens more impressive hopefuls we didn't even get a good look at. Plus, lovely American Ballet Theatre soloist Misty Copeland came to Philly to guest-judge a round of auditions. Great dancers evaluating other great dancers? Yes. Yes please. (And continued kudos to the producers for celebrating the standouts rather than bullying the not-so-greats.)
Without further ado, here are my Top 5 moments from the episode:
1. #TeamBallroom was in the house... Whoa, you guys: The level of ballroom talent this season is staggering. First up were partners Serge (a Season 10 audition vet) and Alla, who, despite the romantic awkwardness between them—that "will you be my girlfriend" post-performance stunt was cringe-inducing—burned up the floor with their cha-cha. Next we saw Marlena and Armen (another Season 10 auditionee, perhaps best known as the guy who dropped Malece on her head); thankfully, their intense chemistry seemed totally real. Finally, there was Landon, my new favorite ever. With his extremely pinchable babyface, he looks like the most unlikely ballroom dancer in the world—and yet boy can work those hips. It didn't hurt that his partner was Season 10 ballroom favorite Jenna (whom Nigel promptly asked to return as an All-Star, of course).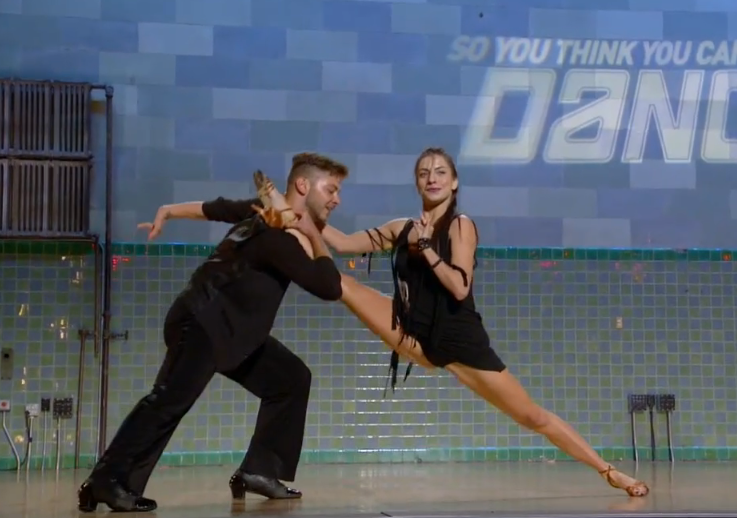 Alla and her LEGS and Serge and OH MY GOSH ALLA'S LEGGGGS
2. ...and so was #TeamBallet. The ballerinas came out to play last night! I was thrilled to see Jourdan Epstein, one of my favorite members of Complexions Contemporary Ballet, nail her powerful solo. (Hey, Complexions co-directors Desmond Richardson and Dwight Rhoden—does this mean we can expect to see you back on the show this season? SAY YES.) And I fell in love with Amir, the "funky ballerina," who, despite the small holes in her technique, showed so much charisma in her eclectic pointe piece to Beyoncé's "Flawless." Also, jeez louise, super-duper props to you ladies for dancing on pointe on waxed wooden floors, a.k.a. ice.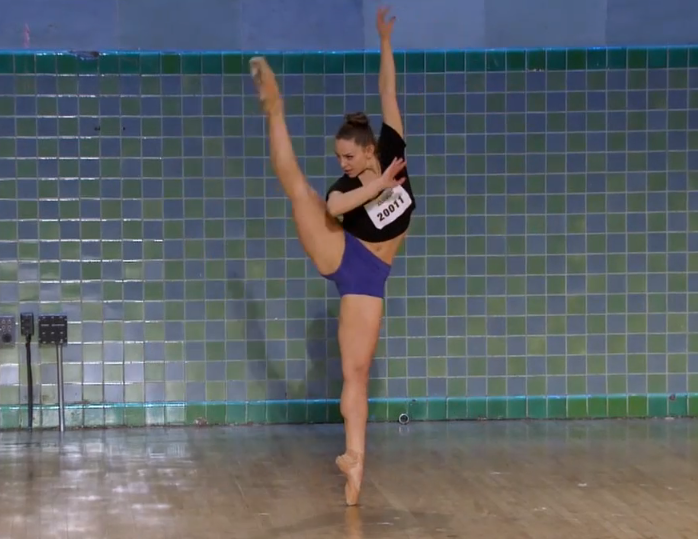 Jourdan Epstein being beautiful, as she does
3. Johnny Waacks came back! I couldn't get enough of Johnny during his Season 9 audition, when he introduced the judges to the art of waacking. (A sidenote for you, judges: Waacking is amazing and has been around for literally decades, so A. you should really know what it is by now and B. you should really, really, really stop giggling and making dirty jokes every time someone brings it up. K? Thanks.) This time around, Johnny rocked an incredibly fabulous skirt and waacked to WHITNEY HOUSTON and the world was filled with flowers and unicorns and happiness. Dance gods, hear my prayer: Please let this man make it through to the Top 20.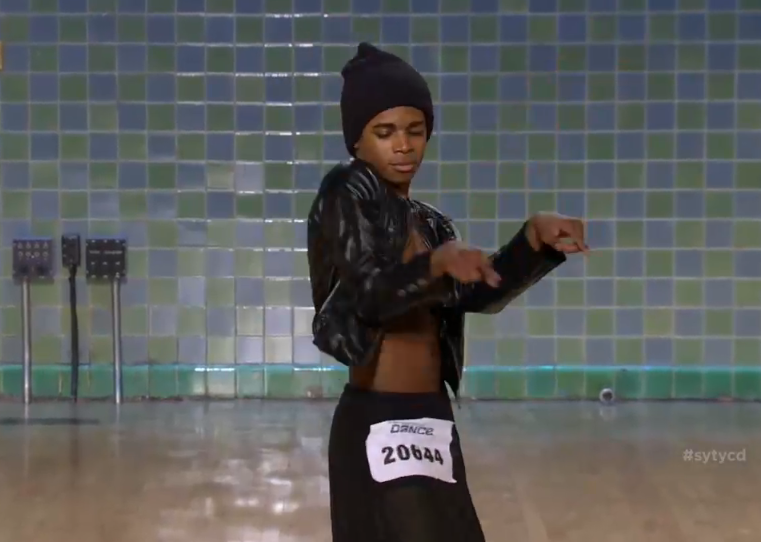 Get it, Johnny.
4. J-4 became the new frontrunner for the winner of "SYTYCD" Season 20. He's 9 going on "18 and a half," in his words, and he is just the cutest, most talented little b-boy. Naturally Nigel called Cyrus and Fik-Shun up onstage to freestyle with him, and while I'm getting a little tired of seeing past contestants hogging the spotlight, it was, I admit, a priceless moment. See you in nine years, J-4!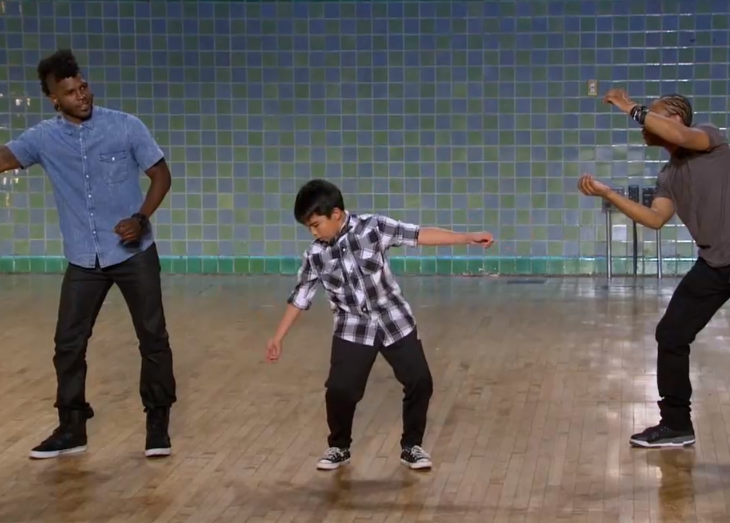 Never let those big kids steal your thunder, little guy.
5. We heard some truly powerful stories. Sometimes I get frustrated when audition episodes focus on dancers with tragic pasts. There's an exploitative quality to that kind of thing that makes me vaguely uncomfortable. But last night, the stories we heard were so moving that I repeatedly found a strange, watery substance leaking from my hard, cynical eyes. Contemporary dancer Bridget lost her father in a car crash when she was just 12; her last memory of him is the two of them watching "SYTYCD" together, and him telling her, "If you follow your dreams you can get there one day." Krumper James was shot in the knee and nearly lost his leg, which gave him a new appreciation for life and dance. Shy, gentle Stanley lost his mom when he was 4, and was raised by a friend of hers after nobody from his father's side of the family claimed him. (That weird eye-liquid—it was just pouring out of me during his segment.) A beautiful technician, Stanley was also able to channel the hurt and anger he's felt in the past into an astonishing, "creaturelike" solo.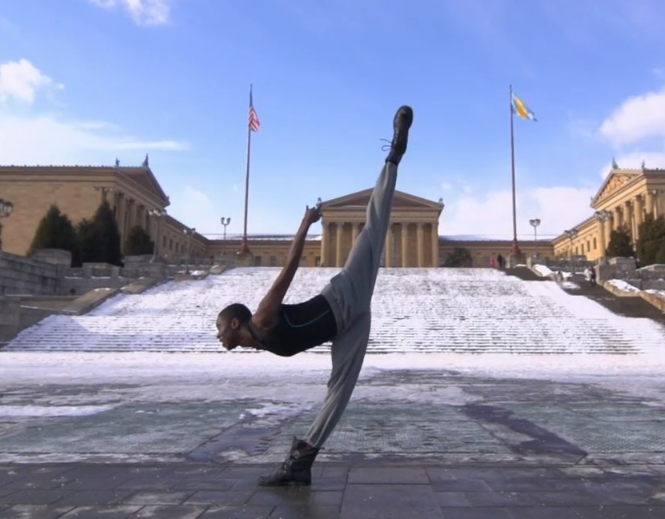 Stanley is absolutely one of my early favorites for the Top 20.
What did you guys think? Let us know in the comments—and come back next week, same time, same place, for our recap of the final auditions episode. We're heading to Atlanta, and from the looks of the preview footage, things are about to get real intense, y'all.
Aug. 21, 2013 01:27PM EST
This week, the Top 8 were choreographed by—and partnered with—eight "So You Think You Can Dance" All Stars. I kind of love it when "SYTYCD" throws us a curveball like that. And it's a risky premise: Artists are usually at the top of their game as either dancers or as choreographers, but rarely as both at the same time. So what, I wondered as the show began, would we get? Mediocre dancing of beautiful pieces? Or vice versa? Something in the middle?
Well, a little of all of the above, it turns out. Read on for my Top 5 highlights from last night's episode.
1. Guest judge Jenna Elfman was kind of meh—but hey, she started out as a dancer! I love these kinds of discoveries. According to Wikipedia, she was in a Depeche Mode video and was also a "legs girl" for ZZ Top, whatever that means. We need concrete evidence of all this, STAT. (Wait—is she the girl on the left at 2:33 in this video? Please, please say yes.)
2. Fik-Shun and Allison's contemporary routine. It was based on society's prejudices about interracial couples—a not-so-veiled reference to Allison's relationship with a certain other "SYTYCD" All Star. Was it earth-shattering choreography? No, not really. Was the lantern theme—meant to represent the two of them "being in the dark"—especially effective? Nope. But it was a solid routine with a powerful message, and I like that Allison let Fik-Shun be himself at critical moments, playing to his strengths while carefully hiding his flaws.
3. Hayley and Dmitry's rumba. (Was Aaron's self-unbuttoning shirt earlier on actually Dmitry foreshadowing? Discuss.) There's nothing better than a good ballroom number, and it's rare that we get one that actually tells a story—in this case, the story of a woman who's just discovered her fiancé is cheating on her. The rumba suits Hayley's laser-focused technique well, though I do agree with Jenna that she could loosen up a tad. And I looooove when Mary talks dirty ballroom technique to me: "The international Latin rumba is so difficult, mainly because you can fall off-balance so easily with that type of leg action, but you [Hayley] did it beautifully." Don't stop, Mary! Don't ever stop.
4. Jenna and Mark's jazz number. Direct Mark quotes from the rehearsal footage: "I want to pull inspiration from so many different places that it's just an explosion of my head." "I'm totally not a vegetarian when it comes to dancing. I literally want it bloody. I just want it raw." "So bring out your inner Indian, and let's go to space." Somehow, all that translated to "Rich Man's Frug" by way of Lady Gaga (fitting, since Mark has been a Gaga dancer since forever) with that ineffable Markness layered over the top, and I loved every crazy moment of it. The red carpet/tongue! Amazing. And yes, Jenna looked great, although frankly it took serious effort to tear my eyes away from Mark. (Which is theoretically a problem in a routine that's supposed to be showing off the contestant...but I don't care. I love it.)
5. Amy and Travis' contemporary piece. This was Travis at his best: A classic, not-too-complicated story, with admirable, if not groundbreaking, choreography. I've also missed Travis as a dancer (at least since the end of "All the Right Moves"—R.I.P.!). And Amy is just so ridiculously great. I mean come on, those synchronized triple pirouettes that extended to second—good grief, kids!
In the end, Tucker and Jenna went home. Sad news. But at this point in the competition, every elimination is sad news.
What did you all think of the show? Did the right people go home? Let us know in the comments—and tune in next week, same time, same place for our recap!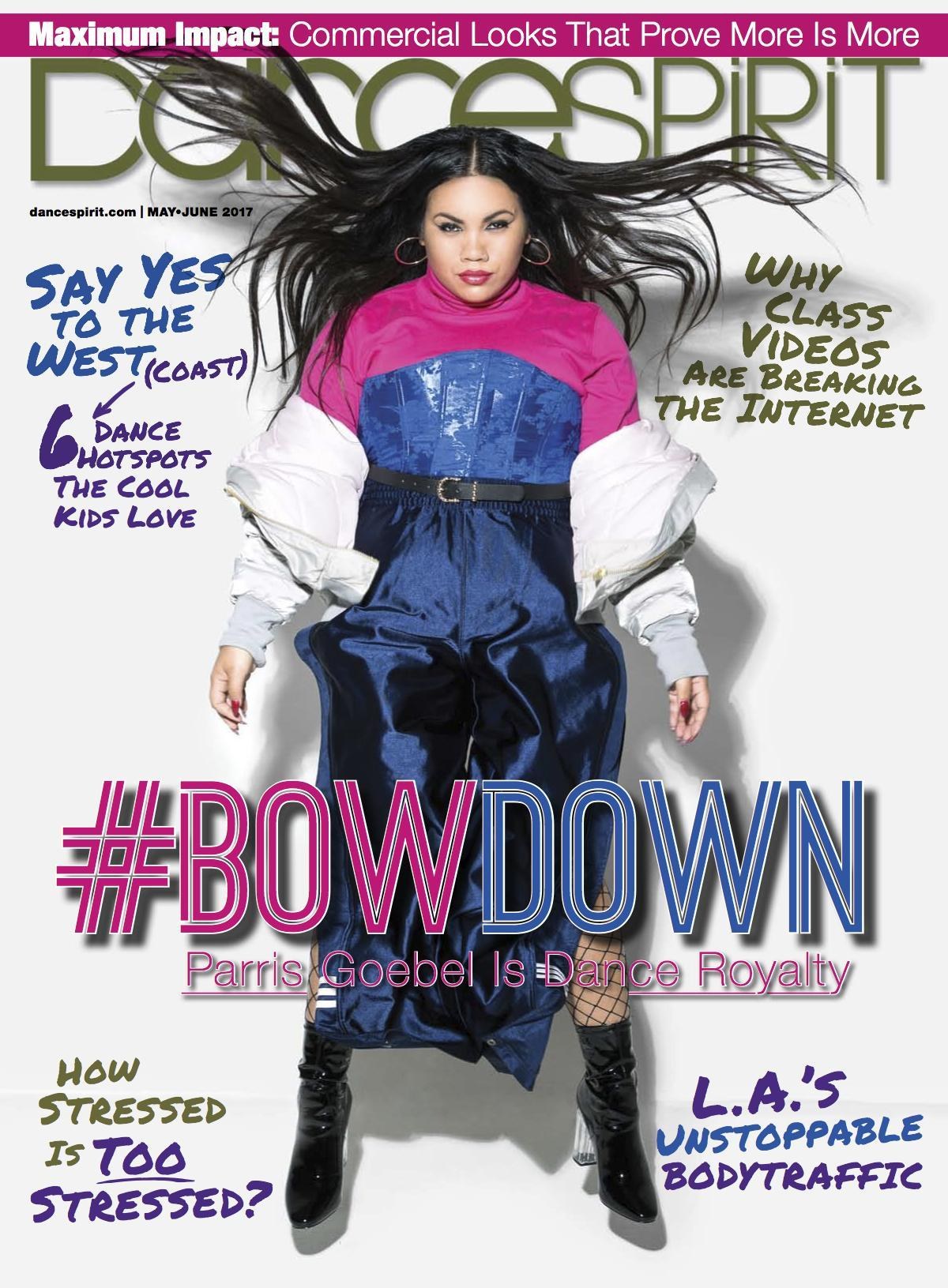 Featured College Dance Program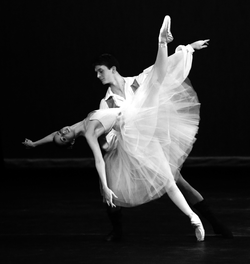 Get Dance Spirit in your inbox