Courtesy MSG Entertainment
Watching the Radio City Rockettes perform a dazzling array of precision dance routines in their annual Christmas Spectacular show is a tradition many New Yorkers use to welcome the winter season. But how do these leggy ladies spend their off-season and what do they do to maintain their pristine technique, strength, and stamina when they're not on stage? We caught up with the Rockettes a few months before the opening night of the Christmas Spectacular to find out exactly what they do to keep those legendary leg kicks year round.
Keep reading...
Show less
Auditions are like vegetables: Are they the most delicious food? Probably not. Are they essential for your growth as a dancer? Definitely.
We love asking the pros for their advice, because we know the important role auditions play in every dancer's career. Whether we're breaking down the basics for first-time auditionees, giving you real talk on mistakes you don't know you're making or keeping it light with stories of pros' worst audition mistakes, we're always looking for tips to help you make it to the final round.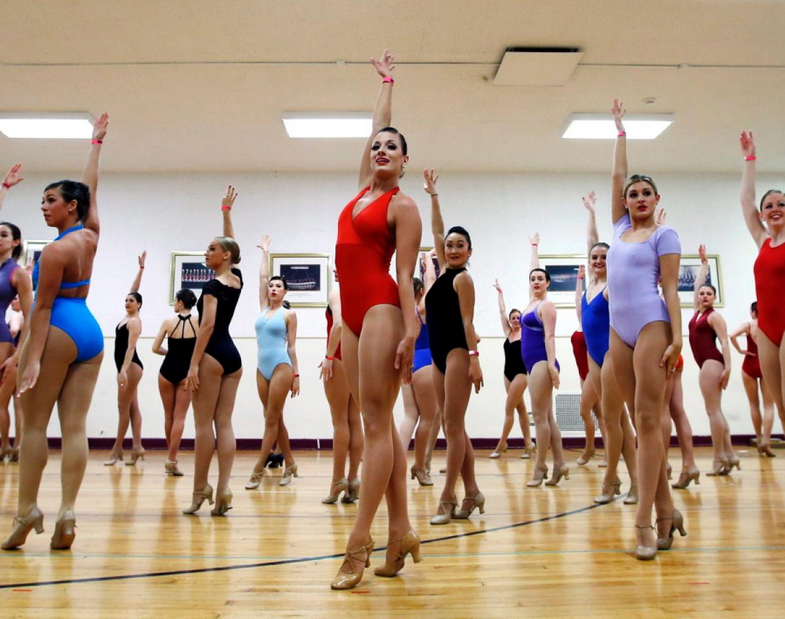 A Rockette audition (photo via New York Daily News)
With audition season almost upon us, who better to share advice than our favorite leggy ladies, the Radio City Rockettes? We love that they hold auditions every year and are always on the lookout for new performers. Here are some of their top tips for a solid audition experience:
Review all of the audition requirements and guidelines...more than once. (You do NOT want to be that girl who brought black shoes when tan ones were required.)

Use a folder or envelope to hold all your paperwork, like application forms, audition fees, headshots and resumes (and extra headshots and resumes).

If you're asked a question or interviewed, listen carefully, take a breath and then speak. (It's not a great feeling to blurt out an answer, accidentally interrupt someone and then have literally no idea what you just said.)
It's an indisputable fact that the Radio City Rockettes never look bad. (I mean, these ladies can even work it in toy soldier costumes.) But we've become so accustomed to seeing them dolled up in holiday-themed costumes—candy stripes, snow flakes, Santa suits and the like—it was hard for us to imagine what their looks for the New York Spring Spectacular might be.
Whelp, we are sooo not disappointed. The show that seems to have brought out all the big guns enlisted three top fashion designers—Diane Von Furstenberg, Zac Posen and Isaac Mizrahi—to each create one look for the Spring Spectacular's ode to New York Fashion Week. High fashion + dance is always a good thing, and we're thrilled to see the two worlds collide outside of ballet. (If you're listening, fashion gods, that doesn't mean we don't want more ballet couture collaborations. Please keep those coming, too. #neverenough)
You can check out the three designs below, but if you'd prefer to see them in person, we've got some fantastic news: It's still not too late to enter our New York Spring Spectacular ticket giveaway for the March 27 performance. Or, if you'd rather guarantee your spot in the audience, you can purchase tickets using the discount code DANCE and save 20 percent. You've got options!
Performances run through April 12 at Radio City Music Hall in NYC. Click here to enter the March 27 ticket giveaway, or here to purchase discounted tickets.
All slideshow photos by Angela Cranford/MSG Photos.
[portfolio_slideshow nowrap=0 thumbs=true timeout=4000 showtitles=true showcaps=true showdesc=true]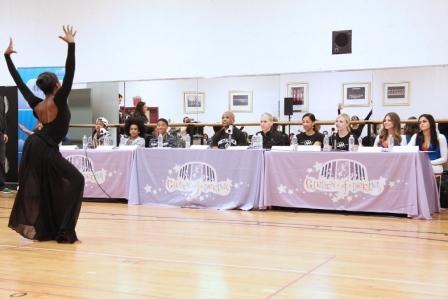 Alexis Stewart of Elmont, NY, rehearses her performance to "He Lives in You" from The Lion King in front of celebrity guest mentors Mindless Behavior, Darryl McDaniels of Run DMC, Broadway actor Tony Vincent, Rockettes Karilyn Surratt and Tara Dunleavy and Knicks City Dancers Alyssa Quezada and Ana DeMatos. (by Kristina Bumphrey/Starpix)
Rockettes are famous for their lengthy legs, perfect time steps and star quality—but what many don't know is what they're up to when they're not on stage. Each spring, the Rockettes, alongside other divisions of the Madison Square Garden Company, give children their own shining moment on the Radio City stage through non-profit charity Garden of Dreams.
Established in 2006, Garden of Dreams turns dreams into realities for children facing adversities from illness to homelessness. The Rockettes serve as judges, mentors and inspirations for children who audition for the charity's talent show, which takes place on the Radio City Music Hall stage. So far, Garden of Dreams has provided magical and memorable opportunities for over 225,000 children and their families!
Here's how it works:  Last month, contestants auditioned for a rotating panel of expert judges including Broadway stars, Knicks City Dancers and, of course, Rockettes. Then, those who were chosen presented their acts twice more before the final performance while getting pointers from the judges on how to fine-tune their acts and eliminate their nerves. The final talent showcase, called "Dare to Dream," is this Tuesday, April 16, and it will include approximately 200 children from across the tri-state area.
What are the highlights? There are too many to count! But Rockette and judge Tara Dunleavy told DS: "A 5-year-old boy will sing Bruno Mars. He's so cute and fearless, and so much fun to watch."
If you're in NYC, there's no reason to miss this touching event, because it's open to the public and free of charge! For more info, check out gardenofdreamsfoundation.org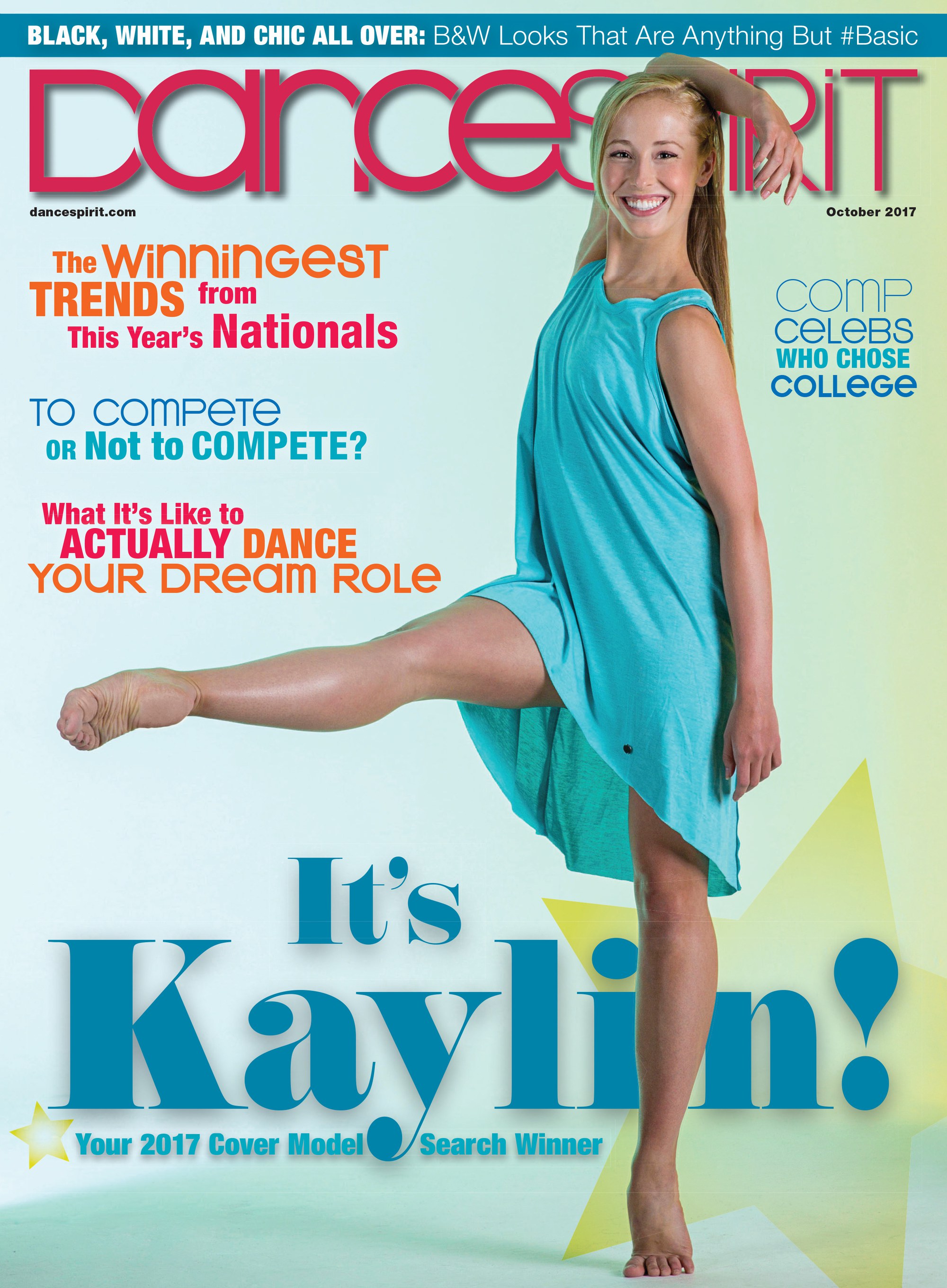 Get Dance Spirit in your inbox