Jan. 05, 2018 12:24PM EST
Pavlova dancing her most iconic solo, "The Dying Swan"
Giphy
And Pavlova's just one of the reasons we can't wait to see it.
Keep reading...
Show less
Lex and Taylor in Mia Michaels' "You Matter To Me" (photo by Adam Rose, courtesy Fox)
"So you Think You Can Dance" Season 14 finalists Lex Ishimoto and Taylor Sieve shocked fans at home (at least the ones who hadn't thoroughly scoured their respective Instagrams) during Episode 14, when choreographer Mia Michaels asked if either of them had ever experienced "the kind of love that takes your breath away." They confessed that, yup, they had—with each other. The two met at The Dance Awards in the summer of 2016, where they were each named Senior Best Dancer, and went on to tour with the convention as assistants. Before long—and long before their "SYTYCD" journey—they became a couple.
Take a look at Dance Spirit's exclusive interview where they dish on everything from their favorite dates to the dance moves that give them all the feels.
Keep reading...
Show less
Happy Valentine's Day! Do you feel the love yet? Are you eating chocolate?
More importantly, have you seen Ian Eastwood and Megan Batoon's latest video? These two are serving up a dose of dance cuteness that's so powerful, it will make all you VDay haters out there crack a smile. The thought of drinking smoothies in sunny, warm weather doesn't hurt either...
The video, choreographed to "Chivalry is Dead," by Taylor Wesley, showcases the duo's precise, musical style, and it's nice to see Eastwood get a little bit of old-school swag on. As always, I'd love to see Batoon dance more—but I'll take what I can get.
In the spirit of Valentine's Day, here's to doing nice things for the people you love, and using empty stores for impromptu dance performances. Enjoy!
Photo Galleries
Apr. 15, 2014 11:12AM EST
Chocolates, flowers, teddy bears, greeting cards—they're all fine. But what really gets our hearts fluttering? Dance, duh. OK, more specifically, we're in love with dances about love.
So to celebrate Valentine's Day, we collected some of our favorite romantic duets from a show we also happen to love: "So You Think You Can Dance." We dare you not to get chills with at  least one of these love-tastic routines (even you, bitter cynics).
1. This Season 5 Travis Wall routine, danced by Jeanine Mason and Jason Glover, really pulls at our heart strings (or rather, chains):
2. Nappytabs never fails to show us that hip hop can be romantic, and this Season 4 routine, danced by Joshua Allen and Katee Shean, is no exception:
3. What could beat a husband and wife duet? Here's Ashleigh and Ryan Di Lello's Season 6 Travis Wall routine:
4. We're suckers for young love, so we just swoon over this Season 7 Travis Wall routine, danced by Lauren Froderman and Kent Boyd:
5. But our favorite romantic routine (because it's just too darn adorable) has to be this Season 10 Jean-Marc Généreux waltz, danced by the winning due Amy Yakima and Fik-Shun:
Happy Valentine's Day!
Commercial
Aug. 10, 2012 06:00PM EST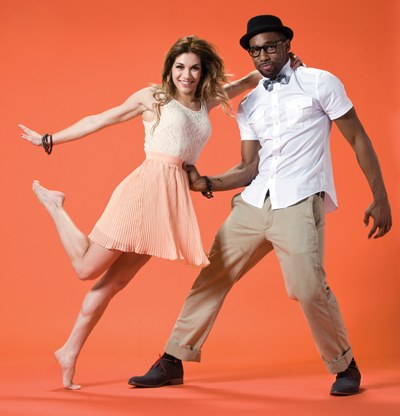 by Joe Toreno
The story of Stephen "tWitch" Boss and Allison Holker's relationship reads like the plot of a "So You Think You Can Dance" number: Boy meets girl. Boy and girl crush on each other but engage in an epic series of missed signals, which keeps them apart. Boy and girl finally get the courage to dance with each other—and fall in love. It's a fitting comparison, since tWitch and Allison are among "SYTYCD"'s most popular veterans and All-Stars.
It's been two years now since this adorable pair got together, and they made their dancing debut together this summer on Oxygen's "All the Right Moves" reality show. Now all they need is a catchy hybrid name. (tWitchison? AlWitch?) We caught up with the charismatic couple in L.A., where they gave us all the details on their oh-so-sweet love story.
Dance Spirit: So how did this all start?
tWitch: It happened at the end of "SYTYCD" Season 7. She says she made the first move.
I was completely oblivious to it. I'm really thickheaded.
Allison: I didn't just make one move—I made, like, 10 moves and he wasn't seeing them, so I had to put myself out there even more. From the first week of "SYTYCD" as All-Stars, I thought he was the cutest guy ever. His personality was so fun.
DS: It's surprising you two hadn't met before.
tWitch: Well, let's bring it back to Season 2. Our good friend [and Season 2 contestant] Ivan Koumaev had a party and invited a bunch of us. We met there for the first time, but Allison doesn't remember at all! Meanwhile, I had blond hair and piercings, so I'm not sure how you'd forget me, but that's neither here nor there. We met again during Season 7, but didn't say a word to each other the whole season. So that's why I had no idea, because she wouldn't talk to me and I thought she wasn't interested. She did catch me checking her out in the hallway once…
Allison: Like, bad. He did a triple take and Ade [Obayomi] called him out on it.
tWitch: So she knew the interest was there on my part.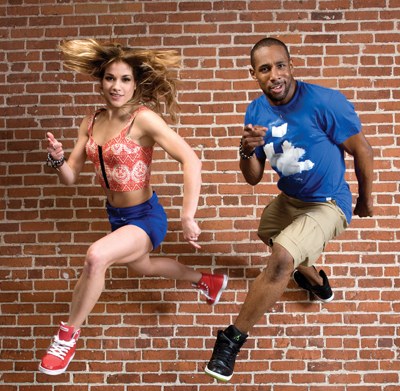 by Joe Toreno
Allison: The whole rest of the season, I would be like, "Heyyyy," and brush up against him. We'd be in rehearsal, and I'd be grabbing his butt and trying to touch his arms. I'd say, "You missed a few 8-counts. Let me teach you." He wasn't feeling me at all.
tWitch: In my defense, it was a dance rehearsal where all of the girls in the piece had to hold my arms and move with me.
Allison: Outside of rehearsals, we avoided each other. Both of us are very social and were friends with all the other All-Stars. The whole season, he was legitimately the only person I didn't speak to. We'd be sitting in a room together and it would be this awkward moment like, "Okay, I'll just stretch right now or read a book" instead of saying hi.
DS: So what was the turning point for you two?
Allison: The All-Stars went to the Step Up 3D premiere, but Stephen went separately because he was in the movie. I looked down the red carpet and saw him standing there in this nice gray suit and glasses—he looked so hot. When he walked up to say hi, I got embarrassed and hid behind Ade! Then, at the party, I met his mother and brother and even danced with him a little bit. I was geeking out. That was the first night we were out together at the same place. So I finally made my move, and he asked for my number.
tWitch: I did get the number…but I didn't call.
Allison: So then I got his number and texted that I was proud of him and that he looked great that night.
DS: So how is it even a debate who made the first move? Seems pretty clear that it was Allison!
tWitch: Here's the thing: If I say hello and she doesn't even respond…there were lots of those moments! I didn't know how to read her. Plus, I'm terrible at those things. There will never be a day where I'm like, "Yeah, that girl was feelin' me."
Allison: I was nervous! So, anyway, when the Season 7 wrap party came, I knew it was the last night I would see him. I was like, "Geez, I guess I have to be stronger about my moves." I hadn't planned on going because I'm a mom and don't really go out and party. But when he texted to see if I was going, I was ready and in the car! I showed up and people were trying to say hi, but I was on a mission to find this guy. I saw him at the other end of the room, and he pointed and did this little "come here" motion. We went upstairs and danced for three hours straight.
tWitch: We danced the entire night, and we've been together ever since.
DS: Let's talk about both of you being in the dance industry. Does it affect your relationship?
Allison: We've worked a lot of the same jobs, but we're in completely different styles. So even though he knows and has worked with all of my friends and vice versa, we don't cross paths that often unless we choose to. There are choreography and teaching jobs where people say they'd love to have both of us, but it's up to us if we want to put ourselves in that position.
tWitch: It's nice to have common ground to connect on, but it's also nice to have the dichotomy of two different genres. We're very close-knit, but we still have our own things.
Allison: In my past relationships, it's always been really tricky. People will say they're cool with me traveling or doing jobs, but really, if someone doesn't understand that lifestyle, it can cause bitterness. Being with someone who travels just as much as
I do and understands my work hours and that I have a daughter—and that I have to balance all of that—means we don't have the problems most couples in our industry do.
DS: How much do you travel?
tWitch: We travel every single weekend for conventions—we leave on Fridays and come back on Sundays.
Allison: The first year, we had a Skype relationship. It proved how much we were committed to each other because we'd be on different schedules and we still planned out what hour we'd speak every night. After Season 7, I went on tour with "SYTYCD" for three months, and directly after that, he went on tour with The LXD. Then I moved to Toronto to do Cobu 3D, and he went to Miami to film Step Up Revolution. In our first year of dating we were separated for nine months.
DS: So what was the glue holding you together?
tWitch: Communication was the glue because, honestly, there was nothing else. We didn't get to spend much time with each other. Thank God for Skype, email, picture texts, any form of communication. The LXD tour was international, so when I couldn't call, I would write pages and pages of emails.
DS: How would each of you describe the other's dance style?
tWitch: I was a huge fan of Allison before we even started dating. She is so incredibly expressive that it goes beyond just watching her—you feel her. I've been brought to tears a couple times by her dancing on "SYTYCD," specifically the "Fix You" number [with Robert Roldan during Season 7] and the "I Know It's Over" duet with Marko [Germar] during Season 8.
Allison: If I could describe him in one word…he's a beast. He moves and the whole floor shakes beneath him. When you're dancing next to him, you're inspired to be bigger and dance your fullest. He moves every inch of his body, and it's intriguing and fun to watch. But what makes him so strong is that he's really sensitive. He's a hard, aggressive dancer, but there is such a love for everyone watching him. He's not just a krumper who's in your face—it's more like, "Come in with me and see my soul."
DS: Do either of you ever get jealous when the other does a sexy duet?
tWitch: Ballroom is hot—you have to get up close and personal and the dude has to know what he's doing, leading a lady around, and having swag. It's sometimes hard to come to grips with another guy making my girl look good. Jealousy is absolutely healthy, but it's more like, "Man, I wish I could do that," because she's so hot.
Allison: And he can. He's led me around the ballroom—don't let him fool you! He doesn't usually do duets, but during Season 8, he and Sasha [Mallory] did this hot number and they looked so good together. I got a little insecure. Then our producer told me that on show day, they'd be kissing. I wanted to cry! But he was totally messing with me.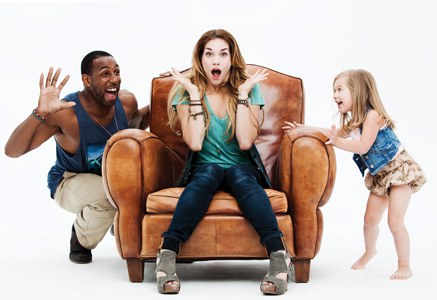 Allison's daughter, Weslie, gets in on the family fun. (by Lee Cherry)
DS: Allison, at what point did tWitch meet your daughter, Weslie?
Allison: He met her first before we were dating, at rehearsals and tapings. When we got together, I was very careful. I know now that he's my forever, but I had to make sure of that. I didn't allow them to really hang out until six months in, and even then it was slow and for small periods of time. Eventually it grew to where it is now—it's like she has a second daddy. Their relationship is so beautiful, it makes me want to cry. She loves him so much, and he is such a good example of what a man should be.
tWitch: She's my little dude. She doesn't like that I call her a dude, but she's my little dude.
DS: What's your best advice for dancers who might date a co-star?
tWitch: Remember that your life doesn't become your significant other's and vice versa. Sometimes people put their own plans on the back burner, and when they realize those things may have gone awry, they begin to resent the other person.
Allison: There might be moments of jealousy, like, "You're working on that project or with that person, and I really wanted to do that." The best thing to do is communicate. We talk out everything. Put it out there and say, "I'm sorry if I'm acting this way. It's not your fault."
DS: What's next for you two?
Allison: I love being onstage, but I'd prefer to be on the producing and directing side. He wants to be on the performing side, so I'd love to create a project around him that
I could direct.
tWitch: I'll always love dance, but
right now I'm focusing on acting. We're both in transitional periods where we're looking at all our options. It's exciting because possibilities are opening up
every day.
DS: How do people react when you tell them you're dating?
tWitch: The funniest ones are people asking us when we'll start having dancing children. But there have been some beautiful, heartfelt reactions from people who've known us for years—William Wingfield, Joshua Allen and Comfort [Fedoke]. Comfort loves us!
Allison: Travis Wall and Teddy Forance are two of my best friends and have seen me through many ups and downs with the men in my life. When they found out I was dating Stephen, tears welled up in their eyes. They were so excited for me to have such a great man. My parents love this guy. All the people in my life really respect him, and they love what he brings to the table for me and what he brings out of me.
tWitch: At the recent Shaping Sound show, a lot of people found out we were together and were elated.
DS: As are we!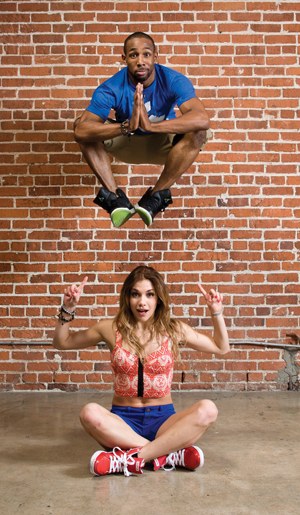 by Joe Toreno
FAST FACTS
To test how well Allison and tWitch know each other, we asked them to fill out each other's Fast Facts questionnaires! Unsurprisingly, they passed with flying colors. See their responses below:
tWitch (completed by Allison):
Three words that describe you: Internal, sensitive and bundle of joy!
Who would play you in a movie? Will Smith or Lil' C
Favorite dancer of all time: Wade Robson
What is the first thing you do in the morning? Turn off Allison's alarm clock—because she always sleeps through it.
Celebrity crush: Zoë Saldana
Dance BFFs: Comfort Fedoke and Will Wingfield
Non-dance hobbies: Comics, Rubik's Cube, going to McDonald's
Allison (completed by tWitch):
Three words that describe you: Goofy, chatty, mom
Who would play you in a movie? Emma Watson
Favorite dancers of all time: Mary Ann Lamb and Teddy Forance
Something people don't know about you: I'm a Harry Potter fanatic!
What is the first thing you do in the morning? Let tWitch turn off the alarm clock, and then drink a diet Dr Pepper.
What is the last thing you do before you go to bed? Read to Weslie.
What is the strangest thing in your dance bag? A sorcerer's wand.
Dance BFFs: Ade Obayomi, Travis Wall, Teddy Forance & Courtney Galiano
Non-dance hobbies: Sorcery, arts & crafts, skipping
Feb. 01, 2010 11:04AM EST
Ryan Novak noticed Jen Talarico the minute he walked into the first rehearsal for the Miley Cyrus/Hannah Montana Best of Both Worlds tour. "Her presence shone through the entire crowd of people," Ryan remembers. The couple had their first kiss on opening night, and they've been together ever since. Now, two years later, they travel the world together on tour (all expenses paid!) and dance behind one of the world's biggest singing sensations.
Good life, right? But not all showmances play out like Ryan and Jen's. In the October 2009 issue of Dance Spirit, Karina Smirnoff told us she couldn't live without Maksim Chmerkovskiy, her then-fiancé and co-star on "Dancing With the Stars" and Broadway's Burn the Floor. By the time the issue printed, the couple had broken up and moved into separate dressing rooms. Yikes!
Dating a co-star is tricky, but it can be rewarding. DS talked to a few happy couples, as well as a psychologist, to help you navigate the romantic highs and complicated lows of getting involved in a showmance.
Talent is a turn-on!
Whether you're prepping for your studio's performance of The Nutcracker or getting ready for the opening night of a Broadway show, you're undoubtedly spending long hours in the rehearsal studio as well as onstage. And while you may initially be attracted to a co-star for the obvious reason—he's cute—you'll soon discover that talent is an aphrodisiac too. The Danny to your Sandy becomes more enticing when you realize he can sing and dance circles around you as you swoon. So don't feel ashamed if you find yourself getting butterflies around your cute castmate. "These feelings are like a drug; suddenly it's like you're living in a fantasy place," says Harlene Goldschmidt, PhD, director of wellness for the NJ Dance Theatre ensemble.
Being in a show with someone, whether you're cast directly opposite each other or not, inevitably means you'll get to know each other both as dancers and on a more personal level. Close quarters, long nights, sweaty practices—now you've got all the makings of a steamy romance novel. For Fiona and Jason Mills, longtime performers in STOMP, the connection came from being paired together to represent the show. "We were constantly making press appearances," says Fiona, who, as rehearsal director, was actually Jason's boss at the time. "We'd do early morning radio spots, rehearse during the day and do the show at night. And we'd do it all together."
Similarly, Ryan and Jen's initial attraction developed into full-blown crushes when they were partnered together for a lift during Miley Cyrus' "Let's Dance" tour routine. "There was instant, undeniable chemistry," Jen says. "Even once we had the lift down perfectly, I'd always try to practice with him just to get to spend extra time together."
Making the most of your offstage duet
Getting involved with a fellow performer has its upsides and downsides. On one hand, dating a dancer means being with someone who shares your passion. That hot guy from your pas de deux class will understand if you can't hang out on some weekends because you want to log extra hours in the studio. He may even show up on Saturday morning with a latte and a few pointers for you! As dancers, you can learn from each other's styles and strengths and help each other conquer weaknesses. "When we started the show, Jason would help me with my drumming and I would help him with the dancing," Fiona says. "And we still always run ideas by each other."
Janette Manrara and Jason Glover, both contestants on "So You Think You Can Dance" Season 5, started dating soon after they were both eliminated from the show. "He helps me with my technique and body movement and I'm helping him perfect his salsa," Janette says.
Performing side by side can heighten your life experiences. Couples in touring shows, for example, can end up seeing the world together. "I remember being in the middle of our tour standing at the base of the Eiffel Tower with Ryan and thinking 'Wow, is this really my life?' " Jen says. Fiona adds that her relationship with Jason made dancing in the show—on a grueling tour schedule, no less—stop feeling like work. "I was just doing the best thing in the world with the best person by my side," she says.
Those feelings—whether good or bad—can drive your onstage performance. If you're blissfully happy in love, let it shine through during your Juliet debut. Or if you've just had an argument, channel your rage into an angsty pop jazz routine. But if your emotions aren't compatible with your performance (An angsty Juliet? No, thank you), you'll need to separate the two. You don't dwell on Spanish homework while you're at the barre (we hope); similarly, force yourself to focus completely on your performance rather than your relationship status.
When everything's not coming up roses
Before you consider getting involved romantically with a fellow dancer, think about how it will affect your job performance. You must remain professional at all times. Can you handle seeing your boyfriend or girlfriend dancing with someone else? Will you be able to deliver a strong performance alongside this person even if you break up? How will you feel if your signicant other is more successful than you are? Janette, who wrapped the "SYTYCD" 40-city tour with Jason Glover in November, had to witness her boyfriend kissing not one but two girls onstage every night. "No, I don't get jealous," she says. "I know they're kissing for the sake of the piece they're performing."
For Jason Mills, conflict arose as soon as he realized he was into Fiona. "She was my boss," he says. "There was a hierarchy we had to respect, so, ethically speaking, there was hesitation to get involved." Even when Fiona was no longer Jason's immediate superior—they each briefly joined separate legs of the STOMP tour—the two were reluctant to give in to their attraction. "You're working together," Jason says. "You have to be careful because if something goes wrong, it can make for a messy situation. Our bosses were nervous." Luckily for these two STOMPers, the decision to take things slowly paid off: They're married now and have a 3-year-old son, Aubrey.
Before getting into a relationship, check with your company to see if there are any rules discouraging coworkers from being romantically involved, or if there is a full-disclosure policy you'll need to adhere to.
It's all about balance
It can be particularly tough to separate your work life and personal life when sharing both with the same person. "It's important to have a good life outside of work," Goldschmidt says. "Otherwise, getting involved is a setup for destruction. You need to be grounded in your life outside dance." Adds Ryan, "No matter what is going on in your relationship, you still have to put on a show together."
How to make it work? "The key is to stay open with each other and talk through everything," Goldschmidt says. "Always talk about how you feel. Otherwise you make yourself very vulnerable." Learn to leave your issues at home when you need to focus on a rehearsal or performance. "We have ground rules," Fiona says. "We don't involve anyone in the company in our personal business." Not only can bringing your romantic life backstage affect your performance, it can also make your fellow castmates uncomfortable. "We maintain professionalism by not hugging or kissing and refraining from calling each other 'babe' or other lovey-dovey names we have for each other," Jason Mills says. "We save that for our time."
The bottom Line
If you move forward dating a dancer, supporting each other in your respective careers is essential. "I am Ryan's biggest fan," Jen says admiringly. A job, girlfriend and a built-in support system? We guess Ryan really is getting the best of both worlds!
What they're saying about you
It's all fun and games when you start dating a castmate—but what do your co-stars think about your relationship? We chatted with top tapper and STOMP cast member Michelle Dorrance about her experiences with several dancing duos.
DS: How did you find out that your castmates were dating?
Michelle Dorrance: We could just see it coming. But let's be real—girls in a dressing room…there's lots of talking (read: prying).
DS: How did the rest of the cast feel about the relationship?
MD: We were really happy for them.
DS: Did the relationship affect you or your dancing?
MD: It didn't affect my dancing, but it spiced theirs up a little!
DS: Got any advice for dancers seeking a showmance?
MD: Try to avoid it unless you're both genius communicators. I've rarely seen couples work harmoniously together. It's possible, but rare.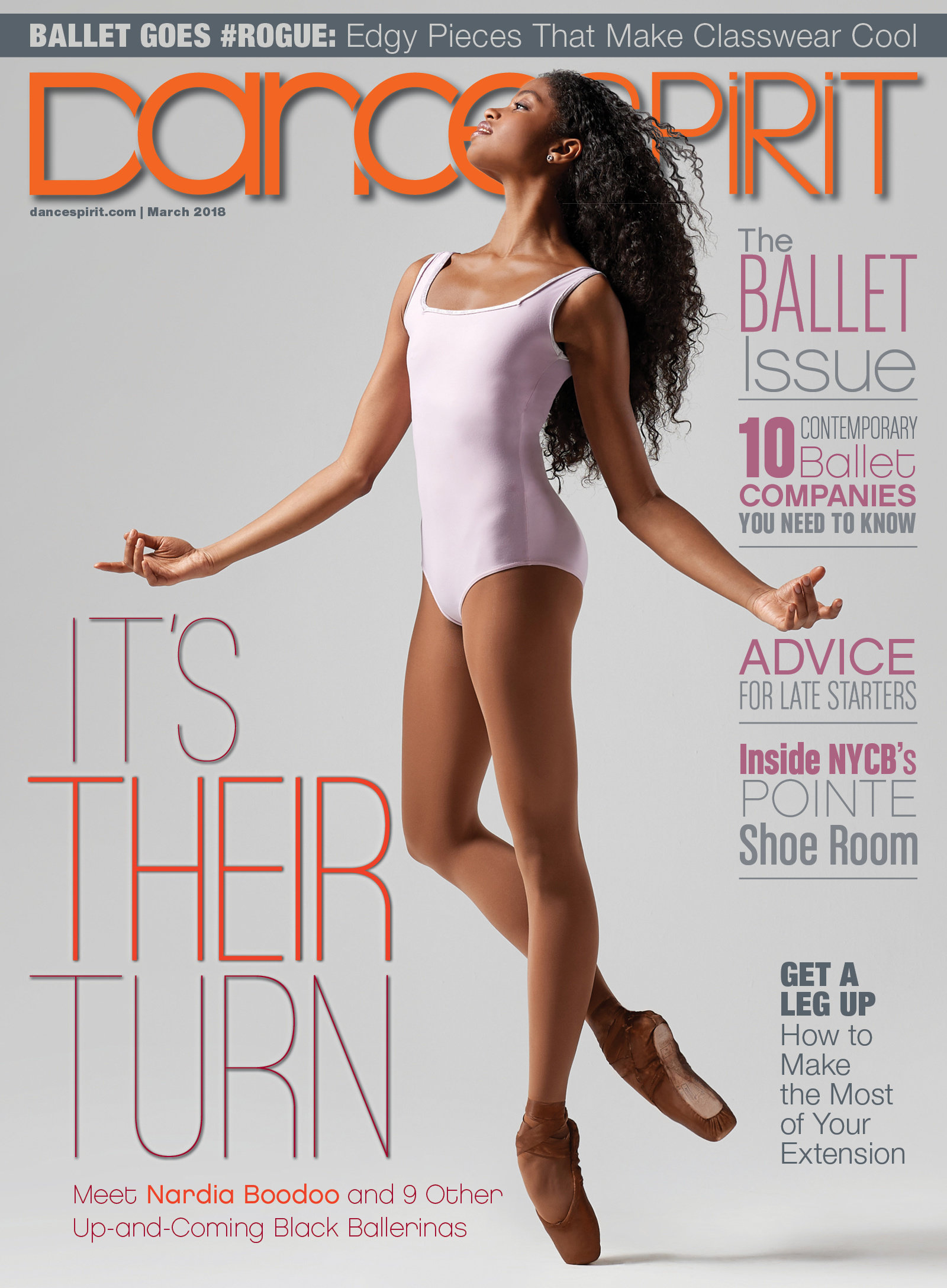 Get Dance Spirit in your inbox