Via @saramearns on Instagram
Matthew Bourne's dramatic ballet The Red Shoes, which earned rave reviews in England last year, is heading stateside this month. Based on the Academy Award–winning 1948 movie of the same name, the show follows the passionate aspiring ballerina Victoria Page as she tries to dance her way to the top, but ultimately must choose between her love of dance and the love of her life. Joining Bourne's company, New Adventures, as guest artists are New York City Ballet principal Sara Mearns, who will perform the role of Victoria for select performances at New York City Center; and American Ballet Theatre principal Marcelo Gomes, who will tour with the company, dancing the role of Julian Craster in select cities. DS chatted with Mearns to see what the rehearsal process has been like, and how it's been different from preparing for a typical NYCB season.
Keep reading...
Show less
Keep reading...
Show less
Ashley Shaw in The Red Shoes (via New Adventures)

British dance fans are already in love with Matthew Bourne's The Red Shoes: The show, which debuted across the pond last fall, earned raves from critics and two Olivier (London's equivalent of a Tony) Awards. Now, Bourne's Red Shoes—an adaptation of the iconic 1948 film—is about to embark on a North American tour. And some very familiar faces will be joining the cast.
Keep reading...
Show less
There's nothing better than when dancers design dancewear—they just get it, you know? From the materials, to the cut, and everything in between, they've figured out what works thanks to years of trial and error over their careers. So who better to team up with Só Dança than New York City Ballet principal Sara Mearns?
Keep reading...
Show less
Olivia Malone for Allure
Sparkles? Check. Elegance? Definitely. Three of our favorite dancers? You bet.
There are a million and one stories about dancer style, but fewer opportunities to see dancers shine as models—a different undertaking altogether. In these glowing images from Allure, American Ballet Theatre principal Isabella Boylston, New York City Ballet principal Sara Mearns and Alvin Ailey American Dance Theater II member Courtney Celeste Spears are almost unrecognizable—but in the best possible way. They all look like seasoned editorial models.
Keep reading...
Show less
Pulling back the curtain on tried and true ballerina habits never gets old. We've pored over the contents of New York City Ballet dancers' travel cases (Weird heating pads! Notes from fans!), drooled over American Ballet Theatre principal Isabella Boylston's amazing style, (Helloooo 70s flair!), received our daily dose of #fitspo from international ballerinas with enviable workout gear (Black and neon, together, forever.) and gone completely bonkers for the delicious diets of the women at the National Ballet of Canada (Homemade kombucha. 'Nuff said.).
Now it's time to whip out our notebooks once more, because New York City Ballet principals Sara Mearns and Megan Fairchild, along with corps member Gretchen Smith, have revealed what they eat in a day. Aside from being co-stars in two absolutely stunning Cole Haan advertising campaigns, these lovely ladies know what it takes to fuel their bodies for weeks of hard dancing. Check it out below, and the full story here:
The fall ballet season is quickly approaching and bunheads everywhere are buzzing. While there's tons of exciting stuff going on, New York City Ballet principal Sara Mearns as Odette/Odile in Peter Martins' Swan Lake is a definite must-see.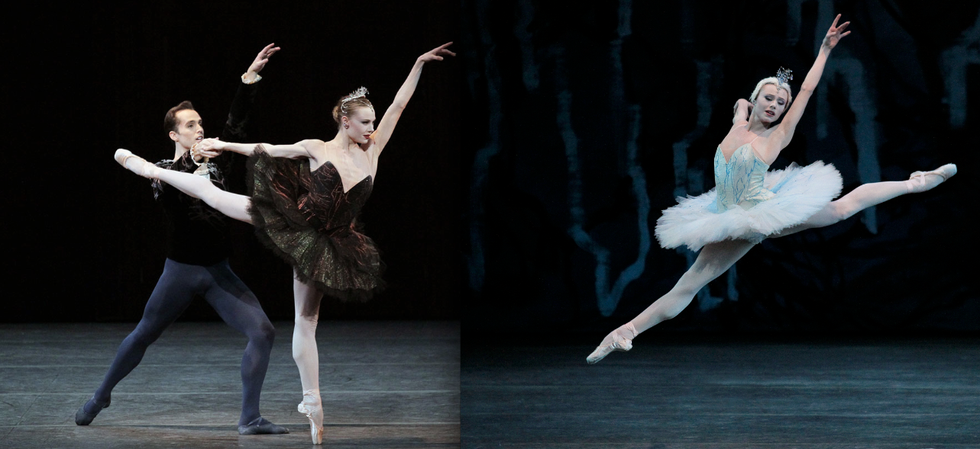 Sara Mearns giving it her all as Odile (left, with Jared Angle) and Odette (right) (Photos Paul Kolnik)
Lincoln Center's media team recently caught up with Mearns for a 10-question interview about everything from her rehearsal process to her experiences dancing in so many different choreographers' works. (She's done everything from originate a role in Justin Peck's Rodeo: Four Dance Episodes to perform the lead in countless Balanchine ballets.)
It's even more exciting as this is Mearns' 10-year anniversary as Odette/Odile—she hasn't stopped growing as an artist, so this time around is bound to be amazing. If you simply can't wait to see Swan Lake, check out this DS fave of Mearns and fellow NYCB principal, Ashley Bouder, in Swan Lake rehearsal:
Last fall, Cole Haan and three New York City Ballet dancers—Megan Fairchild, Sara Mearns and Gretchen Smith—collaborated on a line of the most ballerina of ballet flats. We loved the results: adorable shoes and beautiful campaign pictures. What's better than seeing some of our favorite ballerinas jump around in big, glossy advertisements?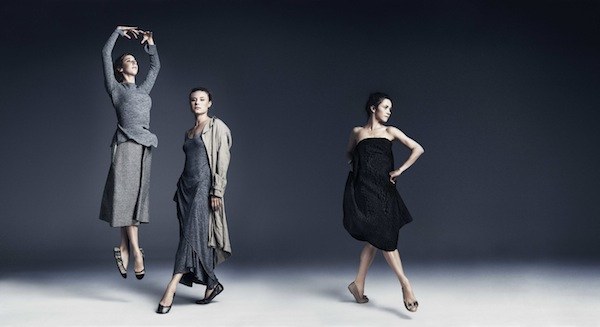 (From left) Gretchen Smith, Sara Mearns and Megan Fairchild modeling their ballet flat designs (Photo via Cole Haan)
Good news because not only are they keeping the collaboration going, but they've taken it to an entirely new level: "Prepare for Takeoff" guys! The campaign, which is promoting Cole Haan's ZerøGrand collection, once again features Fairchild, Mearns and Smith, but with an added twist–the trio is joined by two professional Parkour athletes, Jason Chu and Devon Spence.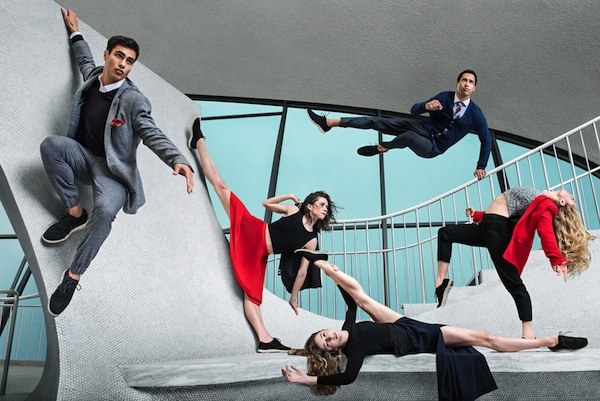 The unstoppable "Prepare for Takeoff" group (Photo by Sebastian Kim for Cole Haan)
The whole thing was shot at the TWA Flight Center in Queens, NY, and Cole Haan made sure it had tons of elements: breathtaking photos of all five artists jumping, jeté-ing, chassé-ing and kicking, profiles on each person and an amazing behind-the-scenes video of the photo shoot (check it out below!).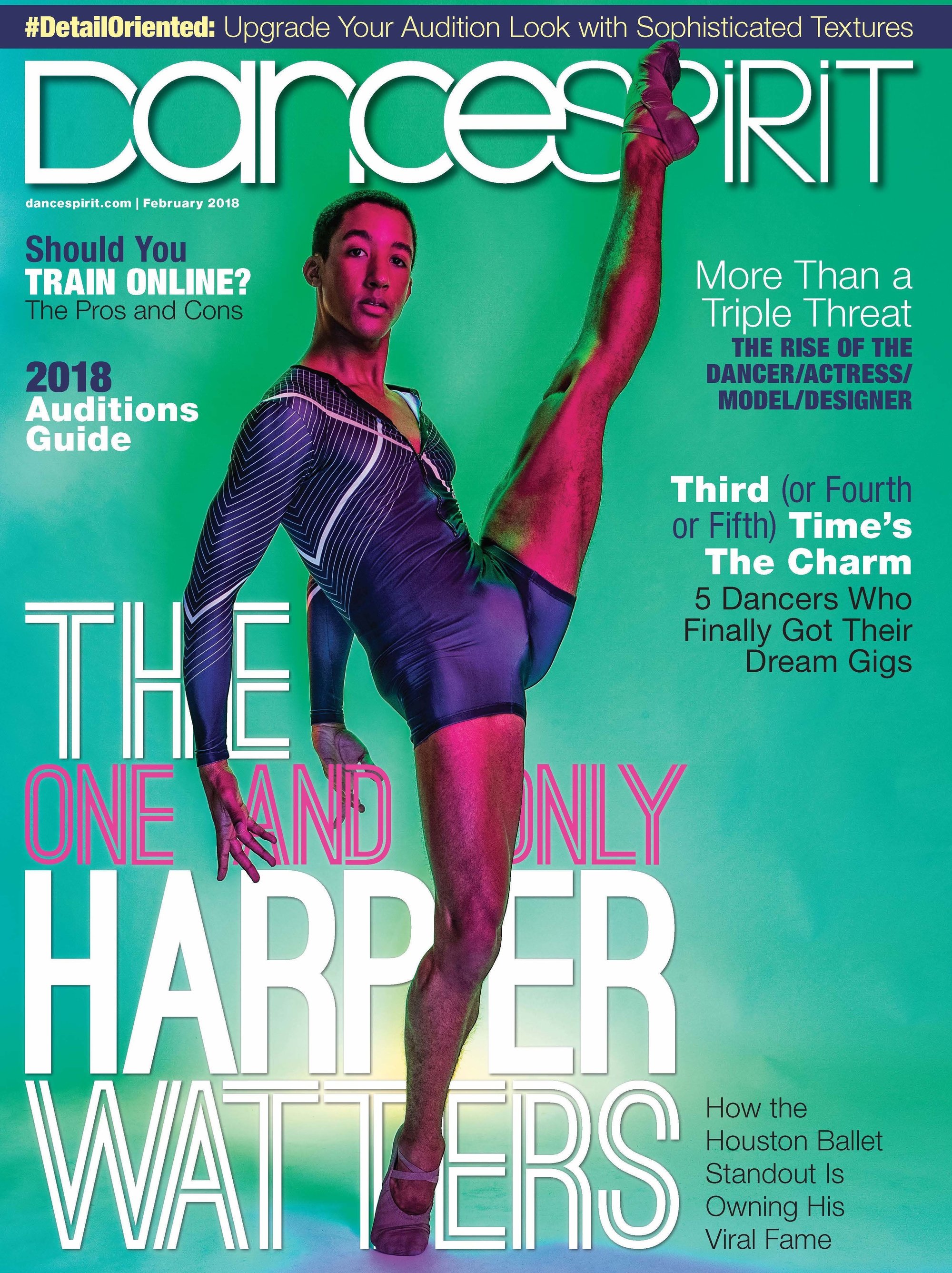 Get Dance Spirit in your inbox