Sep. 14, 2016 10:58PM EST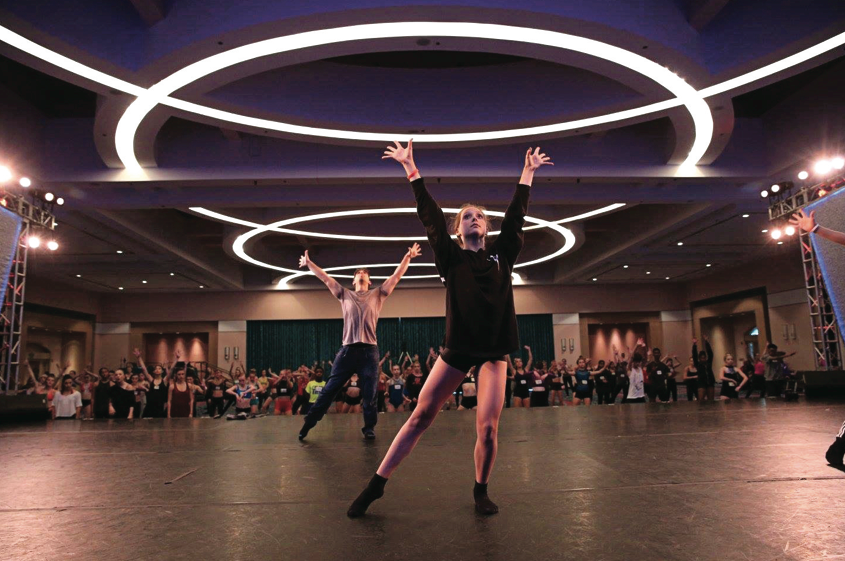 Sarah Pippin assists in a convention class at NYCDA (courtesy NYCDA)
To her high school classmates, Sarah Pippin was a regular girl: a good student and a friendly face around campus. But on the weekends—at dance competitions and conventions across the country—Pippin was a bona fide celeb, adored by her fellow competitors and faculty members alike.
By the time she graduated high school, Pippin had racked up major accomplishments, including performances with Janet Jackson and Shaping Sound, a role on Dance Spirit's own reality series "Road to Nationals," titles such as New York City Dance Alliance's National Mini, Junior and Senior Outstanding Dancer, and, most recently, a college scholarship on behalf of Dance Magazine through the NYCDA Foundation.
There's no doubt that Pippin, now a freshman at The Juilliard School, is among a rising generation of competition and convention stars. And while "celebrity" isn't a term they'd give themselves, you know who they are. These dancers are adored by legions of real-life fans hoping to watch and dance alongside them, not to mention the thousands of social media followers ready to double-tap everything they post.
Being so popular on the circuit has its perks—traveling every weekend, internet fame, working with big-name choreographers—but it also comes with its share of struggles. Here's a peek at what it's really like at the top.
Where Does the "Celebrity" Start?
From the faculty perspective, "A lot of the celebrity factor comes from dancers winning national titles and traveling with conventions," says Ray Leeper, director of NUVO Dance Convention. "Suddenly they're in the forefront, representing the event as the Best Dancer or Elite Dancer or whatever title they've earned. Plus, they're assisting at the conventions on the weekends alongside the faculty." And when all those enviable experiences are getting shared online, dancers can really rack up a following: "People anywhere can watch them and follow them," Leeper says.
While a lot of the hype may seem like it starts online—Christina Ricucci, for example, a former Teen Best Dancer winner at The Dance Awards, has nearly 120,000 Instagram followers—it usually exists for a reason. These dancers aren't just posting pretty pictures. They can really dance, too, and most are beloved because they have the personality to back up their moves. "Most choreographers or teachers know these kids because they're brilliant," says New York City Dance Alliance faculty member Joey Dowling-Fakhrieh. "Sure, they're popular on social media, but they also have the chops to back it up."
Under Pressure
To an outsider, the thought of being a so-called celebrity is a dream. But when you're the one with adoring fans, you may feel differently. "You're a role model," says Ricucci. "People are constantly watching you, so you always have to be doing the right thing and making sure you're setting a good example for everyone around you." It can be a lot of added pressure.
"I've always felt as if I have to be a step ahead," Ricucci adds. "You have to be able to pick up the choreography super fast, even if you're not assisting and are just dancing on the floor. It can be hard, but the pressure ultimately pushes you to be a better dancer. The teachers don't expect you to be perfect, but that's something I've always strived for. It's not necessarily a negative pressure—it makes me feel empowered to do my absolute best. Some teachers may have expectations, and some people in class may know me and be watching me, but I've found that no one puts more pressure on me than I put on myself."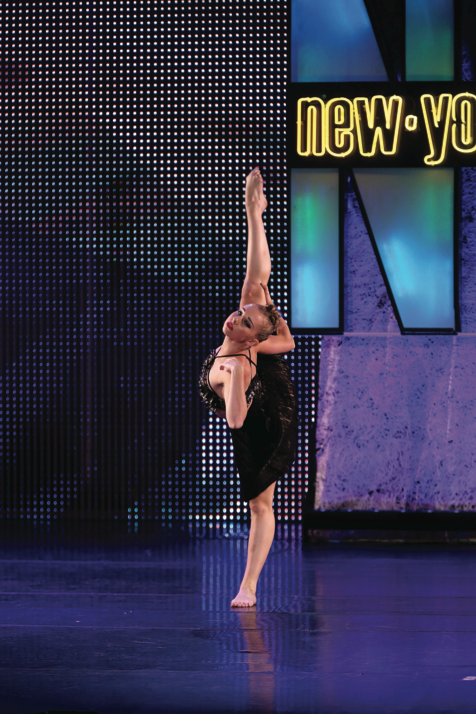 Ali Deucher performing at NYCDA (courtesy NYCDA)
Pippin agrees. "There's definitely pressure that comes with being well known," she says. "For me, it was about my own expectations. In the past, I put so much pressure on myself because my expectations were almost greater than I could meet. I struggled with that behind the scenes, and I started to fall out of love with dance because I was so concerned with technique and perfection. I lost sight of what was important. I had to learn to dance for myself and not for others."
The Perks of Being a Standout
Still, there are plenty of perks that come with this star status. "Being well known by the faculty is definitely a privilege," says Ali Deucher, 16, who trains at The Dance Club in Orem, UT, and is the current National Teen Outstanding Dancer for New York City Dance Alliance. "Being a go-to for a choreographer trains you to be a quick learner, and teaches you to be more alert in class. The teachers trust you and want to invest in you." As Teen Outstanding Dancer, Deucher will travel with NYCDA this year. "I'm ecstatic to get to work closely with the choreographers I've been learning from for a long time, and I'm eager to inspire other dancers and be inspired by them," she says.
That added face-time with faculty can even lead to serious career boosts. "A lot of teachers on convention work professionally," says Leeper. "Many work on 'Dancing with the Stars' or 'So You Think You Can Dance,' which feature young dancers. Part of the reason those dancers have had those opportunities is because they've been exposed to those choreographers. I've done direct hires of dancers because I've known them since they were 8 years old and am familiar with how they dance and work. It's a huge advantage for the dancers and the choreographers."
But It's Not All Touring and Talking Shop with the Teachers
Having a "famous" name or handle also requires having a thick skin. "Not everybody has been supportive," says Ricucci. "Some people assume that if you're just posting pretty pictures online, it means you don't actually have real ability."
Ricucci also had a tough time when, after years of being homeschooled, she returned to high school for her senior year. "People made fun of me—to my face—for having a lot of followers," she says. "A lot of people judged me before they really knew me. They'd make jokes about me being 'Insta-famous,' and being 'too famous to hang out with them.' " The payout is worth it, though: Ricucci has booked several jobs based off her social media presence alone.
The Bottom Line: Studio Time Beats Being a Convention Sensation
Dancers at the top should be cautious of getting too involved with convention life, Instagram domination and extra gigs if it means missing out on valuable studio training. "It can get very disillusioning," Leeper says. "We see a lot of kids who think 'OK, I'm trained now, so I'm just going to be convention-trained,' and then they travel every weekend. That's not training—it's inspiration. Dancers can't let their training fall by the wayside. They still have to show up and audition and be able to follow through. Someone can be Insta-famous or YouTube famous, but she still has to be able to execute her job properly."
Being a strong solo dancer is great, but staying with your studio will benefit you when it comes time to audition professionally. "The real world is not just about being a soloist," Leeper says. "You might dance as part of a chorus on Broadway, or with a group behind a recording artist, or as part of a ballet company. It won't just be you then, so don't let it just be you now."
And at the end of the day, no number of "likes" or platinum trophies will complete your success as a dancer. "My self-worth is only determined by me, and my satisfaction comes from seeing my day-to-day growth—not by how many times I might get recognized in a class or how many 'likes' I might receive on a social media post," says Pippin. "It's great to be called out, but that should only serve to reinforce your work—not define it."
Jul. 07, 2015 04:24PM EST
Holy sequins and aerials, Batman: New York City Dance Alliance knows how to put on a GALA. (Or two!)
NYCDA just finished up its week-long NYC Nationals with a pair of stupendous gala nights, celebrating the Mini, Junior, Teen and Senior Outstanding Dancers. And I'm still kind of recovering from the onslaught of talent.
First of all, let's congratulate the National Outstanding Dancer winners, shall we?
National Mini Outstanding Dancers
Madison Brown
Brady Farrar
National Junior Outstanding Dancers
Jasmine Cruz
Parker Garrison
National Teen Outstanding Dancers
Nina Bartell
Harrison Knostman
National Senior Outstanding Dancers
Sarah Pippin
Jake Tribus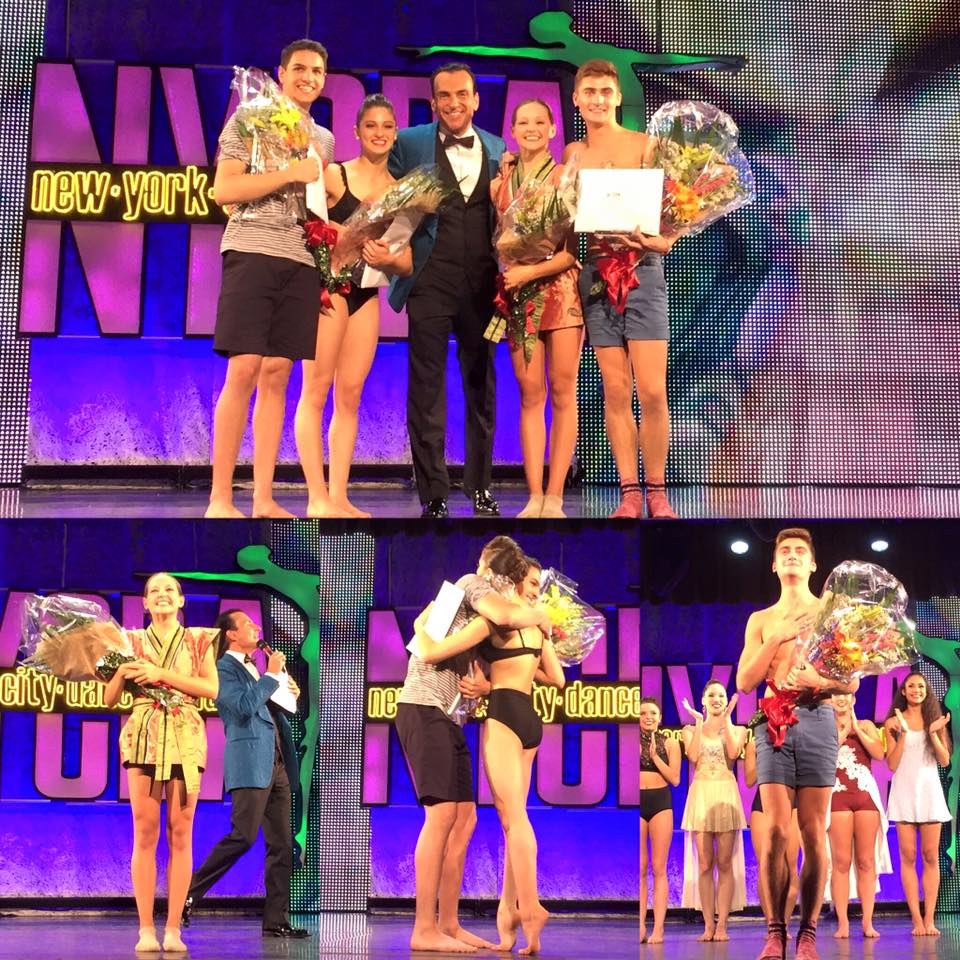 The wonderful Teen and Senior National ODs (via NYCDA)
Notice any familiar names in there? I bet you do—because a lot of these amazing artists are old Dance Spirit friends! We're so excited that Jasmine (who pulled off 32 fouettés on pointe in a group number—more on that later) is back as Junior OD after her reign as Mini a few years back, and we're thrilled to see Brady add a NYCDA title to his already impressive resumé. Huge congrats also go to Sarah and Jake, the heroes of our web series The Road to Nationals! Those besties are going to have sooooo much fun on the road with NYCDA this year. I'd say their new titles are the perfect excuse to (re–)binge-watch R2N, which follows their 2014 NYCDA journey.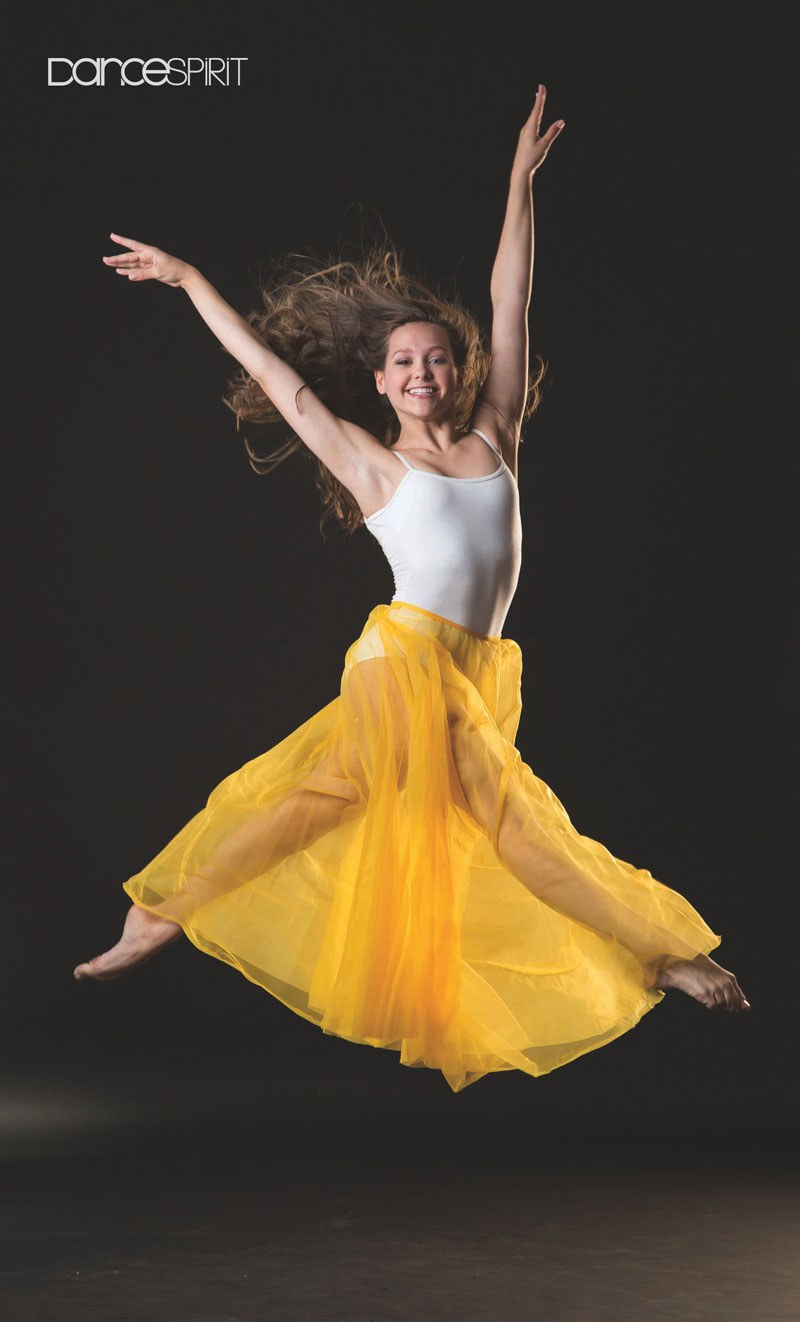 Sarah was also a 2014 Cover Model Search finalist! NBD. (photo by Erin Baiano)
As fun as it is to see talented individuals honored, my favorite part of NYCDA Nationals is the Critics' Choice competition, which highlights outstanding group numbers. Those proceedings are all the more exciting because DS sponsors the Mini and Junior Critics' Choice winners, and our friends at Dance Magazine sponsor the Teen and Senior champs.
I'm glad that we just hand out the trophies, though, and don't have to judge the darn thing, because the field is consistently stellar. And this year was no exception. Tempe Dance Academy earned National Senior CC with "I'm So Sorry," in which 2014 National Senior OD Kolton Krouse got pummeled by a group of glamorous ladies. (Don't cry for Kolton, though: He's going to Juilliard next year!) Westlake School for the Performing Arts repped #teamballet and earned the Teen CC award with its beautifully classical "Paquita"—featuring Jasmine's fantabulous fouettés, which were sprinkled with doubles and finished with a triple, naturally. (I'd like to remind everyone that she's 12. TWELVE.) The ladies of Westchester Dance Academy also showed off beautiful classical technique in "When the Last Angel Falls," which won Mini CC. And the crowd favorite of the year (the decade? the century?), Performance Edge 2's "Hello"—which put a pitch-perfect tap spin on the hilarious opening song from The Book of Mormon—took home the Junior CC award.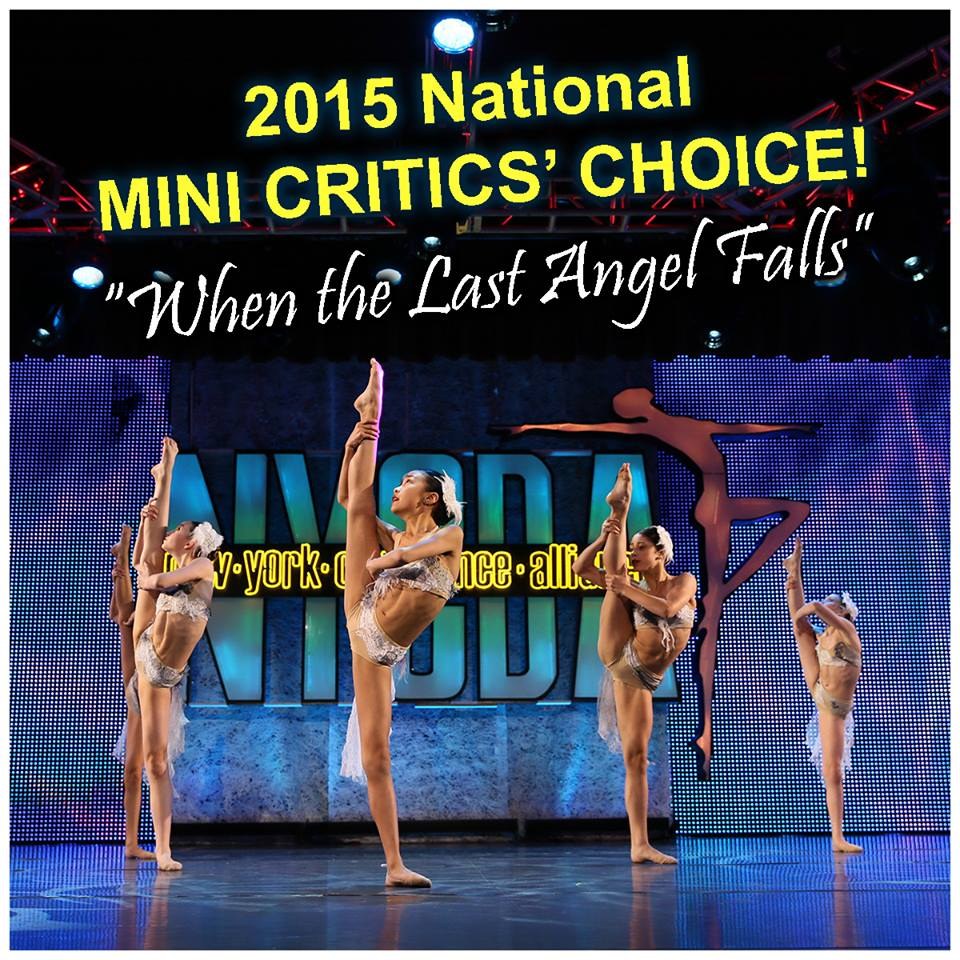 Look at those legs! (via NYCDA)
I'd also like to give a shoutout to Jordan Pelliteri, the 2014 National Senior OD, who relinquished her title last night with one final solo—a smoldering little number complete with her signature jaw-dropping, is-she-maybe-a-contortionist extensions. Jordan is also one of this year's Cover Model Search finalists (love, love, LOVE that the National Senior OD title was passed from one CMS finalist to another), so if you want to see her pretty face on our October cover, go vote for her now!
It's always wonderful to feel the warm NYCDA family love at the closing galas. And nothing embodied the organization's spirit of support and friendship better than this year's oh-so-happy Senior Outstanding Dancer number, choreographed by the great Suzi Taylor. So I'll close with an excerpt from that. See you next season, NYCDA!
Jan. 30, 2015 05:24PM EST
Earlier this month, 170 standout high schoolers ventured to Miami to participate in National YoungArts Week. The group of YoungArts finalists—whittled down from roughly 11,000 applicants nationwide—included 21 dancers, and they were treated to master classes with artists like former New York City Ballet principal Phillip Neal (who's a YoungArts alum himself), Miami City Ballet director Lourdes Lopez and Montreal's RUBBERBANDance Group director Victor Quijada. Sounds pretty great, amirite?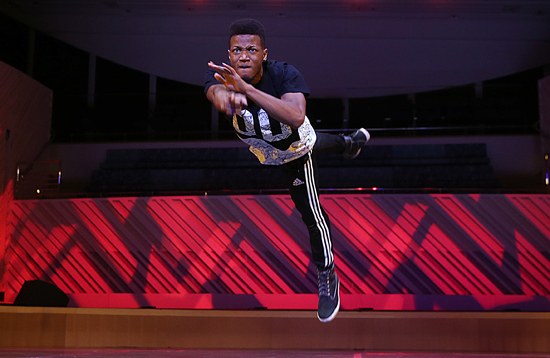 Dance finalist Kaleb Sims from Jacksonville, FL (Pedro Portal, Courtesy YoungArts)
It gets better. Throughout the week, students are further adjudicated for a chance to win monetary awards (ranging from $1,000 to $10,000), and they're considered for nomination as 2015 U.S. Presidential Scholars in the Arts. Dance finalists are following in some pretty giant footsteps: Desmond Richardson, Ida Saki, American Ballet Theatre CEO Rachel Moore—even Ricky Ubeda!—were all YoungArts winners.
This year, two very familiar names joined the ranks as YoungArts alumni—Dance Spirit Cover Model Search winner Hayden Hopkins and finalist Sarah Pippin! Congrats, ladies!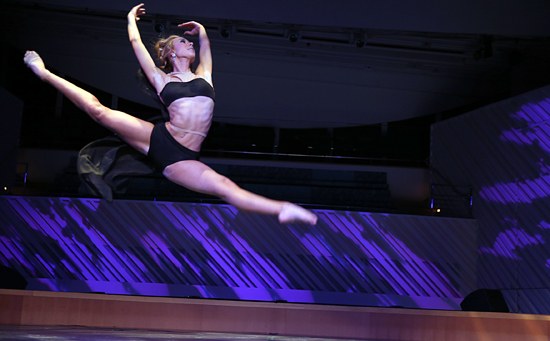 Hayden Hopkins at YoungArts Week in Miami (Pedro Portal, Courtesy YoungArts)
For those of us not in Miami, YoungArts posts all finalists' performances on their YouTube channel. Check out Sarah and Hayden's solos below, and then click here to watch the others. And to get details about applying for next year, visit youngarts.org.
Here's Hayden:
Here's Sarah:
And here's a special gift for making it all the way through this blog—Ricky Ubeda's performance from the 2014 National YoungArts Week in Miami:


Get Dance Spirit in your inbox