Sep. 16, 2016 12:15AM EST
New York City Ballet's Summer Home Turns 50!
Every July since 1966, New York City Ballet has headed to Saratoga Springs, NY, to perform at the Saratoga Performing Arts Center, the company's official summer home. This summer, the open-air amphitheater celebrates its 50th birthday—and to honor the anniversary, the company will present 17 different ballets, including the world premiere of resident choreographer Justin Peck's latest work. We chatted with NYCB principal Sterling Hyltin—who first performed at the venue in 2003 as a corps member and has been back every year since—about what makes SPAC special.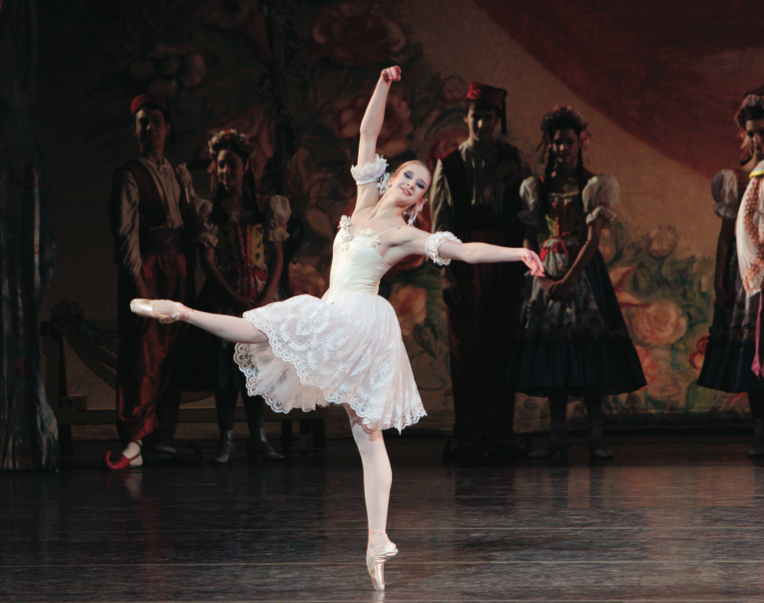 Sterling Hyltin (photo by Paul Kolnik, courtesy NYCB)
Dance Spirit: What's your funniest SPAC memory?
Sterling Hyltin: Once when Robert Fairchild and I were dancing Romeo and Juliet, I saw he had an enormous beetle on his eyebrow, just as we started the balcony pas de deux. I kept thinking it would fall off, but every time he came back to me it was still there—it was the most stubborn beetle! Finally, there was a point toward the end where we touch each other's faces and I said through my teeth "You have a giant bug on you!" and flicked it off. He was so startled, and then almost started laughing.
DS: Do you enjoy dancing outside?
SH: I especially like when it contributes to the story of the piece we're performing. For example, something like Romeo and Juliet is perfect because the ballet starts happily when it's still light outside, and then as the night gets darker, so does the story. It really contributes to the ominous feeling.
DS: What unique challenges does the amphitheater present?
SH: You have to contend with things you don't have to worry about indoors, like that stubborn beetle! I danced one of the hardest ballets, George Balanchine's La Source, on a day when it was 95 degrees—without the stage lights. It took about four hours for my face to stop being red and flushed after the show.
DS: Why do you love performing at SPAC?
SH: It's a time of togetherness for the company. I always share a house with some of my best friends, and it's really special. We also have two days off on the weekends, which is rare. We'll drive up to Lake George, go boating and enjoy the relaxing nature we don't get to see in NYC.
What's it take to get NYCB to Saratoga Springs each year?
For the 2015 summer season, the company traveled with seven tractor trailers, packed with:
-more than 1,000 pointe shoes
-over 400 costumes
-over 3 miles of lighting cables
-over 1,150 light bulbs
-a light board controlling over 1,000 channels
-1 washer and 1 dryer
-1 sprung floor and 1 marley
Get Down with "The Get Down"
Netflix's newest original series, launching August 12, promises to be a fabulously dance-y hustle. Created by Baz Luhrmann (of Moulin Rouge! and Strictly Ballroom fame) and starring Jaden Smith, "The Get Down" is set in 1970s NYC, and follows a crew of South Bronx teenagers who end up fronting a new street-dance movement, giving birth to styles like hip hop and break dancing. Luhrmann brought dance-world celebs Rich + Tone on board as associate producers and choreographers, which means the show includes authentic portrayals of everything from the hustle to disco.
May. 21, 2013 02:55PM EST
OK, not exactly.
But Saratoga Springs' National Museum of Dance is about to launch a nifty giant-pointe-shoe-related art project, dubbed Saratoga En Pointe.
The museum has chosen 24 artists to decorate 5-foot-tall fiberglass pointe shoe sculptures. On May 31, the creations will be revealed at the Museum; after that, they'll be displayed at locations around the city of Saratoga Springs.
And it's not just ginormous pointe shoes that are poised to invade Saratoga. The town is also home to the Saratoga Performing Arts Center, where New York City Ballet has performed every summer since 1966. The company's SPAC season runs July 9-13 this year, and will be followed by performances by the National Ballet of Canada and Aspen Santa Fe Ballet.
Take a look at some of our favorite artist sketches from the Saratoga En Pointe project—and a few of the finished shoes:
[portfolio_slideshow nowrap=0 thumbs=true timeout=4000 showtitles=true showcaps=true showdesc=true]


Get Dance Spirit in your inbox