Sep. 15, 2016 08:38PM EST
Pint-size triple threat Evie Dolan has played bass-guitarist Katie in Andrew Lloyd Webber's School of Rock—The Musical since the show opened on the Great White Way this past December. The 11-year-old NYC native has studied everything from ballet to lyrical to jazz at the Joffrey Ballet School and, more recently, at Downtown Dance Factory. She's also a natural actress and plays piano, ukulele, guitar, mandolin and saxophone. Along with the other 13 kids in the School of Rock cast, Dolan performs all eight shows per week. She took Dance Spirit behind the curtain for a look at seven days in her Broadway life. —Courtney Bowers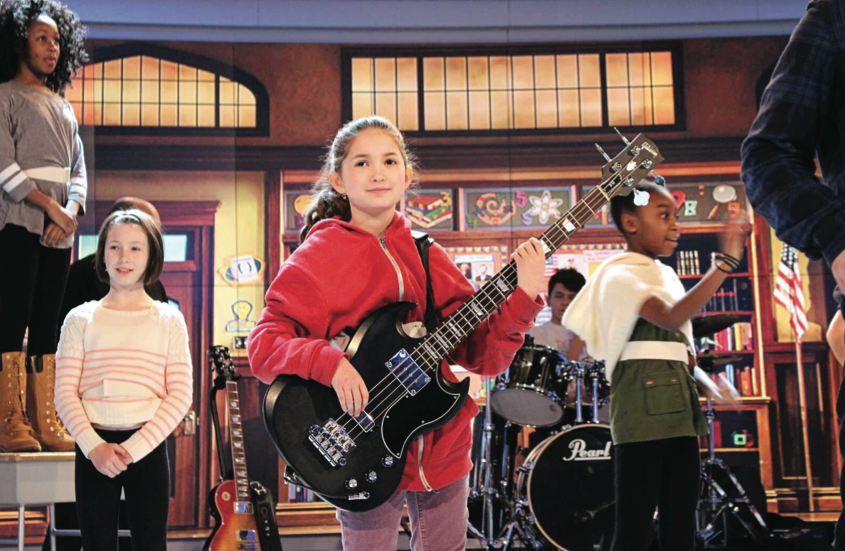 Rehearsing for "The View" (courtesy Dolan)
Friday, January 29
This week started off early with a performance on "The View." We arrived at the ABC Studios at 8 am, and rehearsed on the super-cool set they custom-made with a digital screen of our School of Rock classroom. I don't get nervous often, but I have to admit, going on live TV in front of a studio audience gave me the jitters. As soon as I started playing my bass guitar though, everything was fine. The co-hosts of the show were so nice and funny—we had a blast!
After our performance, I got to rest a bit, and then I went to the theater for our evening show. As usual, I arrived for our call time of half an hour before curtain, got into my costume, got my hair done and did my own makeup. Sometimes there are a few minutes left to do something special. For example, every Friday night, we have a ritual called "Dollar Friday." The whole cast and crew buy raffle tickets for a dollar each, and someone picks the winning ticket out of the container. These days, the pot can get up to around $200, so it's really exciting when someone wins. I'm always sure I'll win, but I lost this week—wah! I'd never heard of Dollar Friday before, but cast members who have been in previous Broadway shows knew all about it, and told me it's a Broadway tradition.
Saturday, January 30
On Saturdays we have two shows. It's tiring, but it's also a lot of fun. A great thing about Saturdays is that lots of friends who don't live in NYC come to visit and see the show. Today a big group of friends from Putney, VT, drove down and I got to have a nice dinner with them at Rockefeller Center between shows. Also, our former cast mate Aaron Fig, who played James during the show's Gramercy Theatre run, came to visit us. We were so happy to see him!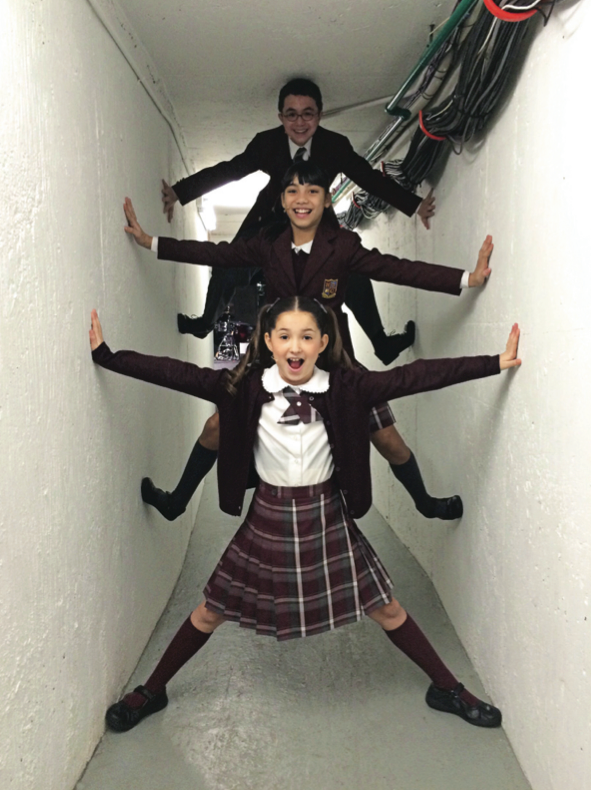 (from top) Jared Parker, Cori Wilson and Evie backstage (courtesy Dolan)
Sunday, January 31
Before the show we usually warm up with our dance captain Patrick O'Neill and assistant dance captain Lulu Lloyd, and today was no different. Our warm-ups are really fun; we play different songs each time based on our requests. Today was my turn, and I picked "Time Machine," by Ingrid Michaelson. Each show, Patrick and Lulu also teach a little dance combo they've created for us. We add a new 8-count to it every show, so after a few weeks we end up with a big dance number that we all know! The choreography helps keep us on our toes for future rehearsals or auditions.
The kids' cast is onstage for most of the show, but there are some scenes when we're just waiting backstage. We have to be quiet, but we come up with fun things to do to fill the time. I usually knit. My cast mate Shahadi Wright Joseph and I even started a little company called Backstage Knitters. We have custom labels, and other cast members order knit goods from us. This Sunday, I was knitting a headband for myself. I've been doing a lot of headbands lately because they're really quick and easy.
Monday, February 1
On Mondays, I usually rest and catch up on a lot of schoolwork, but sometimes I have other cool jobs. This Monday, I was hired by English Egg (a company that makes albums of nursery rhymes and songs to help children learn English) to record "London Bridge Is Falling Down," and a few other songs at Avatar Studios. I love Avatar Studios because that's where our School of Rock band recorded the original cast album back in October.
Tuesday, February 2
For the past few Tuesdays, I've been having a blast with my cast mates Cori Wilson and Jersey Sullivan rehearsing for an upcoming cabaret called Broadway Sessions. We're doing two songs, along with our cast mate Dante Melucci. We're mixing up the instruments we play in the show, so for the cabaret, I'll be playing electric guitar for one song and ukulele for another. This afternoon we rehearsed for an hour in the West Village with our bass and guitar teacher.
Wednesday, February 3
Wednesdays are also two-show days, and I usually make sure I have a physical therapy appointment. Right now, I'm going to PT a lot, and it's especially important for me to go on two-show days because my muscles get really sore and tight, not only from the heavy bass I play, but also from the dance numbers we do in the show—"Stick It to the Man" has a ton of jumping! PT keeps me flexible and warmed up.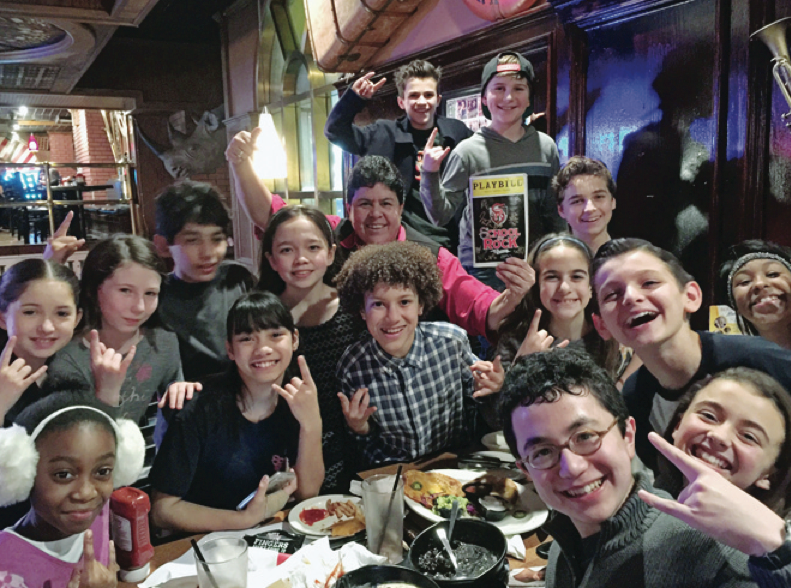 Celebrating at TGI Friday's after a show (courtesy Dolan)
Yesterday, we found out that Lin-Manuel Miranda, the creator and star of Hamilton, had arranged for our School of Rock band to play "Sweet Child O' Mine," by Guns N' Roses, during his digital #Ham4Ham performance on Saturday, February 6. The show would be part of the celebration of the 20th anniversary of Kids' Night on Broadway. I knew the song pretty well already, but I needed to nail down a few parts, so the show band's bass player helped me figure it all out in between performances today. Everyone in our show helps each other out whenever we need anything. We really are like a family. Plus, I got to visit our version of an orchestra pit, which is so cool. People think of orchestra pits as being at the front of the stage where the audience can see the tops of the musicians' heads, but our musicians play under the middle of the stage. They have monitors so they can watch what's happening onstage, and there are tons of instruments.
What are #Ham4Ham shows? They're the short performances Lin-Manuel Miranda gives for fans waiting in Hamilton's ticket lottery line on most Wednesdays and Saturdays. Some shows are given in person outside of the Richard Rodgers Theatre, but others, like School of Rock's, are shown digitally. Check out Hamilton's YouTube page to watch the kids' rockin' "Sweet Child O' Mine" performance.   
Thursday, February 4
Today we had band practice all afternoon at our rehearsal space. Then, at 4 pm, we started rehearsing "Sweet Child O' Mine." It came together really well, and we were ready to tape when Lin-Manuel and the Tony-winning actress and rock star Lena Hall got there at 4:30 pm. Lena Hall totally killed the song—she even did Axl Rose's snake dance!
Thursday night was also our cast mate Jared Parker's last night in the show—he originated the part of Lawrence and is the first of the original cast to "graduate" from Horace Green Prep. We all love him so much. We had a "Happy Trails" ceremony for him during the half-hour before the show, and Alex Brightman and Sierra Boggess gave beautiful speeches. Cori Wilson and I sang a good-bye song we wrote for him called "This Band Is Your Band," to the tune of "This Land Is Your Land."  After the show, everyone went across the street to TGI Friday's for a celebration. This show has brought all of us so close together. We know we'll be friends for life.
Aug. 11, 2016 05:04PM EST
It's back! Welcome to the second annual Jazz Hand Awards—aka "The Jazzies"—where we honor the latest, greatest and danciest shows currently gracing the Great White Way.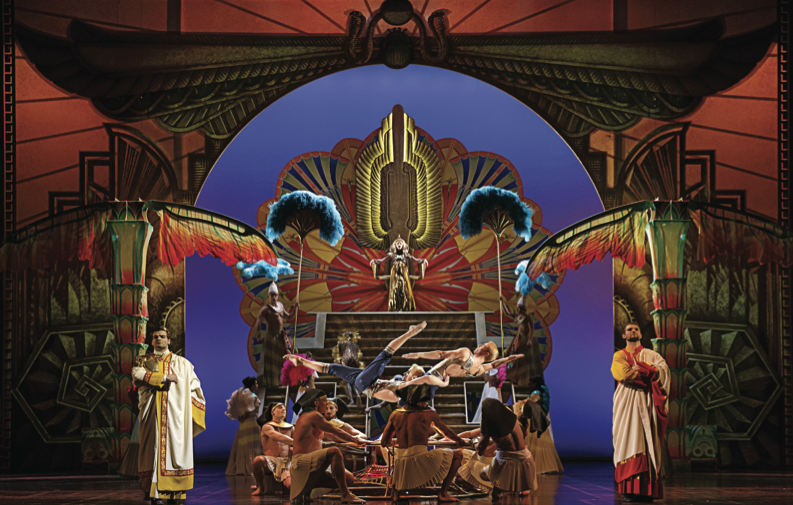 Paramour (photo by Joan Marcus, courtesy Boneau/Bryan-Brown)
The Jazzie for the Most Jaw-Dropping Acrobatics Goes to…
Paramour
An acro award for a show produced by Cirque du Soleil? Well, that's a given. But the way Cirque's first-ever Broadway production seamlessly fuses musical theater, dance and tricks is truly innovative—and seriously stunning. "It's a meeting of different worlds, and creating a common quality between all of them was a real challenge for me," says choreographer Daphné Mauger. "The end result is dancing that's not a precise style, but more an embodiment of a set of feelings." If you adore Tinseltown glamour, you'll swoon for this show, which centers on a love triangle between a breakout starlet, a film director and a composer in the golden age of Hollywood. Giant dance numbers and epic sets pay homage to classic films—including a Western saloon scene inspired by Seven Brides for Seven Brothers—and magical, gravity-defying stunts complement traditional musical-theater choreo.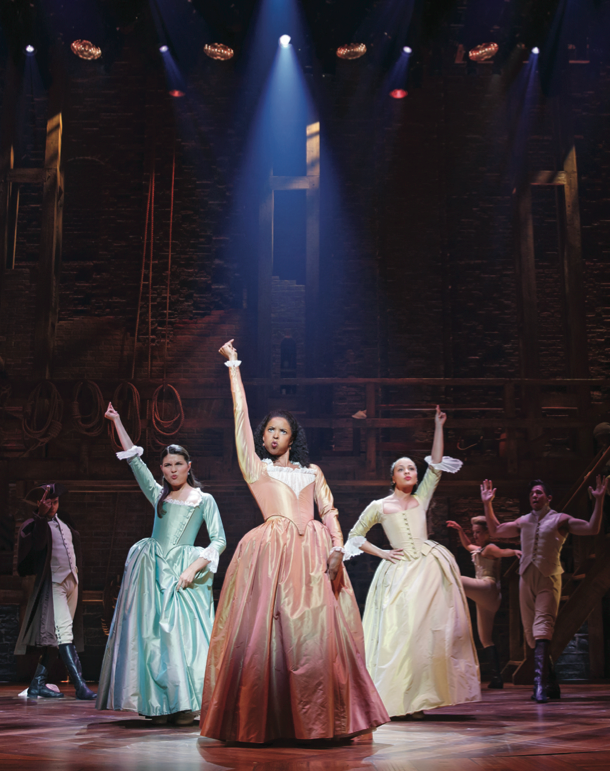 (From left) Phillipa Soo, Renée Elise Goldsberry and Jasmine Cephas Jones in Hamilton (photo by Joan Marcus, courtesy Sam Rudy PR)
The Jazzie for the Most Non-stop Action Goes to…
Hamilton
Smash hit Hamilton is the coolest thing to hit the Great White Way since mastermind and star Lin-Manuel Miranda's previous show, In the Heights. The story follows the life of founding father Alexander Hamilton (played by Miranda), from his humble beginnings as an orphaned immigrant to his tenure as our country's first Secretary of the Treasury. While the script is based on historical events, it's anything but a boring history lesson: Cabinet meetings are recreated as rap battles, and the dramatic plot is intertwined with Andy Blankenbuehler's dynamic hip-hop–inspired choreo. Prepare to be wowed by the talented ensemble of dancers who constantly weave in and out of the action on the set's turntable. They're onstage for most of the show!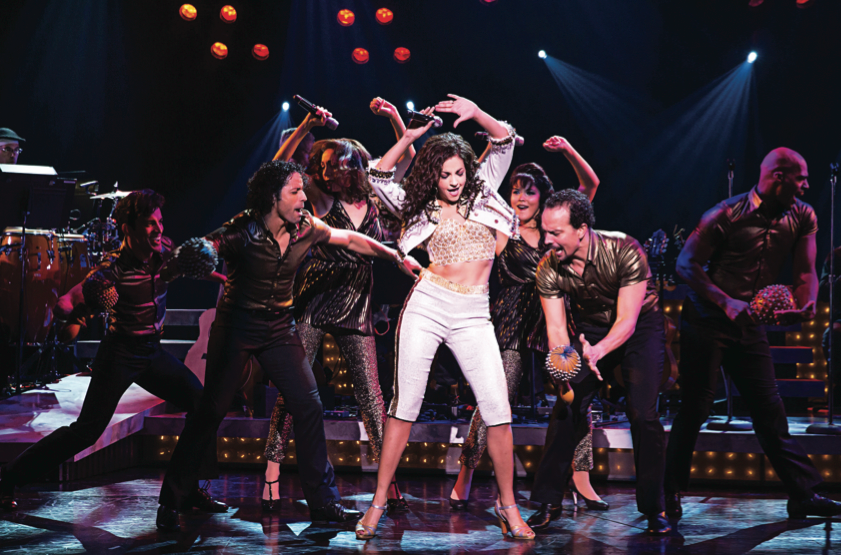 Ana Villafañe (center) with the cast of On Your Feet! (photo by Matthew Murphy, courtesy Vivacity Media Group)
The Jazzie for the Hottest Salsa in the Sparkliest Costumes Goes to…
On Your Feet!
Flashy Latin dance moves and complex partnering define choreographer Sergio Trujillo's numbers in On Your Feet!, which follows Cuban-American pop stars Emilio and Gloria Estefan's rise to fame. You'll be addicted to the couple's bouncy hits, including "Conga," "Rhythm Is Gonna Get You" and "Turn the Beat Around," which inspire tons of high-energy dancing. Trujillo comes to the show with a diverse resumé (he choreographed Jersey Boys and Memphis), but On Your Feet! marks the first all-Latin dance show for the Colombian-born artist. He even visited Cuba while choreographing to make sure the dancing was truly authentic, and that authenticity can be found in every number—most notably "Cuba Libre," where the ladies don chancletas, wood-bottomed sandals that create rhythmic, taplike sounds.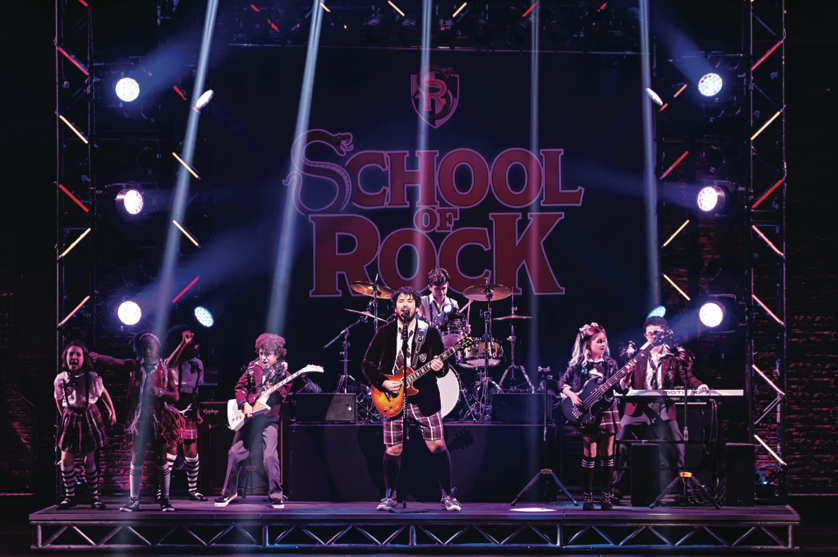 Alex Brightman (center) and the kids of School of Rock (photo by Matthew Murphy, courtesy DKC/O&M)
The Jazzie for the Most Aggressive Head-Banging Goes to…
School of Rock
The kids in School of Rock are insanely talented and energetic: Not only do they play their own instruments, but they also basically don't stop bouncing around for the entire show. Based on the 2003 movie, the musical follows the story of Dewey Finn (played by Alex Brightman of Wicked and Matilda), an underachiever with rock-star dreams whose financial troubles lead him to impersonate a substitute teacher. When he realizes his prep-school students have musical talent, he organizes them into a rock group—allowing the tight-laced kids to let loose and discover themselves along the way. Expect tons of rocking dance numbers, including "Stick It to the Man" and "You're in the Band," which feature the fun choreography of JoAnn M. Hunter. "I love that the School of Rock choreo has a unique style you don't see in any other Broadway show right now," says Carly Gendell, who plays peppy backup singer Marcy. "We do a ton of jumping and head banging, but there are also more precise moves, like what we like to call a 'Shipoopi,' where you pose three times every eight counts."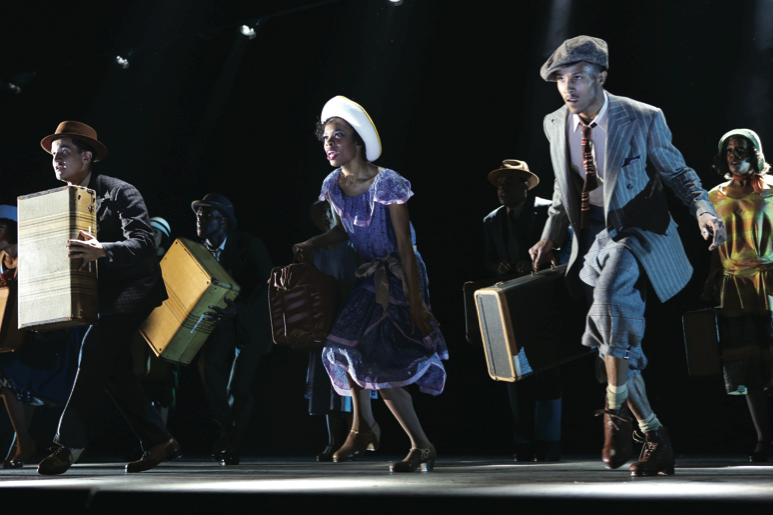 The ensemble of Shuffle Along (photo by Julieta Cervantes, courtesy DKC/O&M)
The Jazzie for the Best Rhythm/Broadway Tap Fusion Goes to…
Shuffle Along
Formally titled Shuffle Along, Or, The Making of the Musical Sensation of 1921 and All That Followed, this Savion Glover–choreographed production tells the story behind one of the first all–African-American Broadway shows. Six-time Tony winner Audra McDonald stars as Shuffle Along's original lead actress Lottie Gee, and an ensemble of fierce tappers tackle Glover's steps, which feature '20s moves seamlessly combined with syncopated rhythm tap. The ladies may wear heels, but this show is anything but light and airy Broadway tapping: It's the real hoofing deal.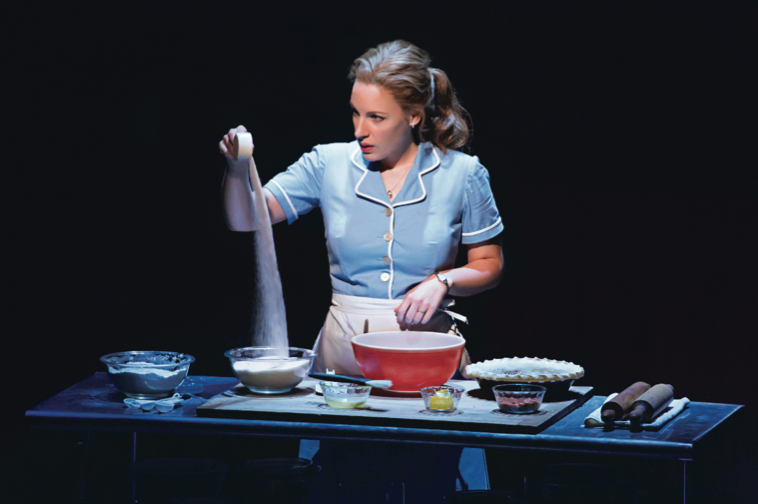 Jessie Mueller in Waitress (photo by Joan Marcus, courtesy Matt Ross PR)
The Jazzie for the Best Dancing While Baking Pies Goes to…
Waitress
This charming new musical, based on the 2007 indie film, tells the story of Jenna, a diner waitress and master pie baker who struggles with love and finds comfort in the friendship of her fellow waitresses. Grammy-nominated singer-songwriter Sara Bareilles brings original music and lyrics, uniting with Finding Neverland and Pippin director Diane Paulus, book writer Jessie Nelson, and veteran dancer and choreographer Lorin Latarro to form Broadway's first-ever all-female creative team. The dancing is mostly subtle throughout, so don't expect show-stopping numbers. But do expect pieces that move the story's heartwarming plot along, or highlight Jenna's fantasies while she's baking. Case in point: The "What's Inside" scene, where ensemble members whirl and twirl around a pie-baking Jenna, handing off ingredients and embodying her emotions.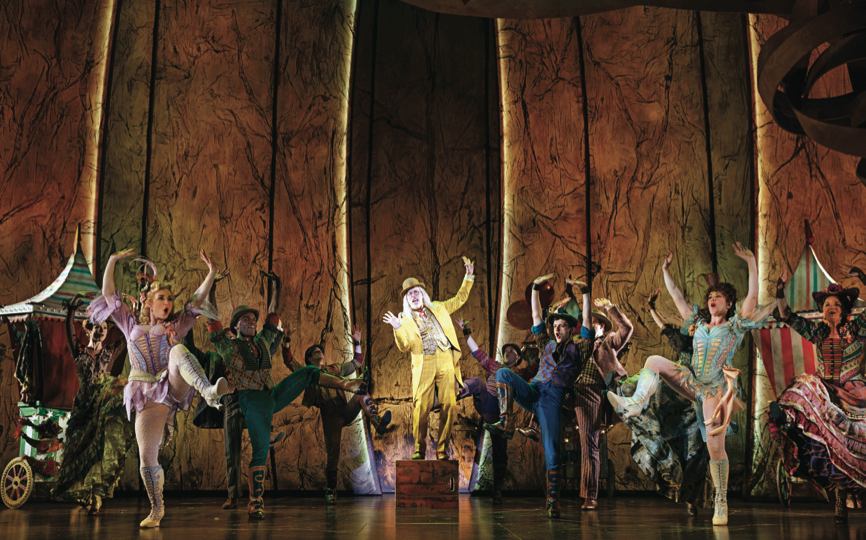 Terrence Mann (center) and the cast of Tuck Everlasting (photo by Jeremy Daniel, courtesy Boneau/Bryan-Brown)
The Jazzie for the Best Waltzing through the Woods Goes to…
Tuck Everlasting
It may have closed at the end of May, but Tuck Everlasting will live forever (pun intended) in our hearts! Fresh off his Something Rotten! success, director and choreographer Casey Nicholaw presented this powerful musical, posing the question, "If you could live forever, would you?" Tuck Everlasting followed 11-year-old Winnie Foster as she discovered the Tuck family, their magical spring in the woods and what it really means to be immortal. The dancing was a whole new vocabulary experiment for Nicholaw—think ballet steps mixed with folklike theater dance and hints of waltz. "It was an unusual show choreographically in that half the time the ensemble was dancing a character's emotions, rather than actually being characters themselves," Nicholaw says.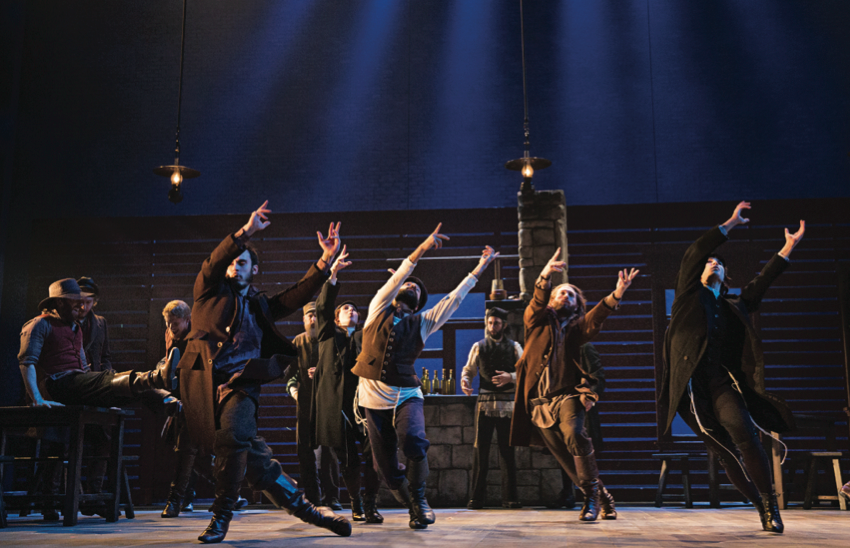 Fiddler on the Roof (photo by Joan Marcus, courtesy Jeffrey Richards Associates)
The Jazzie for the Best New Dance "Tradition" Goes to…
Fiddler on the Roof
This revival of the 1964 classic, which follows a Jewish milkman and his daughters in turn-of-the-century Russia, got a brilliant update from Israeli-born choreographer Hofesh Shechter. If you're a modern-dance fan, you'll love seeing Jerome Robbins' original pieces reimagined with Shechter's contemporary flair—think grounded lunges and lots of raw physicality. "Shechter's choreography feels very authentic," says dance captain and ensemble member Marla Phelan. "There are heavy, low stomps that have a very prideful feeling, as well as lots of reaching, raised arms that feel very spiritual. The dance numbers come out of a place of believable, and powerful, necessity." "So You Think You Can Dance" winner Melanie Moore, most recently seen as Peter Pan in Finding Neverland, plays rebellious daughter Chava, and you'll spot Newsies' Jacob Guzman dancing in the ensemble.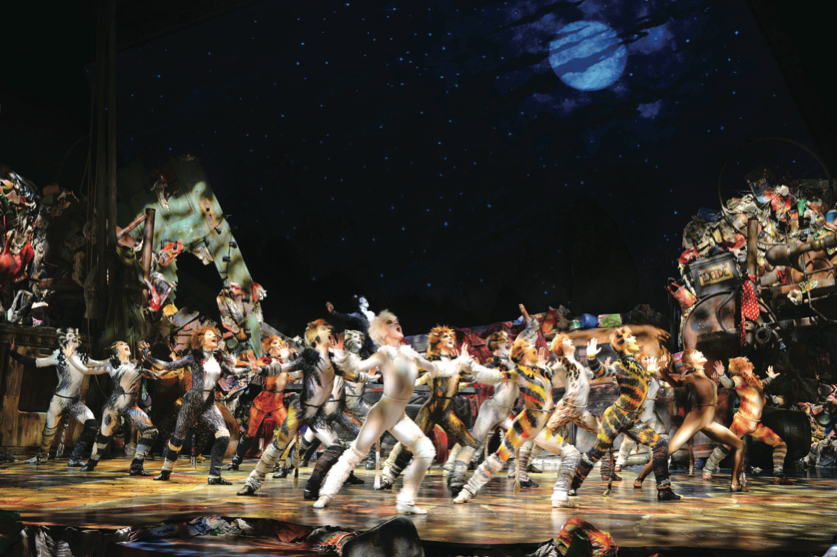 London's West End revival of Cats (courtesy DKC/O&M)
The Jazzie for the Fiercest Feline Moves Goes to…
Cats
Andrew Lloyd Webber's famous show, which ran on Broadway for 18 years, is back for its first-ever Great White Way revival. This go-around, prepare for a few updates, including brand new choreography by Hamilton's Andy Blankenbuehler. "So You Think You Can Dance" winner Ricky Ubeda plays the magical Mr. Mistoffelees and New York City Ballet soloist Georgina Pazcoguin appears as Victoria, the graceful "white cat."
Jan. 14, 2015 03:08PM EST
Have you dreamed of being on Broadway since before you can remember? This could be your chance. School of Rock (aka that hilarious old Jack Black movie with kids so cute you can't help but watch each and every time it's on TV) is coming to The Great White Way in November, and the show needs to fill some very important roles. School of Rock—The Musical is holding open auditions for kids ages 9–15 in L.A., NYC and online.
Which role do you want?
The show's audition notice specifies that hopefuls must be able to sing and act, and playing an instrument is a plus. But I'd suggest the casting agents add dance to that list, too. JoAnn Hunter is choreographing—and one glimpse at her dance-tastic resumé will make you want to jump to the front of the audition line. Hunter has performed in shows such as Thoroughly Modern Mille, Guys and Dolls, Damn Yankees and How to Succeed in Business..., and she was the dance captain for Chicago's revival.
And get this: Andrew Lloyd Webber, the musical bigwig behind Phantom of the Opera, Cats, Jesus Christ Superstar and many more, is composing the score and adapting some of the film's music for the stage.
Auditions will be held in L.A. this Saturday, January 17, and in NYC the following week. If you can't make it in person, the show will start accepting video auditions soon. Click here for details.


Get Dance Spirit in your inbox