Via @chantelaguirre on Instagram
Chantel Aguirre is a member of Shaping Sound, a newlywed, and a former Dance Spirit cover girl. And if you happen to follow her on Instagram (which you obviously do, right?), you know that the ballerina-turned-contemporary-dancer seems to permanently rock the dreamy, ethereal glow of a well-rested goddess. How does she take care of herself, even while touring the country in Shaping Sound's newest show, After the Curtain? "My overall goal every day is finding balance," Aguirre says. "I try to fuel myself with all things pure—in foods, in the people I surround myself with, and in my overall mindset." Here are 11 more ways Aguirre keeps her mind and body at peace on the road.
Keep reading...
Show less
Well, OK: It's not an audition per se. But Jesse Tyler Ferguson—"Modern Family" star, frequent "So You Think You Can Dance" guest judge, and #1 member of the Travis Wall Fan Club (we're #2, for the record)—just made a video in which he shows off his best dance moves in a Shaping Sound t-shirt. Is it exactly as hilarious as you think it'll be? Yes. Is his dancing also surprisingly impressive? Um, yes!
GET IT, JTF:
Keep reading...
Show less
So, Shaping Sound rounded out its 2015-2016 tour Monday night with one last stop in NYC. And we're already majorly bummed it's over. (Pleaseeee can we get another reality show or something in the works Hollywood?!)
Per usual, the show was INSANELY awesome. And although the plot and choreo was essentially the same as their last tour, it was certainly no less incredible seeing it again. The company's main men (Travis Wall, Nick Lazzarini, Teddy Forance and Kyle Robinson for those of you living under a rock) always promise jaw-dropping choreography, super raw emotion and almost physically impossible stunts—and they delivered.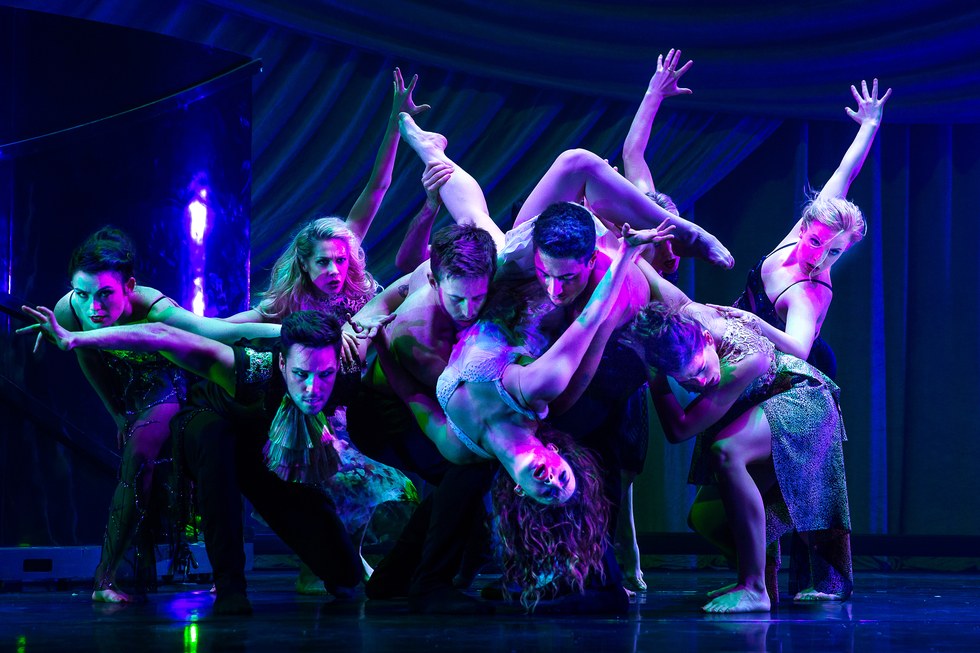 (via Shaping Sound)
A few updates this year included new cast member "So You Think You Can Dance" alum and former cover star Ricky Ubeda, which we were not mad about at all. Ricky gave us one of our favorite moments of the whole show: a gorgeous, loving and emotional duet with Travis. Seriously, it was powerful and got the biggest applause of the night by far.
Another update had Mallauri Esquibel (another SYTYCD alum and former cover star) dancing the leading role usually played by Jaimie Goodwin. We have to say, she killed it. She was vulnerable, sultry, strong and #flawless in every single number.
And we loved seeing the rest of the cast (Chantel Aguirre! Channing Cooke! Kate Harpootlian! to name a few...) back in action, too. And clearly, so did the audience as the whole cast received a roaring standing ovation at the end of the night.
The coolest part? Watching the all the dancers have #allthefeels during the last number and bows as they came to terms with closing the curtain on their last show and a super successful tour. You could totally see how much they all love to dance, and more importantly, how much they all love to dance with each other. Awww.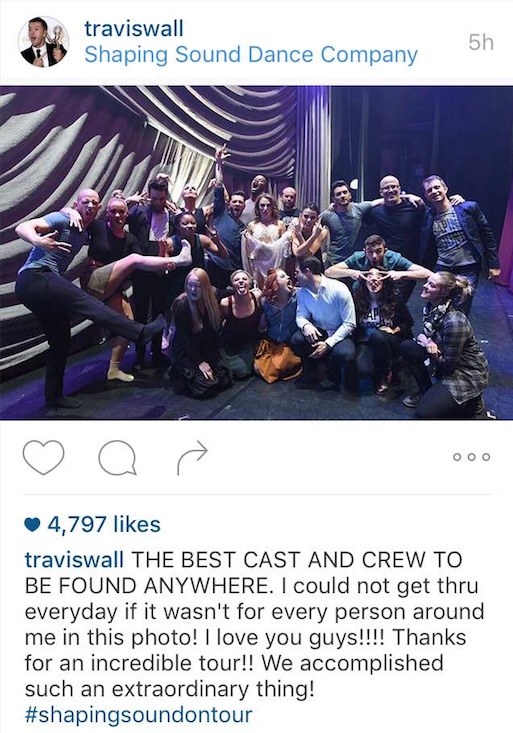 (via @traviswall)
And shoutout to the famous audience members we fan-girled out over. Oh heyyyyyy Robbie Fairchild and Tiler Peck, aka the cutest couple of all time, who just happened to be sitting a few rows over from us. Casual.
Mar. 23, 2017 01:15PM EST
Shaping Sound Dance Company first debuted its full-length production That's Where I'll Be Waiting in 2013. Two years later, the contemporary show—with explosive energy from co-choreographers Travis Wall, Nick Lazzarini, Teddy Forance and Kyle Robinson, and dancers like Jaimie Goodwin, Chantel Aguirre and Amy Yakima—is still going strong, earning nightly standing ovations. What's it like touring with one of the most popular dance productions around? Dance Spirit asked longtime company member Kate Harpootlian (whom you'll recognize from "So You Think You Can Dance" Season 12 Team Stage!) to keep a diary for a week on Shaping Sound's 2014–15 tour. —Jenny Ouellette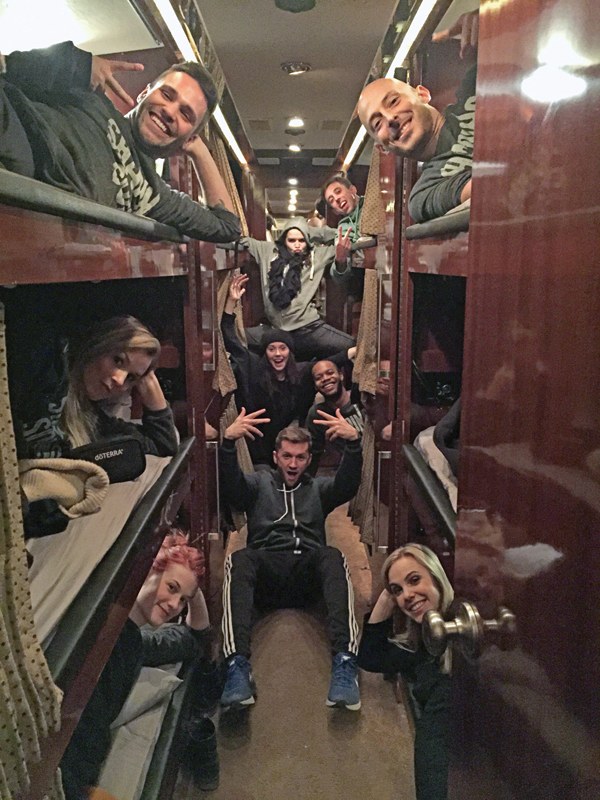 Kate Harpootlian (lower left) on the tour bus with Shaping Sound Dance Company (photo courtesy Harpootlian)
January 23: Last Rehearsal in L.A.
I was really excited to get back into rehearsals for the second half of Shaping Sound's second tour. Once in L.A., we had four days to regroup, which is usually pretty fun. I've known most of the dancers since I was teenager, so getting together is like a big family reunion.
This time, though, the week got serious after our company's morning ballet class. One of the show's dancers, Matthew Peacock, found out he'd been booked as the assistant choreographer for Madonna's Grammy performance. It's an amazing opportunity for Matthew, but it means one of our understudies, Rory Freeman, will now be taking over his part. Our limited four-day rehearsal period—which we've had to do without props, since they're in Texas already—has been pretty hectic. Rory is a rock star, though, and our last run-through went smoothly.
January 27: Tech in Fort Worth, TX
Today we flew from L.A. to Fort Worth—and we didn't waste much time before going to the theater for tech. Once we were onstage, with the lights, costumes and props (!), it really sank in that tour was starting. Our set features walls that we climb up and fall off. We move them around ourselves during the show, and remembering to lock or unlock the walls while we're performing isn't easy. So a thorough tech is absolutely necessary.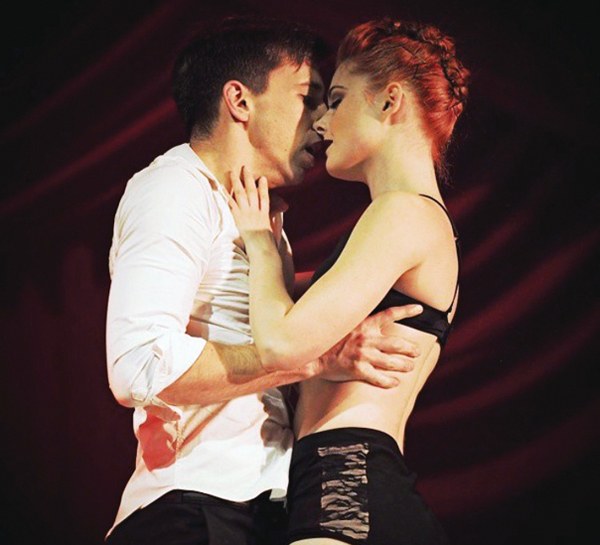 With fellow Shaping Sound dancer Ben Susak (courtesy Harpootlian)
January 28: Opening Night in Fort Worth
Tonight's performance was electric. My favorite part of the show is the duet I perform with Ben Susak in the "Wild Is the Wind" section. We have a great connection and we both really get into character. We also tend to change little things up each show, which keeps the piece fresh for us, even though we've danced it so many times. After each performance, we always do a meet-and-greet in the lobby. I love getting to speak with fans, but tonight was especially magical: My dad was there to give me a big hug!
January 29: Tulsa, OK
The grueling tour schedule has begun! We checked in to our Tulsa hotel around 4:30 am, disoriented and exhausted after our overnight drive. Believe it or not, though, it felt great to be back on the tour bus! Sometimes we're driving for up to 12 hours at a time, and, for that reason, the bus has become one of our favorite places to hang out. We usually eat dinner and watch our most recent performance while we wait for the crew to load out—and we also love playing Catch Phrase. Our competitive group gets pretty rowdy!
Luckily, we were able to go back to sleep once we arrived at the hotel, and I felt pretty good when I woke up around 10 am. I grabbed a couple of dancers for breakfast and hit the hotel gym with Channing Cooke.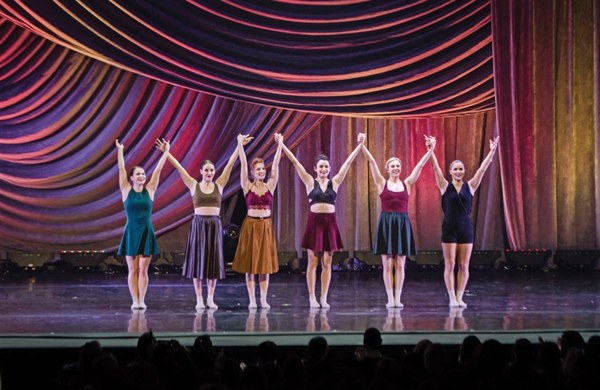 Harpootlian (third from left) during a Shaping Sound curtain call (photo courtesy Shaping Sound)
We had a 4:30 pm call time, but first we had to load all our stuff back on the bus since we'll be leaving right after the show. Three hours before every show (our call), the company meets for notes, info about our next tour stop and to get our lighting and spacing cues. An hour and 15 minutes before curtain, we take a company ballet class. Then I put my costume on, and five minutes before curtain, we regroup onstage for our company's pre-show ritual: After some words of encouragement, we take a few deep breaths. Our last exhale—a long "ahhh" sound—turns into a yell. Then we do a shake-off counting down from 8, and when we get to 1, someone shouts out "Shaping Sound" and we do a loud group clap. We like to think the better the clap is, the better the performance will be. It must have worked tonight!
February 1–2: Skokie, IL
After a four-show run in Kansas City, MO, and Minneapolis, MN, we finally have a couple days off. Some of the company stayed in Minneapolis, but the rest of us arrived to a full-on blizzard here in Skokie. It gave us a good reason to stay inside and rest.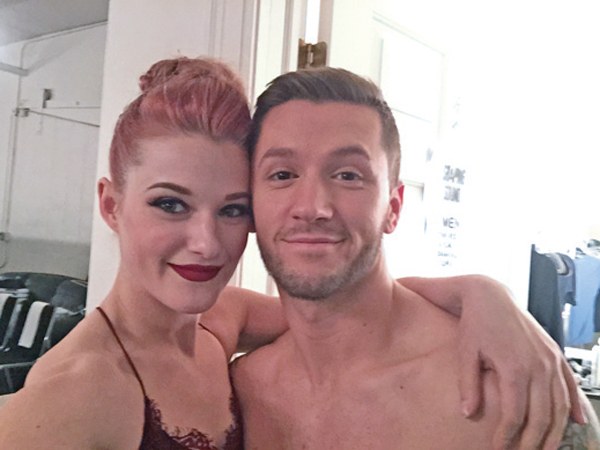 Harpootlian with Travis Wall (photo courtesy Harpootlian)
Monday in Skokie was bright and sunny, so I went into Chicago to take ballet class at the Lou Conte Dance Studio—home of Hubbard Street Dance Chicago. Then I headed to the hotel to take a quick rest before teaching a master class with Ben and Channing. I guess it wasn't much of a day off, but I love teaching. Plus, I got to reward myself afterwards by exploring Chicago one of my favorite ways—through my stomach! A lovely dinner with Travis and Nick was the perfect way to end this first week.
Shaping Sound's 2015–16 tour kicks off this month in Escondido, CA, and runs through February. Visit shapingsoundco.com/tour for details.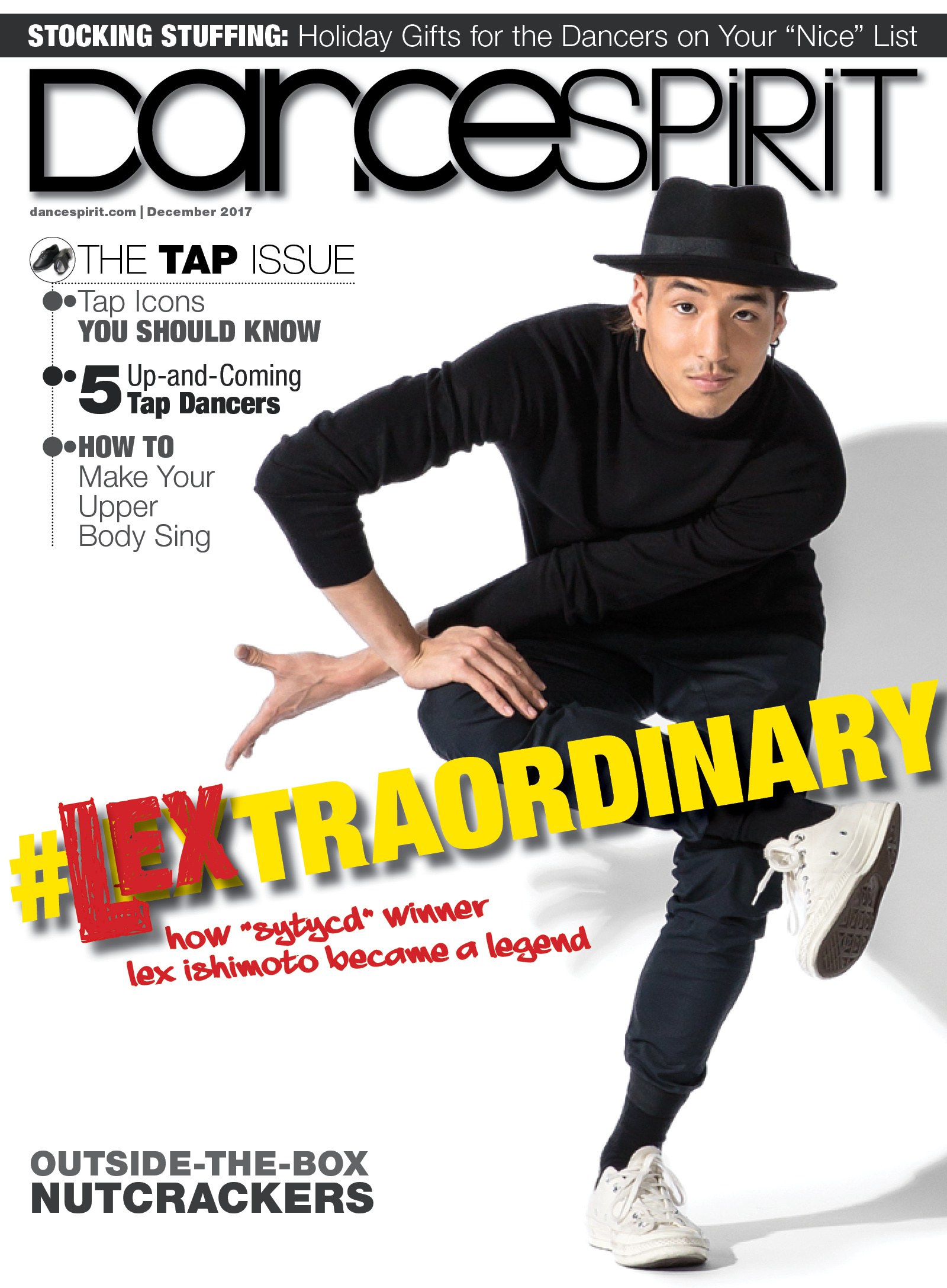 Get Dance Spirit in your inbox