Gaby Diaz showing off her diverse dance skills (photos by Lucas Chilczuk)
"So You Think You Can Dance" Season 12 winner (and Season 14 All Star winner!) Gaby Diaz is a dance powerhouse. She can perform at a crazy-high level in seemingly any style, from tap to jazz to contemporary to hip hop. Want to improve your own dance versatility? Diaz took a break from Shaping Sound rehearsals to give us her top 10 tips for doing so.
Keep reading...
Show less
Via @chantelaguirre on Instagram
Chantel Aguirre is a member of Shaping Sound, a newlywed, and a former Dance Spirit cover girl. And if you happen to follow her on Instagram (which you obviously do, right?), you know that the ballerina-turned-contemporary-dancer seems to permanently rock the dreamy, ethereal glow of a well-rested goddess. How does she take care of herself, even while touring the country in Shaping Sound's newest show, After the Curtain? "My overall goal every day is finding balance," Aguirre says. "I try to fuel myself with all things pure—in foods, in the people I surround myself with, and in my overall mindset." Here are 11 more ways Aguirre keeps her mind and body at peace on the road.
Keep reading...
Show less
Well, OK: It's not an audition per se. But Jesse Tyler Ferguson—"Modern Family" star, frequent "So You Think You Can Dance" guest judge, and #1 member of the Travis Wall Fan Club (we're #2, for the record)—just made a video in which he shows off his best dance moves in a Shaping Sound t-shirt. Is it exactly as hilarious as you think it'll be? Yes. Is his dancing also surprisingly impressive? Um, yes!
GET IT, JTF:
Keep reading...
Show less
So, Shaping Sound rounded out its 2015-2016 tour Monday night with one last stop in NYC. And we're already majorly bummed it's over. (Pleaseeee can we get another reality show or something in the works Hollywood?!)
Per usual, the show was INSANELY awesome. And although the plot and choreo was essentially the same as their last tour, it was certainly no less incredible seeing it again. The company's main men (Travis Wall, Nick Lazzarini, Teddy Forance and Kyle Robinson for those of you living under a rock) always promise jaw-dropping choreography, super raw emotion and almost physically impossible stunts—and they delivered.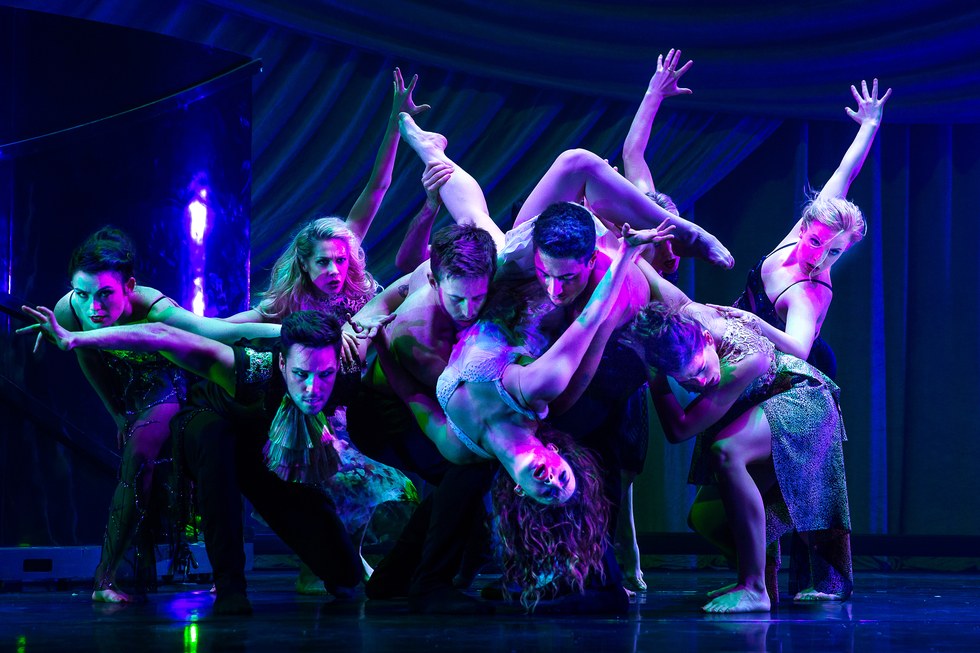 (via Shaping Sound)
A few updates this year included new cast member "So You Think You Can Dance" alum and former cover star Ricky Ubeda, which we were not mad about at all. Ricky gave us one of our favorite moments of the whole show: a gorgeous, loving and emotional duet with Travis. Seriously, it was powerful and got the biggest applause of the night by far.
Another update had Mallauri Esquibel (another SYTYCD alum and former cover star) dancing the leading role usually played by Jaimie Goodwin. We have to say, she killed it. She was vulnerable, sultry, strong and #flawless in every single number.
And we loved seeing the rest of the cast (Chantel Aguirre! Channing Cooke! Kate Harpootlian! to name a few...) back in action, too. And clearly, so did the audience as the whole cast received a roaring standing ovation at the end of the night.
The coolest part? Watching the all the dancers have #allthefeels during the last number and bows as they came to terms with closing the curtain on their last show and a super successful tour. You could totally see how much they all love to dance, and more importantly, how much they all love to dance with each other. Awww.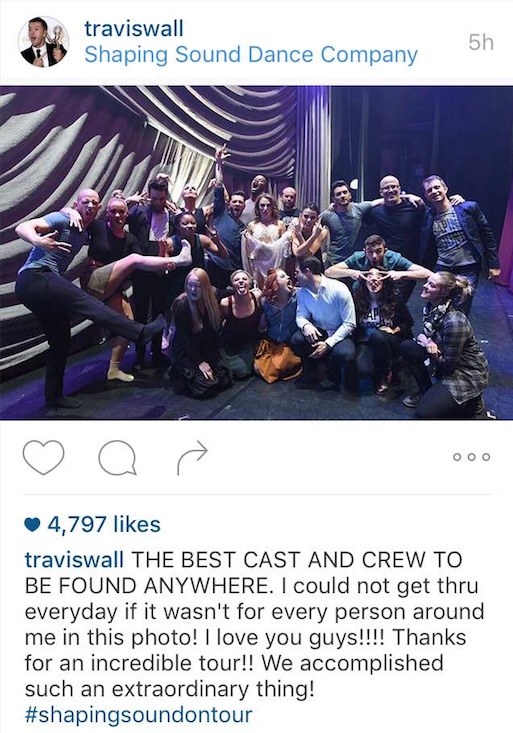 (via @traviswall)
And shoutout to the famous audience members we fan-girled out over. Oh heyyyyyy Robbie Fairchild and Tiler Peck, aka the cutest couple of all time, who just happened to be sitting a few rows over from us. Casual.


Get Dance Spirit in your inbox