Mar. 28, 2017 06:21PM EST
Courtesy Pittsburgh Ballet Theatre
Every ballet dancer has a pointe shoe prep process that's akin to a sacred ritual. And while some modifications are meant to make feet look prettier, the most critical tricks help those precious shoes last as long as possible—because at $60 to $100 a pop, they have to. We rounded up some of the best hacks to keep your shoes from dying prematurely.
Keep reading...
Show less
Mar. 23, 2017 02:19PM EST
There are tons of amazing things about conventions—the celebrity teachers, the variety of styles taught, the chance to bond with friends from across the country. The floors, on the other hand, generally aren't so amazing. Dancing on carpet or a slippery parquet floor can seriously hinder your movement. More important, it can lead to injury (and we're not just talking rug burn). How can you get the most out of convention classes despite the floor you're dancing on? Dance Spirit investigates.
Carpet Cons
When you enter most convention classes, you have a choice: Find a spot on the central ballroom floor or spread out on the carpet. Sixteen-year-old convention regular Morgan Geraghty, who dances at Millennium Dance Complex, Movement Lifestyle and EDGE in L.A., usually heads straight for the carpet. "I tend to find the ballroom floors too slick," she says.
But while that carpet may look soft and forgiving, looks can be deceiving. It's likely just a thin plush layer atop hard concrete. Katie Lemmon, an athletic trainer with Athletico Physical Therapy in Chicago, warns that for those used to dancing on sprung studio floors, surprisingly hard surfaces can cause a jolt to their bodies—especially when jumping. "Since there's not as much give, it's important that dancers really use their plié before and after a jump to absorb some of the shock," says Lemmon, who works with dancers at The Joffrey Ballet. "Keep strong through the core to avoid strain on the lower legs, feet, back and hips."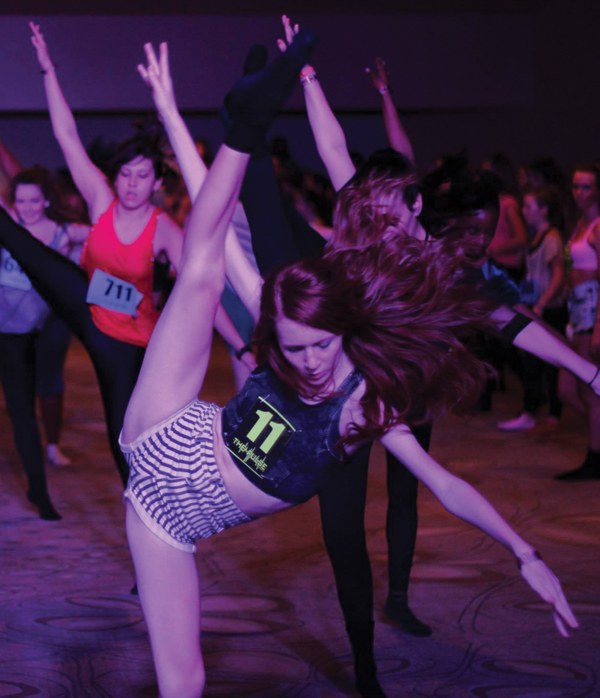 Morgan Geraghty prefers the extra friction provided by carpet to slick ballroom floors (photo by Mario Sinclair, courtesy Morgan Geraghty)
Turns and quick direction changes can also be problematic on carpeted floors. "Because of friction, carpeting doesn't let your feet move as much," Lemmon warns. "So you might need to limit what you're doing." And, trust us, your favorite teacher will understand why you opted for a slow double pirouette instead of a quadruple. "You have to be careful," says NUVO Dance Convention faculty member Ray Leeper. "I hate seeing twisted knees or rolled ankles because dancers threw themselves into a turn on a carpet."
Parquet Problems
At conventions, Erin Smith, 17, who dances with CC & Co. Dance Complex in Raleigh, NC, prefers parquet floors—the laminate wood-like surfaces that are generally in the middle of the ballroom. "It's easier to turn and it's more stable than the carpet, where I sometimes have trouble finding my center," she says.
But that parquet floor comes with a list of problems as well. First of all, like the carpet, it's not going to have as much give as a sprung studio floor, so the same rules about using your core and your deepest pliés still apply. And parquet presents
another potential hazard: cracks and crevices. Erin remembers cutting herself several times on the cracks between the panels,
especially during floor work.
"The worst part to dance on is that little strip of metal on the floor's perimeter
between the wood and the carpet," says New York City Dance Alliance and Monsters of Hip Hop teacher Tony Testa. "If you're near it, be careful of rolling your ankles." Testa warns that even when the metal is covered by tape, the tape will usually peel back as the weekend goes on. After tap classes, especially, the metal might stick up at odd angles. "It's possible to catch your foot on one of those metal edges," he says. "And that will quickly ruin your day."
Lemmon also recommends being aware of the slip factor: "Your foot sticks differently than it does on a marley surface," she says. "You might have to modify your movement based on how slippery it is." But, she warns, that doesn't mean clenching your toes to the floor, which may be your body's first instinct. "Focus on using the core to hold your balance, and try to actually be more relaxed through your standing feet and toes," she says. "Gripping the floor may lead to shin splints or tendonitis of the foot and ankle."
Shoe Solutions
What you put on your feet can make all the difference when dancing on a strange floor—and that might mean going against popular trends. "Socks are all the rage right now," says Ray Leeper of NUVO Dance Convention. "But we advise dancers at NUVO not to wear them, because we've seen too many kids in socks go down on a parquet floor. Going barefoot or wearing the right shoes is better."
L.A. dancer Morgan Geraghty likes to be barefoot, no matter which surface she's dancing on, but she'll opt for thick-soled boots or sneakers in hip-hop class. Erin Smith, a dancer with CC & Co. Dance Complex in North Carolina, uses a more broken-in pair of jazz shoes (since new shoes can be slick) for jazz class on the ballroom floor.
Tap can be tricky. Of course, you'll be in tap shoes, but those soles can be a slide-y mess on a parquet floor. On the other hand, you won't be able to hear your taps on a carpeted floor. "The hard floor is always really crowded because everyone wants to hear their sounds, but if you think about it, with all those people crammed onto a small space, you're not going to be able to hear yourself anyway," says Erin. "If you're on the carpet to avoid slipping, you can still know if you're making the right sounds based on what they're doing onstage." And if you're slipping uncontrollably on the parquet floor, remember that tapping quietly with bare feet is better than face-planting in tap shoes.
Ultimately, the shoes you choose for each class will depend on where you're standing and what the choreography is like—so your footwear decisions will need to be made at the last second. "Always bring all the shoes you could possibly want for each class, then feel it out once you get there," advises Morgan. "It's all about testing the waters and seeing what works."
Mar. 23, 2017 12:38PM EST
Whether it's your first pair or your 50th, picking out the right pointe shoes can be difficult. Dance Spirit talked to Victoria Lyman, owner of Allegro Dance Boutique in Evanston and Barrington, IL—the Joffrey Academy of Dance's shop of choice—to get the lowdown on the latest shoes. These picks are comfortable, flexible and quieter than ever before. Finding your perfect pointe shoe just got a little bit easier!
Lyman says: "Your feet are always changing, so it's important to make sure you're fitted for shoes regularly."

Grishko—Nova
Box narrows slightly, making it a good choice for dancers with tapered toes
Made with a new glue that reduces sound

Bloch Inc.—Hanna, S0109L
Lower heel means less bunched-up fabric on pointe
Soft shank helps you get all the way over your box

Gaynor Minden—Standard Pink Satin Sleek Heel
Elastic drawstring ties on the side of the foot, so it's easy to hide
Lining wicks moisture and helps keep your shoes smelling fresh
Sleek heel and profile show off your pretty arches

Só Dança—Claudia, SD09
Softer shank lets you roll through demi-pointe more easily
Supportive wings
Wide platform helps with balance

Sansha—La Pointe No.3
Pre-darned platform—the work's done for you!
High vamps, high sides and medium support make this shoe a good fit for feet of moderate strength and flexibility.
Hard shank will last through countless relevés

Mirella —Whisper, MS140
Plush lining + built-in toe pad = super-comfortable
Lightweight and quiet

Capezio —Studio Pointe, 1122
Available with a super-hard shank that's good for dancers with strong feet
Elastic drawstrings and binding keep the shoe from slipping off your heel
Photography by Nathan Sayers.
Sep. 16, 2015 04:03PM EST
Your teacher has finally given you the OK to go on pointe! As any experienced ballet dancer will tell you, your pointe shoes can either be your best friend or your worst enemy. The right fit ensures that you'll be able to work safely and gives you a solid foundation for your pointe technique. Seeing a professional fitter for your first pair—and coming to your appointment prepared—will set you up for success.
How to Find a Fitter
In many cases, your teacher will recommend a fitter. But what if she doesn't? "I'd suggest calling a dance store you trust and asking if there's a professional fitter on staff," says Josephine Lee, who owns Dancer's Choice in Irvine, CA (and the affiliated roving pointe shoe fitting business The Pointe Shop). You should also be sure to ask how many brands of shoes the store carries. A qualified store, Lee says, will have at least five to eight different brands. That variety is important: It indicates that the store sells lots of shoes, and it makes it more likely that you'll be able to find the perfect shoe for your foot.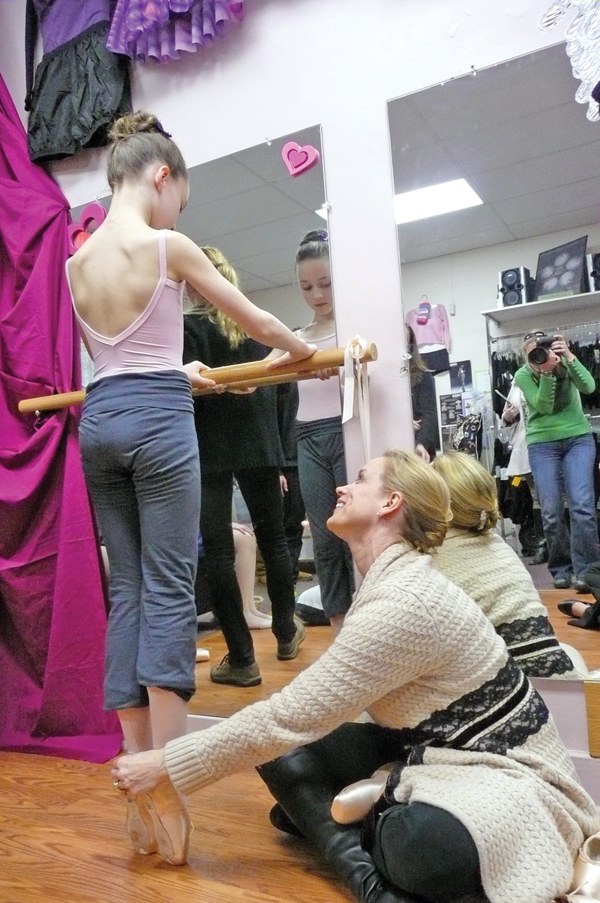 A pointe shoe fitting at Pittsburgh Ballet Theatre School (photo by Meghan Swartz, courtesy PBT School)
How to Prepare
According to Kerri Angeletti, who manages The Dancer's Pointe in Pittsburgh, one of the most important things to figure out before your fitting is what type of padding you'll be using, because padding can dramatically affect the fit of a shoe. Talk to your teacher about what she prefers. Some teachers will want you to start with a specific type of toe pad, such as a gel pad or lambswool. Others may request that you learn without padding at all. Either bring the teacher-approved padding with you to your appointment or be prepared to buy it at the shop.
It's important that you come to your fitting dressed appropriately, in a leotard and tights, so the fitter can see your lines clearly. "Your first pointe shoe fitting is your first pointe class," Lee says. Make sure your tights are convertible, since the fitter will also want to look at your bare feet and toes. And don't schedule a fitting right after class, Lee adds, because your feet will likely be swollen from dancing, which will change the way the shoes fit.
What to Expect
Angeletti recommends allowing at least an hour for your first fitting. "You need to try on a variety of different shoes so that you can really feel the differences between them," she says.
The fitter will usually begin by getting up close and personal with your feet. She'll analyze the line created by the top of your toes, the width of your metatarsal and the length of your toes and feet. Then, you'll begin the Goldilocks-like process of trying on shoes, searching for the pair that's just right. In addition to looking at the shoe on pointe, Angeletti has the dancer plié in second position—"the position in which the foot is longest," she explains—to determine if the shoe's length is correct. As a pointe beginner, it's especially important that your shoes fit well on flat as well as on pointe. You'll start out spending relatively little time on your toes as you build strength.
How to Get the Right Fit
To describe the perfect fit, Lee uses a saying she first heard from a Capezio shoe designer: "The pointe shoe should mold to the foot like a cast." Your shoes should feel tight, but your toes shouldn't curl under and you shouldn't feel pinching in your metatarsal. "Be very vocal about how you're feeling in each shoe," Angeletti says. Now isn't the time to be agreeable. Your fitter needs as much detail as possible in order to get you the best, and safest, fit.
Nervous about speaking up—or just about the fitting process generally? Mackenzie Cherry, a student at Pittsburgh Ballet Theatre School, got a confidence boost at her first fitting because her whole class went as a group, which made her much more comfortable. If your class isn't going on an excursion together, consider asking a friend if you can schedule your appointments together.
Don't be discouraged if you don't think your first pair is "the one." It's important to remember that this is a process. Lee points out that many dancers continue to change their pointe shoes periodically throughout their careers as their abilities and preferences change. And to answer one of the most frequently asked fitting questions: Does it hurt? "It's a little painful," Mackenzie admits, "but if you're excited about being on pointe, you don't really think about it."
Common Fit Problems—and How to Solve Them
Pressure on the big toe
Josephine Lee, owner of Dancer's Choice in Irvine, CA, says that too much pressure on the big toe can mean you're sinking into the box, a problem that can be solved with a more tapered shoe. But it also may depend on your foot shape. If you have a long big toe, it'll always bear more weight on pointe. As you train, you'll gain strength and learn to lift up out of your shoes, which will alleviate that feeling.
Pinching in the metatarsal
"You need a wider box," Lee says. The width is correct when your feet are nice and flat on the floor, without being able to wiggle inside the shoe. Some dancers need a more triangular box—one that's wide at the metatarsal but tapered at the toe—to keep them from sinking into the shoe.
Sickling
Lee says sickling on pointe may be a sign that a dancer is struggling to get up over her box and is pushing over her pinky toe to compensate. A softer shank can help you stand fully and correctly on pointe. The downside is that softer shoes wear out faster. But, Lee says, "it's better than learning bad habits."
Aug. 13, 2015 11:00AM EST
You work hard in dance class to perfect your technique and perform at your best. But what you do outside of class counts, too. The truth is, little everyday habits—like carrying an overstuffed dance bag or texting nonstop—could be negatively affecting your body and, ultimately, your dancing. Dance Spirit investigates seven bad health habits that have repercussions in the studio.
The Habit: Crossing your legs.
The Risk: "Doing it once or twice isn't a big deal, but habitually sitting with your legs crossed can lead to real changes in your body," says Alison Deleget, a certified athletic trainer at the Harkness Center for Dance Injuries at NYU Langone Medical Center. "Since you're not sitting evenly on your pelvis, you're forcing your spine to curve to one side." Over time, you may develop back or hip pain, and overstretched back muscles on one side of your body may leave you feeling uneven in class. Want to look ladylike without throwing your body off balance? Try sitting squarely on both hips and crossing your feet at the ankles.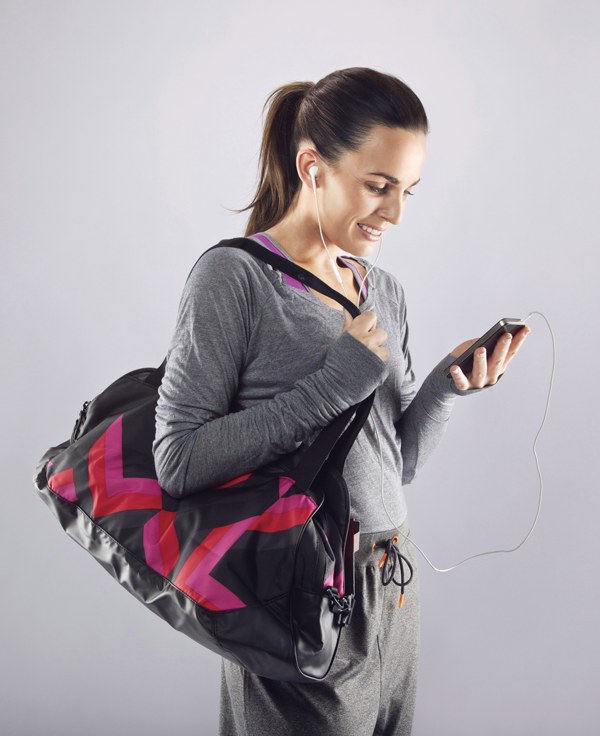 (Photo by Ammentorp Photography/Thinkstock)
The Habit: Constantly texting.
The Risk: Typical texting posture—head bent forward and shoulders slumped—puts the equivalent of 60 pounds of pressure on your upper spine, which can lead to wear and tear on the supportive tissues between your vertebrae. "It shortens the muscles in the front of your upper body and neck while overstretching and weakening the muscles in the back, which may make maintaining correct épaulement more difficult," Deleget says. In the short term, spending hours hunched over your phone could cause headaches or a sore neck and shoulders; in the long term, it could mean herniated disks or nerve impingements. The next time you get a text, try bringing your phone up to your face to respond, or ask Siri to type for you.
The Habit: Cracking your neck, back or toes.
The Risk: You may have heard rumors that popping your joints will eventually lead to arthritis. The good news is there's no research supporting that theory, and feeling a hip pop during class is perfectly fine. The problem comes when dancers start forcing their joints to pop instead of letting it happen naturally. This can stress the joints' connective tissues and cause them to overstretch and become unstable. "It's like dancing on a slinky when you should be dancing on a bed spring," Deleget says. "That slinky gives much less support."
The Habit: Walking like a duck.
The Risk: All the older dancers are doing it, but that doesn't mean you should. "The joints of the knees and ankles work like hinges, designed to move straight forward. Walking turned-out means putting excessive stress on the insides of your knees, ankles and toes," Deleget says. It won't lead to better turnout, but it can lead to anterior hip pain—a common and sometimes debilitating injury for dancers.
The Habit: Carrying your dance bag on one shoulder.
The Risk: When only one side of your body carries a heavy load day after day, you're likely to develop muscle imbalances that can lead to overwork- and stress-related injuries—from your shoulders all the way to your pelvis. "If one side of your upper trapezius muscles becomes more developed than the other, your shoulders may also look uneven when you're dancing," Deleget says. "Opt for a backpack, and wear it the proper, 'geeky' way—straps secure and chest strap fastened, not thrown over one shoulder or hanging down over your butt."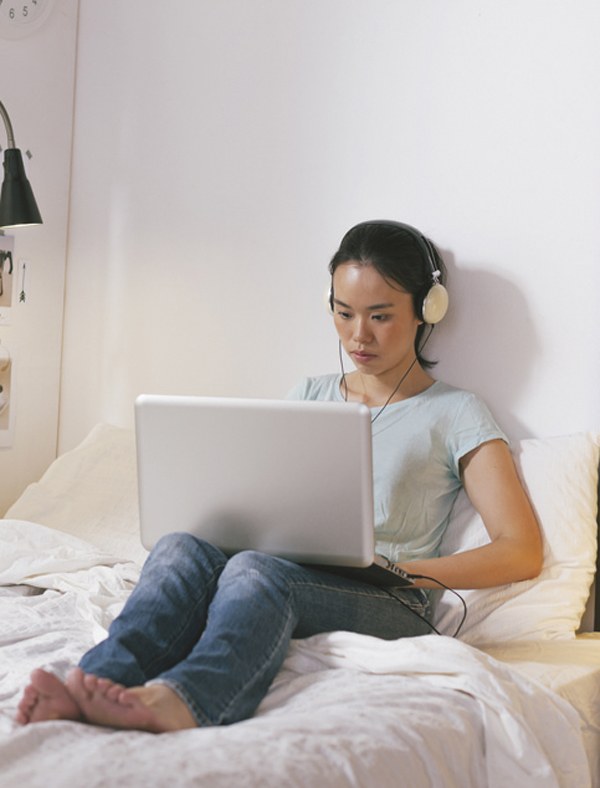 (Photo by Bonnin Studio/Thinkstock)
The Habit: Typing in bed.
The Risk: It's been a long day, you're exhausted and you have a paper due tomorrow. You may be tempted to snuggle up in bed to write that essay—but resist the urge. "If
you plan on working for an extended period of time, always sit up with your spine in a neutral position. Don't slouch and definitely don't lie down," Deleget says. Making bad homework posture a habit strains the connective tissues in your spine, which can cause pain and stiffness in your lower back when you dance. Sitting up straight improves your core strength and posture for class.
The Habit: Wearing flimsy shoes.
The Risk: Your feet are two of the most important parts of your dancer body, so it's crucial to shoe them with care. Podiatrist Ronald Werter, who works with professional dancers in NYC, says the worst options for your precious feet are paper-thin flip-flops or super-squishy boots. "They're worse than walking around barefoot," he says."Unsupportive shoes force you to put more pressure on the inside of your foot, which causes the tendons that support the arch and ligaments in the ankles to stretch." Without proper tension, foot and ankle strength will be much harder to retain.
Werter recommends testing shoes before you buy them by squeezing both the arch and where the big toe hits with your thumb and forefinger. If you can compress them to half the thickness they were before, save your money. Instead, look for a shoe with a hard rubber or leather arch built in.
As for your favorite heels, Werter says they're OK as long as they're not higher than two inches. Just make sure that the middle of the shoe, where the shank would be on a pointe shoe, can't fold easily, so you have strong support.


Get Dance Spirit in your inbox