Mar. 23, 2017 07:09PM EST
For dancers who've spent their lives in pink tights, signing a big ballet company contract can seem like the be-all-end-all goal. But ballet-trained dancers aren't one-trick ponies, and many end up leading successful dance careers outside the ballet world. Before you say "ballet or no way," get inspired by dancers who traded in their pointe shoes for something a little different.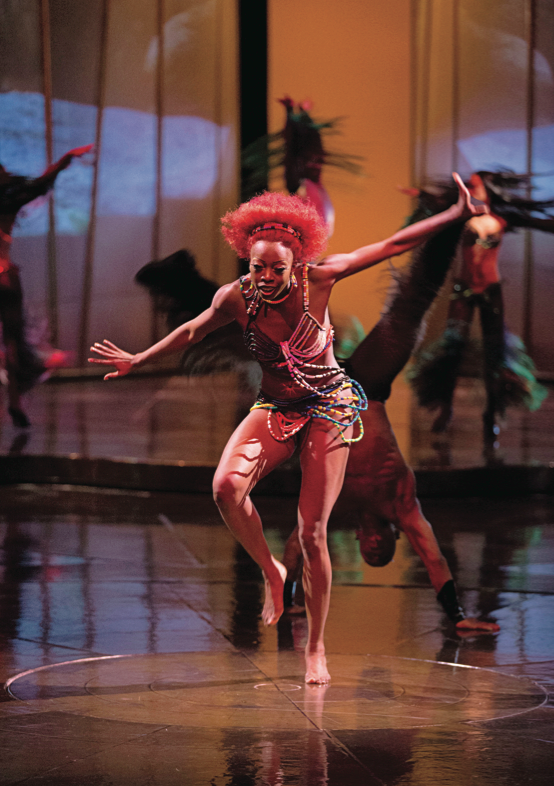 Makeda Crayton as the African Queen in Zumanity (photo by Eric Jamison, courtesy Zumanity)
Makeda Crayton, Soloist in Cirque du Soleil's Zumanity
I trained under former Dance Theatre of Harlem principal Homer Hans Bryant, and always dreamed of following in his footsteps. But when DTH went on hiatus in 2004, I decided to look for other jobs, and I ended up finding my dance home at Cirque du Soleil.
I love Cirque's storytelling aspect. It reminds me of performing story ballets, but you're given a lot more freedom to develop your character. Right now, I play the African Queen in Zumanity—I have a solo that opens the whole show. It's up to me to pull the audience into our world, and I'm constantly reinventing my character to find new ways to connect. I still do a floor barre before every performance, and I'm thankful for my ballet training. The show's acrobats are always shocked at how quickly I can pick up movement. Before DTH reopened in 2013, I was invited to take class with its traveling repertory ensemble. While it reminded me how much I missed ballet, I realized my path as a dancer had changed. I love what I do.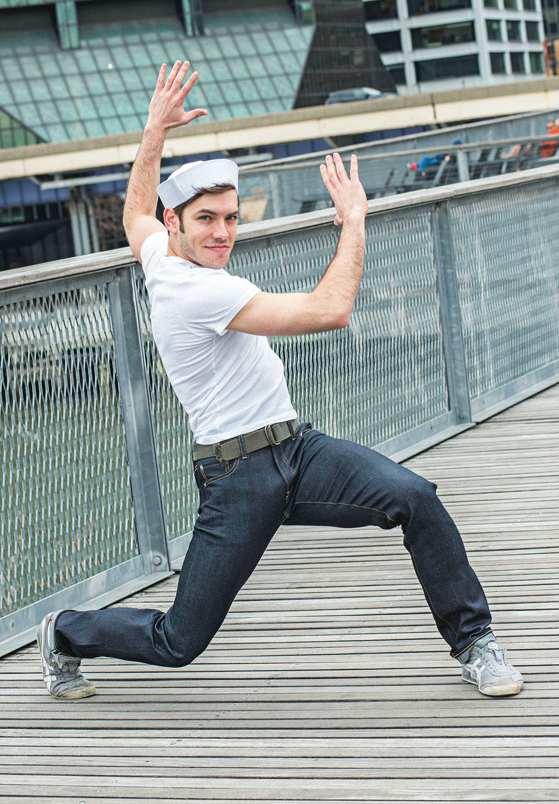 Leffler in costume for On the Town (photo by Monica Simoes, courtesy Leffler)
Brandon Leffler, dancer in Trip of Love, off-Broadway
I was on The Performing Arts Center in L.A.'s commercial track when I first fell in love with ballet. The school's director helped me switch around my schedule so I could do a classical concentration, and I ended up booking a job with Ballet Austin II after attending the company's summer program.
I spent a year there, and it was an amazing experience. Ballet Austin is a small company, so we got to dance in the corps for larger ballets. Once
I got used to the day-to-day rigor of ballet company life, though, I realized I needed a bit more freedom. That's when I set my sights on Broadway. I moved to NYC to take a job with Nai-Ni Chen Dance Company, and began auditioning for musical theater jobs. About a year later, I booked a national tour of Cats, and haven't looked back since.
The greatest gift ballet gave me is my solid technical base. In musical theater, you're doing the same movement eight times a week. Unless you're using your body properly—and ballet teaches you how to do that—you're going to get injured.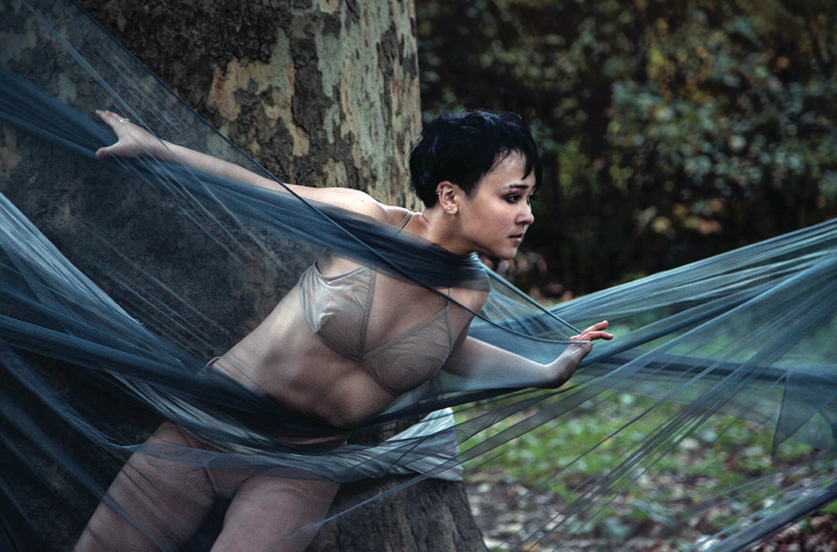 Wada as a member of Sidra Bell Dance (photo by David Flores, courtesy Sidra Bell Dance)
Madison Wada, Sidra Bell Dance New York
Growing up in the small town of Lancaster, CA, I studied many styles at a local studio, but I fell in love with ballet. I looked up to ballerinas like princesses. When I decided ballet was my dream, my mom started driving me an hour each way every day to train at Los Angeles Ballet Academy. It was a rigorous school, with graded exams at every level. But after spending a summer at Alonzo King LINES Ballet post-graduation, I decided I wanted to go in a more contemporary direction. As much as I loved classical dance, I knew even if I gave 125 percent, I still probably wouldn't make it—I just don't have the feet or the stature. When I started to explore contemporary dance, first at LINES and then with Sidra, I began to appreciate the value of my movement quality, beyond the height of my leg or the number of pirouettes I could do.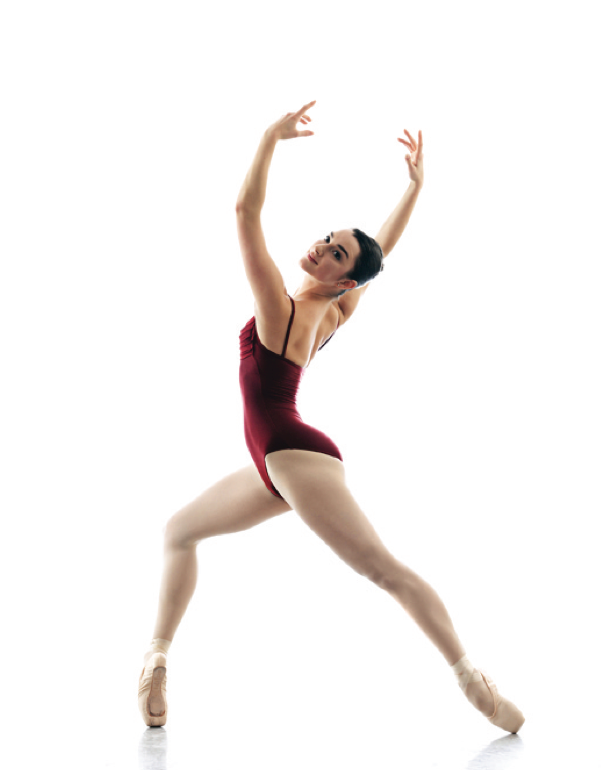 Usborne in her bunhead days (photo by Patrick Baldwin, courtesy Usborne)
Georgia Usborne, Gallim Dance
My second-year ballet teacher at Central School of Ballet in London told me I didn't have the facility to join a company—and that I needed to learn to maximize what I had. Ballet was my passion, but with the limitations of my body, I knew classical technique would always be a struggle. I ended up spending three years at Bern Ballet in Switzerland, which has a more contemporary repertoire and allowed me to further explore that kind of movement. I had to break down a lot of mental walls to find my artistic voice, and taking Gaga class in Bern helped me find that freedom of expression. Now, at Gallim, I've found the perfect balance of ballet and Gaga.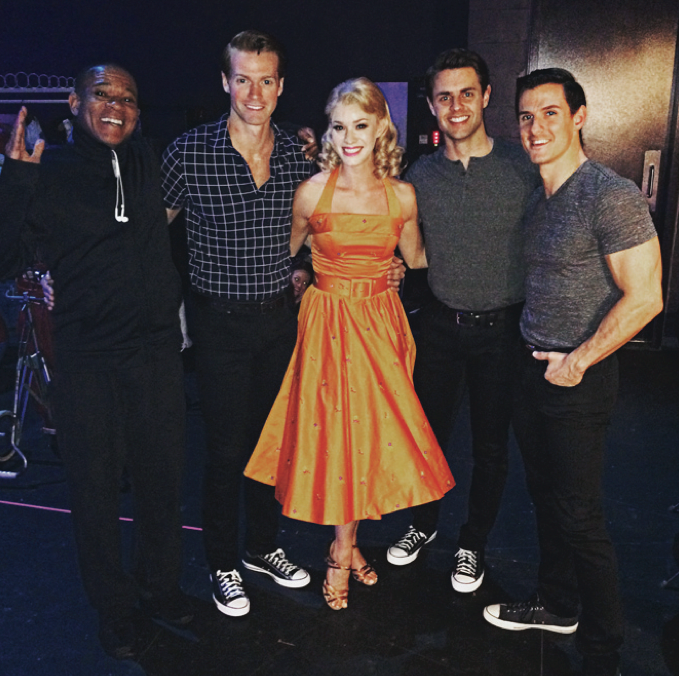 Prominski backstage at Dirty Dancing (courtesy Prominski)
Katelyn Prominski, Broadway dancer
I started off on a pretty successful ballet track: I trained at San Francisco Ballet, toured with The Suzanne Farrell Ballet, spent four years in the Boston Ballet corps and then joined Pennsylvania Ballet. Shortly after moving to Philadelphia, I got very sick. I didn't know what was happening to my body—ballet became miserable. I was diagnosed with Type 1 diabetes and decided to retire.
My boyfriend at the time (now my fiancé) was touring with Billy Elliot, and as I started to get better, I realized musical theater could be a great way for me to return to performing, because it's a slightly less grueling, more flexible environment than the ballet world. I just finished touring with Dirty Dancing, where I used my ballet training every day. Broadway choreographers love ballerinas—they know I'm going to give them a six-o'clock penché, sky-high leaps and can-can kicks to my face.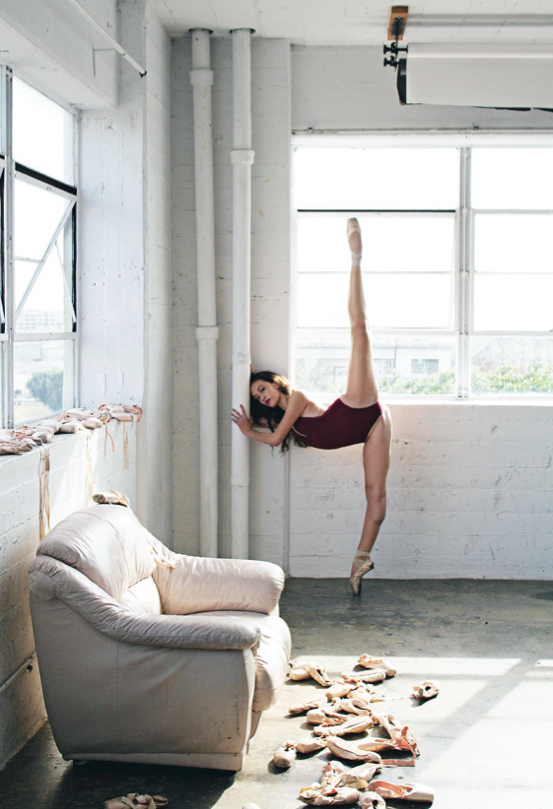 Emnace in her ballet days (photo by Oliver Endahl, courtesy Emnace)
Ariana Emnace, Commercial dancer
I trained intensively in ballet, going to summer programs at San Francisco Ballet and American Ballet Theatre and competing at Youth America Grand Prix. ABT was always my dream. I was fixated on joining a ballet company and becoming a principal—it's what I thought I deserved after training so hard.
When I started auditioning, my ballet teacher convinced me that joining an agency might be a better fit. I signed with Bloc and began looking for commercial and ballet jobs. For a while, nothing really happened. Then Mystic Ballet of Connecticut offered me a spot in their training program—right as I booked a private audition for Chris Brown's BET Awards performance. I told myself if I didn't book the Chris Brown job, I'd move to Connecticut and recommit to ballet. But I got the gig, and I took that as a sign. Since then, the commercial world has really opened up for me. I've realized this is my path.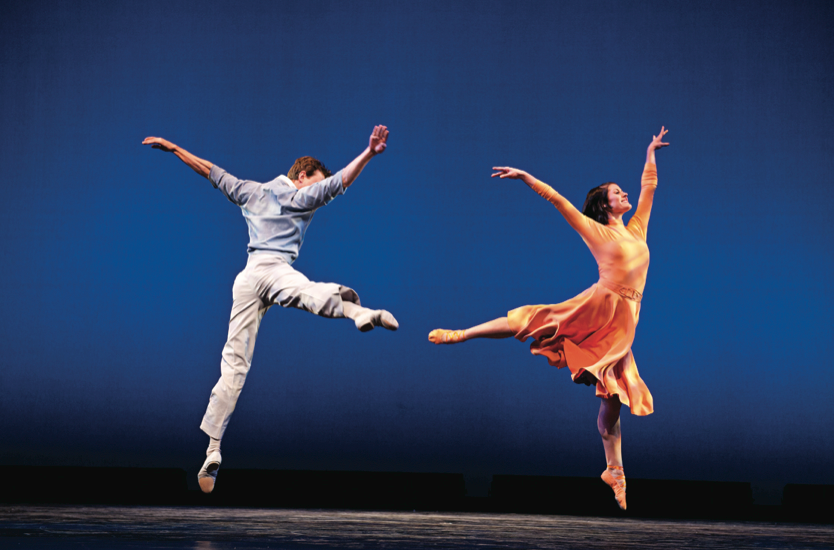 Rutledge (right) with Reid Bartelme in Lar Lubovitch Dance Company's Elemental Brubeck (photo by Nan Melville, courtesy Lar Lubovitch Dance Company)
Laura Rutledge, former dancer with Lar Lubovitch Dance Company
I danced at Indianapolis Ballet Theatre, California Ballet Company, State Street Ballet and Ballet San Jose, and I thought ballet was my home. But when I was a member of Company C Contemporary Ballet, I was introduced to Lar Lubovitch's choreography. From day one of rehearsal, I totally fell in love with the movement. I felt my whole body sigh. I decided to make the cross-country move to NYC to dance with the company.
It was a huge transition for me—no more pointe shoes, and I really had to learn to drop my weight. But all of Lar's movement is based in the ballet vocabulary. You always have to find clarity in your lines. Honestly, I don't think he would've hired me if it weren't for my solid ballet foundation.
Aug. 11, 2016 07:38PM EST
Top dance programs attract top faculty—people who direct companies, tour the world and, most importantly, hire dancers. That's why we've rounded up a list of all-star choreographers who are particularly committed to teaching and mentoring undergrads. You're just as likely to encounter them in the classroom as you are to audition for them after you graduate. Get to know them, and then look for their names under your course listings this fall.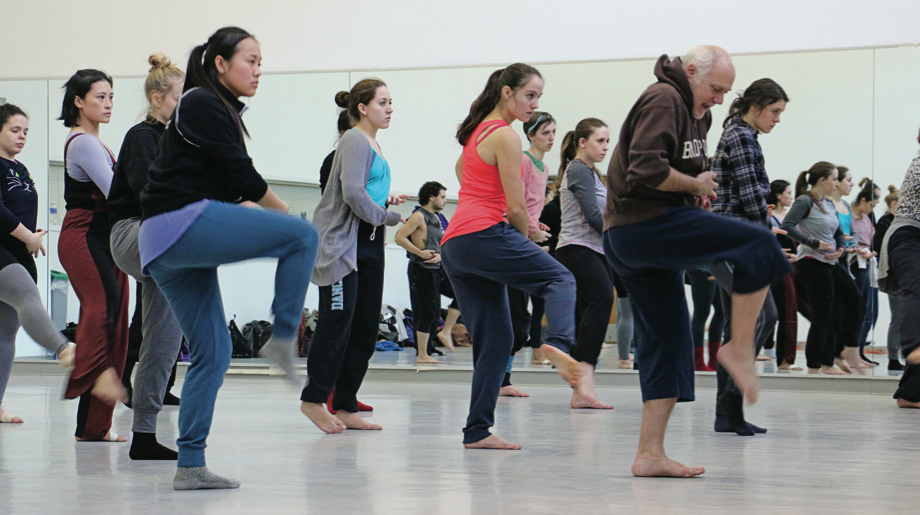 Doug Varone leading a class at Lehman College in the Bronx, NY (photo by Alex Springer, courtesy Varone)
Doug Varone, director of Doug Varone and Dancers
Doug Varone and Dancers celebrates its 30th anniversary during the 2016/2017 season, making him a venerable presence in the American modern dance scene. While Varone continues to create for his own company, his choreography has also been performed by Batsheva Dance Company, Hubbard Street Dance Chicago, the Martha Graham Dance Company and others.
Find him at: Purchase College, State University of New York
Past college credentials: Varone has taught at dozens of colleges and universities—everywhere from the University of Akron to Skidmore College.
Why He loves working with college students: "They're learning new ways to accomplish tasks they thought they understood, and it's exciting to open creative doors for them.
The connection between the liberal and performing arts is vital to dancers' growth—that's key for me in a college community."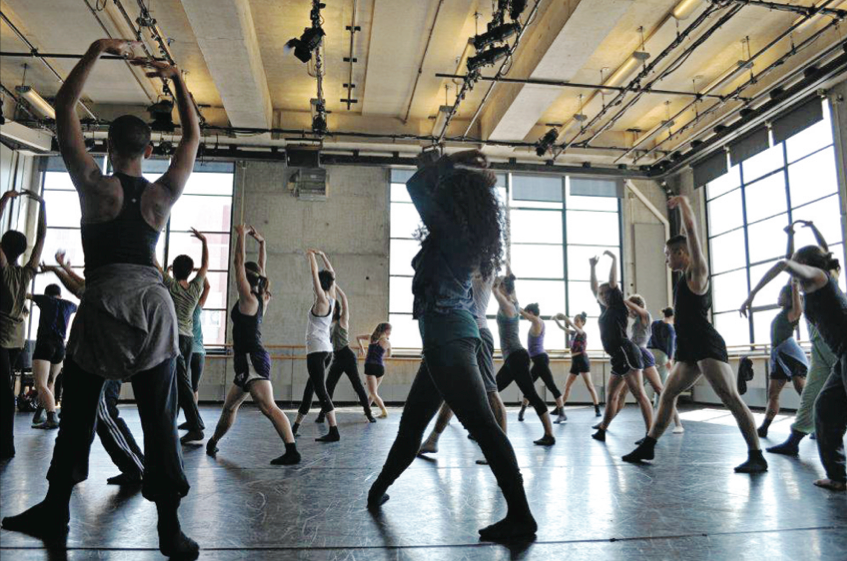 Sidra Bell and dancers in her class (photo by Gabrielle Garruppo, courtesy Bell)
Sidra Bell, director of Sidra Bell Dance New York
Sidra Bell Dance New York has performed Bell's introspective, precise choreography worldwide. She's been commissioned to set work on L.A.-based company BODYTRAFFIC, Visceral Dance Chicago and many other companies.
Find her at: Ball State University and University of the Arts
Past college credentials: The Juilliard School, Cornish College of the Arts, California State University, Long Beach, Harvard University
Why She loves working with college students: "College dancers create an electric environment. They're learning to stand on their technique while becoming better collaborators in the studio. It's truly gratifying to act as a mentor and guide as they tackle questions."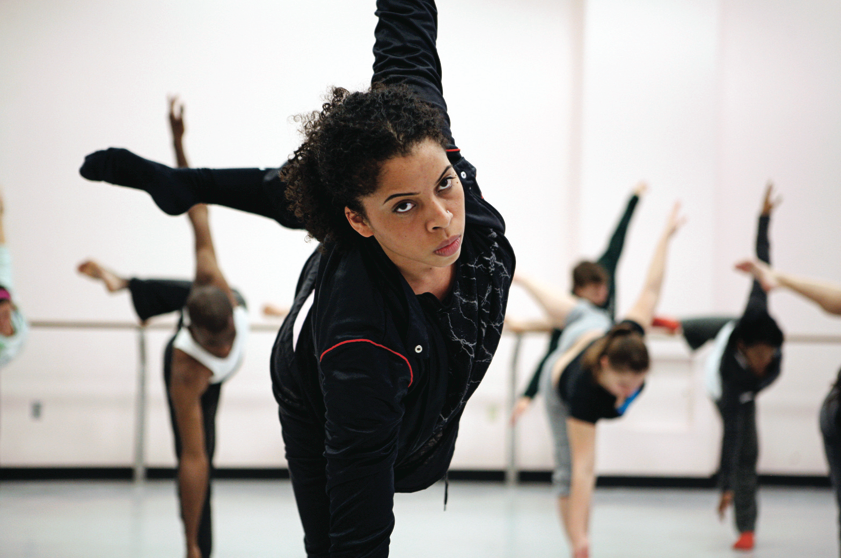 Jennifer Archibald (photo by Alastair Christopher, courtesy Archibald)
Jennifer Archibald, director of Arch Dance Company
Arch Dance Company has toured everywhere from the John F. Kennedy Center for the Performing Arts to Jacob's Pillow Dance Festival, displaying Archibald's signature blend of hip hop and contemporary.
Find her at: Yale University and Barnard College
Past college credentials: Bates College, Columbia College Chicago, the University of South Florida
Why she loves working with college students: "At the college level, students who choose dance really want to be there. That enthusiasm allows room for growth."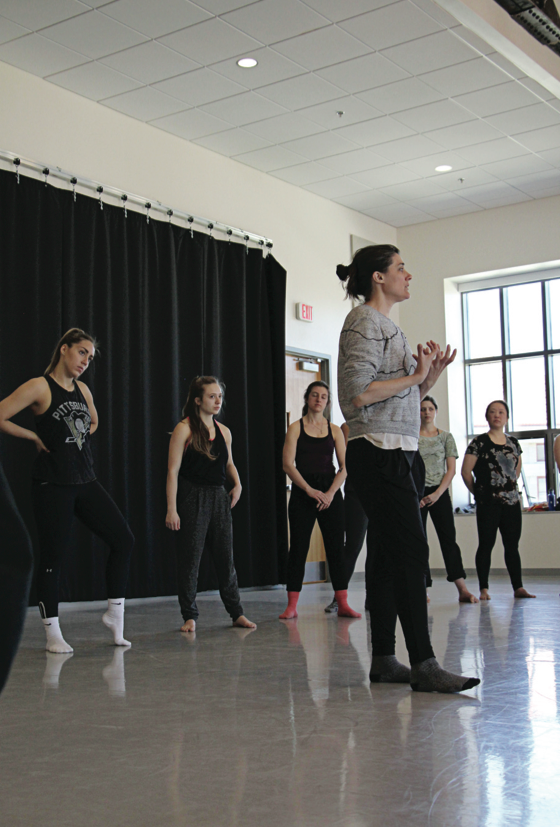 Driscoll working with students in class (photo by Mark Oxier, courtesy Driscoll)
Faye Driscoll, independent choreographer
When she's not winning Bessie Awards or earning Guggenheim Fellowships, Driscoll tours her work internationally. She's currently developing Thank You For Coming: Play, part two of a three-part dance-theater piece that showcases her humorous approach to heavy issues. (Think alienation versus community.)
Find her at: Driscoll most recently held a fellowship at Wesleyan University.
Past college credentials: Ohio State University; Connecticut College; University of Colorado, Boulder
Why she loves working with college students: "College-level dancers use the academic environment to boldly cross disciplines. They're expanding the form."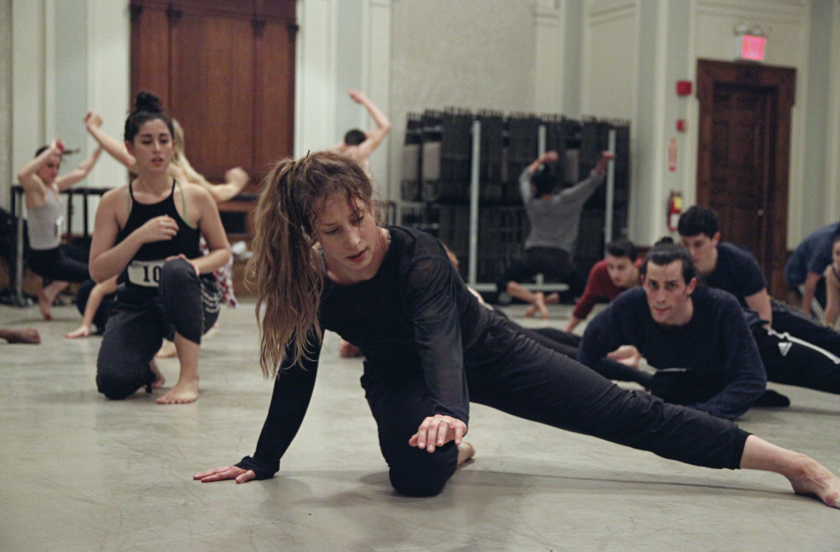 Shannon Gillen (photo by David Flores, courtesy Gillen)
Shannon Gillen, director of VIM VIGOR
Shannon Gillen is known in Europe and NYC for her athletic and fearless dance-theater choreography. Though VIM VIGOR is a relatively young company (it was founded in 2014), Gillen has been teaching for years and has choreographed over 22 works since 2010.
Find her at: Purchase College, State University of New York
Past college credentials: New York University, Ailey/Fordham BFA Program, Alonzo King LINES Ballet at Dominican University of California
Why she loves working with college students: "College is an intense threshold of transformation, challenged by a natural impatience. I try to help students see the value of working toward future goals. I love how wild and flexible the mind of a dancer is at this age!"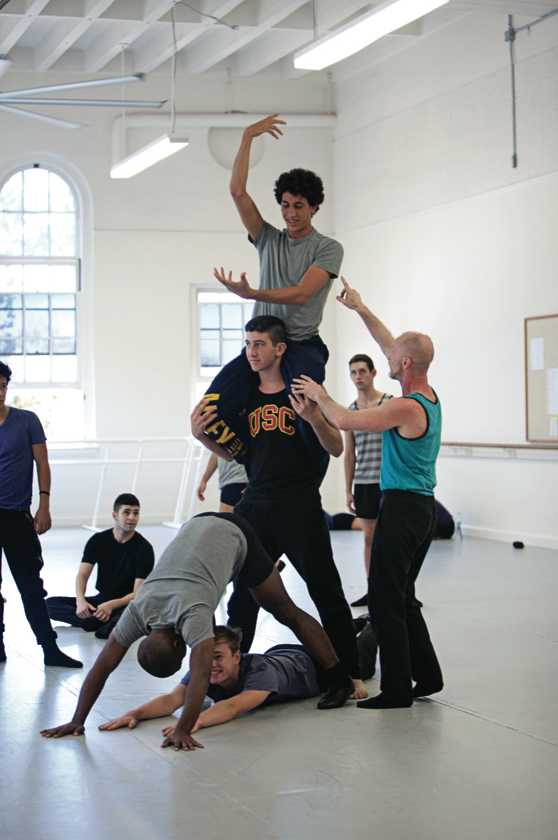 Patrick Corbin (in blue) coaching students at USC (photo by Rose Eichenbaum, courtesy USC)
Patrick Corbin, Paul Taylor répétiteur and director of CorbinDances
After a nearly 40-year career, first as a ballet dancer and then as a member of Paul Taylor Dance Company, Corbin has plenty of experience to draw from as a director and stager of Taylor's work.
Find him at: University of Southern California
Past college credentials: University of California, Irvine; University of Michigan
Why he loves working with college students: "Incoming freshmen are poised to make great strides. I have the prospect of not only training dancers but shaping the kind of citizen they might become."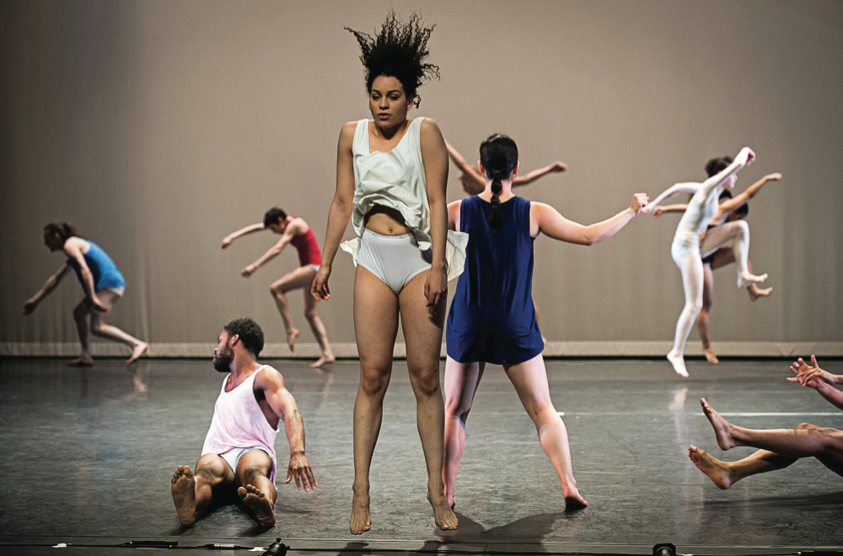 Yerushalmy's PICTOGRAMS (a 2014 ADF commission), performed here by Rutgers University students (photo by Christopher Duggan, courtesy Yerushalmy)
Netta Yerushalmy, independent choreographer
Yerushalmy's experimental, imaginative work has been presented at famous downtown dance venues in NYC: La MaMa, Danspace Project, Movement Research and more. She's also collaborated, performed and taught internationally.
Find her at: Yerushalmy has an ongoing choreographic relationship with University of the Arts.
Past college credentials: University of Utah; Rutgers, The State University of New Jersey; The College at Brockport, State University of New York
Why she loves working with college students: "College students exude potential—they're thrilling to interact with. They don't hold back or get territorial, and they're intellectually hungry."
Mar. 13, 2012 06:12PM EST
Sure, dance is fun, but these performers have other skills they're putting to good use: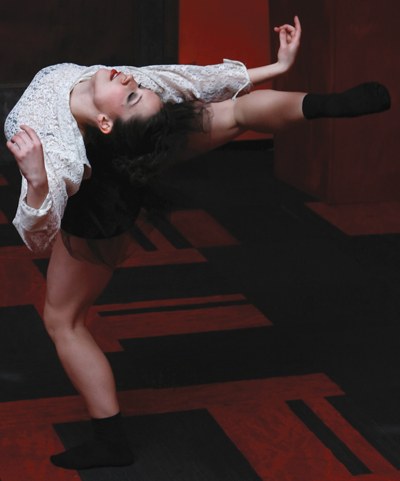 Alexandra Johnson in Sidra Bell's House Unrest. (Jubal Battisti)
Alexandra Johnson
Sidra Bell Dance New York
Hobby: Reupholstering furniture
"My mother has always been into sewing and she's worked in interior design, so I latched on to her interests. Now, I own a lot of furniture that I've reupholstered. People don't realize that reupholstering isn't hard if you're willing to take time to do it—and it saves money!"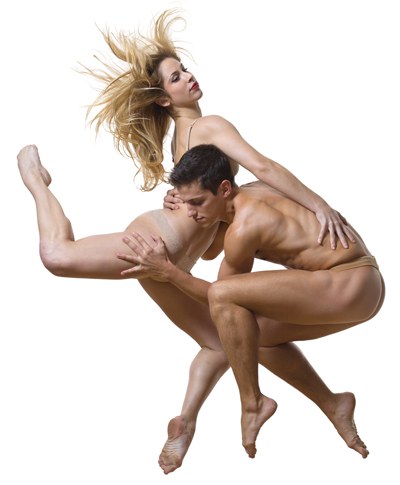 Sarah Braverman and Ian Spring (Lois Greenfield)
Sarah Braverman
Parsons Dance
Hobby: Learning Italian
"I decided to take up Italian because two of the dancers I work with speak the language and we spend a lot of time together. Plus, Italy just happens to be on Parsons' tour schedule! At the end of a long day it feels good to have something spark my interest that's outside of the dance world. Keeping your mind open makes your dancing more informed."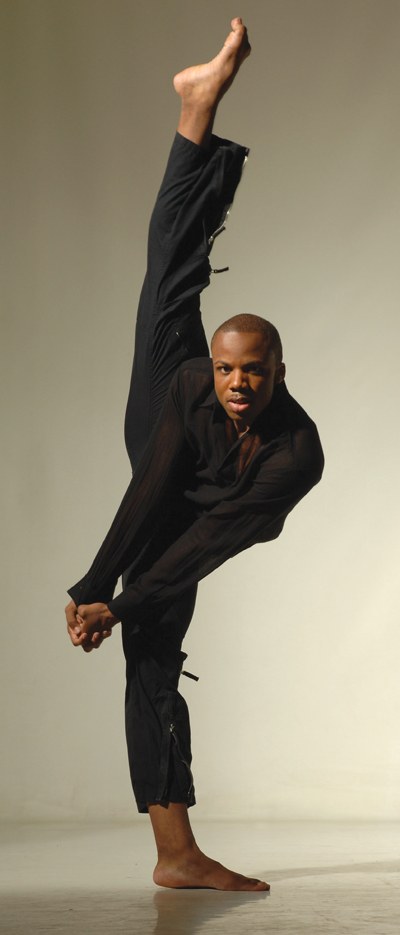 Jermaine Terry (Eduardo Patino)
Jermaine Terry
Alvin Ailey American Dance Theater
Hobby: Costume design
"I discovered costume design in college. I had choreographed my senior piece and my roommate suggested I buy slips and add to them for costumes. So that's what I did. I started to do it professionally later by accident. In rehearsal one day, I was wearing a pair of jazz pants I had made. The choreographer liked them and asked if I would make the costumes for his piece. People have been asking me to make things for them ever since."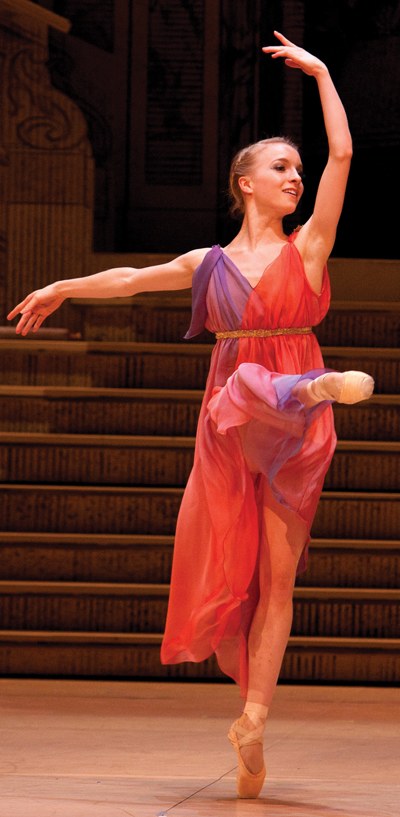 Shelby Elsbree in Christopher Wheeldon's Sleeping Beauty (David Amzallag)
Shelby Elsbree
Royal Danish Ballet
Hobbies: Blogging, cooking and photography
"A little over a year ago, my sister encouraged me to do something with my free time besides working out. I invested in a camera and took a picture of a chocolate cake baked by my sister. It was the most beautiful picture ever. I love food and cooking, so I combined these side passions with dance and started a blog. Tutus & Tea was born."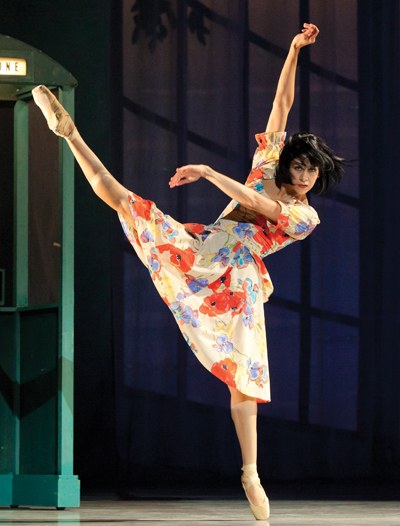 Sona Kharatian in The Great Gatsby (Brianne Bland)
Sona Kharatian
The Washington Ballet
Hobby: Knitting
"During Nutcracker season, I'll knit scarves and socks to give as Christmas presents. If someone has me as their Secret Santa, they know they'll get something knitted."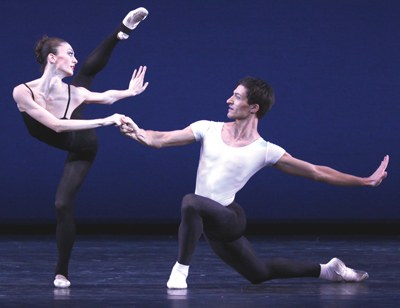 Suluashvili and his wife, fellow Joffrey dancer Victoria Jaiani. Suluashvili says his favorite piece he's crocheted is a shawl for Jaiani! (Herbert Migdoll)
Temur Suluashvili
Joffrey Ballet
Hobby: Crocheting
"One day I decided to pick up crocheting needles and see what happened. I thought it could be a fun challenge. With crocheting you can do a little at a time—a few minutes here, a few minutes there, and before you know it you have a scarf or legwarmers!
When you're dancing all day, it's nice to have something calming to do when you get home. It lets your mind and your body rest, and you create something beautiful in the process."


Get Dance Spirit in your inbox