Apr. 09, 2017 07:29PM EST
Question: When does Sophia Lucia have time to sleep? Everyone's favorite comp-star-turned-bunhead seems to be diving headfirst into a new project every week. We absolutely #bowdown to everything she does, and her latest project is no exception. Behold: "Unscathed," a new dance series on Sophia's YouTube channel.
Keep reading...
Show less
Mar. 01, 2017 03:31PM EST
In 2012, the internet exploded over a YouTube clip featuring then–10-year-old Sophia Lucia executing 54 turns in tap shoes. Dance fans fell hard for the record breaker, who quickly rose to comp-world stardom. Fast-forward to 2016, when Sophia gave her Instagram followers déjà vu with 10 perfectly executed pirouettes—in pointe shoes. The comp queen had transformed into a budding ballerina. Sophia isn't the first competition star to find her way to ballet, trading in a fast-paced life of commercial training and competing for days of quiet discipline at the barre. A growing group of talented comp kids are turning to ballet as their next big challenge.
Keep reading...
Show less
Oct. 13, 2016 10:52AM EST
Oh hey there, Hallmark Channel! The producer of all those sweet, homey movies best watched in your PJs with your mom has a super dance-y film on its holiday lineup this season: A Nutcracker Christmas. And the casting is—to use a very Hallmark-y pun—perfectly on pointe.
A Nutcracker Christmas tells the story of a talented professional dancer, Lilly, whose supportive sister dies just as Lilly is about to perform the role of Clara in The Nutcracker with New York City Ballet. (Nit-picky fact-checking: In New York City Ballet's Nutcracker, she's known as Marie and danced by a child, but OK.) Lilly's boyfriend and dance partner, Mark, keeps her from performing in the show, which makes Lilly declare she'll never dance again. Fast-forward a couple of decades, and Lilly's niece, Sadie, is about to dance Clara in a different company's Nutcracker—a company run by, of all people, Mark. And tons of drama ensues.
Yes, it's a whole lot of plot to wrap your head around. But the real story here is that Sadie is played by none other than the phenomenal Sophia Lucia, and the ever-dashing Sascha Radetsky is also involved in the project. (Radetsky's exact role is unclear from the press material, but he seems like a pretty natural fit for Mark, no?) The odds seem good that we'll get the gift of some very high-quality dancing. Merry Christmas to us!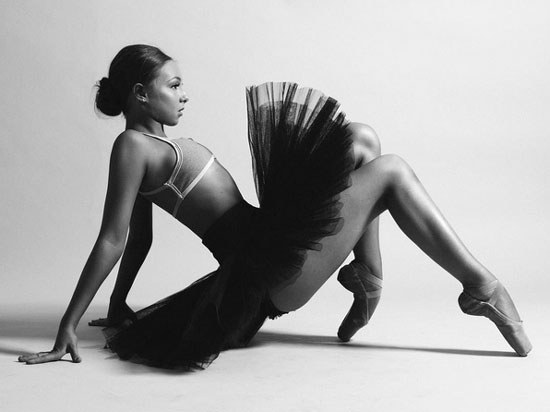 Sophia Lucia showing off those banana feet (via @sophialucia5678)
You can catch A Nutcracker Christmas on December 10 at 8 pm. Get your slippers and hot cocoa ready.
Feb. 25, 2016 12:34PM EST
We've all had that amazing pirouette dream.
You know the one I'm talking about: The one where you go into a turn, realize you're perfectly, absolutely, unshakably on-balance, and just. keep. spotting.
5 turns. 6 turns. 7. 8. 9. TEN.
But there are a select few superhumans who live that dream every day. And Sophia Lucia is one of them.
Yes, we already knew she could pull out dozens of turns in tap shoes. These days, however, her pirouettes on pointe are just as insanely impressive.
Instagram don't lie:
YUP.
Want this to be your reality? Click here for turning tips from Sophia and other experts in the field.
(Fun fact: In the clip above, Sophia is rehearsing one of the "Odalisque" variations from Le Corsaire. There's gorgeous video out there of another dream pirouetter, American Ballet Theatre's Gillian Murphy, doing the same solo as a baby ballerina. If you want to sustain your turning high, you should watch it immediately—main pirouette sequence starts 24 seconds in:)


Get Dance Spirit in your inbox